DOWNTOWN RUNAROUND
HACKETT-FREEDMAN, TRAYWICK GALLERY, FUSION ART SPACE
SHOOTING GALLERY, PAWNBROKERS GALLERY
10.14.04
Hackett-Freedman Gallery: Frank Lobdell, Recent Work, 1990-2004.
Comment: Frank Lobdell has been painting for about sixty years, and as they say in the 'hood, he's still got it goin' on. His art continues to evolve and be fresh, experimental, and engaging, even after all these decades, when he as so many options, so many ways he could possibly go, including not to paint at all. And staying in the game so long, without compromise, is a most uncommon art world achievement. Plus a major survey of his life and art is now available (FRANK LOBDELL, THE ART OF MAKING AND MEANING, Hudson Hills Press, 2003, 406 pages). The current work is big, really bright, and is as impressive up close as it is from across the room. In fact, the attention to detail is so considerable that I almost prefer the art from a couple of inches to far away.
And now for the market analysis. Lobdell's secondary market sales (public auction and the like) are almost nonexistent. The highest auction price I can scrounge out of my not inconsiderable art price database is about 5 grand. And the top price for a painting at this show is just shy of a quarter mil. I understand that acquiring Lobdell's art has not traditionally been an easy task, and that task doesn't promise to get any easier anytime soon, but an overriding consideration here is that, unlike many of his contemporaries, a major Lobdell has never been put to the public test, that is, what's it gonna fetch on the block?
Art.


Artist.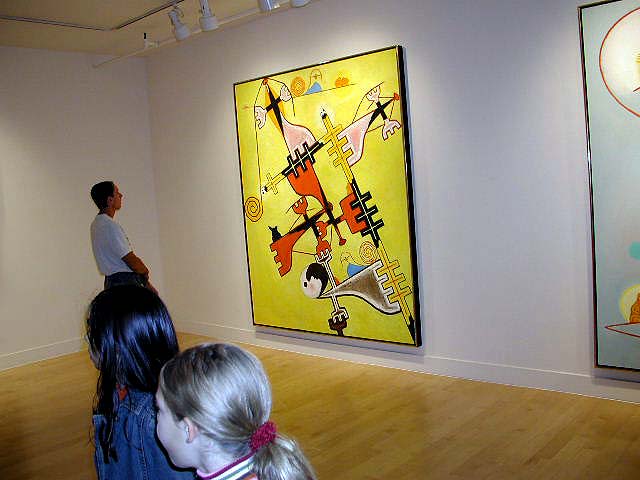 Art.


Art.


Art.


***
Traywick Gallery: Charles LaBelle, Driftworks.
LaBelle travels to cities around the world and takes tons of photographs. Then he cuts pieces out of those photographs, each about one inch square-- thousands of them-- and configures them, patchwork style, into large compositions which he calls "compound photos." Frankly, me being an older dude and all, I'm trying to swear off eye strain, but in artful servitude, I nose-dove the art, and report the following: The compound photos are exquisitely assembled-- not a single upturned corner or frayed or crooked edge, not a hint of overlap, perfect grids, effectively communicating that the artist never thought for a moment "Screw this-- no one will notice." One odd inconsistency, though; the art is pinned to the walls. Pinholes? After so much care? Go figure...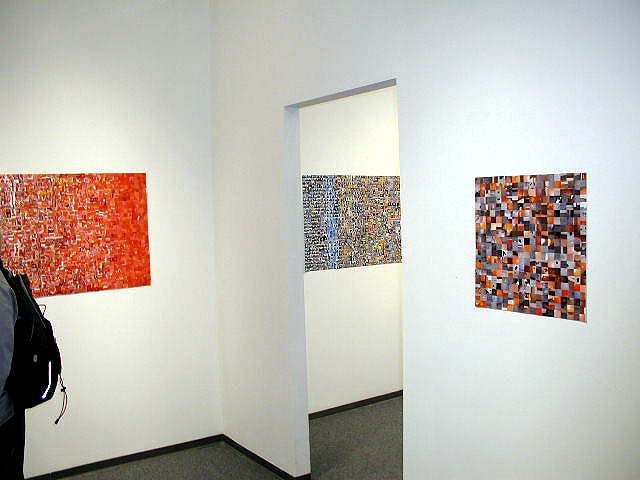 Art.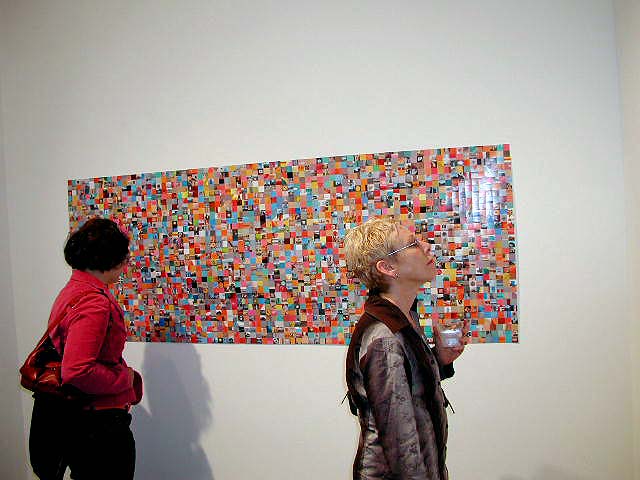 Art.


Art.


***
Fusion Artspace: Torrie Groening, Elixer.
Comment: Multi-talent Torrie Groening is a painter, printmaker, photographer, and digital artist. Here, she introduces archival digital prints which combine aspects of her paintings into unique and original compositions. Although well-done, visually appealing, and aesthetically sound, they leave me wondering. I'm not a big fan of calling digital reproductions of works of art in other mediums "art" in and of themselves, even though Groening's angle takes the idiom one step further, but it's not a big step.
Art.


Artist (facing).


Art.


Art.


***
The Shooting Gallery: 1984, The Controversial Art of Francesco LoCastro, Kurve, Colin Christian, Adrian Lee, Keith Knight, and Anthony Sortillon.
Comment: You can never have too much anti-war art (and in this case, anti-administration art). You know why? Because anti-war art is pro-civilization. War never does one iota of good for the advancement of culture and civilized society, but rather facilitates their degradation, and in extreme circumstances, leads to their annihilation. Remember the Aztecs? It's been about 500 years since the Spanish Conquistadors wiped them out, and melted their art into ingots (kind of like refining Iraqi oil into Hummer fuel). Chards of that extinct Aztec culture, the largest such exhibit ever assembled, are currently on display at New York's Guggenheim Museum. I saw the curator on TV talking about the show-- it's been 500 years, and he's still near tears as he recounts what every last one of us lost.
Art.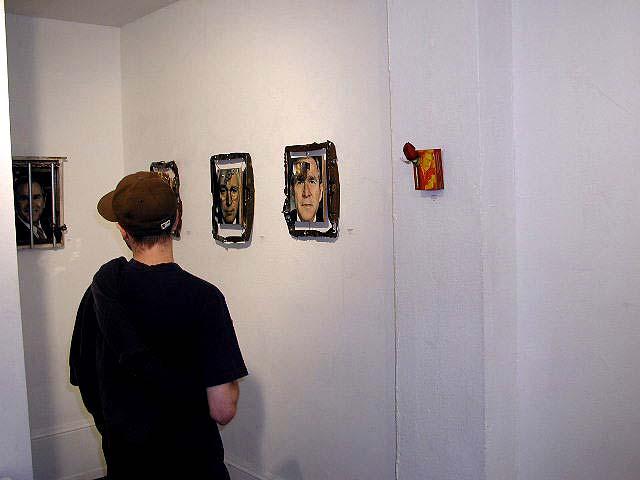 Art.


Art.


Art.


Art.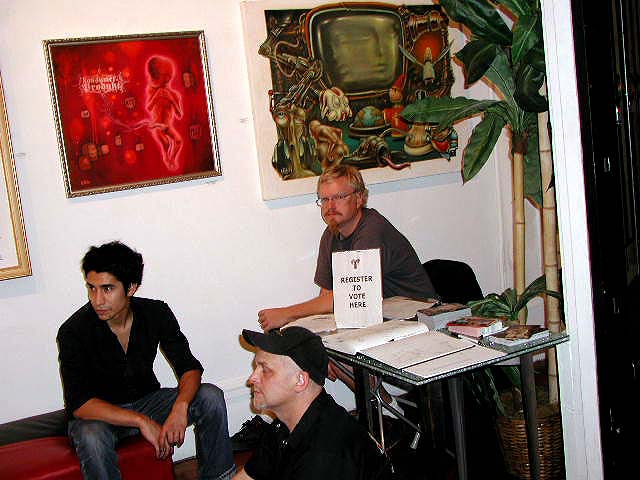 VOTE.


***
Pawnbrokers Gallery, 837 Larkin St., SF 94109: Thee Erotic Gun Show.
Comment: Looks like The Shooting Gallery as spawned a spore, right next door, and not too shabby of a spore at that. The art's a litte rougher, a little rawer, but good quality, and certainly in keeping with the tone of the block. Pawnbrokers opening show features the art of Lee Harvey Roswell, James Nichols, Pete Doolittle, Rika Futamura, and Carlos Carbagal.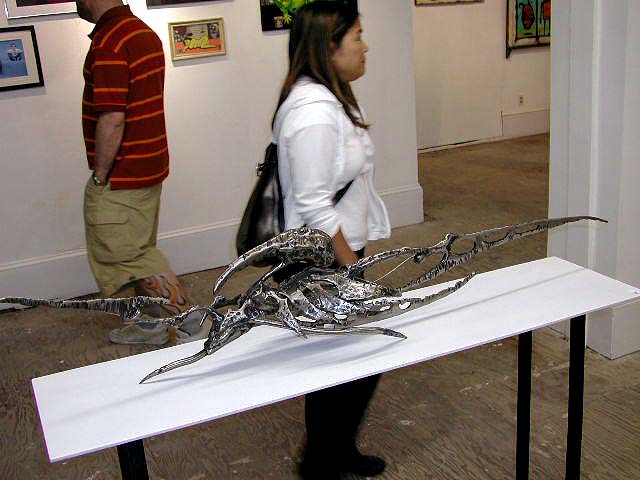 Pick (James Nichols sculpture).


Art.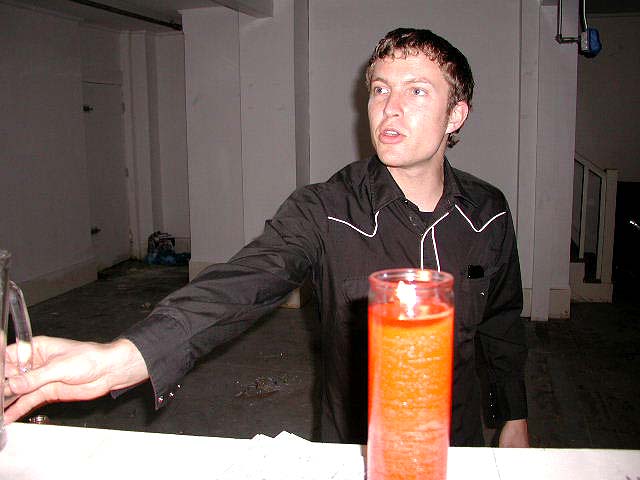 Curator.


Art.


Art.