AROUND TOWN RUNAROUND
CATHARINE CLARK, STARTSOMA, LINC REAL ART
JACK HANLEY GALLERY, JUICE DESIGN, SHOOTING GALLERY
12.09.04
Catharine Clark Gallery: Scott Greene - My Hero; Walter Robinson - Pathetic Fantasy.
Comment: The best comes first tonight. Scott Greene's paintings are tumultuously tornadic, politically charged, and bewilderingly inconceivable in their complexity and aesthetic. It's one thing to know how to paint, another to have an imagination, another to imagine in microscopic detail, another to organize imaginings into coherent visions, another to imbue those visions with meanings that we can understand and relate to, another to transform those visions into reality through paint, another to transform them flawlessly, and another to maintain focus right down to the final stroke of the brush. That's the art of Scott Greene. To you new-art know-it-alls out there who think that painting is dead-- if it is, then this show is heaven.
Meanwhile, Walter Robinson sculptures the place up from floors to walls to shelves to pedestals. Affirmative on the greenly patinated polymerized gypsum pieces, especially Homeless Snoopy ($2500), Veteran Snoopy ($2500), and Homeless Goofy ($1800).
Art.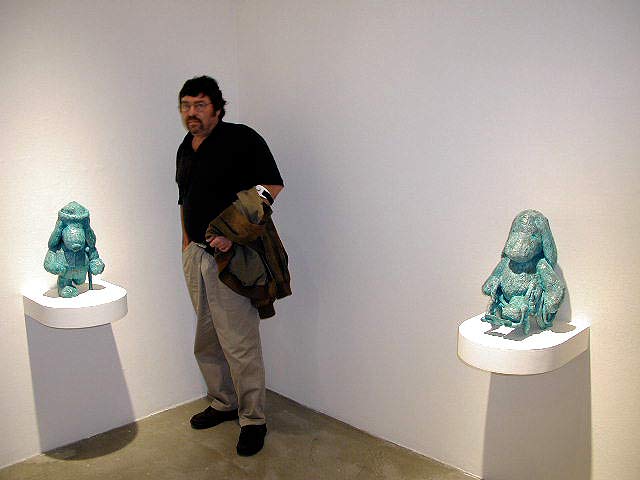 Hard luck Snoopies.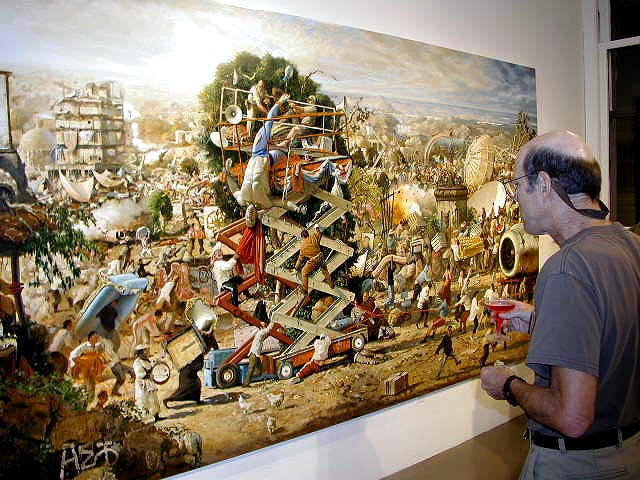 "Machinations," 2004, 80 1/2 by 144 inches, $30K, and worth it.


Art.


Art.


Sculptor Robinson discusses shelving.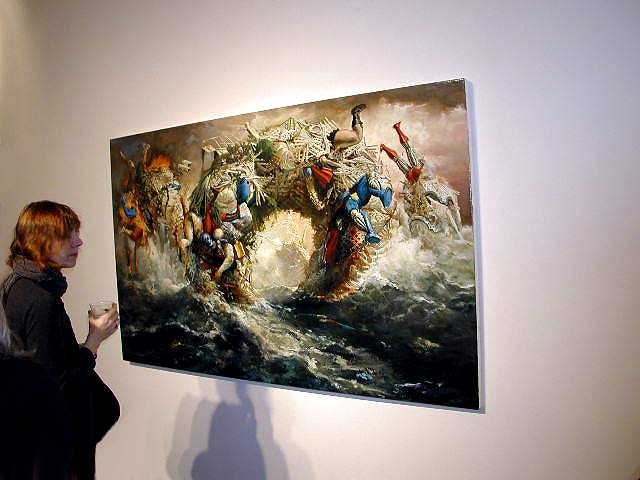 Art.


***
Hotel des Arts: Painted Rooms 2.0.
One by one, the rooms at Hotel des Arts, 447 Bush St., receive extreme makeovers from talented local artists. Pretty soon, the entire place will become an art work in and of itself. Add hanging art to the halls and the common areas, much of it available for purchase, all under the auspices of START SOMA, and you've got a destination worth a visit. Give an artist an opportunity to paint; you won't be disappointed. Currently showing along the second floor hall is "Women of the Israel Defense Forces," a series of provocative photographs by Ashkan Sahihi that puts a disturbingly human face on our incomprehensible need to kill.
Artists: Brad K. Alder, Brian Barneclo, Tim Gaskin, Logan Hicks, Terrance Hughes, NEON, Kelly Ording, Jet Martinez, Jimmy soat, Damon Soule.
Israel Defense Force women.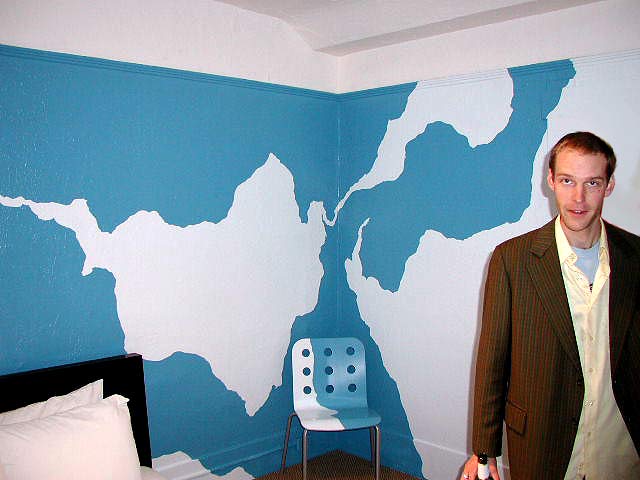 Brad K. Alder - painted room art.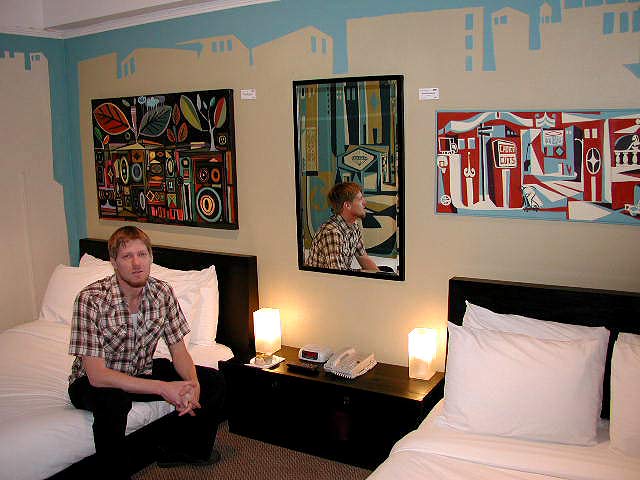 Brian Barneclo - painted room art.


Painted room art.


Painted room art.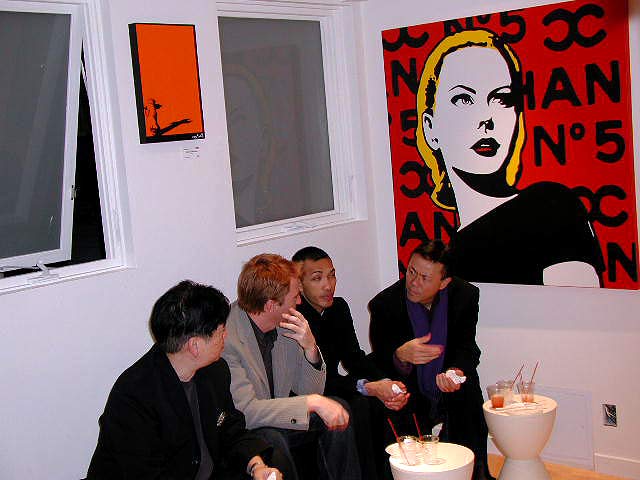 Lounge art.


***
Rx Gallery: AAS - Affordable Art Sale.
Comment: Group show; approximately 3 dozen artists. The term "affordable" is relative, the phrase "good value" is not, the view from the balcony is nice.
Balcony view.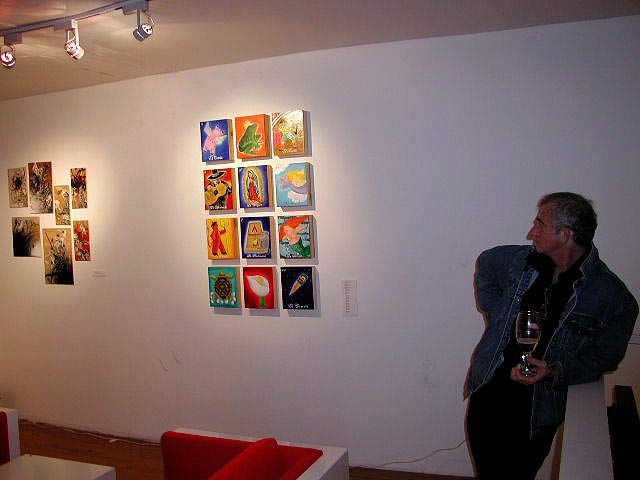 Balcony art.


***
Linc Art: Annual Winter Group Show.
Artists: Johanna St. Clair, Diane Romaine, Wally Hedrick, Tucker Nichols, Gregory Edwards, Nils Nova, Graham Gillmore, others.
Comment: Always an eyeful including two urns made out what appear to be coils formed from tightly rolled magazine pages, one-each vintage 60's Wally Hedrick painting and large collaged pencil drawing, a painting of three hunks of meat against a plain white background, a painting of a rabbit with cascading exposed and enhanced guts, a green taped taxidermized deer head (which I liked better than the orange taped one from the last show), and other artistic anomalies.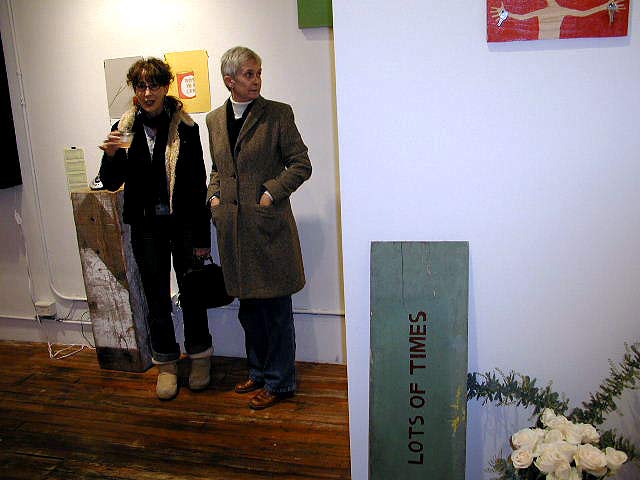 Art.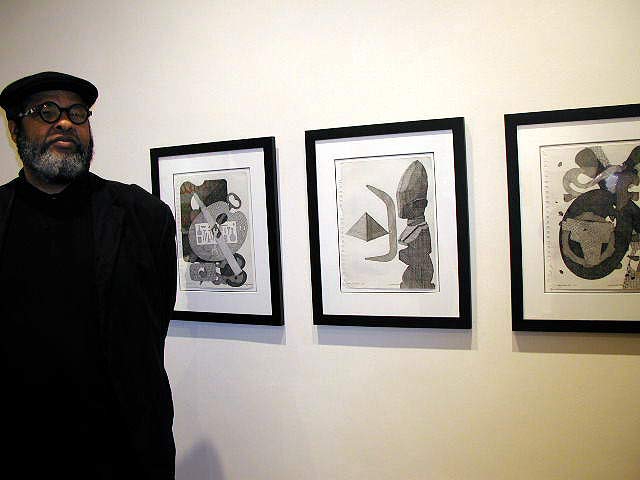 Gregory Edwards - art.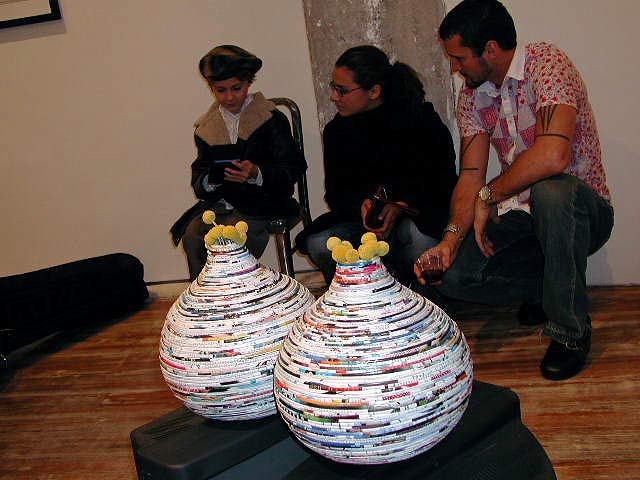 Rolled up paper art.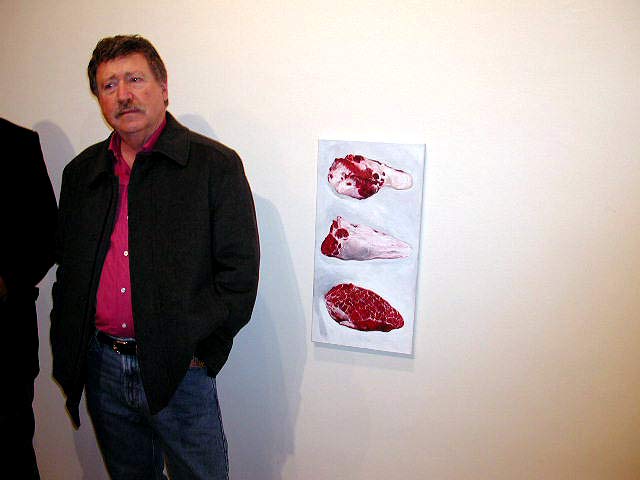 Meat art.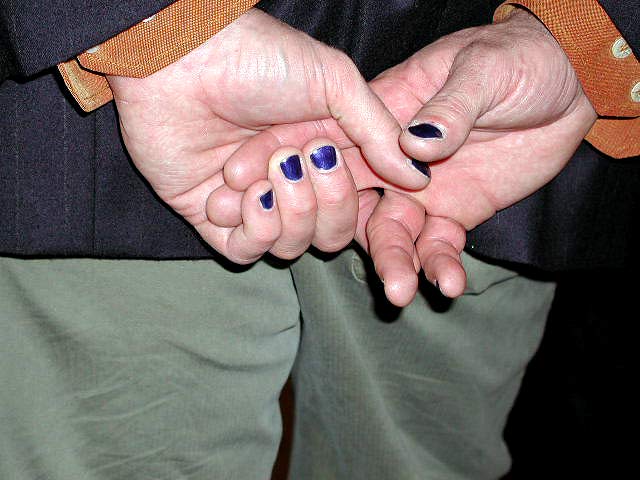 Nail art.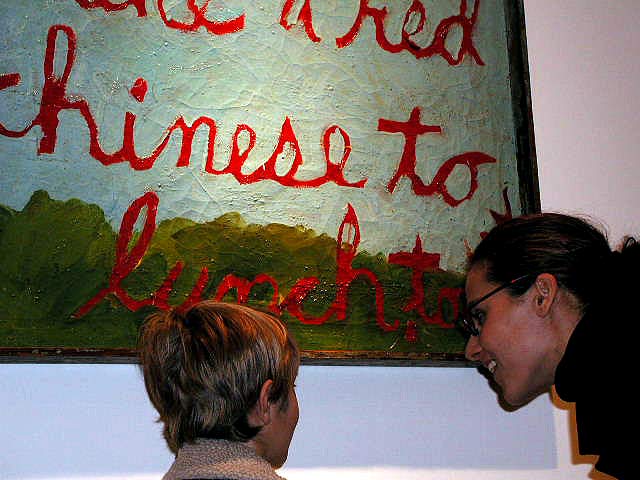 Wally Hedrick art.


***
Jack Hanley: Vince Roark - New Work.
Comment: The opening was almost over, but I rapidly deployed the time-honored foot-in-the-door gambit. The result was a show of geometric art from a Kansas City fellow in his seventies represented by a New York dealer having his first show in San Francisco. See how art brings the red states, the blue states, and the two coasts together at Jack Hanley for keg beer? As an aside, the realm of Outsider Art, which Roark apparently realms in, perplexes me no end as to who determines who gets how famous and for what reasons. I'm thinkin' it might be one of those cartels.
Shit... it's over... think fast....


"May I please take just one picture?"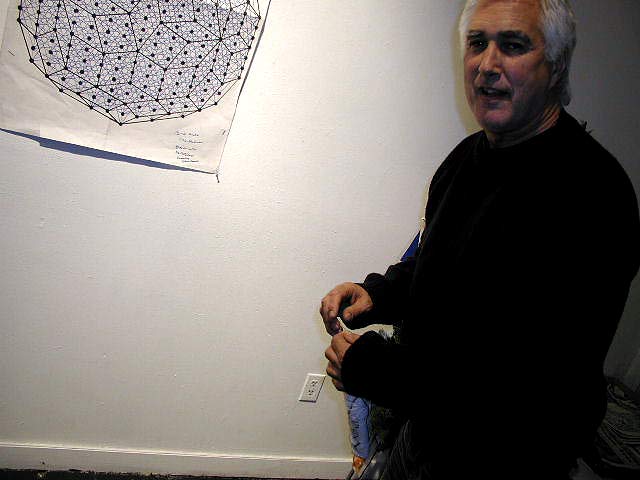 Thank God. The owner forgot something...


Uh oh. They snuck (or sneaked) in too.


***
Juice Design: Hot and Cold 6.
Artists: Rebecca Miller, Isaac McKay-Randozzi, Jen Smith, David V. D'Andrea, Paul Schiek, Mary Joy Scott, Griffin McPartland, Vic Blue, Eamon Ore-Giron, Crust and Dirt, Tom Vadakan, Derrick Snodgrass, Chris Pew, Chris Duncan.
Comment: My pick of the night for best priced good art, $20-$475, particularly Mary Joy Scott's pencil portraits at $175 each (which could benefit immeasurably from framing upgrades). And Juice also gets pick for best art party. And curator Chris Duncan works really hard, and we like that.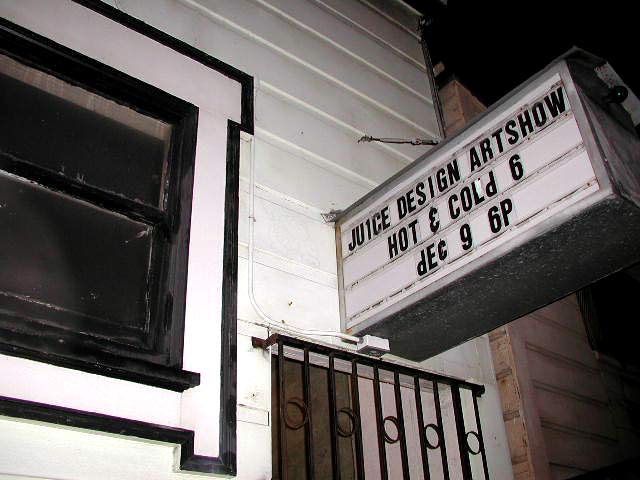 Here it is.


Up we go.


Art.


Art.


Art.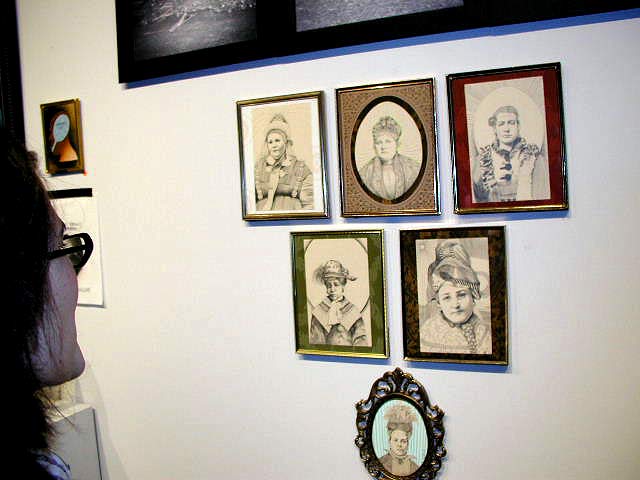 Pick - Mary Joy Scott pencil portraits.


Curator Chris Duncan.


***
The Shooting Gallery: The ATM Show.
Comment: An impressive selection of posters from our best poster artists, a number of whom were on hand for the event. ATM refers to ATM machines, twenty-dollar bills, and affordable art, which it was. The Art of Modern Rock book is available at the gallery (you can't tell your posters without one).
Art.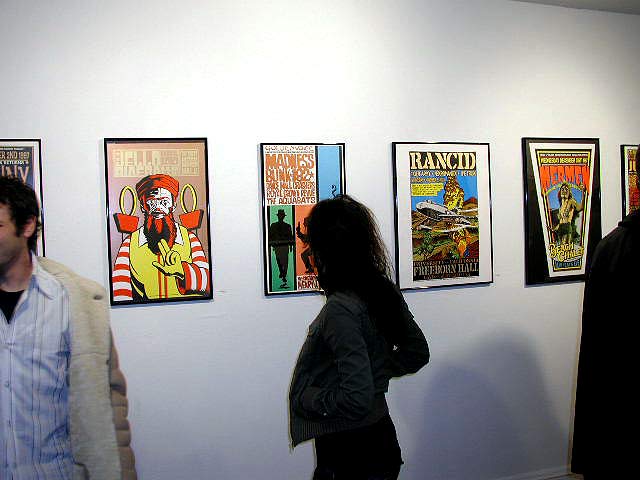 Art.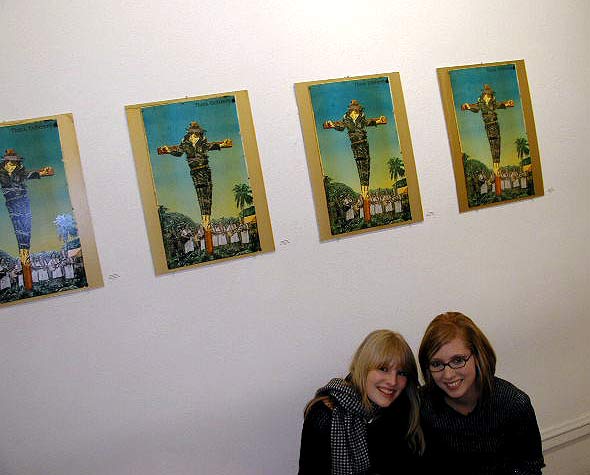 Art.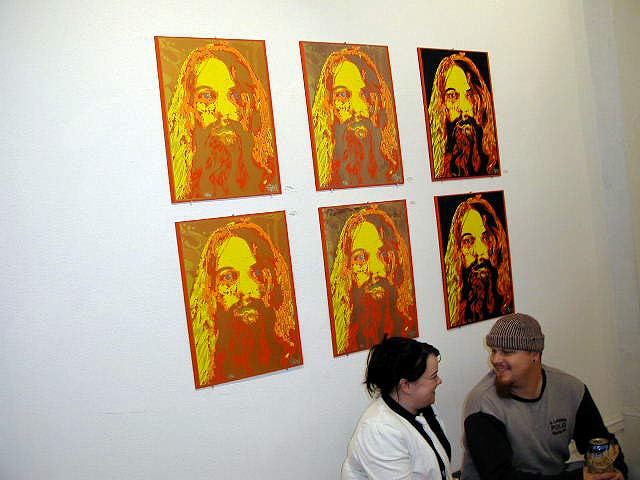 Art.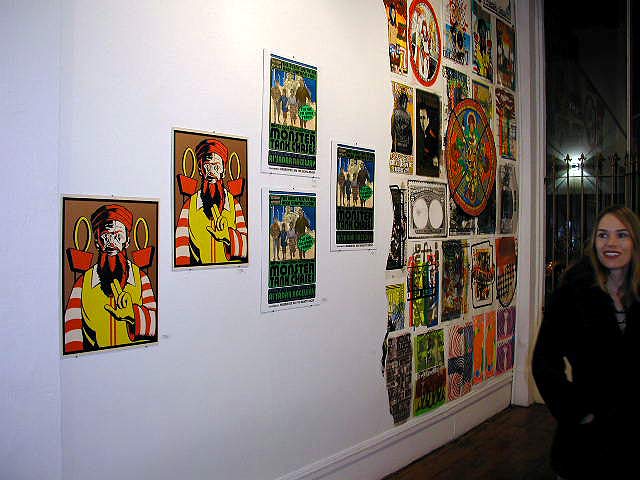 Art.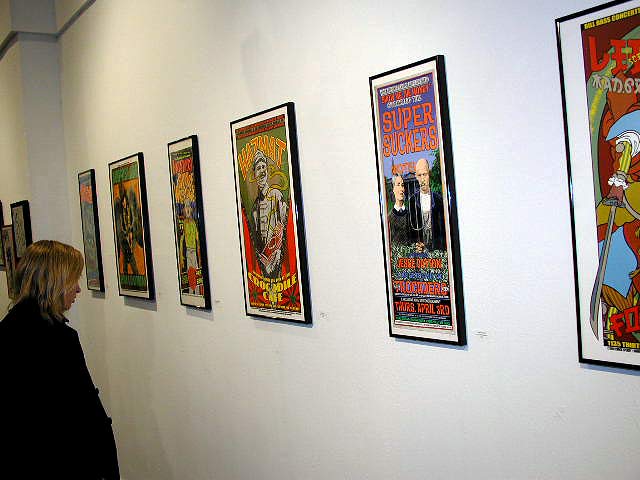 Art.