AROUND TOWN RUNAROUND
RENA BRANSTEN, JACK HANLEY GALLERY, JUICE DESIGN
BLUE ROOM GALLERY, FIFTY24SF (UPPER PLAYGROUND)
10.21.04
Rena Bransten Gallery: Lucas Samaras; Rebeca Bollinger, Drawings and Photographs.
Comment: You better like looking at Lucas Samaras because this is a show of self-portraits, although he's not readily identifiable in a number of the manipulated Polaroids from the early 1970's. The photographic work conveys varying degrees of psychedelic vertigo, the Polaroids being the most technically engaging pieces in the show-- fastidiously and accurately reworked to achieve some remarkable final compositions. The white-bearded long-haired Samaras looks like a cross between the Maharishi and George Ohr, the Mad Potter of Biloxi. Speaking of the Maharishi, meditation may be in order before purchasing a vintage Polaroid at $10,000.
Rebeca Bollinger removes portions of photographs, either digitally or with collage, creating white fields of absence which are then conveniently refilled and restructured by your brain. The photographs with minimal removals make the most sense, easing you into Bollinger's interpretive realm; those most manipulated are overwhelmingly white, and approach conditions conducive to snow blindness. Close inspection of a couple of the collages reveals that some of the cuts and pastes, particularly at corners and where the knife blade changes direction, are downright sloppy.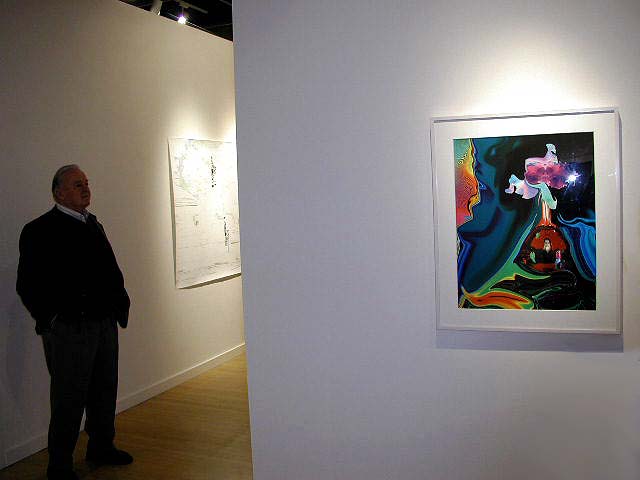 Samaras.


Bollinger.


Samaras.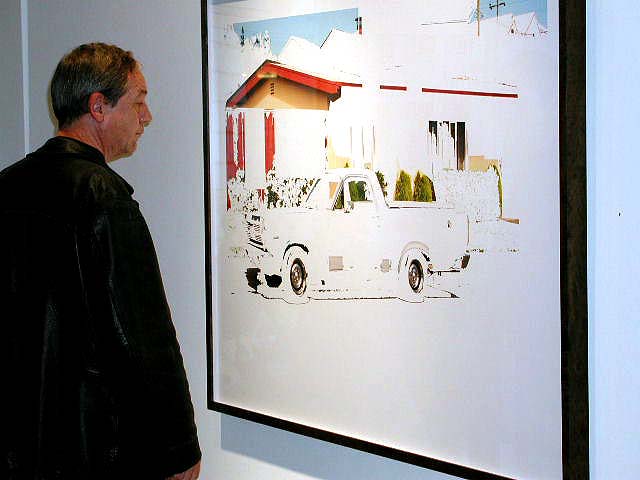 Bollinger.


***
Jack Hanley Gallery: Erwin Wurm.
According to the press release, "Erwin Wurm's art practice questions our expectations of quotidian environments and the way in which social mores operate." In English: He combines people and objects in strange strange ways, and then places them into ordinary landscapes and interiors. For instance, imagine walking down a hall, and coming upon the upper half of a male torso jutting from a wall at a perfect perpendicular. That's the world of Erwin Wurm, a world so convincingly conceived and executed, that you can actually step into it, and leave your regular world behind, i.e. the one where torsos don't jut from walls-- and here's the good news-- all without the use of mind-altering drugs and/or intoxicants. You can see a whole lot more Erwin Wurm art at Yerba Buena Center for the Arts through January 9.
Art.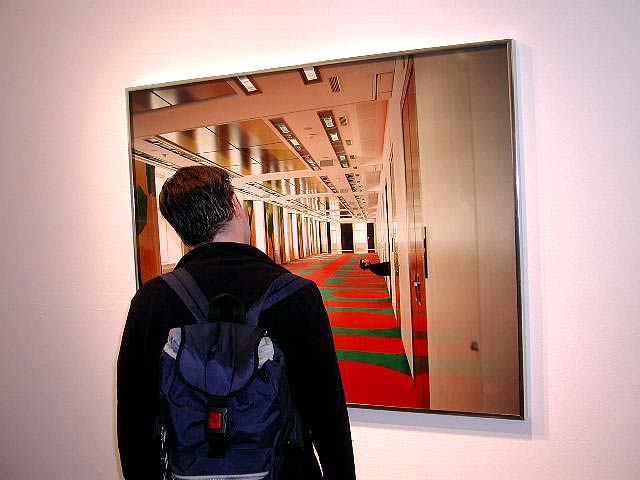 Art.


Artist.


Art.


Art.


***
Juice Design: Eight Rows Deep, Bay Area Art + Surf.
Artists: Tiffany Bozic, Manuel C. Caro, Mark Gordon, Jeff Hantman, Alex Kopps, John Moore, Paul Urich, Wavefest.
Comment: Surfboards and surfboard art; rich grainy black-and-white coastal photographs, slickly reminiscent of early 20th century Pictorialism; variety-pak surfing film footage; posters, invites, promos, and other examples of graphic work produced by Juice Design; and a party.
Pick (Mark Gordon).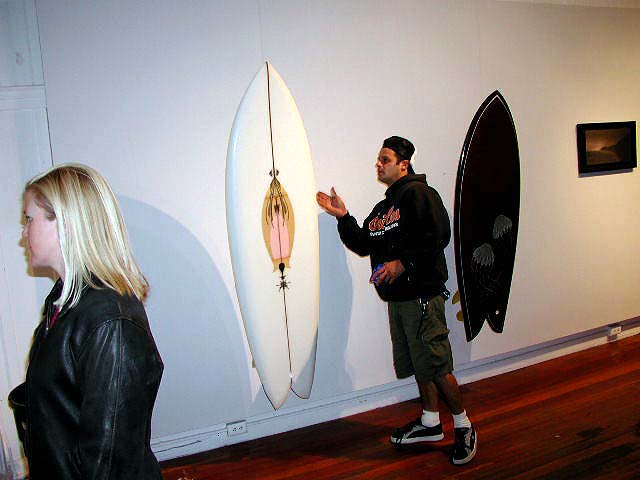 Art.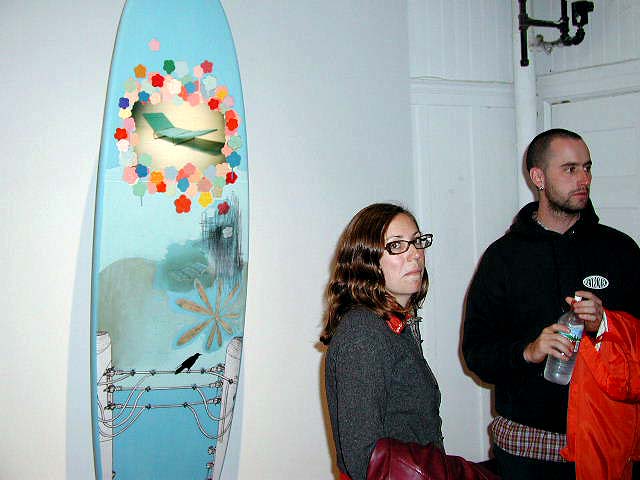 Art.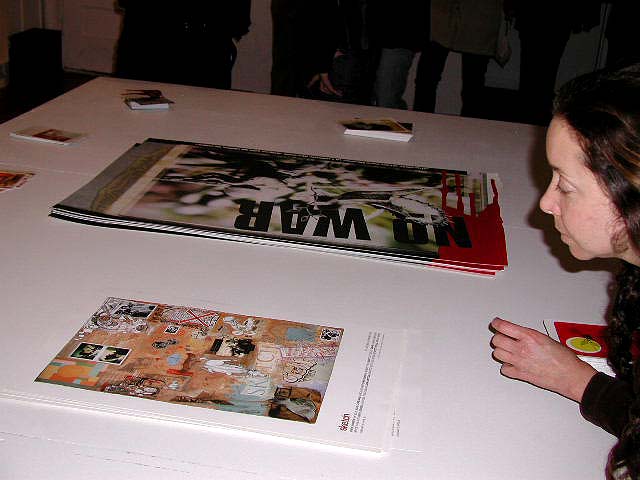 Art.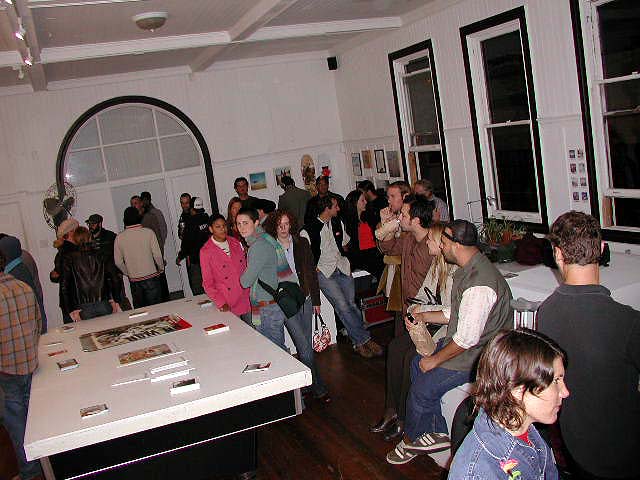 Revelry.


***
Blue Room Gallery: Bay Area Furniture Art 2004.
Artists: Maggie Birmingham, Mike Farruggia, David Goldenberg, Barbara Holmes, Tetsushi Inoue, Daniel Krivens, Rick Lee, Mary Little and Peter Wheeler, Anthony David Marschak, Michael Mellon, Scott Oliver, Flower Powder Pollen, Florian Roeper, Alex Ryan, Courtney Skott, Maiko Sugano, Stevel Tornallyay, Portia Wells.
Comment: Bay Area Furniture Art (2nd Annual) at Blue Room is fun, fanciful, marginally utilarian, and fun. Oh-- and it's also fun. The show seems to be what furniture makers do while in pure experimental mode, or perhaps when they get bored with making furniture. Furniture is so serious most of the time, and here is the remedy for that. My favorites are an amoebic red carpet, avec accoutrements, made to look like a bottle of spilled nail polish (by Flower Powder Pollen); flapjacks-and-butter-on-a-plate lounge cushions (by Flower Powder Pollen); a maze-like Thonet-style table and chairs where bentwood sections roam from chair to chair, connecting them into a sort of furni-sculpture (by Scott Oliver); and my pick of the show-- a beautifully designed pair of tree stump foot stools with zip-off bark offered at a wallet-busting $7000 (by Courtney Skott).
Art.


Pricey pick.


Art.


Art.


Upper.


***
FIFTY24SF aka Upper Playground: Albert Reyes; Don't Give Up.
Comment: Art clogs the walls, litters the gallery, in a variety of flavors, including crushed aluminum cans, all by Albert Reyes. It's that sharp-edge urban grind for the most part, but he's tossed in a little of everything, even a dash of Warhol. Reyes has respectable versatility, range, and potential-- definitely someone I'd keep an eye on.
Art.


Art.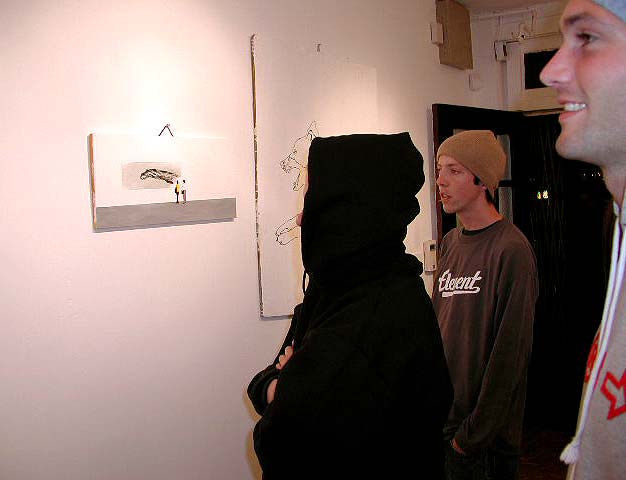 Art.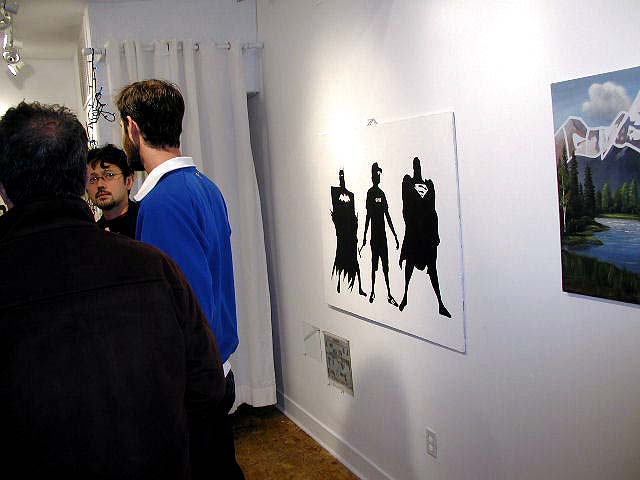 Art.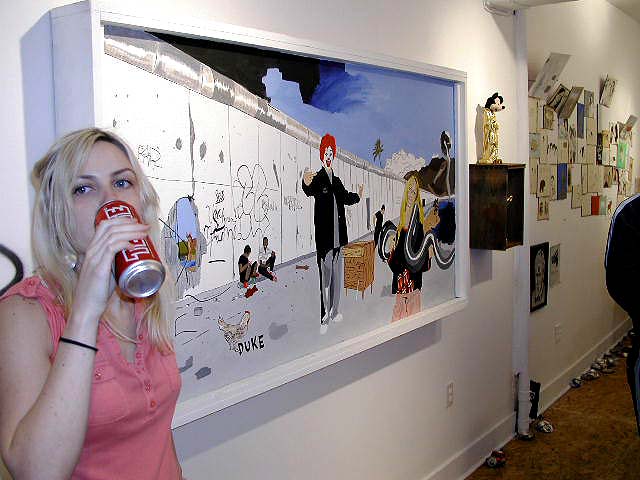 Art.


Art.