SAN FRANCISCO GALLERY OPENINGS
ADOBE BOOKS - MISSION ARTS & PERFORMANCE PROJECT - GIANT ROBOT
01.15.05
Adobe Books: Will Yackulic; Finest Pure.
Artists: Will Yackulik, Jos Pollard.
Comment: Will Yackulik advances his blue and white dimensional geometric meanders with a series of crisp mostly small format works on paper, clipped to the walls of the teeny Backroom Gallery. Some are pure parallelogram, others incorporate words, yet others are simple word-drawing combinations with no mathematical overtones. The show includes an assortment of Jos Pollard ceramics underglazed by Yackulik.
Price range is $20-$255; nothing to complain about there. The art was selling well with a number of pieces, both ceramic and paper, already sold by the time I got to the opening. I'm curious to see where Yackulik goes next with his iconoclasty, but for now, he appears to be staying the course. And why not? He strikes that elusive financial chord with aplomb.
Art.


Art.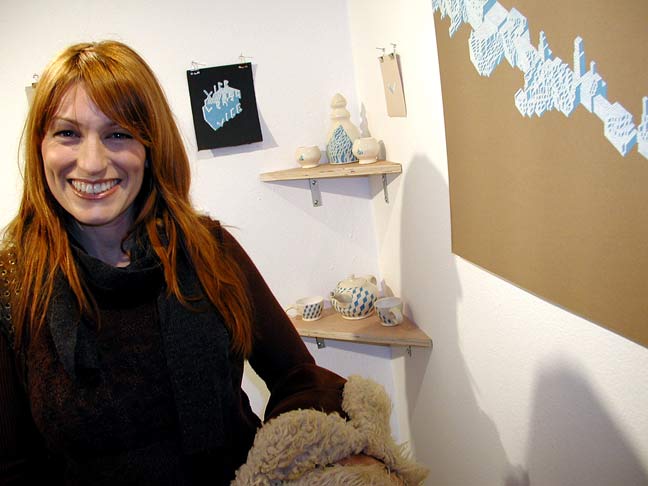 Curator Eleanor Harwood - art (large piece right sold $255).


Art.


Art.


***
Mission Arts & Performance Project (MAPP): Various shows at various locations.
Comment: Multiple mid-Mission venues in a several block area, including garages, basements, and studios, play host to these relaxed and congenial art, music, poetry, performance parties. The bi-monthly happening is not so much about selling stuff as it is about local artists and their allies promoting a sense of community, celebrating the creative process, and sharing art, ideas, and inspirations. Of course, plenty of stuff is for sale should you get the urge to enhance your aesthetic aura. The announcement says the shows start at 7, but they don't get going 'til later. I found that out the early way.
Mask art at El Garage de la Folsom, 2649 Folsom.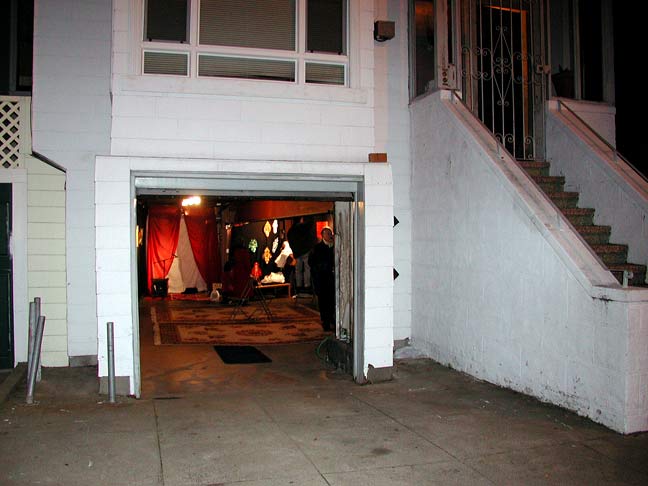 El Garage de la Folsom.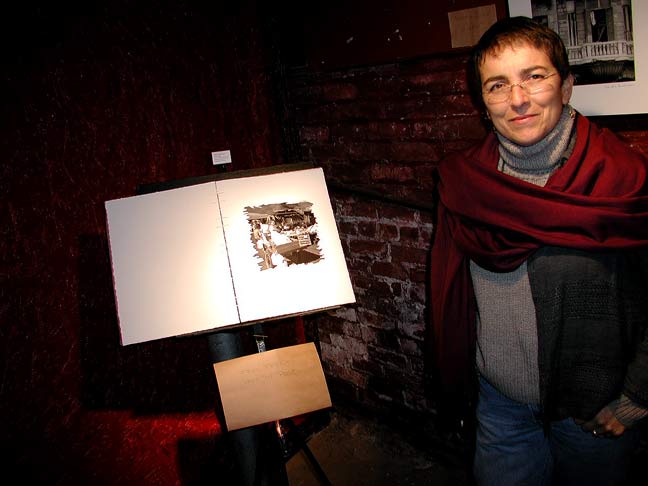 Alejandra Chaverri with handmade book, Oda al Mercado,
edition of 3, $350; at The Red Garage, 1250 South Van Ness.


Interior, The Red Garage.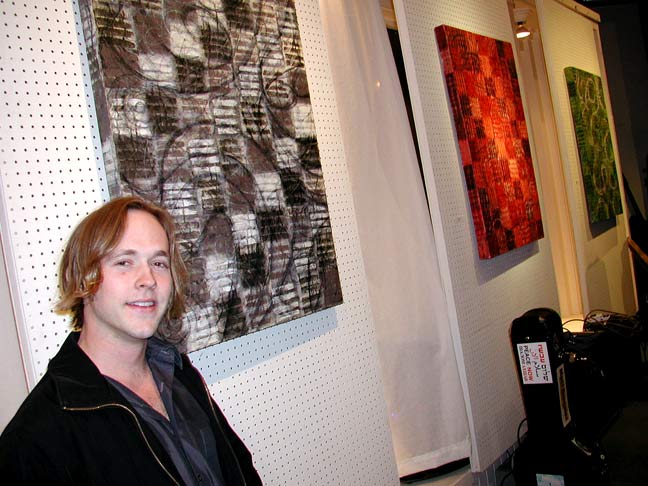 Artist Tyson and art at Million Fishes Art Collective, 2501 Bryant St.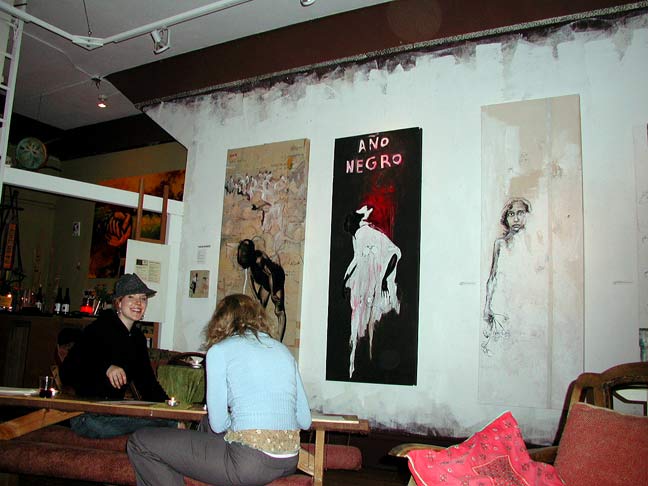 Red Poppy Art House, 2698 Folsom St.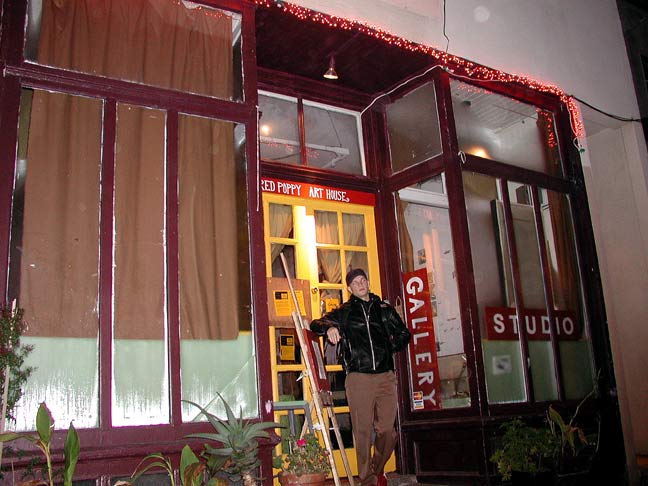 Red Poppy frontage.


***
Giant Robot: Tree Show.
Artists: Aiyana Udesen, Albert Reyes, Alicia McCarthy, Andrew Shoultz, Bigfoot, Brendan Monroe, Caroline Hwang, Carson Ellis, Chris Duncan, Kurve (Curve), Dan Cordani, David Ellis, David Magdaleno, Ian Johnson, Jeana Sohn, Kyle Ng, Leif Goldberg, Linhchi Tang, Matt Haber, Maya Hayuk, Saelee Oh, Suzanne Husky.
Comment: Giant Robot (GRSF) makes another smooth play on the art scene with a truckload of tree art. Now you went and did it. I'm gonna have to add you to my watch list. So let's see... I like this painting of a sax dude, except he's playing a tree instead. In the back left corner are these strange little multi-legged carved wood spider-bots and companion paintings (no touching!) by Brendan Monroe. Bigfoot adds some leafy green. Chris Duncan's shiny dotty liney stitchy perennial graces the show announcement. Kurve contributes a branchwork essay in greys. And ubiquitious hard-working Andrew Schoultz murals the place up plus he throws in a handful of affordables for his budget-minded devotees ($80-$400). The place was packed, the sales counter inundated with capital sacrifice.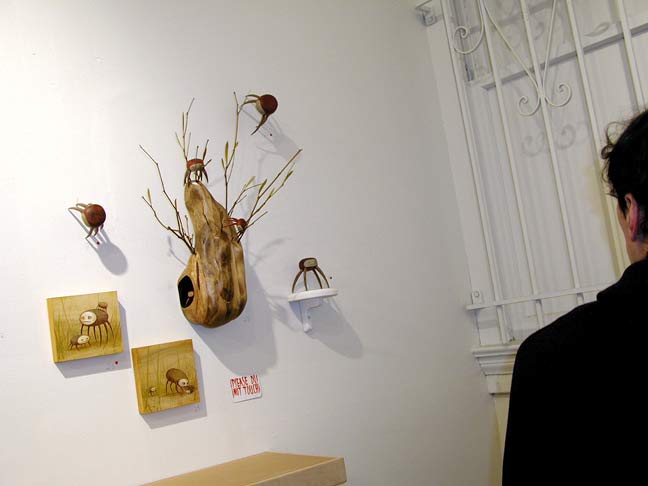 Spider-bot art. Bots/pics, $110-$145; big sculpture, $650.


Andrew Schoultz (left) - art.


Curve art, $350 (right).


Chris Duncan announcement art, $350 (upper right center).


Art.


Artist/calligrapher Curve.


Bigfoot art ($675-$500).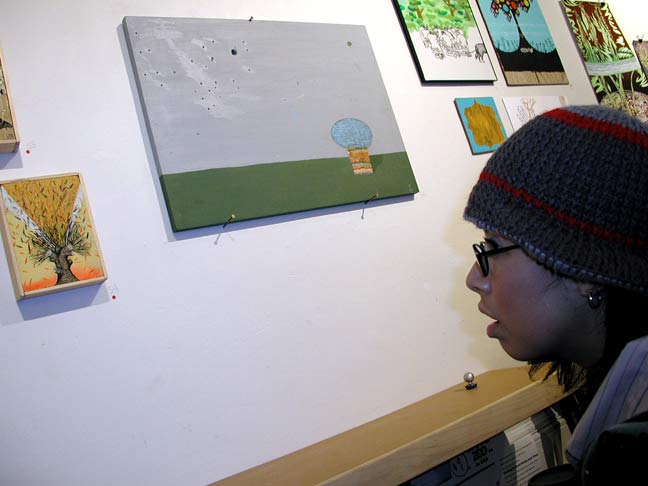 Art.


Sax dude art (top right center).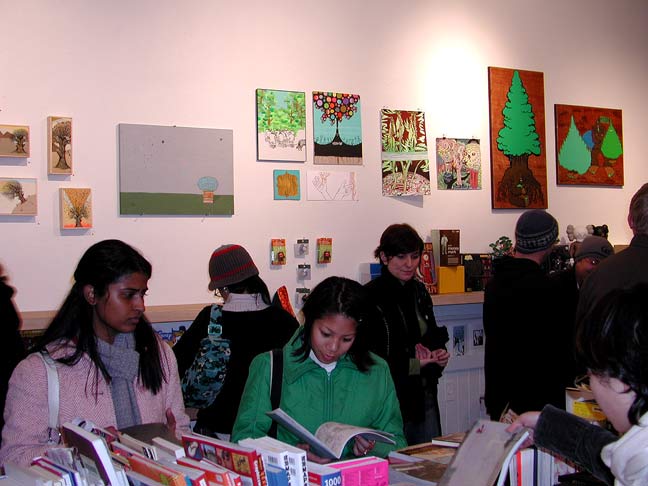 Literary perusal.


Perusal, cont.