ADOBE BOOKS
STATELESS; GAZING UPWARDS
OPENING 10.29.04
Comment: Spiffy overall, particularly the Jen Garrido oil paintings, assuming they look as good close up as they do at a distance. Those of you unfamiliar with the Adobe idiom should be aware that Adobe shows hang much closer to the ceiling than to the floor, well above eye level, unless you're Yao Ming -- and even he'd have to stand on his tippy toes to get a good look. In any event, not that many artists use oil paint anymore, and oils possess depth, texture, and richness that acrylics do not. Of course, you have to know how to use them, which Garrido does. Her art is sumptuously shiny (tricky to light), looking poured or stirred rather than painted, predominantly white, with imaginative meandering streams of abstract multicolor figuration.
In the back room is an elaborate hard-to-dust extravaganza with boxing glove by Jon-Paul Villegas. It looks so good, all fresh and new, but keeping it sparkling crisp will be daunting, to say the least. Or maybe it's temporary, in which case the ravages of time are irrelevant. Or maybe cage it in a large plexi-box. That should thwart maintenance-induced insanity. I don't know how many artists think 100 years out, or even 5, but longevity is an issue everyone has to contend with. Collectors too-- if you buy it, you want it to last. I recommend periodic visits to antique or collectibles stores to learn how damage and/or condition issues impact value over time.
Artist/Artists: Jon-Paul Villegas, Stacey Beach, Jen (Jennifer) Garrido, Sean Horton, Mitzi Pederson.
Pick (Garrido).


Jen Garrido.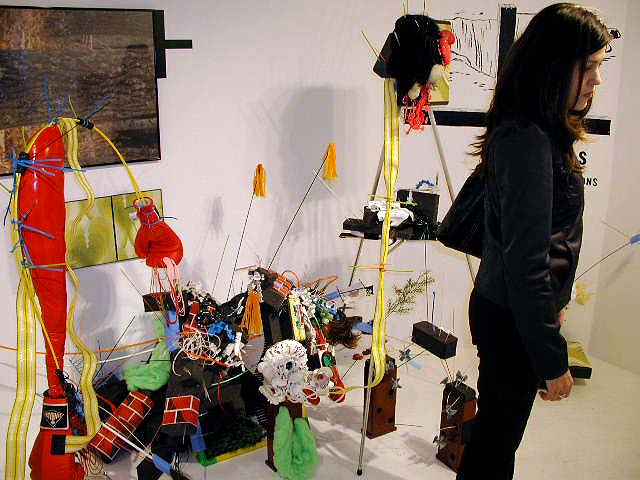 Back room (Villegas).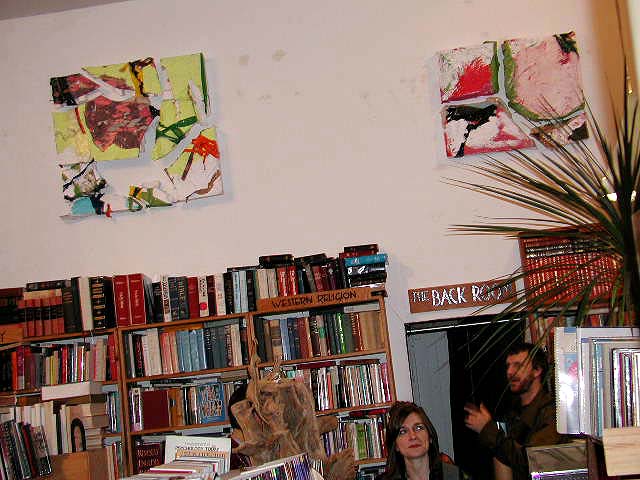 Art (Horton).


Curator, Christian Maychack.


Book signing, Starhawk.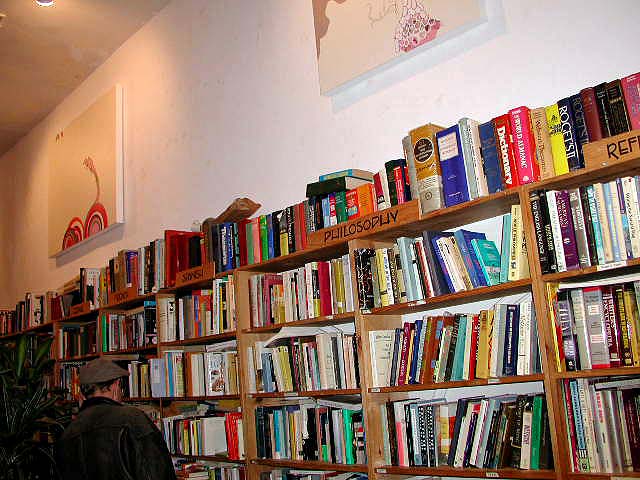 Art (Beach)

Adobe Bookshop
3166 16th St.
San Francisco, CA 94103
415.864.3936