SAN FRANCISCO ASIAN ART MUSEUM: ART AFTER HOURS
OPENING 10.22.04
Comment: As I was leaving, a woman asked me to fill out a short survey about how to improve the Asian Art Museum's "Art After Hours." I dutifully obliged, but they didn't ask the right questions. I found the event somewhat disjointed and confusing, expecting an energized progressive cross-cultural experience, but came away wanting. With a few modest adjustments, however, Art After Hours can easily become one of San Franciso's most popular museum/social/entertainment events.
First, theme the music. I love Grand Master Flash and Kool and the Gang, but "White Lines" and "Jungle Boogie" do not work well with a fourteenth century gilded bronze Korean bodhisattva.
Second, the spectacular high-ceilinged stone-columned full-marble Samsung Hall, a lighting designer's dream, was completely dark-- transformed into something approximating Bill and Judy's wedding reception in Ballroom C at the Airport Hilton. Constance Chang's black and white films worked well, but once again, American pop dance music pretty much negated their impact. Instead, play the latest dance music from Japan or Korea or China or Burma, or showcase on-theme performers and/or musicians who deserve the exposure.
Third, I didn't understand the collage-making tables. Maybe they were there for people who've never made art before. The idea might work better with help from professional artists, or experts to talk about the relationship of collage to other art in the museum or to Asian art in general.
On the plus side, the food and drink were more than adequate, having free range of the galleries was a total pleasure, the opportunity to discuss fakes and reproductions with real experts in white lab coats was excellent, the Tetsuya Noda print exhibition is an absolute must-see, and Constance Chang was there to talk about her movie career and abstract paintings on display in the Osher Gallery.
Artist/Artists: Tetsuya Noda, Constance Chang, Kool and the Gang, Grand Master Flash, Experts in White Lab Coats, You as a collage artist.
Art?


This didn't make a whole lot of sense either.


Moments before I was reminded not to use the flash.


That's better.


Art.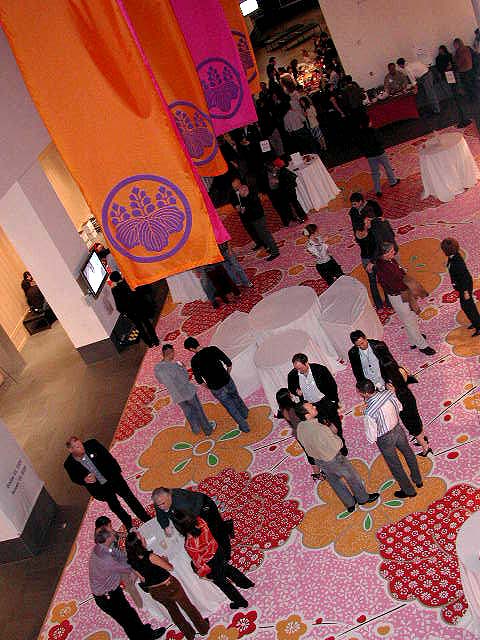 Above.

Asian Art Museum of San Francisco
200 Larkin St.
San Francisco, CA 94102
415.581.3500