BUCHEON GALLERY
LINESCAPES; ANDREW J. SCHOULTZ
OPENING 06.19.04
Comment: Andrew Schoultz worked his ass off for this one, transforming the gallery, painting bigger and better than he's ever painted before (I'm not entirely sure about that superlative, but it's an educated guess. If I'm wrong, Andrew, please correct me). Schoultz says his art is about messages and politics, but if you don't know the symbolism, it's imaginative fanciful fun-- strange towering whirling realities, ramshackle constructions teetering on edge, and cartoonland inhabitants. Since I'm in a guessing mood, I'll also guess, with intuitive assistance from various muses, that Schoultz has a bright future ahead of him as a fine artist and/or-- take your pick-- a commercial muralist, illustrator, set or interior designer, maybe even a stint in advertising (if he wants it, that is). At the very least, he's more than capable of conceiving, executing, and finishing whatever art project gets thrown his way-- on schedule and lookin' sharp.
Artist/Artists: Andrew Schoultz.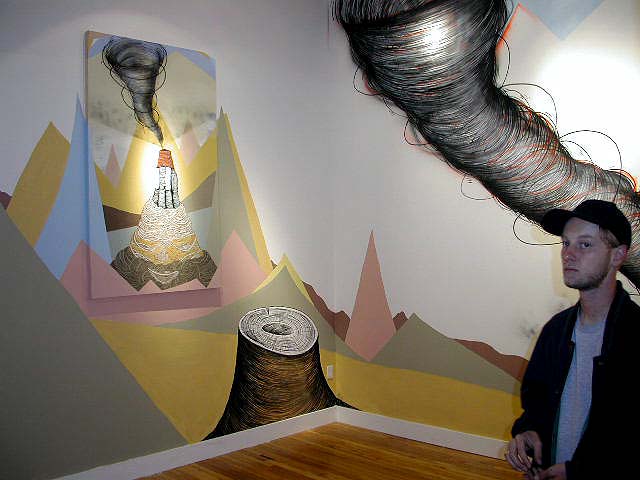 Art.


Art.


Art.


Art.


Artist.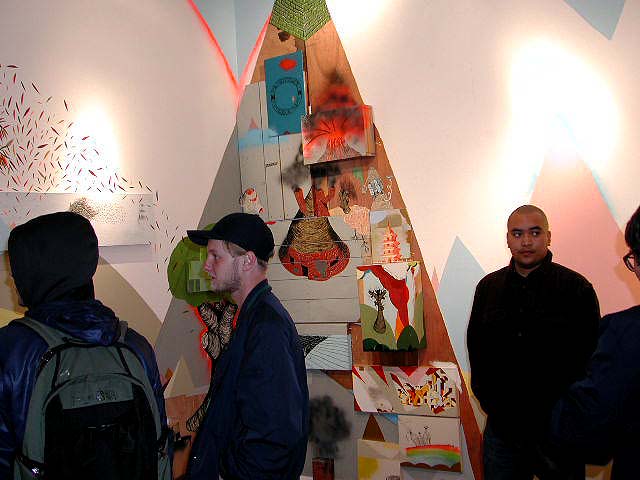 Art.


Art.


Art.

Bucheon Gallery
389 Grove St.
San Francisco, CA 94102
415.863.2891