ON THE ROAD, CLEVELAND, OHIO:
CAIN PARK ARTS FESTIVAL 2004
07.09.04 - 7.11.04
Comment: The Cain Park Arts Festival, Cleveland Heights, Ohio is a top outdoor show in Northern Ohio and one of the better such shows in the country, this year showcasing the work of over 150 artists. The woodsy setting makes for a country-like atmosphere, with the Festival beginning at the park's west entrance, and continuing along its main walkway for several hundred yards. Booths are packed tight on both sides of the walkway with hardly any open space, not the best circumstances for viewing. The show is crowded, little room to move once you're in the thick, the overall effect being that you feel like you're somewhere significant because so many people are there with you.
My unscientific poll indicates that, for the most part, people bought at the lower end with only one artist reporting exceeded expectations, and his art was priced in the $150-$250 range. According to the dozen or so artists I spoke with, reasonably priced photographs sold well, but better quality higher priced paintings and sculptures moved slowly at best. This may have been due to the fact that a smattering of booths with kitschy, gimmicky, tricky art scattered throughout the festival cheapened the impact of the good stuff. Incidentally, photography is about the only medium that people who like art feel they understand regardless of how little they know about art or what the photographs look like-- "Oh, you're a photographer, you take pictures with a camera. I get it."
Quite a few artists make either most or all of their livings by showing at arts festivals like Cain Park. This special breed is not averse to hauling their oeuvres, nomad-style, from venue to venue, mixing it up with the public, and squeezing out livelihoods in the process. No one I spoke with was making a killing, but one artist told me that selling in the midwest is easier than selling on the coasts, and he can charge more-- fewer artists, less competition. Most all of the artists showing at Cain Park were from outside the area.
Tip for artists: Never shun publicity, suspect it, or turn down opportunities to have you or your art's picture taken or written about, even if it's only for theworldsmostinsignificantwebsite.com. The absolute worst thing you can do for your career is to not spread the word about your art. Fears that someone might steal your ideas or copy or reproduce your work from tiny images on a computer screen or in a newspaper are absurd. If you have that little faith in your ability to conceive and create your art better than anyone else, you should probably give up being an artist and get a real job.
Artist/Artists: Over 150.
Ronnie Phillips of Lithonia, Georgia (770.484.9260), showing hand-colored photographs, most priced $400-$1300, and selling well.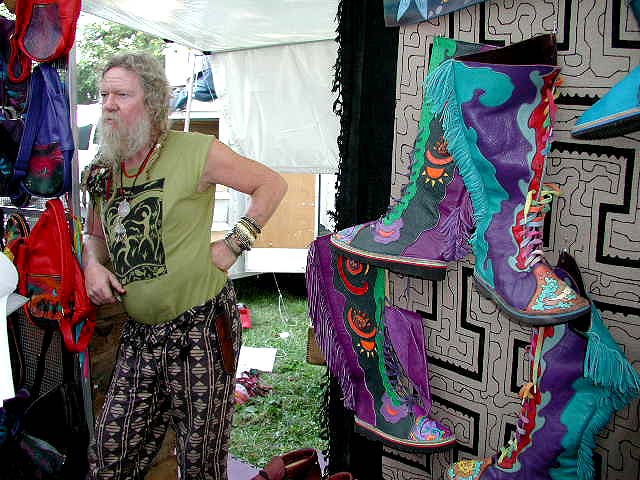 Those Shoes, handmade shoes by Mik Wright (above) and Barbara Volk of Weston, WV, prices starting at $170 and topping out around $2000.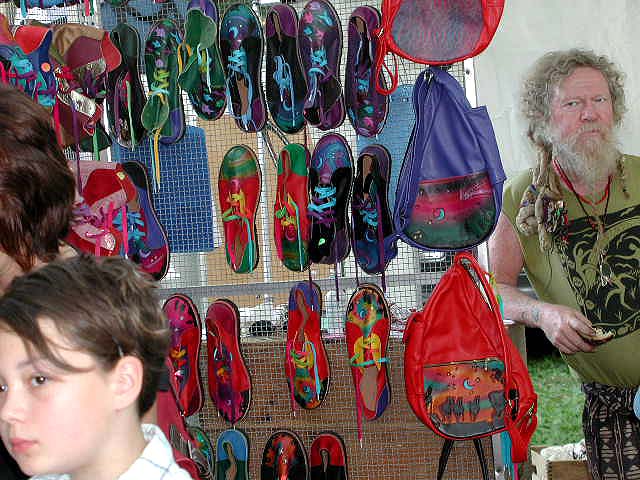 Mik again.
Photographer Joachim Knill grabbing a quick lunch. Knill built a Polaroid camera big enough to camp in that makes 20 x 30 inch prints. His surreal landscapes, somewhat outsider in feel, are my pick of the show.


Knill's Polaroid pears on sticks.
Sixth generation glass artist, Jonathan Andersson, all the way from Lowestoft, Suffolk, England creates glass forms and then adds metal to each piece, usually in the form of sculptured borders.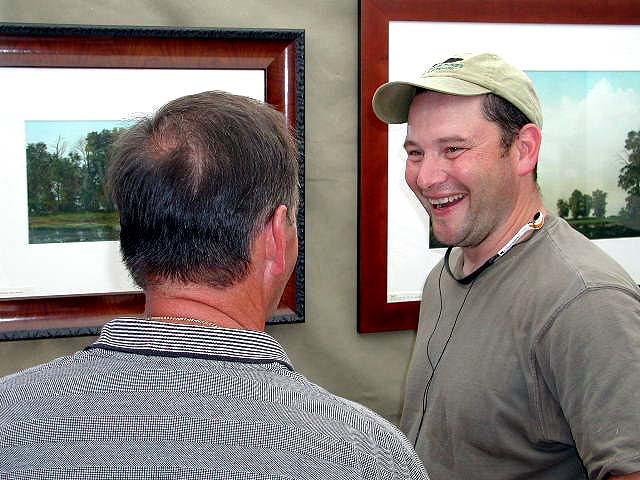 Gary Stretar, traditional watercolorist, and quite skilled especially in small format, reported very slow sales. You'd never guess, would you?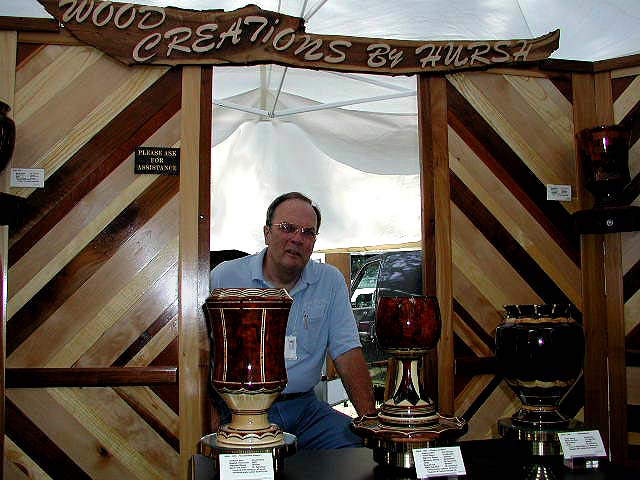 A retired precision grinder who once ground ball bearings accurate to 200 millionths of an inch, Hurshel Smith now manufactures perfectly symmetric turned inlaid vessels from exotic hardwoods. Price range is $500-$10,000. This guy is good.


Norm Darwish, hard at work, develops, prints and hand colors photographs using traditional methods (no newfangled computer crap), priced from $85 to $500. He makes his living primarily at art fairs, and has been doing so for 28 years.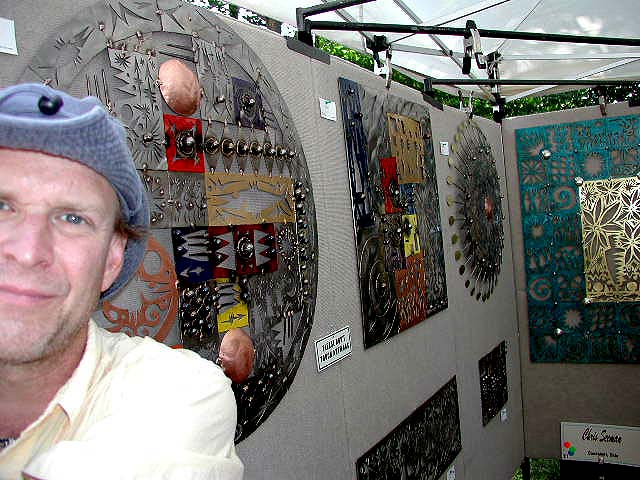 Chris Seeman of Cincinnati, OH (513.231.3696), sculpts cut metal panels. He does well at art fairs, this one included. Prices range $160-$6000 with sales averaging around $800.


Just lookin'.

Cain Park Arts Festival
40 Severance Circle
Cleveland Heights, OH 44118
216.371.3000