SAN FRANCISCO GALLERY OPENINGS
FIRST FRIDAY; 02.04.05
Maverix Studios: Tsunami Relief Benefit, Artists Auction.
Artists: Ronnie del Carmen, Jenn Farrington, Aaron McBride, Bill Cone, Anthony Hon, Jessica Hook, Jesse Schilpoort, Steve Ogden, Phil robinson, Steward Lee, Marc Gabbana, Sam Hood, Gordon Clark, John Hays, Wayne Lo, lance Hughes, Juniper Orth, Albert Lozano, Brad Ral, Cheryl Cruz, Dave Carson, Dave Yee, Eric Kwon, George Evelyn, Huck, Ian Ameling, Ivan Wachter, Jerome, Jiri Jacknowitz, Kris Lacore, Sach Steffel, Steve Grant, Victor Gascon, Josh Viers, Eric Joyner, Toby Cypress, John Heebink, Steve Leialoha, Mary Patterson, Ryan Church, Patrick Awa, Wayne Cash, Davy Liu, Alex Jaeger, Dave Yee, Bill Mather, Ted Thompson, Colin Fix, Anne Fix, Jennifer Hansen, Jason Courtney, Paul Topolos, Carlos Baena, Dan McHale, Larissa Martin, Josh Viers, Ruben Raffael, Aaron Farmer, Erena Shimoda, Dice Tsutsumi, Pete Candeland, Stephan Martiniere, Warren Fu, Andrew Cawrse, Tyruben Ellingson, Mike Mignola, Erik Tiemens, Dan Quarnstrom, Iain McCaig, Sang Jun Lee, Garett Sheldrew, Brian Kalin O'Connell, Carlos Huante, Lee Hong, Steve Purcell, Miya Ando Stanoff, Ed Bell, Christian Alzmann, Chris Carter, Robert Valley, Rhode Montijo, Tony Salmons, Jammie Baker, Benton Jew, Chris Petrocchi and the Maverix Studios crew: Dreck Thompson, Sho Murase, Vaughn Ross, Tom Rubalcava, Bosco Ng, Sergio Paez.
Comment: Animation-type art and collectibles were being auctioned to benefit tsunami victims; bids starting as low as $20, 100% of the proceeds to aid those in need. Bargains by the boatload were there to be had, including art and memorabilia from major studios like Disney and Pixar. The event PR must have stayed pretty much inside the animation community, because I had no idea that so much good art by so many good artists would be available (or even what kind of art it was). And if I had no idea, probably not too many other outsiders did either. So I'm gonna guess that plenty sold low. Congratulations winning bidders.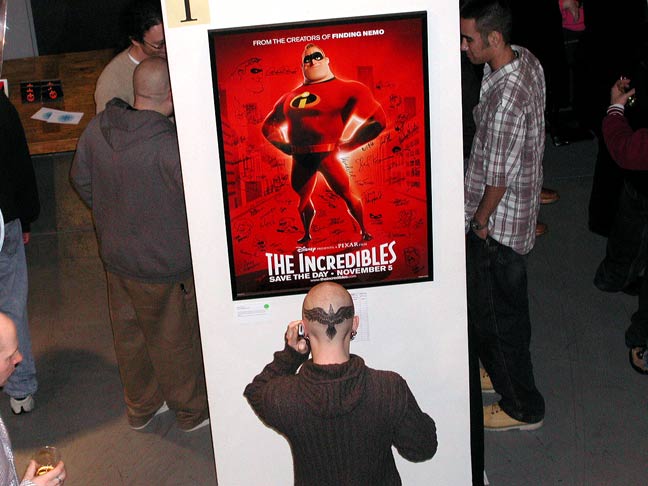 Art.


Art.


Art.


Art.


Upper.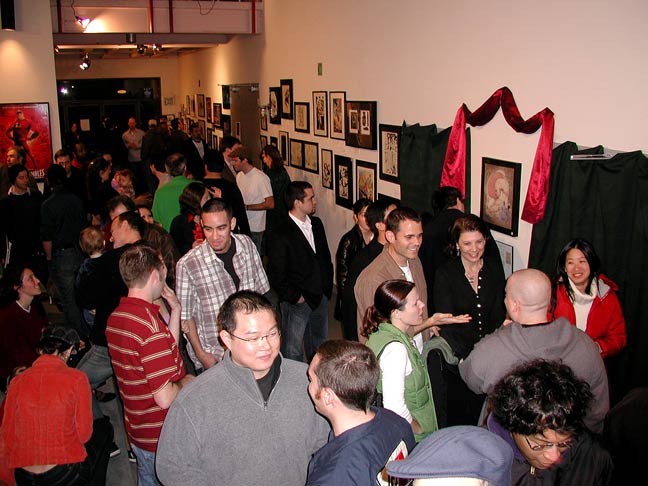 Action.


***
Lo-Fi Customs: Hand Made 2005; Tattoo Machines and Paintings from Around the World.
Artists: Will Anders, Eric Carlson, Jon Chancey, Cix, Dan Dringenber, "Reverend" Mike Ferguson, Nate Esteras, XeD GyGeR, Todd Hlavaty, Dennis Halbritter/Jason Schroder, Larry Hanks, Tim Hendricks, Karl Marc, Chantal Menard, TAP aka Curt Musgrave, "Religious" Nick, Juan Puente, Mike Pike, Thad Ritchey, "Painless" Rob, Greg Rojas, Robert "Wayne" Rutherford.
Comment: Lo-Fi Customs is one of my favorite purveyors of fine art in town. But about a year ago, it closed and I was sad. Now they're open again at a new location and I'm happy. Actually Lo-Fi is more than a gallery-- it's a state of being-- with fashion, custom bikes (pedal style), tattoo art, panties, decals, books, calendars, accessories, posters, other street-smart miscellany, and, of course, art. And it's all low-- good low, entertaining low.
For their grand reopening, Lo-Fi is showing tattoo art and tattoo machines from some of the best practioners on the planet. And many of the practitioners are there-- coming from as far as Europe and Hawaii-- and many of those at the show are living breathing art objects in and of themselves. For those of you annotating your daily journals, I only had to apologize once for not having any art on my body, and I had to be told what a tattooing machine looked like.
Welcome back, Lo-Fi!!
Art.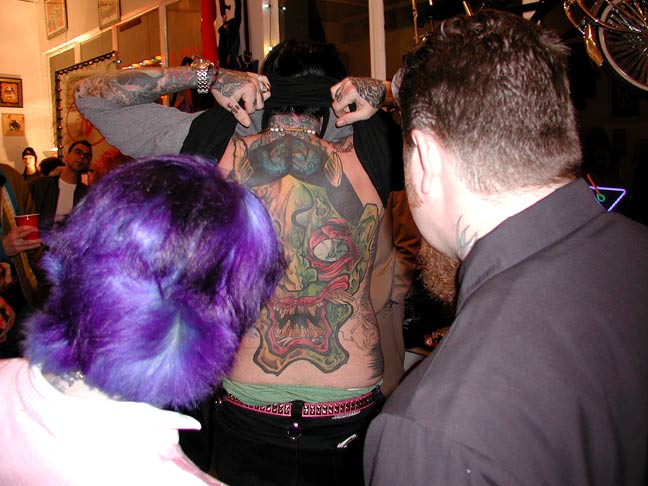 Traveling exhibition.


Artist Larry Hanks - tattooing machines (I tilted the camera to get him all in).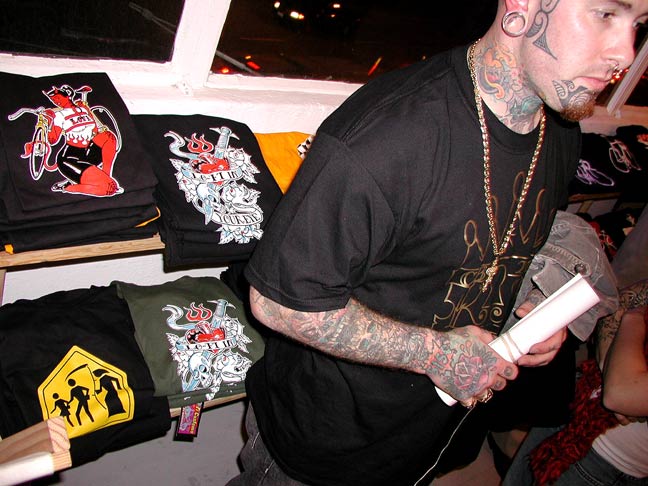 Art.


Traveling exhibition.


Art.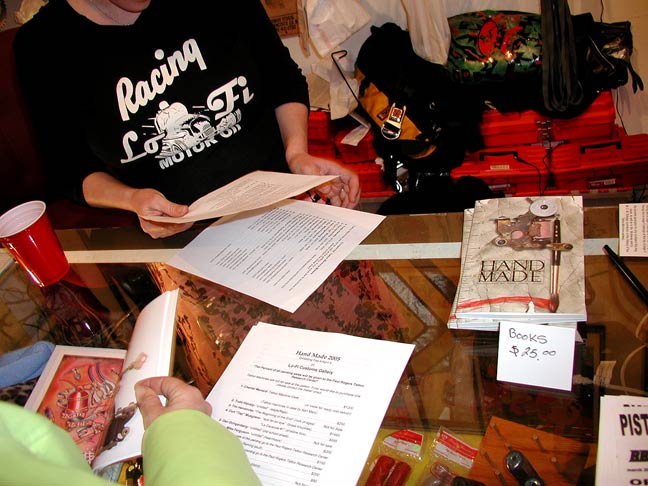 Book about the show.


Art.


Front desk area.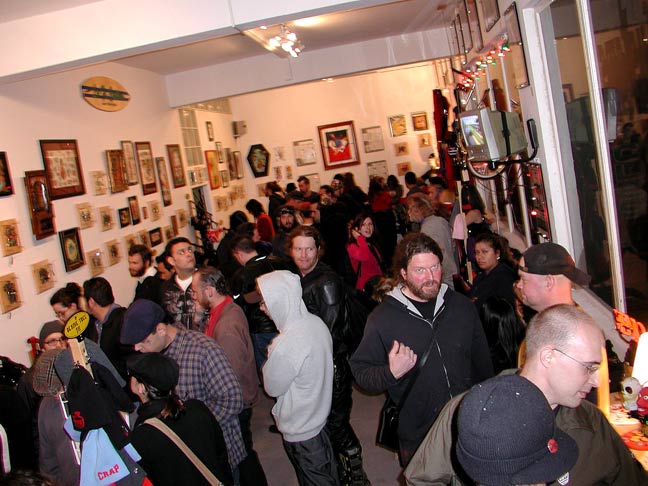 Overview.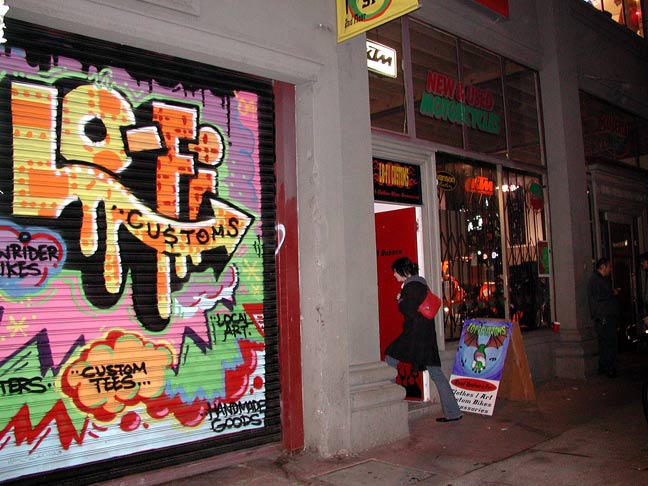 Esplanade.


***
Punch Gallery: Flaneur.
Artists: Andrew Schoultz, Ryan Wallace (NYC), Joseph Hart (NYC), Robert Gutierrez (SF), Ian Johnson (SF), Ricardo Richey (SF), SP.One (NYC), Caleb Neelon / SONIK (Boston), Christopher Howe (Chicago), Kyle Ranson (SF), Will Yackulic (SF), Erik Zo (SF), William O'Callaghan (SF), Curve (SF), Ace Morgan (SF), and Brad K. Alder (SF).
Comment: According to the liner notes, Charles Baudelaire characterizes a "flaneur" as an "incognito stroller, a jack of all social classes while belonging to none." That's how these artists are presented, as wandering chronicling observers of life, city life in particular-- and accurately so. But more significant than the art on display is that this is Punch Gallery's last show. The building is sold, Punch is out, and that, as they say, is that.
But enough about the future. Tonight, Andrew Schoultz assembles an appetizing array of work from some of San Francisco's more promising artists as well as a respectable out-of-town sampler plate. Ian Johnson's jazz art perks right along, super friendly pricing from $50, plenty under $250. Boston artist Caleb Neelon (SONIK) bumps up the bargain bin with some bright shiny building paintings from $175-$400. Curve writes his name big on the floor-- mat black, 3-D, and set in a signable pool of wet concrete. But really, everything's good, and no matter what your budget, there's tons of great buys. And I mean tons. And I'm not kidding. So stop on by before vaporization is complete, 'cause come the 26th, it's all gone see-you-later time forever.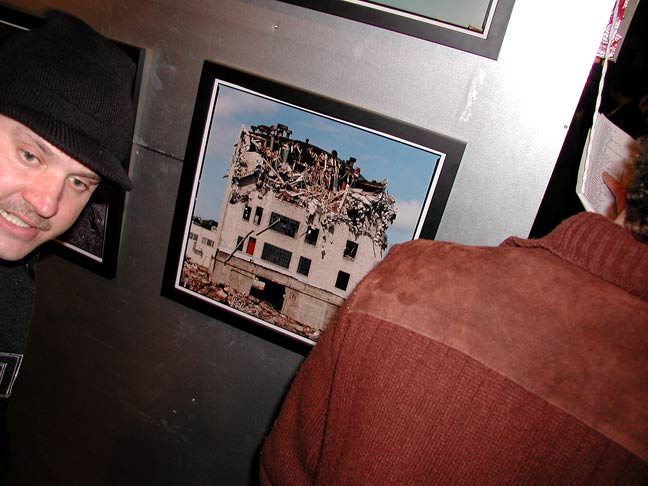 Photography (William O'Callaghan).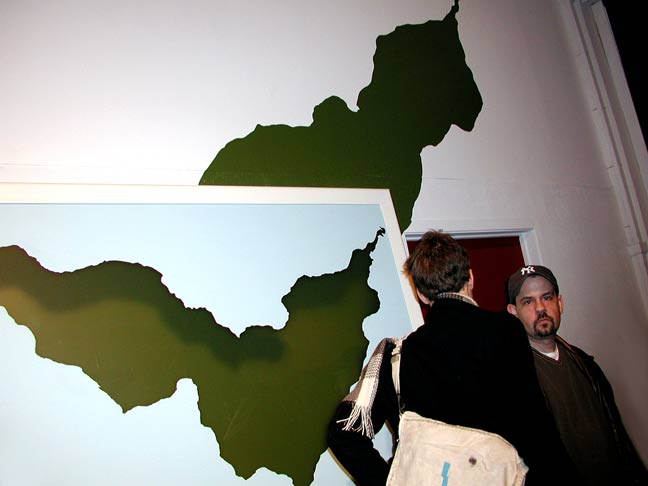 Art (Brad K. Alder).


Art (guess who?).


Show curator Andrew Schoultz (left).


Art (Ian Johnson).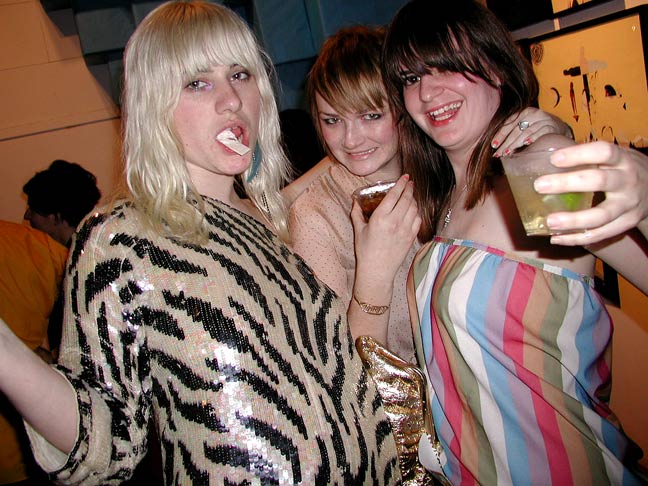 They wanted their pics took (no designated driver here).


Art (Kyle Ranson).


Pick (Caleb Neelon / SONIK).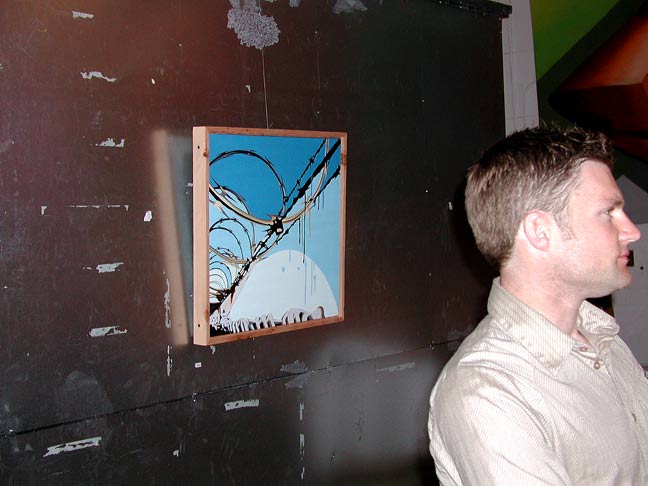 Pick (Curve).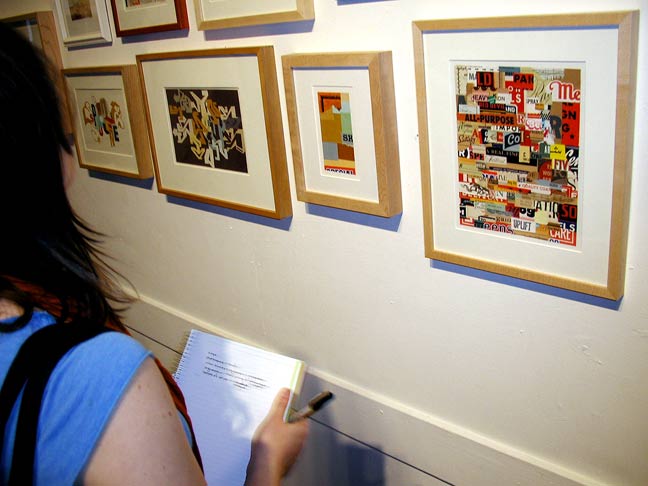 Art (SP.One).


Art (Joseph Hart).


Art (Christopher Howe).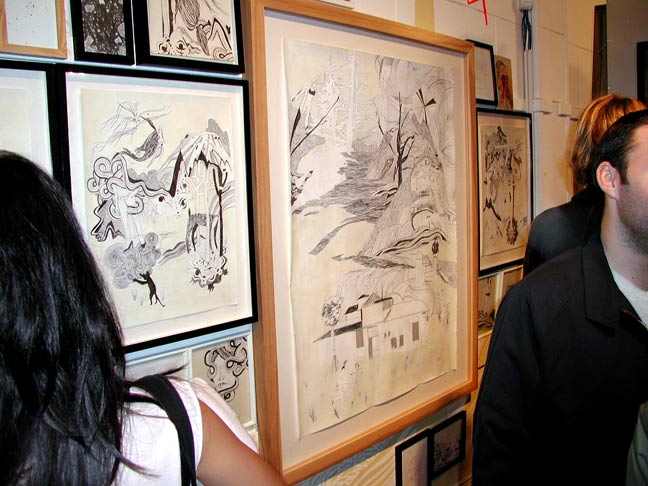 Art (Ryan Wallace).


Art (Andrew Schoultz).


Photography (Ace Morgan).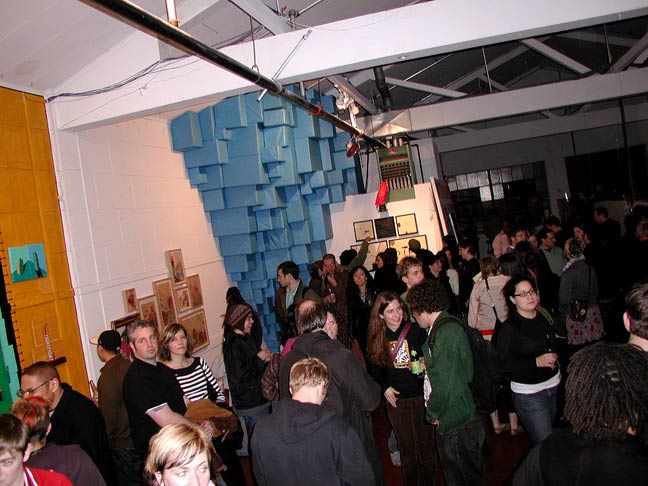 Blue reverse cascading hexahedral art (Will Yackulik).


All gone.


***
Addendum:
Jimi Hendrix Gallery, 245 South Van Ness Ave., #301, SF, 94103; josh@lastgasp.com.
Comment: The gallery is actually an artists' studio. "Radio Point," an engraving, chine colle, and ink on handmade paper by Brian Caraway is worth a look.
Brian Caraway - art.


***
On the road between shows, I notice life at Culture Cache Gallery and pop in for a look (they've been closed for about a year). A photography group called After Five Media had an opening there the night before. So here's a little of that...
Artists: Warren Difranco Hsu, Elena Fava Emerson, Ayumi Nakanishi, Steve Maslanka, Erin Lubin, Dariyoosh Hariri, Missy Edwards, Esteban Salazar, P.G. Rafanan (Soybaby).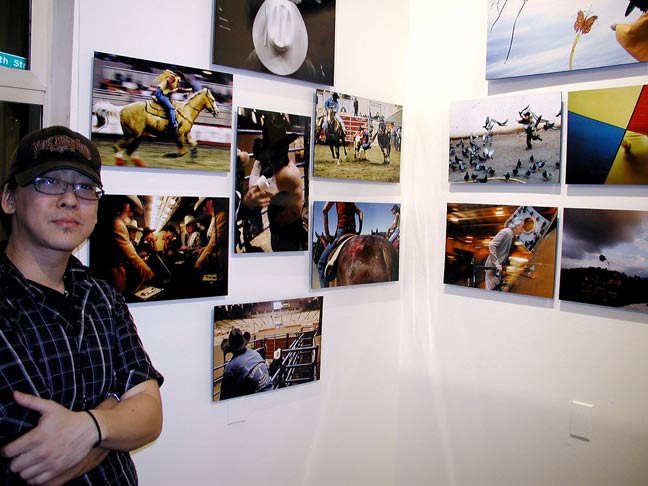 Warren Difranco Hsu - photography.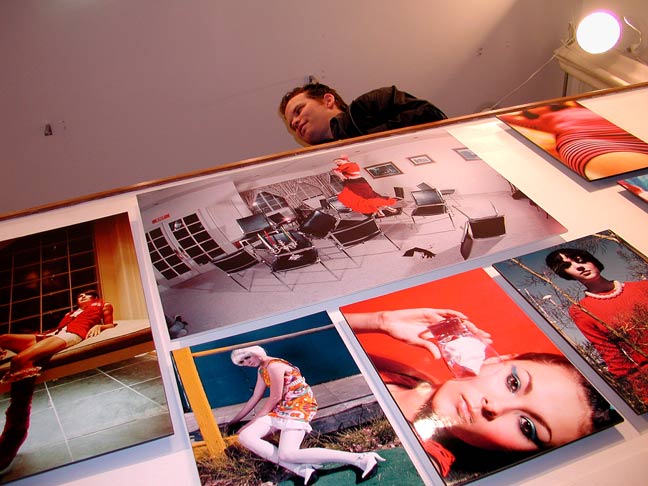 Photography looking up.


Ayumi Nakanishi - photography (I think).


Photography looking down.