SAN FRANCISCO - OAKLAND GALLERY OPENINGS
FIRST FRIDAY; 03.04.05
General comment: Tonight we have a spirited San Francisco-Oakland Inter-Bay art-off, with the Oakland artster contingent finally opening all the lower Telegraph Avenue area galleries at once (or maybe it was just a coincidence). Whatever it was, it worked. The competition, of course, ended in a dead-heat tie with everyone winning (isn't that how art-offs always end?). Good sportsmanship prevailed and there were no fouls or penalties, at least obvious ones that the refs could call, but then again, I go to bed early...
***
Bucheon Gallery: Face Paint, A Portrait Show.
Artists: Jenny Dubnau, Hiroshi Kimura, Linda Trunzo, Tim Wilson, Kirk LeClaire, Cynthia Hooper, David Tomb, Michael McDowell, Christine Shields, Seth Michael Foreman, Evri Kwong, David Lee, Lava Thomas, Julie Chang, Lien Truong, Jerry Smith, Laurel Connell, Merrilee Challis, Mike Ferris Jr., Ashley Macomber, Laura Ball, Danny Nicoletta, Jim Winters, Elena Sisto, David Halliday, Ashley Thayer.
Comment: A copious varietous panoply of portraiture by a bucketful of artists. There weren't many rules for submission other than that the art had to have a face on it somewhere. This is actually a great show for paranoids. You lookin' at me?
Art.


Art.


Art.


Art - artist (I think).


Art.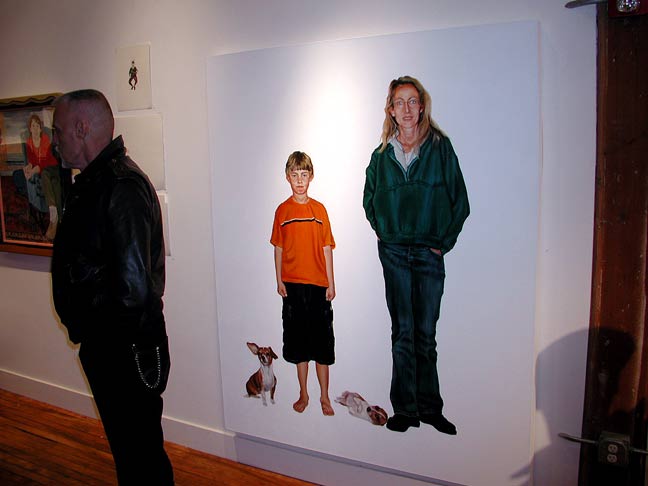 Art.


Art.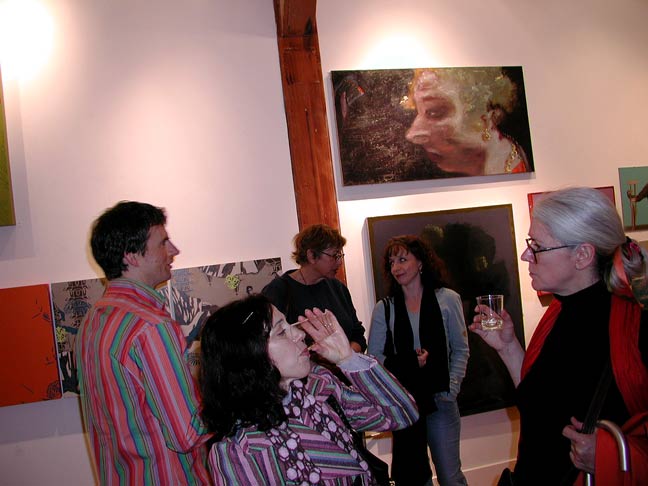 Art.


***
Limn Gallery: Along the Roads of China.
Artists: Weng Yunpeng, Zhang Lujiang.
Comment: Traditional style painting by two artist/professors at the Central Academy of Fine Arts, Beijing. One artist is a generation younger than the other-- I'm not sure which is which-- but I think the younger one paints traditional landscapes with TV sets in them, and the older one paints Tonalist-style landscapes. But that's only a guess, but I got an "A" in Logic in college, and I'm reasonably confident of my powers of deductive reasoning, but I prefer facts. Hey, Limn-- how about saving me the brain strain and identifying images of art by these artists on either your website or opening announcement?
Anyway, Limn Gallery seems to have been off the art charts for a while, or maybe they've been on the charts, but they stopped posting their openings. Only a handful of people were at the show. The art's worth seeing, and the Limn furniture and accessories store, just across the courtyard, is a design junkie's paradise.
Art.


Art.


Art.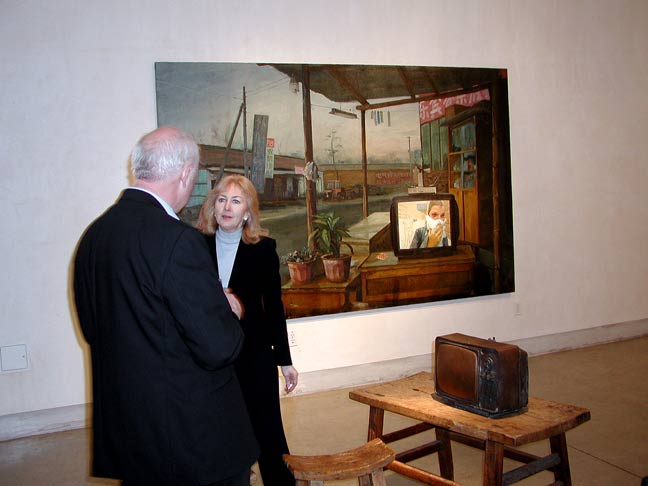 Art.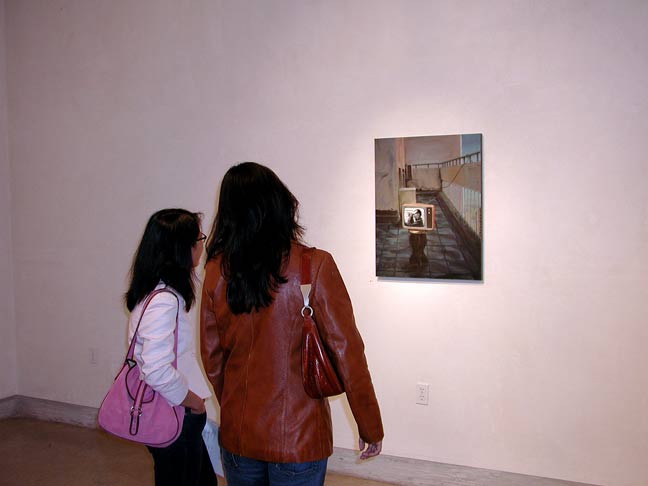 Art.


Art.


***
San Francisco Center for the Book: Journey to the Source, Handmade Books from Cuba's Ediciones Vigia.
Artists: Quite a few.
Comment: The San Francisco Center for the Book, one of our lesser known art treasures, this time shows artist books from Cuba. The center is a hangout for fine binders, book artists, book conservators, and similarly artistic literarians. The Center's openings are always upbeat, and this one's no exception. For those of you who've never thought about books as art, it's time to start thinking. Wake up and smell the pages.
Book art.


Book Art.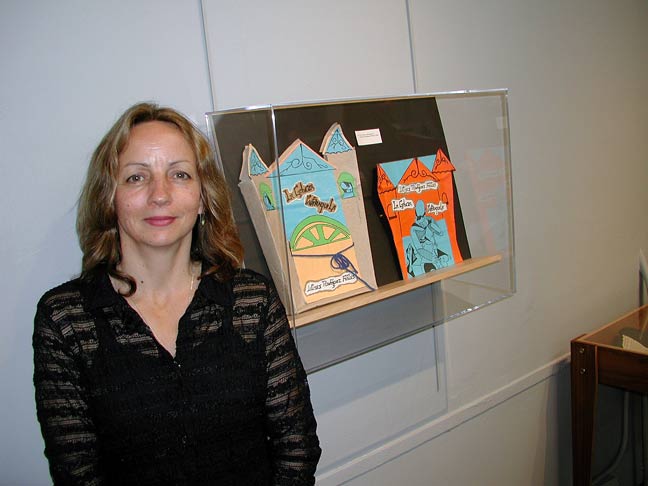 Curator Linda S. Howe - book art.


Book art.


Book art - overview.
***
Southern Exposure Gallery: Adriane Colburn, Edward Matthew Taylor (Frederick Loomis), Kerry Tribe, Jessica Tully.
Comment: Instead of painting or sculpting, Adriane Colburn makes art by cutting oodles of paper extremely accurately, this time, into a huge map of San Francisco with flourishes, and several other more manageable works. If I tried to do what she does, I'd last about ten minutes before they'd have to lock me up in the boo-boo hatch and throw away the key. Jessica Tully opines on water and how we use it with an installation featuring a large mural and video. Frederick Loomis creates a series of drawings with text, supposedly by fictitious artist Edward Matthew Taylor, prophesizing a coming race of human computers. And Northern Lights, a psychedelic-esque video by Kerry Tribe, reminds me of my vaporous youth, aimlessly groovin' on the funky D, sayin' shit like "Oh, wow" and "That's reeeaaallly weeiiirrrd."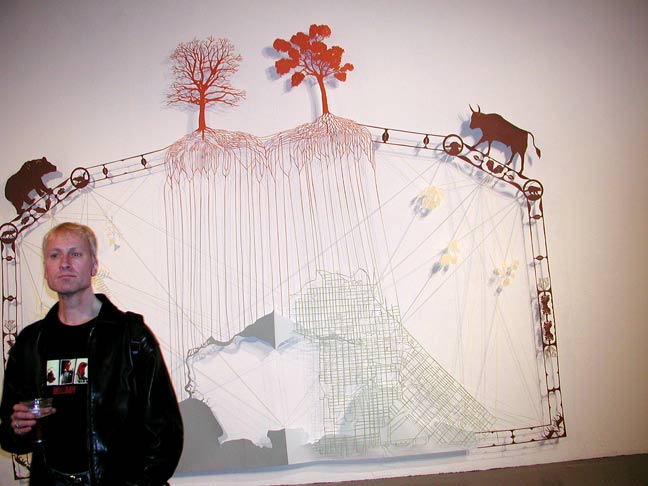 Art (Adriane Colburn).


Art (Jessica Tully).


Art (Frederick Loomis).


Not sure, but I liked the image. Maybe Frederick Loomis.


Adriane Colburn (center).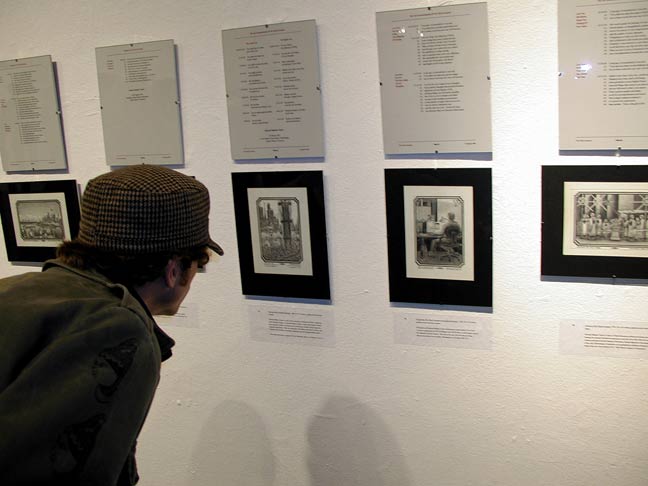 Art (Frederick Loomis).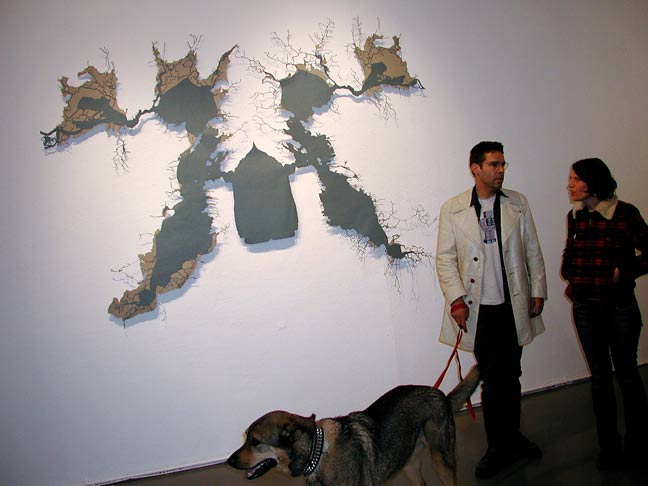 Art (Adriane Colburn).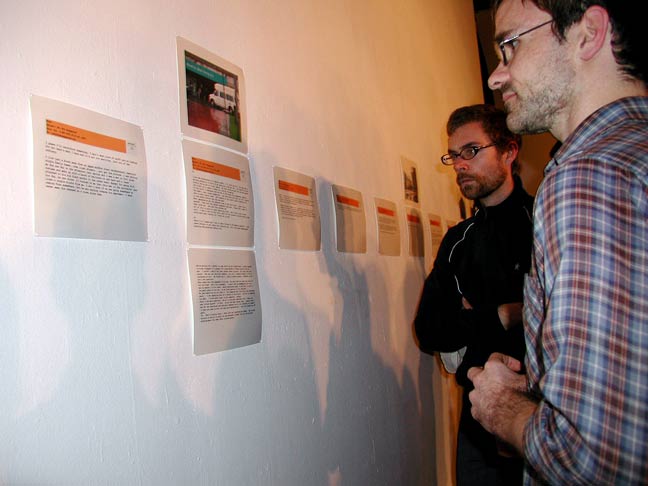 Art (Frederick Loomis, I think).


***
Femina Potens Gallery: Laura Splan; New Work.
Comment: Laura Splan is known for blood work-- painting with blood-- her blood. Here she takes digital prints (Roland printer; pigmented inks) of abstract grey shapes on white backgrounds and paints them up with delicate capillary-like lines, producing subtle bloodshot effects. The work is hypnotically clean, and just kinda drifts you off, gets you wondering about this or that, nothing in particular, in a peaceful kind of way. You know, since I didn't give out a Best of First Thursday Award this month, and since it's a pain to carry around in my back pocket, not to mention that it pokes me in the ass everytime I sit down, I'm gonna lighten my load and give it to Laura Splan for this show.
Art - Laura Splan


Art.


Floor.


***
Bye, San Francisco...
Hi, Oakland!
***
Mama Buzz Cafe and Gallery: Suburban Landscapes; Artwork by Tracy Timmins.
Comment: Tracy Timmins paints perfect suburbia, but also toxic suburbia a la Three Mile Island or Love Canal. Timmins also co-owns Auto 3321 Gallery just down the street.
Tracy Timmins out front.


Art - Tracy Timmins.


***
Auto 3321 Gallery: FREEKMAGNET; Jeremy Kirsch.
Comment: Jeremy Kirsch grew up around photography, and his work already shows potential. Here he costumes, poses and photographs people in various scenarios, complementing each with a detailed text explanation. His images are similar in feel to those composed and photographed by Lejaren Hiller for his book Surgery Through the Ages, published in 1944. Get a copy and check it out-- it's pretty entertaining.
Photography.


Photography - Jeremy Kirsch.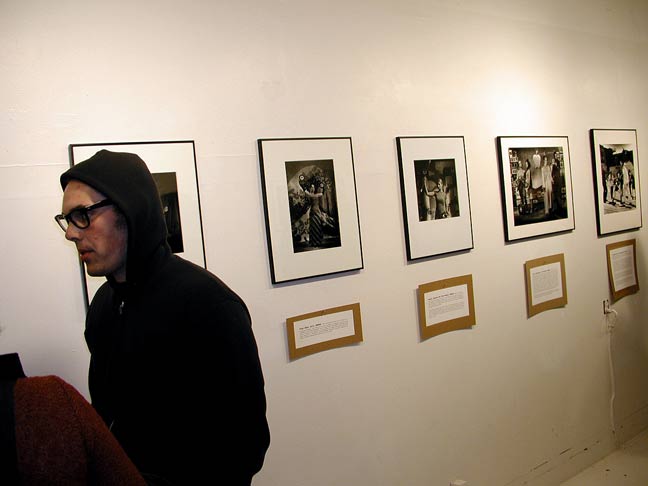 Photography.


***
21 Grand Gallery: Paintings by James Gouldthorpe & Fred Nocella.
Best show I've seen so far at 21 Grand (out of maybe six). James Gouldthorpe essays, mostly black and white, on hunting, people who own guns, bloodsport, and the like, with images derived from pictures in hunting magazines of the 1940's and 50's. Gouldthorpe grew up around hunting, particularly a grandfather who hunted, and approaches the lifestyle from the point of view of someone trying to understand the attraction. Fred Nocella gel-transfers images from a 1915 child training manual, retouches and redefines them with acrylics, resulting in strange, moody, almost surreal compositions.
Art (James Gouldthorpe).


Art (Fred Nocella).


James Gouldthorpe with "people who own guns."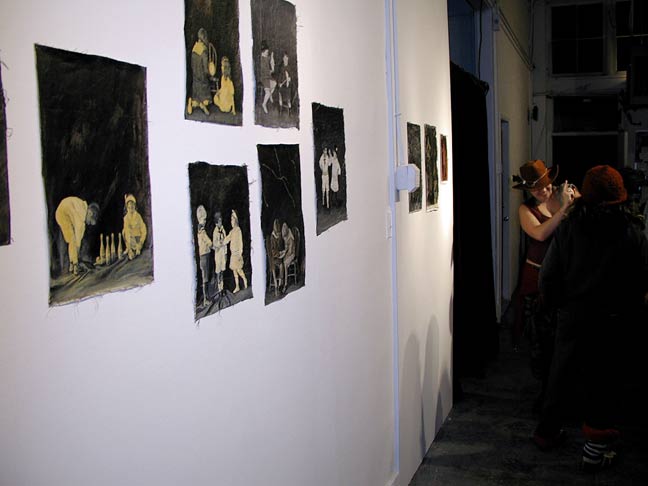 Art (Fred Nocella).


Ambience.


***
Boontling Gallery, 4224 Telegraph Ave., Oakland, CA 94609; 707.980.1060: Overhung; Works by Over 50 Artists.
Comment: The walls are triple-crammed with art, including the ceiling; the tiny gallery was triple-crammed with devotees (typical of large group shows), most likely in the following order-- artists, those who love them, and family members (who also love them). The show is basically a hunt-and-peck kinda deal, but if you persevere, you'll find what you're looking for.
Art - art - art.


Art - art - art.


Art - art - art.


Art - art - art.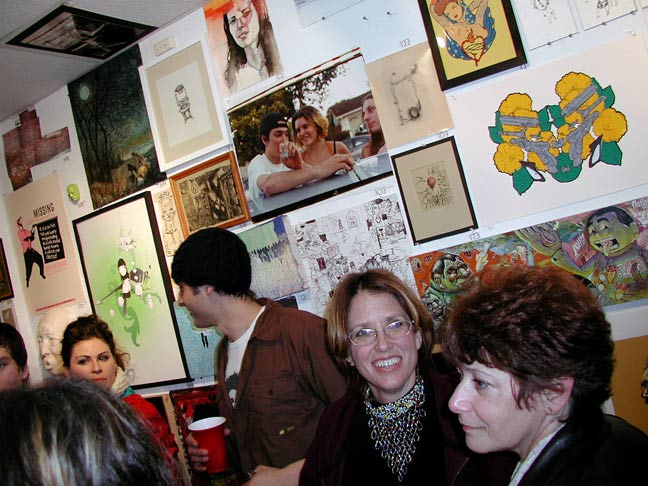 Art - art - art.


Spillage.


***
Turn of the Century Fine Arts Gallery: Joe DiStefano.
Comment: What better way to end an arduously fulfilling night of arting than to come upon Turn of the Century Fine Arts Gallery, the show being over, but the artist, the owner, and miscellaneous compadres playing nickel-dime poker at a table set up in the center of the gallery. Joe DiStefano is a Bay Area fixture for over 30 years, with time off for a New York adventure. But he's back and painting and showing and living the artist's life. Prices are reasonable here, by the way, with his latest large paintings selling for $900 each, small studies for $90, several early 1980's paintings for $1,200 each, ceramics from $25-$1400.
I'm in luck. They're still here.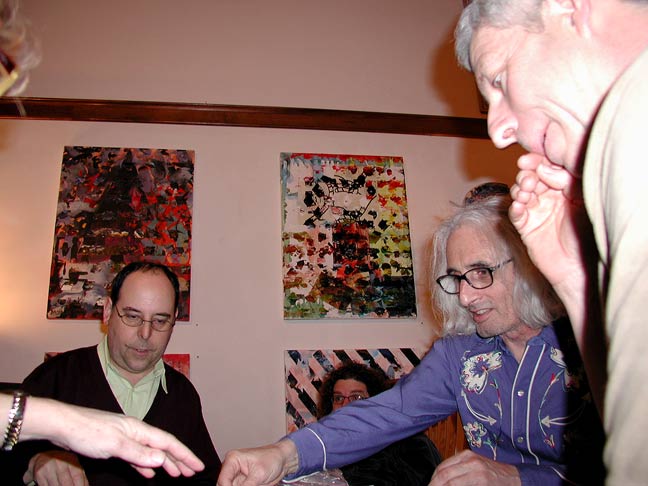 How did the show go?
(Hmmm. Kinda reminds me of the Sistine Chapel)


Oh. Sorry. I'll wait 'til the hand's over.


Joe DiStefano - wall ceramics.


Paintings - Joe DiStefano deep in thought (I think).


Proprietor.