SAN FRANCISCO GALLERY OPENINGS
FIRST FRIDAY; 05.06.05
Michelle O'Connor Gallery, 2111 Mission St. 4th Floor, San Francisco, CA 94110; 415.948.7965: By Hand - Mixed Media Photography.
Artists: Ryan Sivertsen, Naomi Vanderkindren, Jen Lebel, Mark McKnight, Alexandra Styc, Melissa Weinberg, Sam Samuelson, Timothy DeBlase, Andrew Wingler, Natasha Loewy, Julayne Farmer, Spencer Hansen, Daniel Minnick, Constance Lewis.
Comment: Different artists do different things with photographs or, as the show statement puts it, "Each participating artist finds unique technical points of departure, using a wide range of light-sensitive-drawing media, where materials and methods amplify individual perspectives, integrating syntactical meaning contextually." Oh. Now I get it. Pssst-- the quality of the art is precisely the same with or without the slippery lingo.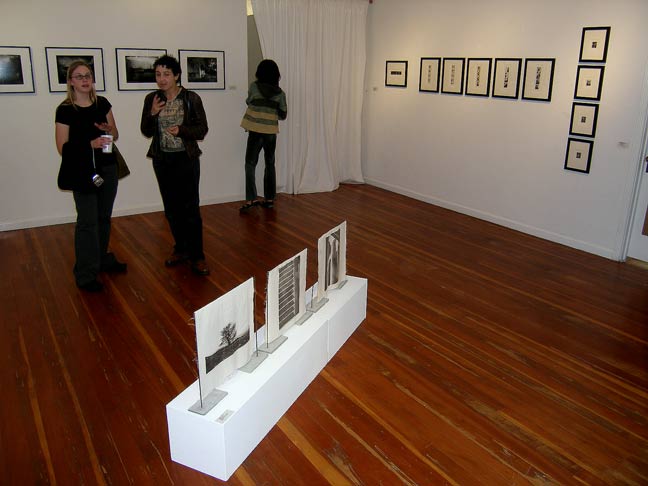 Photography.


Photographs.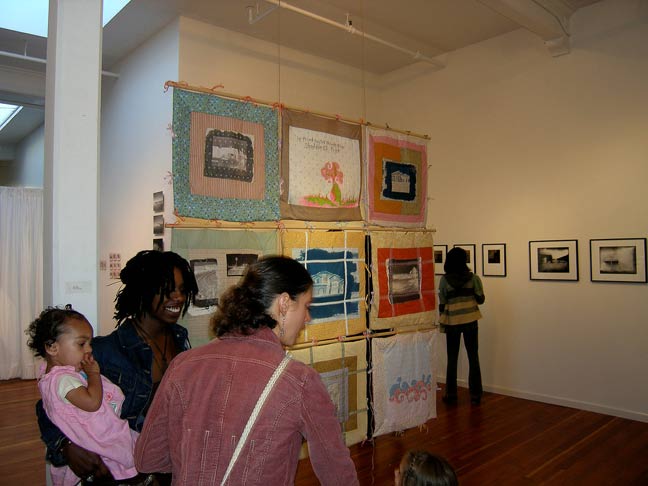 Photographic art.


***
Balazo Gallery: Faux Pause, An Exhibition of Digital Media, Sculpture, Drawings, and Installations.
Artists: Jaren Bonillo, Charlie Callahan, Joshua Churchill, Gibson Cuyler, Renee Delores, Andrew Hedges, Suzanne Husky, Misako Inaoka, Keiko Kayamoto, Nobuyo Kinoshita, Tony Luib, Kirk Maxson, Nate Osgood, Joslin Pollard, Emily Sevier, Charlene Tan.
Comment: This pleasantly surprising show, running through May 16 (by appointment), consists of two floors of larger scale works, primarily installations. Upstairs features a stand-alone bathtub with a shower curtain around it. Seen from across the room, someone appears to be standing in the tub, behind the curtain, along with a blinking light, and each time the light blinks on, you see the shadow of the person standing motionless in a different position. What's really happening is that a series of images of human shadows are being projected onto the outside of the curtain by a projector on the opposite wall, and the tub is empty. But I'm thinking a real person is in the tub, so I carefully open the curtain to maybe see me some skin, but I get fooled, find the tub empty, and I like it.
Pick of the show goes to Andrew Hedges for a really good cut-and-welded sculpture artistifying the historic transition from animal power (using horses to perform heavy labor) to the industrial revolution (using horses to race at Golden Gate Fields). The piece is very well conceived, composed, and executed. It's $3000, it's worth it, Andrew Hedges tells me it's basically the first piece he's produced since graduating from art school several years ago, and I tell you that he's got a future as a sculptor. More please, Mr. Hedges.
Looks like a real person, doesn't it?


Andrew Hedges - sculpture (pick).


Joslin Pollard - art (half of the collaborative).


Pile of art.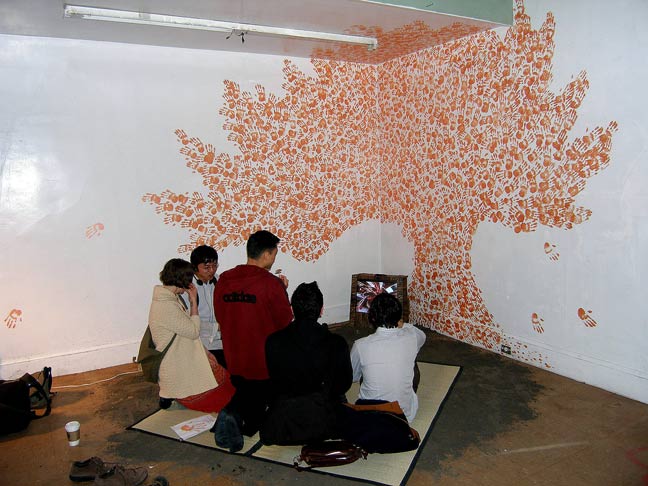 Art.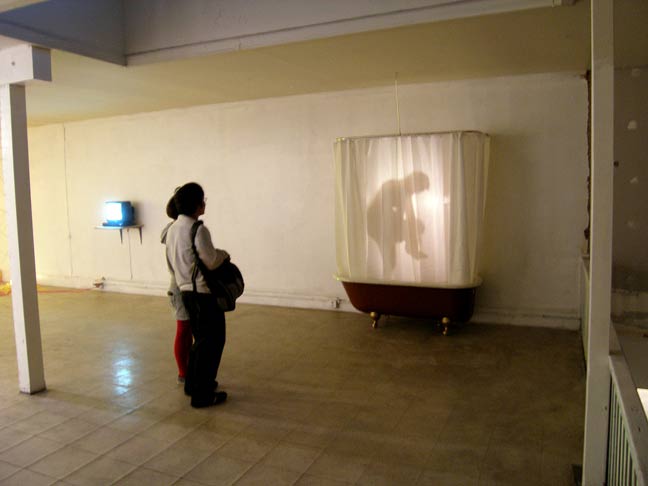 Fooled you again.


***
Blue Room Gallery: Patrick Duegaw - Paintings; Harvey Drouillard - Photography, Spirit of Lady Godiva; Out of the Wood Work, Unconventional Interpretations of Furniture.
Artists: Patrick Duegaw, Harvey Drouillard, Miriam Blachman, Emily Glotch, Yekaterina Lutsker, Christine Pyers, Mei-Yen Shipek, Andrew Utt, Portia Wells.
Comment: A founding member of a Wichita, Kansas artists' cooperative called Fisch Haus, Patrick Duegaw brings his captivatingly competent assemblage paintings to San Francisco for his first West Coast show, reminding us that America has good art and artists everywhere. Duggan takes pieces of salvaged scrap wood and sheetrock, paints them up, applies high-gloss finishes, and then screws, nails, and frames them together to form complete compositions. Prices on larger works range $5K-$9K.
Upstairs, Harvey Drouillard's photographs show naked people in everyday outdoor settings where societal norms dictate that they're supposed to be wearing clothes. But it's San Francisco so nobody cares whether they have clothes on or not. The remainder of the artists in the show fill the remainder of the gallery with some pretty strange "furniture."
Art (Patrick Duegaw).


Art (Patrick Duegaw).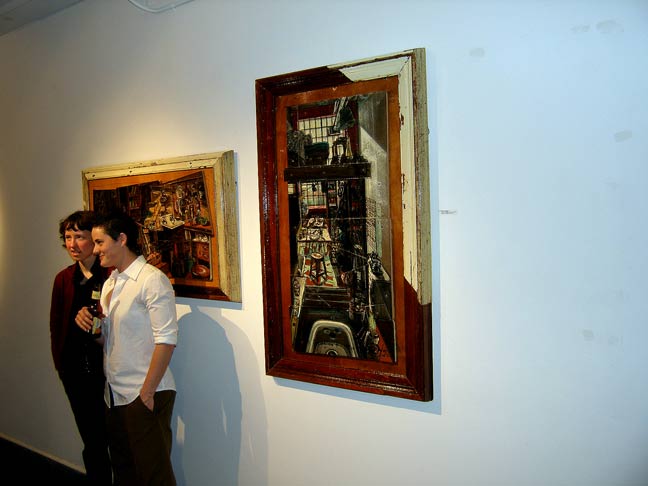 Art (Patrick Duegaw).


Art (Patrick Duegaw).


Naked people photography (Harvey Drouillard).


Naked people photography (Harvey Drouillard).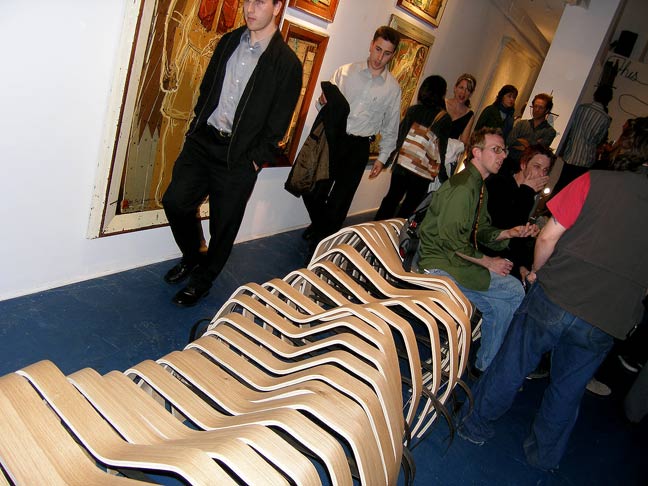 Furniture.


Upper.


***
69 Belcher Street: Belcher Artists - Spring Show 2005.
Artists: Featuring Carlo Abruzzese, Akim Aginsky, Amy Bond, Sarah Coleman, Jason Forman, Tracy Taylor Grubbs, Peter Howells, Julie Montgomery, William Salit, Scott Saraceno, Charles Stinson, Pete Thompson.
Comment: Circuitous on the inside, ivy-covered walls on the outside, 69 Belcher Street gallery and studio complex is one of my favorite local art show venues. It's got an excellent high-ceilinged main gallery, off of which are a several smaller exhibition areas connected by winding hallways, tonight all hung and pedestalled with some pretty appealing art. The individual artists' studios, mainly upstairs but also downstairs, are also open to the public for the event.
Art (Charles Stinson sculpture).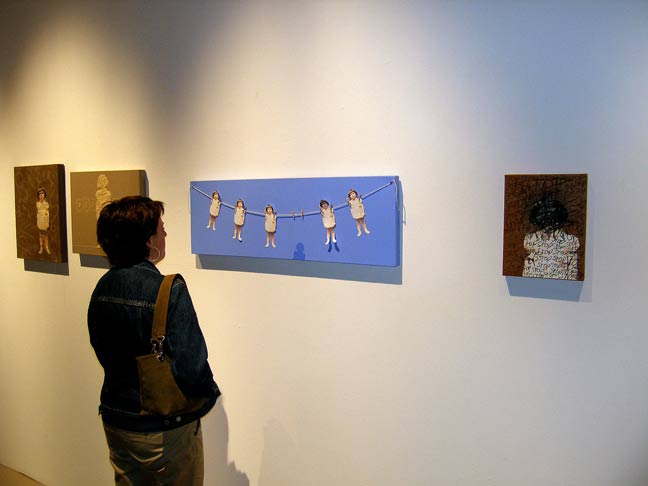 Art (Amy Bond).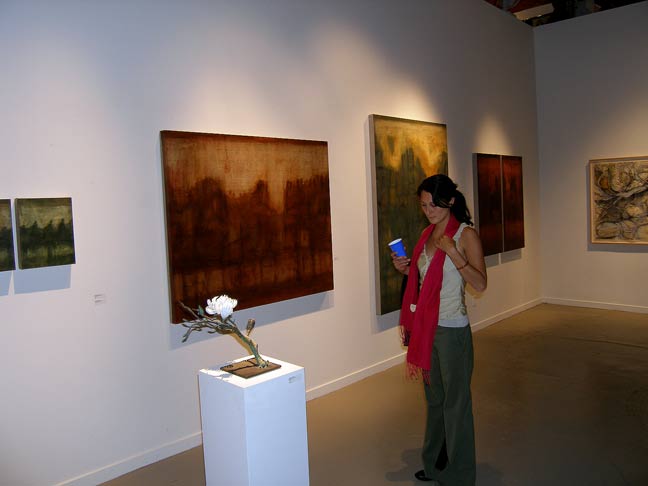 Art (Julie B. Montgomery paintings).


Art (Pete Thompson).


Art (William Salit).


Art (Jason Forman).


Art (Charles Stinson Buddha sculpture backside).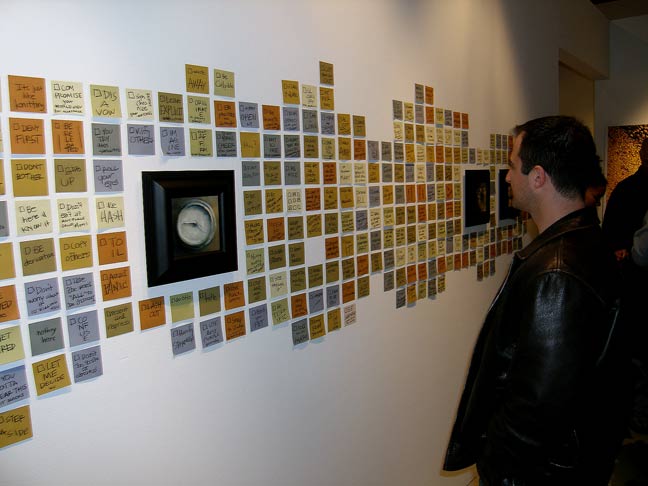 Art (Peter Howells).


Art (Sculpture - Charles Stinson; photos - Pete Thompson).


Main gallery.


***
Addendum:
Plein air chairs by Lyon Omohundro at Den.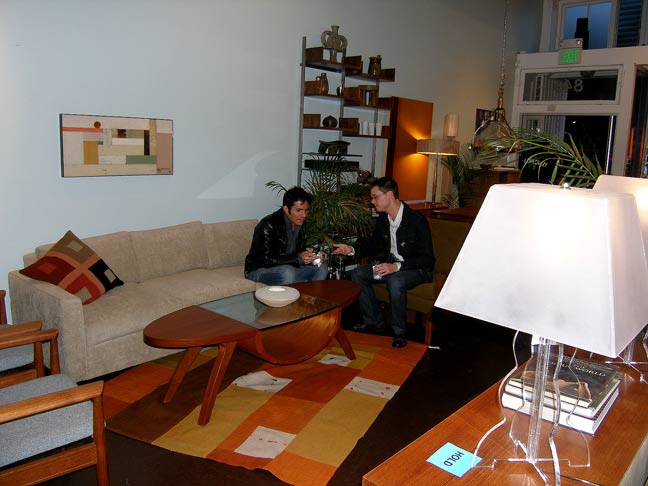 One more from Den


Pretty nice group show at City Art Gallery.


Another from City Art Gallery.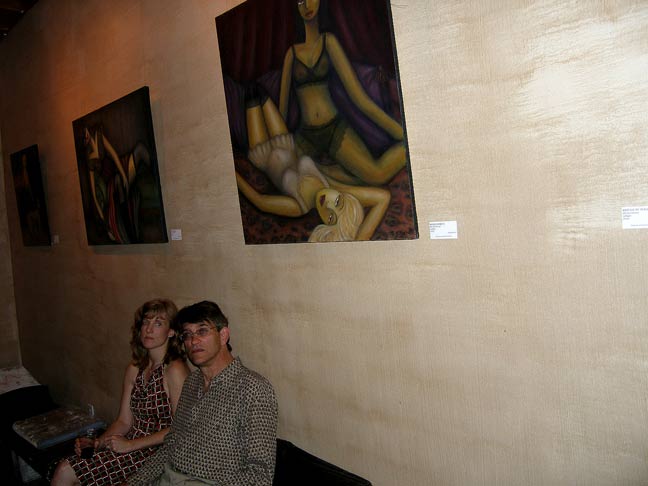 Kissy sultry smoky nightclub art by Teresa Moore at
One Taste Urban Retreat Center.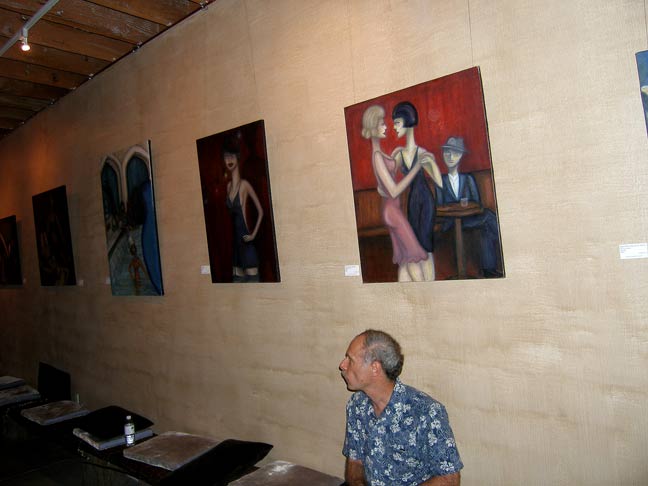 One last kiss from One Taste.