SAN FRANCISCO GALLERY OPENINGS
SECOND FRIDAY; 07.08.05
Hi artsters! I'm back. Miss me? I missed you. OK, please take your seats. The meeting will now come to order...
Ratio 3 Gallery: Jose Alvarez - Looking for Ixtlan.
Comment: Pretty snappy creatibles here. Jose Alvarez's bas reliefs appear to be assembled from cut polished glued sections of rock crystal, my favorite piece incorporating inlays of precision trimmed scalloped Peacock feathers. The art references Carlos Castaneda's book "Journey to Ixtlan," but I can't comment on that because I was so stoned when I read it, about all I remember is that someone ate mushrooms. Opposite the crystal works is a digital image of a radio telescope and wave diagrams, contrasting outer space with inner mind.
Alvarez's art sparkles like diamonds, but the care and maintenance aspects concern me a bit, particularly the exposed hard-to-dust edges. Few, if any, artists work in this medium, meaning there's probably not a lot of longevity data to fall back on. In other words, if you want your "investment" to age unscathed, get instructions on how keep it looking sharp. You see, most art hangs in private homes (not hermetic climate-controlled museums) where it's exposed to constant changes in temperature, humidity, and air quality. New mediums need special attention because no one knows how they'll age, and if problems creep up, the fix won't be cheap-- ask any fine art consevator.
The one in the center has the Peacock feathers.


Art.


***
Artist Exchange: Group Show.
Artists: Lisa Hunt, Monica Crawford, Andre¹ Stafford, Joe Twisti, Chris Lieb, Michael Bell, Joshua Ellingson, Eric Brooks, Mary Tivadar, Georgianne Fastaia, Albert Hwang, Ayu Tomikawa, Cavian Liao, Nathalie Fabri, Hiroko Sakai, Roger Licot, Tessa Merrie, Seth Matarese & Ben Collison.
Comment: Artist Exchange is packed with a variety of handmade goods including fine art, crafts, wearables, jewelry, sculpture, and more. The way it works, an artist tells me, is that the gallery provides exhibition space at no charge and takes a commission on whatever they sell (like most galleries). Positioning of an artist's work appears to depend on salability of the art. In other words, if your art sells well, then it shows in a place where people are more likely to see it. I'm not sure of the requirements for showing at the gallery, but Artist Exchange is certainly a viable option for getting your art out in public. They publicize their events well, and have a good location with plenty of foot traffic.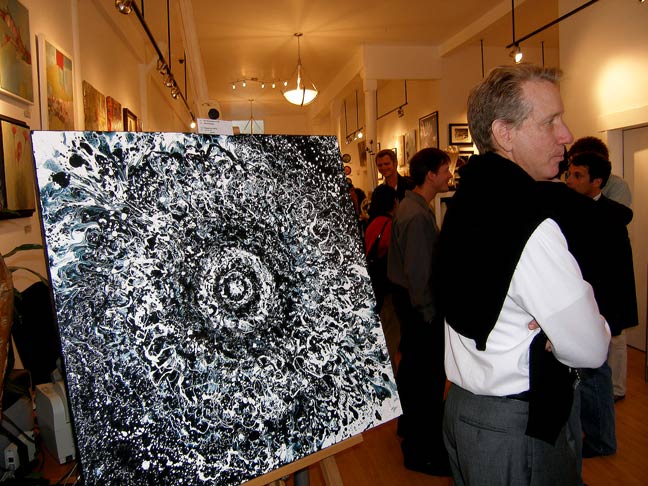 Art.


Art.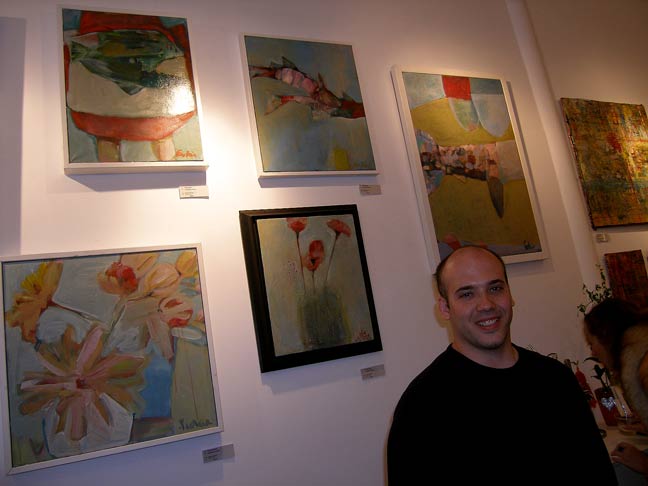 Owner - art.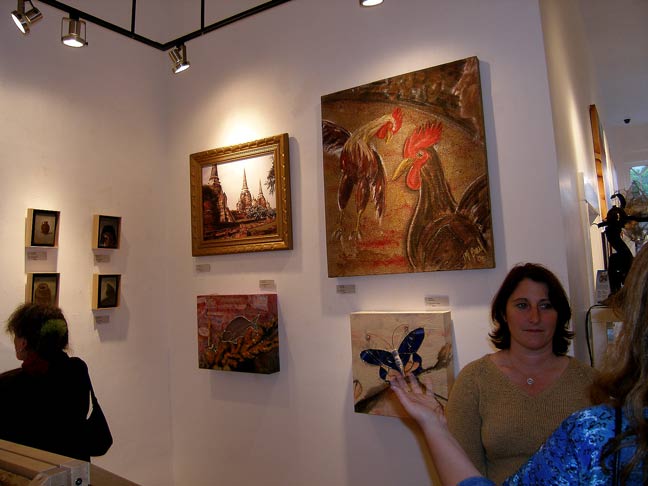 Art.


Monica Crawford - art.


Art.


***
Artist on the Street: No name or contact information.
Comment: I see him occasionally, sometimes on Haight, sometimes around Valencia, selling his art on the street. Tonight I ask him a few questions thinking I might take his picture. He tells me he has a 9-year old son and that he needs money for a hotel room. He works hard, moves with purpose from person to person, offering his ball point pen drawings for $15 to $25 each. The naive geometric abstracts are clean, meticulous, and well-composed; he holds one up and tells me it took about nine hours to make. I can see him showing with a dealer who specializes in self-taught artists.
Artist - art.


Artist - art.


Back to work.


***
Gallery 16: Lowell Darling - Flip Sides.
Comment: At first, I think this is a group show because everything's so different. But it's a solo show starring Lowell Darling-- which means it gets an automatic thumbs-up. You know why? 'Cause Lowell Darling makes all kinds of art all very well-- and he fooled me, and I like getting fooled (by art). Among the more interesting pieces, certainly the longest, are oversized prints evolved from sections of discarded Hollywood film that Darling scavenged out of studio dumpsters long ago when he lived in LA. And let's not forget the skill with which Urban Digital Color (aka Gallery 16) prints it all out-- another thumbs-up.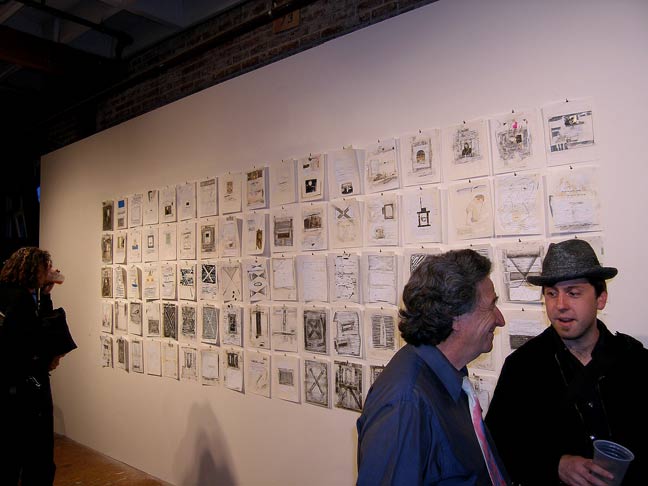 Art.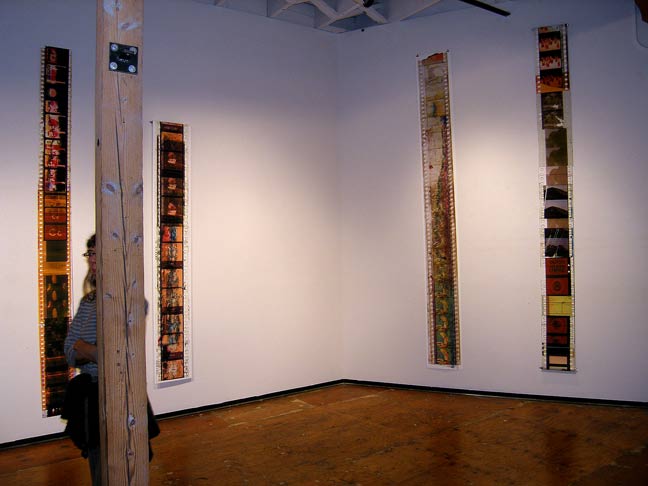 Art.


Art.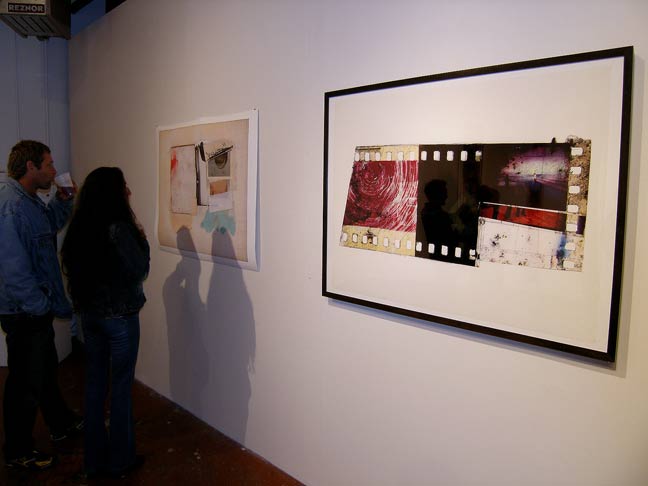 Art.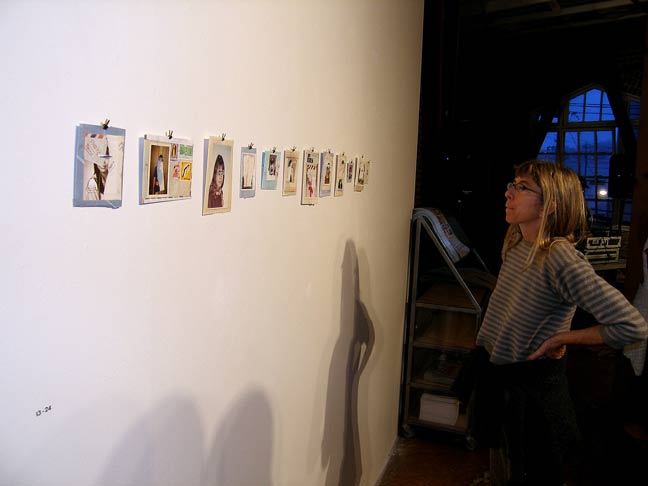 Art.


Art.


***
Culture Cache: Higher Grade Experience sponsored by Satori Movement.
Artists: Jah Terms, Chris Dyer, Nate Van Dyke, Stage One, Luke Brown, Lamb, more.
Comment: This show is the surprise of the night, a mystical hempy spiritual meditative skateboarding Selassie Rasta blend of entertaining art and good people. My favorite pieces are intricately painted skateboard decks by Montreal artist Chris Dyer including a black-and-white piece on a broken half-deck for $200 (such a deal). Miami artist Jah Terms nicely murals up a wall and also shows a number of African-rooted paintings. Clothing and accessories are available. Altogether, something different and worth a look. Culture Cache hasn't updated its website in a while, so I'm not sure what's up with either that or the gallery.
Art (Jah Terms).


Art - Jah Terms (right).


Chris Dyer - art ($200 upper left).


Art.


Jah Terms - son - art.


Accessories.


Another Chris Dyer - art.


Art.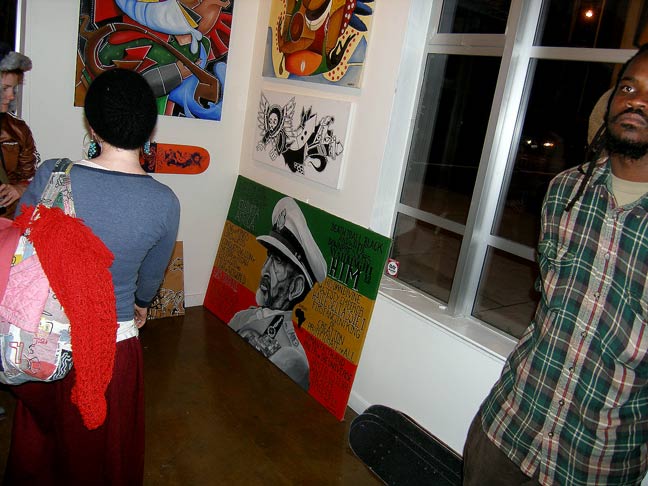 Art (Jah Terms).


***
Varnish Fine Art: Seamless.
Artists: Yuko Shimizu, Christopher Silas Neal, Sara Varon, Andrew Liang.
Comment: Curated by Whitney Sherman, the reception and exhibition is held in conjunction with ICON 4, The Illustration Conference. Being kind of a book dude as well as an art dude, I love the black leatherbound one-of-a-kind book of odd erotic imagery by Yuko Shimizu. And unlike other one-of-a-kind books, it sits on a pedestal available for anyone to page through at their leisure-- no white gloves or scowling overseers to crimp your style.
Art.


Art.


Yuko Shimizu's odd erotica.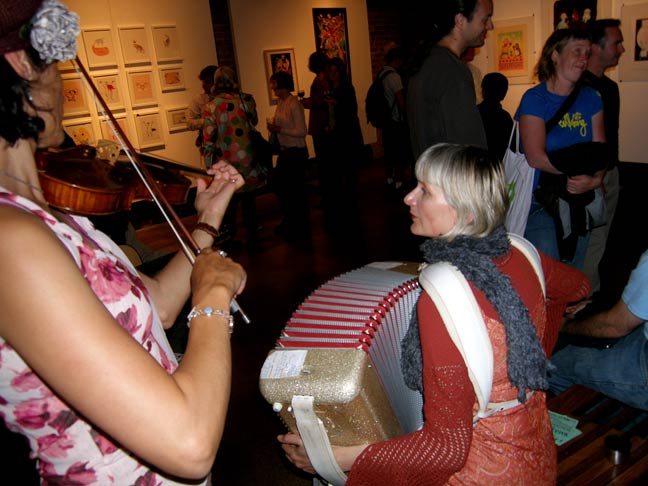 Esoteric tunes.


Art.


Art.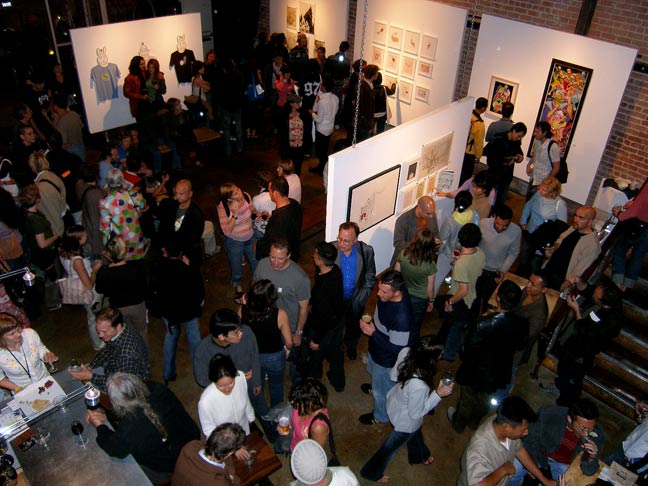 Overview.