SAN FRANCISCO GALLERY OPENINGS
FIRST FRIDAY; 09.09.05
Southern Exposure Gallery: Practice Makes Perfect - Bay Area Conceptual Craft.
Artists: Ann Chamberlain, Amy Franceschini/Michael Swaine, David Ireland, Bernie Lubell, Christian Maychack, Jim Melchert, Scott Oliver, Stephanie Syjuco, Mark Thompson, Tony Tredway, and Anna Von Mertens.
Comment: Artful craft with modest functionality, nicely assembled for the most part. The oversized wood constructions by Bernie Lubell entertain from competency as well as utilitarian perspectives. The conjoined moldings meandering along several upstairs walls by Tony Tredway exemplify art with instant practical decorative applications. Stephanie Syjuco's mixed media shelf sculptures are noted as being "After Charlotte Perriand," but look more like "Exactly Charlotte Perriand." Good art overall.
Art (Tony Tredway - like it).


Art.


Art.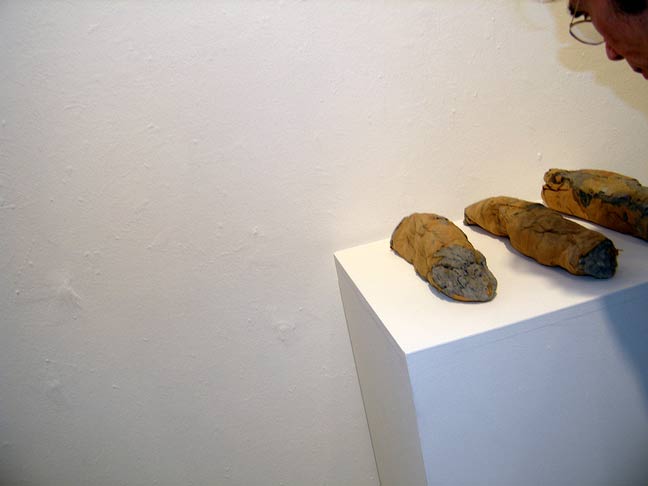 Not sure.


Art.


Flood plain.


***
Gallery 16: Rex Ray.
Comment: Who cares if it's Friday? Rex Ray's metamodern large format collages are so amazingly outstanding that he gets Pick of First Thursday. His concept, composition, craftsmanship, originality, identity, and uniquess of vision are so way up there that no matter how you respond to his art intellectually or emotionally, I'm willing to bet that the mere act of standing next to it will, by osmotic process alone, make you a better artist (or if you're not an artist, a better whatever you are). And the mere act of buying one of his riotous interlaced bursts of color will not only vitalize and enrich your environment, but ultimately your portfolio as well. For those of you keeping score, these brand new collages are finished flat and look more like "art" than the high gloss hard sheen semi-decorative works that Ray has traditionally been known for. But now he's known for more-- much more.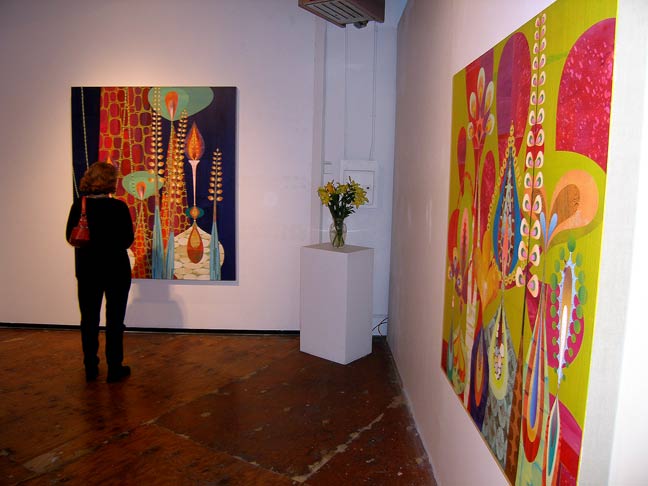 Art


Art.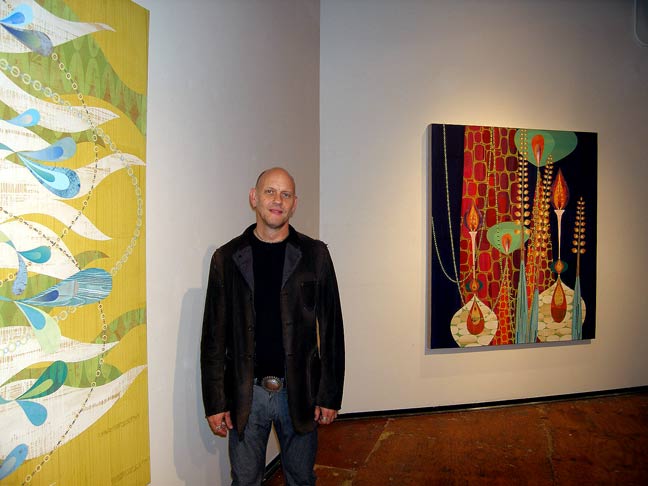 Rex Ray - art.


Art.


***
Ampersand International Arts: Assisted Living, Collaborative Art Installation by Michael Campbell and Kevin King.
Comment: Lighthearted toy-like sculptural assemblages. No minimum age requirement, and it's never too soon to entice the kiddies into artland. Priced reasonably, smaller works in the low hundreds.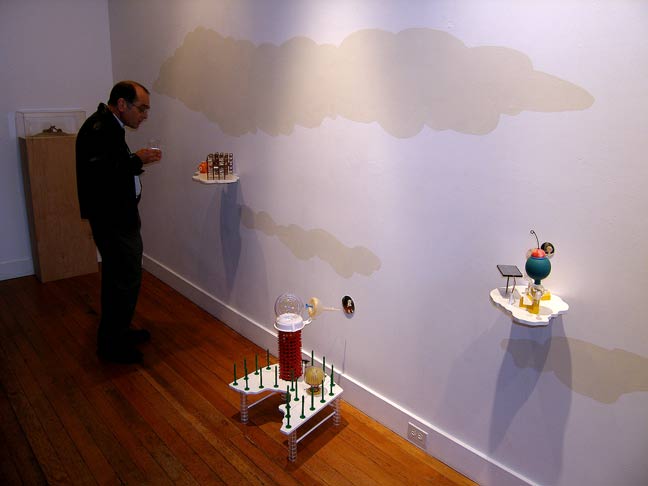 Art.


Art.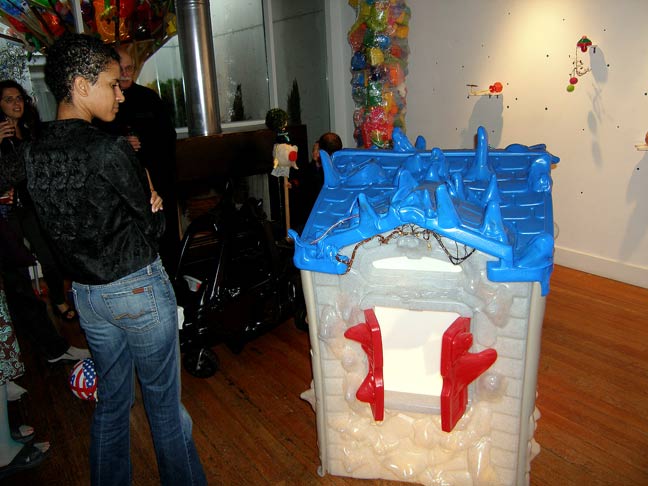 Art.


Art.


***
Bucheon Gallery: Portrait Parlour, Recent Paintings and Drawings by David Tomb.
Comment: Portrait watercolor drawings, pensive in demeanor, some painted and drawn onto joined sheets of paper, fluid and spontaneous in style. A number of the sitters, mainly friends and acquaintances of the artist, are present and proximitous to their likenesses. Even a couch depicted in one of the paintings has been moved to the gallery and sets in a corner.
Art.


Art.


David Tomb (center left).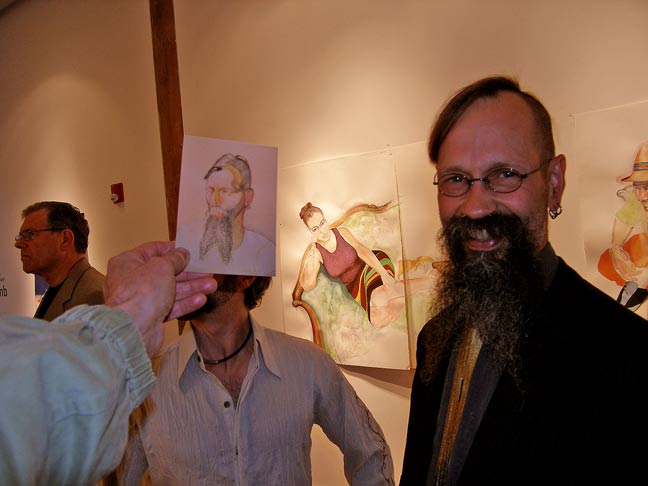 Look! It's the dude on the announcement.


Art.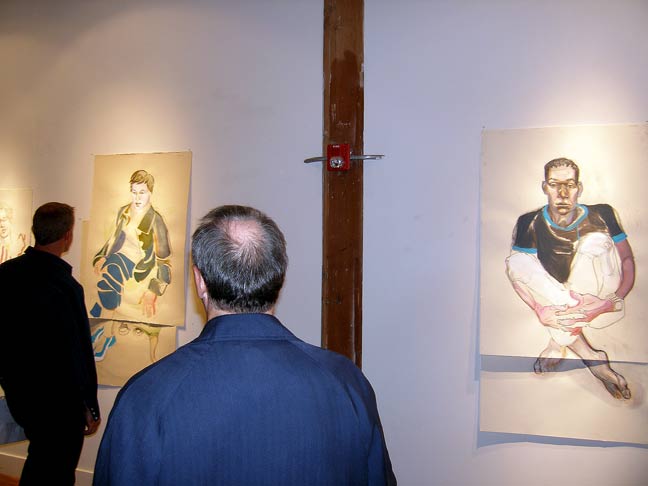 Art.


Relative density.


***
Ratio 3: Robert Gutierrez - Nursed in Darkness.
Comment: Great detail, superior brush control. I read a little of the press release-- there's plenty of meaning to go around, but I'm gonna take the easy way out (as usual) and like 'em because they're good. I think if the great Surrealists were painting today, this is what their art might look like. Priced $1000-$4300; not unreasonable considering Gutierrez's fact sheet.
Art.


Art.


Art.


***
Michelle O'Connor Gallery, 2111 Mission St. 4th Floor, San Francisco, CA 94110: 100 Ft. Whale (Contact Sherry Koyama for further information).
Artists: Sarah Applebaum, Alex Clausen, Sherry Koyama, Julia Petho, Allen Sticke.
Comment: It's not about a whale; it's about what Moby Dick was to Ahab. My Moby Dick is trying to get people to support this site. But enough about that. The selection here is a bit disjointed, and I don't have time to figure out whether or not it satisfies the requirements of the premise. My favorite piece is a wall covering by Sarah Applebaum composed of hundreds of overlapped bright colored black-lined jagged-edged pieces of paper, looking a bit like a shag carpet.
Paper overlap art (I like it).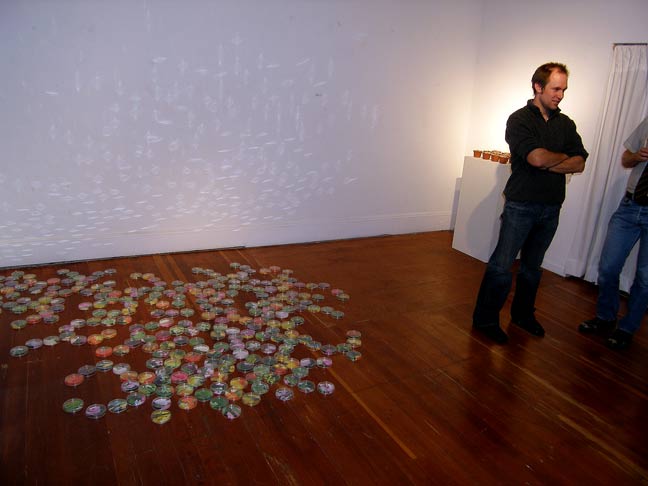 Art.


Art.


***
Mission 17 Gallery: irreconcilable differences - New Work by leonardogillesfleur.
Comment: Dyadic duet leonardogillesfleur make a bicycle with two front wheels and two sets of handle bars, each pointing in opposite directions. Then they try to ride it, documenting the adventure in video. That simple and no more complicated-- an excellent example of a show with quick easy intelligible explanatory and an equally effective title. You see kids, all people need is a couple of sentences; their brains are more than capable of doing the rest. Give 'em credit up front; respect their intelligence (don't browbeat them with yours). Those that have questions will ask, and you will be more than delighted to answer.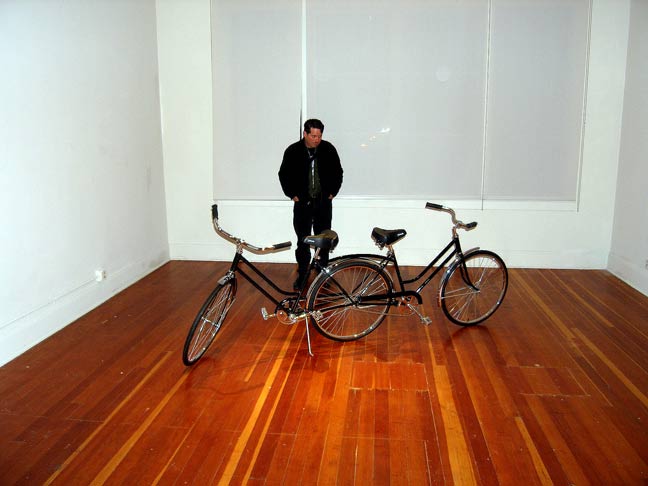 Art.


Art video of artists on art.


***
Adobe Books & the backroom gallery: Jason Mecier - What Ever Happened to Farrah Fawcett (in the backroom); Imitation of Life - Dore Studio featuring Patty Alvarez, and Daren Rabinovitch.
Comment: Monumental Farrah Fawcett testimonial portrait-- or altar-- by Jason Mecier in the backroom gallery, overwhelmed by its frame-- recycle art at its finest (pre-sold in the vicinity of 10K). Mecier incorporates everything from Q-Tips and cigarette butts to AA batteries and old high heels with such effortless accuracy that you think anybody can do it, but he's got the indisputable corner on this technique. Everybody else is a wannabe.
In the main bookstore, Patty Alvarez of Dore Studio exhibits classic polished photographs of young Latino women dressed to the nines, perfectly complemented by their frames. On the opposite wall, the outlandish images of Daren Rabinovitch look like digital manipulations, but curator Eleanor Harwood tells me his oddities are real-- he builds and then photographs them. I think I'll build myself a quick prediction and say Rabinovitch has got himself a future.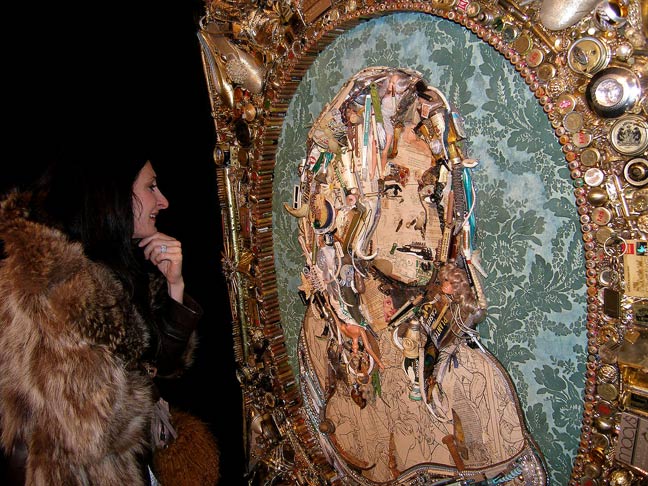 Farrah close.


Farrah back.


Hairplane art (Daren Rabinovitch).


Art (Dore Studios - Patty Alvarez).


Art (Daren Rabinovitch).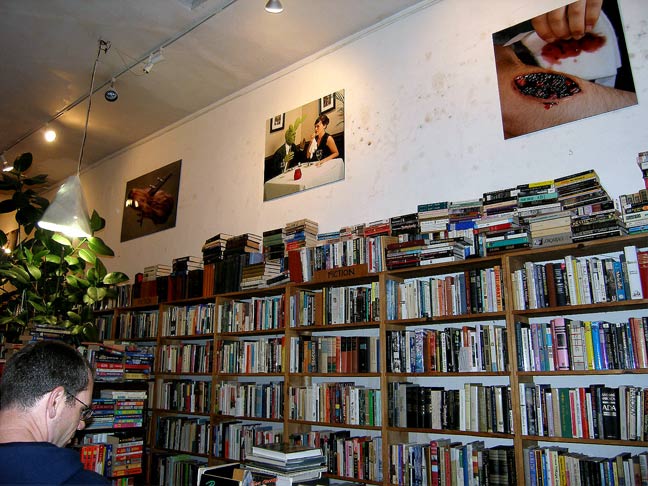 Art (Daren Rabinovitch).


***
ONSIX Gallery, Red Ink Studios, and Luggage Store Gallery: Labyrinth.
Artists: Brad K. Alder, Brady Baltezore, Susannah Bettag, Bigfoot, Cheyenne Randall, David V. D'Andrea, David DeRosa, Mark Desalvo, Joel Elrod, Danny Erickson, Karina Figueroa, G money, Claudine Gossett, Roll Hardy, Torrey Herbenar, Jake Hout, Stephen Kasner, Tim Lehi, Chris Lindig, Rogelio Martinez, Jason McAfee, Shay Nowick, Michael Page, Jennifer Poon, Moses Saarni, Mary Scott, Derrek Snodgrass, Marnie Spencer, Tiffany Star, Turf One, Gustavo Venegas, Yoshi47, Mitsy Avila Ovalles, Jaya, Jacqueline Cooper, Aaron Ryan, Mona Superhero, Amanda Beane, Erin Brookey, Monica Canilao, Miranda Caroligne, Eve Ekman, Leslie Kulesh, Kamau Patton, Peter Beste, Lindsey Byrnes, Stefan Fitzgerald, Massan Fluker, Michael Garlington, Ellen Lent, Birdy Pearson, Jason Roberts-Dobrin, Dave Schubert, Paul Schiek, Amy Thompson, Katy Zaugg, Jana Flynn, Brad Isdrab, Pete Inc., Lucien Shapiro, Ethan Indorf, Brian Lilla, David Martinez, Adriana Varella, Thomas Dimuzio.
Comment: Mid-Market art walk. A lot's happening artwise in the 6th and Market quadrant these days. The revival has begun; numerous artists now live, work, and show in this several block vicinity. Beat the gentrification-- see it now.
1035 Market (Red Ink Studios)...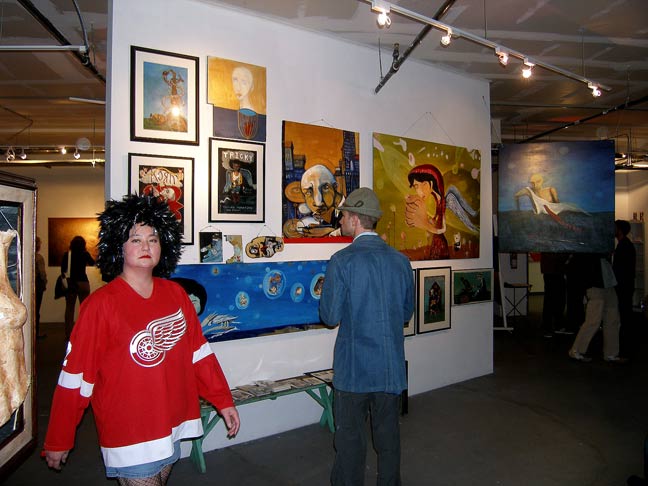 Art.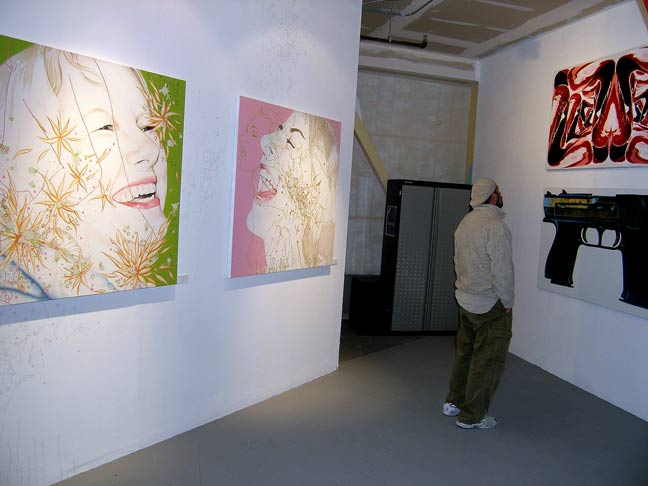 Art (the laughing women get a pick).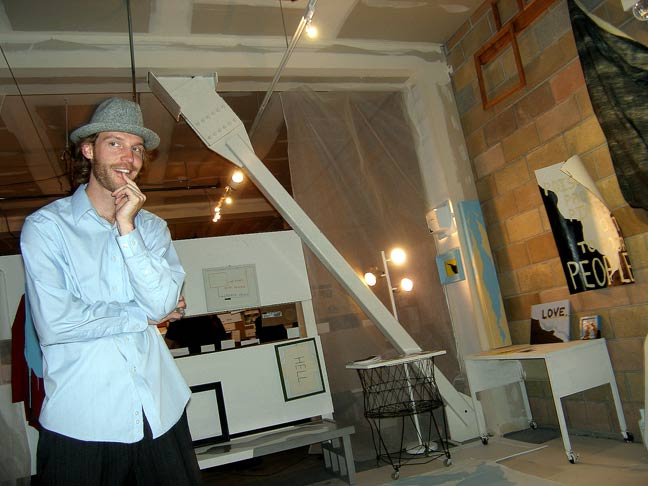 Brad K. Alder - art.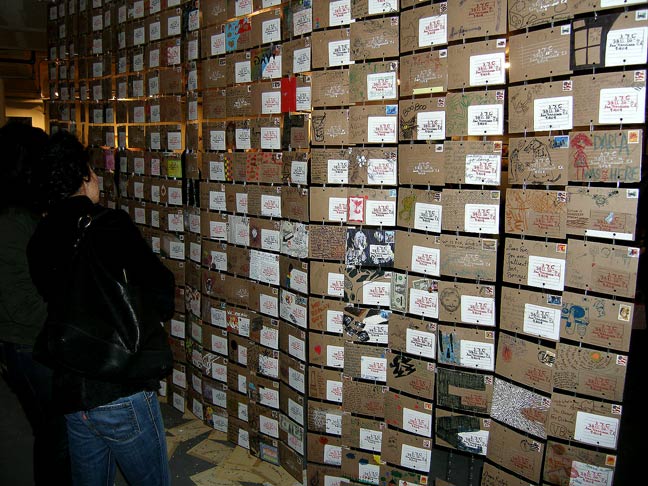 Mail art verso.


Mail art front - I like it.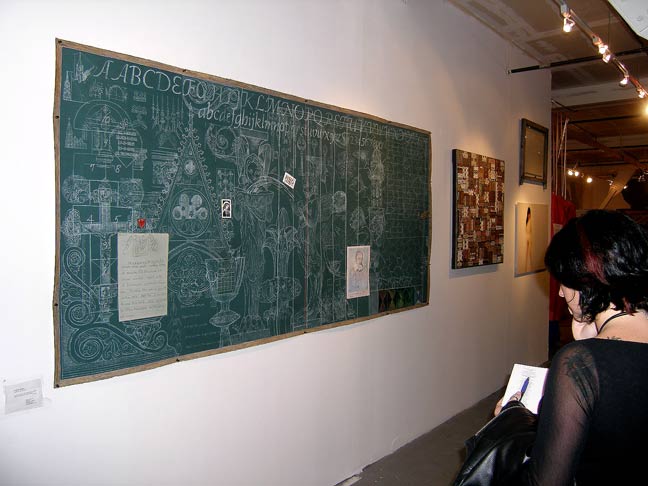 Art - I like it.


Art.


Art.


ONSIX Gallery...

Art.


Art.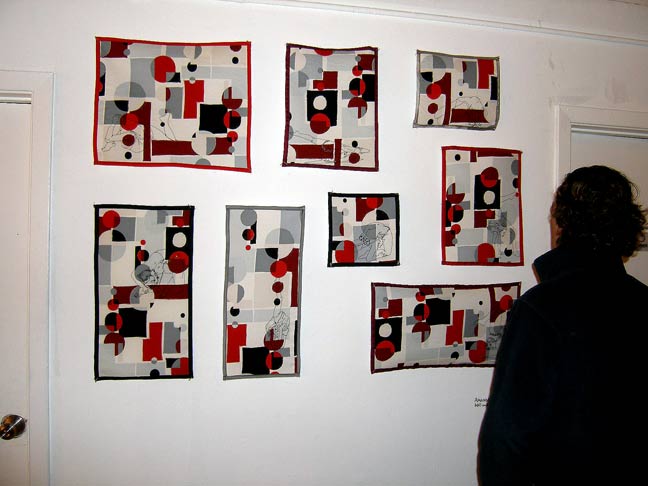 Art.


Sham - art - like it.


Urban crush collage art (Monica Canilao - pick).


Snorography.


Art.


989 Market (Red Ink Studios)...

Art.


Art.


Art.


Art.


Art.


***
Shooting Gallery: Lee Harvey Roswell's Red Paintings - 13 Interpretations of Goya.
Comment: A departure for Lee Harvey Roswell-- 13 complex detailed sepia-toned circular paintings plus a painted skull on top of a couple of books-- interpretations of Goya, subtly seasoned with Roswell flourishes. Roswell often accompanies his art with written dissertation, and this show is no exception. In case you're interested, writing (or making sound or video recordings) about your art is good for three reasons. First, you're not always around to explain it in person; second, someday you're permanently not always gonna be around to explain it in person; third, people are always gonna be around who want it explained.
And think about this. Suppose you have a choice between two identical paintings by the same artist. One comes with a three sentence explanation written by the artist; the other comes with nothing. Which would you choose?
Art.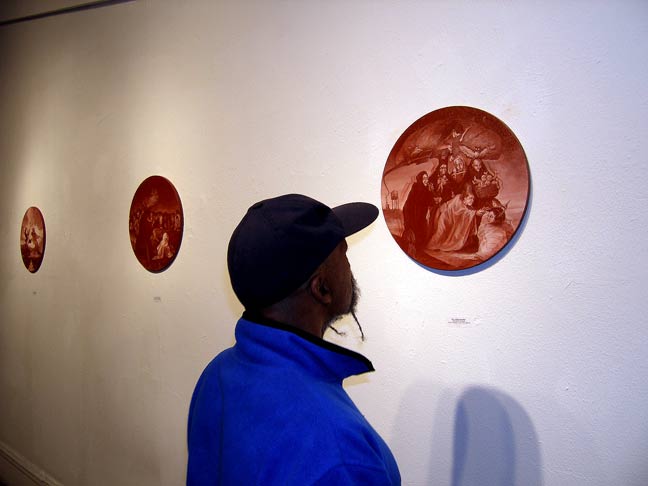 Art.


Art.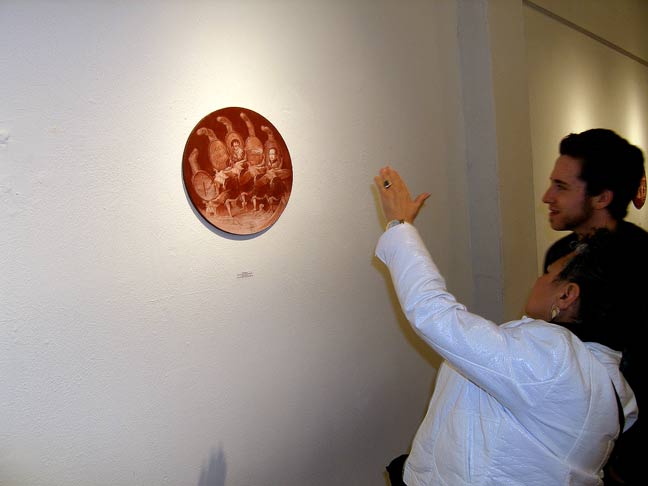 Art.


Art.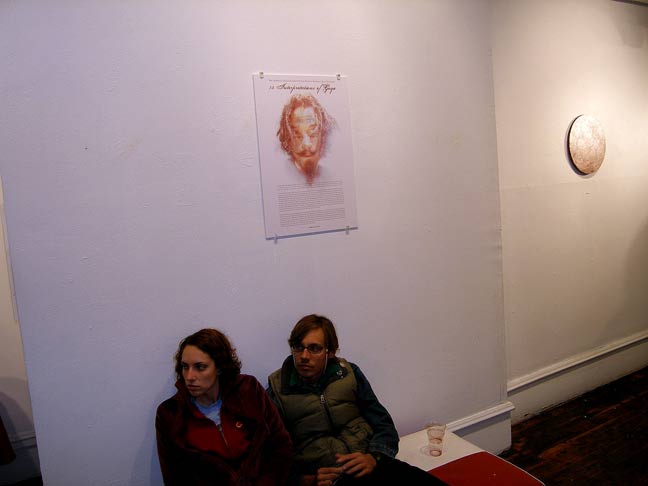 Art.