SAN FRANCISCO ART GALLERIES OPENINGS
FIRST FRIDAY AND SATURDAY; 10.07-8.05
John Pence Gallery: Will Wilson - Recent Oil Paintings.
Comment: Virtuoso brushman Will Wilson is unquestionably a standout among contemporary realist painters, and certainly the star of John Pence Gallery (he has been for years). Here's the dope-- he can paint anything excruciatingly well, that simple and no more complicated. For this show, Wilson fills the two main rooms of the gallery with a stunning array of work. The first room contains "alla prima" paintings, affordable small format still lifes mostly, all under $5000. The heavy hitters in the back room include portraits, self portraits, genre pieces, still lifes, trompe l'oeils, and some tricky artrobatics they don't even have names for. But wait; there's more. Wilson has a wizardly vivid imagination and, as previously noted, the ability to materialize any revelatory glimmer he chooses. Not surprisingly, a good percentage of the show is sold. But you can still go see it.
Art.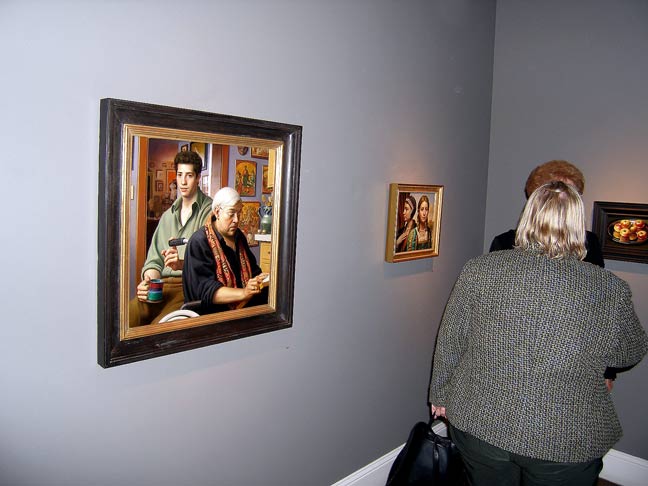 Art.


Art (like it).


Art.


Art.


Art.


Art.


Art.


***
Springer-Croke Fine Art: Hip Hop & Evolution - Leanne Miller, Marcine Franckowiak.
Comment: The mind is quicker than the brush. Periodic monitoring of the breach may be in order, however, as the brush plays catch up. End game synchrony could be interesting.
Art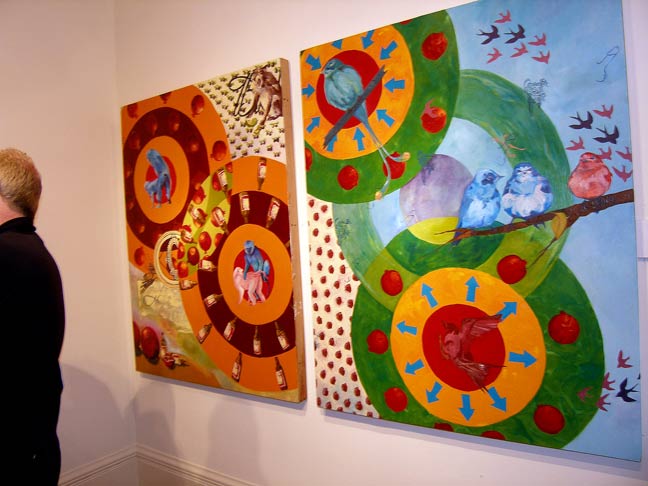 Art.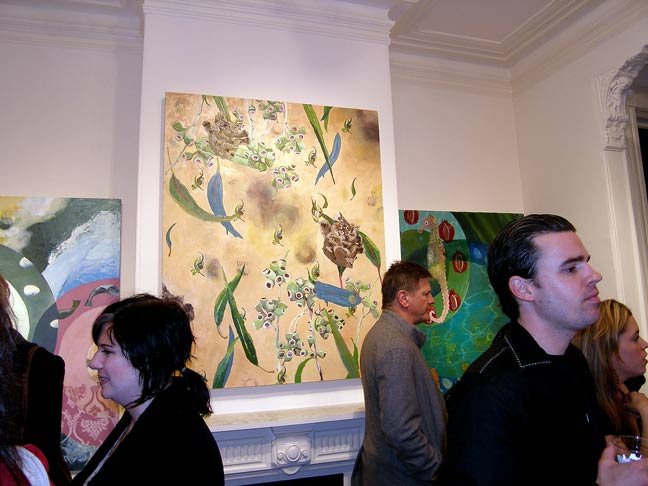 Art.


Art.


***
Beau Monde Cielito Gallery, 1910 Mission Street, San Francisco, CA 94103: Rebirth.
Artists: Jennifer Maria Harris, Wayne Hanson, Eddy Joaquim, James Xavier Barbour, Emet Sosna, and Rona Morning Star Shahar.
Comment: Looks like a new gallery, but it might be a new version of an old gallery that used to be somewhere else, seeing as the opening's called "Rebirth." The art's pretty decent, the crowd's got a pulse, and the lanky circuitous space culminates in a nice deck area out back. Almost everything under $1500; good selection under $500.
Art.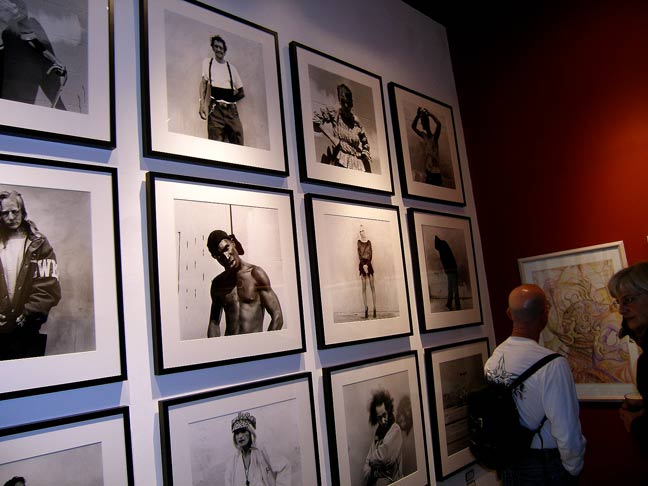 Art.


Art.


Art.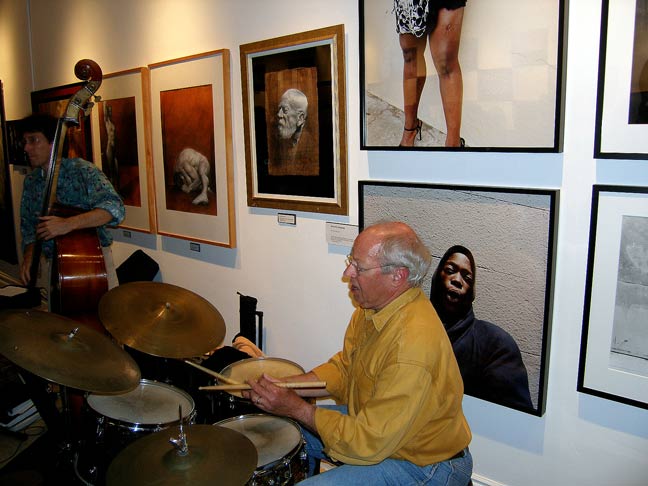 Art.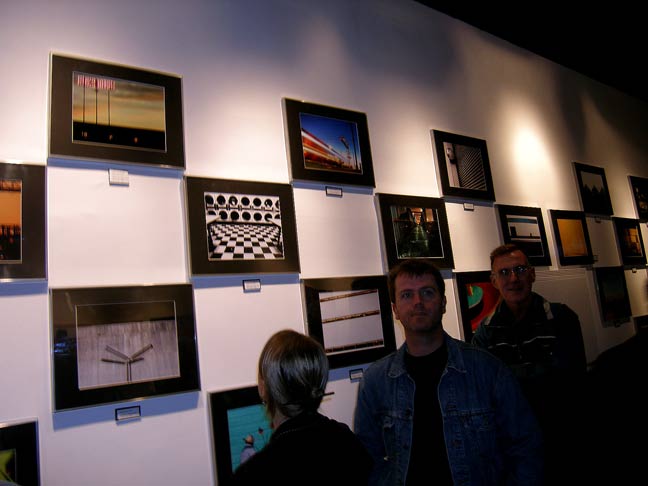 Art.


Art.


Out back.


Out front.


***
Center for Sex and Culture: Vanilla Sex, 2005 - Michael A. Rosen.
Comment: Michael Rosen describes his art as "radical sex photography" and you won't get a quack outta me on that. His first book, Sexual Art: Photographs that Test the Limits was published in 1994. His current body of work continues in that vein. As far as I'm concerned, if two caring consenting adults enjoy unconventional private pleasures, that's their business. It's what we're fighting for in Iraq, isn't it?
Anyway, Michael Rosen's brand of erotica is not for the queasy, but for inquisitive conventional conjugalites, it's an instant education. As for those attending the show-- mature, intelligent, thoughtful, introspective, progressive human beings. Thanks to Rosen, anyone who wants to (21 and over, that is) can investigate the bounds of human sexuality, artfully presented in a safe sane setting. For the perennially offended, there's really nothing new here. Cultures the world over have been documenting their sexual practices for millenniums.
Partial.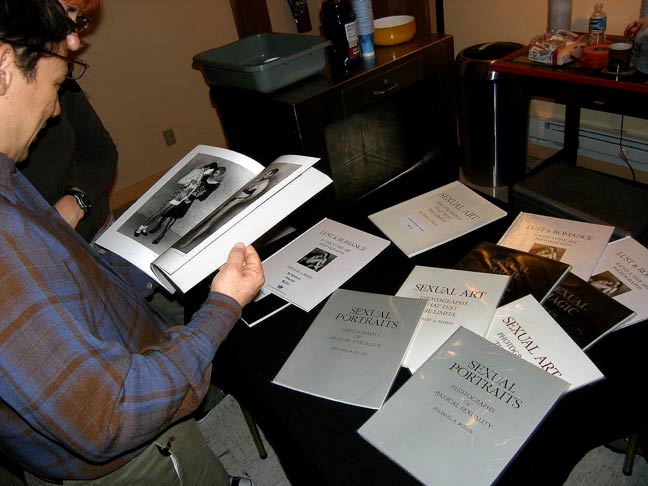 Photo essays by Michael Rosen.


Michael Rosen - photographs.


***
Sub Rosa Salon, 352 Sixth Street, San Francisco, CA 94103; 415.867.6005: Subjugation Vanquished Through the Acceptance of Love - Paintings by Christopher Elliman.
Comment: Through a series of deliberately messy and disquieting oversized portraits, Christopher Elliman psychologically explores the range and proliferation of self-destructive lifestyles in contemporary society, and perhaps more significantly, their antecedents. The cumbersome liner notes include two gargantuan single-spaced paragraphs the likes of which I haven't seen in captivity for decades. Verbositicitocitousness aside, the show is a cohesive tightly themed examination of awry-side culture.
Art.


Bootsy Collins lineage art.


Art.


Art - Sub Rosa proprietor (foreground right).


Christopher Elliman (center).


***
And now for a brief word from our sponsor: Just returned from the San Francisco Premiere of Quality of Life, a righteous tough love smooth moving downtown tale filmed right here in good old Ess Eff, wall-writer backdropped, including a party scene flocked with Sam Flores paintings. Four shows daily for the next two weeks (thru 10/26) at the UA Galaxy Theater-- Sutter and Van Ness. Worth it.
***
Bucheon Gallery: Organ Garden by Merrilee Challiss - Water Pistols by Laura Ball.
Comment: Freud alert. Laura Ball packs her misty conscious subconscious straddle art with strangeties like squirt gun wielding women astride carousel horses and femme-femme wrestling scenes including one with several pugs looking on. There's a brain I'd like to pick. Meanwhile, Birmingham, Alabama artist Merrilee Challiss makes her SF debut with a watercolor series, she tells me, heavily influenced by that wicked windy waterlogged wench Katrina and her aftermath. Subject matters trend fanciful and imaginary, naive around the edges, featuring flora, fauna, and women with visible innards. Prices reasonable to very reasonable-- most under $1000.
As for the Bucheonettes, as much as I deplore grammatical tattliing, you two need an editor. Good writing makes good art look better... and vice versa. Some of those email show announcements you send out look like the cat got loose on the Scrabble board.
Art (Laura Ball).


Merrilee Challiss - art.


Art (Laura Ball).


Art (Merrilee Challiss).


Art (Laura Ball).


Laura Ball (right); art (Merrilee Challiss).


Art (Laura Ball).


Art (Merrilee Challiss - right; Laura Ball - left).


***
Galeria de la Raza: What's Not to Love?
Artists: Lalo Alcaraz, Roberto Buitron, Enrique Chagoya, Culture Clash, Jaime Cortez, Rudy Cuellar, Fulana, Guillermo Gomez-Pena, Keep on Crossin', John Leanos, Liz Lerma, Noelia Mendoza, Jose Montoya, Victor Payan, Gerardo Perez, Praba Pilar, Seline Szkupinski Quiroga, Isis Rodriguez, Jos Sances, Gustavo Vazquez, Esteban Villa, Conchita Villalba, and Rene Yanez.
Comment: The curtain call for Galeria de la Raza's 35th anniversary series of visual arts exhibitions, this one skewering "media misrepresentations of Latino culture, appropriations of stereotypes, and cannibalizations of culture, politics, religion, gender and sexuality." I suppose that about covers it. The scorecard also references "individuals caught in the cracks of the American melting pot." Now there's a twisty visual. Good show; go see.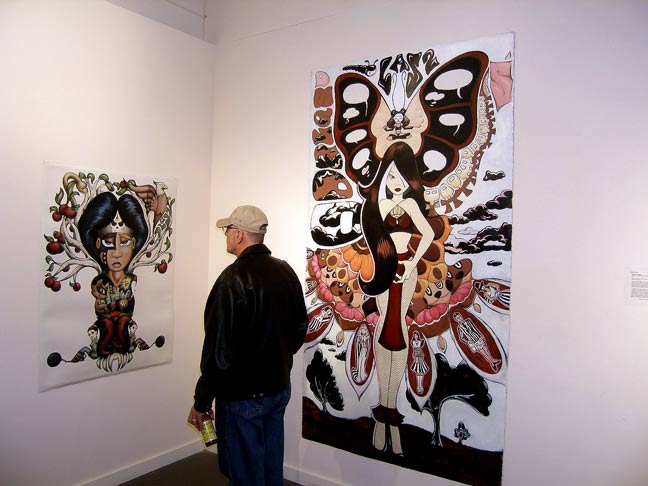 Art.


Art.


Art.


Art.


Art.


Art.


Art.


Art.


***
Addendum:
VIP pre-party at Gen Art - Fresh Faces in Fashion 2005.


Gen Art goes social with art-- this is just the warm-up.


Final prep for the main event--
runway fashion by promising San Francisco designers.


***
And now for a little bedtime story: Editors of mainstream newspapers and magazines with conventional advertisers don't know what to do with writers like me. I write about art differently; I don't fit the "editorial guidelines." So editors have to edit out a lot of the interesting things I say because if they don't, they lose advertisers, aka money (which they're losing anyway, oddly enough, because they do edit it out), and that's why much of what you read in mainstream publications is beyond tedium-- the good stuff gets edited out. The interesting part is that advertisers tend to determine what you read, not editorial staffs, and advertisers want to see the same content over and over and over again, so that the same readers continue to subscribe, read their ads, and buy their products.
I get to bypass "editorial guidelines" and tell you what I really think, with my two main goals being to make art more accessible to more people, and to help more artists sell more art better. It's a work in progress, including trial and error, and I don't always get it right, but at least I try, and you get to watch every excruciating moment of it. That, dear artsters, is the miracle of the internet-- being able to read what independents like me have to say. Isn't that exciting? So who makes you laugh and love art-- me or this? As always, thank you for your support.