SAN FRANCISCO ART GALLERIES OPENINGS
FIRST FRIDAY AND SATURDAY; 11.04-05.05
Southern Exposure Gallery: Mayhem - Southern Exposure's 15th Annual Juried Exhibition.
Artists: Alexis Amann, Marisa Aragona, Robert Arnold, Eric Aurandt, Marc Babsin, J.D. Beltran, Caetlynn J. Booth, Michael Brennan, Anita Brey, Thomas Chang, Yin-Ju Chen, Sage Corson, Denise Duffy, Chris Eckert, Scotty Enderle, Miles Epstein, Carlos Everhard, Karle Fried, Erik Friedman, Ron Greystar, Aaron Hawks, Nicole Hayden, Patrick Haywood, Jonn Herschend, Liz Hickok, Whitney Hubbs, Sarrita Hunn, Henrik Kam, Nick Karvounis, Mike Lai, Michelle Mansour, Vanessa Marsh, Kelly Marshall, Michael Elijah Meyer, Linda Michel-Cassidy, Elizabeth Moy, Tom Mueske, Alex Munn, Carson Murdach, NDFTBK, Mark Nobriga, Cynthia Ona Innis, Christian Oittinen, Justin O'Neill, Jennie Ottinger, Zane Peach, Joshua Pieper, Job Piston, Craig Poindexter, Daren Rabinovitch, Kelly Reiling, Lisa Ricci, Natalie Rishe, Nadim Roberto Sabella, Andrew Schoultz, Zachary Scholz, Amanda Schoppel, Tabitha Soren, Weston Teruya, Skye Thorstenson, Jerad Walker, Lindsey White, Marc Williams, Chrstopher Woodcock, Paul Zografakis.
Comment: According to the syllabus, the So-Ex annual juried exhibition is the "premiere showcase of cutting-edge contemporary artwork by promising local talent"-- pretty puffy pronouncement. Then again, it was a pretty good show, but more on that later. The theme "Mayhem" relates to the current political and cultural climate. The rules are that if you're an artist living north of King City or south of the Oregon border, you get to submit one work of art at no charge, preferably mayhemic in nature, to be considered for inclusion in the show. (I know nobody asked me, but I think So-Ex should let King City artists submit too. It's not that big a deal and it would be good for San Francisco - King City relations.)
This year's juror is Julie Joyce, Director of Luckman Fine Arts Complex, California State University, Los Angeles. And that makes sense because I remember thinking the art looks kinda shiny around the edges. You're all aware that there's a significant difference between LA art and SF art, aren't you-- or between the art of any geographical region and that of any other geographical region? That's why having out-of-towners curate local shows is good-- fresh perspectives, refreshing selections. You never know what they'll find that we locals overlook, and Julie Joyce found plenty. Most priced under $1000.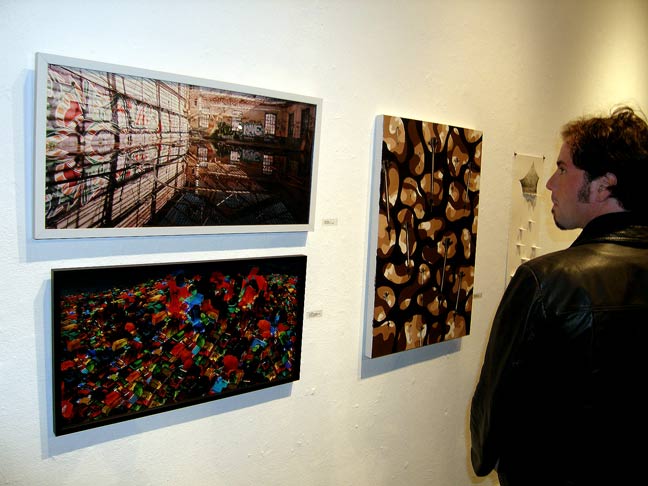 Art.


Art.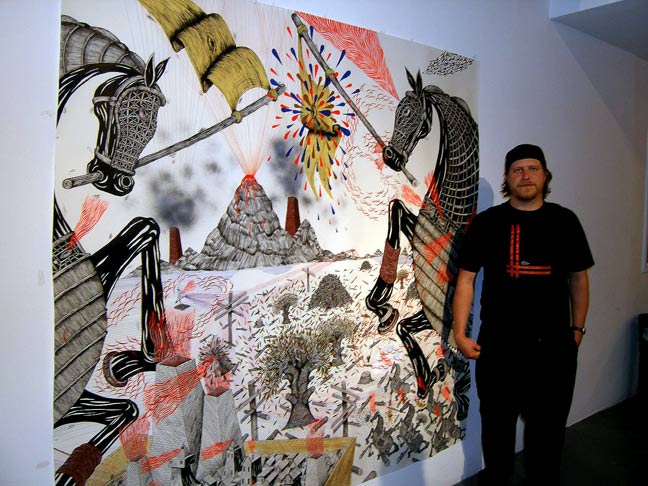 Andrew Schoultz - art (pick).


Art.


Uneasy ersatz box bomb art.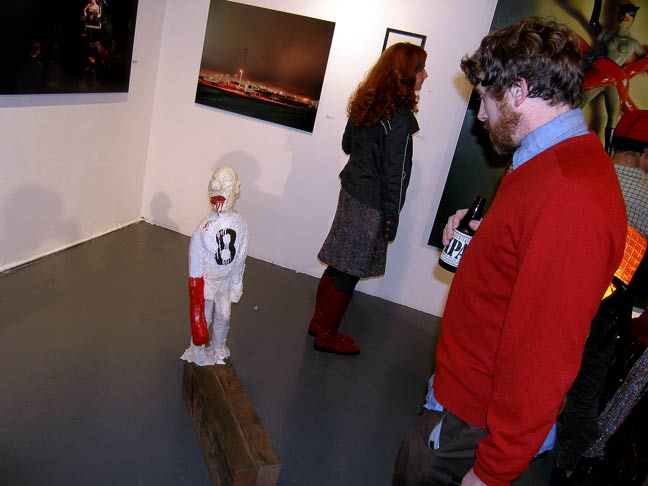 Art.


Not sure about this one.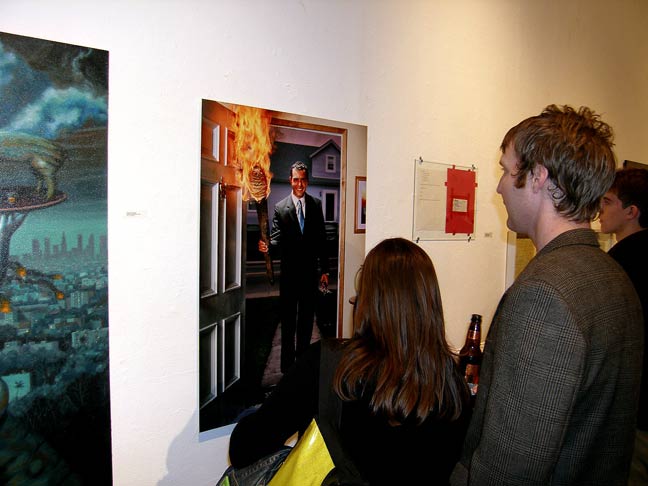 Art.


Art.


Upper.


***
Ratio 3: Sam Gordon - The Twinkie Defense-- New Paintings, Thoughtographs, and Sketchbooks 95/05.
Comment: The walls of the unassuming gallery are completely covered with drawings (or maybe prints of drawings). Over the drawings, evenly spaced, hang about half a dozen very competent gossamer geometric abstract paintings. When the cognitive component eludes me (which it regularly does), or my schedule precludes elucidation (which it frequently does), I always fall back on mastery of medium. It's a cheap out, but it works beautifully. No matter what it is or what it means, if it's done well, I can appreciate it.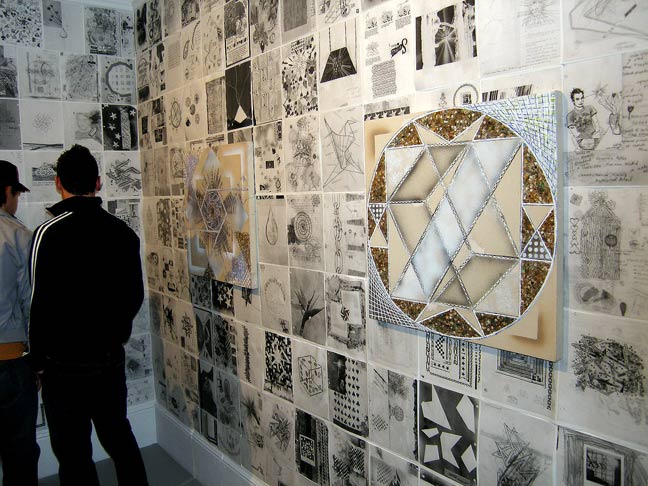 Art


Art.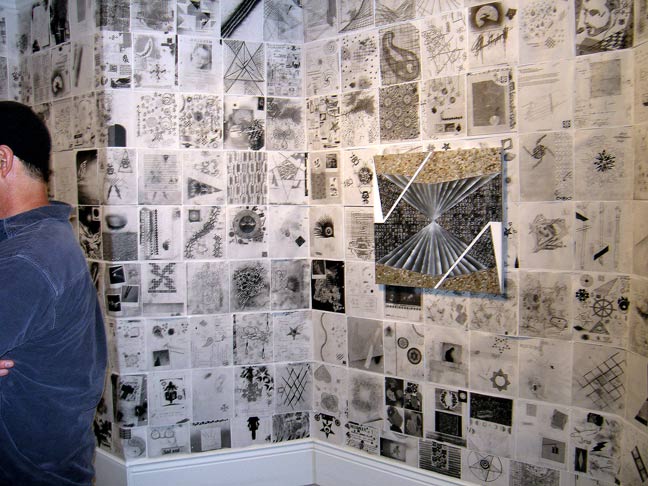 Art.


***
Space 743 at The Clay Studio: Michelle Gregor - Sculpture Whirl.
Comment: Mature proficient ceramic figures for the most part, plus oversized mantric Eastern-style hands. Michelle Gregor's art maintains broad appeal without commercial pandering and likely fares well in both "fine" and "popular" arenas. Not a bad position for an artist to be in.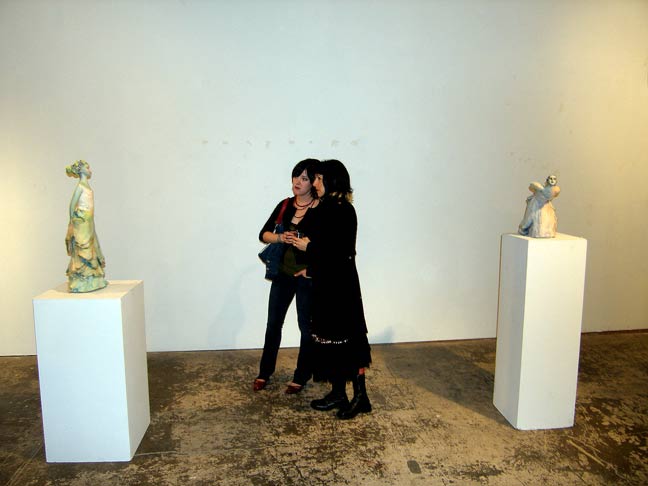 Art.


Art.


Art.


Art.


Art.


Art.


***
Ampersand International Arts: Lori Gordon - There is No Failure Here; Rebecca Szeto - Creature Comfort.
Comment: Well, in the venerable Ampersand tradition, I zig stuporous on the statements (at least I get the part where Rebecca Szeto uses found materials in her art). I meet Ampersand's owner for the first time, a genial fellow, and dyed-in-the-wool vernacularian, which is perfectly fine with me. There's no law anywhere that says when you write about art, anyone outside of you and your crew have to understand it. It's how the art world works.
Anyway, Lori Gordon paints watercolor gouache words on paper, and I like 'em although time constraints prohibit my chomping down on antecedent, context, and intent (I'm a light eater anyway). No biggie-- the art takes time, talent, and steady-hand skill to produce, and as I just got through saying (see Ratio 3 above), that's enough to get me happy. But wait, there's more. Rebecca Szeto creates anatomically accurate wall sheep from steel wool-- engaging, tricky, dimensional, amusingly groovy. So yes, good show.
Baa baa art (Rebecca Szeto).


Lori Gordon - word art.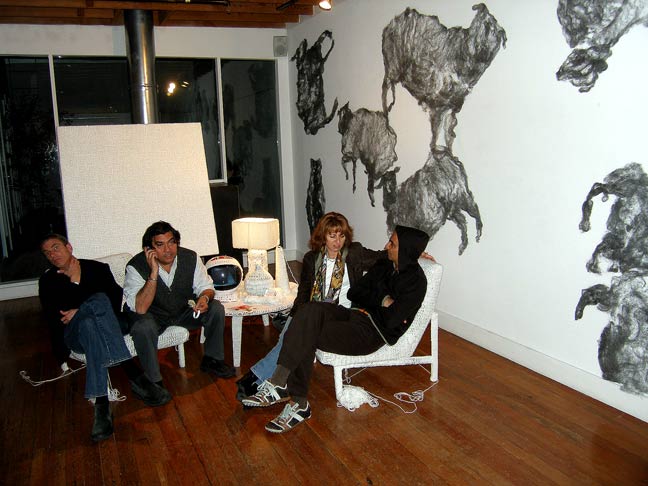 Steel wool sheep and knit lounge area art (Rebecca Szeto).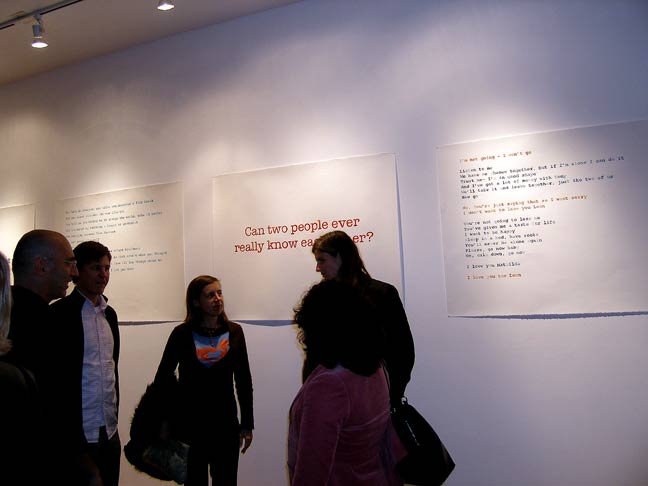 Word art (Lori Gordon).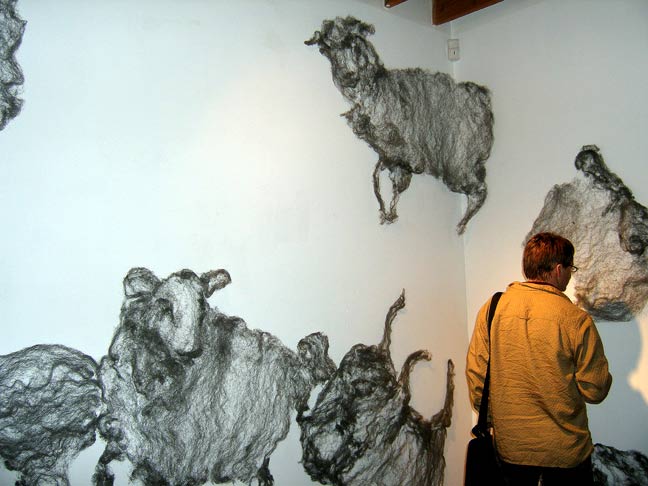 Baa baa art (Rebecca Szeto).


***
Studio Gallery: Fun+Games - Work Inspired by Toys, Games, Sports and All Things Fun.
Artists: Brian Behnke, Carol Aust, Toby Tover-Krein, Chris Grassano, Leslie Frierman Grunditz, Syniva Whitney, Mika Motegi, Barbara Wyeth, Pep Ventosa, Keiko Miyata, Victoria Heilweil, Jennifer Hattam, Jake Hawley, Ayu Tomikawa, Paul Gibson, Ben Collison, Lola, Anna Conti, Ginny Parsons, Peggy Huff, Bill Dunlap, David Higgins, Laurel Nathanson, Peter Conrad, Jan Wurm, Fumiyo Yoshikawa, Anitra Antonelli, Colette Crutcher, Nancy Slavin, Roberto Montoya Mejia, Mimi Dean, Gale Hart, Sara Morris, Tina Lauren Vietmeier, Adele Shaw, Kathy Loewenstern.
Comment: The show's title tells it. Case closed.
Art.


Art.


David Higgins - sculpture (to his immediate left).


Art.


Altitudinary.


***
Frey Norris Gallery: Kate Eric (Kate Tedman and Eric Siemens) - The Wages of Sin in Specimen.
Comment: Artist couple Kate Tedman of Oxford, England and Eric Siemens of Oregon combine talents to produce intricate color-rich mythic trance-scapes and distorted portraiture packed with enough action to keep any eye busy for a long long time. Tedman tells me there's no order or delegation of duties with respect to how these collaborations play out, but rather a climate of free-wheeling let's-see-what-happens spontaneity. Results? Unique complex interweave mergers.
Art.


Art.


Kate Tedman.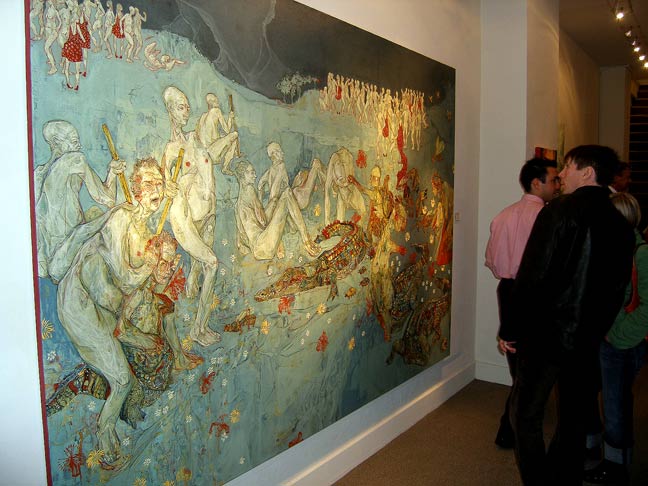 Art.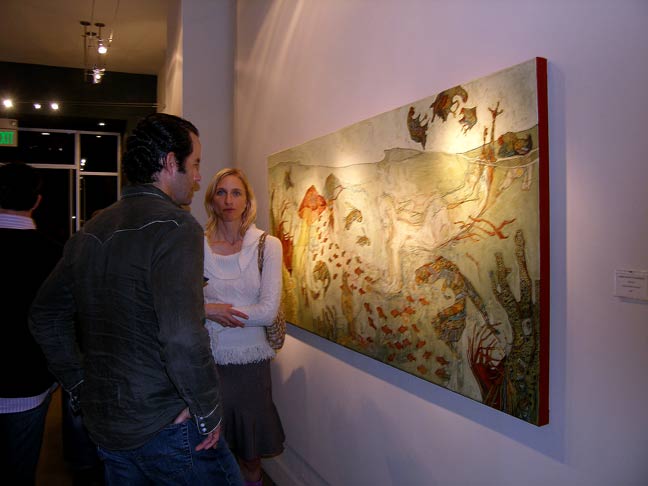 Art.


***
Gen Art: Emerge - 8th Annual Art Exhibition.
Artists: Sonya Blesofsky, Freddy Chandra, Chris Cobb, Pablo D'Antoni, Dan Grayber, Elise Irving, Joe Jarrell, Keira Kotler, Robert Larson, Ajna Joy Lichau, Jason Mortara, Roger Ngim, Laura Paulini, Julia Petho, Marina Shterenberg, Bayete Ross Smith, Kirk M. Stoller, and Jeong Im Yi.
Comment: Another excellent show for Gen Art, this time converting four floors of a vacant Market Street office building into a maze of art rooms, hors d'oeuvre tables, bars, tarot card readers, interactive installations, social zones, and more. My pick of show goes to the cleanly engineered contraption art of Dan Grayber who creates, among other things, a device that climbs a wall over a period of hours by boring toe-holds into the plaster. This dude is so mechanically talented, he can go out and get himself a real job. Most art $500-$1500; Grayber devices mostly $2K-$8K.
Art (Chris Cobb).


Art.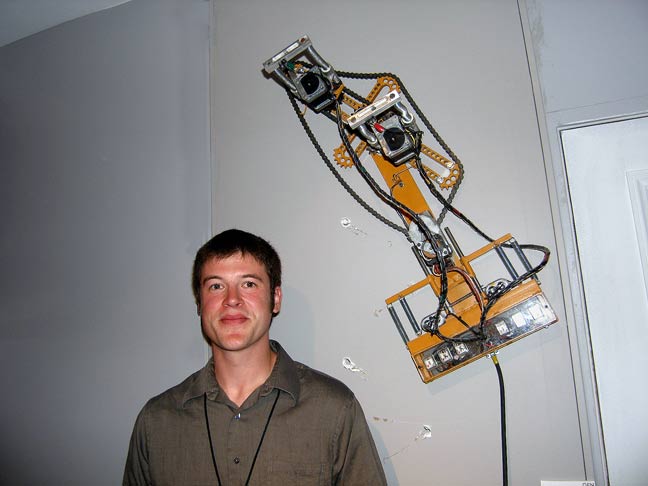 Dan Grayber - wall climber art (pick).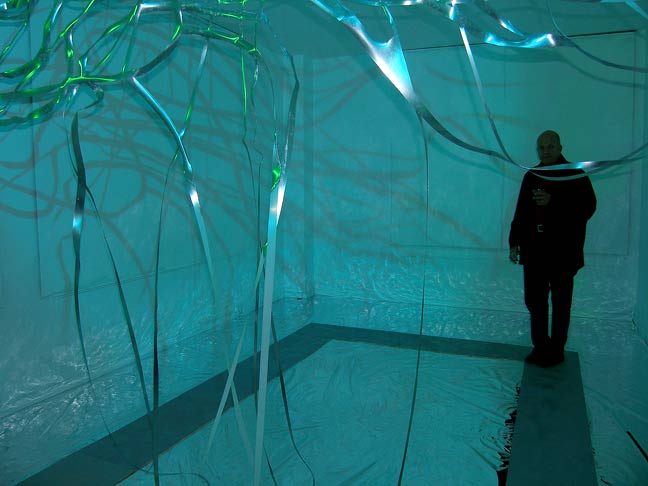 Aqua art.


Laura Paulini - art.


Art.


Art.


Book pair art (pricey).


Faux rolled newspaper scaffold art.


Keira Kotler - art.


Faux scraped scratched sheetrock art (Jeong-Im Yi).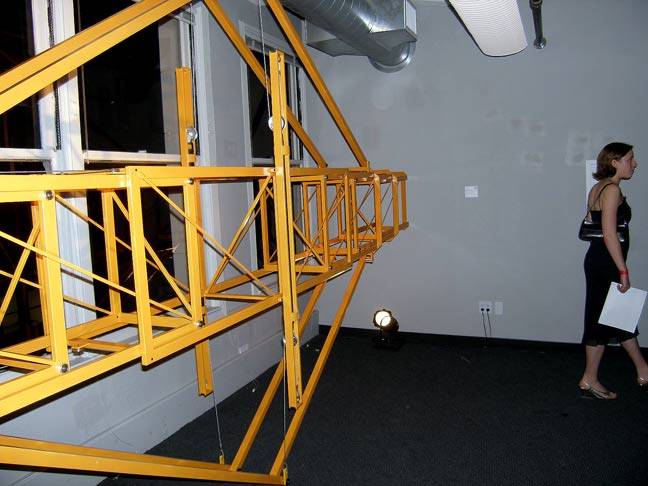 Art (Dan Grayber).


Found matchbook art (Robert Larson).


Giant red eye art.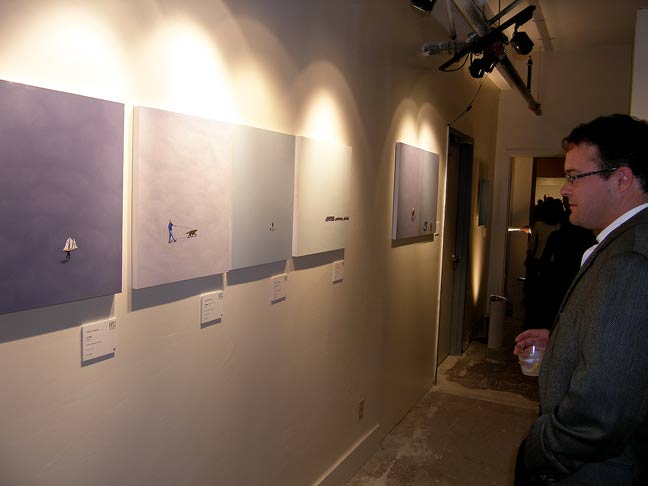 Art.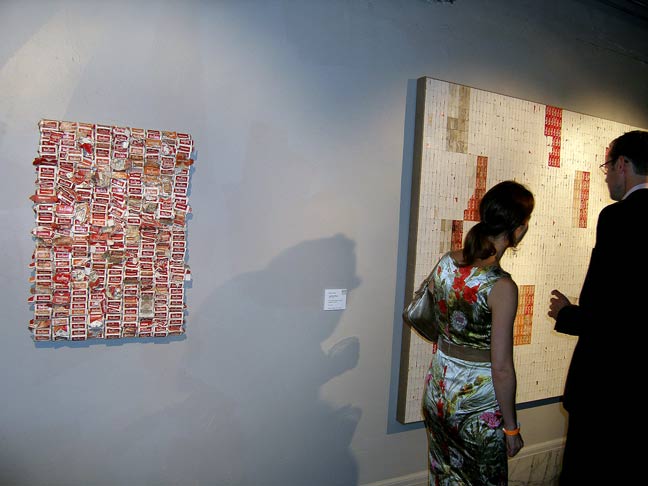 Found cigarette hardpack art (Robert Larson).


***
Varnish Fine Art: Gale Hart - Why Not Eat Your Pet?
Comment: Versatile Sacramento artist Gale Hart fills the gallery with what at first appear to be campy agreeable lighthearted animal paintings and sculptures, but her message is serious. We love our pets a lot more than we love most other animals, particularly those we eat, wear, do laboratory testing on, and train to perform before audiences. Simple, direct, and thougtfully presented. Benigning your agenda is generally more effective than banging people over the head with it. Most priced $500-$3K.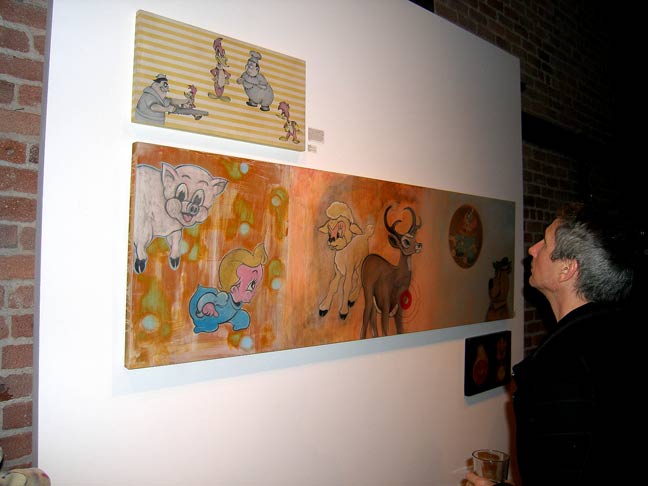 Art.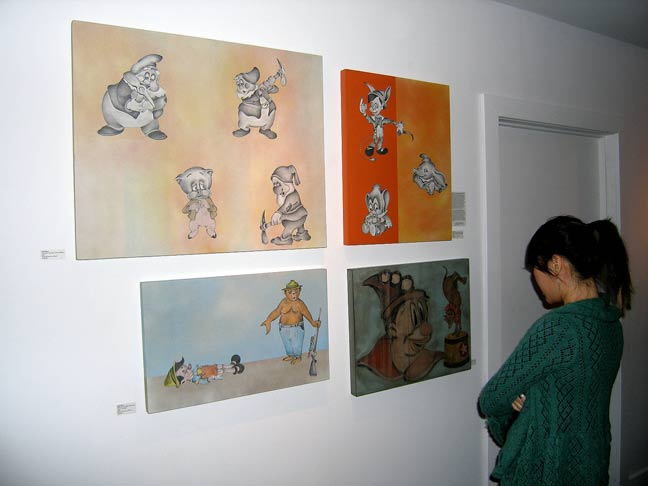 Art.


Gale Hart (left).


Art.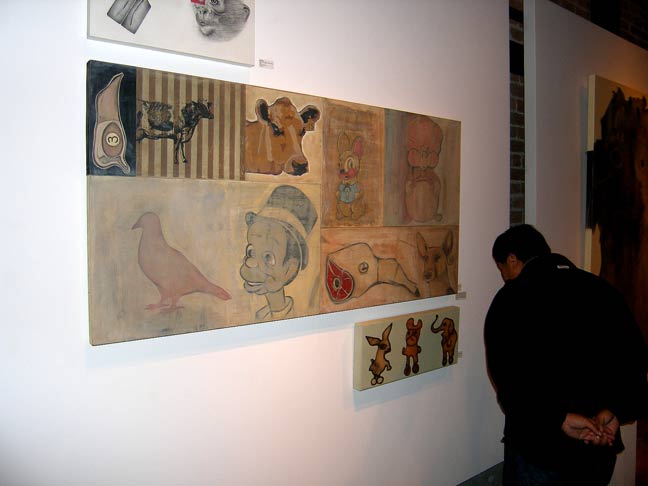 Art.


Art.


Art.


***
White Walls: All Star Hustlaz.
Artists: Adam 5100, Shawn Barber, Kim Cogan, Richard Colman, Mike Davis, Diet, Jeremy Fish, Sam Flores, Mike Giant, Shane Jessup, Adrian Lee, Henry Lewis, Albert Reyes, Romanowski, Andrew Schoultz, Jeff Soto, SP One, Chris Yormick.
Comment: Urban art-o-rama featuring many of our top local talents with tons to buy in all price ranges. Plus the opening night combined culture fest of White Walls and its joined-at-the-door Siamese twin, The Shooting Gallery, was so kick ass, low down, slithery sweet, and corroded with kool, I blew a gasket and had to reboot the pacemaker.
Art.


Art (Kim Cogan).


Art.


Art (Sam Flores).


Sam Flores.


Art (Romanowski).


Art.


Adam 5100 - art.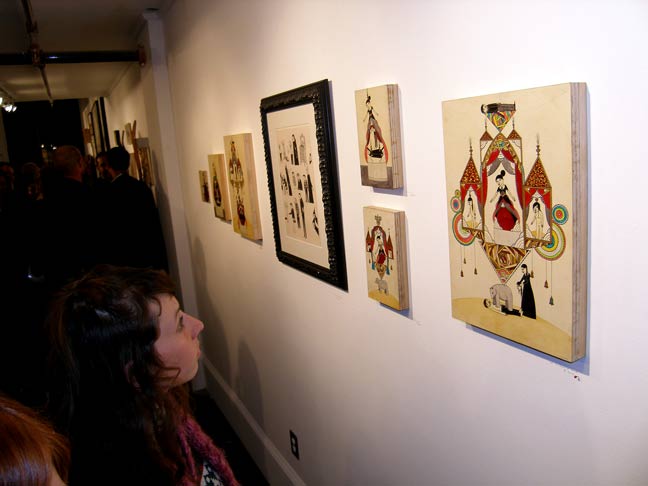 Art (like it).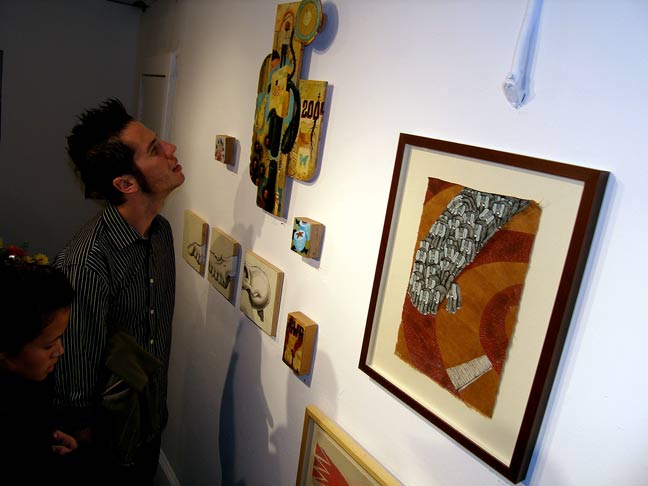 Art (Andrew Schoultz, foreground).


Andrew Schoultz, right - not sure, left.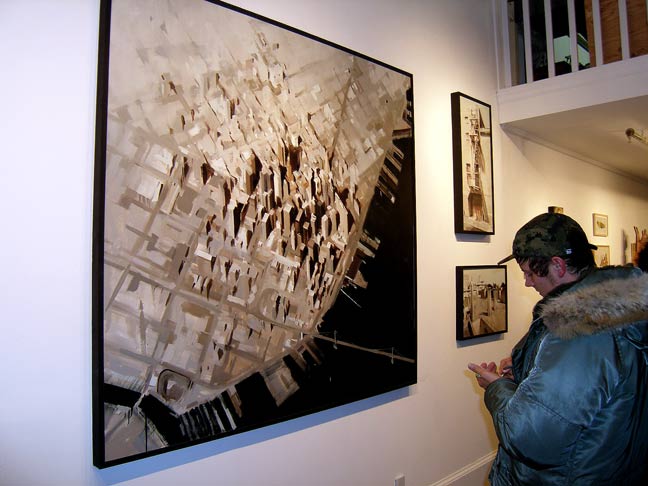 Art (Kim Cogan).


Egress effluence.


***
The Shooting Gallery: The Four Horsemen of the Apocalypse.
Artists: Robert Williams, Winston Smith, Eric Kroll, Charles Krafft.
Comment: Plain and simple-- Legends of Lowbrow-- four venerables who were right there at the start of it all (and even before that). You got the collage prowess of Winston Smith, the fetish finesse of Eric Kroll, the seditious ceramics of Charles Krafft, and paintings by the official Lowbrow progenitor himself, Robert Williams.
I gotta go double hats off to Charles Krafft for his incendiarily provocative porcelain pleas for peace and good will on earth-- two states of bliss we'll likely never see as long as power-crazies continue to take the weakling's way out-- destroy rather than create. Hate it, blow it up, kill it-- it's so easy, isn't it? And when you're done, you feel so big and strong, don't you? Standing on top of that great big pile of blood and rubble? But what are you gonna do when nothing's left?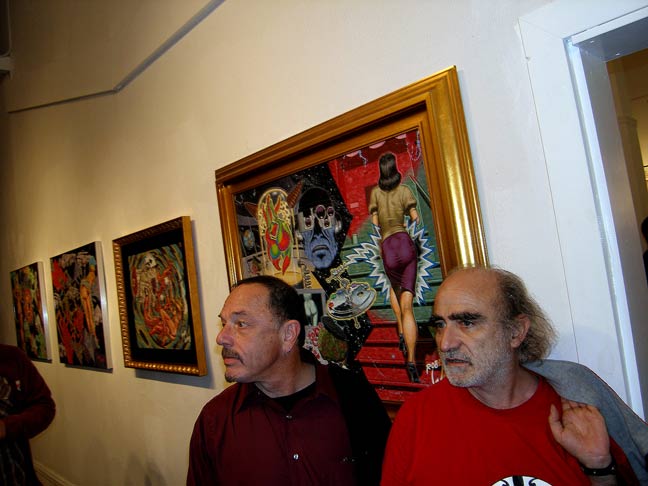 Art (Robert Williams).


Art (Eric Kroll).


Pick (Charles Krafft).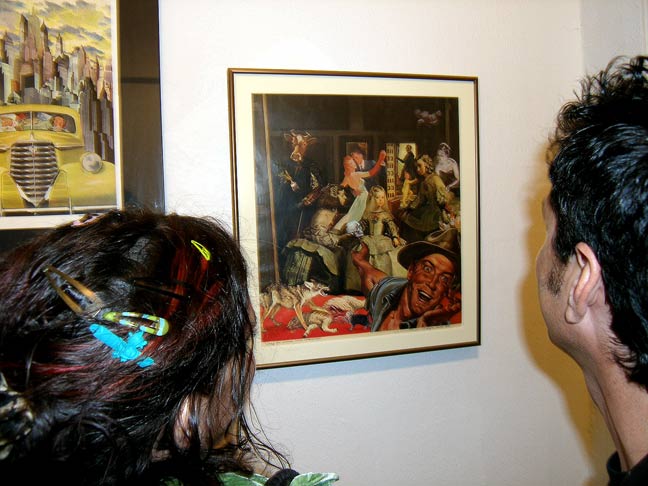 Art (Winston Smith).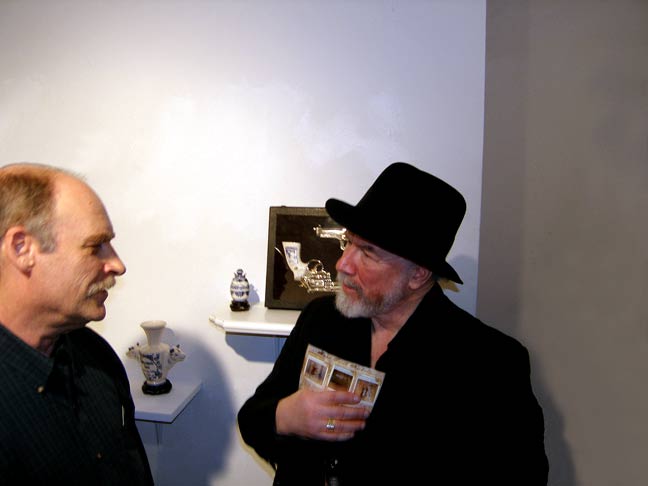 Winston Smith (right).


Art (Robert Williams).


Charles Krafft (center).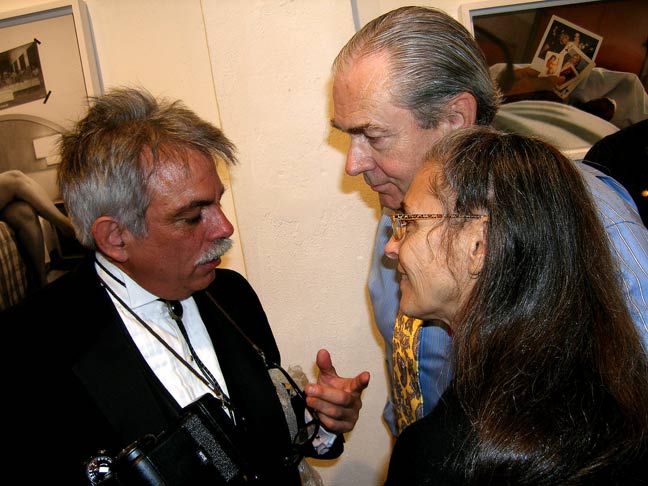 Eric Kroll photographs Robert and Suzanne Williams I.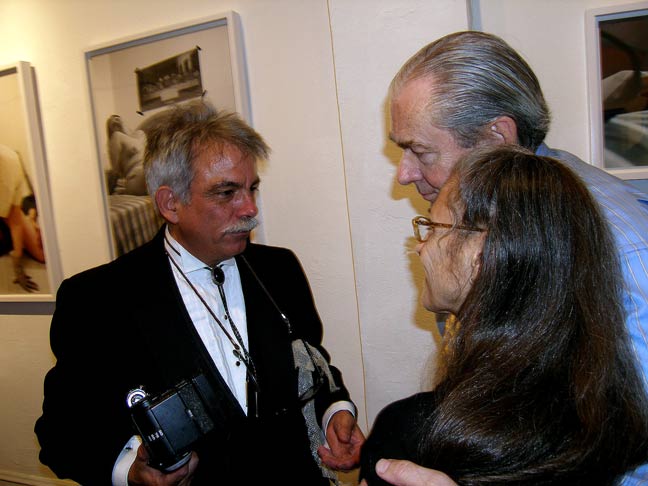 Eric Kroll photographs Robert and Suzanne Williams II.


Eric Kroll photographs Robert and Suzanne Williams III.


Eric Kroll photographs Robert and Suzanne Williams IV.


***
Addendum: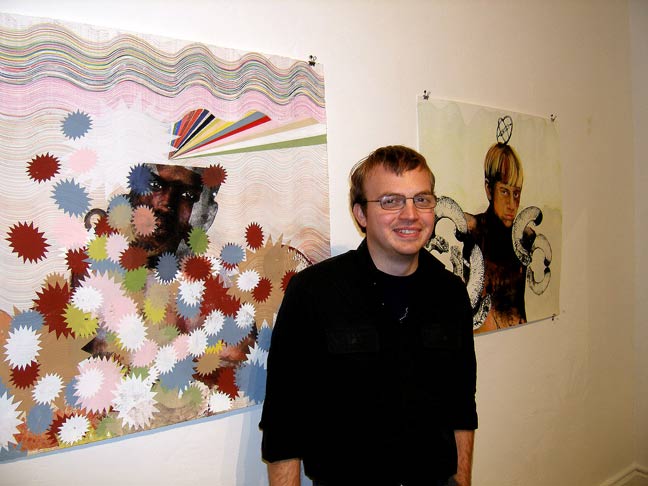 Syracuse artist Frank McCauley at Receiver Gallery.


One more Frank McCauley at Receiver - mixed media art.