SAN FRANCISCO GALLERY OPENINGS
FIRST FRIDAY; 12.02.05
The LAB: The Postcard Show - A Small Format Art Sale.
Artists: Gobs and bunches.
Comment: 9th annual installment of this entertaining and affordable event where you get a chance to choose from among hundreds and hundreds of small-format artworks priced from $1-$30. The opening is packed, the walls are lined with boxes, every box is brimmed with postcards. The frenzied treasure troll is in full tilt flat out boogie down be-boppin' booty-baggin' bingo, complete with modest jostling, but decorum prevails, at least while I'm there.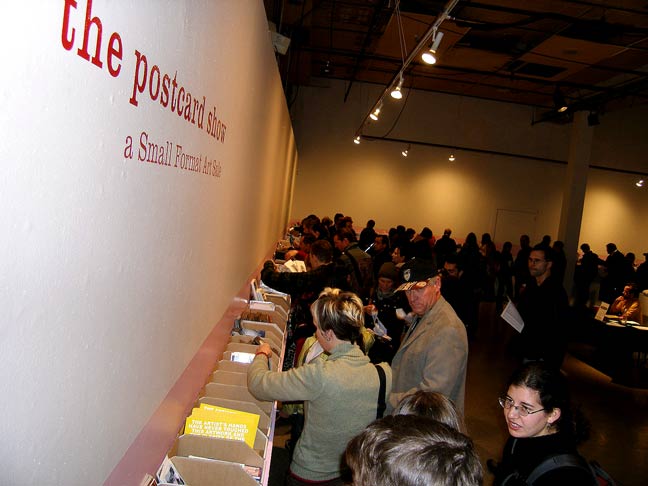 Setting.


Delving.


Questing.


Panning.


Seeking.


Searching.


Foraging.


***
Mission 17: Truth or Lies - Second Annual Juried Exhibition.
Artists: Victor Barbieri, Charles Beronio, Matthew Boyko, Elizabeth Chiles, Mark Dukes, Kathryn Dunlevie, Linda Ford and Pam Martin, Lori Gordon, Dustin Fosnot, Theresa Gooby, Sarah Lockhart, Vanessa Marsh, Eileen Moderbacher, Chad Moore, Susan O¹Malley, Joshua Pieper, Ben Riesman, Lisa Ricci, Liz Rossof, Chris Thorson, Michael Trigilio, Jake Watling
Comment: The theme, 'Truth or Lies,' relates to whether it's real, spin, fake, fluff, or fabrication. I don't care what it is as long as it's good-- and so it is, and so I'm sate. My favorites are two Mark Dukes commentaries on Black stereotyping even though the faces appear to be liberally borrowed, possibly purposely, from Coon Chicken Inn memorabilia.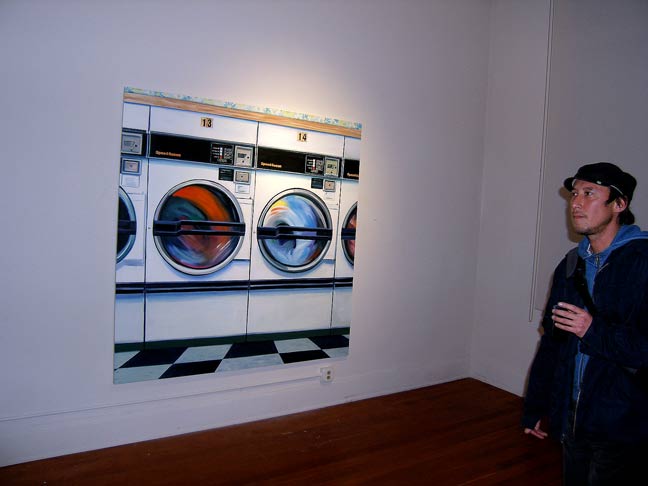 Laundromat art (like it).


Kathryn Dunlevie + art (left, center) - Lisa Ricci (artist, right).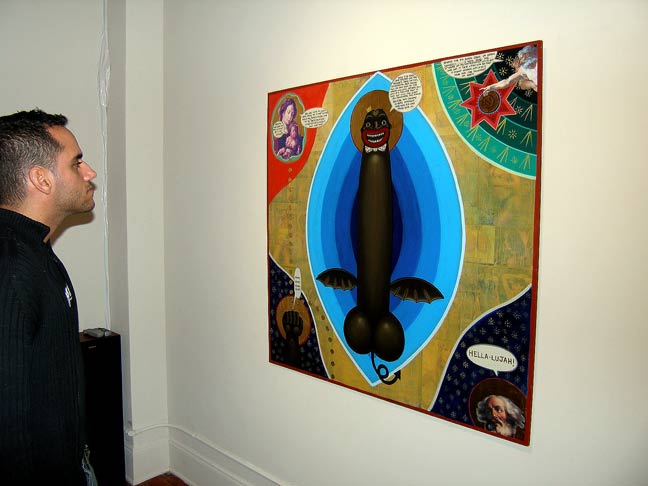 Pick (Mark Dukes).


Pick (Mark Dukes).


Art.


Art.


Art.


Art.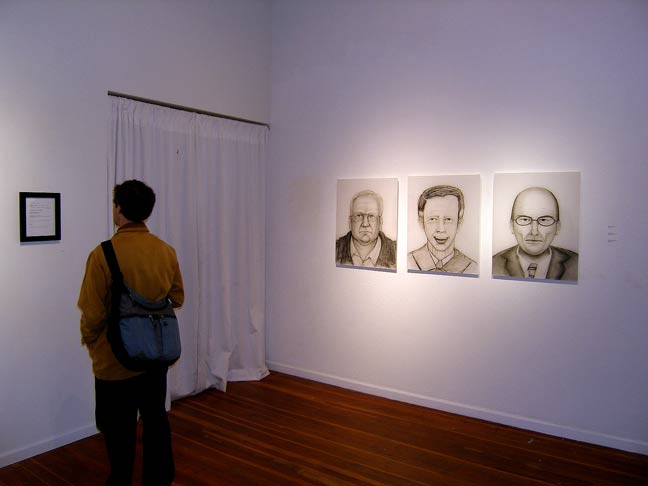 Art.


***
Creativity Explored: Annual Holiday Art Sale.
Comment: Tons of eminently affordable art by over 120 artists with developmental disabilities. It's piled on tables, it covers the walls, it's knee-deep everywhere. You gotta sift, but it's big hunt-style fun, and there's plenty of goodies to be scarfed. The proceeds go to an exceptionally worthy organization (and the artists get some too). Everybody ends up happy and that's always good.
Art.


Art.


Artist (left); Help, I forgot your name (ctr); Matt Gonzalez (rt).


Art.


Art.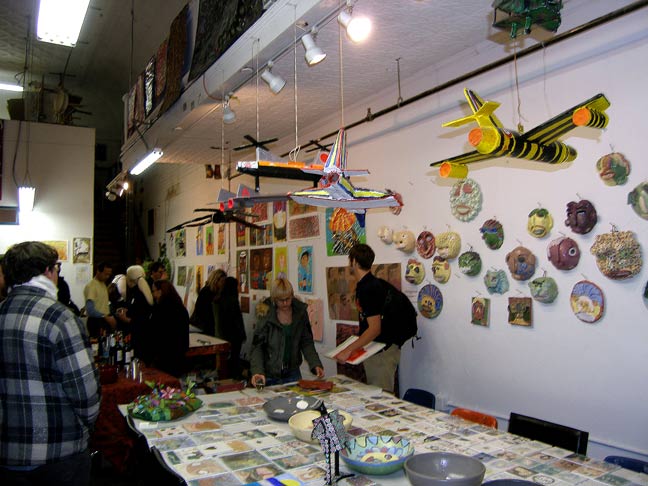 Art.


***
Femina Potens Gallery: R. A. McBride Photography.
Comment: Rebecca McBride photographs theater and church interiors, mostly abandoned, most in considerable states of disrepair and decay. Priced $1200 each. Engaging focused work; I like 'em-- and R. A. McBride is personable as well. She tells me she hopes to publish her theater images as a book titled "Left in the Dark: Portraits of Independent Cinemas." Good show, Femina Potens.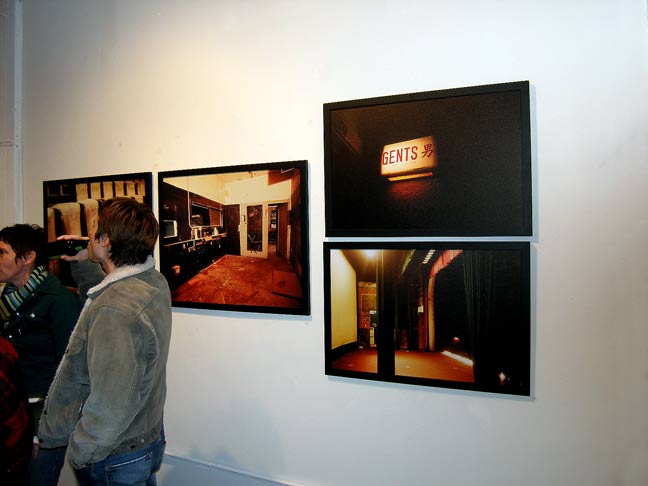 Photographs.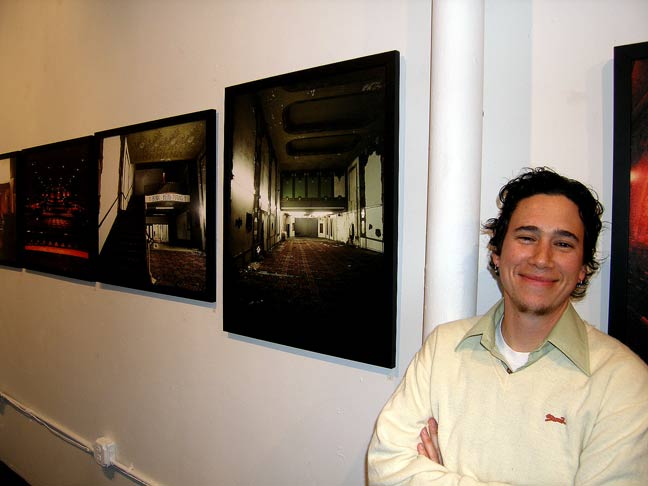 RA McBride - photography.


Photos.


Photography.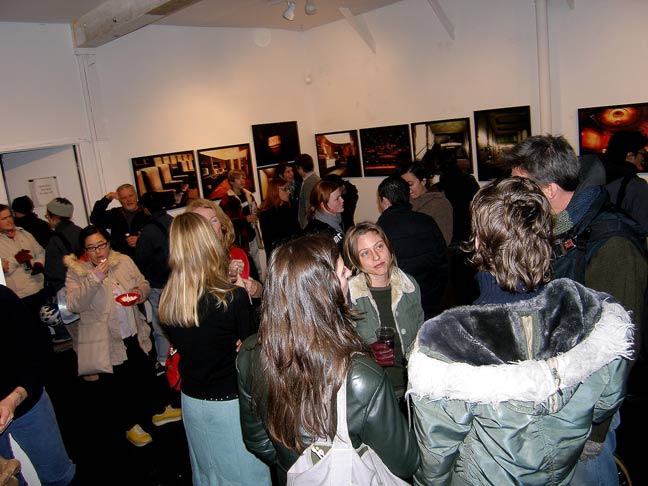 Premises.


***
California Modern Gallery and Mesart: Juried Holiday Exhibition.
Comment: Abstract paintings for the most part, some representational, but then I see these crackerjack chunky blocky sculpted intricate smoothly finished hyperlayered plywood dimensional dealie-bobs, one of which looks like a scrunched up old galleon. I touch one and it makes my hand smile, and when my hand smiles, I smile. Sorry for touching-- they were too seductive-- couldn't help it.
Art.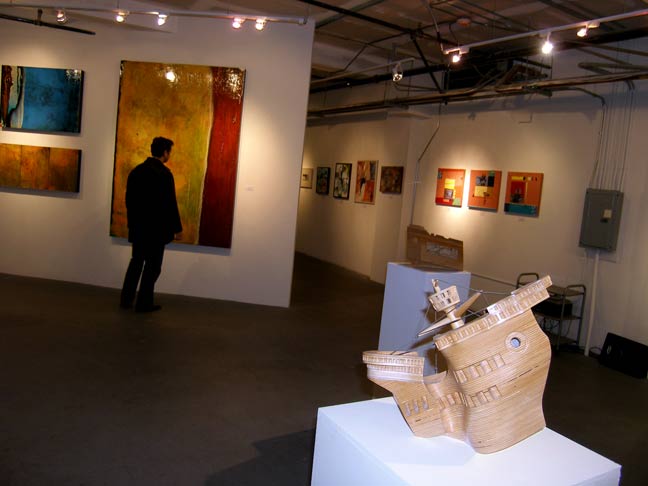 Sculpture - pick.


Sculpture - pick.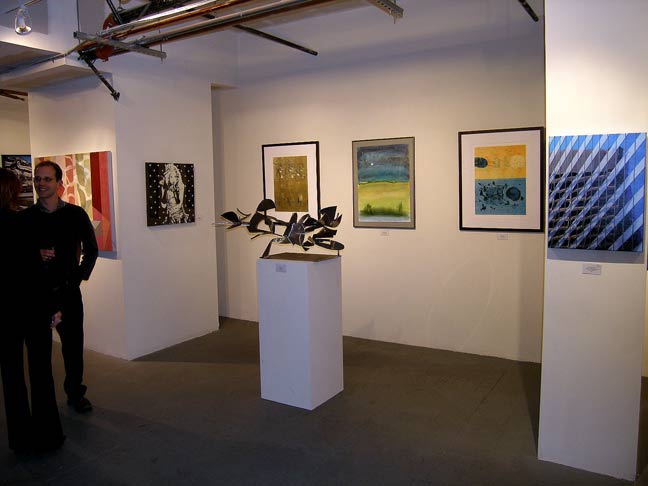 Art.


Art.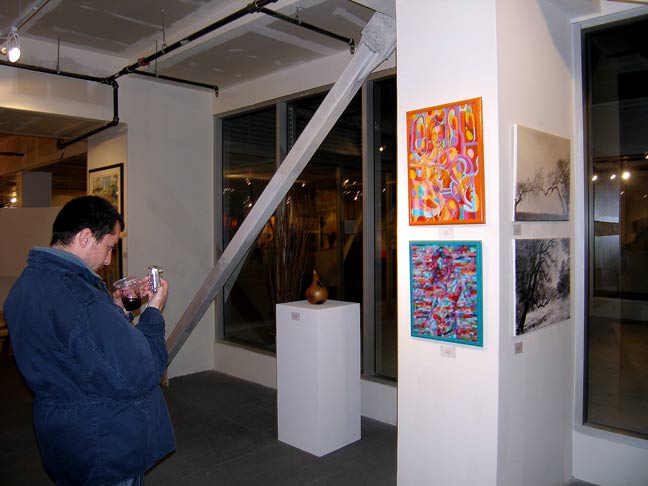 Art.


Art.


***
Space Galllery: Sleep Tights - Photography by Dave Schubert; Drawings and Paintings by John Dwyer.
Comment: OK. That does it! Space Gallery is officially on my hotlist. You're having too many good shows and I'm not gonna let that slither by unnoticed. This time, we got the gritty gutter hard luck imagery of Dave Schubert; some photos he's tinkered to make 'em look even stranger. Schubert's got a vision and he knows how to materialize it. You see a show of his photographs and you know you've been somewhere. Prices $100-$400.
Then John Dwyer serves up a heaping helping of bang-up out-there bargain art ($40-$200). My favorites are his moist pink permeable gouache hole paintings. "Hey, gouache hole-- wassup?" Sorry, got sidetracked there for a second. Anyway, my transcendental telekinetic art bunion is in a snit, and that doesn't happen often. Dwyer tells me this is the first show he's "ever prepared for," so that makes it an auspicious occasion for aquisitors. Plus he's affable. Plus there's a pile of screenprints by the door that he's giving away free. He's done everything right. We like generous talented affordable artists with upside.
I'm hangin' out the "Buy It Now" shingle on the whole show.
Art (John Dwyer).


Photography (Dave Schubert).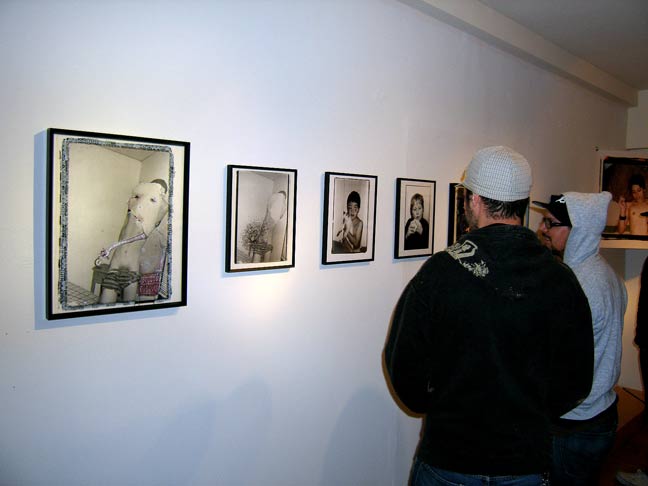 Tinkered photos (Dave Schubert - like 'em).


John Dwyer - art - like 'em.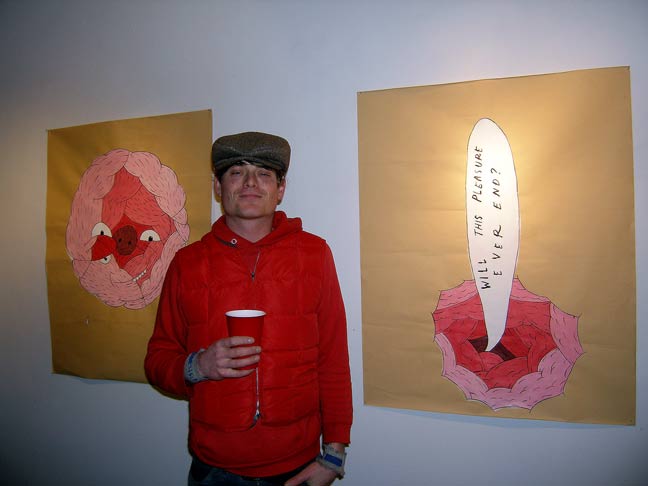 John Dwyer again - art - still like 'em.


Photography (Dave Schubert).


Pick on the blue photo with painted pink hole.


Art (John Dwyer).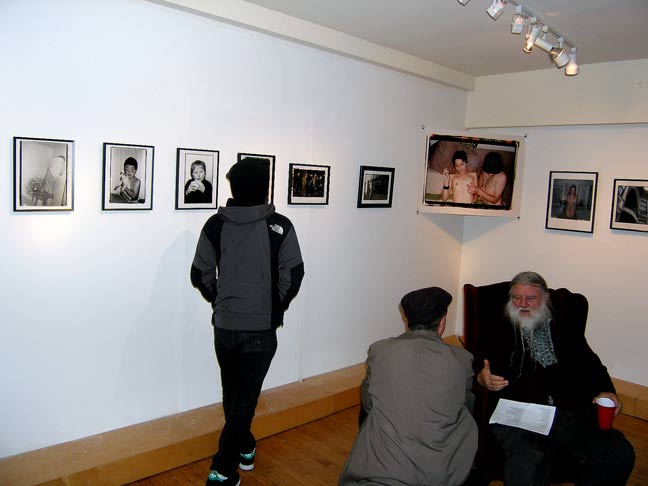 Photographs (Dave Schubert) - Ron Turner (Last Gasp, seated).


Art (John Dwyer).


Free stuff (John Dwyer).


***
Addendum:
Group show at pay-to-play City Art Gallery.


One more City Art Gallery.


Holiday show at pay-to-play Artist Xchange Gallery.


One more Artist Xchange (note finished edges- we like).


Mamacita Anita at The Drug Store Gallery, 3149 Mission St.


Stephanie Dean photography at Red Ink Studios.


Christopher Wiedmann - light art at Red Ink Studios.