SAN FRANCISCO ART GALLERIES OPENINGS
FIRST THURSDAY; 01.05.06
General comment: I get this question again tonight-- "You never give a bad review, do you?" It's kind of a back-handed challenge to say something "meaningful" instead of my usual happy-boy tripe. So I get to thinking. I suppose the easy answer is "You obviously haven't read every word I've ever written, have you?" Then again, I haven't either, so that's not really fair. Maybe this...
There's no upside to publicly upbraiding artists, to roasting their art (unless it's misrepresented, mislabeled, aggrandized with attitude, shoddily made, overpriced, or otherwise shucked up). Going negative doesn't make me feel better, and it sure doesn't make artists feel better, not to mention their dealers. But I have opinions; they're valid. So I compromise and dispel the dilemma by charging $$ to talk pure and honest to any artist about any aspect of his or her art (we all know how much free advice is worth). That's right-- I'm a pay-to-play kinda dude. No politics, no schmooze, no jive erudition, no bullshit. Just plain old fashioned brain bending. I've been around, got a grip, test well, think original, and most importantly, I'm here to help. That goes for you "collectors" too, by the way.
Oh. You wanna know whether when you're done throwing money at me you're gonna make it all back plus profit and get famous and get over on the competition and get names and phone numbers, right? Forget it. I don't traffic in fluff, and I'm not some kinda turnstile you go through to get MORE. I have no influence anyway. What ever gave you that idea?
Oops. Fell off the hay wagon there for a moment. Back on point. OK. Take yourself a deep peaceful creative intangiblic breath and receptivize your mind cuz we're about see us some art...
***
Hackett-Freedman Gallery: F. Scott Hess - The Seven Laughters of God and Other Paintings.
Comment: The Seven Laughters series by F. Scott Hess tracks the evolutionary path of a young artist along his circuitous journey from nowhere to everywhere. Hess's art transcends "Classical Realism" (I paint it because I can) and "Classical Surrealism" (I paint it because it's weird) with story lines, insight, editorial, truth, wisdom, depth, and more. Plenty of artists can paint anything; few artists can paint anything AND make you think AND make you feel. Hess is one of the few. $20K-$40K.
I don't have an official pick for 2006's inaugural creative salvo, but Hess's show is at least as good as any so let's call it a Near Pick. This dude can paint.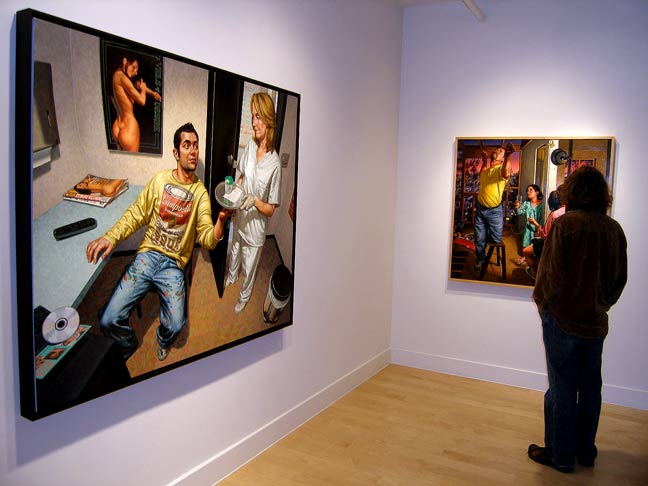 Art.


F. Scott Hess - art.


Art.


Art.


***
Steven Wirtz Gallery: Three New Photographers - Apollonia Morrill, Paul Schiek, Rachel Weeks.
Comment: Apollonia Morrill abstracts out portions of the Castro Theatre here in Ess Eff, and of a house and a church, both in Hawaii. Paul Schiek goes morbid-tinge strange at night, using his flash to dissociate unreferenceable fragments out of the darkness (like 'em). Rachel Weeks waxes Victorian, using 19th century photographic techniques to portray various aspects of her erotic self as well as a selection of bleak woodsy mildly foreboding landscapes that take you straight to nowhere (like 'em both).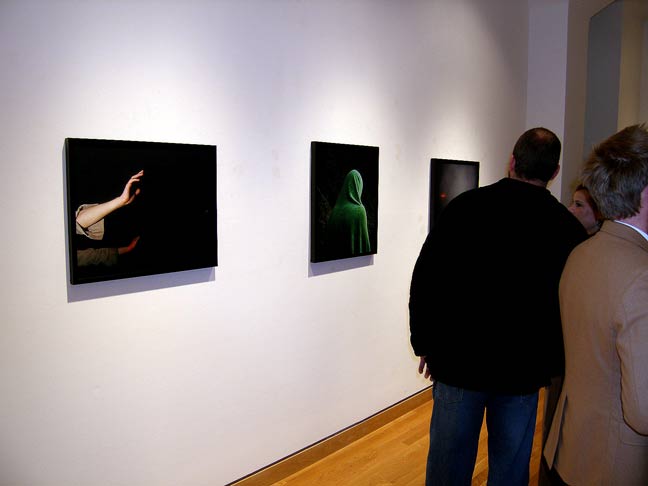 Photography (Paul Schiek).


Photos (Paul Schiek).


Photographs (Rachel Weeks).


Images (Apollonia Morrill).


Images (Apollonia Morrill).


Photography (Paul Schiek).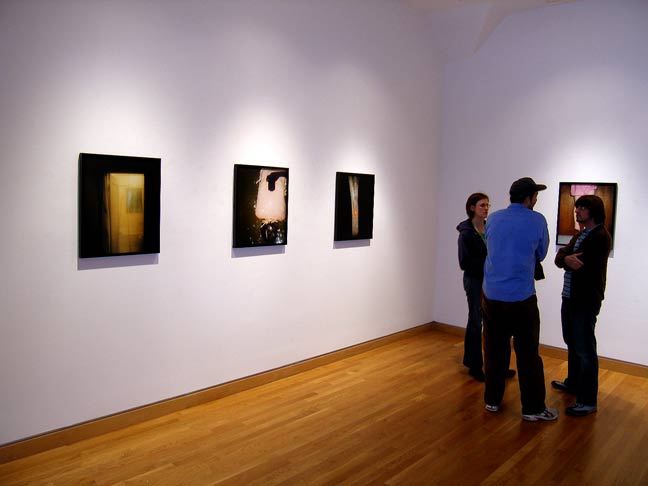 Photos (Paul Schiek).


***
Fraenkel Gallery: Katy Grannan - Model American.
Comment: Katy Grannan photographs local folks in various states of semi-dress and/or bedragglement and/or recline in and about Mystic Lake, Medford, MA. To me, the beautifully composed aesthetically gratifying portraits are a bit of a filch, Grannan bilking her subjects to serve herself. Or maybe she gives them a say in the matter and these are the images they choose to have shown. Seems, though, more like an alibi for a gawk. Mommy used to tell me it's not polite to stare. So is it OK to do it here? Diane Arbus presented her souls honest; these psyches are fabricated.
While at the show, a photographer tells me she thinks the images lack contrast (technically speaking, that is), but I disagree-- they're plenty harsh already.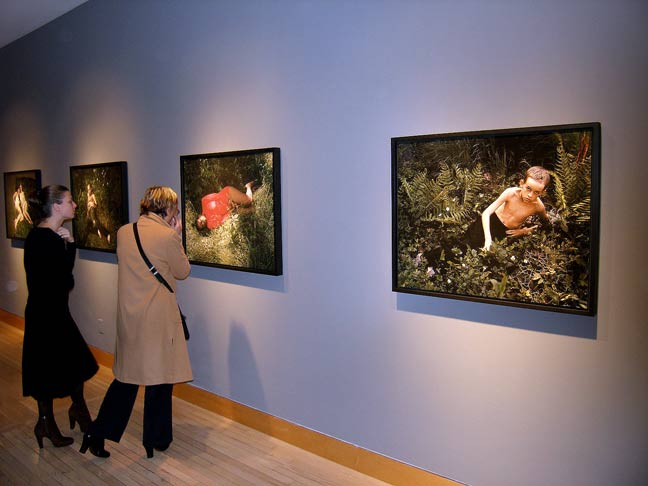 Photographs.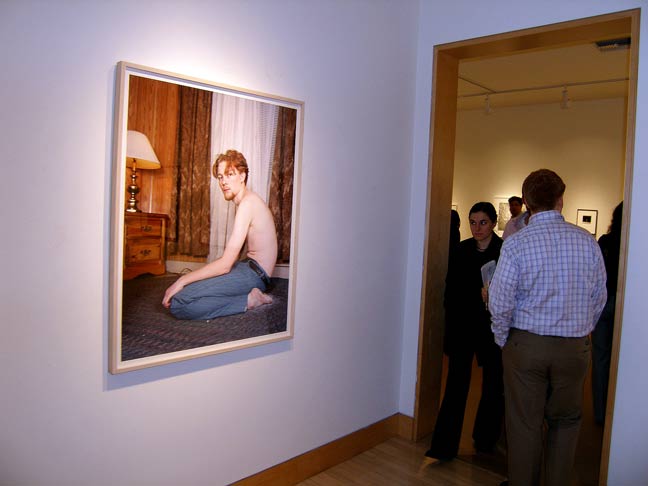 Photography.


Photography.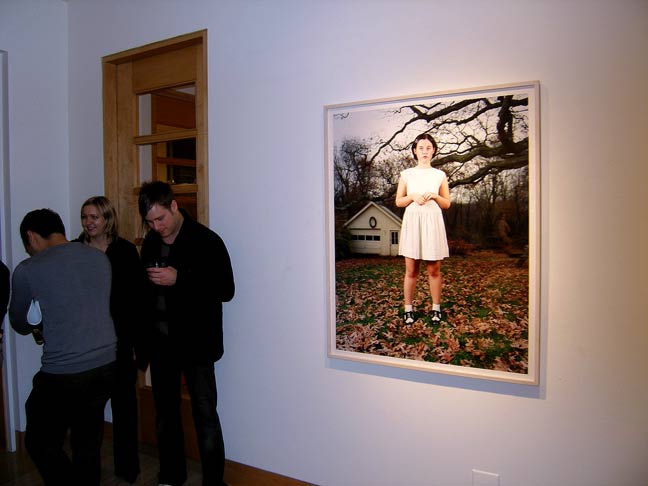 Photography.


Photographs.


***
Toomey Tourell Gallery: Maria Park - Discrete Velocity.
Comment: Nature's grandeur meets war's stupidity in abstracted landscapes pared to bright shiny airy paint-by-number directness. Don't look too close, though-- they're a mite rough along the edges.
Art.


Art.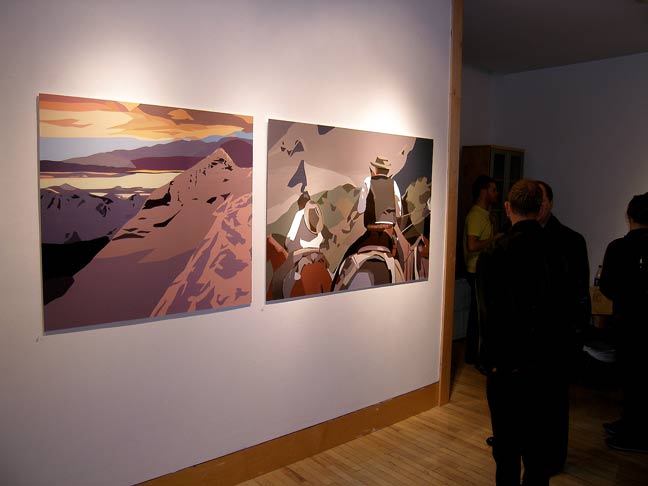 Art.


Art.


***
Steven Wolf Fine Arts: A Searing Lesson Every Girl Should Know - Tami Demaree; Doug Holst - Pentominoes.
Comment: Tami Demaree tells me her art is all about love. That's it. Nothing more, nothing less. So she crams up the gallery with different ways to show it, say it, feel it, take it, leave it, lose it, gain it-- a colorful imaginative free-wheeling carnival of fun with not an iota of mind twist. Since there's no burdensome blather to bog down the art, it's more affordable, averaging a modest $300-$750 per piece. In the gallery's rear sector, Doug Holst permutes sets of five same-color squares (termed pentominoes) into various configurations, and then combines the configurations into compositions. Steven Wolf keeps Geary's airs fresh.
Art (Tami Demaree).


Art (Tami Demaree).


Tami Demaree + self-portrait as a gangsta.


Art (Tami Demaree).


Art (Tami Demaree).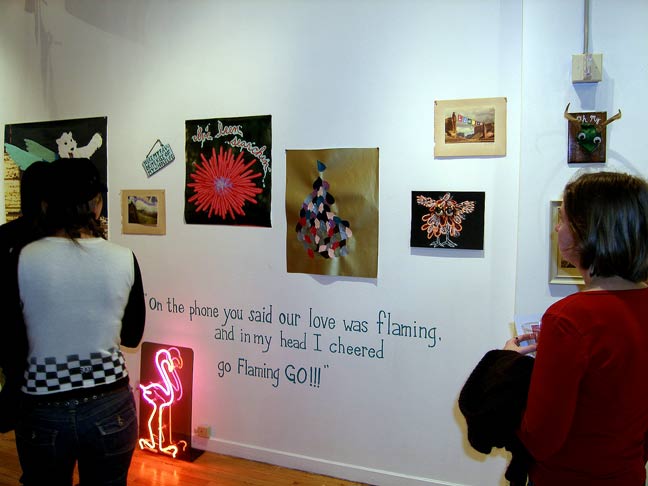 Art (Tami Demaree).


Art (Tami Demaree - fore; Doug Holst - aft).


***
Haines Gallery: Kota Ezawa - The History of Photography Remix.
Comment: Kota Ezawa reinvigorates a selection of celebrated photographic images, rendering them John Vassos-like in appearance, by extracting out the shading and color gradations, and presenting them as framed back-lit translucencies. Smaller cut-paper versions are also on display. Copyright issues? I dunno. Seems possible.
Art.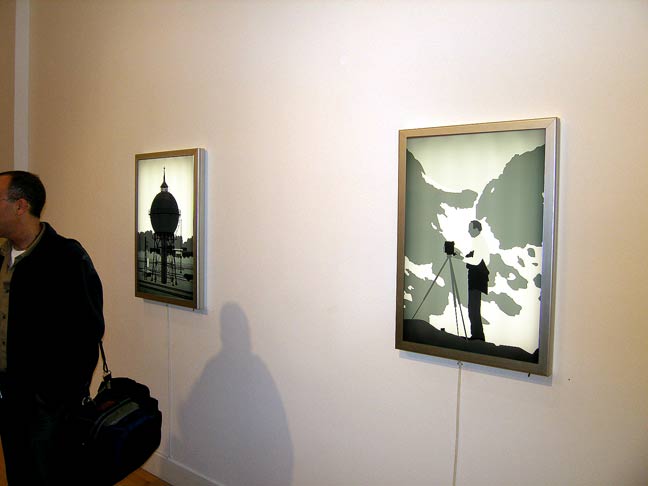 Art.


Art.


Art.


***
Robert Koch Gallery: Larry Schwarm.
Comment: At first, I thought these were photographs of volcanic eruptions, and then I read that they show controlled burns of Kansas prairies taken at all burn stages, day and night, near and far. Now I like 'em even more cuz they fooled me. Back in the seventies, when I was a new-age clothing-optional hippie living at Wilbur Hot Springs, I would witness controlled burns of the Colusa County rice fields after every harvest; they were never anywhere near as mysterious and romantic as Larry Schwarm presents them.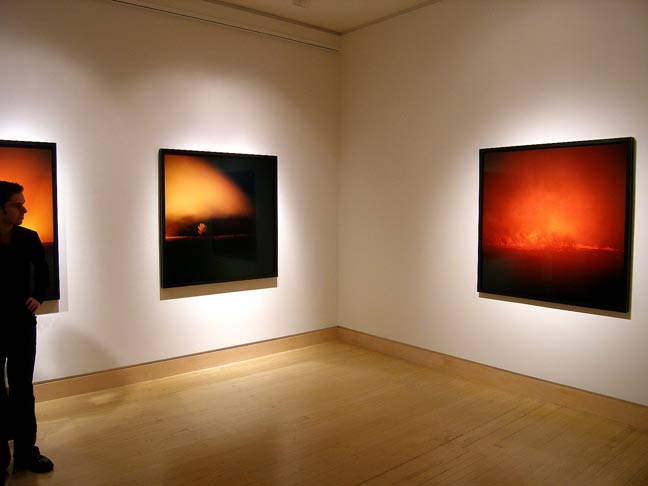 Photos.


Photography.


Photography.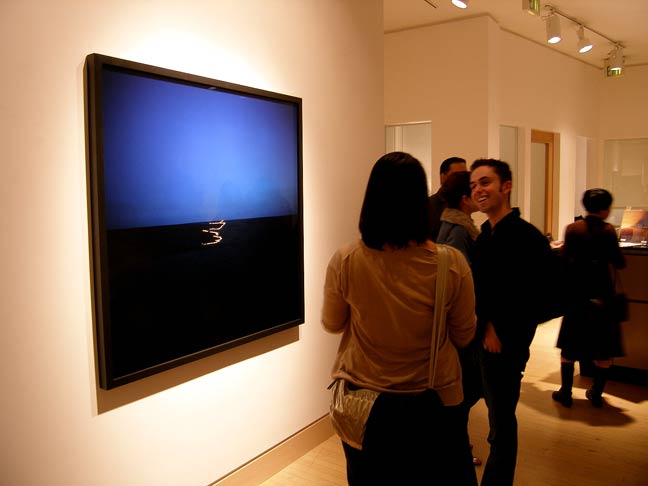 Images.


Photographs.


***
Elins Eagles-Smith Gallery: Deloss McGraw - Recent Paintings in Response to "Portrait of the Artist as a Young Man" by James Joyce.
Artists: An entirely competent easy appealing delectable array of gouaches on paper and oils on panel, each paired with a passage from James Joyce's "Portrait of the Artist as a Young Man." McGraw tells me he uses a belt sander (not a big one) to achieve textural effects on his oil paintings. He currently lives in Los Angeles, but recently bought a 1600 square foot house in the town where he was born, sixty miles south of Tulsa, Oklahoma, for $30,000 (monthly payment $25 less than what he pays for his storage space in LA). Hmmm. Oklahoma, by the way, is where someone once asked me, "Is that gooder?" It's also Bruce Goff territory.
Art.


Art.


Art.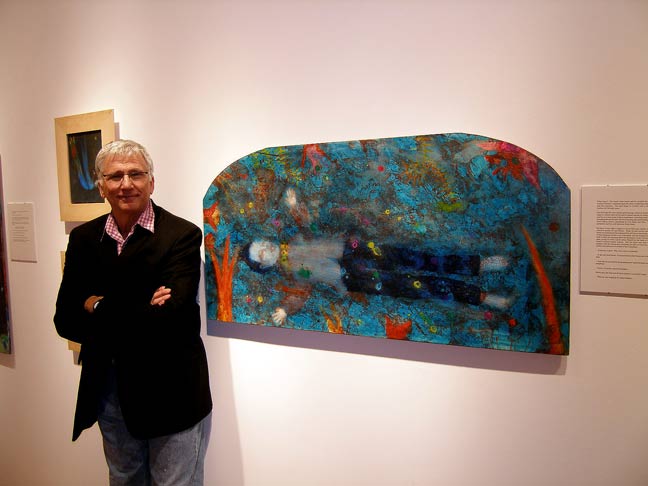 Deloss McGraw - art.


***
Gregory Lind Gallery: Frank Yamrus - Bared and Bended; Chris Corales - One Bright Day in the Middle of the Night.
Comment: Frank Yamrus photographs Provincetown, MA area landscapes and waterscapes during the coldest time of the year (and it's cold). Those who've been know how cold that is and for them, the images have multi-meanings-- climate as art. Those who haven't been will still find plenty to see and appreciate in Yamrus's minimal to sub-minimal imagery. It's almost like nothing's there, but check it out-- nothing is something too.
Chris Corales creates collaged abstract assemblages from found materials, this time from pieces of printed industrial shipping boxes. Speaking of packaging, here's an irk-- packaging wastes huge amounts of natural resources and bloats our landfills. Manufacturers could care less how much material they use (and garbage they create) to gussy up their products as long as they make MORE MONEY MORE MONEY MORE MONEY. Pigs. Packaging is so out of control that the package often costs more the product it packages. Maybe someday someone will clone a bunch of Cris Corales's to artfully recycle it all. Trader Joe's, by the way, shuns excessive packaging (except on fresh fruit) which helps save the planet, and they pass those savings on to you.
Photography (Frank Yamrus).


Photos (Frank Yamrus).


Photograph (Frank Yamrus).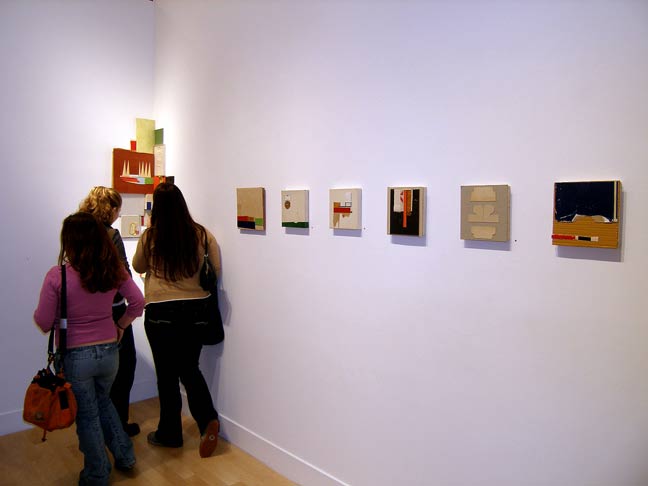 Art (Chris Corales).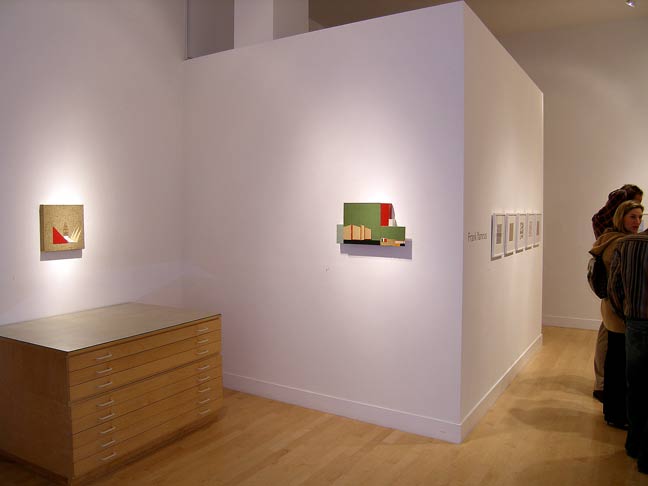 Art (Chris Corales).


Chris Corales (center) - art.


***
Time now to meet the The Tape Dude, so called because makes stuff out of tape. He declines to give a name and nothing's for sale. Accessorized with his tapeworks, he kicks a spherical tape construction along the floor as he walks (to accumulate, through adhesion, souvenirs of the evening, he says).
The Tape Dude and accessories.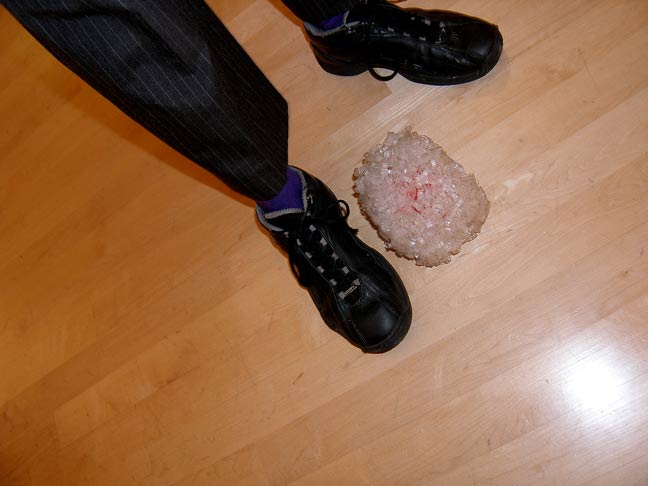 Kickable souvenir accumulator.


The Tape Dude - kickable souvenir accumulator.


Lisa Dent Gallery: Maiko Sugano.
Comment: Furniture, sculpture, carvings; proficient, balanced, meditative.
Art.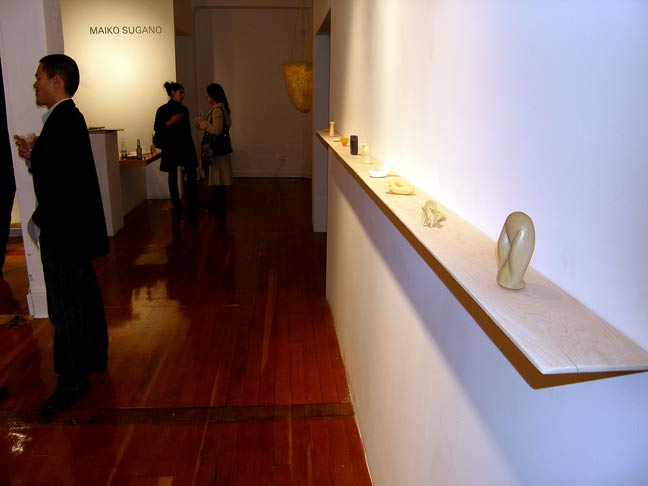 Art.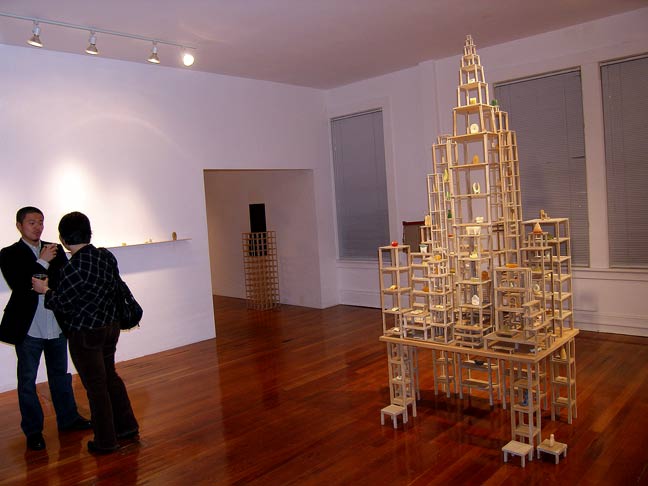 Art.


Art.


Art.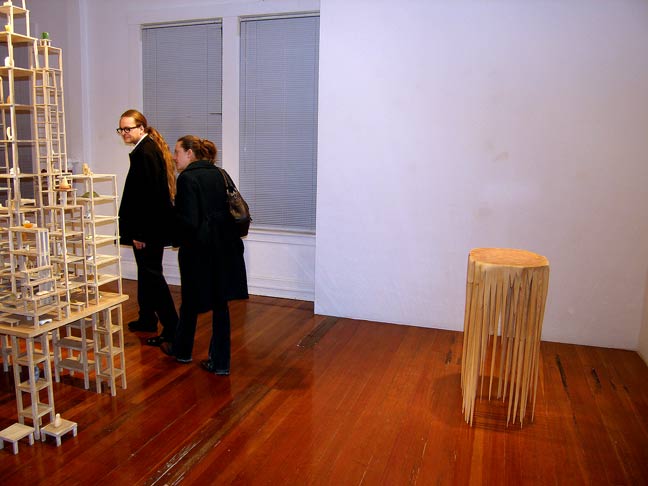 Art.


***
111 Minna Gallery: A Year and a Day - A Collaboration of Paintings and Solo Work by Brian Barneclo & Greg "Pnut" Galinsky.
Comment: Brian Barneclo and Greg Pnut Galinsky celebrate a prolific year of painting together and separate, including plenty of plaudits like a Chronicle Databook full-page cover illustration. As you might expect, the two have no trouble filling 111 Minna Gallery with creatables in a healthy range of sizes, varieties, styles, and prices for any budget ($100- $8K). Plenty to see; plenty to buy. All entertaining.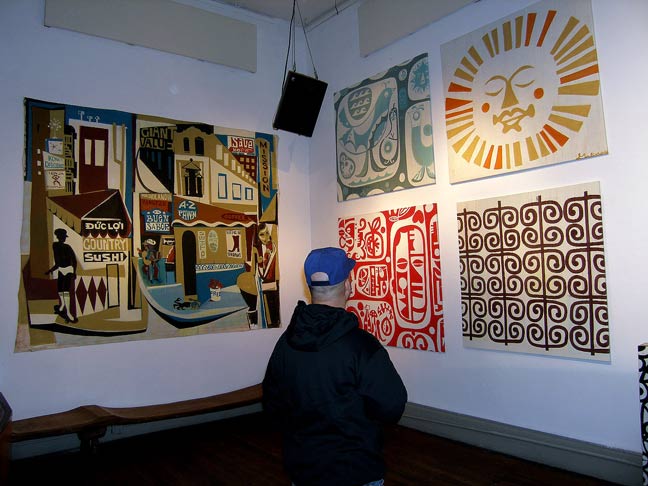 Art.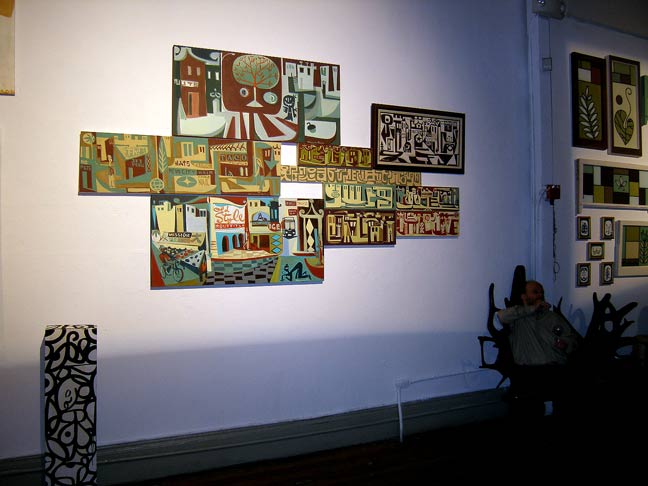 Art.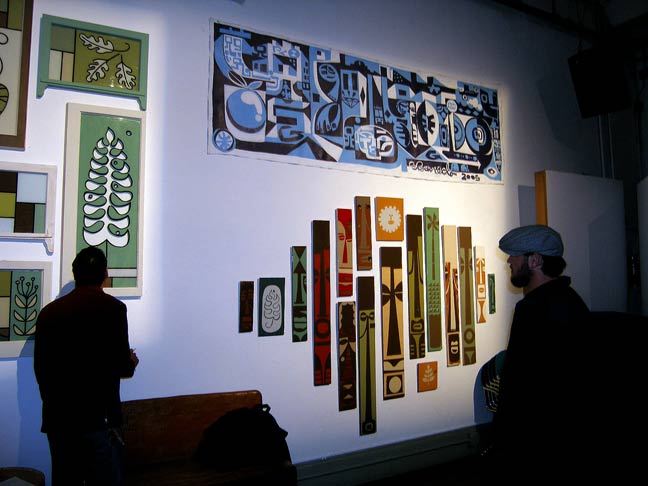 Art.


Greg "Pnut" Galinsky.


Brian Barneclo (center).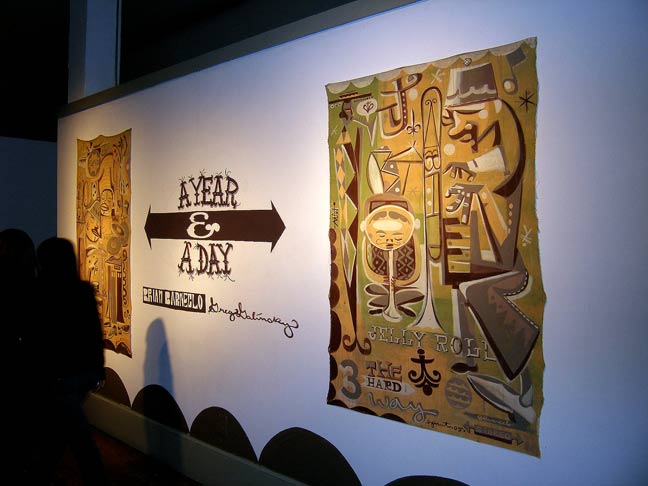 Signage.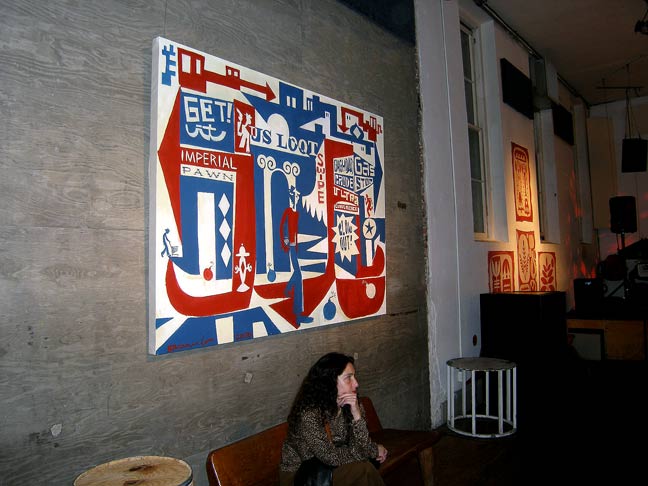 Art.


Art.


Art.


Panorama.


***
Aspect Gallery: A Rare Look at San Francisco.
Artists: William Francis, Uri Friedman, Jennifer Hattam, Suzun Hughes, Lenea Maibaum, Barb Traub, and Tobias Womack.
Comment: See The City through photographers' eyes.
Photographs.


Barb Traub - photography.


Images.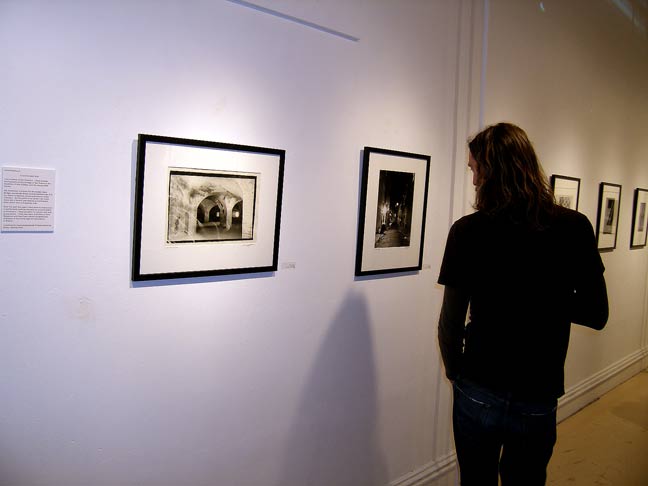 Photos.


***
Addendum: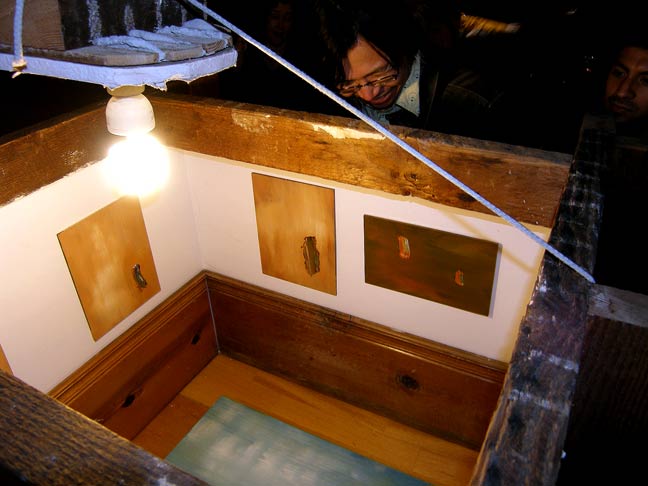 Kevin Clarke "Abstract Place-meants" at The Little Gallery.


Masako Takahashi at Jack Fisher Gallery (panning right).


Masako Takahashi at Jack Fischer Gallery (panning left).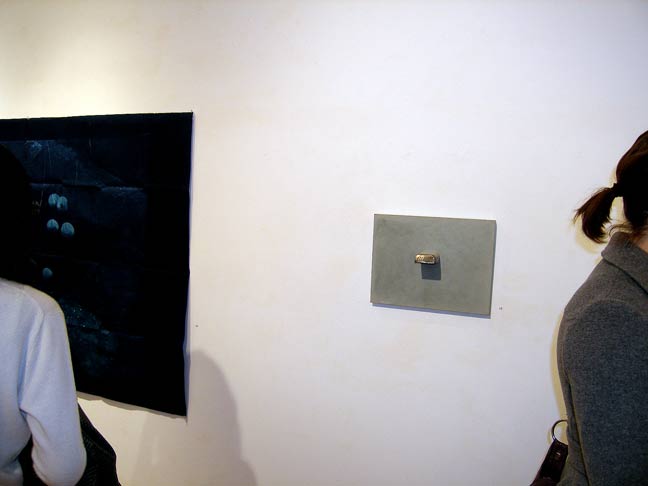 Group show at Don Soker Gallery.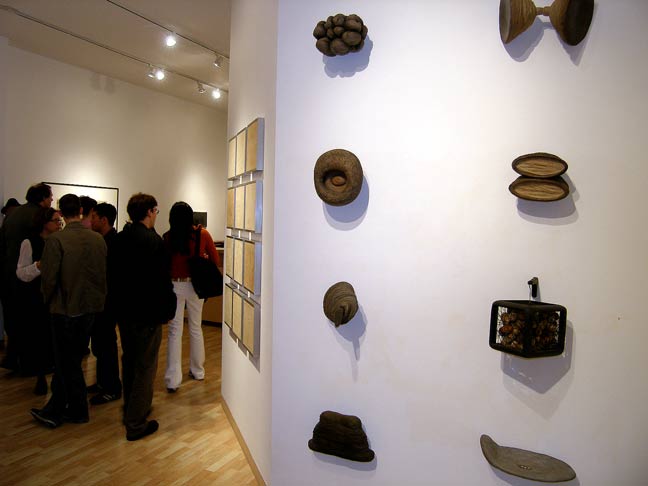 One more from Don Soker Gallery (woodworks - like 'em).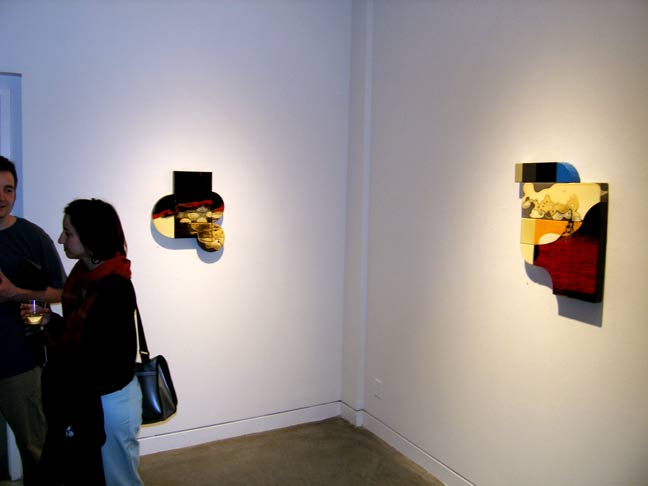 Cornelia Schulz paintings at Patricia Sweetow Gallery.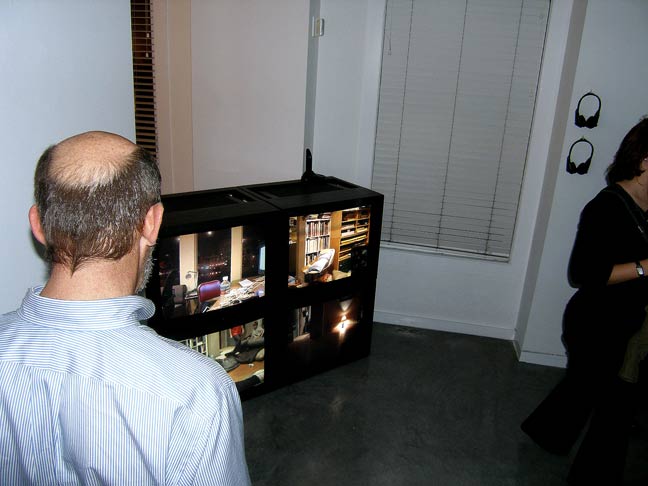 Jeanne C. Finley & John Muse videos at Patricia Sweetow.


Plenty to see, period and contemporary, at Art Exchange Gallery.


Leo Bersamina at Gallery Paule Anglim.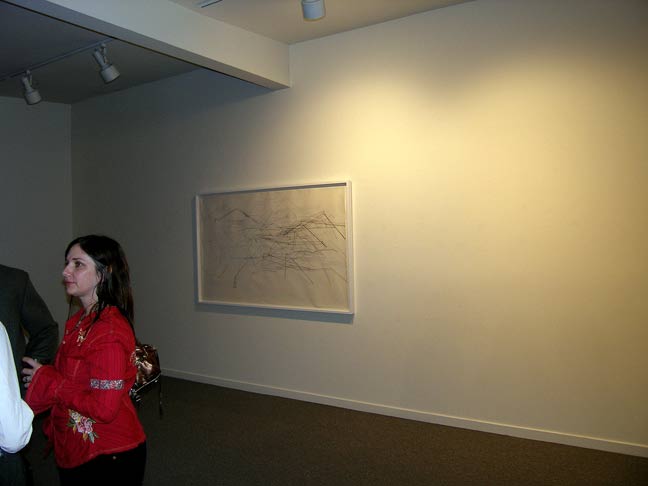 Another Leo Bersamina at Gallery Paule Anglim.


Final Leo Bersamina at Gallery Paule Anglim.


***
Got a spare cup of coffee on you by any chance?
***
December First Thursday; December 1, 2005