SAN FRANCISCO ART GALLERIES OPENINGS
FIRST THURSDAY; 02.02.06
General comment: This is one of the better First Thursdays I've been to in a while. Why? No duds. One thudding dud can flummox an entire evening, you know. But none of that tonight. Oh-- plus there's a Pick of First Thursday for a change. Care to take a guess? I think it's a gimme. Plus there's a surprise plus there's a first (actually they're both the same thing). Excited? Of course you are. Let's spin the wheel...
***
Dolby Chadwick Gallery: Shelley Hoyt - Recent Work.
Comment: Shelley Hoyt paints and draws fogscapes with trees and overhanging branches-- soft, soothing, sea green, meditative, convincing. Some compositions have sharp focus foreground foliage along the edges to make you feel like you're right there peering through the greenery-- a decent illusion if you can pull it off, and Hoyt does.
Art.


Art.


Shelley Hoyt (artist, left) - Lisa Chadwick (owner, right).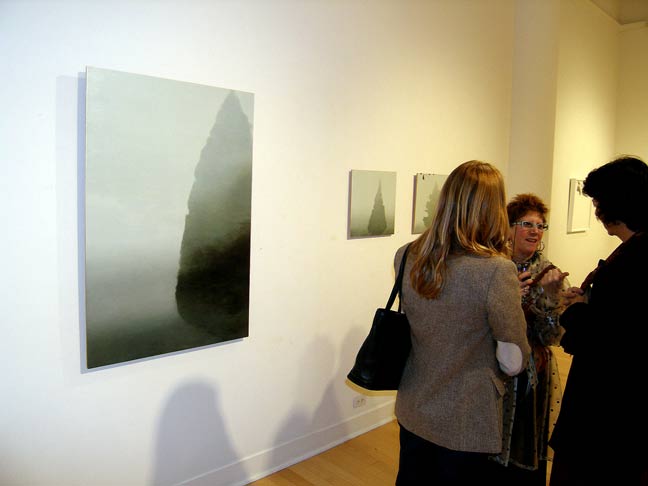 Art.


Art.


***
Heather Marx Gallery: Michael Arcega - Getting Mid-Evil.
Comment: Michael Arcega essays on Philippines double domination, by Spain in the sixteenth century, and again by Europe in the twentieth century. That's about all you need to know to enjoy the show. Actually you don't even need to know that because the art's so technically excellent, easy on didactic, spiced with levity, and visually satisfying, who cares? It's a case of stand-alone appreciation anchored by an intricate saw-cut black PVC church facade and the especially entertaining pristine twin suits of armor cut and crafted from Manila folders. Sometimes art's so well done, you don't have to know why, you don't have to ask why. The buy-in is optional; there's a choice. And we all love choices.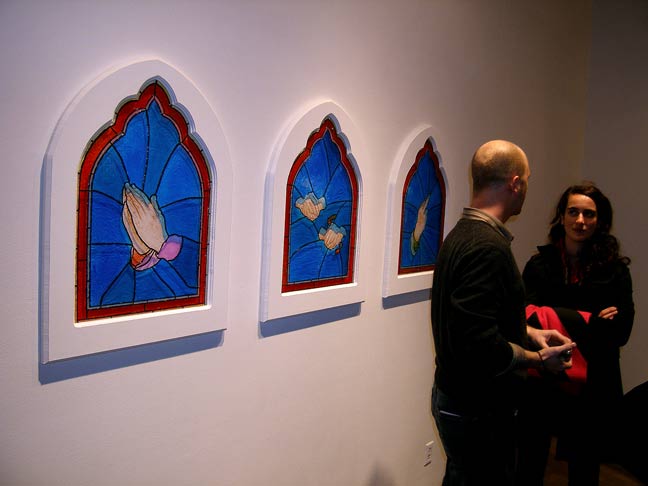 Art.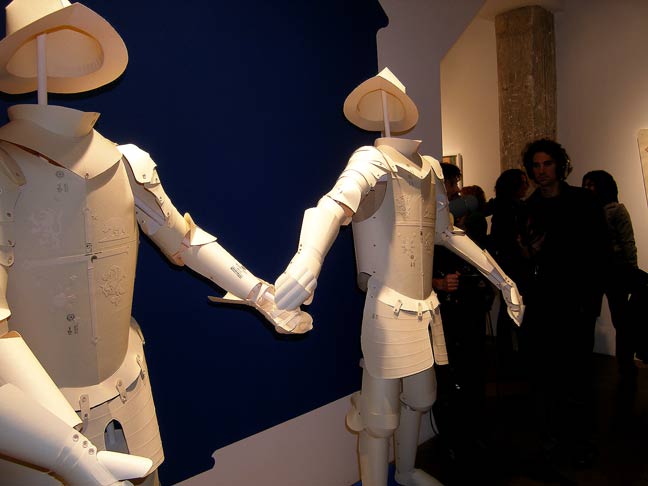 Manila conquistadors (nice).


Michael Arcega - art.


Ecclesiastic art (like it).


Art.


***
Gallery Paule Anglim: John Roloff - New Work; Ala Ebtekar - Emergence: Elements.
Comment: John Roloff uses oversized historical black and white photographic images of battleships and dredges contrasted with strange mound shaped sculptures, one made of sulphur, to comment in some recondite conceptual way on power. Quality execution on the sculptures. Ala Ebtekar shows a series of drawings so faint you can barely see 'em plus there's a pile of boom boxes on the floor. Erk. Sometimes you don't have a choice. Buy-in or blanch.
Art (John Roloff).


Art (John Roloff).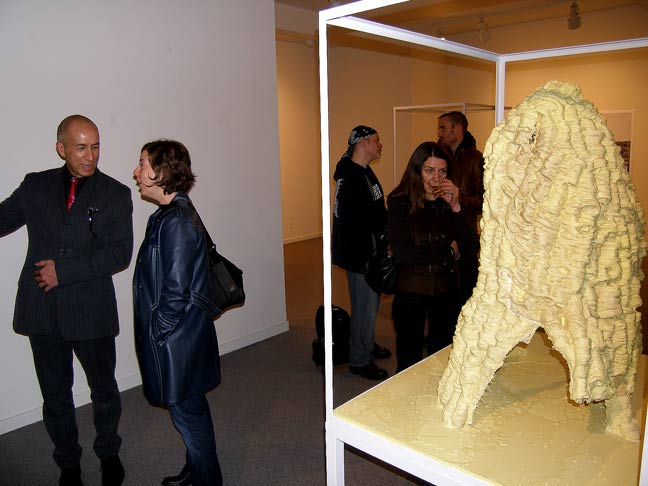 Sulphur sculpture (John Roloff, like it).


Art (Ala Ebtekar).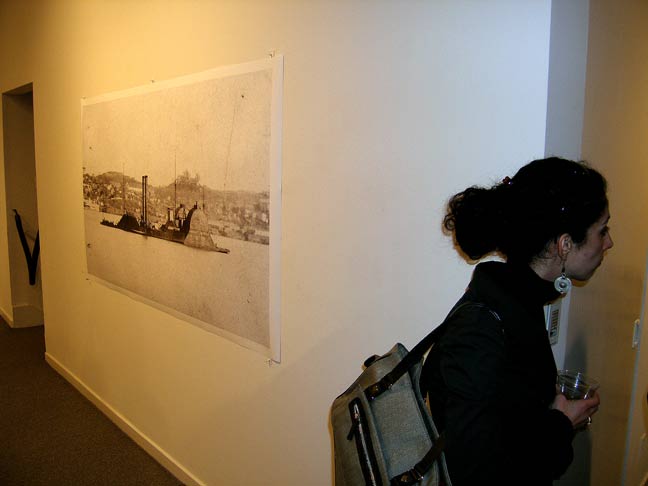 Art (John Roloff).


Art (John Roloff).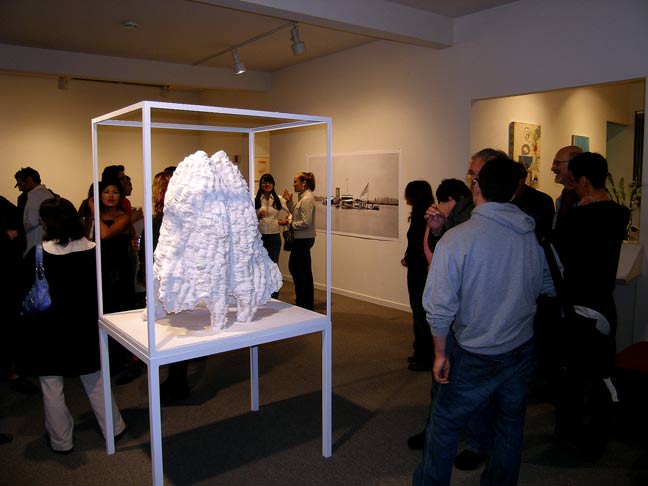 Art (John Roloff).


Art (John Roloff).


***
871 Fine Arts: "Between Poetry and Painting II" - An Exhibition of Visual Poetry.
Comment: Just to make sure no one goes home stupid, we have San Francisco's bastion of intellectual artological esoterica, 871 Fine Arts, this time tanning greenhorns (aka me) with Concrete Poetry which, according to my trusty Glossary of Art, Architecture & Design Since 1945, Third Edition by John A. Walker (G.K. Hall, Boston, 1992) happens when a "Concrete poet arranges language elements freely across a surface, not just in linear syntax." There's more to it than that, of course, but I'm cool. Anyway, that's exactly what the art looks like-- sequenced patterned multifarious diagrammatic worded paper communiques. Impressive cull. Go see. The most interesting part of an 871 Fine Arts show is not necessarily the art, by the way, but how CEO Adrienne Fish dogs it. Do tell Adrienne. Now that's entertainment.
Concrete poetry.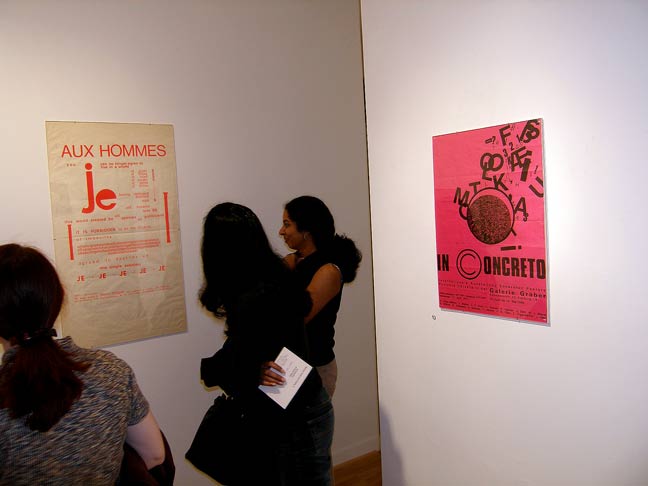 Concrete poetry.


Concrete poetry.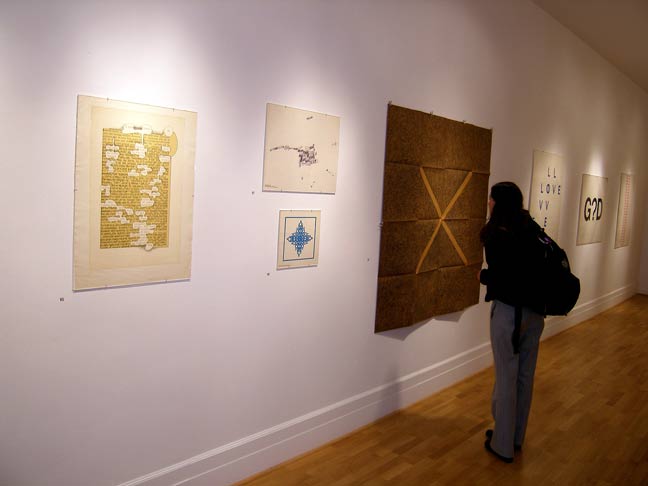 Concrete poetry.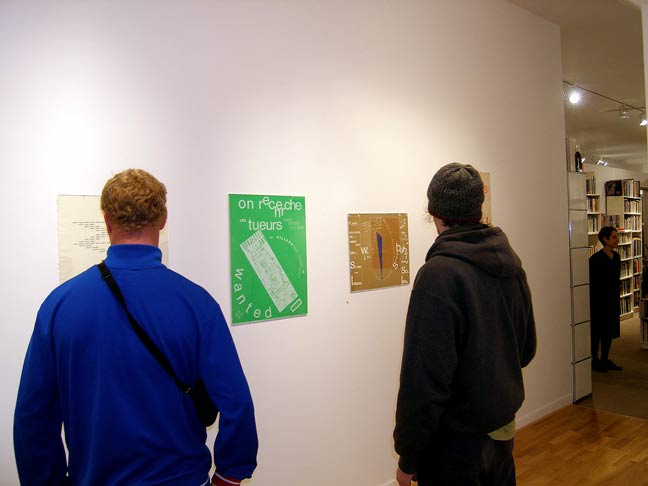 Concrete poetry.


***
Toomey Tourell Gallery: Brian Rutenberg - Riverbend.
Comment: Toomey Tourell Gallery consistently demonstrates what it takes to paint abstract in the 21st century, where every square millimeter of every composition has to be accounted for and artists are 100% accountable. You can't just paint stuff that doesn't look like anything and call it a fait accomplit-- those days are way way over. You gotta know where you're going, get there in style, and then prove it with parlance to the doubters. New York artist Brian Rutenberg, for example, creates a series of strong confident plays on nature, verging on representational, or maybe not. He gives you the opportunity to go either way, or both; your choice.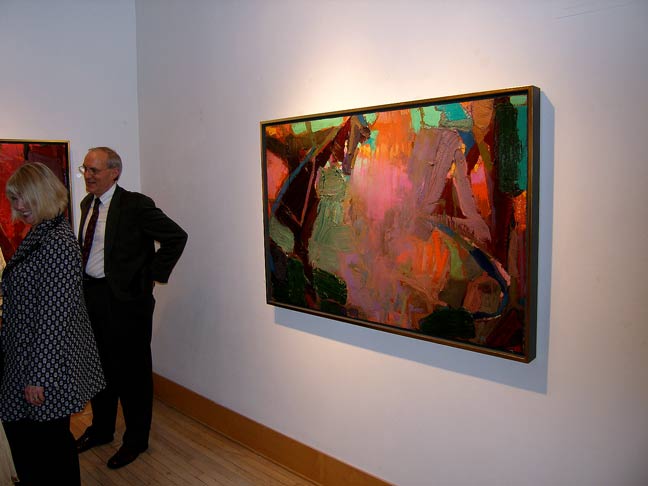 Art.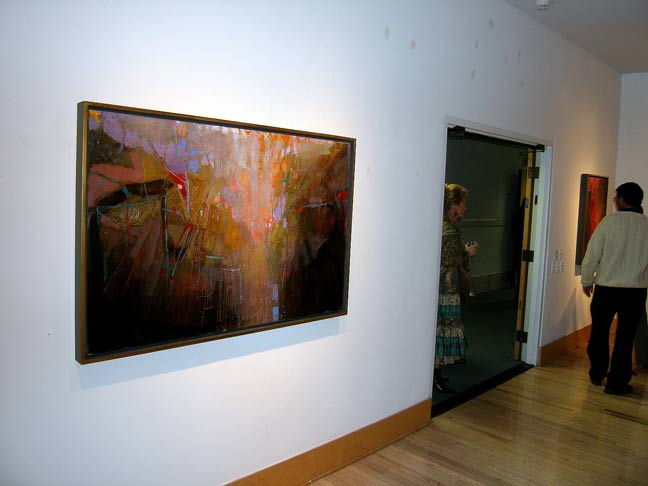 Art.


Brian Rutenberg (left).


Art.


Art.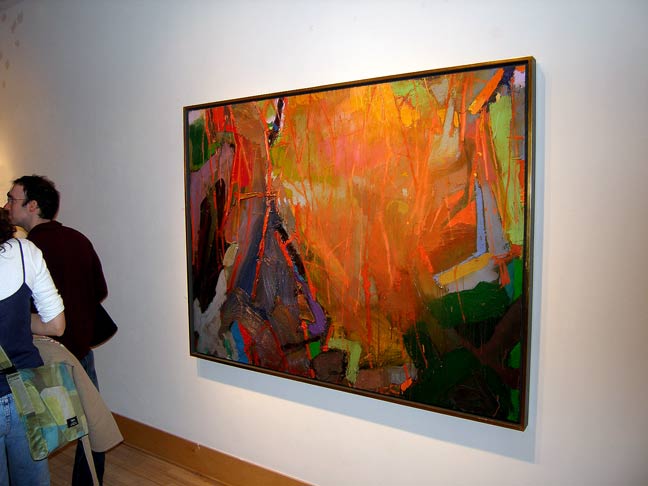 Art.


***
Steven Wolf Fine Arts: Kaz Oshiro - Subpar; Molly Springfield - They Go on Telling You Just the Same Thing Forever.
Comment: Double Pick of First Thursday. No question. Steven Wolf billows the premise by referencing the majority of contemporary art history, probably to brace the mainstay and appease the patricians, but that's not really necessary and it ain't what we got here. Welcome to tromp l'oeil heaven where Kaz Oshiro presents remarkable "three-dimensional paintings" of humbledom including a low-end Fender amplifier, a wretched dorm room refrigerator (complete with cup stains), a fast food trash receptacle, and a boring white speaker set. They're so convincing, they have to be real, even when you move in close. Wrong.
But wait. There's more.
Molly Springfield pencil draws photorealistic copies of photocopies of books squished open onto copier beds of depreciated copiers way past their primes. The painstakingly detailed images are exquisitely ordinary, unrelentingly pathetic, totally believable. Fun things to do with art #3753: You buy one of these drawings, hang it on your wall. When someone comes over and asks what it is, you tell 'em its an old photocopy handout from college that you saved; they categorically believe you. You tell 'em what it really is half an hour later. They react and you watch. Entertainment? I dunno.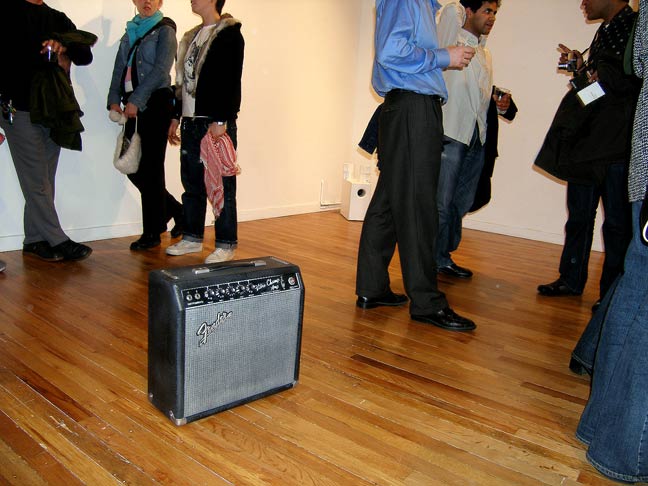 Looks like a Fender amp (Kaz Oshiro).


Fooled ya. It's wood-framed canvas, paint, and bondo (Kaz Oshiro).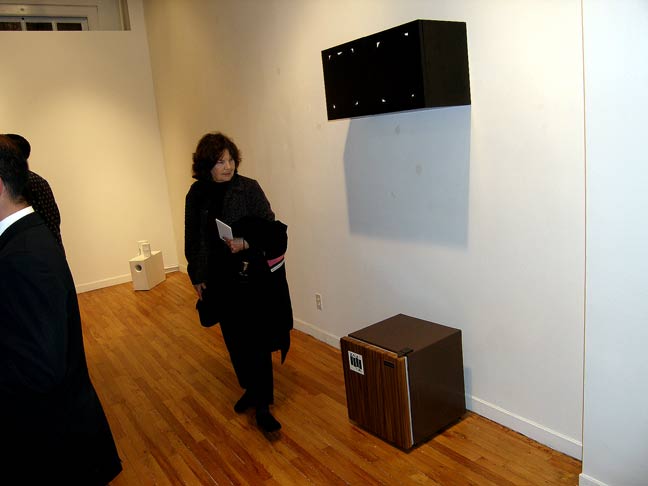 Fictitious fridge and spurious speaker art (Kaz Oshiro).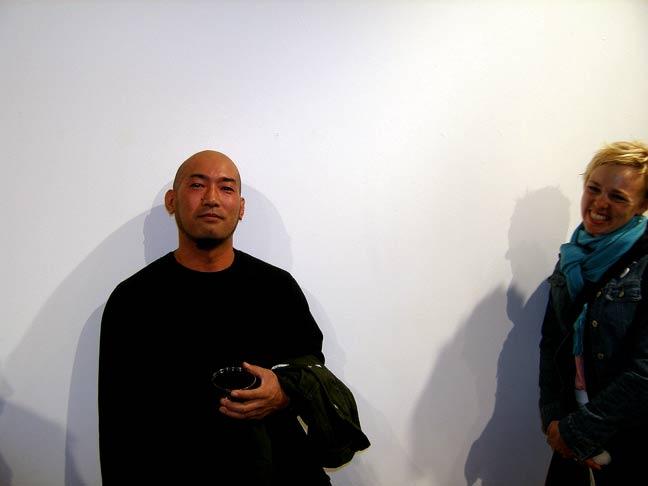 Kaz Oshiro (left).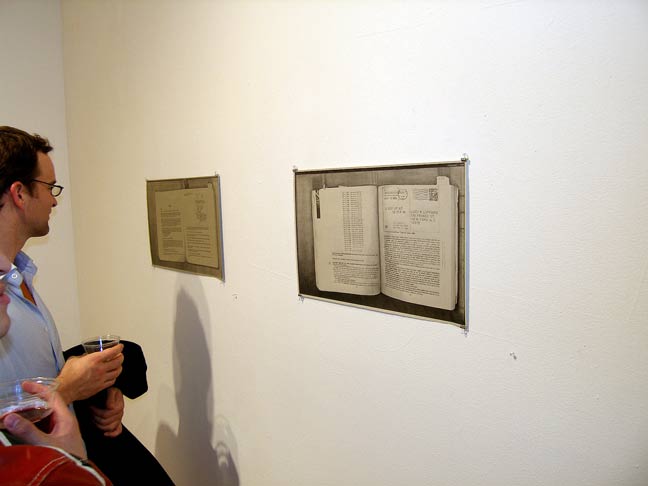 Photocopy art (Molly Springfield).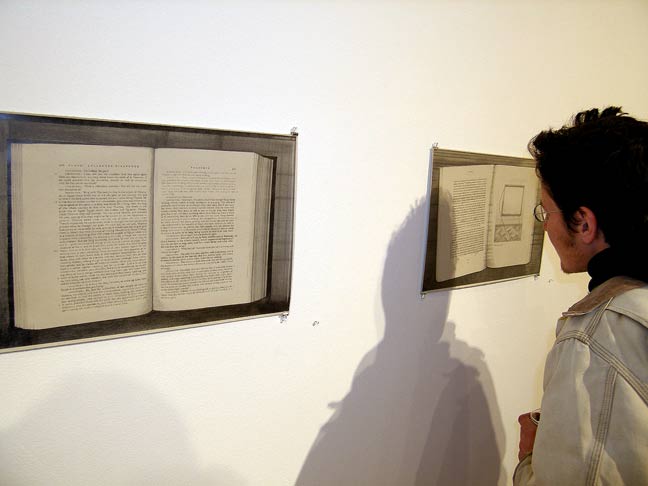 Photocopy art (Molly Springfield).


Photocopy art (Molly Springfield).


***
Gregory Lind Gallery: Variegated - Radiant - Dream - Plot.
Artists: Chris Duncan, David Dupuis, Jovi Schnell.
Comment: Chris Duncan's striking prismatic room-sized string-strung pylon steals the show with its totally impractical mood elevating magic. Wanna augment a space? Hire Chris Duncan to enlighten it with one of these trademark marvels. Works everytime. But Chris-- you know where the strings attach to the tippy top of the pylon? Conceal your travails and/or finish it smooth. Visible hemlines should not be encountered along the pathway to inner peace. Meanwhile, Jovi Schnell's neat gouache mechanicalisms stimulate and nourish while David Dupuis waxes metaterrestrially amorphous in graphite, color pencil, and collage (the scorecard says there's also supposed to be sex in 'em, but I guess I'm too literal to find it).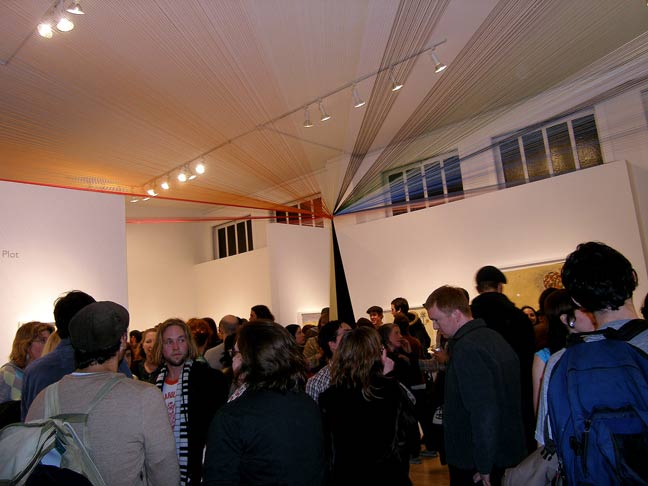 String-strung pylon art (Chris Duncan, winner).


Art (David Dupuis).


Art (Jovi Schnell).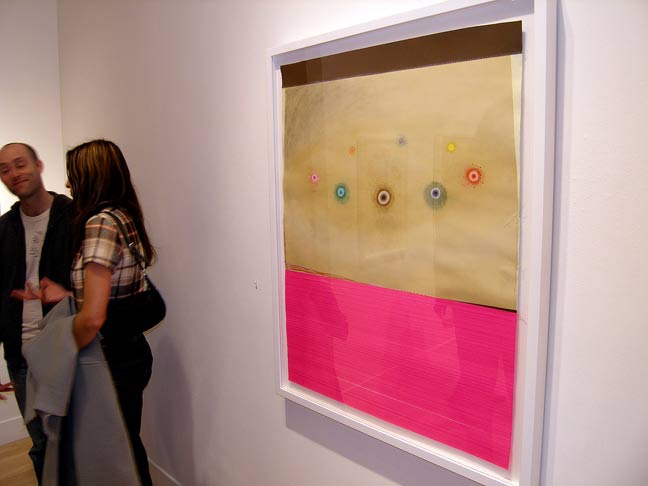 Art (Chris Duncan).


Art (Jovi Schnell, left - Chris Duncan, right).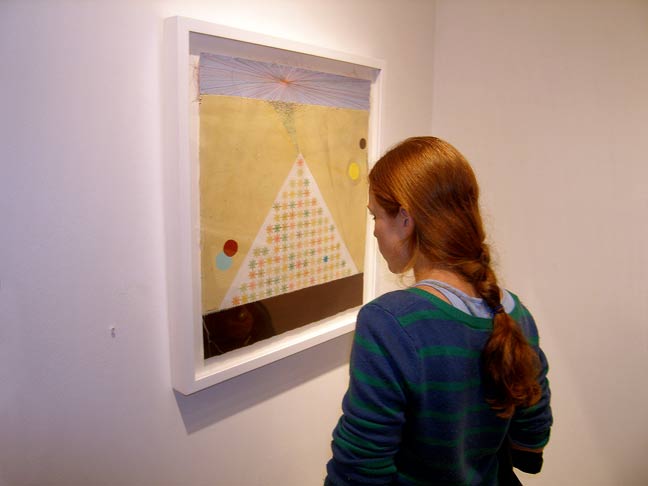 Art (Chris Duncan).


Art (Chris Duncan - fore; Jovi Schnell - aft).


***
Brian Gross Fine Art: Josh Dov - New Paintings.
Comment: Los Angeles artist Josh Dov rules up some serious gridwork (kinda like super-plaid), labor intensive, effective, coercive, strong-arming viewers with boundless brush strokes and limitless lines. I occasionally look at discreet noncommittal types of art like this and wonder who buys them. They seem perfect for people who like art, who love art, but who play life close to the chest and who win by giving nothing away other than maybe they have good taste and the wherewithal to satisfy it. So they buy upper echelon examples such as Josh Dov's that won't blow their covers.
Art.


Josh Dov - art.


Dude's wearing the same clothes as the painting.


Art.


Art - ambience.


***
Lisa Dent Gallery: The Excitable Gift - Vanessa Blaikie, Eila Kovanen, Joey Piziali, Robin Ward.
Comment: Four artists make art, take it outside, set it up in various locations around town, watch people respond to it, and document and record the responses. Worthy proposition, controlled intelligent implementation. So what's the conclusion? Back in the good old days when me and Einstein studied physics together (he stuck with it, I didn't), methodology required experiments to have conclusions-- and I don't think that's changed. Anyway, my favorite moment of the show is watching a video of Eila Kovanen trying to give limited edition prints of her art away free to abrupt distracted rush-rush Monday morning commuters.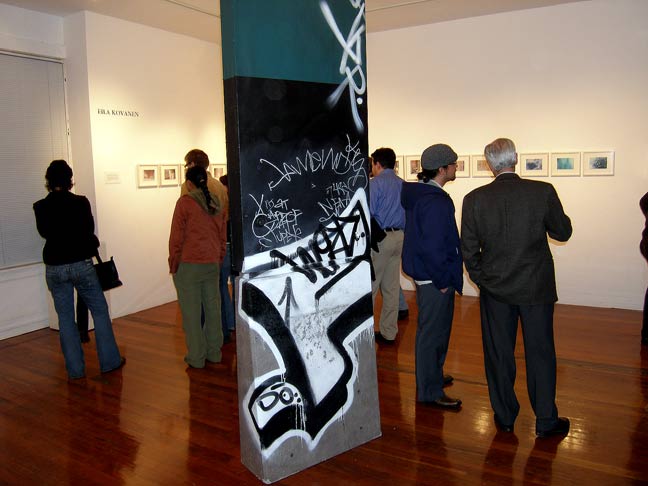 Art.


Tree art at home in the gallery.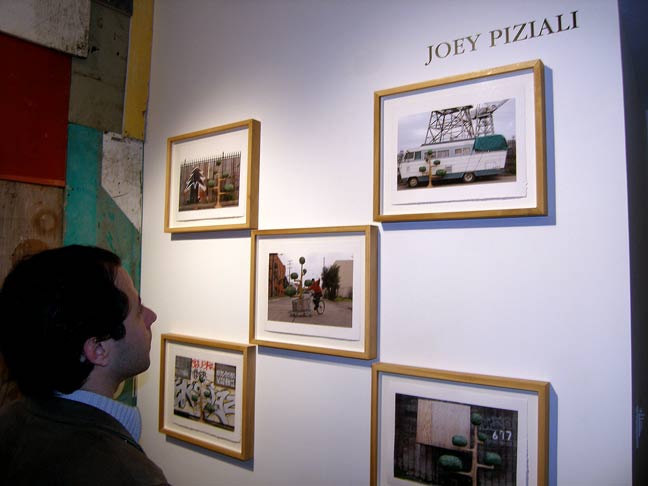 Tree art roadshow recollections.


Art.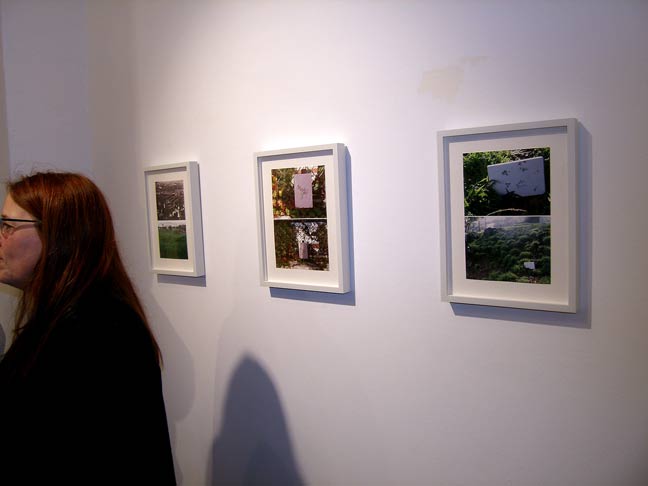 Art.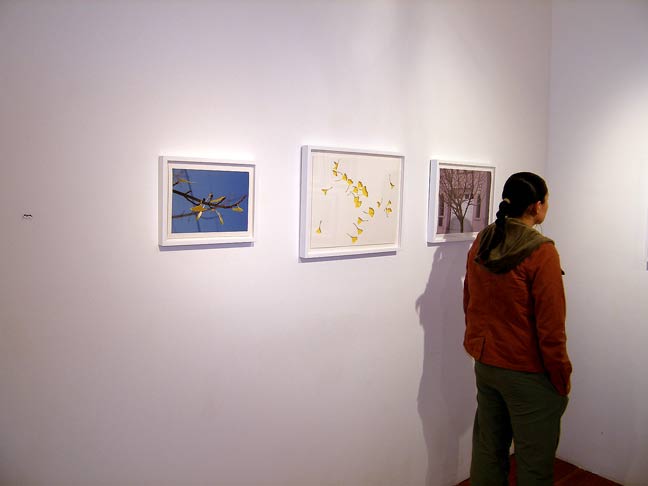 Art.


***
111 Minna Street Gallery: Easy Does It - Paintings by Micah LeBrun.
Artists: A copious platter full of whispy winsome able animate sensual feline fantasies, the basic forms sourced directly from Micah LeBrun's wife. A whole lot of art waivers or even falls apart when you zoom close to nitpick the action; LeBrun's actually gets better. His compositions have stark appeal from a distance, but then he lays on that fine line inside detailing to bring 'em on home.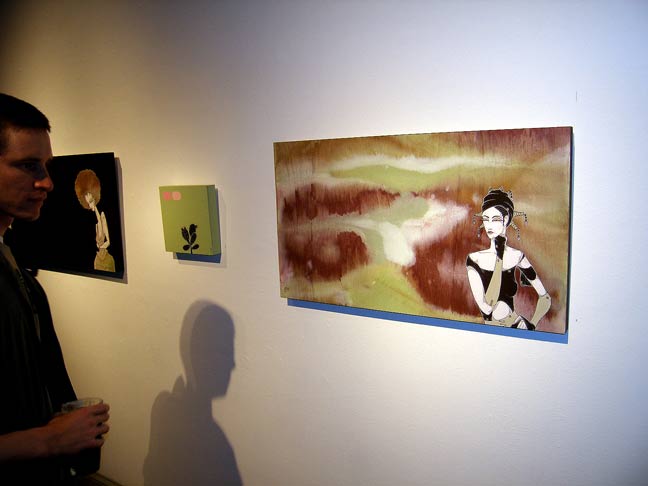 Art.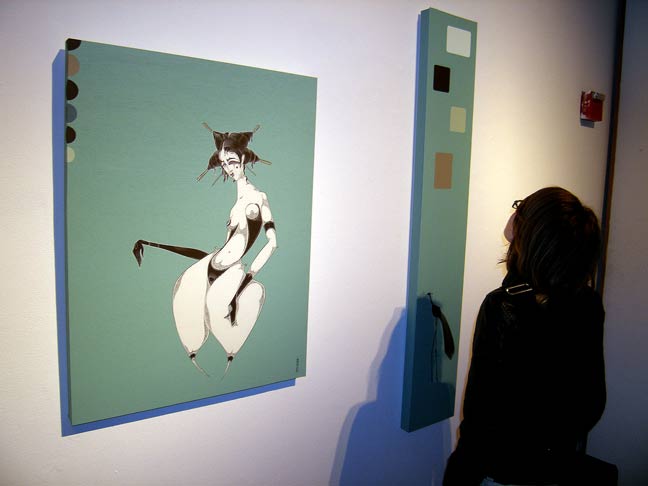 Art.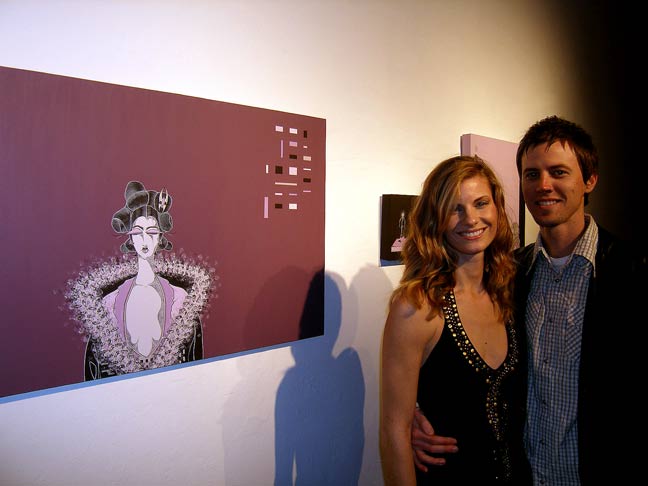 Mr. & Mrs. Micah LeBrun (not necessarily in that order).


Art.


Art.


Welcome to the show.


***
Fort Mason Center, Festival Pavilion: San Francisco Arts of Pacific Asia Show, Gala Preview Opening.
Comment: You know something, I'm gonna give out another Pick tonight-- this time to Caskey-Lees for their Tenth Annual Arts of Pacific Asia Show, plus I'm gonna give out my first-ever Advance Pick to Caskey-Lees's Twentieth Annual San Francisco Tribal & Textile Arts Show opening Thursday February 9th with a Gala Preview Party and running through the 12th.
San Francisco has hosted all kinds of regional, national, and international art events, none of which have ever taken hold, the most recent casualty being the San Francisco International Art Exposition after a shakey six year run. Meanwhile, the Arts of Pacific Asia Show and next week's Tribal and Textile Arts Show, consistently attract top international world class dealers (Tokyo, Bali, Stuttgart, London, Brussels, Hong Kong, Milan, etc., etc.), and just keep getting better and better. Both shows are like museums except everything's for sale, you can touch stuff if you want, and you can even buy it and take it home with you when you leave. Makes no difference whether you look or buy, though. You're gonna leave happy. I guarantee it. Thank you Caskey-Lees for your superb productions.
Art.


Art.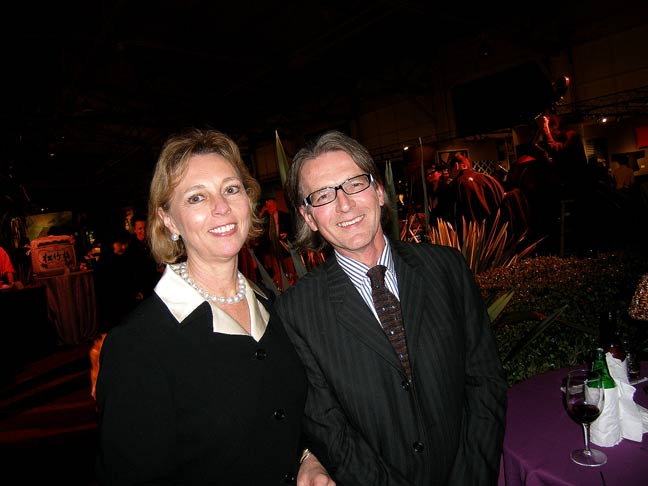 Elizabeth Lees & Bill Caskey - show producers.


Art.


Art.


Art.


Art.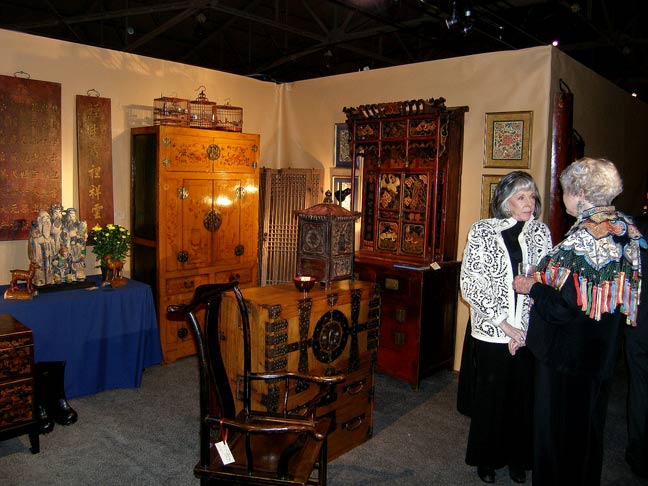 Art.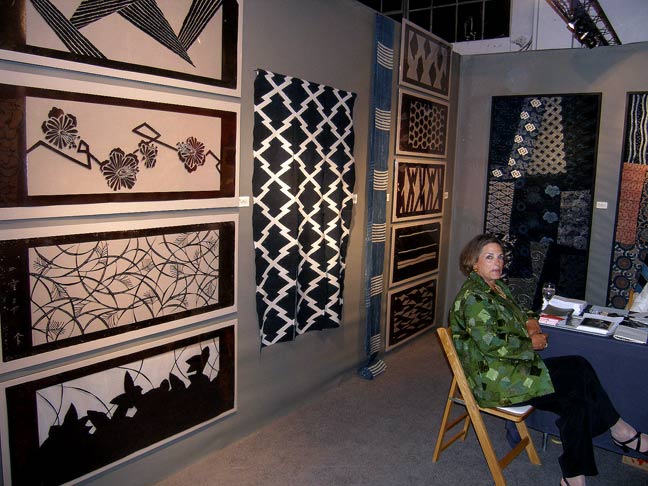 Art.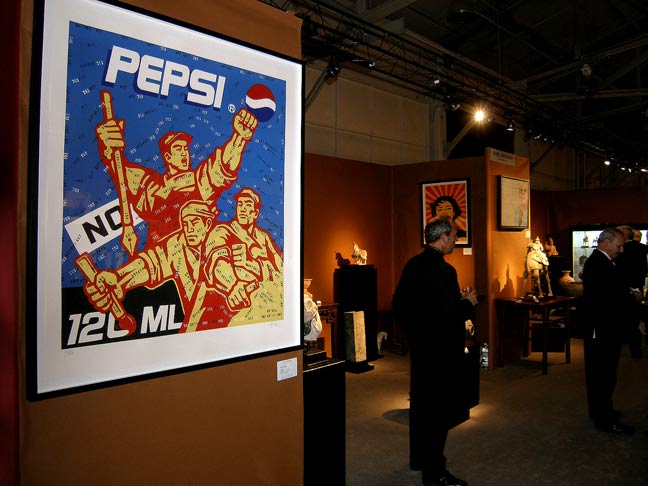 A smidge of contemporary art too.


Tunes.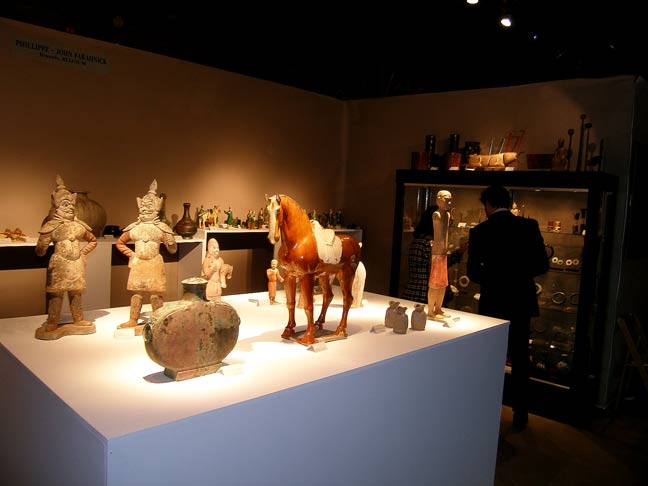 Art.


Art.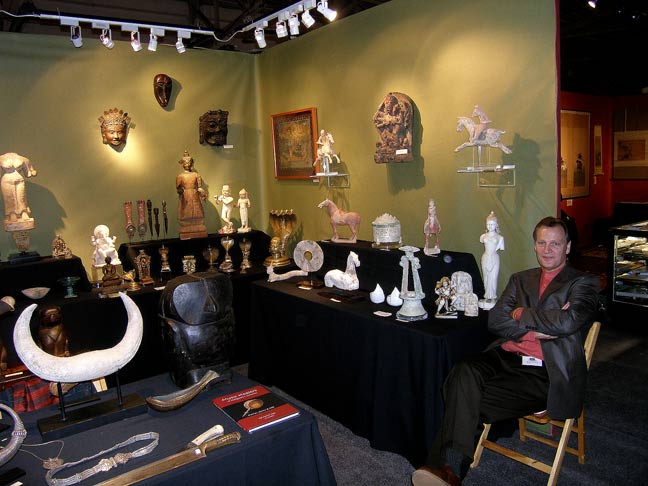 Art.


Art.


***
The Shooting Gallery: Me, Myself, & Eye - A Three Person Show Featuring Andrew Brandou, Howdy Pardner & Dale Andrews.
Comment: But it's not a three-person show at all; it's a ruse. All three artists are none other than Andrew Brandou arting in three totally different styles. Sure fooled me, and you know what happens when I get fooled by art, don't you? I like it. My favorites by far are Brandou's hilarious wacked out watercolor renditions of Audubon prints. He even ages, spots, and stains the paper to make 'em look like genuine antiques. This dude's got talent. Plus he'd make a terrific forger. Go see.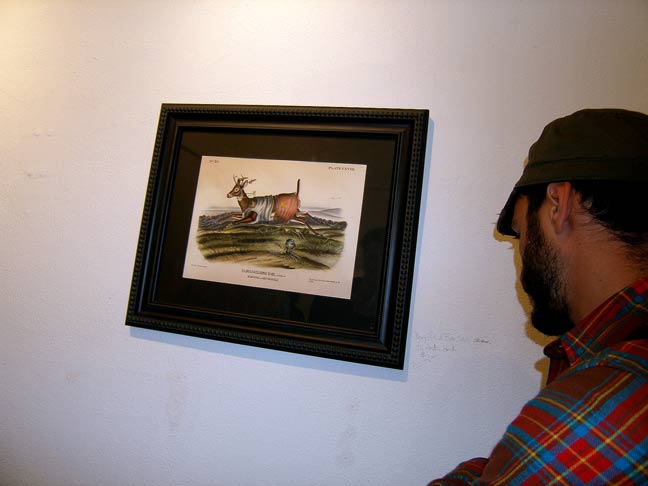 Art (like it).


Art (like it).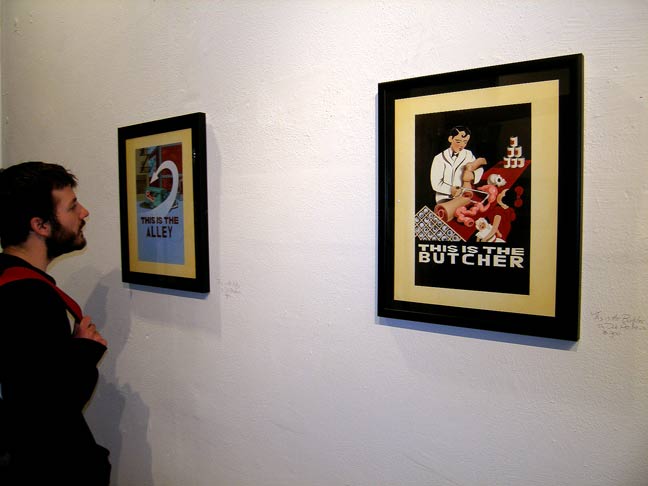 Art.


Andrew Brandou - art.


Art.


Art.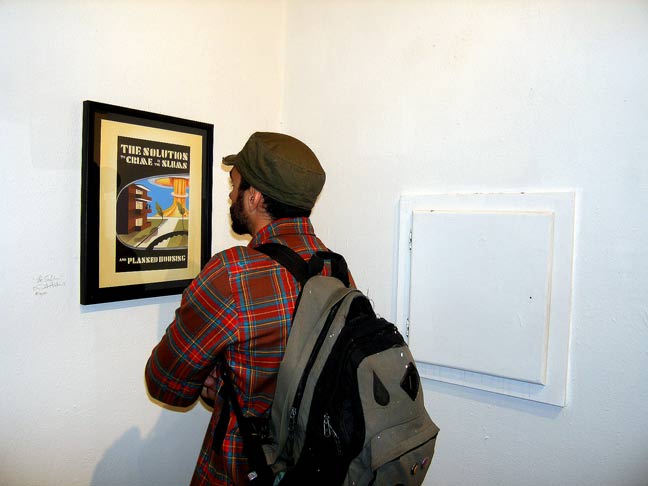 Art.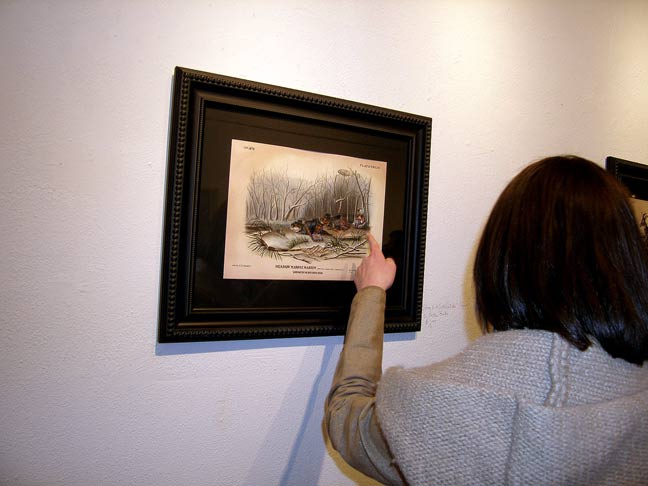 Art.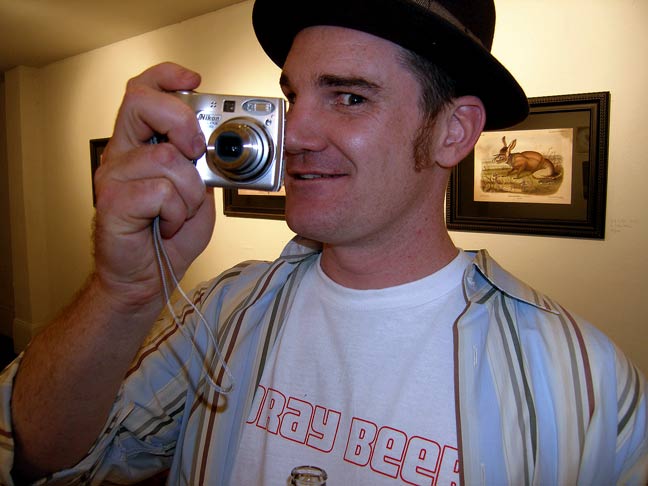 Justin Giarla (owner) tries to take my pitcher
but I take his instead.


***
Addendum:


Contemporary European Abstraction at Newmark Gallery.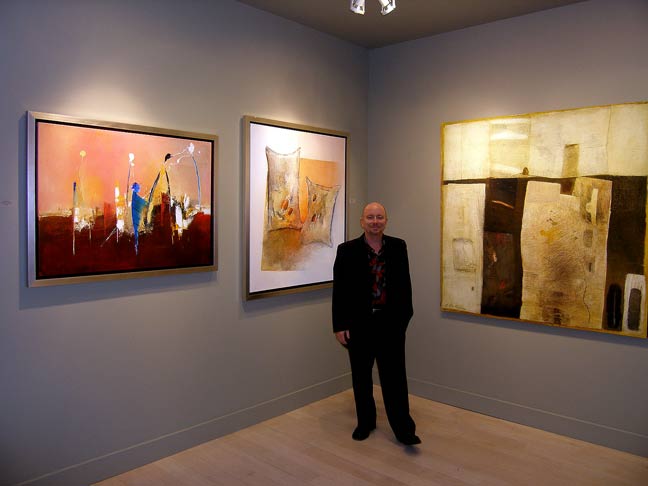 Mark Wladika, owner, Newmark Gallery.


King of thick at Graystone Gallery. Let's see the brush.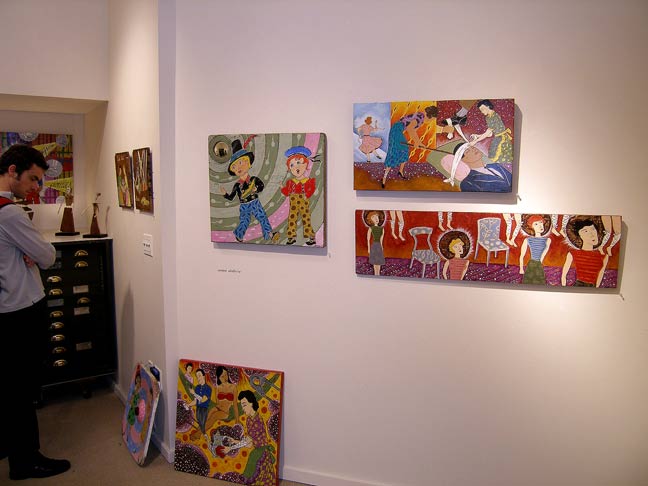 Carmen Abelleira paintings at Jack Fischer Gallery.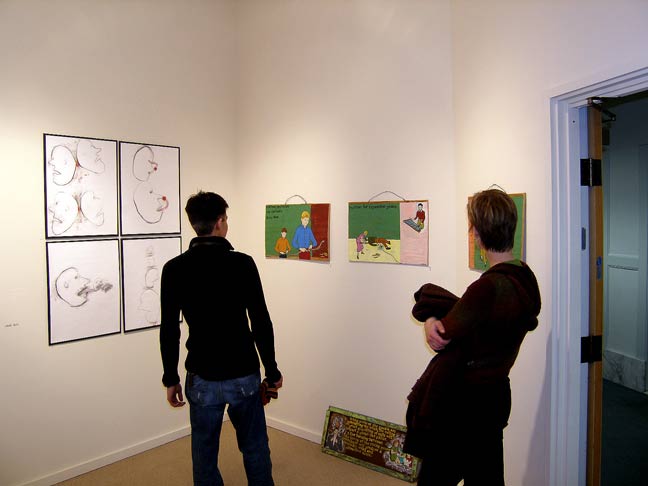 Sindy Lutz (left), Carmen Abelleira (right) at Jack Fischer Gallery.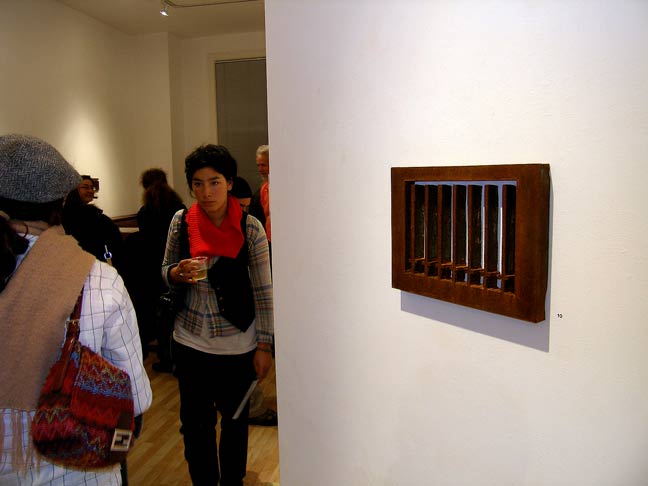 Tom Bills cut iron sculpture at Don Soker Gallery.


More Tom Bills heavy metal at Don Soker Gallery.


***
You know kids, all this art opening stuff takes major mega mungo time, time I could be using to get blitzed at Ha-Ra, but I know what I do helps a whole lotta people, so I just go ahead and keep on doing it. Care to commit a little kibble to the cause? Sure. Why not? I'd really really appreciate it.
***
January First Thursday; January 5, 2006