SAN FRANCISCO ART GALLERIES OPENINGS
FIRST THURSDAY; 03.02.06
General comment: I occasionally get questions about my top-to-bottom approach to covering art, like mainly WHY? OK. Let's see. Why do I do it? First, I love art. Second, art is everywhere; all you have to do is look. Third, no matter what art looks like, you can always learn something. Fourth, no matter who the artist is, you can always learn something. And fifth, no matter how much or how little you know about art, you can always enjoy it. But wait. There's more-- the official "art world" stuff...
Artists get to witness the expansive nature of the game, the bountiful ways to crack that nut. Dealers get to go furtive on the competition (they LOVE that). And people who buy art, especially those who balk at broaching gallery thresholds, get to shop safe and nameless, to surface only when they're ready-- no yammer, no heat, no lexicon-loaded moats, no angling for the push, no other pesky affronts that can crop up and crimp point-blank creative adventures.
Speaking of creative adventures, let's have one...
***
Gallery Paule Anglim: Shirley Shor, Keith Hale.
Comment: Shirley Shor's dynamic digital sculptures advance kinetics straight into the future, featuring hypnotic ever-changing color patterns on flat panel monitors seamlessly set into basic flat grey forms, plus there's a large mesmeric video projected onto a sandbox-sized topography on the floor. Halcyon neutrality at its finest, giving nothing away but pleasure, perfect for that wanting wall in your Presidio Heights manse, just daring enough to impress the neighbors without compromising their trust. In the anteroom, a Kieth Hale miscellany includes painted rows of kiddie cowboy heads set against a moonscape backdrop (sounds weird, but it works).
Digital kinetics (Shirley Shor).


Kiddie cowpoke moonscape art (Keith Hale).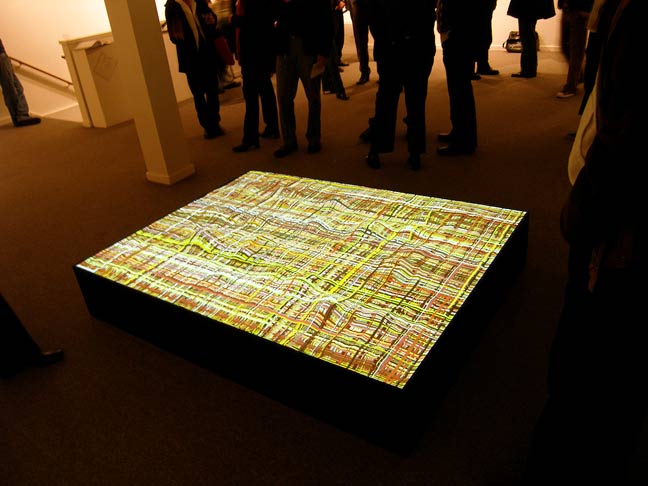 Digital kinetics (Shirley Shor).


Art (Keith Hale).


Digital kinetics (Shirley Shor).


***
Stephen Wirtz Gallery: Kansuke Yamamoto - Vintage Photographs, 1935-1955; Six Post-War Japanese Photographers, A Survey, 1960 ­ 1980.
Photographers: Nobuyoshi Araki, Masahisa Fukase, Eikoh Hosoe, Daido Moriyama, Issei Suda, Shomei Tomatsu.
Comment: Experimental avant-garde photography by Kansuke Yamamoto; early, leaning surreal, connoisseur-level images for the knowledgeable discriminating collector. First United States show of Yamamoto's work; we don't get to see a lot of Japanese avant-garde here. The 1960-1980 survey's good too, more grain and editorial, perhaps the Japanese version of German Subjective Photography.
Photography (Kansuke Yamamoto).


Photography (Kansuke Yamamoto).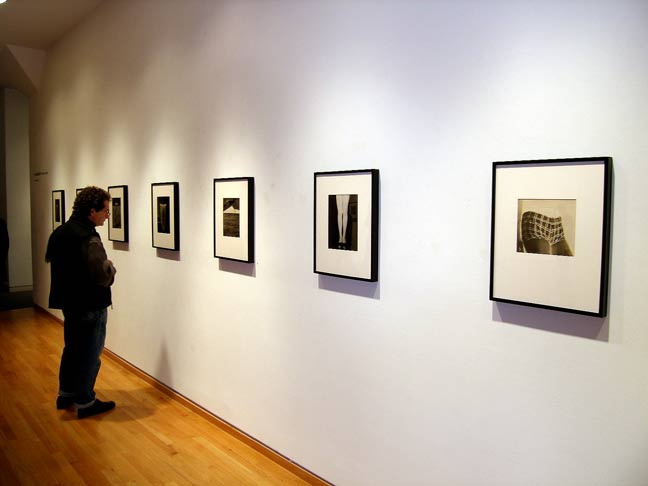 Photography (Kansuke Yamamoto).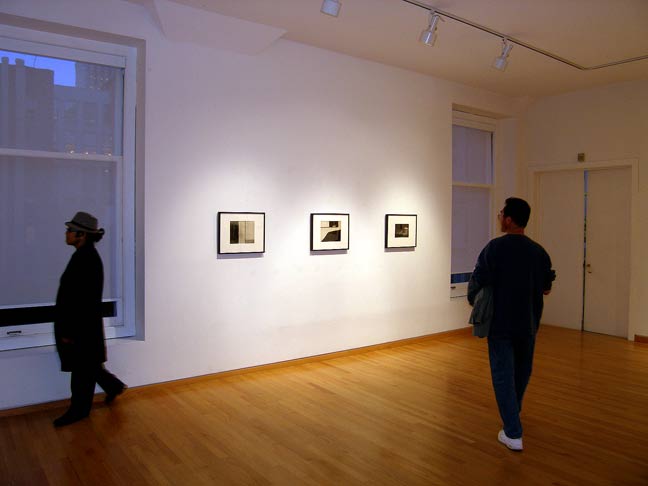 Photography (Kansuke Yamamoto).


Japanese photography, 1960-1980.


Japanese photography, 1960-1980.


Japanese photography, 1960-1980.


***
Fraenkel Gallery: Richard Misrach.
Comment: Pick of First Thursday. Richard Misrach nabs a whole load of desolate with his stark vast intense land and water excursions, often interjecting lone souls or isolated elements of American popular culture. Interpretation is up to you-- take a vacation, skip town, get lost, enjoy the view, cogitate on environmental degradation, curse bloated excess, reflect on your decisive insignificance and/or aloneness, whatever. The best art offers options, and you set the agenda. Incidentally, Fraenkel Gallery's got a cumbersome new Flash website requiring a speedy connection, tedius and ineffective in content delivery compared to the fast-feed old model (at least on my Mac). But it's pretty, right? Form stifles function.
Photography.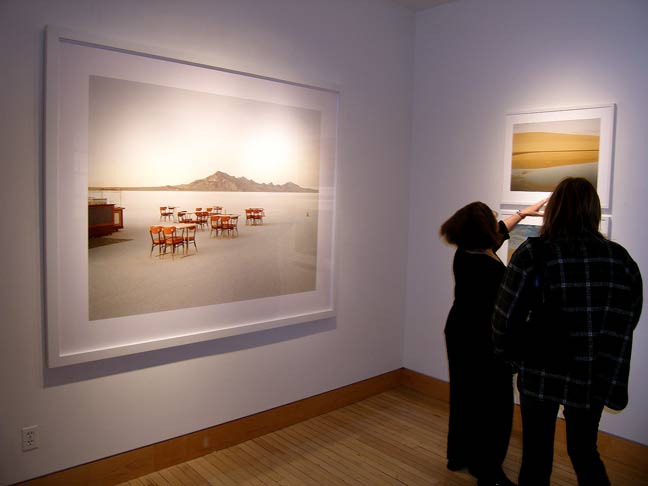 Photographs.


Big pyramid with teensie dude photo.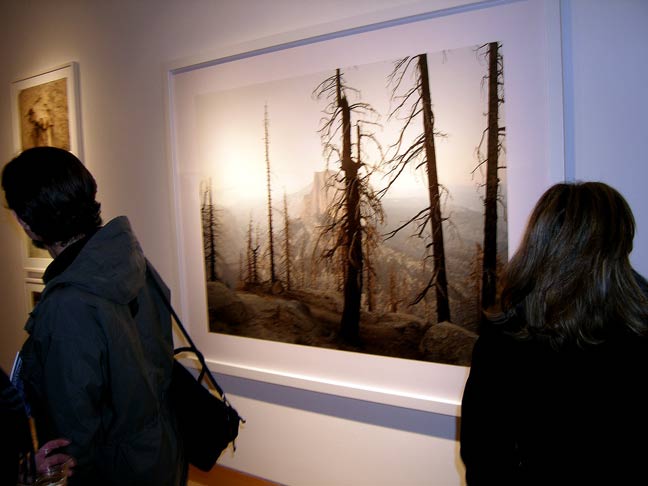 Photography.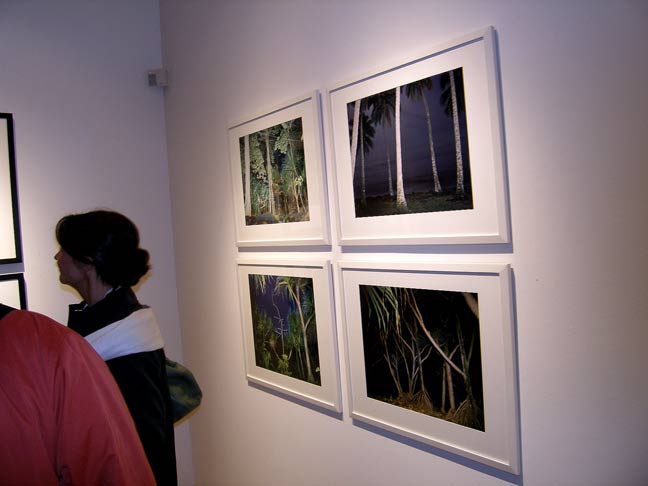 Images.


Richard Misrach (center right).


***
Patricia Sweetow Gallery: Markus Linnebrink - Paintings and Sculpture; Jonathan Burstein - Collage on Paper.
Comment: Markus Linnebrink pours, drips, drills, cuts, and buffs color-riots of paint and epoxy resin into pulsating rainbow layered paintings and sculptures. Jonathan Burstein cuts pictures of artworks out of arts periodicals, then collages them into life-sized representations of himself. They're entirely impressive, but I wonder how many potential buyers have the fortitude to handle this mottled wildside nude dude posing and/or staring at them.
Art (Markus Linnebrink).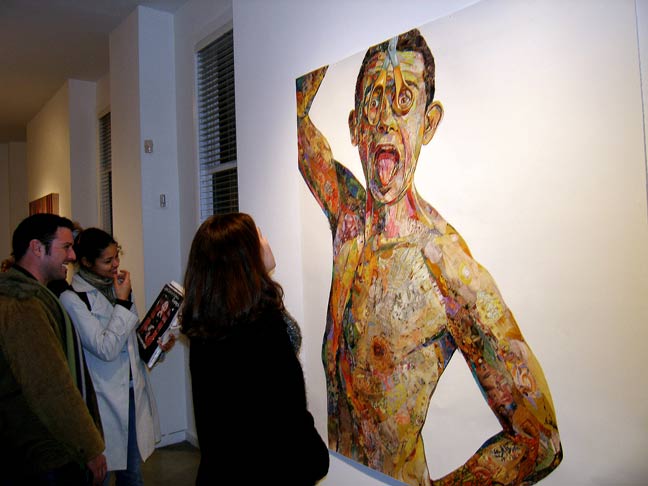 Art (Jonathan Burstein).


Art (Jonathan Burstein).


Art (Markus Linnebrink).


Art (Markus Linnebrink).


***
Toomey Tourell Gallery: Definite Article - Four Contemporary British Artists.
Artists: Roger Ackling, Eric Butcher, Mrc Vaux, Cathy Wade.
Comment: Antiseptic precision would describe the sculptural geometrics here, a number with diminutive impact. Of note are sunlight, wood, rubber band, mapping pin compositions by Roger Ackling, and Eric Butcher's curved rolled aluminum sheets slicked with oil and resin, reminding me of my college spectroscopy days as a wannabe physics major. The show is imported and curated courtesy of Catherine Shearn of London's Vertigo Gallery.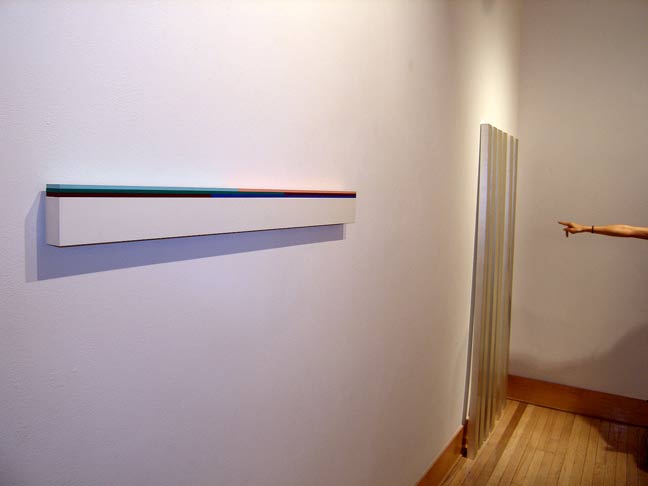 Art.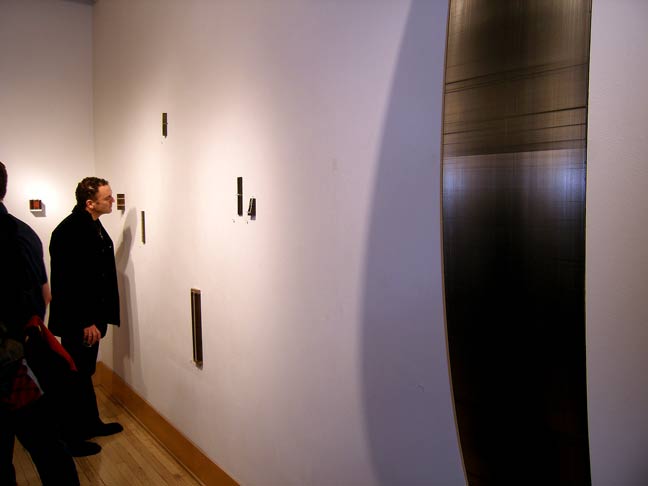 Art.


Art.


Art.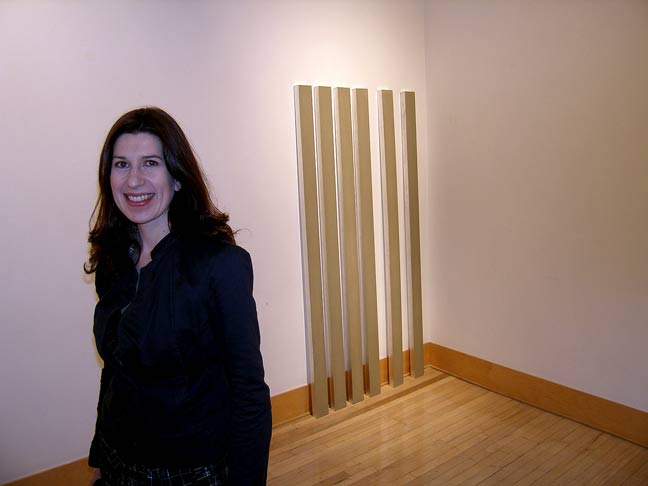 Catherine Shearn, curator - art.


***
Robert Koch Gallery: Michael Wolf.
Comment: Michael Wolf conveys monumental urban congestion with his Hong Kong highrise photographs, dizzying in density, cataclysmic compartmentalized crush, mini looks into many lives forcibly dwarfed and caged by their domiciles. The universe may here appear to capitulate to man, but only in microcosm and only for an instant.
Photography.


Photographs.


Photography.


Photos.


***
Gregory Lind Gallery: Barbara Takenaga.
Comment: The show's pretty much sold out, these psychedelic acrylic on wood vorticular constellation panel paintings by Barbara Takenaga. It's like you look at her art, go into a trance, and buy. They're that compelling. Maybe Takenaga imbeds subliminal messages to pony up the pesos. Whatever the spell, it's ethereally harmonically benevolently potent. Plenty of artists paint patterns, but Takenaga's evoke a sense of cosmic completeness in ways that few others can.
Art.


Art.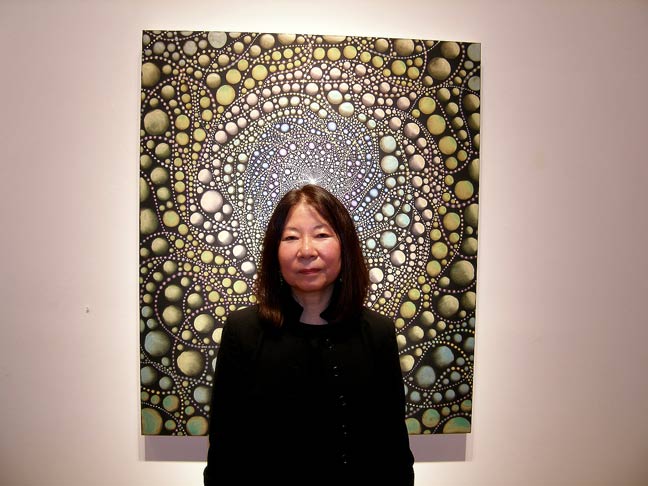 Barbara Takenaga - art.


Art.


Art.


***
The Small Gallery: Performance by Biba Bell.
Comment: Performing live this evening from deep inside curator/squatter Kevin Clarke's Small Gallery, Biba Bell plays the ubiquitous detached good looking gallery girl, commanding the front desk, preoccupied with her laptop, babbling elitist answers your every inquiry.
Art.


***
Rena Bransten Gallery: Panayiotis Michael - I promise, you will love me forever. Before and after. / Tommy Stockel - Even Great Futures Will Some Day Become Pasts.
Comment: Rena Bransten explores the realm of commercial impracticality with an engaging sculpture/drawing double bill. Panayiotis Michael's confident methodical semi-representational drawings reference sociopolitical aspects of his native Cyprus. Tommy Stockel concocts imaginary interpretive interiors, objects, and realities from conspicuously flimsy materials such as paper, cardboard, and styrofoam. "Clash of the Classics," for example, is an exceptional painstakingly labor intensive orange construction paper rendition of a collapsed classical column laying in ruins (see it on the gallery website).
Art (Tommy Stockel).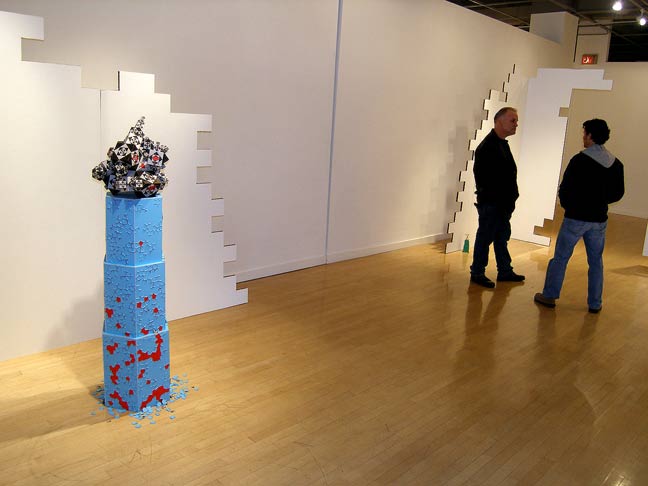 Art (Tommy Stockel).


Art (Panayiotis Michael).


Art (Panayiotis Michael).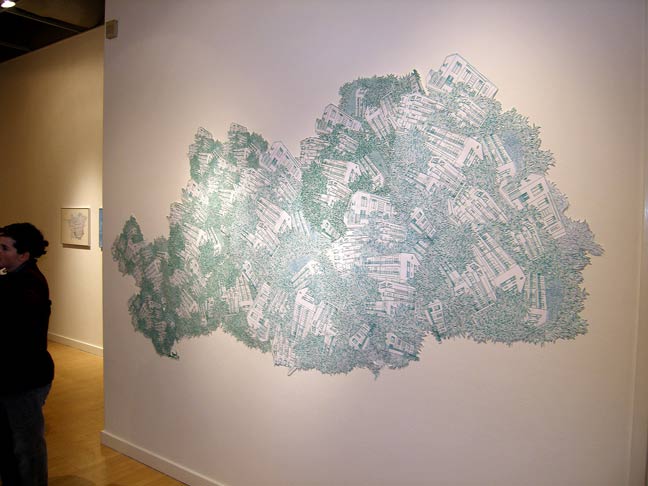 Art (Panayiotis Michael).


***
John Berggruen Gallery: Christopher Brown - Buildings, Birds, and Box Cars.
Comment: Christopher Brown's large paintings range in subject matter from motor homes and race horses superimposed against skewed hued stylized skyscraper sides to naive autobiographical introspections. Now when I see prices approaching $100K, I put on my appraiser's hat and hit the auction price databases. This is some heavy lettuce, so as a value buyer (not that I buy anything) and an art market analyst (I analyze plenty), I expect the gap between retail and secondary market prices to be reasonable. And in this case, it appears to be. Top price for a Christopher Brown painting at auction, a skosh over $130K (circumstances surrounding that wildly exceptional sale unclear... further investigation recommended); second place, $31K. Nevertheless, while the visionary virtuosity of Brown's imagery is unassailable, the scope of his stroke control seems feasibly equivocal considering the debenture (linguistic props to Allan Greenspan-- you kick ass, dude!).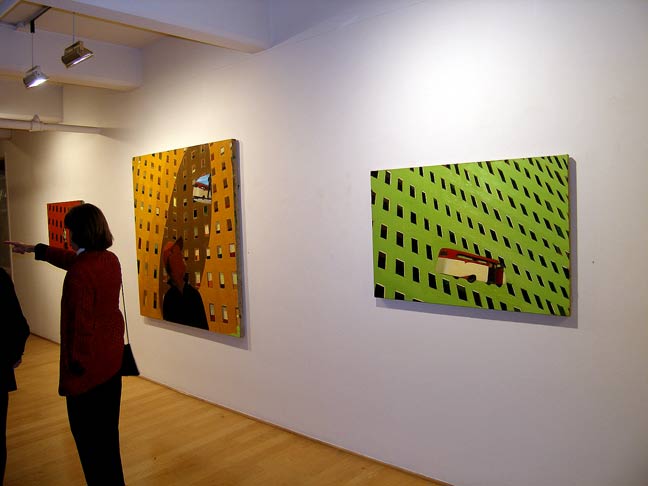 Art (Christopher Brown).


Art (Christopher Brown).


Art (Christopher Brown).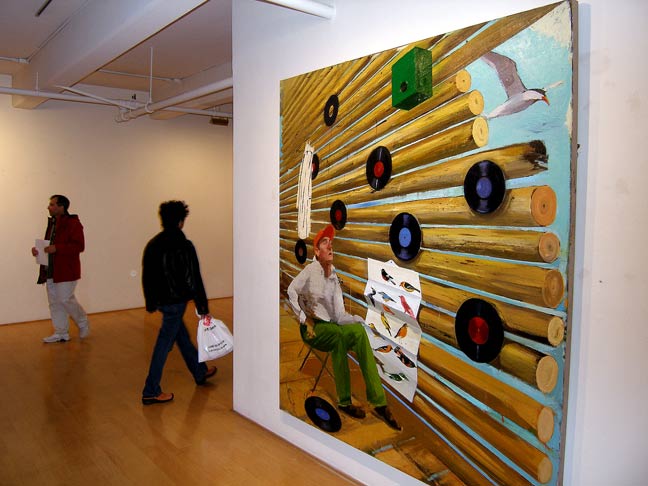 Art (Christopher Brown).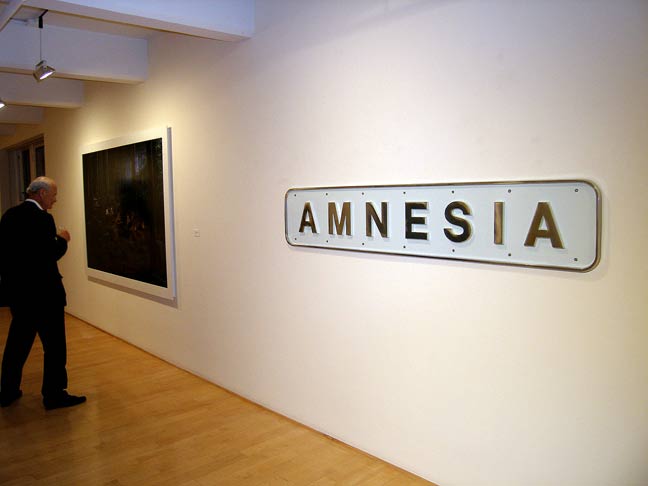 Gallery artists upstairs.


***
Baxter Chang Patri Fine Art: Erin Parish - Float - New Paintings.
Artists: Pleasant effervescent pastel pattern paintings in oil and epoxy resin, some painted on mirror glass (perilous medium). The layered epoxy imparts reflective dimensional depth; the mirror glass enhances the effect conceptually conveying sort of a metaphysical suspension.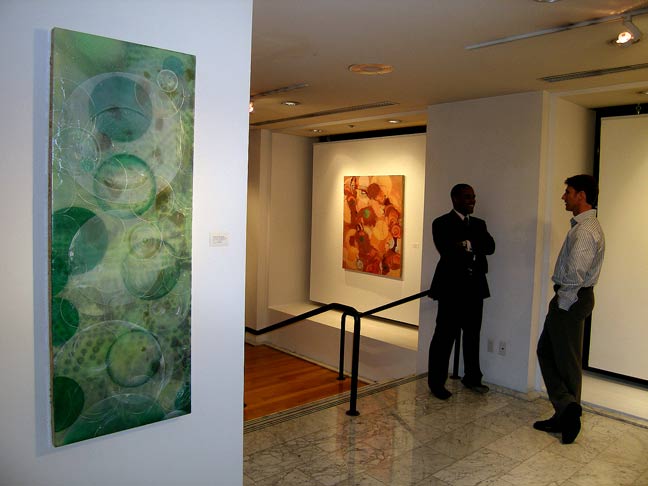 Art.


Art.


Art.


Art.


***
111 Minna Gallery: Metabiotica - Works by Alexandre Orion.
Comment: Alexandre Orion stencils up walls of Sao Paulo, Brazil and then lays in wait, camera at hand, sometimes for days, watching life pass by his inanimate images, capturing those perfect moments when art and life unite into one. And he doesn't use any of that lame-o cheap-ass chicken-shit image editing software like I do. This is the raw data real deal. The tariff's kinda stiff, though, at $3200-$6500. He's also stencilled up Minna's walls-- nice.
Art (Orion's agent, right).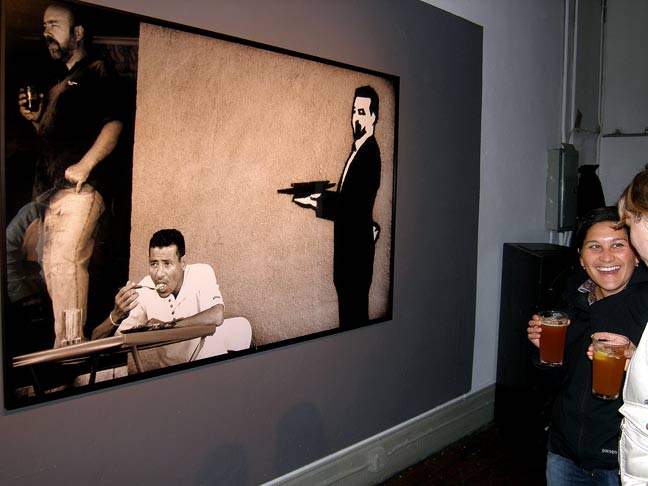 Art.


Alexandre Orion - art.


Art.


Art.


Me with San Francisco Mayor Gavin Newsom.


Art.


Art.


***
Fifty24SF Gallery: Basco.
Comment: Chilean artist Basco presents a sizable selection of meticulous works on paper, mainly portrait heads against decorative pattern backdrops, some melding everyday objects into facial features. $100 each-- dealtime. There's some bigger stuff too.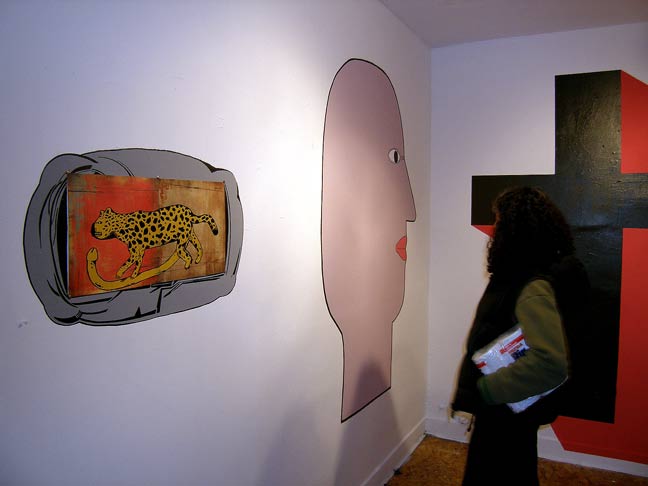 Art.


Art.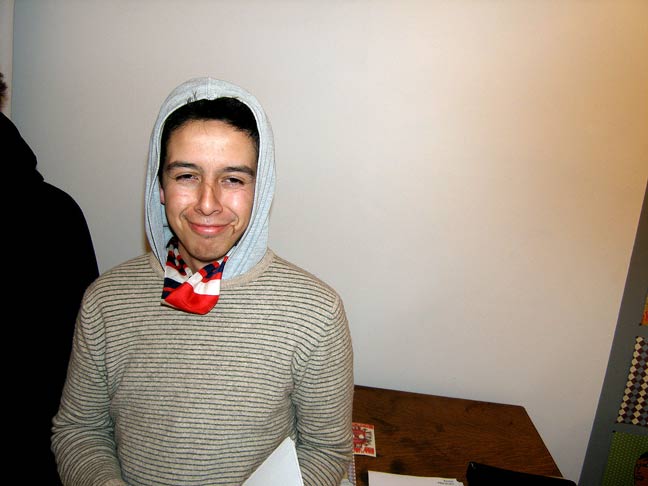 Basco.


Art.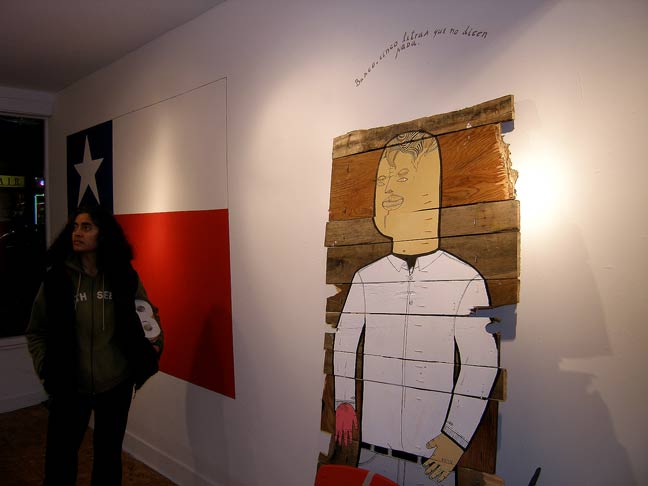 Art.


***
Balazo 18 Art Gallery: Acid Bandana.
Artists: Stefan Simikich, Daniel Duron, Ray Potes, Jesse Geller, Bryan Dawson, Jason Roberts Dobrin, Camille Johnson, Tim Aureden, Dave Liberman, Snow Monkey, Catlin Collentine, Stefan Fitzgerald.
Comment: Spray paint bouquet. One wall is art art; the opposite wall is graf art goin' up right before your very eyes. Center stage, Ray Potes and his San Diego cousin jockey the tunetable. Dark bar way back left. Deep urban swank. Sometimes (not often) I wanna be young again, only for a moment. This is one of those moments.
Art.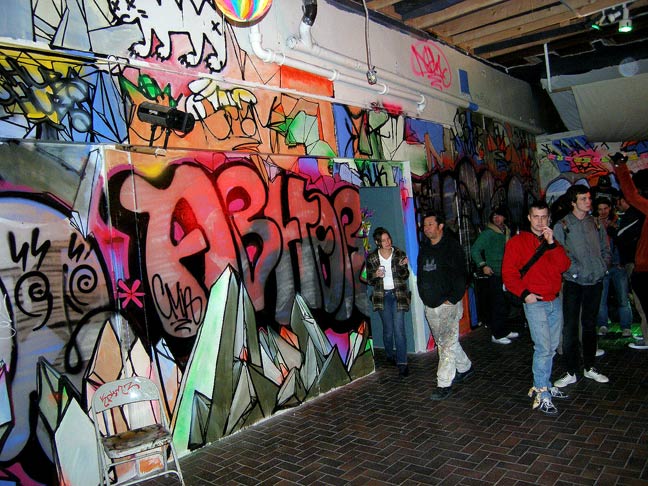 Art.


Ray Potes (right) & Cuz.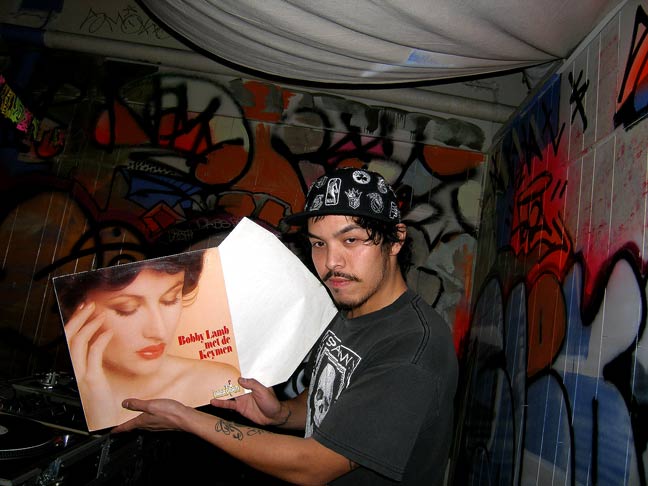 Now playing.


Art (Ray Potes sectionalized b&w face, right foreground).


Art.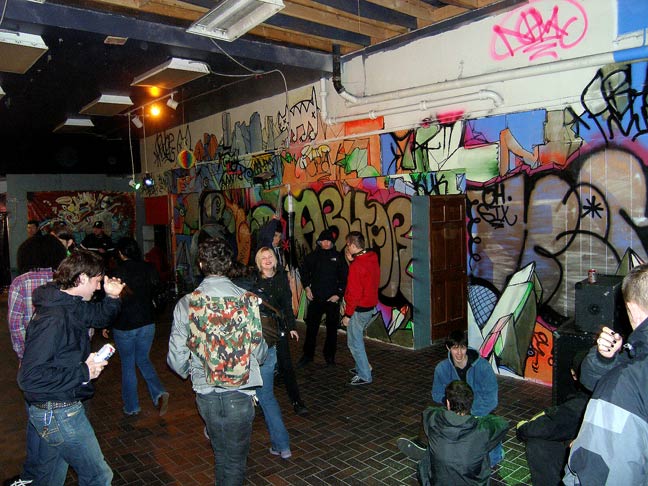 Playing field.


***
Addendum:


"OOTOE" at Jack Fischer Gallery (one or two of each).


Out the door at Jack Fisher Gallery.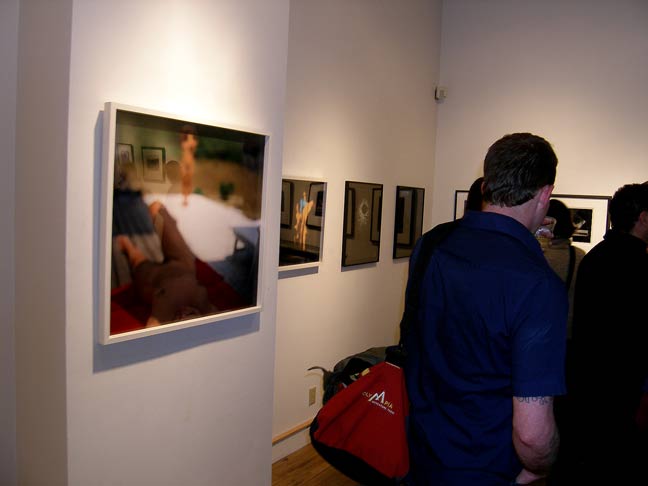 Group photo show at Scott Nichols Gallery.


One more from Scott Nichols Gallery.


Kenjilo Nanao abstracts at Elins Eagles-Smith Gallery.


Another Kenjilo Nanao at Elins Eagles-Smith Gallery.


Jeffrey Beauchamp broad brush bonanza at Dolby Chadwick Gallery.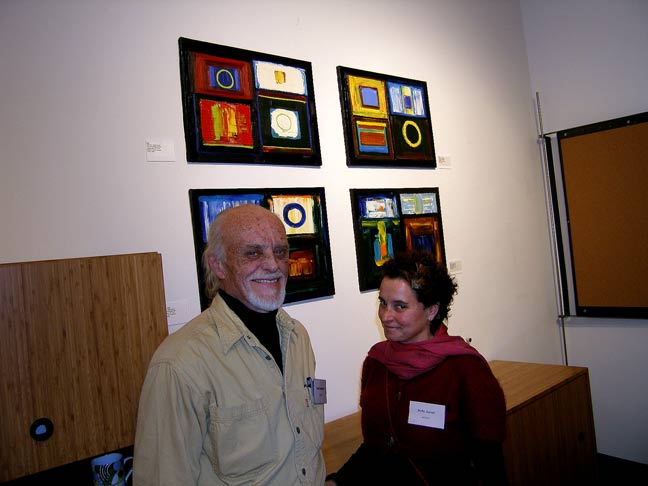 Brent Bushnell and Sofia Carmi at Hilliard Architects & Gallery
(art, Sofia Carmi).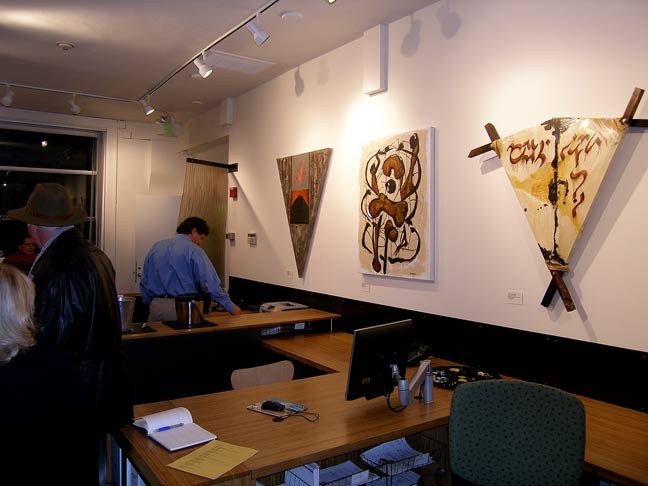 Brent Bushnell art at Hilliard Architects & Gallery.


Alejandro Santiago at Bond Latin Gallery, 478 Post St.
That laughing dude is the owner.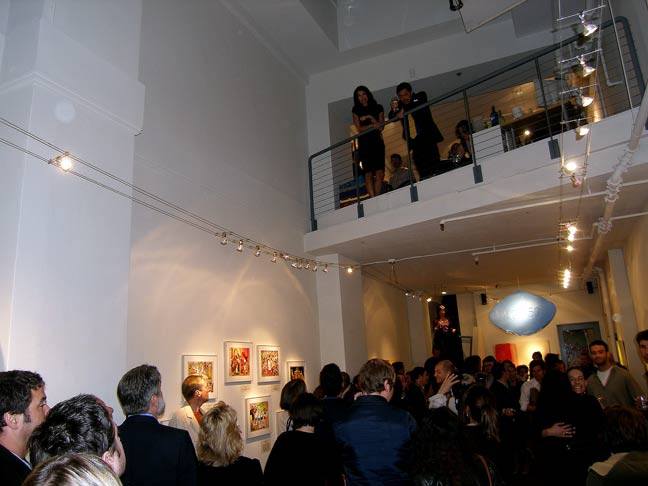 Raucous packed house at Frey Norris Gallery.


Kenneth Hung, artist + art, at Frey Norris Gallery.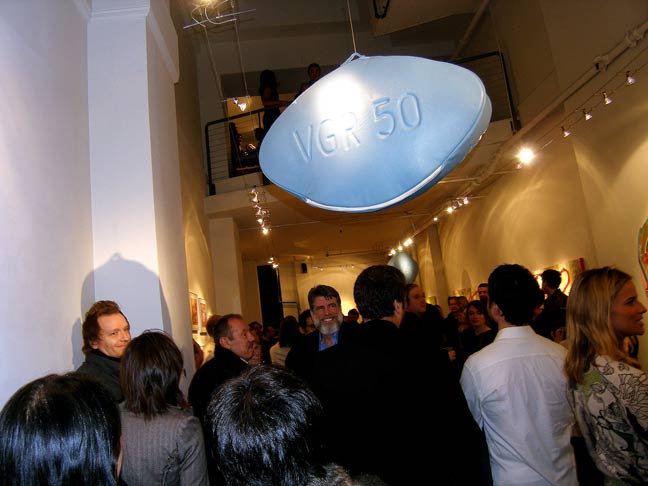 One more from Frey Norris Gallery group show.


Group show at Varnish Fine Art (Chris Mars art, $35K).


Varnish Fine Art group show cont.


Last Varnish Fine Art.


Kevin Hailey and art at Hotel Biron.


Kevin Hailey at Hotel Biron.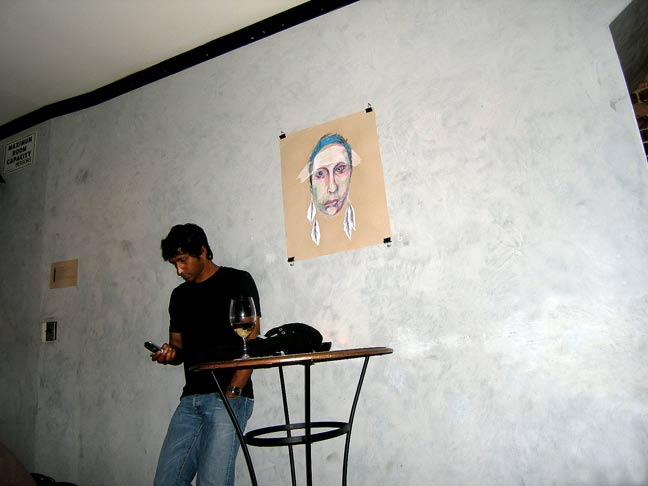 Last Hotel Biron.


***
I know you're thinkin' about it. The gas/park/toll money you save, the traffic you don't have to sit in, no jostling, no fashion statements to worry about, and on and on. Why? Because it's all right here in the secure comfy confines of your domicile (or the domicile of your loved one)-- a San Francisco art-o-rama pajama party courtesy of your computer screen beamed straight to the aesthetic sector your hungry little brain-- not half of the art, not three quarters of the art, not nine tenths of the art-- ALL OF THE ART. Unabridged and unexpurgated. Plus you get free commentary. But wait. There's more.
San Francisco Art Openings covers the San Francisco art scene like it's never been covered before. Collectors use San Francisco Art Openings to buy art. Dealers use San Francisco Art Openings to scout artists. Artists use San Francisco Art Openings to scout galleries. All kinds of art people use San Francisco Art Openings to learn about, communicate with, and get to know each other. And our local papers use San Francisco Art Openings to decide which shows to review. Don't believe me? Go ahead-- compare how many local galleries get reviewed now to how many got reviewed five years ago. So click that itty bitty button, whip out that wad, and wax bequestitudinous. (You get a link for your beneficence.) Until next month, dear artsters...
***
February First Thursday; February 2, 2006