SAN FRANCISCO ART GALLERIES OPENINGS
FIRST THURSDAY; 04.06.06
General comment: Tonight's creative fare includes well over thirty openings, even more than an inveterate artster with flagrantly fluid maneuverability can knock down. And don't think I didn't try. What's weird is that galleries outside the immediate downtown area (a) have openings tonight, (b) end them at 8, and (c) expect anyone outside their immediate fan bases to show up. I'd love to go and so would plenty of other people, but if we've got twenty downtown shows to see first, closing at either 7:30 or 8, you are by default off the list. Maybe next time pick ANY day but First Thursday or stay open until 9 (preferably 10) or better yet, offer a full buffet, valet parking, complimentary massage, gift bags, and name entertainment.
As if the gallery logistics aren't daunting enough, two museums, The Museum of the African Diaspora (MOAD) and Yerba Buena Center for the Arts (YBCA) exacerbate the culture glut and also open shows. What are you thinking? Your shows actually take time to see-- you can't just pop in and out like you can at a gallery. And yes, opening on First Thusday does make a difference; attendance at YBCA is way lighter than usual (MOAD hasn't been around long enough for me to tell).
OK. Enough carping. The good news is that I saw plenty of all kinds of art, some of which is indisputably admirable. That's right. So let's recap the action and sift for winners...
***
Jenkins Johnson Gallery: Landscapes & Interiors.
Artists: Ben Aronson, Robet Brawley, Scott Fraser, Max Ginsburg, Wes Hempel, Ron Hicks, Quang Ho, Mallory Lake, Tim Merrett, Lori Nix, Gudrun Petersdorf, Scott Prior, Kay Raune, Sonya Sklaroff, Joni Sternbach, Nancy Switzer, Robert Van Vranken, Z. Z. Wei, Sherrie Wolf, Michael Workman.
Comment: Like the announcement says, group show of landscapes and interiors, reasonably adept, notably quotidian.
Art.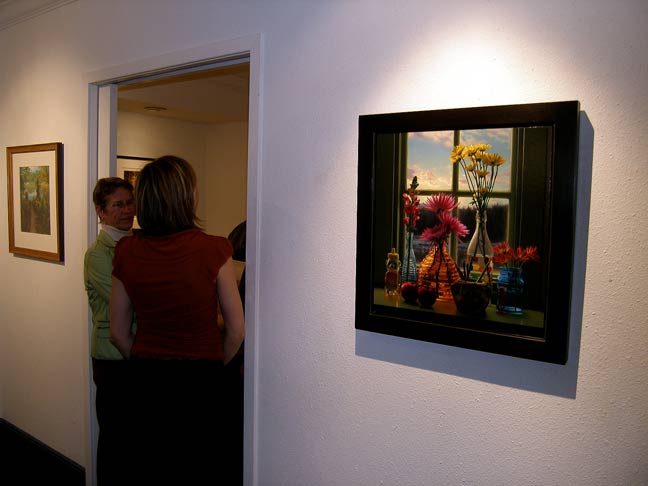 Art.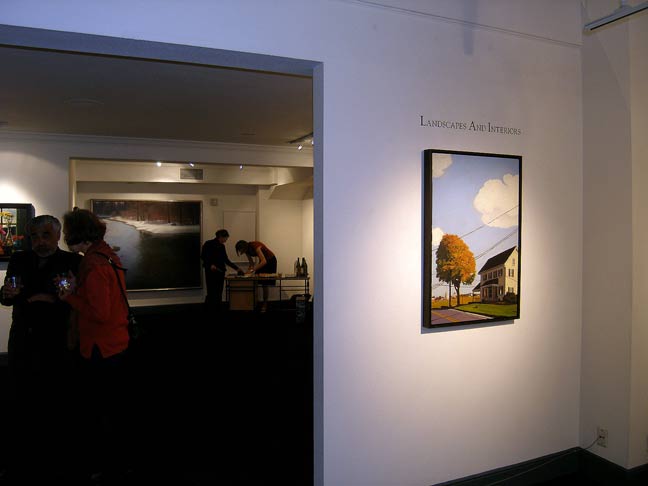 Art.


***
John Berggruen Gallery: Alexander Calder - Sculpture and Works on Paper.
Comment: Plaudits to John Berggruen for having the clout, wherwithal, commitment, and care to put this show together. No one else in town can, and I'm sure the logistics didn't come easy. But it's here now, an impressive imtimate cull of representative works from a variety of periods in Alexander Calder's illustrious career. It's kinda like seeing major entertainment with a few close friends at a tony local nightclub. No cattle call throngs to dumb down the experience. Don't miss it.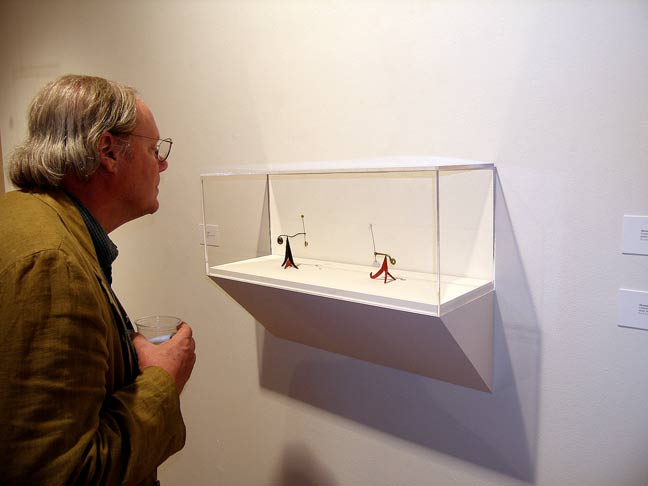 Art.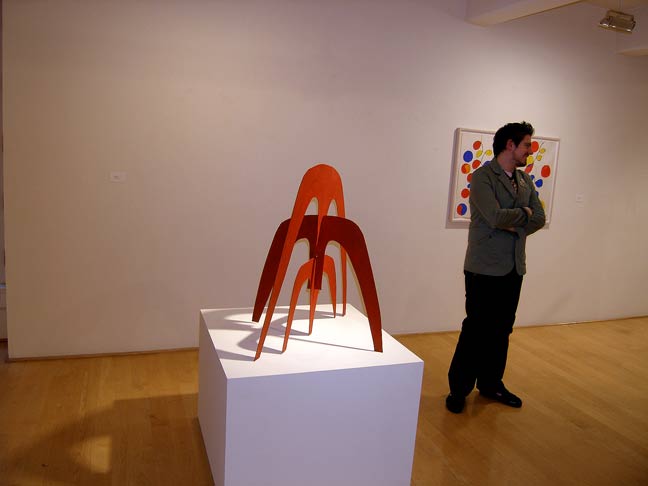 Art.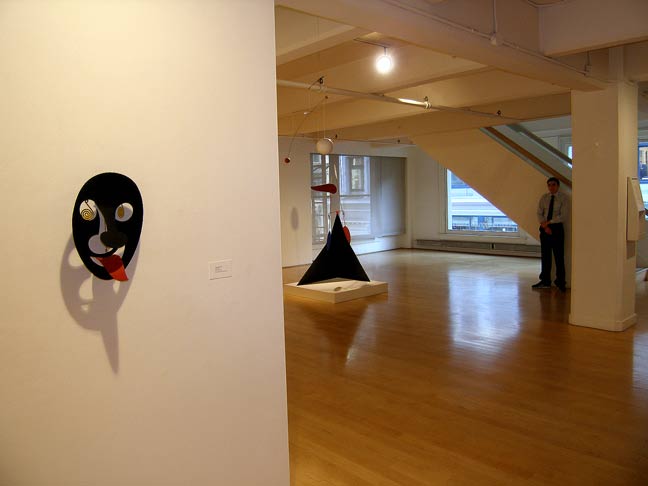 Art.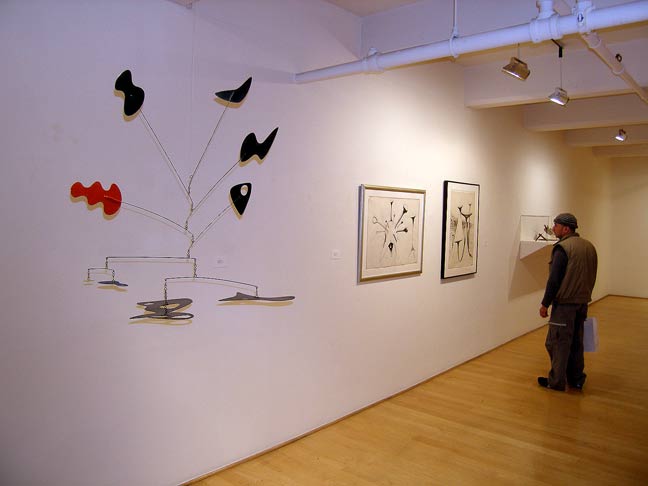 Art.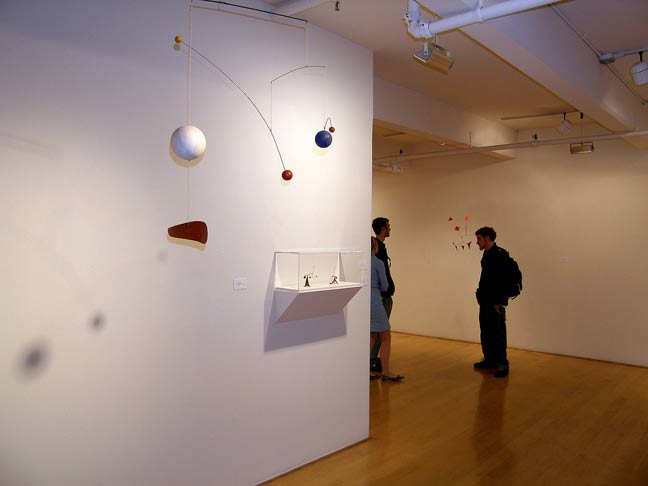 Art.


***
Dolby Chadwick Gallery: Alex Couwenberg - Black Labeled.
Comment: Precise polished acrylic and mylar abstracts on canvas. Alex Couwenberg subtly references hot rod car culture in his work, not only via the slick smooth appearance of his freestyle streamline shapes but also by accenting his compositions with periodic pinstripe-like flourishes.
Art.


Art.


Art.


Art.


***
Hespe Gallery: Re-opening Exhibition.
Artists: Steven Albert, Phoebe Brunner, Tony Chimento, Erin Cone, Pablo D'Antoni, Melissa Hutton, Mimi Jensen, Erin Kellgren, Marianne Kolb, Leslie Lusardi, Joan Mateu, Kevin Moore, Clifford Smith, Byron Spicer, Mitch Temple, Eric Zener.
Comment: Group show grand opening of Hespe Gallery at its new digs. That address, 251 Post St., is now home to nearly ten galleries. Hespe shows mainly realism.
Art.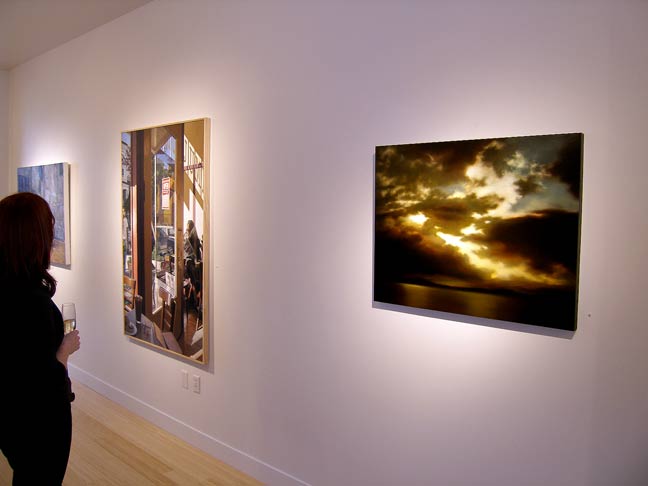 Art.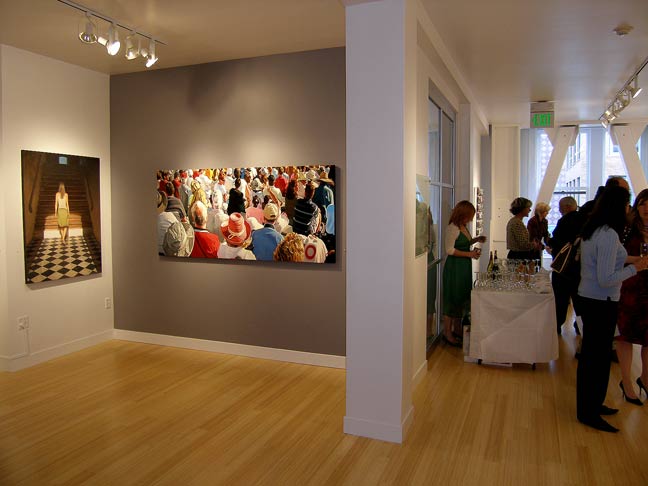 Art.


***
Catharine Clark Gallery: Felipe Dulzaides, Packard Jennings.
Comment: Interventionist doubleheader extravaganza subversively hammers home the perpetual intrusion of advertising on humankind, particularly outdoor advertising. Felipe Dulzaides creates large scale billboard impersonations on the sides of buildings, then photographs and prints them as limited edition C-Prints. Packard Jennings artifies public bus stop benches with paintings, draws up diagrams for humanizing corporate interiors, and asks anyone who receives business reply envelopes from direct mail mass marketings to drop them by the gallery so that he can stuff them with "instructions for revolutionizing corporate settings" and mail them back to the automatons who sent them. Retaliate or surrender; those are your options.
Art (Felipe Dulzaides).


Art (Felipe Dulzaides).


Art (Packard Jennings).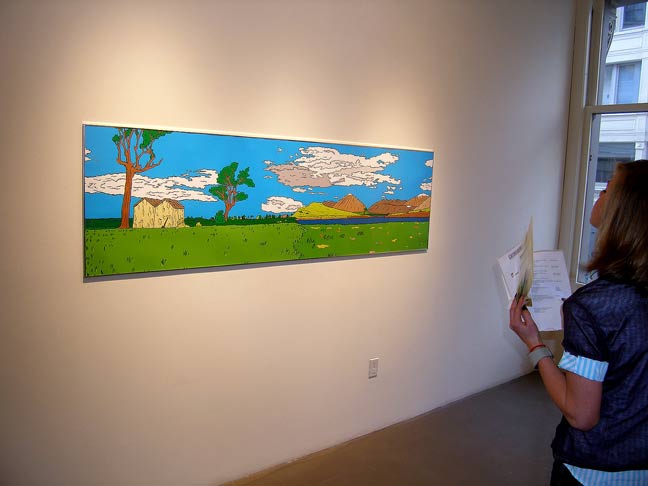 Art (Packard Jennings).


Art (Felipe Dulzaides).


Art (Felipe Dulzaides).


Art (Packard Jennings).


***
Stephen Wirtz Gallery: 1906 San Francisco Earthquake - Vintage Photographs of Earthquake Sites; Mark Klett with Michael Lungren - After the Ruins, 1906 & 2006.
Comment: OK kids. Pop quiz time. Today, we'll be playing for a major Richter rocker followed by a complete conflagration. And the question is, "Why are so many exquisitely disheartening 1906 SF Earthquake smouldering rubble aftermath photographs available for sale today at shows like this? Right! Because they're a perennial drag on the market because nobody wants to own them because nobody wants to be reminded of what our city's going to look like when the BIGGUN eviscerates all of our fabulous fun for years and years and years. Hold on to your hats, my darlings!!
On the flipside, the Mark Klett/Michael Lungren before and after images may fare better. They're about strength, resolution, perseverance, survival, and how far we've come from how nothing we had. Everybody loves a winner.
Vintage images.


Vintage photographs.


Now & then photos (Mark Klett and Michael Lungren).


Now & then photography (Mark Klett and Michael Lungren).


Now & then photographs (Mark Klett and Michael Lungren).


***
Don Soker Gallery: Christel Dillbohner - Nach Der Natur.
Comment: According to the website, Don Soker Gallery "generally exhibits works with a minimal or reductive quality with a strong emphasis on innovative technique and concept." Fair enough. Can't find a statement for this round of artibles, so I'm not sure what the deal is. Whatever Soker shows, it's always kinda different and I always kinda like it. No gallery in town quite like his.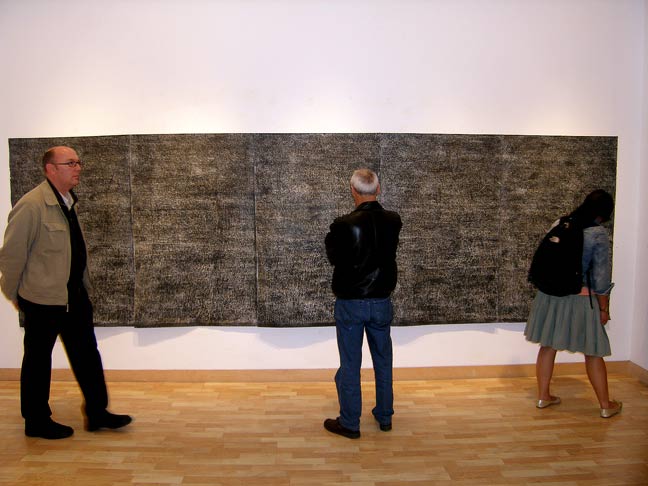 Art.


Art.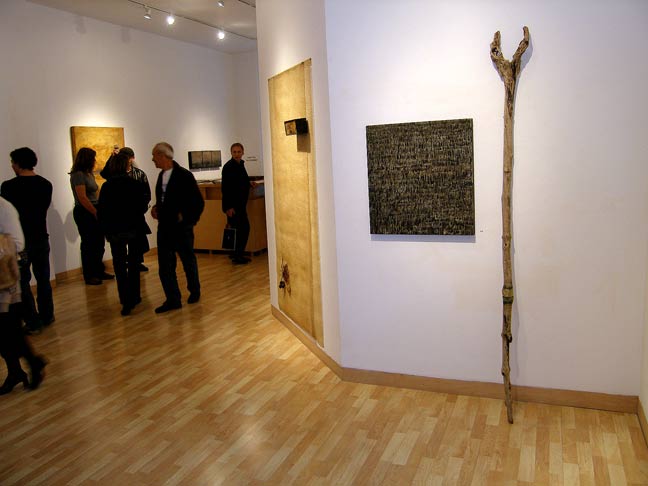 Floor plan partial.


***
Patricia Sweetow Gallery: Irmel Kamp & Joachim Bandau - Fascination Architecture, Photographs, Sculpture, Watercolors.
Comment: Irmel Kamp photographs lonely classic examples of European, Eastern Bloc, and Israeli moderne architecture of the 1920's and 1930's, often negelected, abandoned, or in varying states of disrepair. She tells me that tracking down these forgotten icons takes years of systematic research and travel. Her images are printed as photographed, no retouching. Joachim Bandau shows a series of stark diminutive geometric wall-mounted metal sculptures (called Diverse Bonsai) that nicely complement Kamp's images. Kamp and Bandau are husband and wife.
Art (Joachim Bandau, sculpture - Irmel Kamp, photography).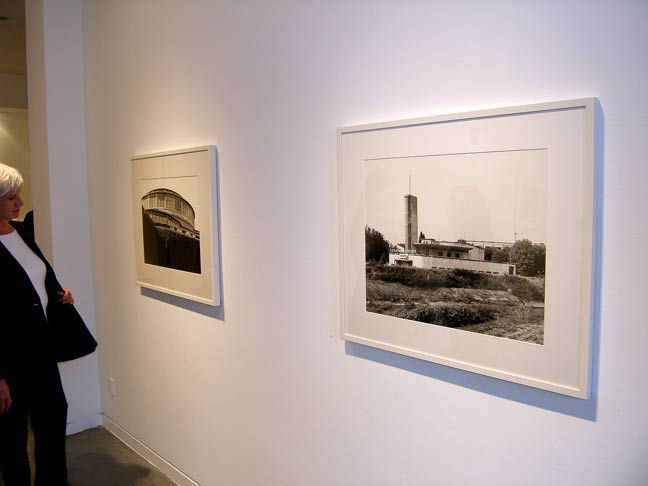 Photographs (Irmel Kamp).


Art (Joachim Bandau, sculpture - Irmel Kamp, photography).


***
Toomey Tourell Fine Art: Monroe Hodder - Lay of the Land.
Comment: Brickwork abstracts by Monroe Hodder reflect the dense textural patterned grids of her home town, London.
Monroe Hodder - art. Tennis anyone?


Art.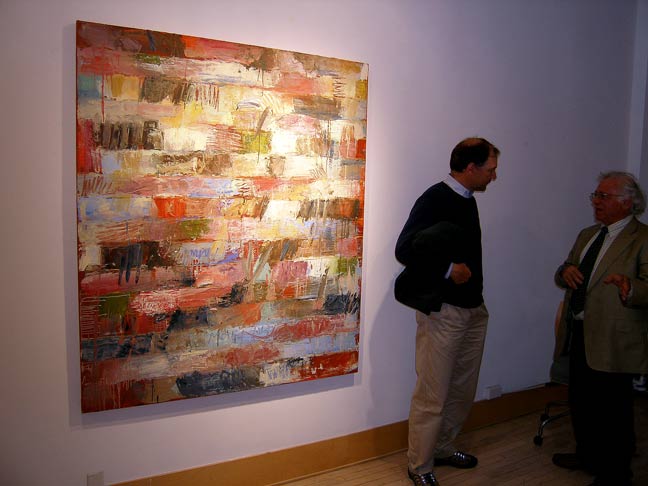 Art.


***
Scott Nichols Gallery: 1906, The San Francisco Earthquake.
Comment: More horrific devastation photos from The Great Shaker, this set by the Miles Brothers, oversized and overwhelming. OK. Here's the plan. You see the show, gasp, go home, swill a couple of stiff ones, get to work minimizing the impact of what you just saw, reconvince yourself it'll never happen to you, and the next morning you wake up refreshed and reconstituted in blissful wistful denial.
Devastation.


Destruction.


Be prepared.


***
Steven Wolf Fine Arts: Stephan Pascher - Lucky Chairs, 2002-2005, and Other Arrangements...
Comment: 255 arrangements of one to five ordinary chairs captured in a series of slides, simultaneously shown in endless loop by 5 vintage carousel slide projectors. Pascher mounts the projectors on items found in the gallery and positions them in such a way as to completely immerse the gallery (and the viewer) in the experience. For the quizzical elite, there's some overreaching argot to pimp the premise. Souvenir hunters will find a selection of photographs by Pascher available for purchase in an adjacent room, likewise treatising various aspects of object arrangement.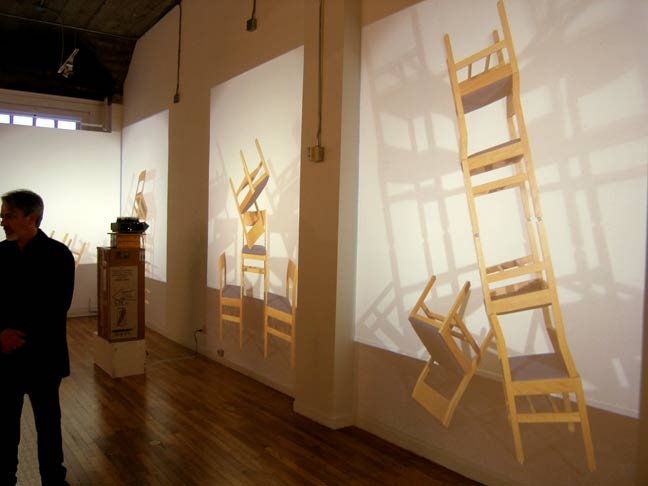 Art.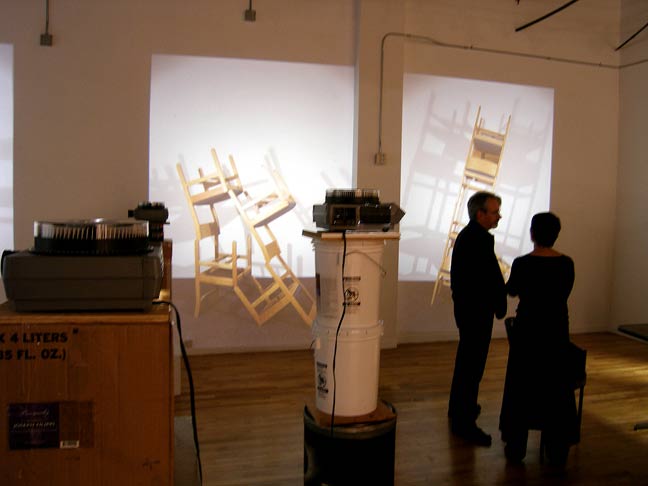 Art.


Art.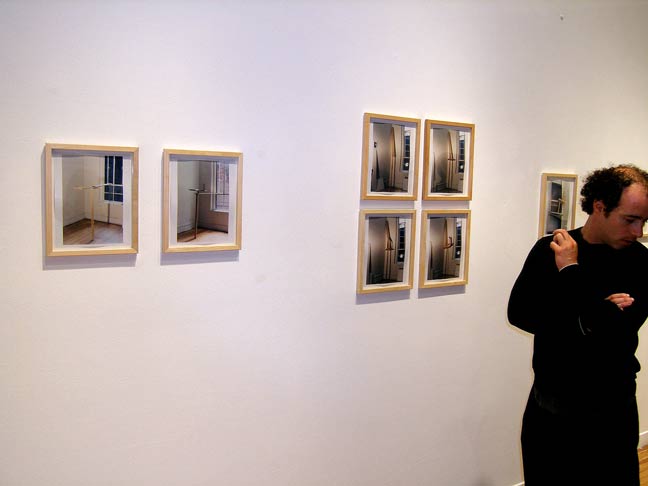 Art.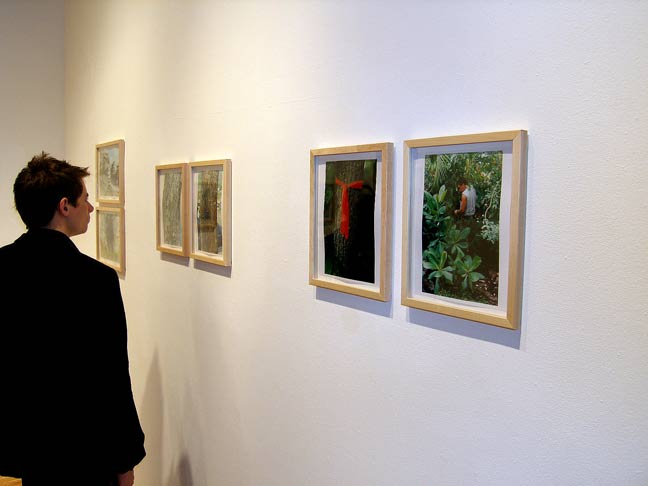 Art.


***
Haines Gallery: Joel Sternfeld - Sweet Earth.
Comment: Joel Sternfeld landscape photographs with accompanying explanatory text gently peacefully document American experimental communities that either sought or continue to seek utopian ideals. The show is an uplifting expeditionary travelogue of sorts, presented convincingly enough to make you feel like you've left San Francisco and taken an inspirational educational trek across this great land of ours. Kinda makes you feel like things aren't as bad as they look on the news (even though they are). Anyway, I'm gonna give the show a Near Pick-- mission accomplished.
The walls of the back room are matrixed with thousands of what appear to be black oval smudges, but are actually fingerprints. Artist Nigel Poor tells me she's so far garnered over 5000 prints and is here tonight collecting still more. You give up your print, then she officializes it by penciling your first name, gender, age, and occupation onto the paper. Then you wipe off your finger and go to the next opening.
Photologue (Joel Sternfeld).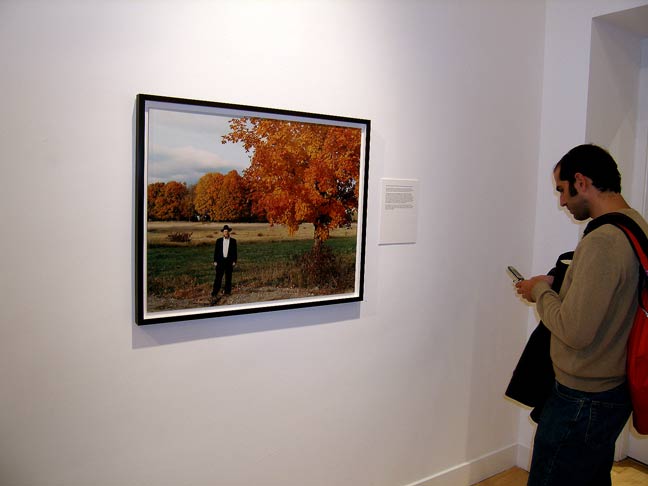 Photologue (Joel Sternfeld).


Photologue (Joel Sternfeld).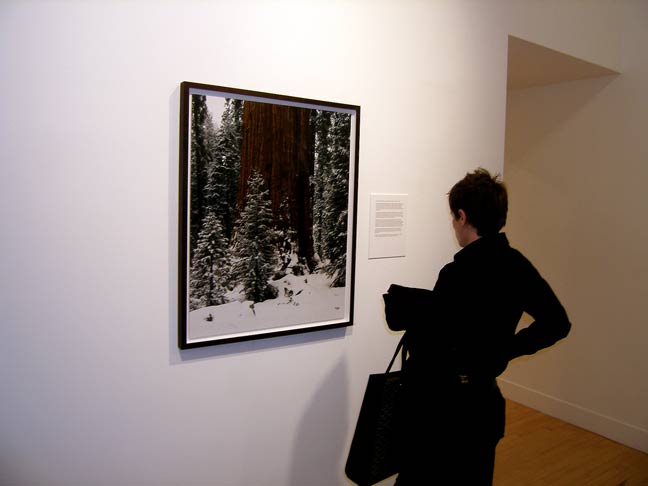 Photologue (Joel Sternfeld).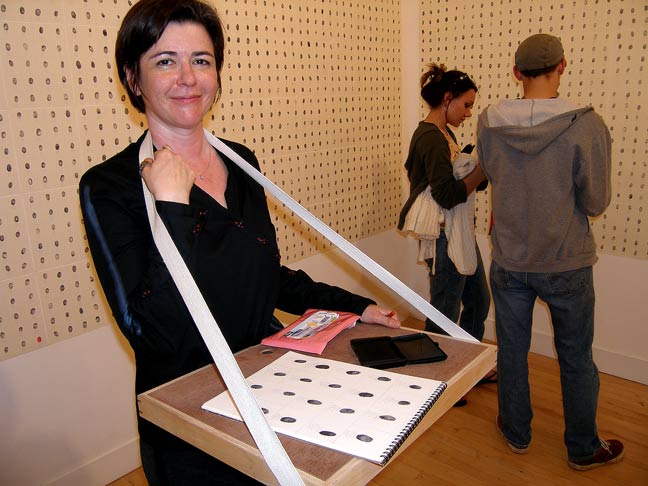 Nigel Poor sports her portable print snagger.


Fingerprint grid (Nigel Poor).


***
Gregory Lind Gallery: Mel Prest - Alignment.
Comment: Mel Prest's soft pure straight-line progressive color gradation paintings play you in and out of illusion to the point where what you see depends on where you stand and/or what aspect of the art you choose to focus on. The concept is admirably developed with copious upside; the exacting brushwork appears a trifle tentative if you zoom-in for a micro. Otherwise, nice. And eminently affordable.
Art.


Mel Prest - art.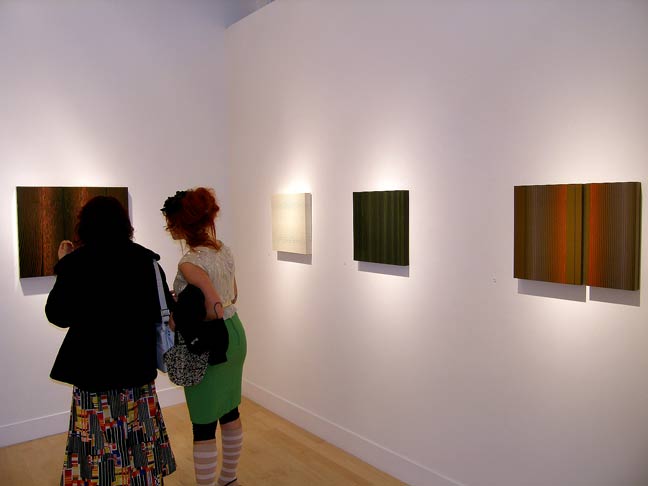 Art.


Art.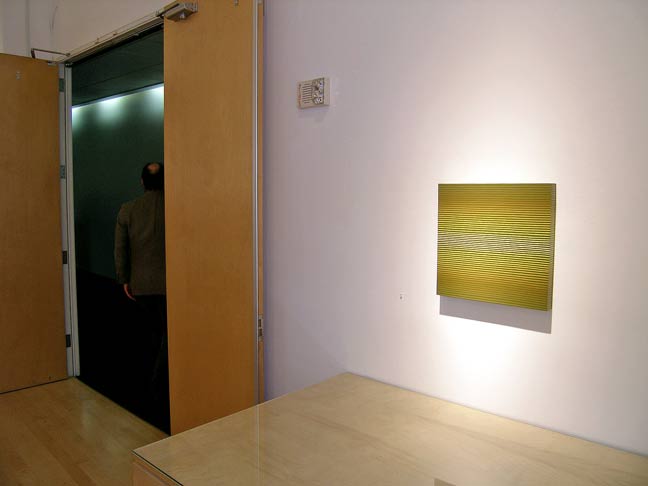 Art.


***
Gallery Paule Anglim: Brett Reichman - All Consuming Identity; John Beech - New Work.
Comment: Brett Reichman's exceptionally masterful serpentine trompe l'oeil clown jester costumery & drapery still life paintings totally satisfy when taken at face value, but then you read the crib sheet (and see the rest of Reichman's work) and get that he laces his compositions to varying degrees with gender and erectile considerations. Frankly, I prefer not to think about dicks when I look at art, so I'm gonna enjoy 'em for their fantastic sumptuous rainbow magic and throw in a Pick of First Thursday for good measure. Oh-- one more thing-- I categorically kowtow to art that's complete not only with respect to cognitive construct, but is also technically impeccable. Way too many artists use construct as a crutch to buttress and/or disguise the fact that they can't make art (just because you paint a smiley face and call it the Mona Lisa doesn't mean you can paint the Mona Lisa). So if your brain works better than your hands, think about maybe transitioning to poet or art critic (they both pay about the same).
In the anteroom, John Beech takes photographs of dumpsters, mounts them on aluminum, and coats large portions of each image bright, monochrome, and abstract. They grab you in an unexpected way and deliver impact that belies their simplicity.
Pick (Brett Reichman).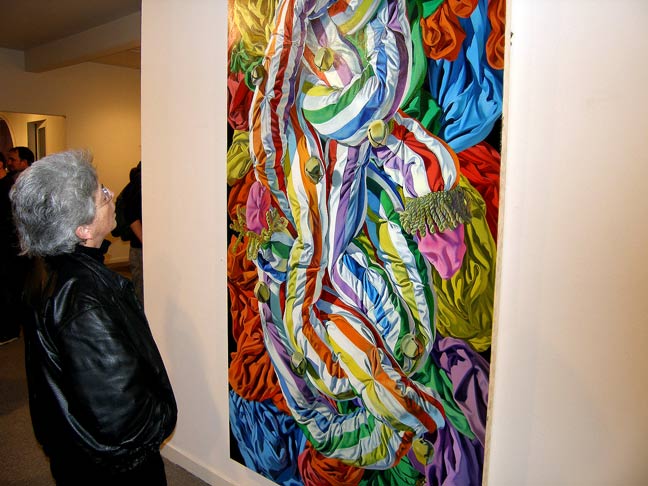 In closer (Brett Reichman).


Penis art (Brett Reichman).


Art (Brett Reichman).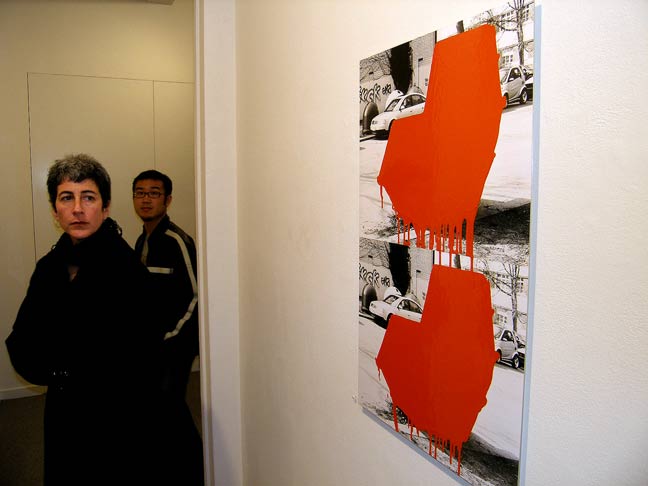 Art (John Beech).


Art (John Beech).


Art (John Beech).


***
Yerba Buena Center for the Arts: Peer Pleasure 2 - Red 76, Temporary Services and Visible Collective.
Artists: Sam Gould, Jef Drawbaugh, Brett Bloom, Marc Fischer, Salem Collo-Julin, Naeem Mohaiemen, Aziz Huq, Jee-Yun Ha, Anandaroop Roy, Shahed Amanullah, Anjali Malhotra, Vivek Bald, Sarah Olson, Donna Golden.
Comment: Circuitous detail-rich aggregation weighing in on, among other topics, the implementation and consequences of political agendas, the prison system, incarceration lifestyling, misrepresentation of Muslims in the media, and wrongful accusation. If you want to reflect on what you've seen (and you will), you can do so in an authentic bone cold metal mock up of a prison cell.
Wrongful accusation art.


Incarceration invention art.


Jail cell mock up art.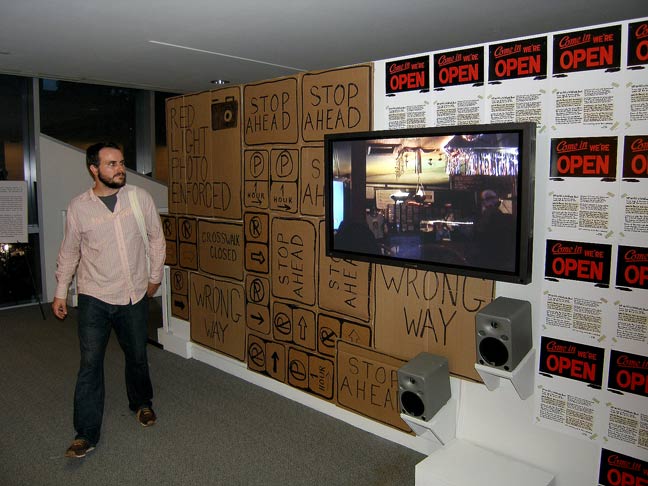 Karaoke video art.


Art.


Wrongful accusation art.


***
SFMOMA Museumstore: Convergence Booksigning.
Artists: Mars-1, Damon Soule, David Choong Lee, Brett Amory, NoMe Edonna, Oliver Vernon.
Comment: Release party and booksigning for Convergence (2nd Round Productions, San Francisco, 2006, 256 pages, limited to 2000 copies, $29.95). The six artists surveyed in the book are on duty to sign, inscribe, and draw it up nice for their fans. You gotta wait in line, but they make it worth your while.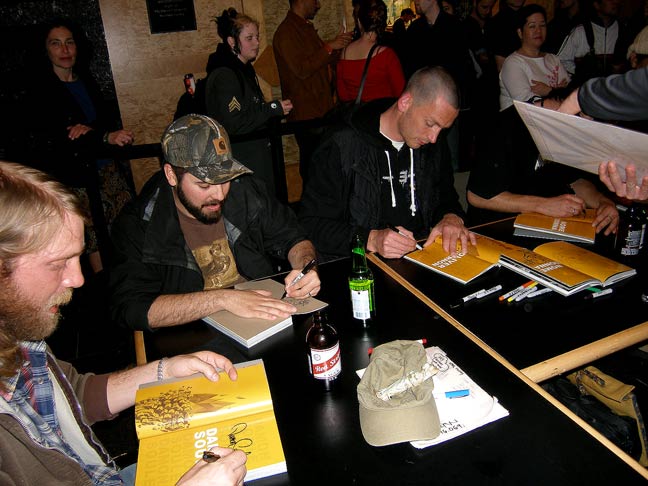 Left to right - Damon Soule, Mars-1, Oliver Vernon.


Right to left - David Choong Lee, NoMe Edonna, Oliver Vernon, Mars-1.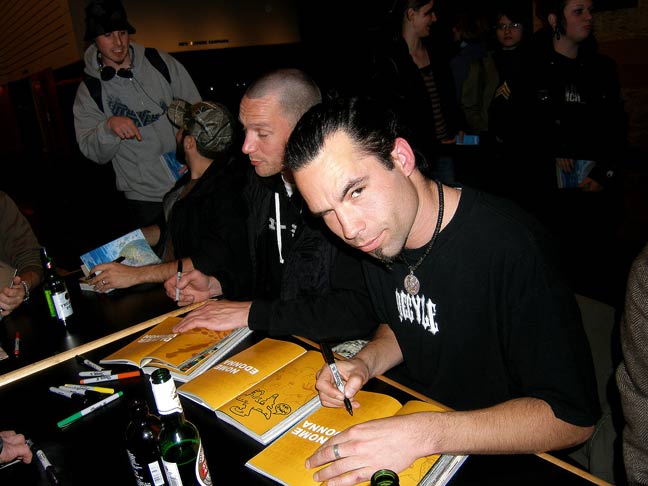 NoMe Edonna. (Missed Brett Amory-- sorry.)


***
111 Minna Gallery: Jump Over Me.
Artists: Jay Howell, Nick Wilkinson, Andre Razo, Judd Hertzler, Garin Moore, Adrienne Yan, Nathan Cordero.
Comment: The art's OK, I guess. But kids, when you do a group show, it's gotta be more than, "We're gonna fill the space up with whatever we've got and let whoever sees it figure it out." Go to museums-- see how they do it. Two excellent group shows just opened at YBCA and MOAD. State your case, theme it, keep it tight, show your best, and don't overload. Making a group show work is a challenge not to be taken lightly. Better luck next time.
Art.


Art.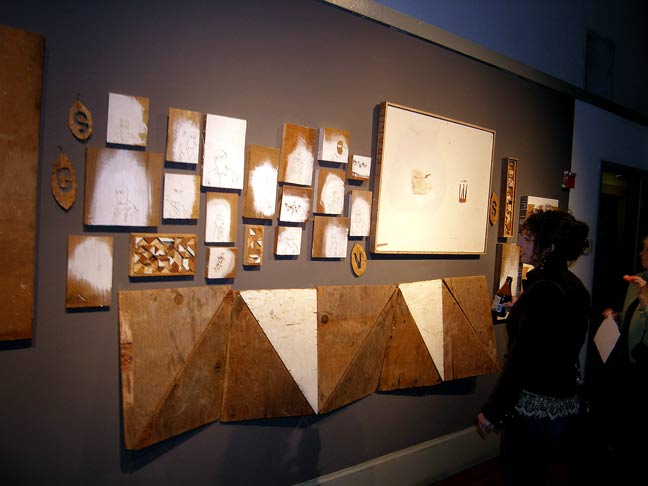 Art.


Art.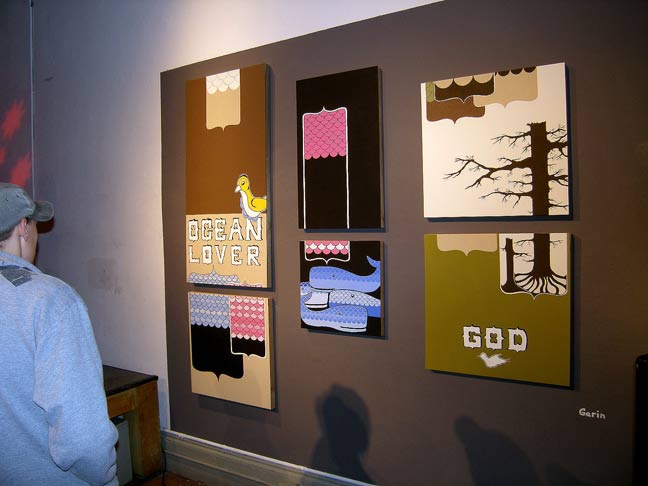 Art.


***
Lost Art Salon: Peter Witwer (1928-1968), A Lost Artist's Journey from Abstraction to Figuration.
Comment: Lost Art Salon is one of my favorite offbeat art haunts. I feel like I could live there. The warm welcoming down home three-floor converted warehouse space (opening to a roof deck) is crammed floor to ceiling with paintings, sculptures, and more, mainly mid-century vintage, serious to kicky (for example, a USA map with states cut and collaged in various textures and shades of suede and leather remnants, and a table lamp made from car engine air filters). Tonight's show features a rambling retrospective of the work of local artist Peter Witwer. Priced reasonable, low to upper hundreds for the most part; a fair amount already sold.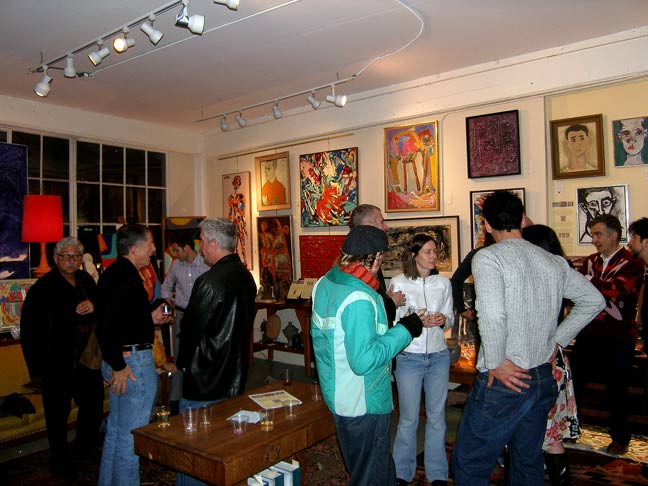 Art.


Art (Peter Witwer).


Aerial pan left.


Aerial pan right.


***
The Shooting Gallery: Salon Style.
Artists: Coro, Liz MeGrath, Andrew Jones, Helen Garber, Wesley Burt, Anne Faith, Nicholls, Carl Dobsky, Shawn Barber, James Kei, Patrick Segui, Peter Konig, Marko Djurdjecvic, Kemp Remillard, Richard Doble, Noxis Mad.
Comment: Atmospheric group show, trending dark, featuring "members of The Shooting Gallery family." Each participant's work is set off from the others with a different wall treatment. Don't remember the name of the artist, but I gotta go with a set of haunting nightfire battle scenes, vile reminders of what fools we are for messing with the world's balance of power so we can have more gas. Well war whores, did it work?
War art (like it).


Sculpture (like it).


Art.


Art.


Art.


Art.


***
Addendum:


Kathryn Siegler paints real at Adler & Co. Gallery.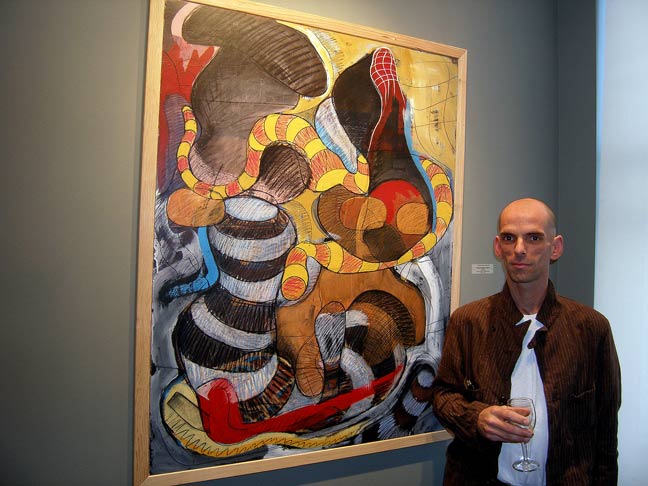 Gilles Combet and art at Newmark Gallery.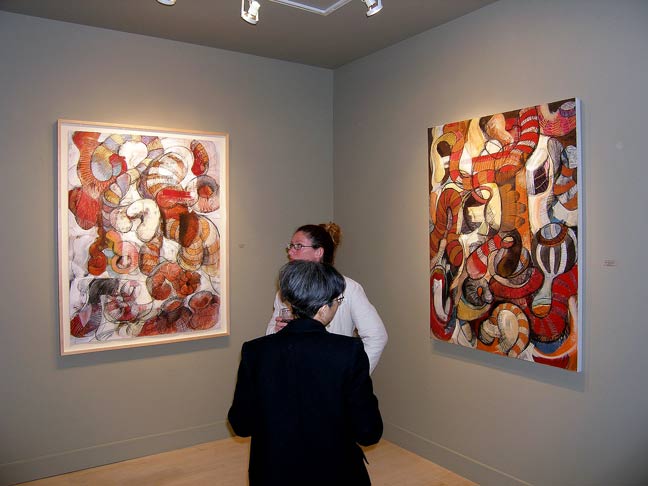 One more from Gilles Combet abstracts at Newmark Gallery.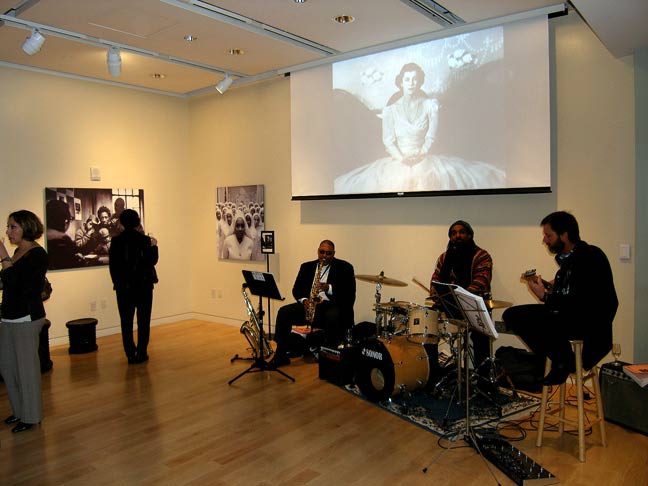 Reception at Museum of the African Diaspora (MOAD).
They won't let me photo the art. Too bad. Maybe next time.
Take my word, though, the show's worth seeing.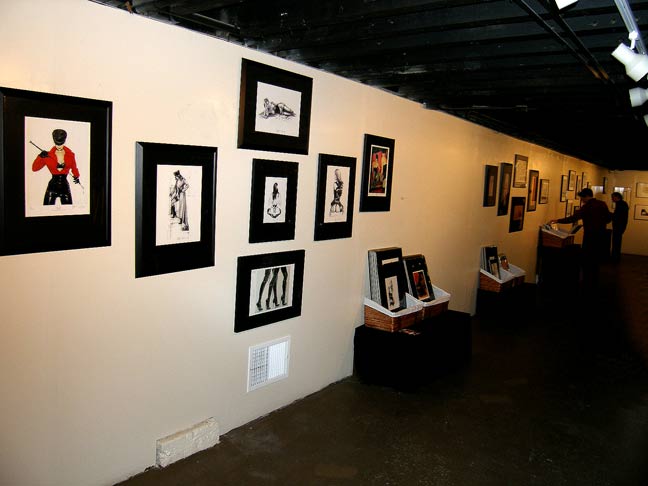 Fusion Artwork presents Art & Eros at Stormy Leather.


***
Well artsters, it's all over but the donating. See you next month. And thank you for your support.
***
March First Thursday; March 2, 2006