SAN FRANCISCO ART GALLERIES OPENINGS
FIRST THURSDAY; 08.03.06
General comment: August First Thursday is low-key here in artland with many galleries showing selections from their inventories and others showing quietly closed doors, but the night is not without delight and certainly not without winners. As always, there's plenty to size up and sort out, but before we do that, I gotta share a little moment with you.
I don't recall exactly when or where, but I'm having this chat-up with a confirmed local artster of some repute when I commence to carp on one of my abiding beefs-- the boundless barrage of bombastic blather that pretenders relentlessly drub the public with in order to validate and sustain their art. So the artster looks at me and says something like, "We have to do that in order to maintain credibility and justify value." So I'm thinking, wait-- an established Union Square or Fisherman's Wharf gallery sells more art on a good opening night than many of San Francisco's non-commercial galleries sell in a YEAR. And I can assure you, they don't do it by confounding the client base. The good news is that the unintelligible gibberish approach to "explaining" art appears to be on the decline.
OK. Enough. Ready to hit the artyard and milk the creative cow? Of course you are. Let's do it...
***
Gallery Paule Anglim: Andrew Masullo, Richard Overstreet.
Comment: In the main room, Andrew Masullo shows bright upbeat fundamental abstracts, ownable for low to middlin' thousands of $$$. They're nice and everything, but I can't figure out whether the punch line is "less is more," "less is less," "less is more or less more unless it's less," none of the above, or all of the above. I want my Mommy!!
In the anteroom, you'll find palatable Richard Overstreet soft abstract wax drawings on paper.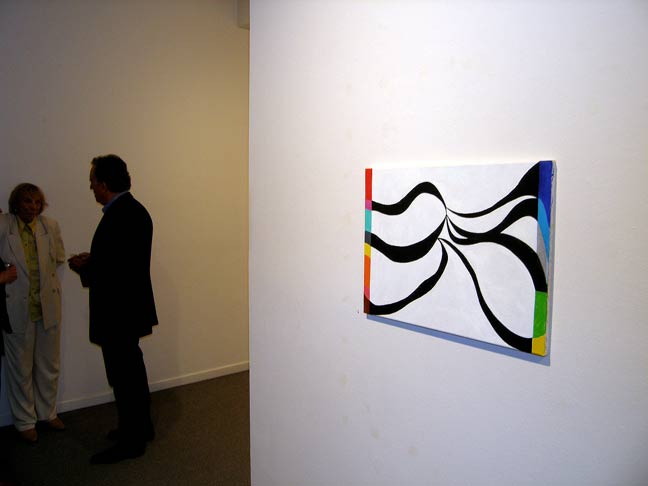 Art (Andrew Masullo).


Art (Andrew Masullo).


Art (Richard Overstreet).


Art (Richard Overstreet).


Art (Andrew Masullo).


***
871 Fine Arts: Selection of Works from the 1960's - New York School and West Coast.
Comment: Satisfying selection of vintage works in a variety of styles, not necessarily by household names, but all quality. Owner Adrienne Fish shows me an unsigned black spaghetti abstract hanging near the front counter. It's from a good collection, she tells me, but not signed, and she's trying to figure out who done did it... wait... I mean who done dooded it. A number of pundits have already proffered, but she continues to solicit surmisals. Wanna give it a go? There's likely something in it for you if you identify the artist and can prove it.
Art (Gordon Onslow Ford, right).


Art (mystery painting, center).


Art.


Art.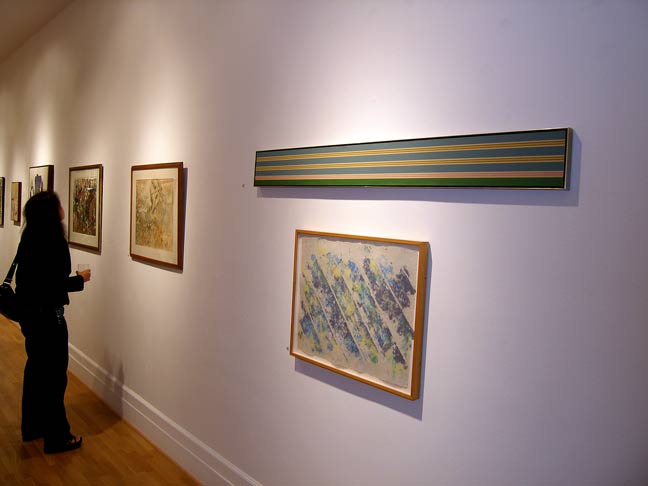 Art.


***
Catharine Clark Gallery: Nina Katchadourian - The Kinship Report; Ed Osborn - Transients.
Comment: Love that Nina Katchadourian Genealogy of the Supermarket installation in the front room, linking food, foodsters, brand name mascots, douches, diapers, beer, soap, and pretty much everything else into an outlandishly baffling familial chart, disobedient of the discipline enough to drive a Mormon to drink. And that's not all-- she's got an edifying video starring her and her folks in the video project room to boot. Meanwhile, in the back gallery is an accomplished Ed Osborn installation of black amorphous forms perked with electronics and sound.
Genealogy of the Supermarket art (Nina Katchadourian).


Video art (Nina Katchadourian).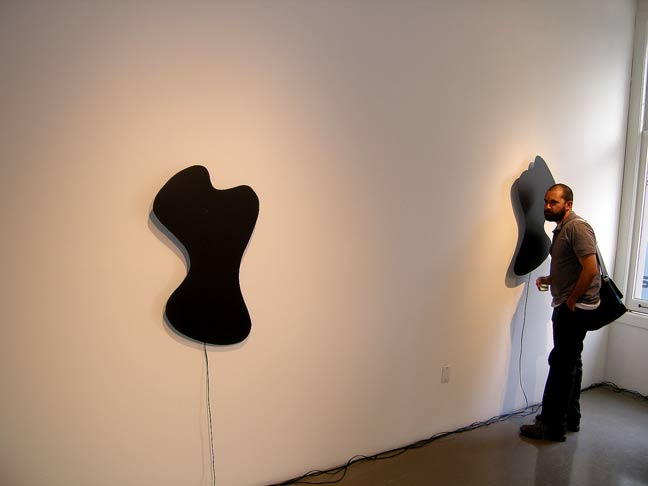 Amorphous form art (Ed Osborn).
"This is your Arp - this is your Arp on drugs."


***
ARTworkSF Gallery: Group Show.
Artists: Michael Bell, Eric Bohr, Molanda Chiang, Christine Cianci, Stephanie Cunningham, Vanessa Esponisa, Lynn R. Friedman, Karen Gorman, Lisa Greenstein, Steven Gray, Jillian Guarco, Suzun Hughes, Lorri-Marie Jenkins, Judy Johnson-Williams, Lois Llewellyn, Alisa Lowden, Sarah Elizabeth Miller, Judith Miller, Betsie Miller-Kusz, Roberto Montoya-Mejia, Les Phillips, Imelda Picherit, Melissa Sachs, Ann Simms, Nicholas Smith, Ari Salomon, Elizabeth Starr, Rich St. Cyr, Francesca Tallone, William Ulrich, more
Comment: ARTworkSF has been around for several decades representing dozens of artists and showing art at locations all over San Francisco. Now they join the ranks at 49 Geary.
What it is.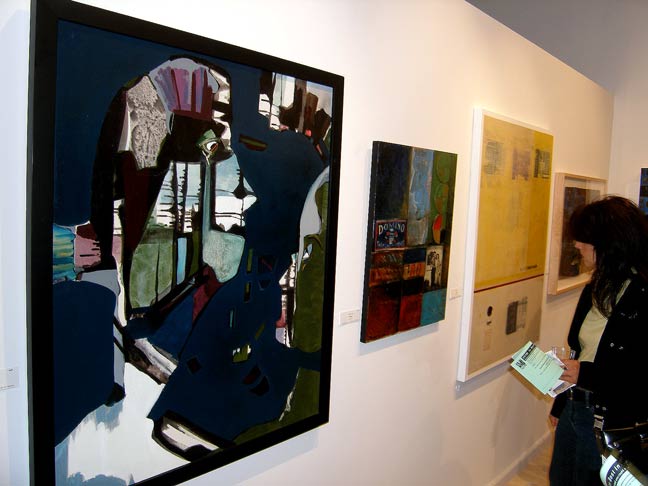 Art.


Art.


Art.


***
Stephen Wirtz Gallery: Julio Cesar Morales - Informal Economy Vendors; Arnold J. Kemp - Daydream Nation.
Comment: The phrase Informal Economy Vendors refers to Mexican people who make vending carts from recycled materials, then use them to sell whatever they can sell for whatever they can sell it for, often making barely enough money to survive. Also showing, black & white abstracts, some with cropped shadowy silhouette figures, by Arnold J. Kemp.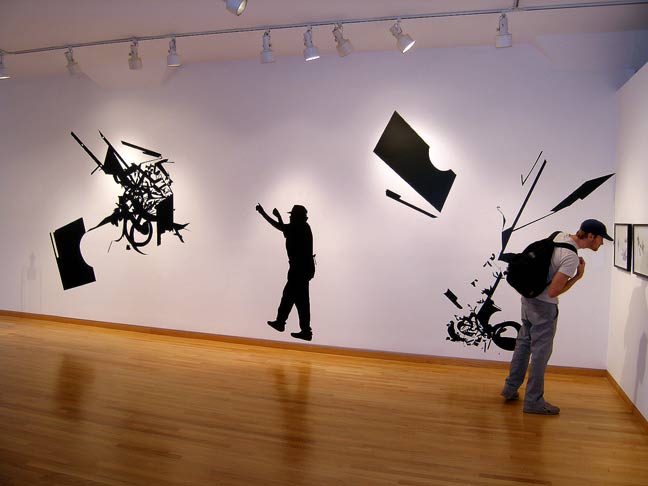 Art (Julio Cesar Morales - like it).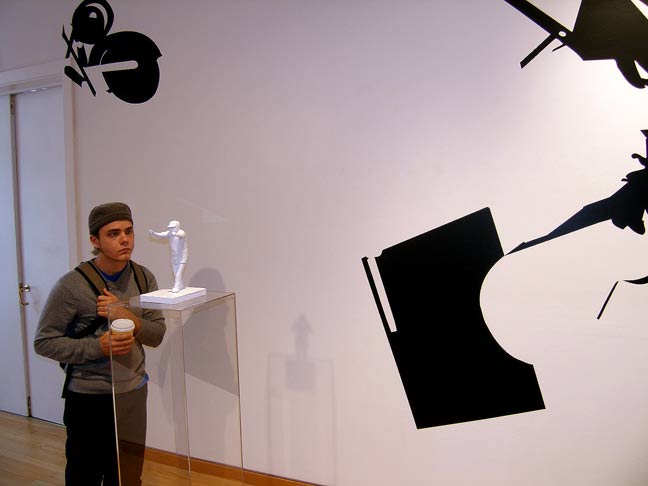 Art (Julio Cesar Morales).


Art (Julio Cesar Morales).


Art (Arnold J. Kemp).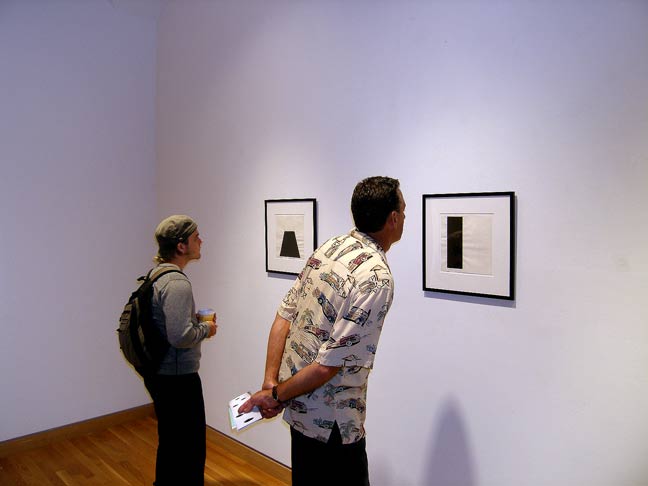 Art (Arnold J. Kemp).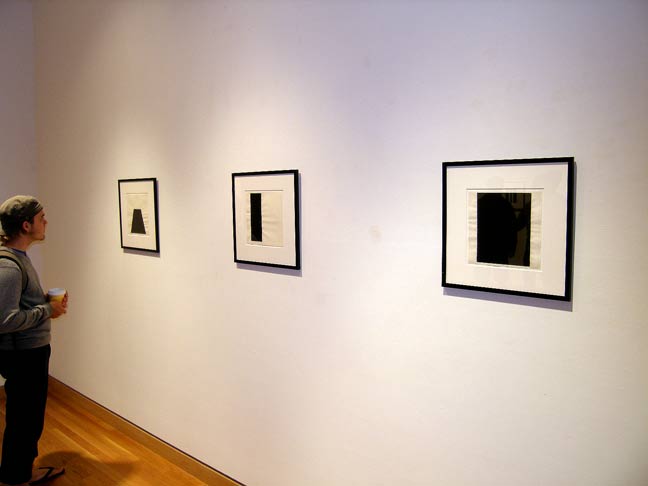 Art (Arnold J. Kemp).


***
Steven Wolf Fine Arts: Dynomite - Mike Farruggia; Don't Kick Yourself - Izzy Sher.
Comment: Mike Farruggia recycles old street and highway signs by cutting them up, reconfiguring the letters and symbols, and reassembling the resulting renovations by hammering them onto wooden forms. His words and phrases are rather artfully esoteric now, but the concept has legs and I can't help thinking that with a modicum of mainstreaming he could reach a far larger audience. Also showing is a retrospective of funk outsider cut, welded, and bent-wire metal sculptures, some with religious overtones, by Emil Izzy Sher, virtually unknown during his lifetime, who passed away in 1999.
Art (Mike Farruggia - without the flash).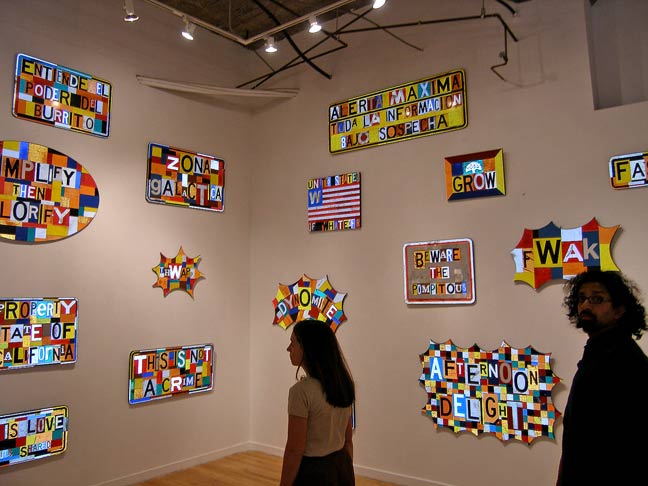 Art (Mike Farruggia - with the flash).


Art (Izzy Sher).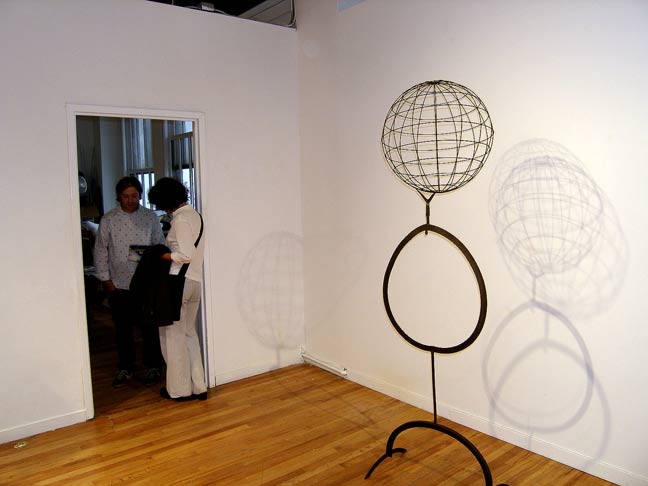 Art (Izzy Sher).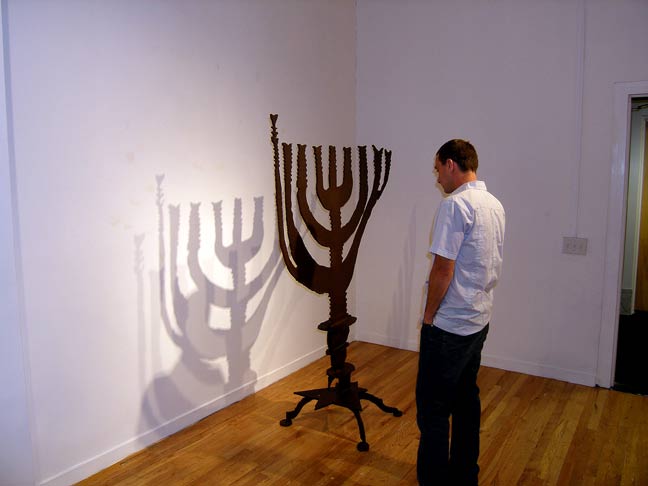 Art (Izzy Sher).


***
Robert Koch Gallery: Brian Ulrich.
Comment: Brian Ulrich's large-scale color photographs point up the mindless robotic banalities of shopping. The images without people impact stronger than the ones with-- more believable.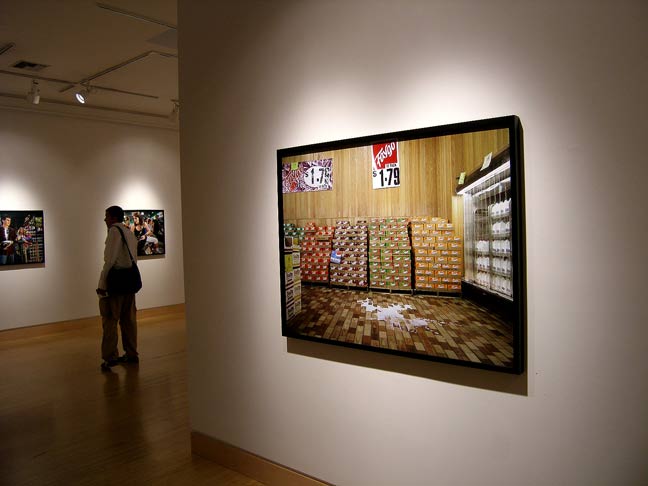 Photo.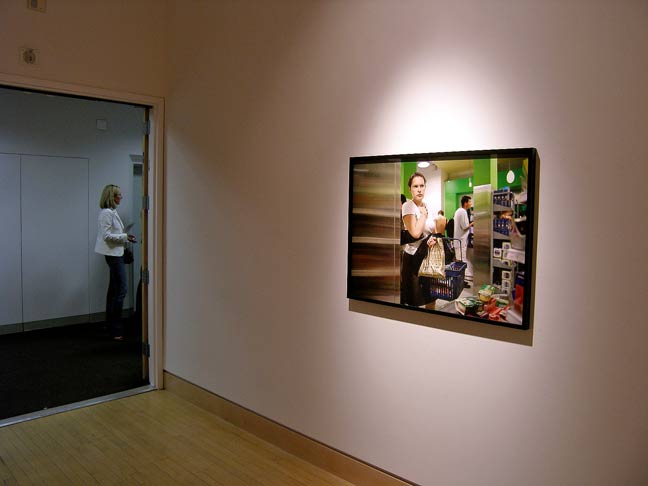 Photography.


Photograph.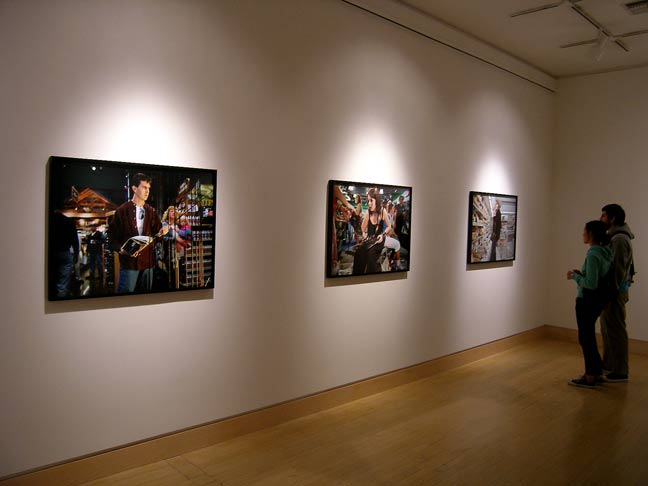 Images.


***
Gregory Lind Gallery: Daniel Turner - The Chimney Sweep's Dream; Daniel Cheek - Benicia/Martinez, California Photographs.
Comment: According to the fact sheet, Daniel Turner "transmutes tropes" while his art "induces seducton and fear" as it "conflates the role of the artist with that of the industrialist." In other words, I have no clue what his show is about-- but I like the art, particularly a sublime line of orange life preservers with impacted shiny black umbrella tips.
Daniel Cheek's unsettling photographs present the vacuous nature of life in the burbs against an ominous toxic backdrop of heavy industry, in this case being Benicia and Martinez oil refineries. The fact sheet indicates that Cheek's photography also conflates, and I'm gonna have to check the Official Rules on this 'cuz I'm not sure whether more than one artist is allowed to conflate in a single show. In any event, be aware that conflations lasting longer than four hours require immediate medical attention.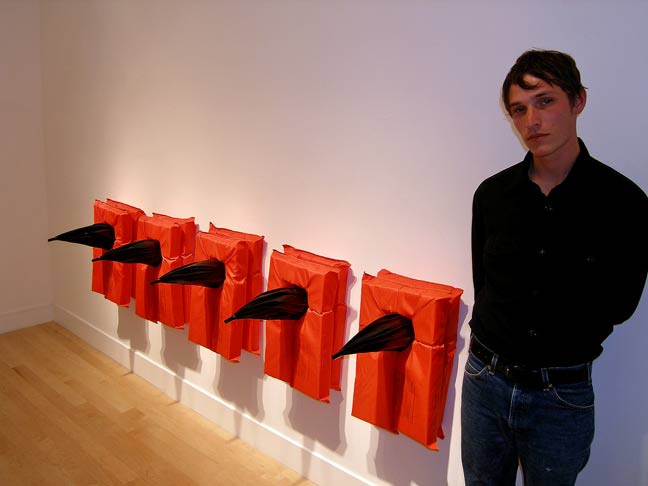 Daniel Turner - umbrella tip life preserver art (like it).


Art (Daniel Turner).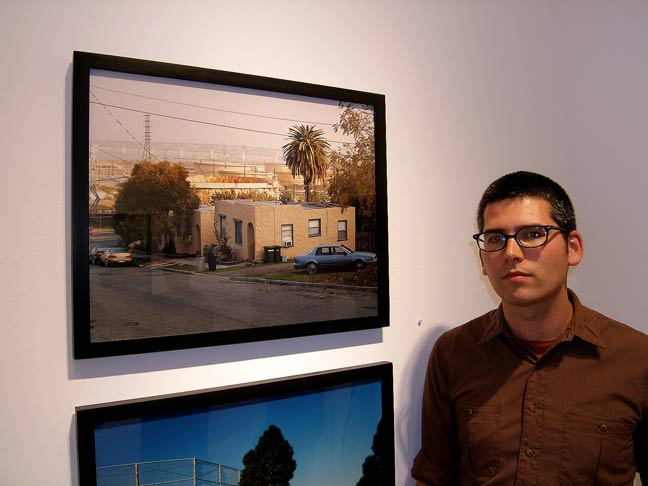 Daniel Cheek - photography (like it).


Photograph (Daniel Cheek).


Daniel Cheek - photography (like it).


Images (Daniel Cheek).


***
Brian Gross Fine Art: Ed Moses - New Paintings.
Comment: Ed Moses distills art to the essentials with a group of pure spontaneous meditative remarkably uncomplicated abstract paintings. Less is unquestionably more here-- way more. Also on display is a magnificently intricate sumptuously vibrant oversized tapestry designed by Moses (one of a series currently being produced by Magnolia Editions). Excellent show.
Art (like it).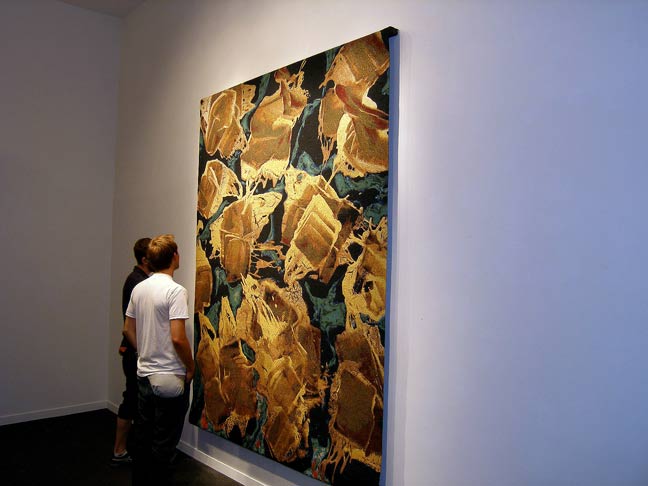 Tapestry art (like it).


Art.


***
RayKo Photo Center: Three Cubed - Photographic Exhibition.
Artists: Teresa Renee Norris, Gabriel Aguilar, R.A. McBride.
Comment: One of three simultaneous identical photography shows-- the other two in Adelaide, Australia and Dublin, Ireland-- all opening the evening of August 3, 2006. Three photographers from each of the three cities contribute three photographs each for a total of 27 images. Each show consists of those same 27 images. To summarize the higher math, that's 3 countries, three photographers per country (9 photographers total), three photographs per photographer (27 images total)-- or Three Cubed. An international art share-- nicely conceived and presented.
Photos.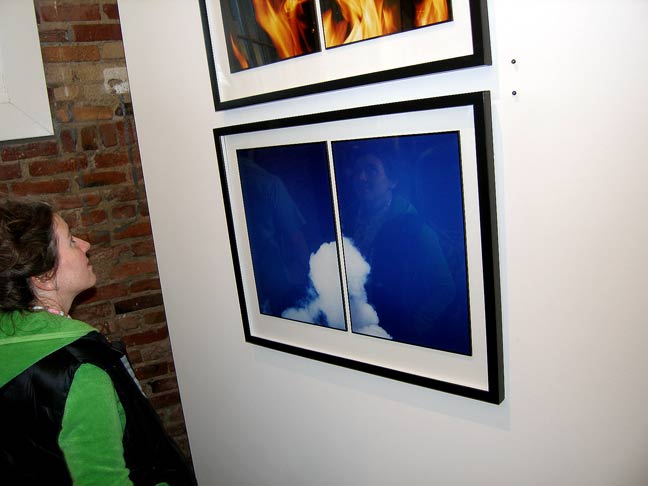 Photography.


Image (R.A. McBride).


Photographs.


Photos.


***
The Artaud Gallery: The Artaud Gallery 2nd Anniversary Celebration.
Comment: Entertaining idiosyncratic group show, one of a series of events celebrating Project Artaud's 35th anniversary. Can't find a list of the artists-- sorry-- but I do find a whimsically imaginative display of polychromed sculptures by Pepe Ozan.
Pepe Ozan - sculpture.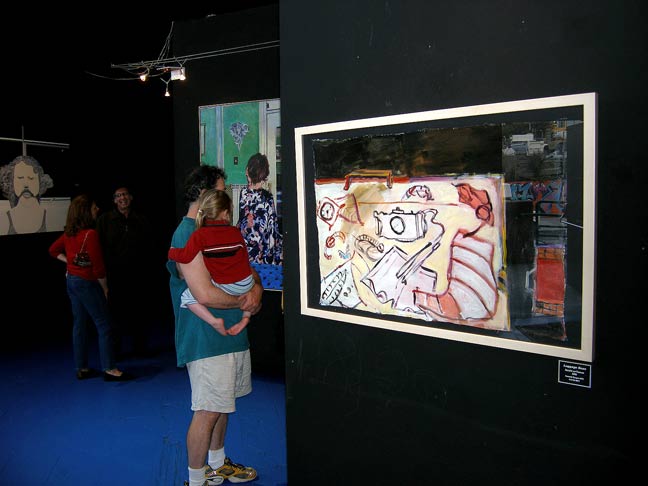 Art.


Art.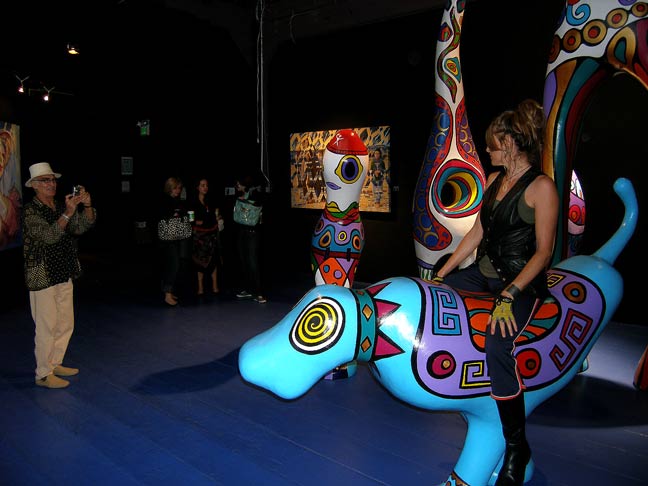 Pepe Ozan photographing his sculpture.


***
Market Street Gallery: Altered Barbie 2006.
Artists: Beth Allen, Julie Andersen, Stan Askew, Jody Banks, Allie Buckner, Margie Burke, Melissa Chow, Deborah Colotti, Charlotte Davis, Steve Dehlinger, John Diehl, Laurie Toby Edison, Cherry Elliott, Erin, Miranda Fae, Debbie Fimrite, Ingrid Fraser, Michel Fraser, Nora Garcia, Mia Gonzales, John Gordan, Marc Ellen Hamel, Jordon Hines, Tanya Jaffe, Amanda Johnsen, Susie Kameny, Diane Komater, Kuniyuki, Patrice Krems, Mey Lee, Amy Levine, Emily Loen, Julie Lockfield, Big Al Lopez, Leila Mansur, Shilo McCabe, Hestar Michaels, Erika Meriaux, Kaeli Mogg, Wendy Mogg, Chrys Moore, Frankie Norstad, Priscilla Otani, Pernilla Perssons, Ruby Pearl, Ernesto Pedro-Campos, Corinne Pickett, Steven Pim, Jan Potter, Leigh Ratdtke, Maya Rene, John Riker, Wendy Robinette, Grant Salminen, Jennifer Scaff-King, Adele Shaw, Tiffany Shlain, Etya Makiyer Skaya, Susan Stern, Steven Stodor, Emersen Taymor, Margaret Thrupp, Cynthia Tom, Madeleine Vietmeyer, Tina Vietmeyer, Sasha Vu, Liz Wallerstein, Rebecca West, Danielle White, Pien Yarborough, Joan Zamora.
Comment: That icon of anorexia, Barbie, gets sliced, diced, dismembered, drawn and quartered, twisted, torqued, sauteed, marinated, sanctified, politicized, mobilized, dioramafied, reinvigorated and revitalized into what many in the know consider to be San Francisco's single most preposterous display creative prowess. My favorite-- a revisionist view of The Last Supper-- everybody's got Barbie heads.
Chess set Barbie.


Corn cob Barbie.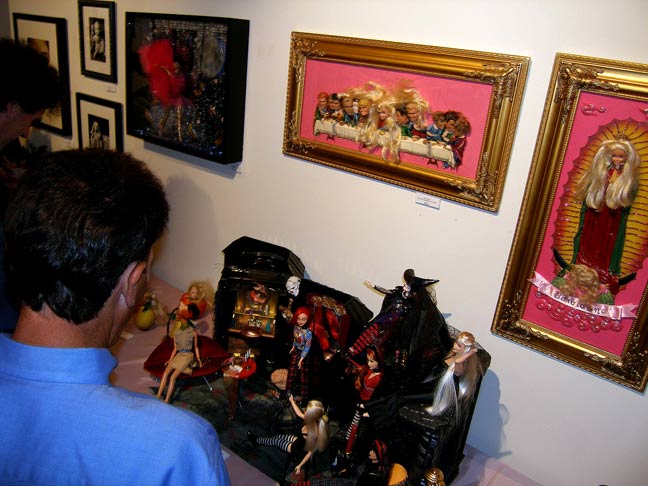 Last Supper Barbie.


Not sure.


Grotesque Barbie.


Diorama Barbie.


Miscellaneous Barbie.


***
111 Minna Gallery: Fecal Face Dot Com - The 125th Anniversary of the Internet.
Artists: Rachel Sumpter, Travis Millard, Ben Tour, Paul Urich, Michael Sieben, Kim Cogan, Mike Giant, Jeremy Fish, Shawn Barber, Chris Yormick, Dave Kinsey, Tiffany Bozic, Porous Walker, Deth P. Sun, Nathan Cordero, Jay Howell, Kyle Ranson, Ferris Plock, Oliver Halsman Rosenberg, Kelly Tunstall, Alika Cooper, Rebecca Miller, Anthony Skirvin, Bigfoot, Kelsey Brookes, Christofer Chin, Chris Corales, Ray Potes, Mars, Keith Shore, Dave Potes, Corey Arnold, John Casey, Tara Lisa Foley, Ryan Jacob Smith, Paul Urich, Sacha Eckes, Daren Rabinovitch, Josh Keyes, Aiyana Udesen, Henry Lewis.
Comment: Pick of First Thursday-- no question-- and perhaps Pick of the Decade. Why? Because everybody knows Fecal Face Dot Com, now inexorably etched into the San Francisco artscape. Don't believe me? I'm wandering the galleries, doin' my usual First Thursday rag, and they're all talkin' about Fecal Face at 111 Minna-- from the down and dirty to the hippest hepcats to the 49 Geary aristocracy.
The organizers tell me 1500 people turned out to pay homage tonight. I'm not surprised. No single entity has done more in recent years to define and present San Francisco's considerable creative community to the world than Fecal Face Dot Com. Hey-- we've arguably got the third largest art scene in the country (fourth in December when Miami edges everybody out). Maybe we should honor our art and artists rather than defer to sundry other scenes? Now you're gettin' the picture. That's what Fecal Face is all about.
If you want me to fill in any names, please email.
Art (Mike Giant).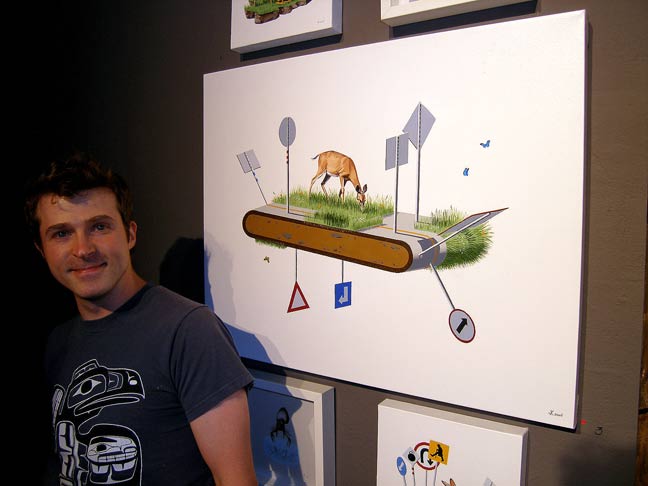 Josh Keyes - art (somebody give this dude a show already).


Art (Bigfoot, upper - Henry Lewis, lower).


Art (Kelly Tunstall + Ferris Plock).


Art (Sacha Eckes, three on the right).


John Casey - art (like 'em).


"Plane Wreck Restaurant" (Porous Walker - love it).


Ron Turner - Matt Gonzalez.


Fashion.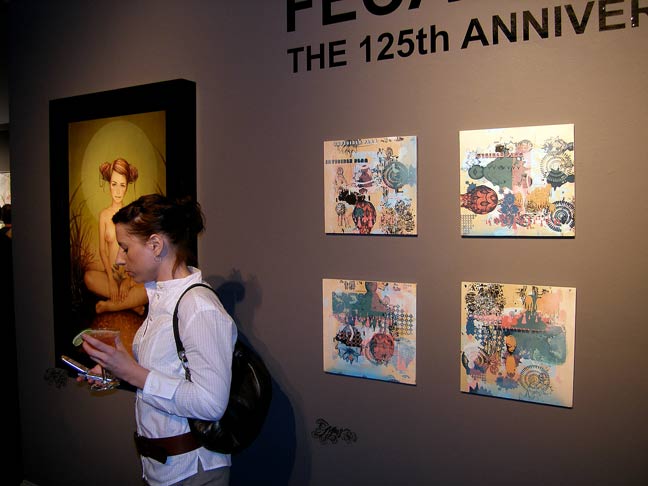 Art (Tiffany Bozic, left - Mars, right).


Art.


John Trippe - Fecal Founder.


***
Addendum:


Marce la Taboada Oaxaca photos at FiftyCrows.


One more from FiftyCrows - Social Change Photography.


Gallery artists at Urbis Artium Gallery.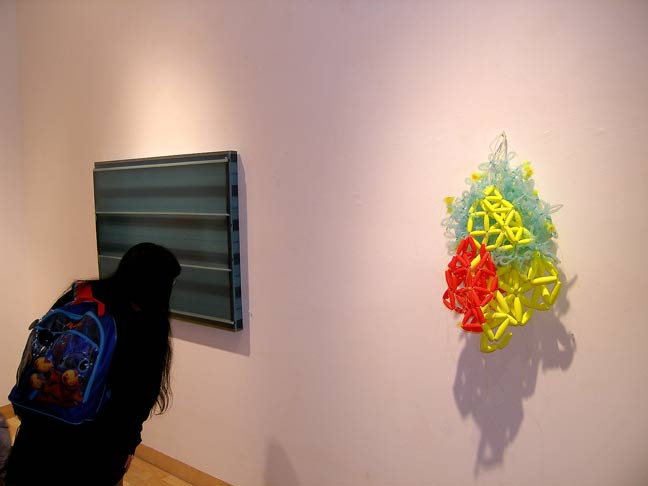 Gallery selections at Don Soker Gallery.


Don Soker Contemporary Art Gallery - one more time.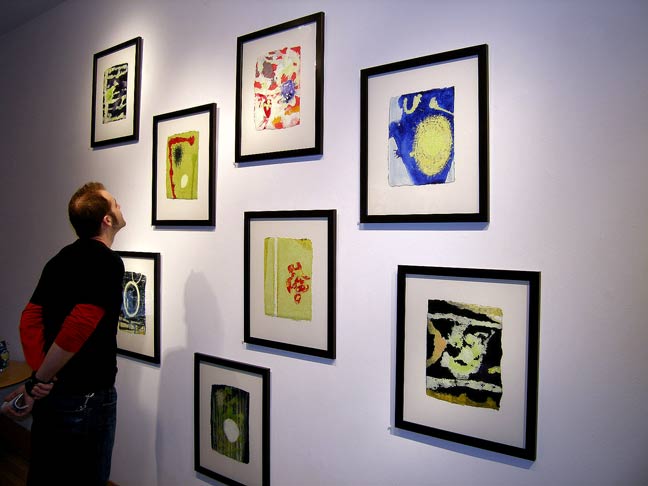 Jerrold Burchman abstracts at Toomey Tourell Fine Art.


One more from Jerrold Burchman at Toomey Tourell Fine Art.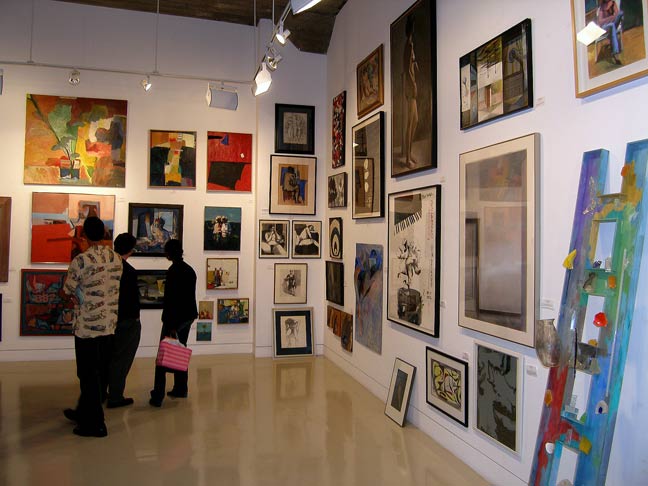 Vintage varietals at Art Exchange Gallery, 49 Geary, 4th Floor.


Australian outsider art at Jack Fischer Gallery.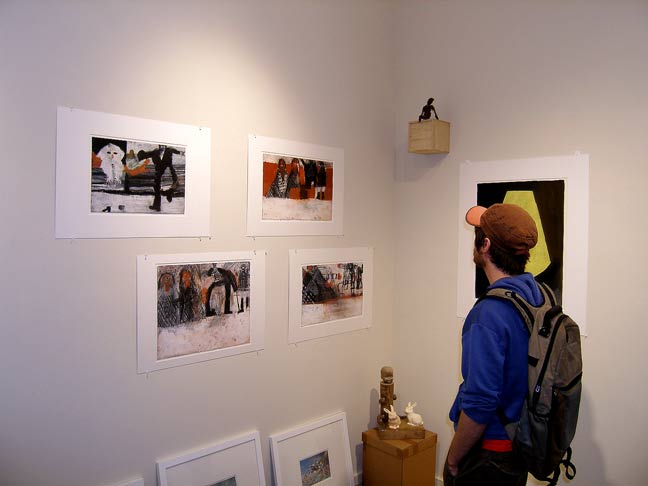 One more outsider art from Australia at Jack Fischer Gallery.


***
There you go. If you find yourself with nothing to do, maybe take a brief moment to support the cause. You get a free link for your efforts.
***