SAN FRANCISCO ART GALLERIES OPENINGS
FIRST THURSDAY 09.07.06
REPORTED BY JOSEFINA POSCH
General comment: Since the September 7th openings in San Francisco is my first First Thursday experience, it's hard for me to compare, but it's a large and loud crowd, at least at 49 and 77 Geary. Everybody seems full of expectations and exited that the Art Season has finally started. The evening has the overall feeling of first day of School. Generally I'm very impressed with the high craftsmanship in the work shown and the genuine interest the public shows in the art. People actually LOOK at the art and discuss it among each other, which comes as a shock to me after spending 3 years in Miami.
***
Frey Norris Gallery: David Linn - Gathering Light.
Comment: The exhibition was described as a transformation of the gallery space into a labyrinth full of discovery and contemplation. With this in mind I was exited to see the work, but to my disappointment it was just a regularly hung gallery show (?). Maybe if I had not come with this pre-conceived expectation I would have been more impressed with the work. The crucifixion pieces "Purpose" drew my attention and had their size been larger that life they probably would have touched a spiritual part of me, which is rare in contemporary art. The meditative feel of the 3 screen video piece wanted me to pull up a couch and stay for a while.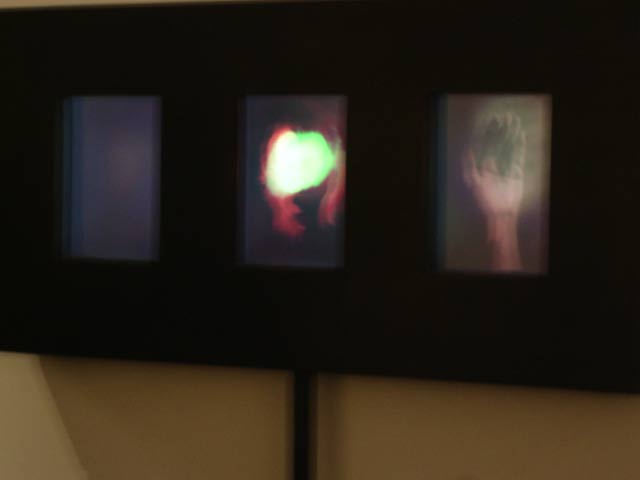 3 Screen Video piece.


Walking Sticks.


***
Jenkins Johnson Gallery: Constructed Illusions.
Artists: Julie Blackman, Lori Nix, Francesca Sundsten.
Comment: Lori Nix's photograph of a flooded (toy) suburban street is convincing and works well as a Katrina Anniversary reminder that natural disasters are not a child's play.
Art (Lori Nix).


Art (Francesca Sundsten).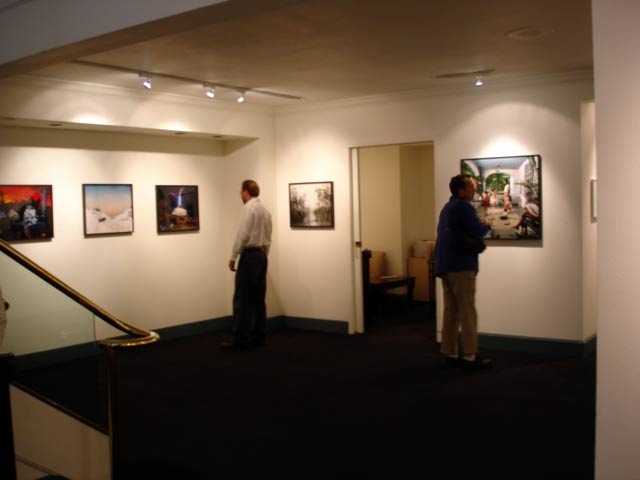 Circumstance.


***
Hackett Freedman Gallery: Milton Avery - Selected Paintings; Brian Wall - A Survey 1958-2006.
Comment: As are many of my fellow Gen X'ers, I am hopelessly nostalgic for the 50's and enjoyed Milton Avery's paintings' ability to transport me back in time while at the same time striking me as amazingly contemporary.
Art (Milton Avery).


Art (Milton Avery).


***
John Berggruen Gallery: William Wiley - Caught in the Rap Sure.
Comment: This was my absolutely favorite exhibition of the evening. The colors, drawings and text blend into a visually exiting opera with the added bonus of the conceptual being political and social issues. Not familiar with Wiley, my instant reaction upon seeing his work was that finally someone has taken the all so popular style of artists in their 20's and actually induced it with draftsmanship, excellent color sense and foremost a sense of depth and insight. Realizing that Wiley is a mature artist proves the notion that practice makes perfect and that life experience is not a 101 course at art school.
Art (William Wiley).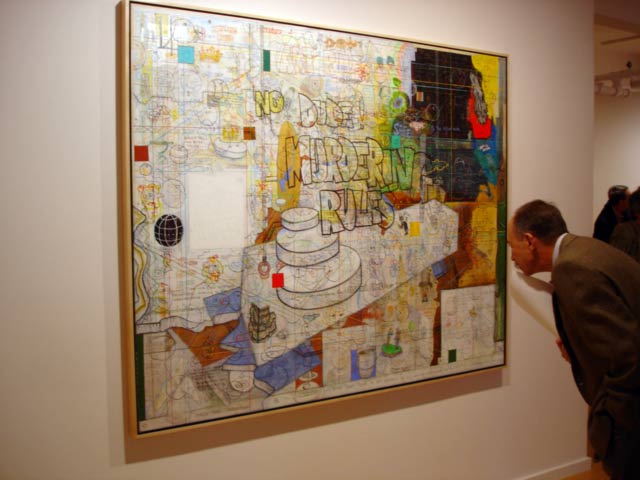 William Wiley's work is worth a closer inspection.


***
Gallery Paule Anglim: David Hannah (main gallery; Ann Chamberlain (project room).
Comment: At Paul Anglim I went straight for Ann Chamberlain's installation in the project room. It drew me like a visual magnet from the top of the stairs upon entering the gallery. The simple installation encompassing paper, red thread and thumb tags appealed to me on a personal level. Part of the almost too much talked about Globalized Art World I am always ready to go (anywhere) and seem to constantly carry my passport in my back pocket. The red thread reminding me of the 6 degrees of separation that connects us all, if Disney thinks it's a small world the global Art World is even smaller. The fact that the "island" shapes does not carry any resemblance to actually existing countries keeps the mind busy while one instantly tries to match the shapes with known geographical locations only to finally realize there aren't any and that this is not important. The only thing that made me long for more was that the piece was untitled, but again maybe that was the point.
Art (Ann Chamberlain).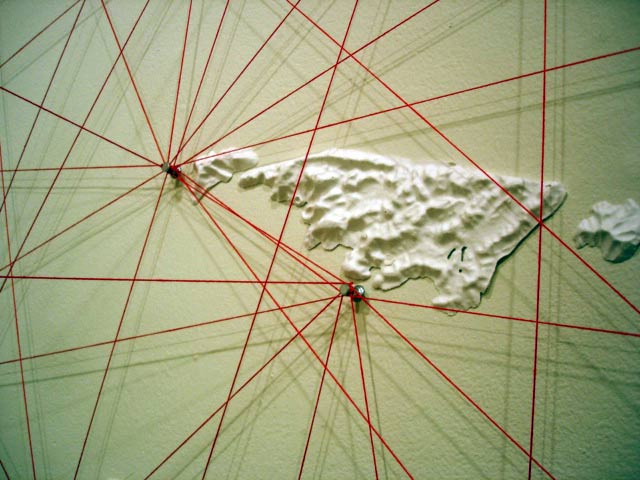 The thread that connects us (Ann Chamberlain).


***
Rena Bransten Gallery: Joseph Park - Amagansett; Visionary Output - Work by Creative Growth Artists.
Creative Growth Artists: Tern Bowden, Kimberly Clark, Gina Damerell, Kerry Damianakes, Louis Estape, Rosena Finster, Dan Hamilton, Daniel Miller, Donald Mitchell, Charles Nagle, Aurie Ramirez, William Scott, Dinah Shapiro, Gerone Spruill, William Tyler, Ronald Veasey.
Comment: The 32 year old Creative Growth Art Center is the world's first independent visual art center for adults with developmental, physical, mental and emotional disabilities. The group exhibition featured a wide spectrum of media most of it quite interesting, my favorite was the excellent self promoter and in her own words "A Real Jewish Lady" Dinah Shapiro and her ceramic earth spirit sculptures.
Real Jewish Lady Artist Dinah Shapiro
and her Earth Spirit Sculptures.


***
Heather Marx Gallery: David Hevel - Fierce.
Comment: David Hevel's work is a fantastic explosion of over the top animal sculptures draped in "bling bling". Influenced by Jeff Koons, Martha Stewart and the baroque. The work also vaguely recalls another bay area artist Christina Rodriguez Lee's flower arrangement sculptures; Hevel has taken it a step further and put them on testosterone, which successfully adds a sense of action. Even though the sculptures work great just as playful visual eye candy, the artist has taken the opportunity to add another dimension to the work through the titles that are all popular-culture celebrity names. Go and see this exhibition!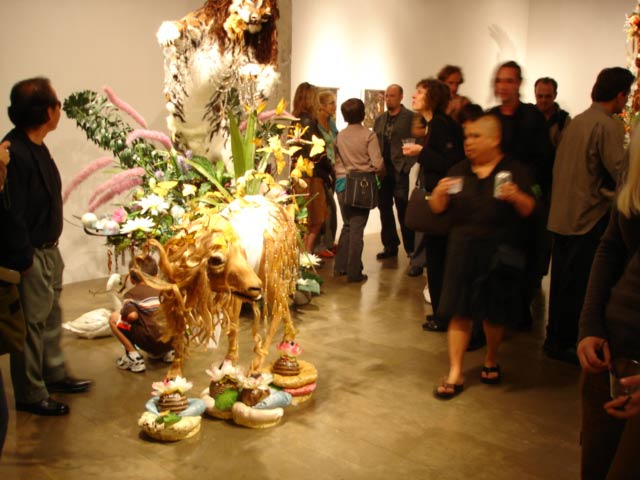 Cat fight anyone?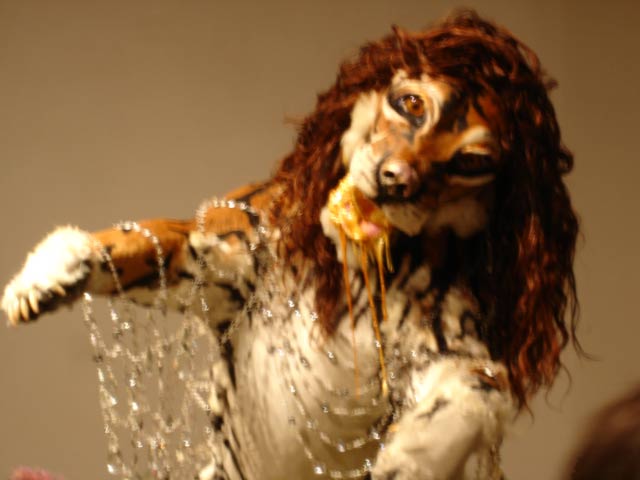 Art.


***
Catharine Clark Gallery: Julie Heffernan (main gallery); Lincoln Schatz - SLIP (video room).
Comment: Julie Heffernan's beautiful fantasy "self-portraits" are a cross between baroque and surrealist influences. While the detail is extraordinary the large paintings extrude a soothing dreaminess when viewed from afar.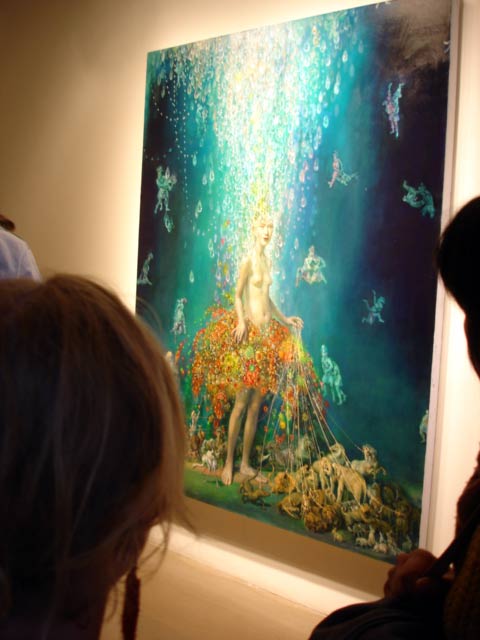 Julie Heffernan's "Self-portrait as Tender Mercenary."


***
Steven Wirtz Gallery: Shawn Smith - In All Probability; Hadi Tabitabi -Interior Spaces.
Comment: Upon entering the galllery I was instantly transported back to my fondest childhood memories of visiting Legoland in Denmark and my obsession with the little plastic cubes that followed. Upon a closer examination, Shawn Smith's animal sculptures reveal to be made out of wood blocks and not actually Lego blocks. Maybe because of this visual trickery or simply because the visual 3D impact seems to work better, I found the all-natural colored "Moose Heads" to be the most successful pieces.
Art (Shawn Smith).


***
Steven Wolf Fine Arts: The Odyssey - A Hamburger Eyes Photo Exhibition; Theresa Ganz - New Work.
Comment: The group exhibition of the San-Francisco-based photo collective Hamburger Eyes raw spontaneous account of "the continuing story of life on earth." While I was there it was too crowded to actually see most of the work. Have to come back.
Photos and photo folks.


***
Gregory Lind Gallery: Sarah Bostwick - Grand Apartment, Inlaid Drawings.
Comment: Sarah Bostwick - Grand Apartment, Inlaid Drawings.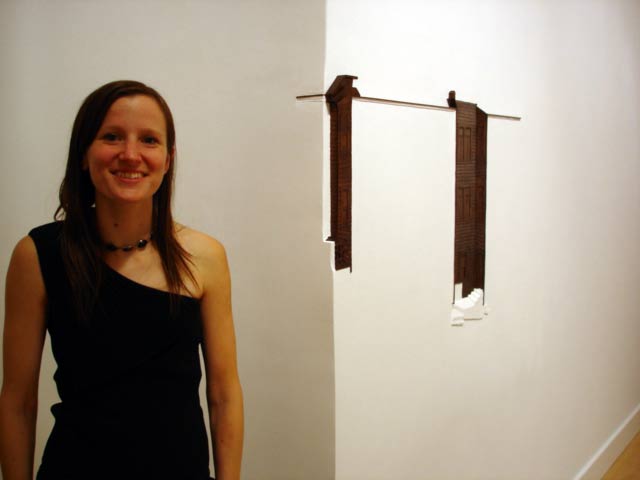 Artist Sarah Bostwick with her delicate wall relief.


Art.


***
111 Minna Gallery: Dandelion Black - Flesh.
Artists: Norma Cordova, Angela Decenzo, Michelle Gibson, Marianne Larochelle, Amanda Lopez, Linda Nguyen, Tonya Silver.
Comment: In the entrance of 111 Minna hang Marianne Larochelle's photographs of a no-faced man wearing women's pantyhose clutching a Siamese cat. The artist is in L.A or Montreal or at least not present, so I could not get any more information regarding this piece that captured my interest. Norma Cordova on the other hand is there. Her paintings start as storyboard sketches inspired by the fashion world and especially French photographer Guy Bourdin.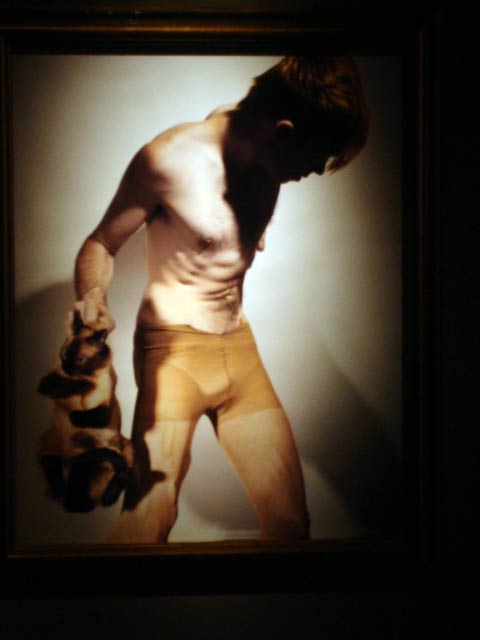 Marianne Larochelle Photography.


Artist Norma Cordova with her work.


Photography (Norma Cordova).


***
First Thursday; August 3, 2006