SAN FRANCISCO ART GALLERIES OPENINGS
FIRST THURSDAY 09.07.06
REPORTED BY SANDIP RAY
Hespe Gallery: Mitch Temple - Animal; Ethan Diehl.
Comment: Mitch Temple's paintings are colorful in depicting the every day on a scale resembling Chicano art. What Temple manages to show us are contemplative spaces full of emptiness, captivity, distance, and silence in spite of all the clamor of color within which such moments are captured-- an empty playground, a majestic bird held captive, a high wire balancing act over a den of lions.
In meaningful contrast to the above is the inclusion of a painting by Ethan Diehl called Beckon. which seems to be exploring similar themes, but in grey scale, as seen through the colorblindness of the painter. Whereas Temple's subjects are behind a mask, or far away, or missing in action, Diehl's subjects are embarrassingly close, and so literally close you can see the pixel intensities projected onto the canvas, and yet he manages to pull off as much sharpness into the picture as a Lesende by Richter. In Diehl's fantastic painting one is made privy to a private moment of the subject in a moment of self reflection and perhaps more interestingly self recognition, where the instant is paused.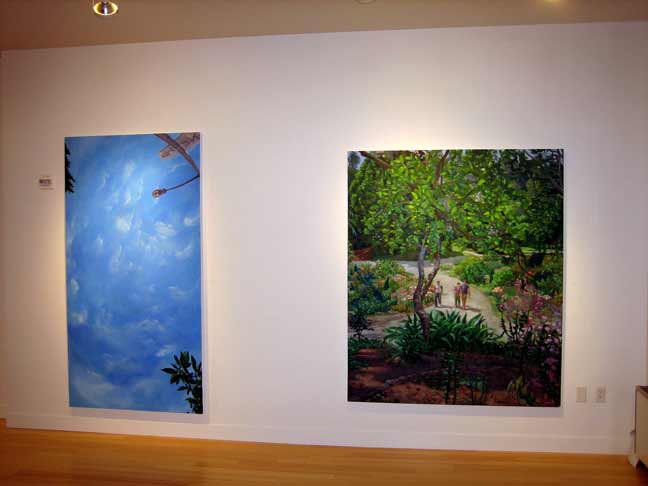 "Sky Woof-Woof Harp" and "Mirage" (Mitch Temple).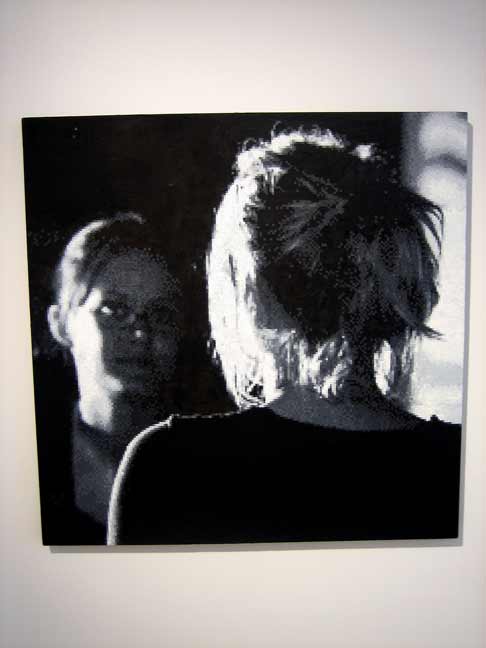 Beckon (Ethan Diehl).


***
Newmark Gallery: Larry Morace ­ Public Space, Private Space.
Comment: Morace presents sunless cityscapes in electric colors, depicting dangerous intersections, congested streets and turns, where the periphery is bound by claustrophobic buildings as though the streets were a maze as far as the eyes can see, reminiscent of William Blake's poem London. Interestingly, these cityscapes seem quite tenuous and wobbly, lacking rigidity, pointing towards a possibility of escape from the labyrinth of city life.
Cool shirt.


***
Catharine Clark Gallery: Julie Heffernan.
Comment: Baroque anachronism may be a way to describe Heffernan's oils, large and small, to which one might also add the word Green, because of the extraordinary iteration of fruits, meats, produce, vines, birds, flowers in her compositions that surround, clothe, flutter around, and shower the boyish women, Dionysius-like, occupying center stage. Now, the anachronisms in these paintings are sometimes obvious to the eye such as the Romans and Native American in the Self-Portrait as Dead Meat II, and sometimes as playful to find as Waldo as with the Hindenburg blowing up deep in Self-Portrait as Tangled Nest, but these anachronisms are also Apollonian, projectile oriented (read gun totin', bow shootin', air bound), that is to say males, killing and maiming each other and other animals over the ages. These painting are so pretty and baroque that one needs to find something sick about them, and Hefferman does not disappoint.
Self-Portrait with Bird Shit in My Hair?


Self-Portrait as Tender Mercenary.


***
Jack Fischer Gallery: Deborah Barrett ­ Facing The Mask.
Comment: Barrett's collages with graphite on paper are Picassoesque. At least one of the kidney shaped profiles is collaged from 18th century engravings made by the Bassets, famous for depicting religious imagery for consumption by the unsophisticated masses in Paris, while other collages incorporate that other most famous engraving for mass consumption, currency. In these collages sometimes the delineations between the engravings for currency and religion are not to be found which makes Barrett's work clever and coherent.
Picassoesques.


***
John Berggruen Gallery: William T. Wiley ­ Caught in the Rap Sure.
Comment: As the title of the show might suggest, there is a lot of text in Wiley's paintings, which can be described as a palimpsest. Large swaths of canvas have no paint and contain maps and meridians and text written in charcoal, whereas other parts of the canvas are colored with layers of acrylic and then written and drawn over with lines of paint interpreting and re-interpreting American history and much else. Wiley's sculptures are also suggestive of the same Archimedean principle, where what may have been lying around the studio has been scraped together instead of being scraped away to give way to new creations, and new ideas.
Palimpsests.


Cabezablanca, dude.


***
Gallery Paule Anglim: Ann Chamberlain.
Comment: On three walls are a scattering of island topographies rendered in 3-D and interconnected at the shore points by red lines. On the fourth wall of the installation is an oversized page from a log noting date, time, and painful lines devoid of detail. The two pieces are similar in that they are both devoid of a narrative, in essence we do not know what direction one travels or at what times, in the lines between these imaginary islands, just as we do not know what events occur at the times noted in the log. The two pieces are different in that the maps are a proposition of space, whereas the log, of time; together a dialectic of position. Chamberlain's work is brilliant.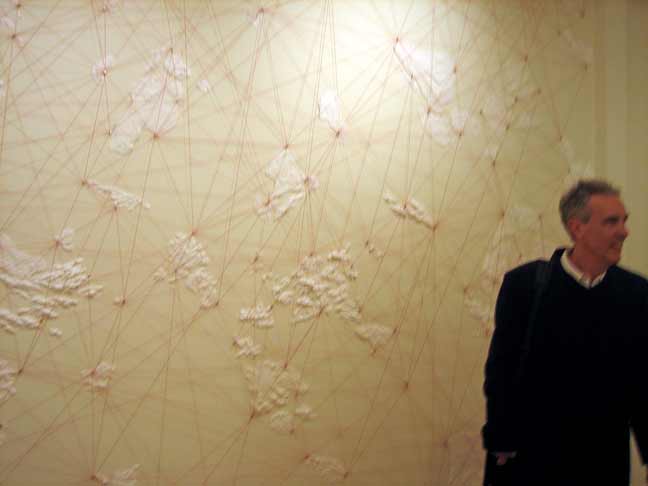 Imaginary islands.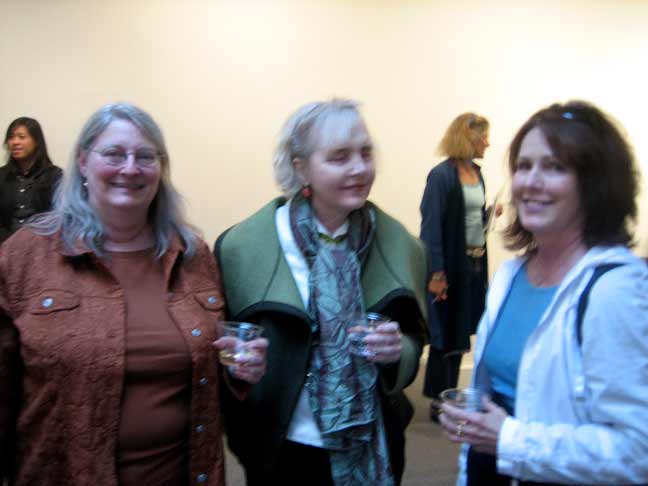 Chamberlain and friends.


***
Masterworks Institute for Works on Paper: Abundance - Patter Hellstrom.
Comment: First of all it is always refreshing to see gouache on paper, and Hellstroms's calligraphic influence takes bold gambles which pay off in the perfect execution of dynamic displays of harmonious circles, straight lines, spatters of colors fading into thin diminuendos, lines bleeding into tributaries.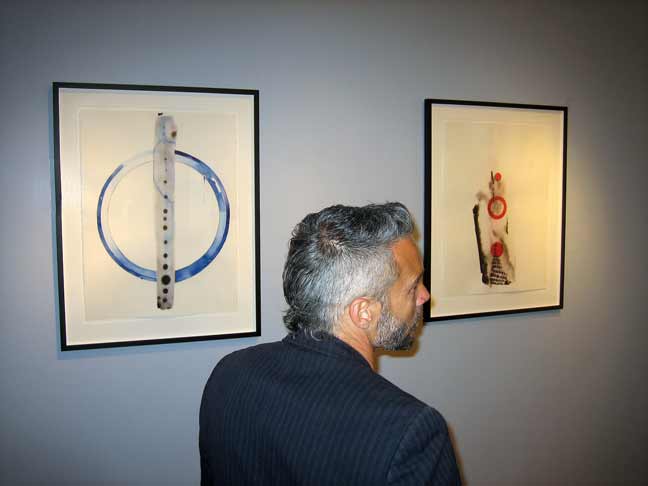 New works by Patter Hellstrom.


***
Brian Gross Fine Art: Patrick Wilson - The Chandler paintings.
Comment: Wilson is adept and skillful in creating superimposed planes of color and light with absolutely fantastic gradient schemes; but there is no narrative.
Art.


***
Patricia Sweetow Gallery: David Huffman - Pyramid Dreams.
Comment: In an ashen landscape of barren trees, pyramids of basket balls, prison watchtowers, Brothers in space helmets playing street hoops on one end and meditating on the other (Get Up and Get Down) is a comical representation of the influential assimilation of eastern practices and beliefs on hip hop culture by groups like the Wu-Tang Clan and their more ghetto counterparts like NWA as the MO for surviving environmental blight and damage perpetrated upon blacks in America.
Get Up and Get Down by David Huffman.


***
Haines Gallery: Binh Danh ­ Ancestral Altars.
Comment: Branch of a family tree, orphan leaves, lost leaves, disappeared leaves, leaves of a family album, these form the altars for Chlorophyll prints of Danhıs subjects, printed on the leaves themselves, sometimes miraculously brought back to life with a beautiful butterfly.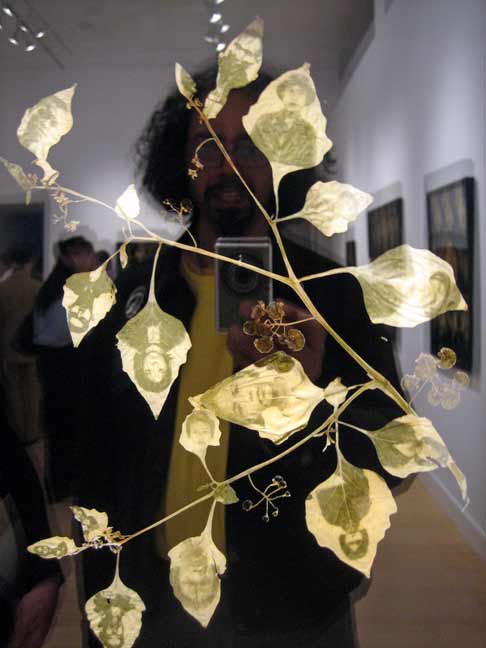 Chlorophyll print.


***
First Thursday; August 3, 2006