SAN FRANCISCO ART GALLERIES OPENINGS

FIRST THURSDAY; 09.03.09

(with assistance from Kathryn Arnold, RWM,

DeWitt Cheng and Pakayla Biehn)



Comment by AB: There's actually two First Thursdays this month. This is the First First Thursday. The second one's coming soon....
***
Jenkins Johnson Gallery: Wes Hempel - Tied to the Past.
Comment by AB: Wes Hempel confronts masculinity, male identity, and male sexuality head-on in a deliciously uncompromising series of paintings chronicling the exploits of handsome hunky noble idealized and occasionally mythological protagonists. The compositions are classic, the quality is superior, the issues are now, and the agenda demands reflection.
Paintings by Wes Hempel.


Wes Hempel paintings.


Wes Hempel - art.


Other than manly art by Wes Hempel.


Paintings by Wes Hempel.


***
Frey Norris Gallery: Mary Anne Kluth and Laurel Roth - Theory of the Unforeseen.
Review by Kathryn Arnold: A really very nice exhibition and the pairing of these two artists creates dichotomous viewing-- a pleasure as one allows the parts to create the whole, like in a David Salle painting. However neither of these artists' works brings to mind David Salle actually. These artists are tied together by interest in science and nature.
Kluth's two-dimensional works are in many cases on almost white backgrounds, a splattering of paint reminiscent of Pollock (but on paper with watercolor and acrylic), with colors separated as if by interferometer (I had to look this up!), along with collaged figures inhabiting the lower sectors of her works. Appearing fragile and luminescent, her art creates a sense of the unseen as the apparent search goes on for ETs, extraterrestrial intelligence. Imaginative way to cull a variety of imageries and methods to consequence meaning.
Laurel Roth crafts gorgeous skulls and other elements out of sanded and polished hardwood-- reminding of furniture-making at its best-- and in this is the puzzle. The animals' remains she references are today's common farm species, but embellished with what look like jewels and gems, at times laying them out inside of a meticulously crafted box. These seem to create a permanent remembrance, almost coffin-like, which may carry rich meaning into our future if we no longer rely on these animals to provide food.
The fighting peacocks (also by Roth) are a must see-- with their allusions to Whistler, Tiffany and Asian works-- I could not get enough of them. Once again, meticulously crafted but here the artist has thrown aside the finely finished hardwood and brought together vast amounts of materials you can purchase at an ordinary store. Brilliant!
Comment by AB: Superb work on both counts. Laurel Roth's sculptures are stunningly painstakingly perfect while Mary Anne Kluth's firecracker watercolors with collage on paper just keep gettin' better. Pick of First Thursday.
What it is. Art by Mary Anne Kluth (left) and Laurel Roth (right).


Wood sculpture by Laurel Roth closer (like it).


Wood sculpture by Laurel Roth closer (like it).


Mixed media sculpture by Laurel Roth (like it).


Laurel Roth - art.


Art by Laurel Roth (woah!).


Detail of art in above image (photo c/o Kathryn Arnold).


Detail of art in above image (photo c/o Kathryn Arnold).


Sculpture detail of art by Laurel Roth (photo c/o Kathryn Arnold).


Art by Laurel Roth.


Art by Laurel Roth (left) and Mary Anne Kluth (right).


Mary Anne Kluth - art.


Art by Mary Anne Kluth.


Art by Mary Anne Kluth.


***
Noma Gallery: Play With Your Own Marbles - Walead Beshty, Karl Haendel, Patrick Hill.
Review by Kathryn Arnold: NOMA has curator Betty Nguyen bring together the work of three Los Angeles artists. The exhibition is unified in grays, blacks and whites, with subtle hues creating a strong formal visual sensation.
At first I'm not sure what I'm viewing in terms of medium while observing Karl Haendel's drawings, because no way would someone do gigantic graphite pencil drawings, but for sure that is what they are... and on paper too. With excellent quality. The drawing on the floor (see photo) looks so 3D and real, fantastic trompe l'oeil effect. I'm excited to see photograms being referenced by Walead Beshty-- these not exactly like Man Ray's, somehow Beshty's versions show the inside of the object, like an x-ray. The artist has captured very subtle gradations denying the commonplace nature of the objects portrayed. Patrick Hill uses actual cement to create his art. No question about the archival nature of this material-- think Ancient Rome! Timely medium too-- my understanding is that new ways are continually developed to use cement to create braver and more daring architecture, a good amount of which originate in LA. Technology remains at work with this common building material and here it is used in quite an innovative manner on canvas.
Comment by AB: Good show; worth a visit.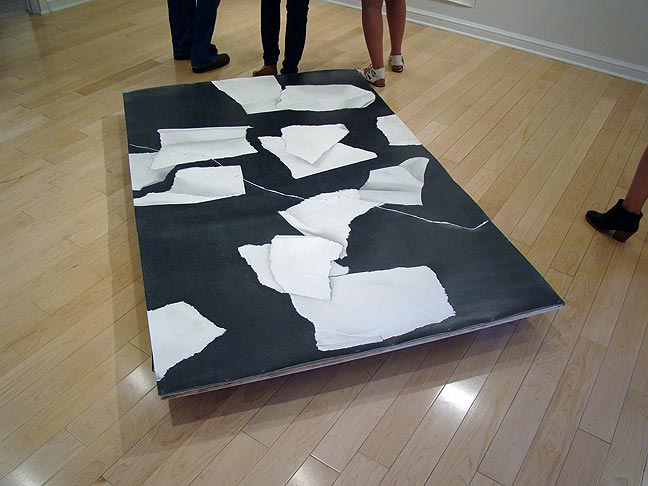 Karl Haendel pencil drawing.


Art by Karl Haendel.


Art in above image closer by Karl Haendel.


Art (image c/o Kathryn Arnold).


Cement art by Patrick Hill.


Art by Walead Beshty.


Walead Beshty art (image c/o Kathryn Arnold).


Art.


Overview.


***
A440 Gallery: Ames Anatomy.
Review by DeWitt Cheng: Bonnie Grossman curates this exhibition of "contemporary, visionary, intuitive, art brut, self-taught, and outsider artist" work from the Ames Collection in Berkeley. Great artwork, and worth visiting for longer than my few Kodak moments. We Bambergerians run so you can linger.
Fok art.


Folk art.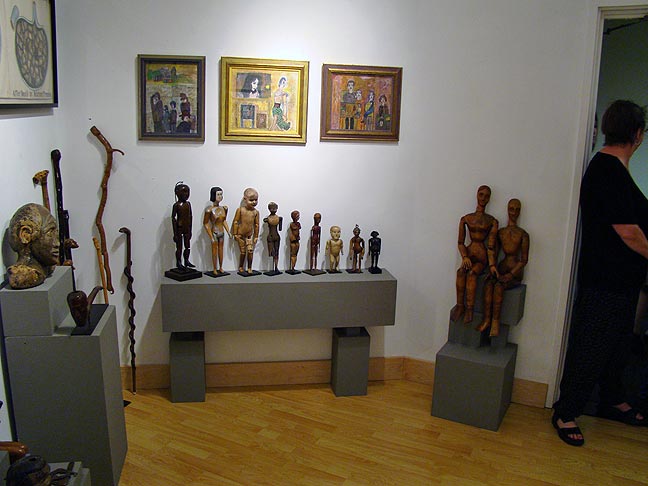 Folk art.


***
George Lawson Gallery: Clem Crosby - Recent Paintings; Tad Wiley - Water Log.
Review by DeWitt Cheng: Three, count 'em, three small shows happening at George Lawson Gallery (formerly Room for Painting Room for Paper): in the front room, Transfocus, photos by Tama Hochbaum, Keira Kotler, Susan Mikula, Jennah Ward, and Nina Zurier that play with abstraction and figuration; in the painting room, gestural abstractions in oil on formica by Londoner Clem Crosby; in the paper room, pastel abstractions by New Yorker Tad Wiley, collectively (and punningly?) entitled Waterlog.
Review by Kathryn Arnold: Packed house even the Thursday before Labor Day weekend, and in spite of the Bay Bridge's evening closure. London painter Clem Crosby and NY painter Tad Wiley have put together a group of works that fill the space. I regret that I only have brief moments to view the work and need to come back again to further examine, but Crosby uses paint to the max, paint as paint, paint as vehicle for transformation of the surface. Refreshing! And Evocative.
Comment by AB: According to the dispatch, Clem Crosby "is working at the radical center of a growing circle of painters who accept the accumulated legacy of art history and contemporary culture in their work, but without any traces of the irony that characterized a generation of appropriation." So does this mean he just plain appropriates? I dunno. Sounds more like escapades in hoity-toity abracadabra claptrap to me. They're abstract paintings. OK? And they're good-- atypically conceived via paint on formica mounted on aluminum, enhanced with revision, erasure, overlay, and stuff like that.
In the vestibule, Tad Wiley "works in a vernacular that is pre-linguistic, but nonetheless akin to Melville's, although his touch and sense of architecture may call up to California eyes affinities with another painter inspired by proximity to the ocean, Richard Diebenkorn. There is also more than a hint of another shore, and the art of the Kwakiutl..." and so on and so forth. Hmmm. I wonder whether Melville and the Kwakiutls know about this. Yet another flare-up of florid flatulence. They're abstract paintings. OK? Dudes-- think about us ordinary everyday folks who happen to like art, but don't happen to have advanced degrees in it. A plain direct straightforward intelligible intro for the proletariat can work wonders. Kindly come down off the mount, save the palaver for the poof balls... and keep it private. There's absolutely no reason to baffle the planet. Sheesh.
Paintings by Clem Crosby.


Art (Clem Crosby).


Art by Clem Crosby.


Art by Tad Wiley.


Tad Wiley art.


Paintings by Tad Wiley.


Photography by Nina Zurier in the front room.


***
Sculpturesite Gallery: Bella Feldman and JP Long - Dialogue
Comment by AB: Bella Feldman shows a series of what you might call sculptural paintings incorporating ingredients as diverse as pastels, digital prints, glass, paper and steel. Complementing these unique wall works is a selection of industrial strength glass and metal sculptures-- impressive combinations of grace, power and delicacy. To top it all off, Zak Timan's pure crystal clear mixed media glass and metal pillars are certain to impress.
Mixed media art and sculpture by Bella Feldman.


Art (Bella Feldman).


Art (Bella Feldman).


Art by Bella Feldman.


JP Long sculpture (I think).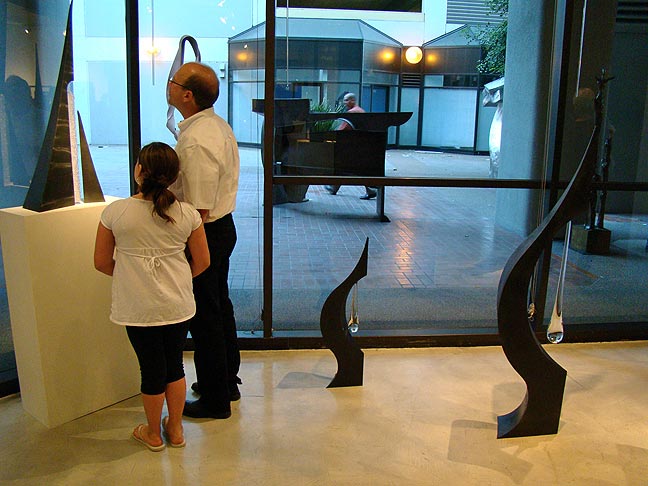 Sculpture by JP Long.


Sculpture by JP Long (I think).


Sculpture by Zak Timan.


***
Hangart Gallery: Framed - A Group Exhibition.
Artists: Liz Maxwell, Jenny E. Balisle, Angela Simione, Jessica Martin, Lea Feinstein, Addie Shevlin, Michael Shankman, Fain Hancock.
Comment by Kathryn Arnold, images c/o Hangart: An impressive array of works by Gallery artists.
Art by Liz Maxwelll.


Art by Jenny E. Balisle.


***
Ever Gold Gallery: Lucy and Mark Mulroney - Can You Believe It, We Almost Got Divorced.
Comment by AB: Mark Mulroney pilfers the expressive heads of characters straight off the pages of Archie comic books and re-casts them into the most ludicrously luridly lewd scenarios imaginable. If you're completely at ease around crazed carnality and copulatory folly, plus you've got a sense of humor, then this adventure in erectile high jinks, torrential cleft, spanky panky, and bunghole reconnaissance is not to be missed. In the rear gallery (no pun intended), Lucy Mulroney presents an innovative investigation in portraiture. Plus this snippet of good news-- almost everything's priced under $300, and plenty under $100. I'm inclined to say buy.
Naughty art by Mark Mulroney.


Mark Mulroney art.


Art by Mark Mulroney.


Art by Mark Mulroney.


Lucy and Mark Mulroney.


Art by Lucy Mulroney.


Lucy Mulroney art.


***
SOMArts Gallery: Monumental Rememberance.
Artists: Elio Benvenuto, John Almond, Jenny Badger Sultan, Lydia Macchiarini Benvenuto, Fred Brayman, Luis Cervantes, Susan Cervantes, Michael D. Cookinham, Vikisa Feinberg Gaspers, Jenny Hunter Groat, Josie Grant, Norma Kaline, Gail Nanao, Kenji Nanao, Ernest Rivera, Henry Sultan, Susan Tibbon, Shane Weare, Ansell Wetterstein and June Yokell.
Review and images by DeWitt Cheng: This large group show, part of SOMArts' 30th Anniversary celebration, revisits the San Francisco Arts festival, an annual civic art extravaganza run by sculptor and SF Art Commisssion program director Elio Benvenuto from the1950s through the 1980s. Artists of a certain age may remember the pennoned tent pavilions and the plywood display boards that filled Civic Center every summer; some may also remember reading reviews of the event by SF Chronicle art critic Thomas Albright. (OK, no more neo-Caenite nostalgia!) Some of the tents are on display here, as is artwork once shown at the festival (selected by Ernest Rivera).
Comment by AB: Among the works on display are some cherry examples recalling San Francisco's Hippie heyday.
Elio Benvenuto and his sculpture.


Seventies memorabilia.


Reny Robles and artwork.


Untitled works by Elio Benvenuto.


More sculpture by Elio Benvenuto.


Henry D. Sultan and "Grid and Mandala."


Linda Ware, "Nocturne" & "Winged Unicorn" by late husband, Charles S. Ware.


John Almond with "Cyborg's March."


Almond (center right) was curator at the old Capricorn Asunder Gallery on Grove St. (now closed as seismically unsafe, but still used for window art displays), a precursor of the current SF Arts Commission Gallery at Van Ness and McAllister, in the old SFMOMA bookstore space. Here he chats with current Arts Commission people.


Jenny Badger Sultan and art.


Artists and honorees (the women at left are Benvenuto's daughter and niece, respectively).


Benvenuto's grandson.


Producer Tom Mazzolini (founder of the SF Blues Festival) remembers the old days of the Art Festival, which included big-name music acts.


John Rampler and "Riverbank."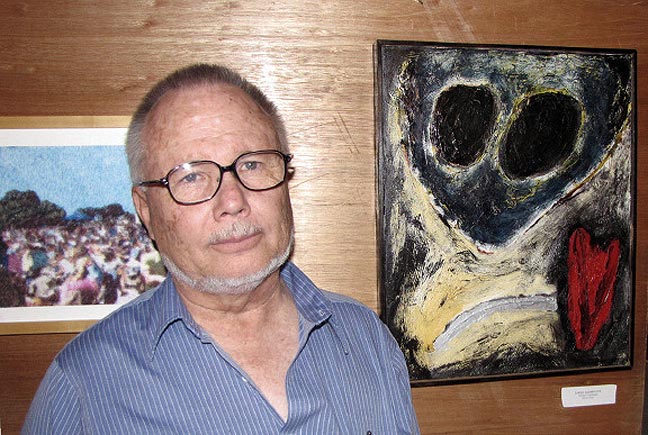 Michael D. Cookinham and "Lovely Lizard Lore."


Rene Yañez and "Smile Now Cry Later."


Susan Tibbon and "Lizard Altar."


Josie Grant and "Elements."


Three generations of Benvenutos.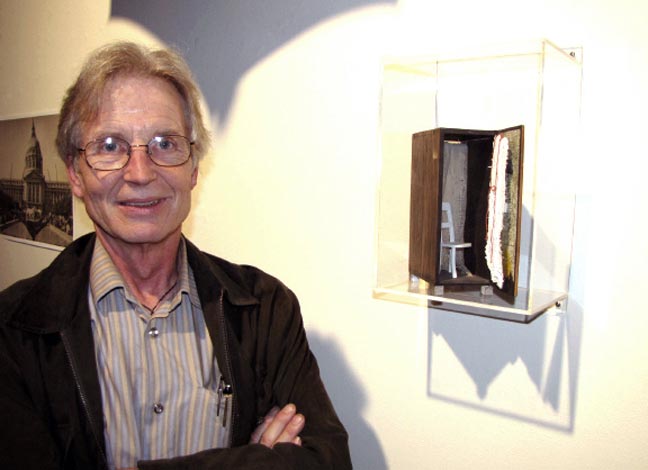 Ansel Wetterstein (another CAG curator) with "Reliquary for Buriel Clay," dedicated to his friend, a playwright who died young in the early 1970s.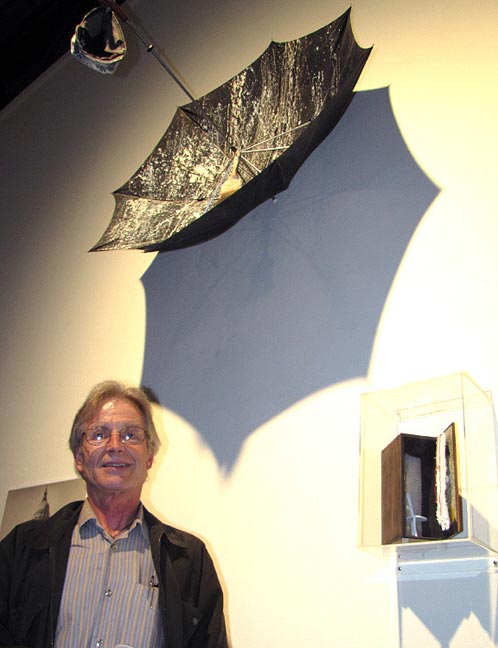 Ansel Wetterstein and art.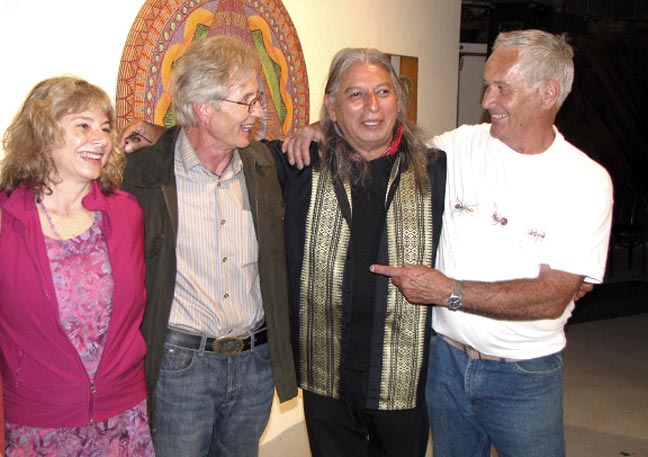 (didn't get name), Ansel Wetterstein, Ernest Rivera, John Almond.


Ernest Rivera and "Luminous Warrior."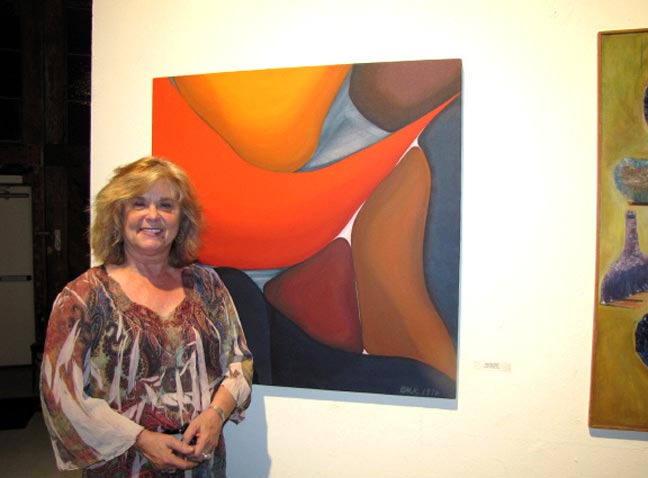 Betsie Miller-Kusz and art.


Bonnie Bisbee and "Annunciation."


***
Peanut Gallery: Works on Paper - Group Show.
Artists: Johanna Atkinson, Natalia Becker, Carissa Potter Carlson, Stephanie Constantine, Jesse Hlebo, Eleazar Lewis, Linze Russell Luna, Liz Peterson, Rye Purvis, Niki Shapiro, Jamie Spinello, Andrew Steiner and Kevin Zupancic.
Review and images by Kathryn Arnold: This is my second visit to Peanut Gallery and am pleased to be able to see this new exhibition put together by a two curators. The gallery is small, new I think, and located in SOMA. Great place; you should visit! Many of the works are in black, white, and shades of gray. Enticing mix of cut paper works, photography and even what seem to be cascades of paper chains. Love what this chaining piece does to the front window, warping and bending the figures within the gallery, creating an almost sci-fi feel. The individual links are cut and attached in such a way as to form the various shapes within the piece, while the use of black and white creates a sense of emanating light.
Art.


Art (image c/o Kathryn Arnold).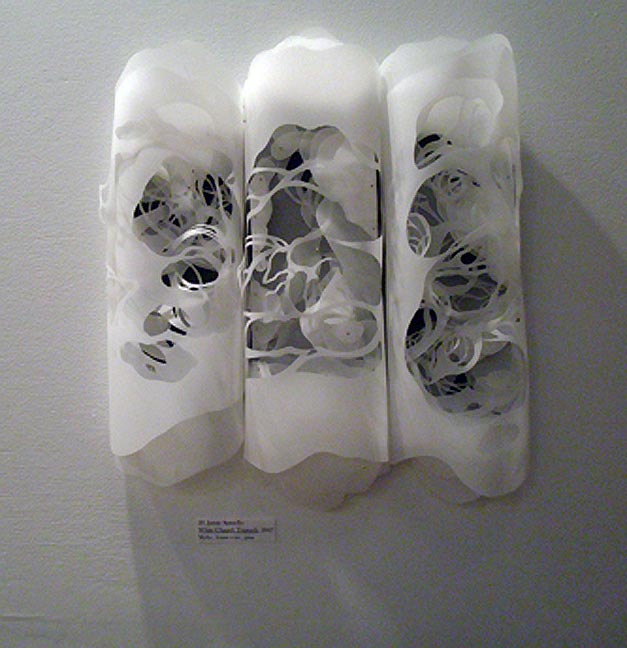 Art (image c/o Kathryn Arnold).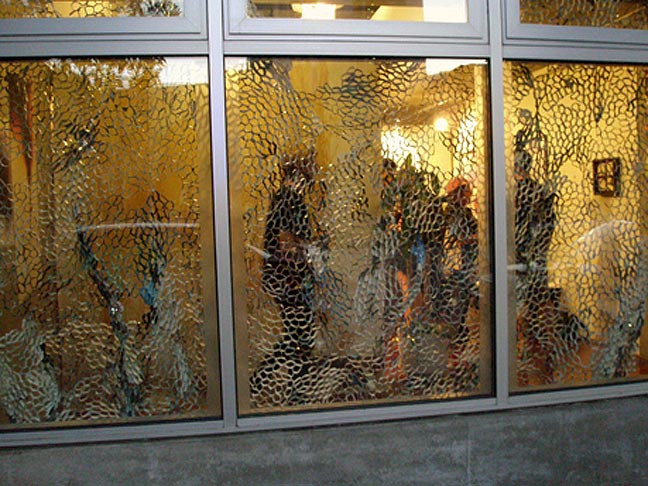 Art (image c/o Kathryn Arnold).


Artful chandelier hangs from the ceiling (like it).


Art.


Libation sector.


***
Fifty24SF: The Date Farmers - Strange Fruit.
Comment by AB: Carlos Ramirez and Armando Lerma, aka The Date Farmers, present yet another in a long line of fine paint, sculpture, and mixed media works which impact equally impressively individually as they do together. Ramirez and Lerma, as good with found materials as any artists out there, weave an urban tale rife with social, political, and cultural commentary and overtones. Yep!
Art by The Date Farmers - Armando Lerma & Carlos Ramirez.


Art by The Date Farmers - Armando Lerma & Carlos Ramirez.


The Date Farmers - Armando Lerma & Carlos Ramirez.


Art by Armando Lerma & Carlos Ramirez.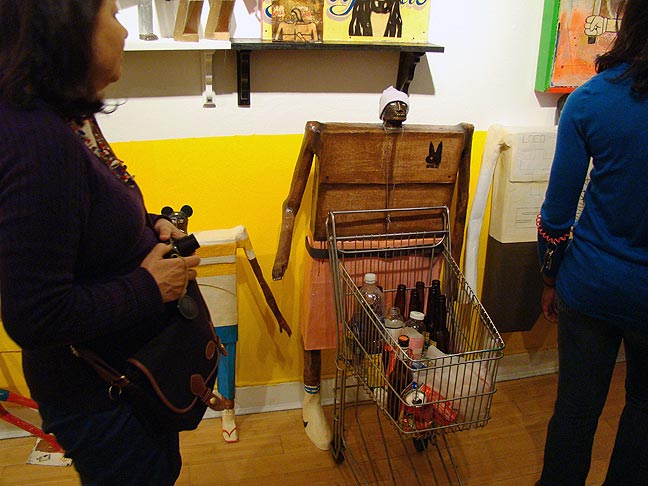 Art by Armando Lerma & Carlos Ramirez, The Date Farmers.


Art by Armando Lerma & Carlos Ramirez, The Date Farmers.


Overview.


***
Divisadero Community Gallery: Niki Shapiro - Common Fold.
Review by RWM: Fascinating use of folded paper to create structures and wall adornments. Color as well as shape and structure are displayed. Here one will find the stump of a tree growing up and out toward the ceiling, but not quite making it. Perhaps this is sort like the message not heard when a tree falls in the woods and nobody is there to hear it. Here that tree is displayed powerfully even though it may grow no more. One of the high points of the Divisidero Street Art walk.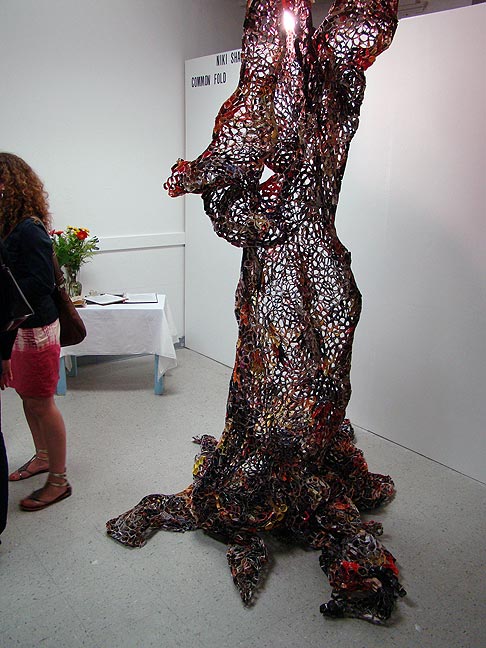 Installation by Niki Shapiro.


***
111 Minna Gallery: Neighborhood SF - Group Show
Artists: Akira Beard and Helen, Brett Amory, Adam 5100, Eric Bailey, Brian Barneclo, Welsey Burt, Coro, Nate Van Dyke, Jeremy Fish, Adam Flores, Matt Furie, Mike Giant, Colin Hill, Jay Howell, David Imlay, Sylvia Ji, Micah Lebrun, David Choong Lee, Ryan Malley, Mars-1, Ferris Plock, Romanowski and Lee Harvey Roswell.
Comment by AB: It's art all about our home town of Ess Eff-- nooks, crannies, upscale, downtrodden, beauty, inspiration, intoxication, realization, actualization, cosmicity, peace, piece, dreams, nightmares, history, politics, culture, and yet more. Definite go see for all who venerate da hood. Priced $25-$30K; something for everybody-- even rich people. And that, as they're generally inclined to say, is that.
Art by Jeremy fish (top).


Art by Eric Bailey (upper right) - Romanowski (lower right).


Art by Brian Barneclo (up) - David Imlay (lower center).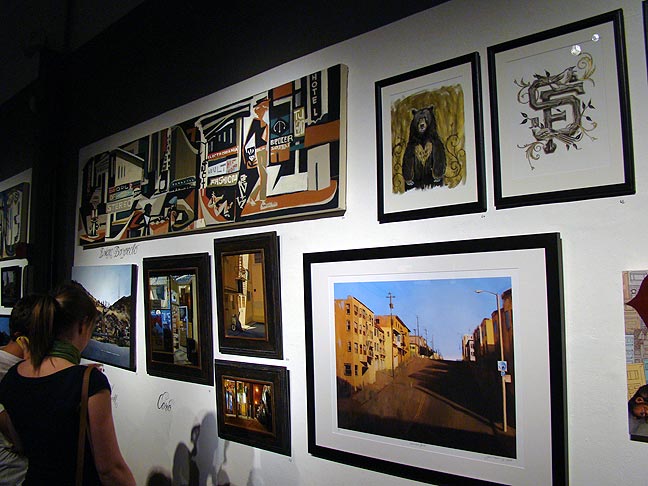 Art.


Installation reminds us to consider the people on the street.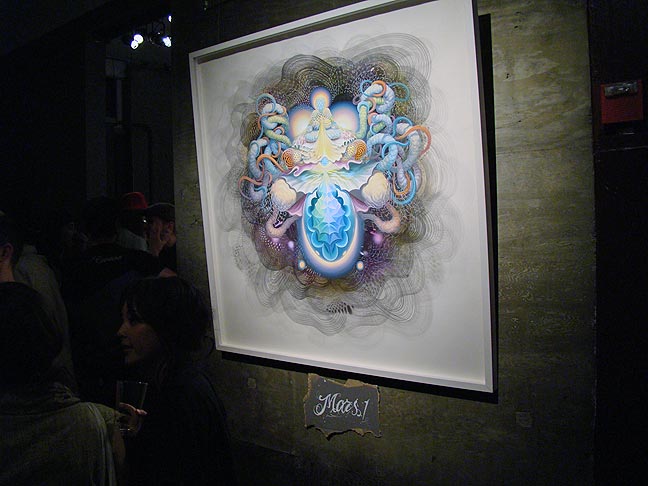 Art by Mars-1.


Art by Coro.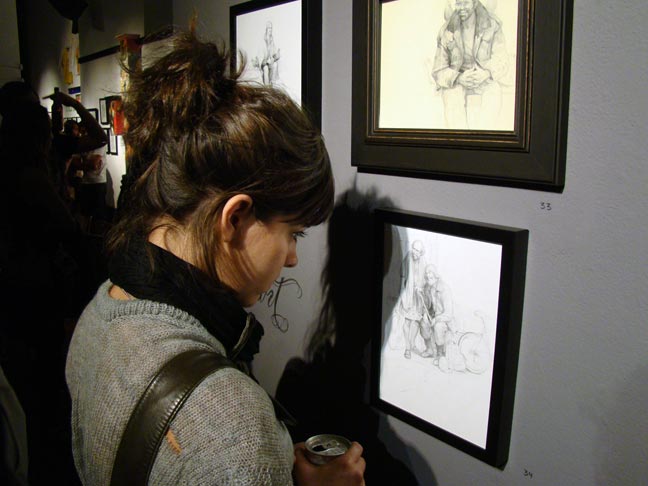 Art.


Art by Adam Flores (right).


Sylvia Ji art.


Art by Nate Van Dyke (right) - Matt Furie (left).


Art by Matt Furie.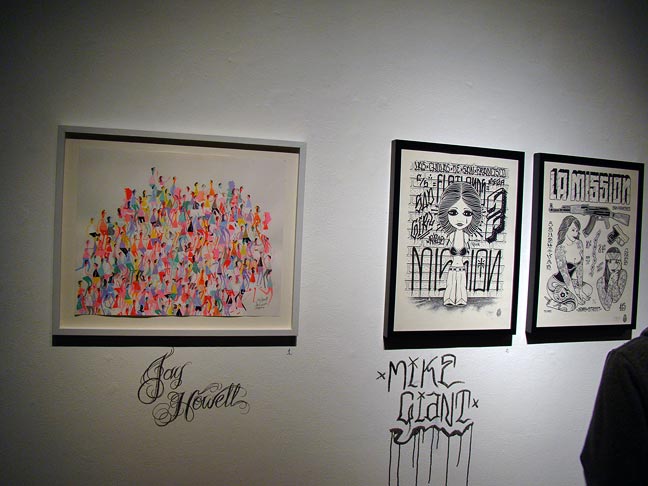 Art by Jay Howell (left) - Mike Giant (right).


Art by David Choong Lee (right) - Ferris Plock (center).


Art by Coro (like it).


Art by Akira Beard.


Mao Francisco (sorry, sold).


Relative density.


***
Do you enjoy the incredible amount of hard work it takes to pull this column off? Then maybe think about this.
***
First Thursday - August 6, 2009
***