SAN FRANCISCO ART GALLERIES OPENINGS
FIRST THURSDAY 10.05.06
REPORTED BY KRISTIN FARR
Gallery Paule Anglim: David Ireland.
Comment: Large cement-on-paper pieces, collages of small sketch-like paintings, a large painted animal skull, and a curio cabinet holding obscure objects, including a jar of fingernails. Also interesting to note is an installation titled "Pennıs Pocket," modeled after a narrow hallway used by the photographer, Irving Penn. At the end of the narrow space is a photo of Marcel Duchamp.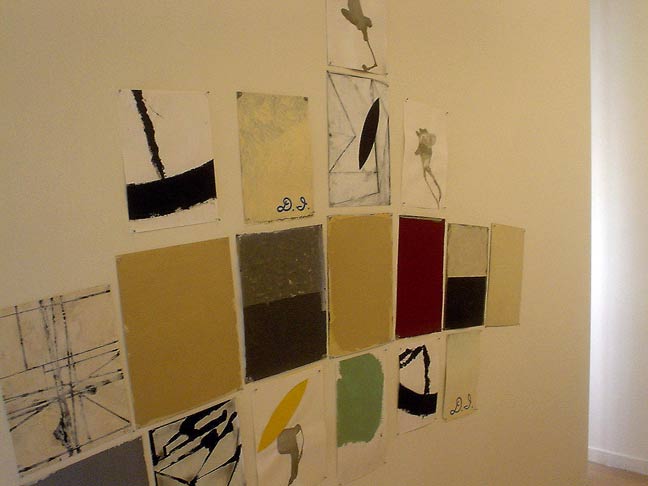 Art.


Art.


***
Toomey Tourell Fine Art: Gregg Renfrow - Fascination.
Comment: Series of abstract, cast acrylic pieces with hand-mixed pigments. The use of materials leads to a dynamic glowing transparency that is best experienced in person. I appreciate Renfrowıs effort to take abstract acrylic painting and color-blending to a new level.
Art.


Art.


***
Stephen Wirtz Gallery: Melanie Pullen - High Fashion Crime Scenes.
Comment: Large-scale photos of staged crime scenes featuring beautiful women in designer clothing. Reminiscent of Cindy Shermanıs Film Stills but more sinister. Several versions of Prada-heeled legs sticking out of an abandoned barrel. Seductive and sometimes more humorous than they are disturbing.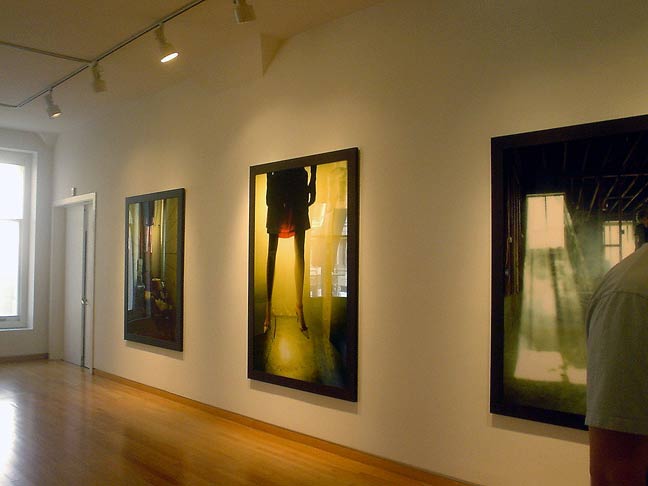 Art.


Art.


***
Steven Wolf Fine Arts: Dustin Fosnot ­ Roadside Attractions.
Comment: Amazing sawhorse-supported table full of hand-crafted miniatures priced $100 - $500. Plastic objects ranging from garbage cans to shopping carts to a shelf full of teeny-tiny file folders. I love this miniature table holding a tiny circular saw. Obsessively crafted and fun to peruse, even for the kids. Also included is small replica of a freight ship and an amazing sculpture built inside a Coleman cooler of a mechanical leaping rubber shark that repeatedly dives into a foggy sea of dry ice.
Art.


Art.


***
First Thursday; September 7, 2006