SAN FRANCISCO ART GALLERIES OPENINGS
FIRST THURSDAY; 10.05.06
General comment: First off, thanks to all of you who volunteer your valuable time to help cover SF's impressive art scene. Unfortunately (or maybe fortunately), I can no longer afford to babble ad nauseam about every creative incident I stumble across, so plaudits to y'all for filling the void.
Meanwhile back in galleryland, there's always plenty of "the good stuff" to see on First Thursday, and tonight's no exception. The thing about tonight, though, is that plenty of that good stuff is plenty good-- notably more so than usual. The problem is that, inundated with excellence, I find myself in a monstrous quandary over who gets THE PICK. I hem and haw, zig and zag, wax and wane, waffle and hedge, flip and flop, tack and yaw, as gradually the dust settles. But hey, that's only the tip of the artberg. Don't believe me? Check this...
***
John Berggruen Gallery: Seydou Keita - Portraits.
Comment: Retrospective of the work of recently rediscovered Malian photographer Seydou Keita. The striking portrait photographs of Bamako, Mali residents represent the pinnacle of Keita's career, work over a fourteen year period beginning circa 1950. Verbiaging up the show announcement, however, Okwui Enwezor's windy grandiloquent essay nearly implodes my medulla oblongata, but Keita's magnificently dignified images (contemporary oversized prints from vintage negatives) trash the trash talk, whiplash our provincial African attidudes, prevail over all, and prove that no amount of masturbatory bloat can obscure the product of extraordinary God-given talent. The press release tells it better, but get it straight from the artist himself-- read the real deal here. Bottom line-- a Near Pick goes to Seydou Keita's portraiture.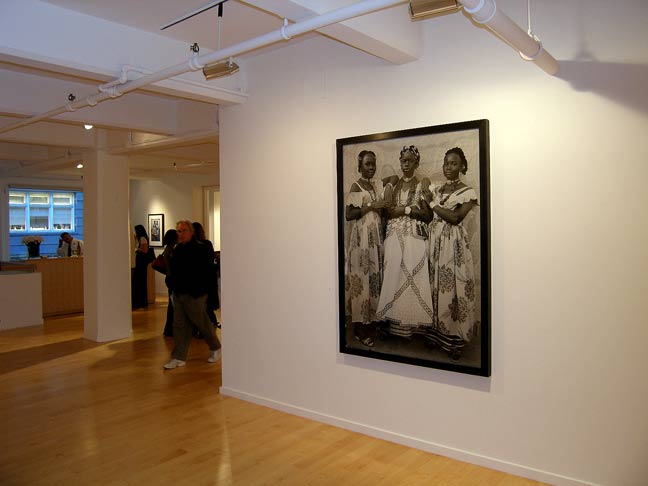 Photography.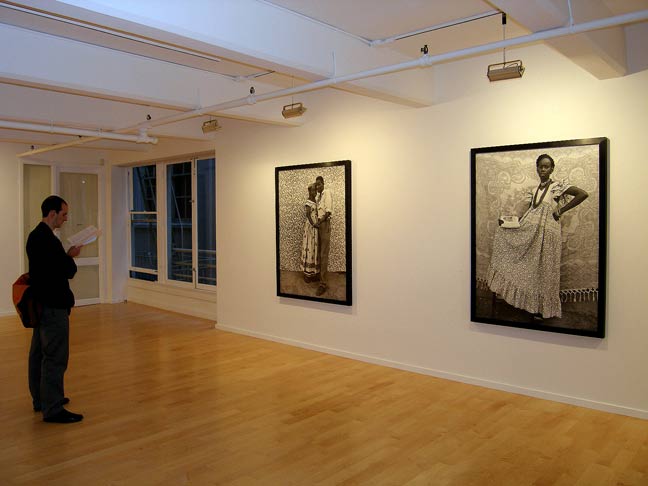 Photographs.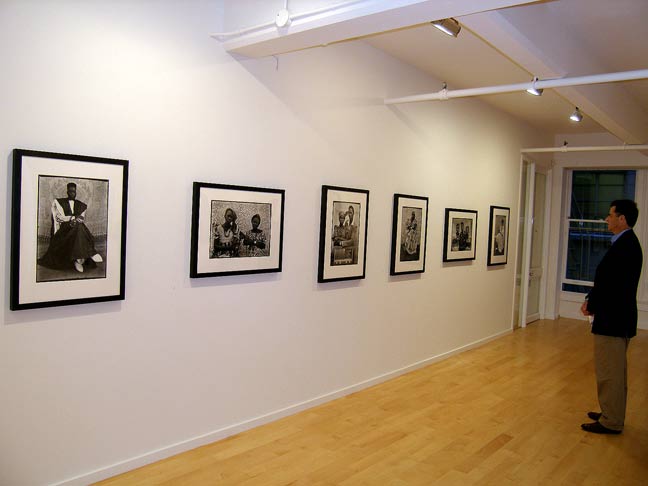 Images.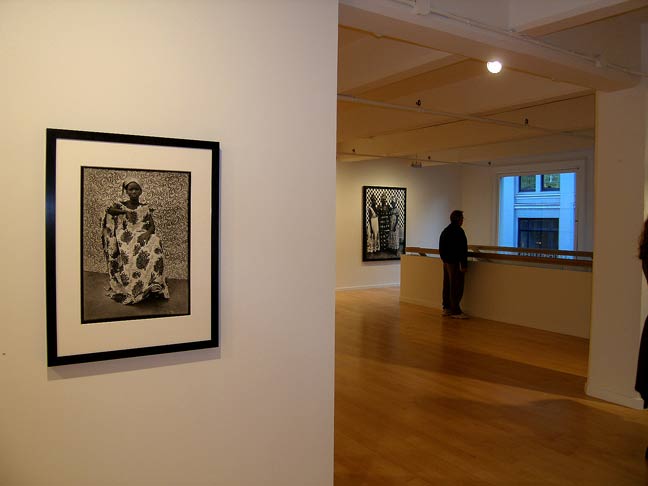 Photos.


***
Dolby Chadwick Gallery: Gary Ruddell - Small Changes.
Comment: Isolated figures in soft austere uncluttered landscapes and waterscapes. A few have editorial overtones, but they're mainly pensive introspective transits, meditative distillations of reality, often so pure and easy you kinda wish you could spend a little time there.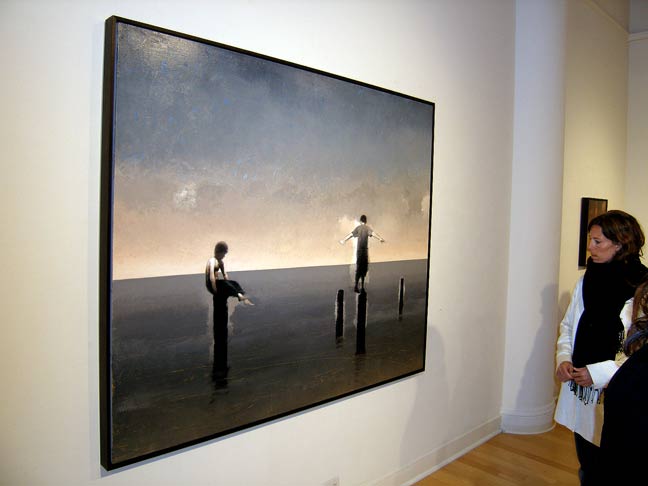 Art.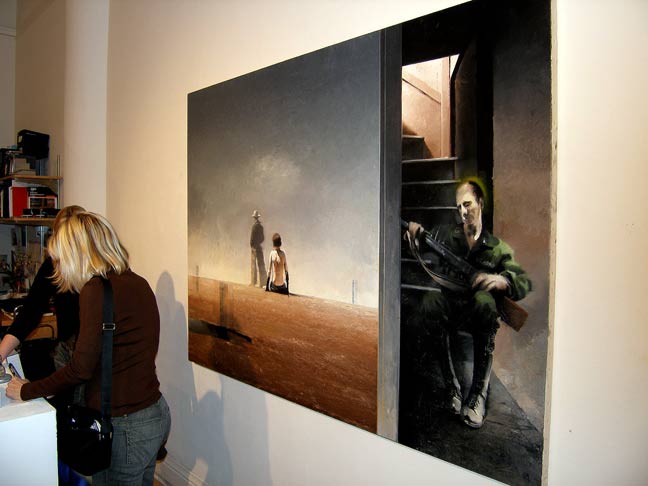 Art.


Gary Ruddell.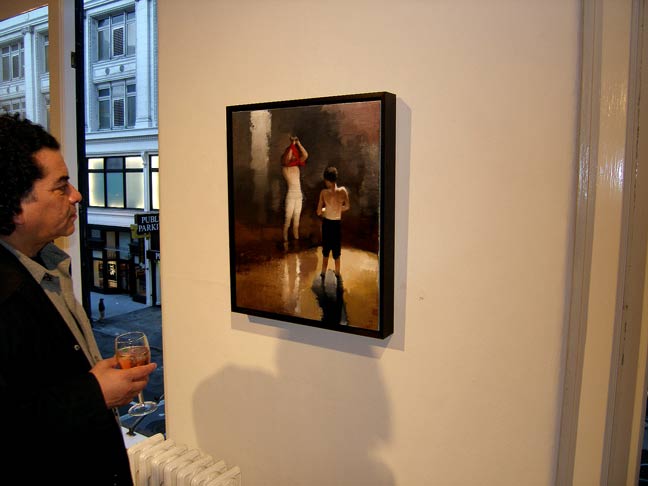 Art.


Art.


***
ARTworkSF Gallery: Art Hell.
Artists: Christine Cianci, Maria Bartola Mejia, Carlos Cromeyer, Pauline Crowther Scott, Bryan Davis, Rachel Davis Strell, Barbara Elliot, Julie Gendich, Steven Gray, Karen Gutfreund, Heather Hanan, Ray Lobato, Laura LaForet Lengyel, Jennifer W. Mack, Lenea Maibaum, Roberto Montoya-Mejia, Tony Perez, Maja-Yvette Saphir, Ann Simms, Marius Starkey, Elizabeth Starr, William Ulrich, Melissa West.
Comment: Halloween's just around the corner. Get spooky. Start here. Boo!
Corpse-in-the-leaves art.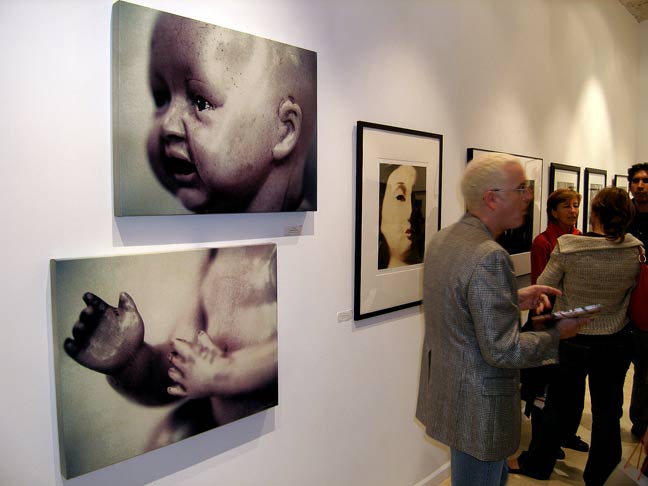 Concerned baby art.


Art.


Decapitation art.


***
Urbis Artium Gallery: Michael Ricardo Andreev - Paintings.
Comment: According to the fact sheet, Michael Andreev's art blends Motherwell, Richter, heraldic symbols, geo-political and cross-cultural commentary, collective unconscious undertones, and more. The work engages from technical and aesthetic perspectives, but if you want more than that, you're gonna need a guide.
Art.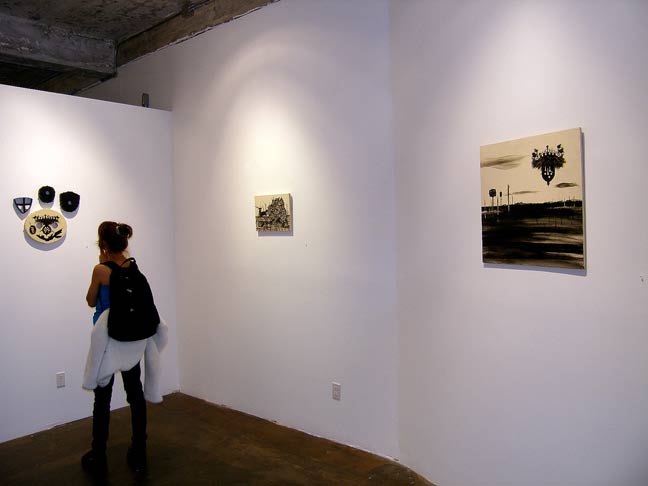 Art.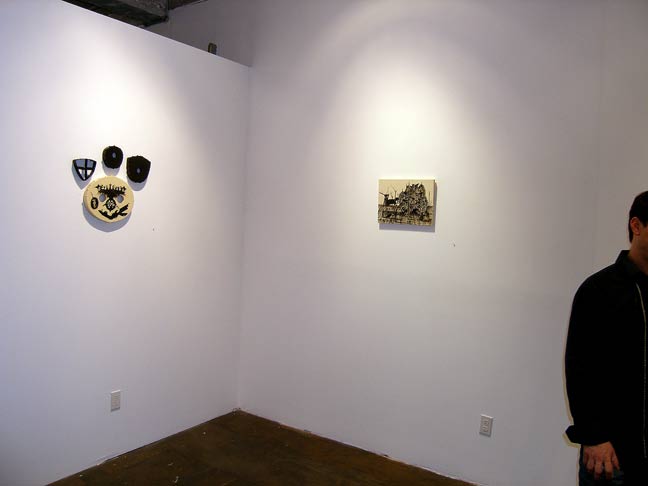 Art.


Art.


Art.


***
871 Fine Arts, 49 Geary, 2nd Floor: Wallace Berman.
Comment: A look back at the work of influential Beat Era artist, publisher, and personality Wallace Berman consists mainly of repetitive series prints made on a Verifax copier (early copy machine manufactured by Kodak) presenting orderly gridlike images of a hand holding a transistor radio, but with various illustrations inserted where the speaker should be. There's also esoterica for you ephemera hounds. In addition to making art, Berman published Semina Magazine between 1955-1964. Discriminating art for discriminating tastes.
Art.


Art.


Art.


Art.


***
Stephen Wirtz Gallery: Melanie Pullen - High Fashion Crime Scenes.
Comment: I was gonna give this show The Pick for style and impact of Melanie Pullen's meta-moody oversized photographs sporting solo corpses in landscapes and interiors-- crime scenes so gorgeous and atmospheric, you'll make a one-time-only exception to hang murder in your living room. But then someone tells me the idea isn't original; they remember Manhattan department stores using crime scene themes in their show windows circa the early 1980's. But the update's certainly got chops. My favorite's the eerie green subway platform scene with passing train, but they're all superior. Pick Runner Up.
Photography (like 'em).


Photograph (like it).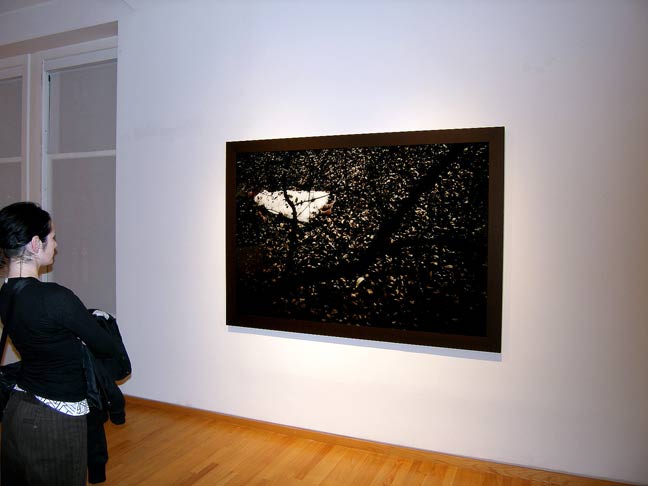 Photo (like it).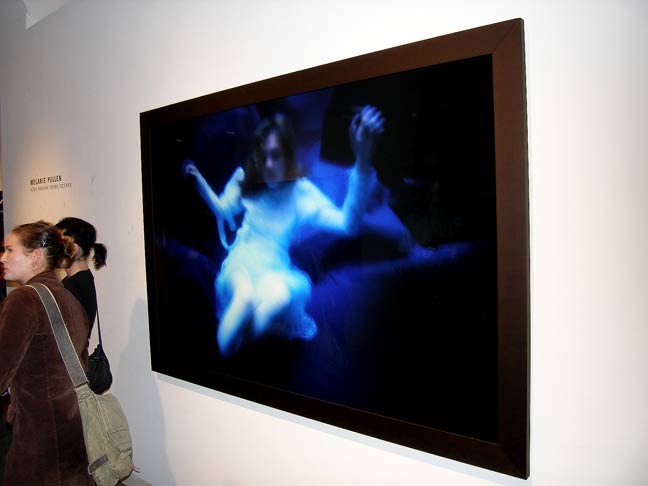 Photography (like it).


***
Fraenkel Gallery: Eye of the Beholder - Photographs from the Collection of Richard Avedon.
Photographers: Anonymous, Diane Arbus, Eugene Atget, Brassai, Julia Margaret Cameron, Henri Cartier-Bresson, The Countess de Castiglione, Peter Hujar, Jacques-Henri Lartigue, Nadar, Irving Penn, August Sander, more.
Comment: Was Richard Avedon a better collector than he was a photographer or vice versa? This show will leave you wondering. Plus you get to see a wall of superb cigarette butt pair-up still lifes by Irving Penn-- dirty beauty. Pick of First Thursday. Half of The Pick is because Fraenkel Gallery's got the clout to nail shows of this caliber. Just like a museum.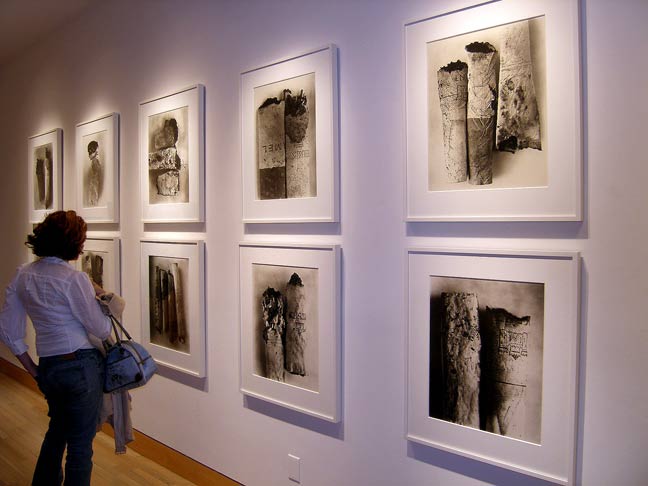 Photography.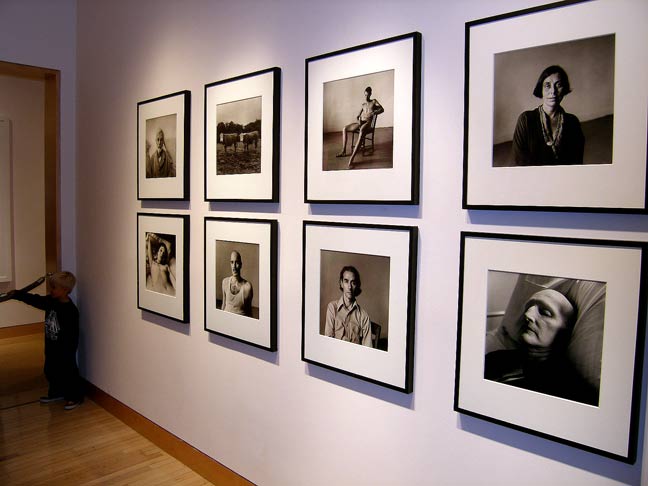 Photos.


Photographs.


***
Steven Wolf Fine Arts: Dustin Fosnot - Roadside Attractions; Ryan Boyle - Architexturism.
Comment: Dustin Fosnot crafts a smart folky version of a shipping distribution system complete with sculptural fully-loaded container ship, a shark in a cooler jumping out from a dry ice mist, a cargo vessel sailing on an ocean of blue rubber work gloves, a tidy table of everyday objects handmade in miniature, and more. Excellent from art as well as conceptual standpoints-- a Pick Runner Up for this wiggy extravaganza. But wait; there's more. In the anteroom, Ryan Boyle constructs circuitous precision plays on how trash transits from unrestrained industrialism via overconsumption to end up at the dump. Make it fast, buy more than you need, use it up, throw it away, abort the planet. Fun fun fun! Me me me! Who cares as long as you've got yours, right? Effectively presented, Ryan Boyle.
Shark-in-a-cooler art (Dustin Fosnot).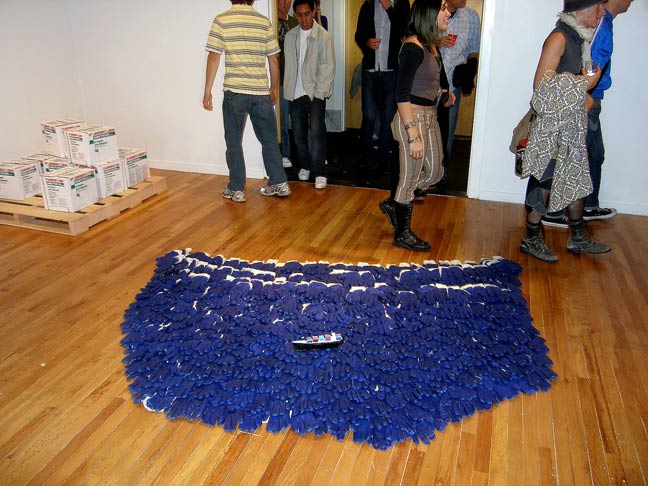 The Glove Boat (Dustin Fosnot).


Art (Dustin Fosnot).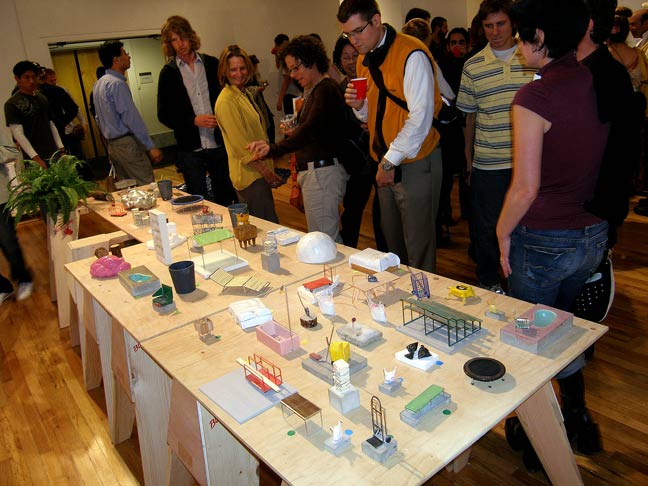 Art (Dustin Fosnot).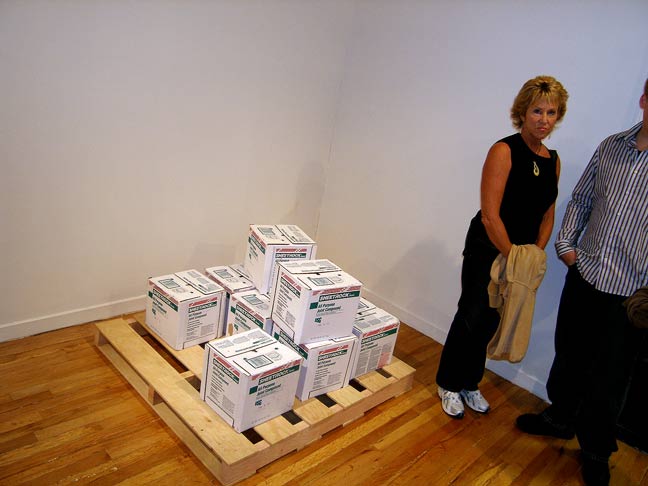 Art (Dustin Fosnot).


Art (Ryan Boyle).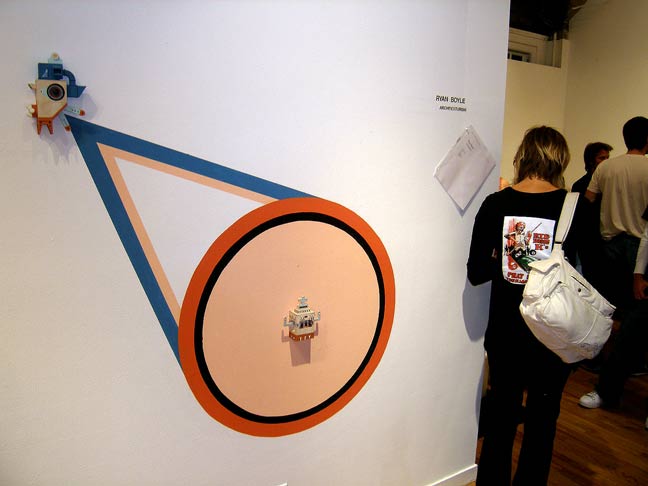 Art (Ryan Boyle).


***
SF Camerawork Gallery: Ghosts in the Machine - Grand Opening Show.
Artists: Dinh Q. Le, Mildred Howard, Jorma Puranen, Tony Hooker, Walid Ra'ad, Claudia Kunin, Ann Carlson, Mary Ellen Strom.
Comment: Inaugural show at SF Camerwork's new gallery space focuses on historical elements and references in contemporary photography and video.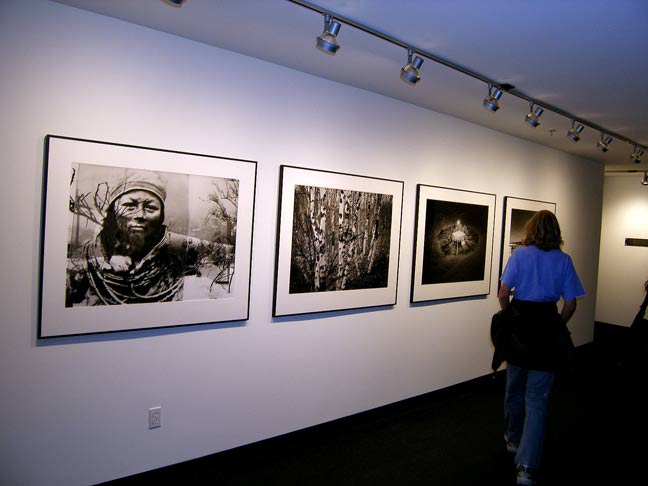 Photography.


Photos.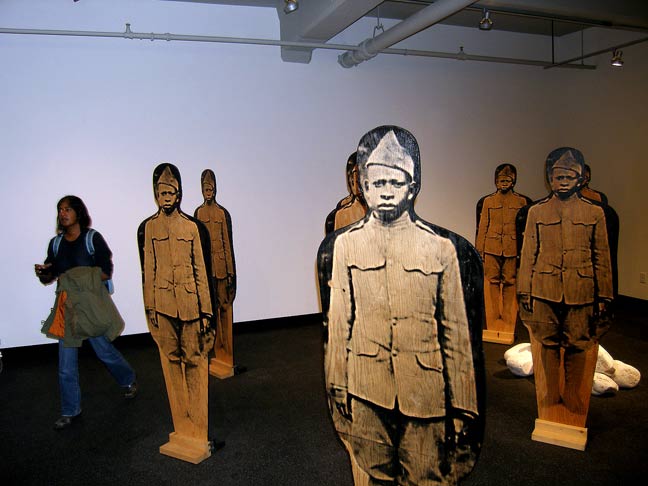 Installation from the front.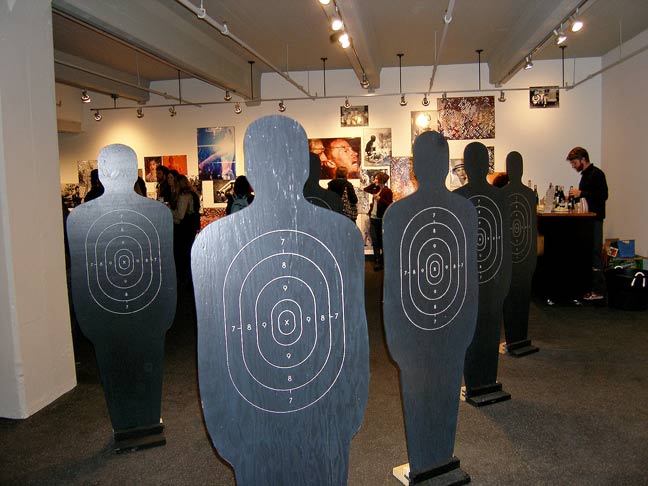 Installation from the rear.


Photographs.


***
Frey Norris Gallery: Who's Afraid of San Francisco?
Artists: Enrique Chagoya, Phillip Dvorak, Rodney Ewing, Hung Liu, Frederick Loomis, Michele Pred, Douglas Schneider, Laurel Roth, Andy Diaz Hope.
Comment: Frey Norris explores the fringes of Fringeland with an incendiary assortment of Red State bait including faux same-sex wedding cakes, a hypodermic syringe chandelier, a live marijuana plant basking in a plexiglass enclosure, engorged erectilic appurtenances, and more. Do you suffer from congenital normalcy? This'll vanquish that.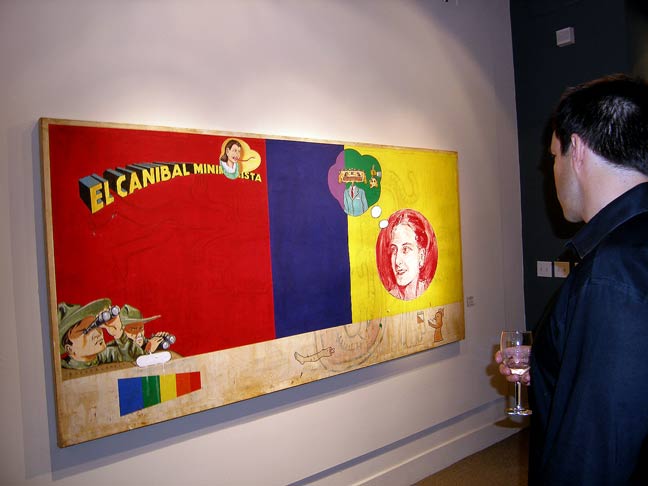 Art (Enrique Chagoya- nice).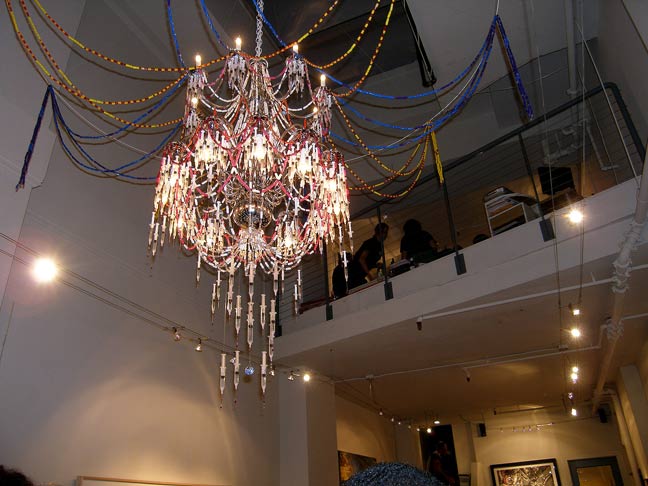 Syringe chandelier art (Laurel Roth + Andy Diaz Hope - like it).


Pot plant in plexi art (Michele Pred).


Same-sex wedding cake art (Michele Pred).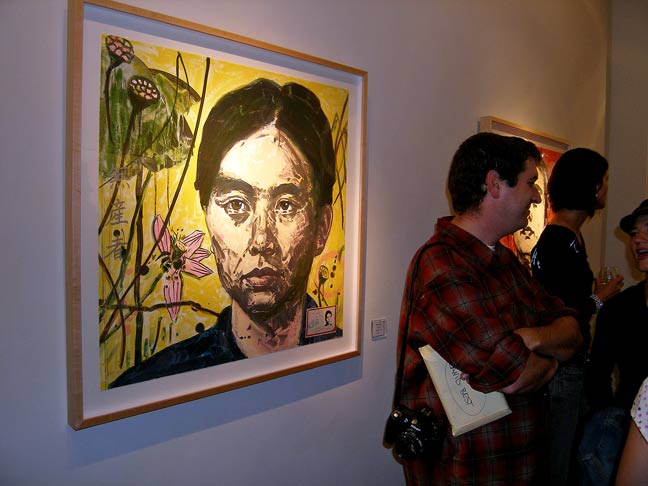 Identity card art (Hung Liu).


Art (Laurel Roth + Andy Diaz Hope - like it).


Andy Diaz Hope (somebody give this dude a show already).


Art (Enrique Chagoya).


Identity card art (Hung Liu).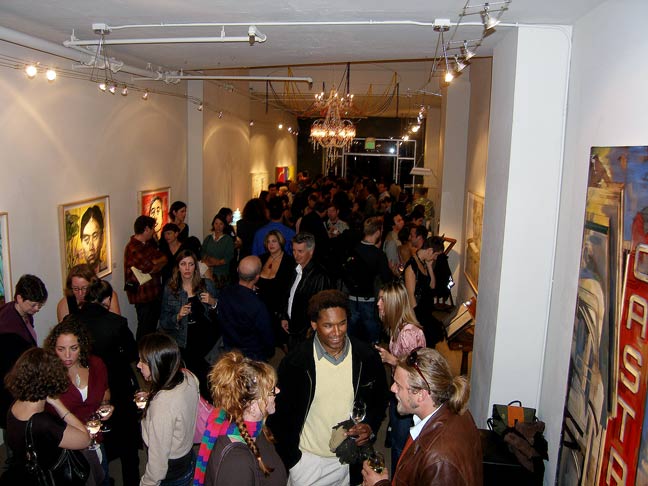 Attendance figures.


***
Jack Hanley Gallery: Simone Shubuck - In the Clutches of My Clutches.
Comment: The handbill drops a bucketfull o' names in the course of extolling New York artist Simone Shubuck's elaborate graphite and colored pencil drawings-- including Viennese expressionism, Jugendstil, Medieval botanical illustration, arts and crafts, and Wiener Werkstatte, but hey-- they're all relevant and they're all right there in her art. Someone tells me Shubuck works in a flower shop, and you can see that too in her free-flowing floralific rainbow cavorts.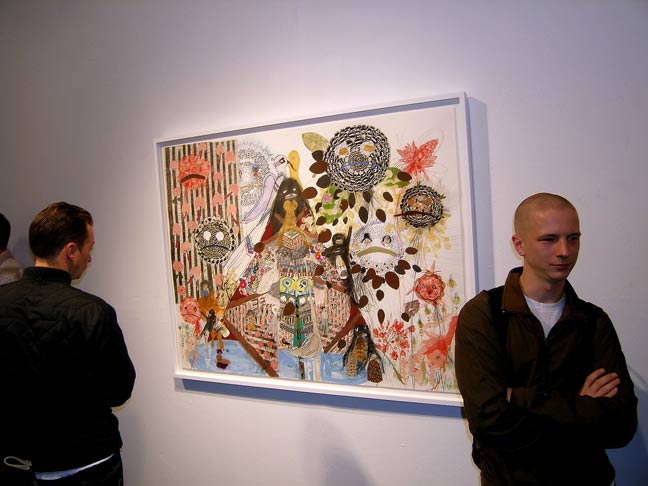 Art.


Art.


Art.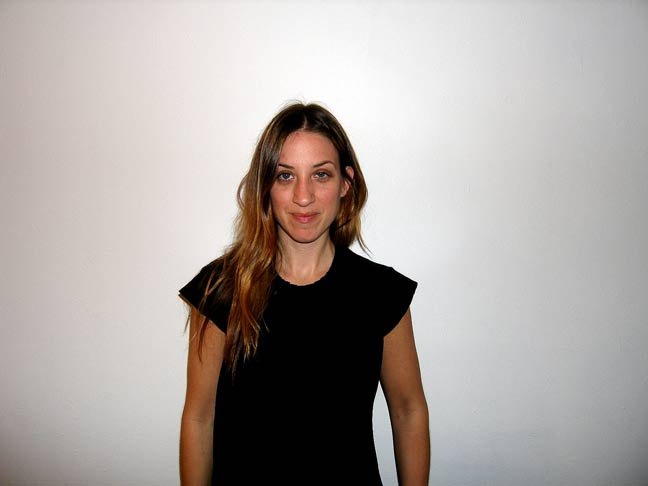 Simone Shubuck.


Art.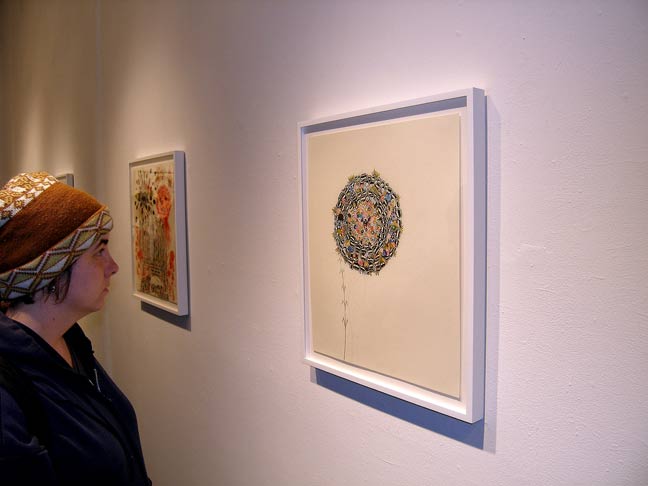 Art.


***
Fifty24SF Gallery: Mike Giant & Vitche.
Comment: Mattie Bamman was kind enough to cover this show-- see his First Thursday review-- but I just wanted to add a couple of images. Thank you again, Mattie. Another artworthy endeavor from Fifty24SF.
Vitche - art.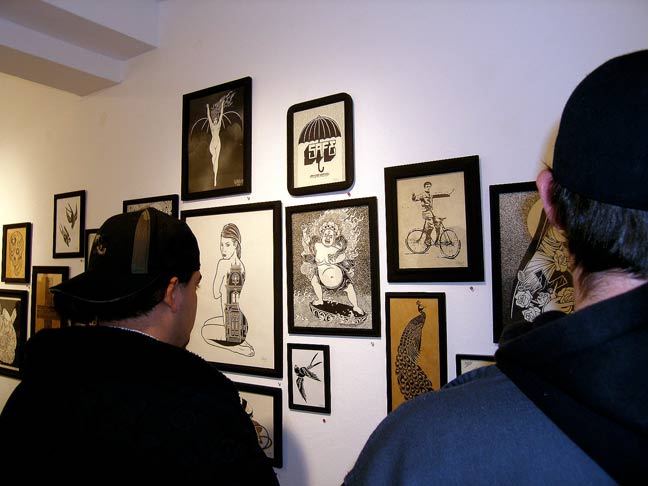 Art (Mike Giant).


***
ArtSpan: San Francisco Open Studios Private Preview Gala.
Artists: Hundreds and hundreds all over town-- check it out-- ArtSpan.
Comment: I stop by toward the end of the evening, but Jennifer Mullen volunteers all night and takes pictures as well, so check her First Thursday reviews to learn more. Thank you Jennifer. In any event, October is Open Studios month. Hundreds of artists all over town will open their studios to show and sell art. One monster art party for four straight weekends. Check the ArtSpan website for details.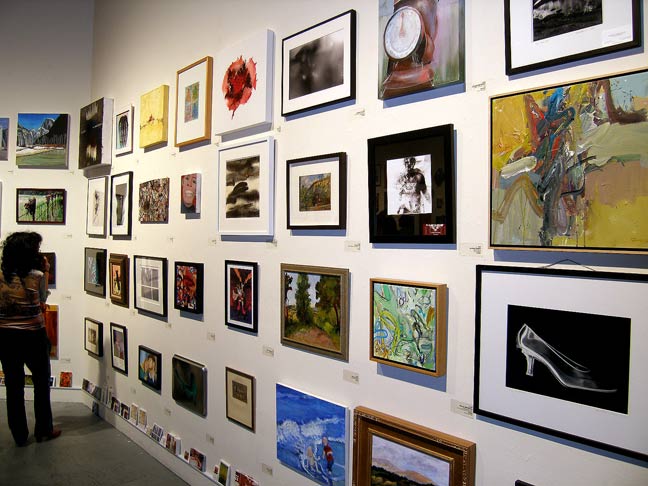 Art.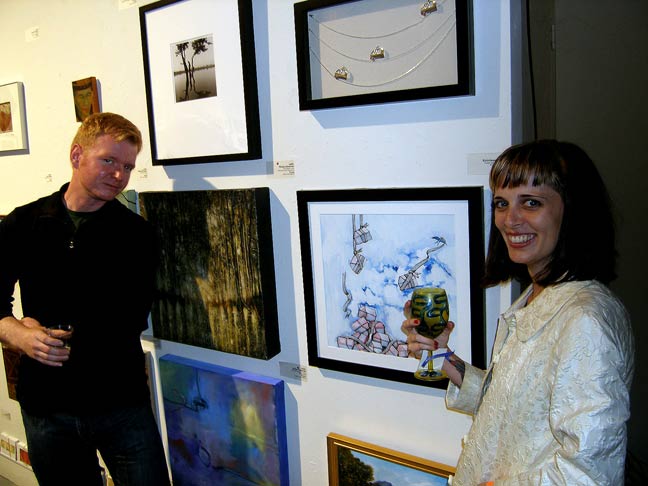 Robin Denevan - art - art - Monica Spacek.


Playing field.


***
Addendum: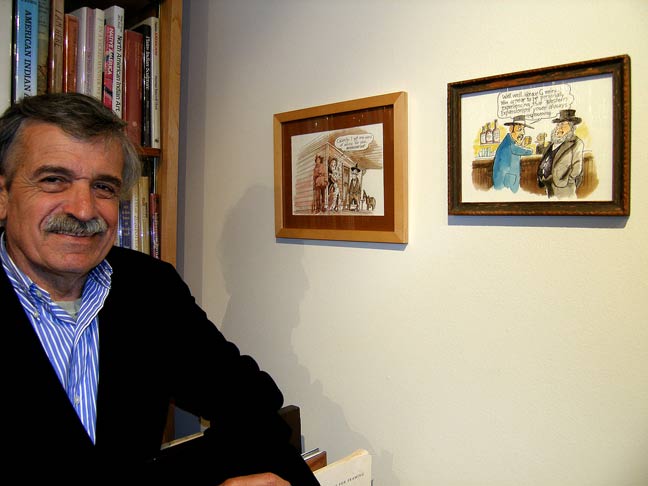 Phil Frank - cartoon art at Johns' Western Gallery. The show's called "The Mild Mild West - Cartoon art by Phil Frank," and features comics from True West Magazine. Frank is best known as the creator of the SF Chronicle comic strip, Farley.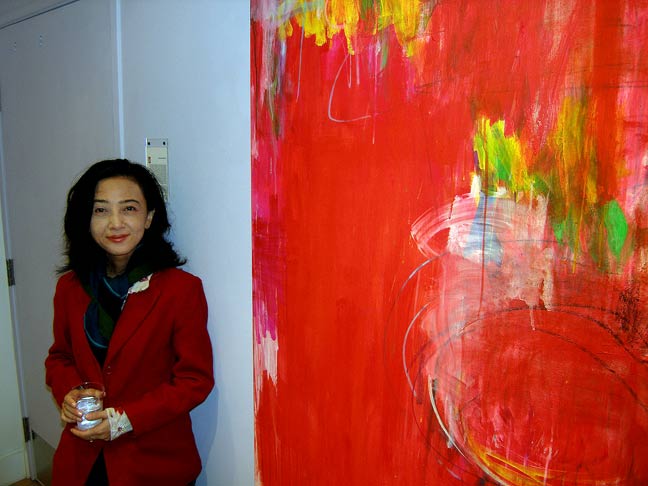 Kikuko Sakota - art at Big Pagoda.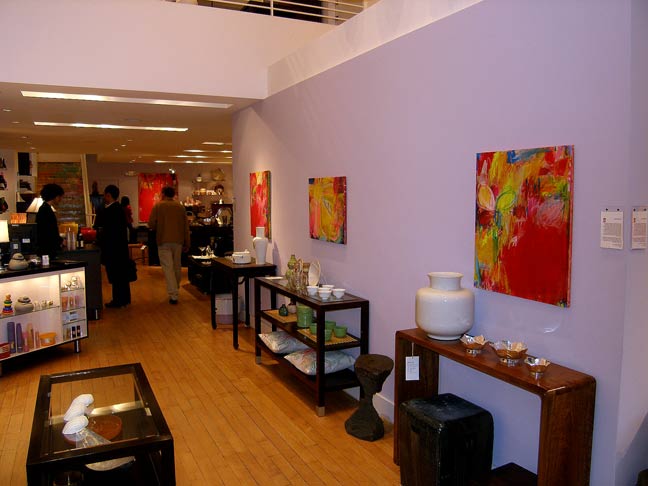 Kikuko Sakota abstracts from Japan at Big Pagoda.


Final Kikuko Sakota at Big Pagoda.


Kevin Clarke - Lori Gordon Auffhammer at The Small Gallery.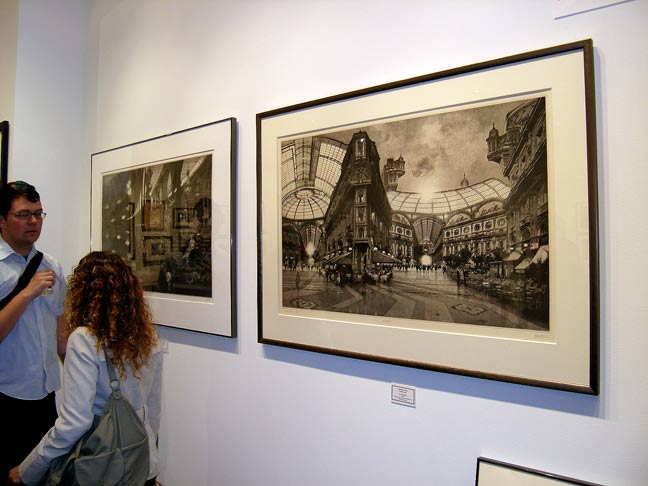 Peter Milton engravings at Warnock Fine Arts.


Deborah Barrett small portraits at Jack Fischer Gallery.


Jack Fischer + Deborah Barrett portraits at Jack Fischer Gallery.


Gregg Renfrow abstracts at Toomey Tourell Gallery.


Another Gregg Renfrow abstract at Toomey Tourell Gallery.


Charles Eckart paints thick and Pollockian
at Elins-Eagles Smith Gallery.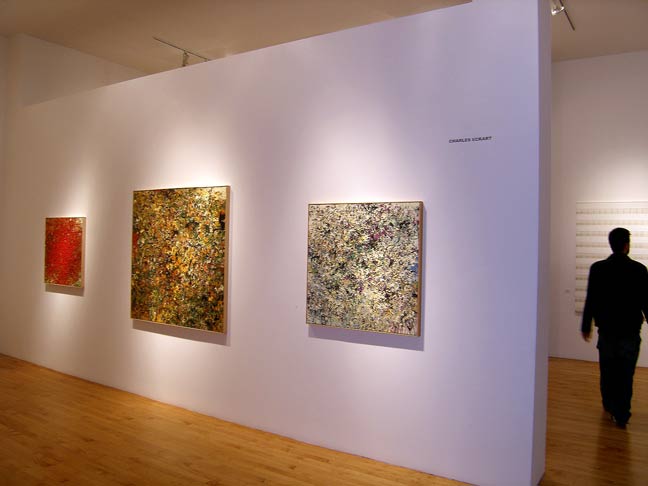 One more Charles Eckart at Elins Eagles-Smith Gallery.


***
Well kidzz, it's all over but the donatin'. See you next month. And thank you for your support.
***
First Thursday; September 7, 2006