SAN FRANCISCO ART GALLERIES OPENINGS
FIRST THURSDAY; 10.04.07
(with assistance from Uba Owl and Jennifer Mullen)
General comment by AB: For starters, I offer up infinite thanks to The Great Artster in the Sky for going easy on October's First Thursday agenda after September's cataclysmic creative inundation. I imbibed so much visual culture on that fateful September night, I was hung over for daze, and could barely even look at a work of art without dyspepsia setting in. Burp. But October tells a saner tale, moderation rules the roost, and I'm mercifully gifted with an artload I can handle.
What kind of an artload is it, you ask? Well, I'll tell you. There's at least one of pretty much everything, and though I'm not exactly deluged with radiant repercussions of talent, I can say that the art is predominantly worthy and not without high points-- relatively speaking, that is. And though nothing impales me to the point of Pick, there are some close calls. So are you ready for some artball? I sure am...
***
Andrea Schwartz Gallery: Philip Buller.
Comment by AB: This one's actually on First Wednesday, but I don't get to Andrea Schwartz that often, but I do this time, so I'll tell you about it. Some of Philip Buller's paintings look like updates on the "blurred countenance" art of Jack Levine. Commendable work overall, especially with respect to composition, however one or two pieces wax a tad uneven, mainly from technical standpoints, their subjects looking like maybe it's time to see a dermatologist. For those of you scoring at home, the show is in presented in conjunction with the California College of the Arts Centennial celebration.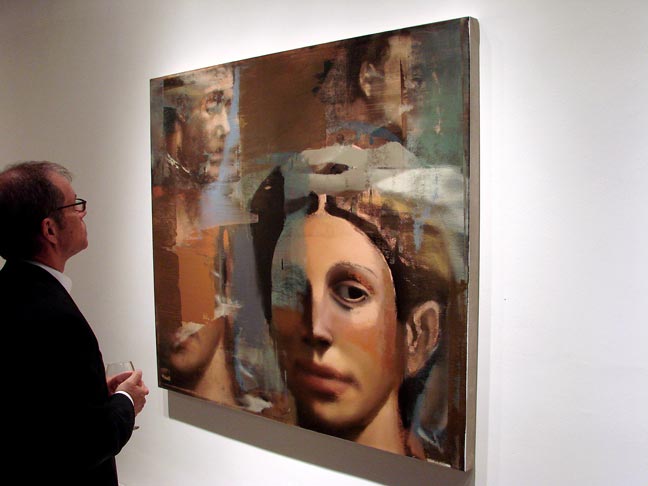 Art.


Art.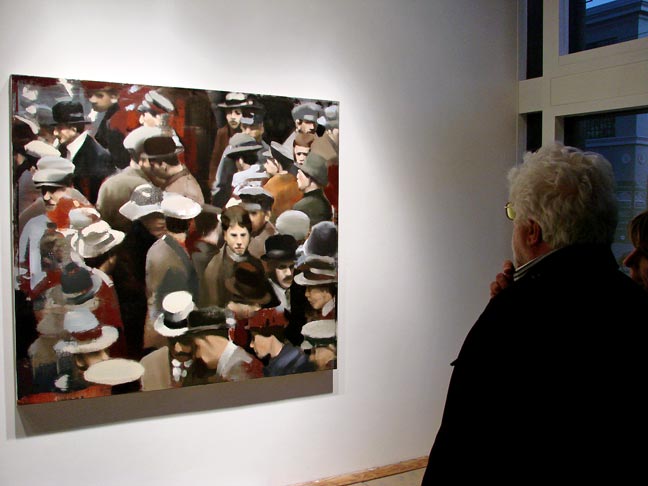 Art.


Art.


Art.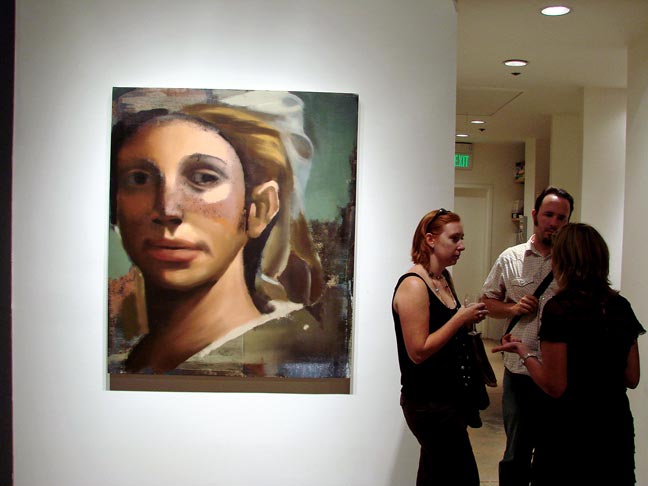 Art.


***
Jenkins Johnson Gallery: Lynn Goldsmith - Icons of Rock and the Imagination.
Comment by AB: Two-fer photography show by prodigious multi-talent Lynn Goldsmith whose astonishing range of media skills extends way beyond the bounds of photography, and then there's her awards and distinctions and exhibitions and on and on and on. Meanwhile back at the gallery, half the show consists of her vintage rock and roll photographs (and complicated collaged combinations of those photographs); the other half are imaginative fantasies verging on hallucinatory-- deep, rich, and kaleidoscopic. All good here. Plus the gallery has copies of Goldsmith's newly released coffee table book, Rock And Roll, available for purchase.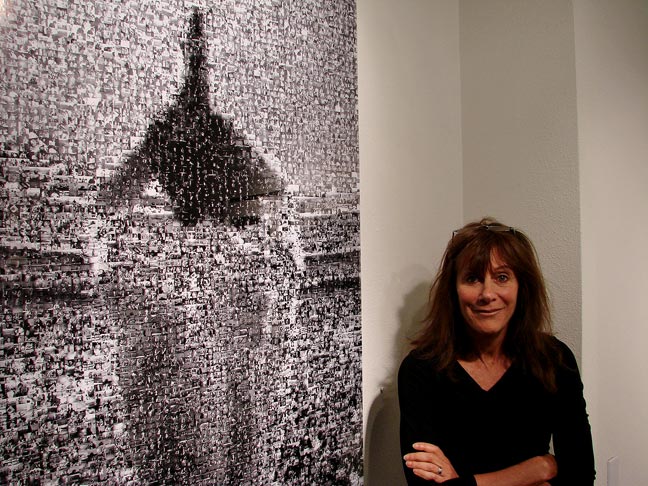 Lynn Goldsmith - collaged Rolling Stones photo.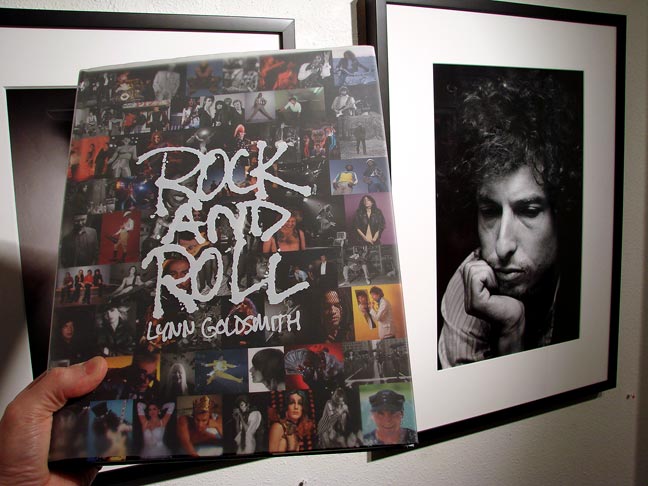 Newly released survey of Goldsmith's work.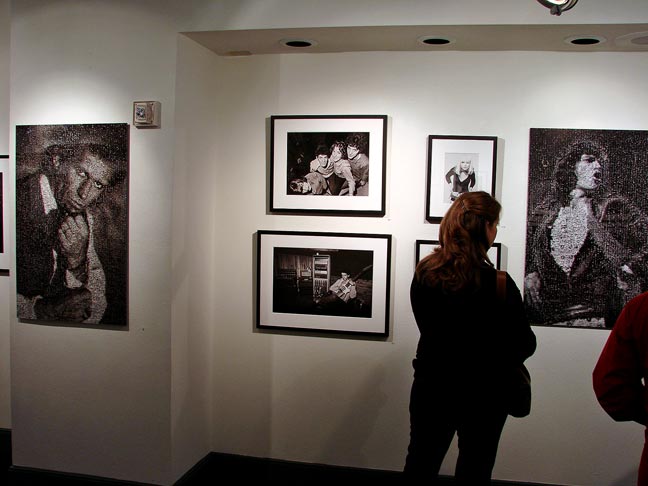 Rock & Roll photography.


Composed fantasy photos.


Composed fantasy photos.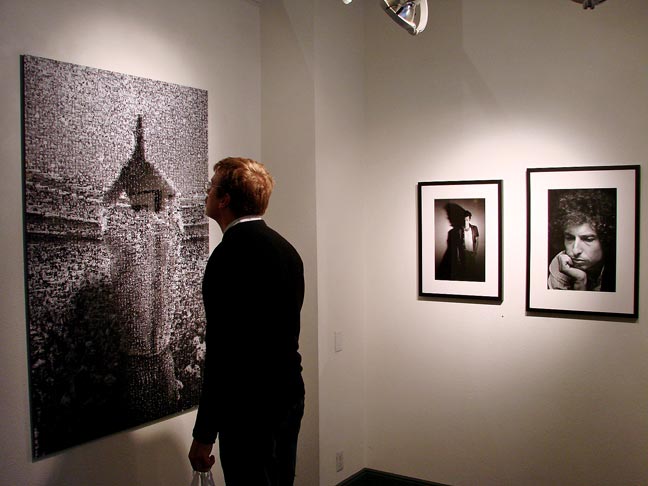 Rock & Roll images.


***
Hang Gallery: Josh Keyes - Surface Tension.
Comment by AB: Josh Keyes continues to perfect his cutaway takes on reality, combining, permuting, transposing, and refracting environmental and manmade facets, concocting mutant dissociate dioramas that cause pause for thought, and perhaps even action. It's opening night and the entire show is sold out-- as well it should be. Technically sound work plus a cognitive kick. That's basically what good art is about. This show's as close to a Pick of First Thursday as any tonight. Let's call it a Near Pick.
Art.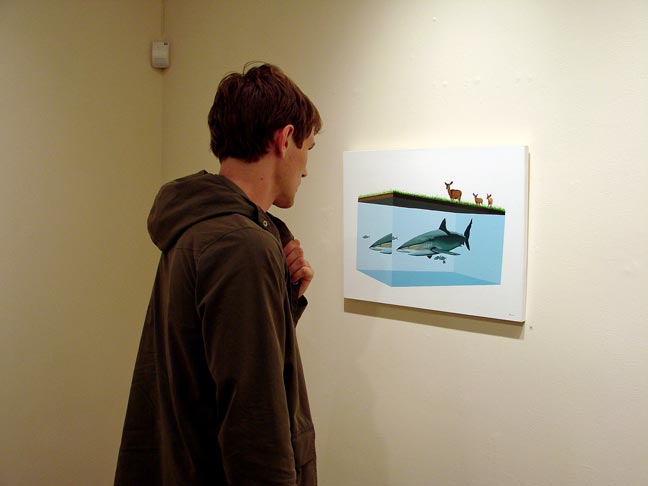 Art.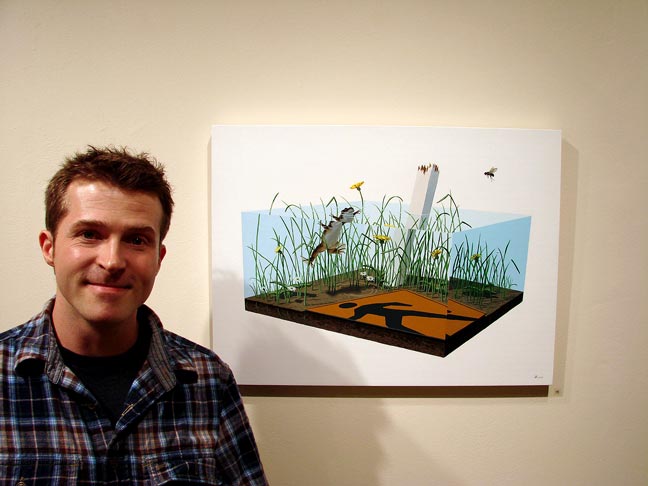 Josh Keyes - art.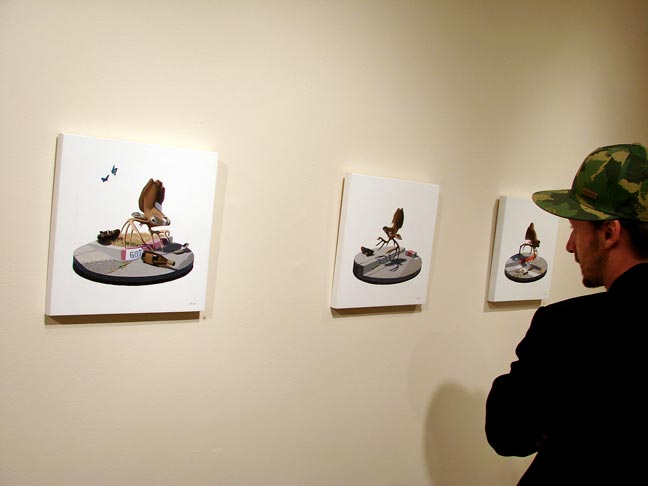 Art.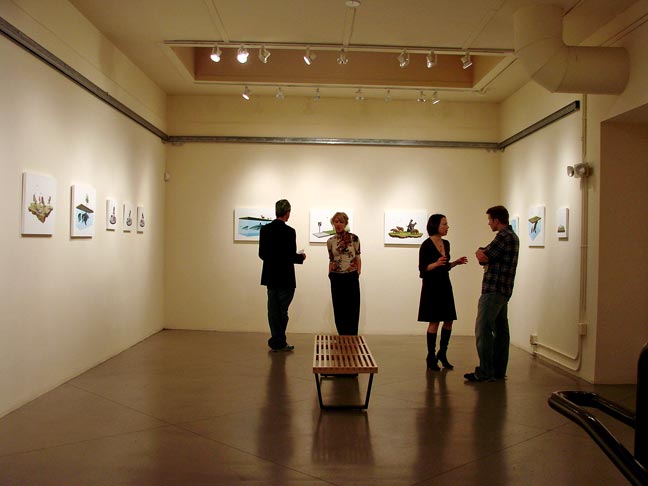 Before the rush.


***
Caldwell Snyder Gallery: Cole Morgan.
Review by Uba Owl: "I don't paint the paintings, I build them," says Cole Morgan about his mixed-media artwork. Paul Klee comes to mind in how an artist starts from that and creates his own vision. These very playful, colorful, sometimes built-out canvases are sweet and often child-like, but with a grown-up sensibility. You can keep going back and seeing more, or seeing the same differently, and never get tired.
Art.


Art.


Art.


Art.


***
John Berggruen Gallery: Enrique Martinez Celaya - For two Martinson poems, poorly understood; Major Prints (upstairs).
Comment by AB: The preamble of Enrique Martinez Celaya's show is infused with esoterica well beyond my capacity to ingest and process, having to do with specific poems of Osip Mandelshtam and Harry Martinson (neither of whom I'm familiar with), and sundry other arcane references. But the last sentence saves me, indicating that the works in the show "are all current manifestations of Martinez Celaya's attempts at making sense of the world as he sees it today." Now that, I can hang my hat on. Upstairs is a selection of important prints by Vija Celmins, Ed Ruscha, Richard Diebenkorn, Martin Puryear, Wayne Thiebaud, and Kiki Smith.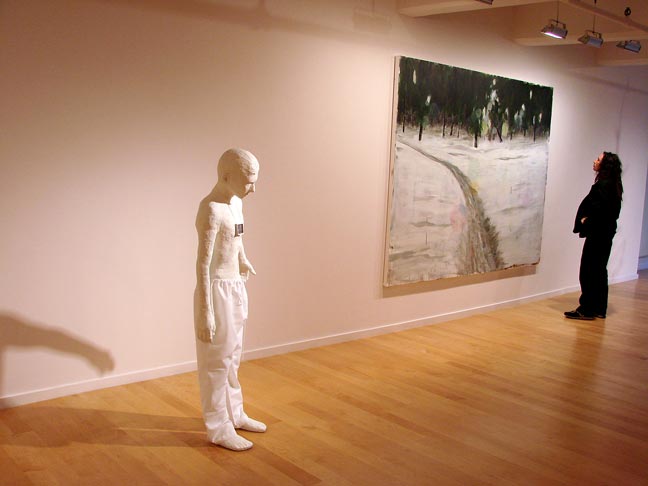 Art (Enrique Martinez Celaya).


Art (Enrique Martinez Celaya).


Art (Enrique Martinez Celaya).


Art (Enrique Martinez Celaya).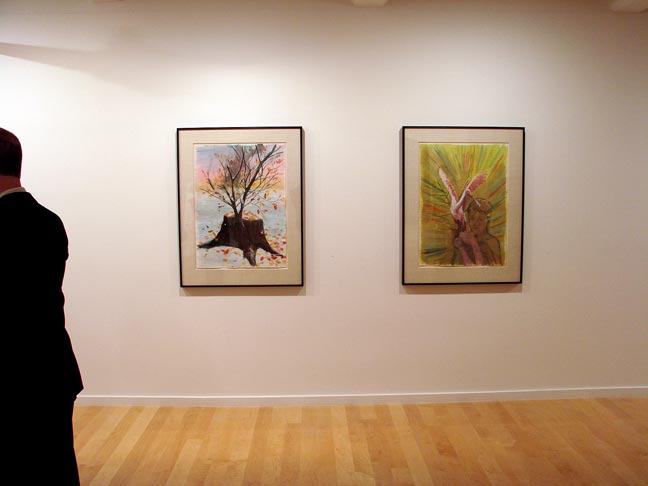 Art (Enrique Martinez Celaya).


Art (Ed Ruscha).


Art (Wayne Thiebaud, left - Richard Diebenkorn, center, right).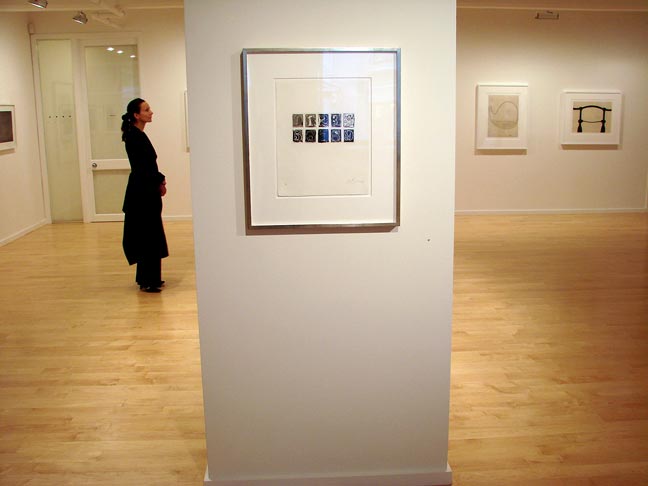 Art.


***
Gallery Paule Anglim: Tom Marioni - Out-of-Body Free-Hand Circles; Masashi Matsumoto - Gallery B.
Comment by AB: According to the Tom Marioni ballyhoo, "resulting from a repetitive process where the artist allows the controlled spiraling of his extended arm to lay down marks, the drawings represent the path his hand travels, a combination of precise concentration and unconscious momentum." Forgive me for being forward, but doesn't that basically describe any drawing? And is Marioni out of his body during all this, as the show's title suggests, or not? And if he is, what's the upshot? No information provided in that regard.
I suppose artists who've been around as long and as notably as Marioni has can do and say more or less whatever they want, and someone somewhere will show it. If that's not it, just diaper me up and call me clueless. Then again, if he was out of his body, that's pretty plucky, and I take it all back.
But wait. There's more. In the anteroom, Masashi Matsumoto presents ten elegant identical paintings of doors meticulously rendered in a regal shade of blue, the lot topped with a blinking neon sign reading "Gallery B" to make it official. This I like.
Art (Tom Marioni).


Art (Tom Marioni).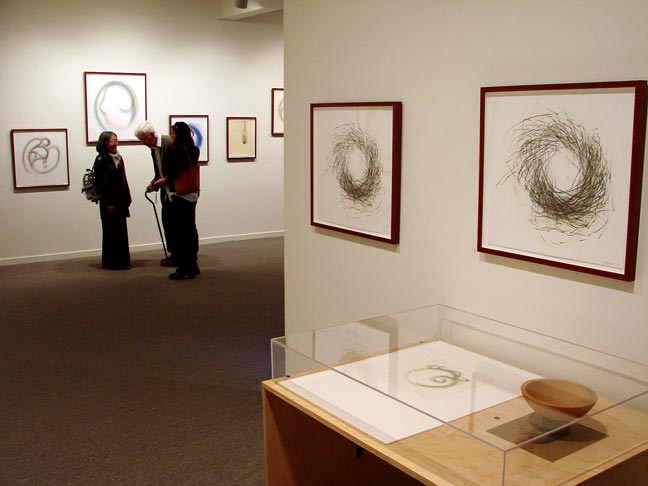 Art (Tom Marioni).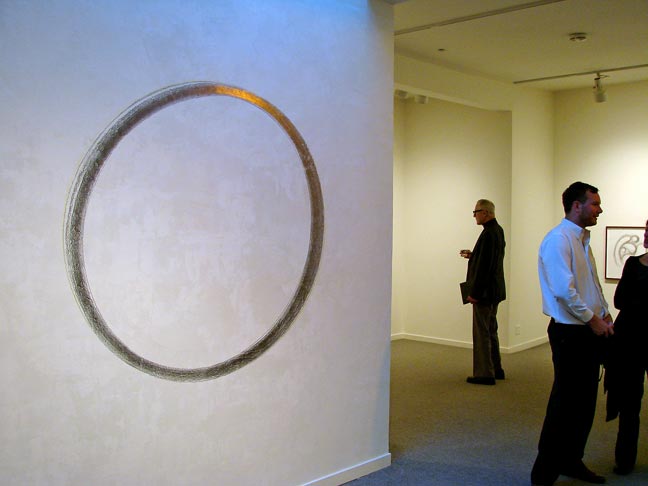 Was he out of his body for this one?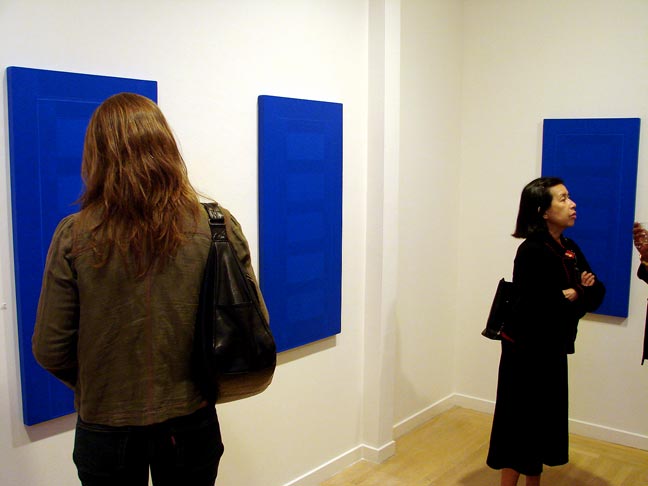 Art (Masashi Matsumoto).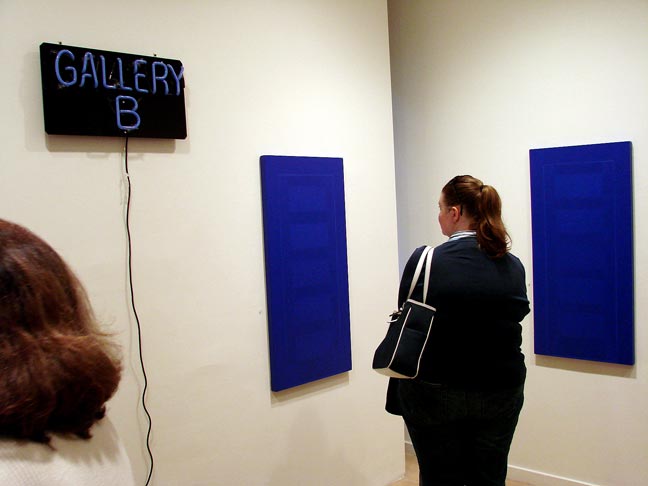 Art (Masashi Matsumoto).


Art (Masashi Matsumoto).


***
Robert Koch Gallery: Edward Burtynsky - Quarries.
Comment by AB: The big picture is Edward Burtynsky's continuing commitment to document the impact of industry on the earth. Tonight's picture is how Burtynsky portrays the profound power, beauty, drama, and dizzying artistic vertigo of some of the world's great stone quarries. Nice.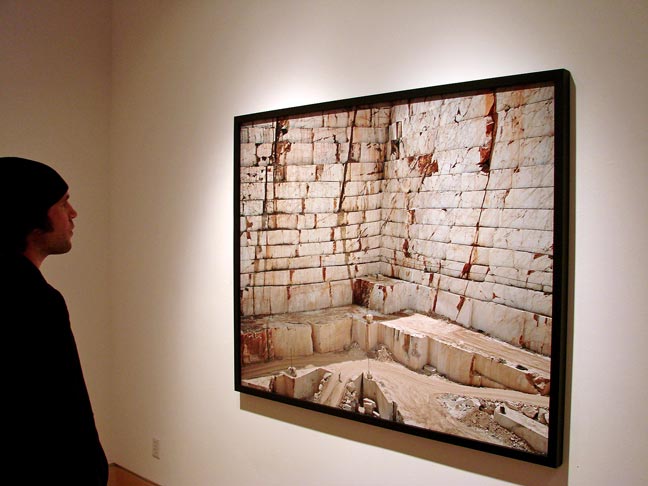 Art.


Art.


Art.


Art.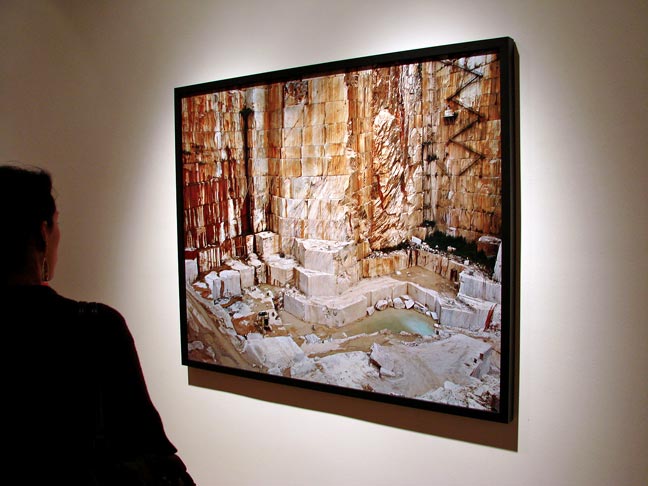 Art.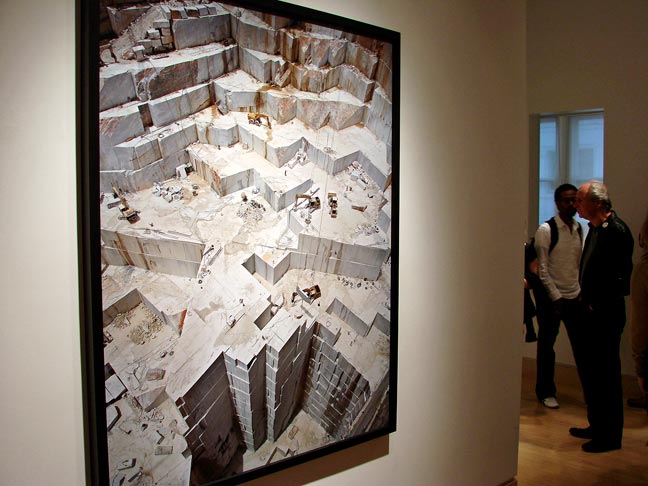 Art.


***
Elins Eagles-Smith Gallery: Bob Nugent - New Work.
Comment by AB: The predominantly nonrepresentational art of Bob Nugent is inspired by Brazil, particularly the Amazon River Basin, particularly the plants, animals, insects, and swirling waters. Plus he soups in a vigorous thread relating to the destruction of the rain forests. Nugent's been traveling to Brazil for 22 years now, currently visiting the Amazon Basin three to four times per year.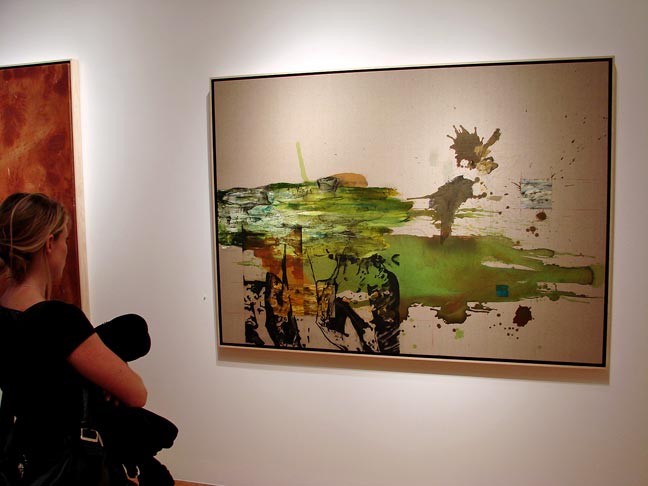 Art.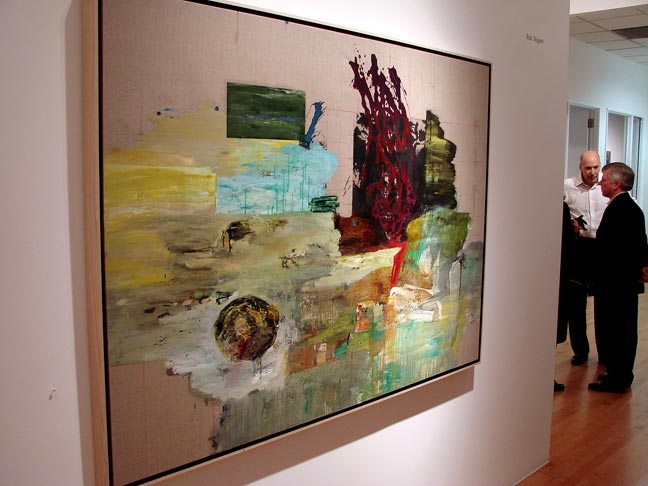 Art.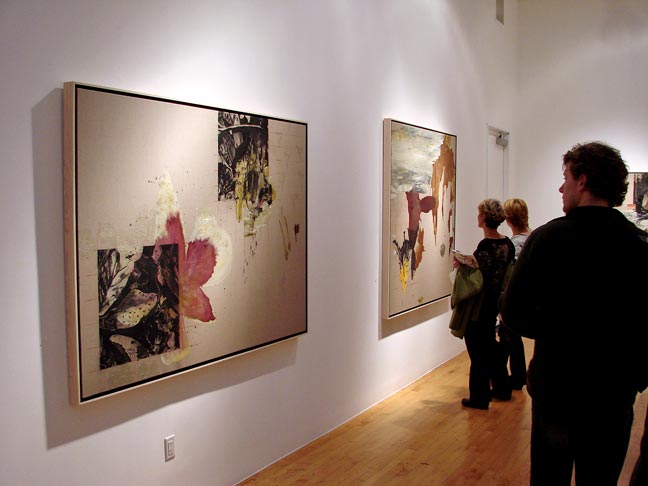 Art.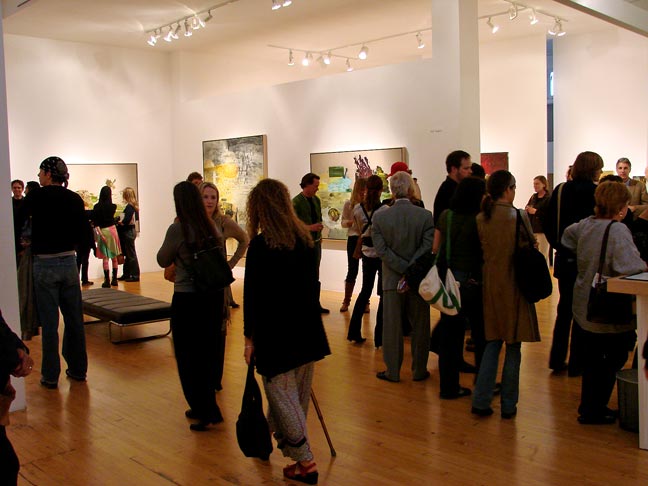 Playing field.


***
Toomey Tourell Fine Art: Claire Burridge.
Comment by AB: British artist Claire Burridge demonstrates mastery across several mediums presenting intricate woven wire works, resin and wax sculptures, and my favorite, ink drawings on Japan paper folded over felt and woven together into extravagant labyrinthine patterns.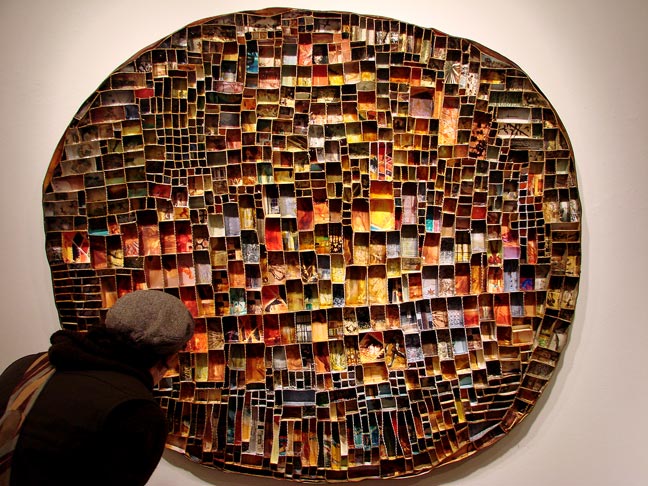 Art (like it).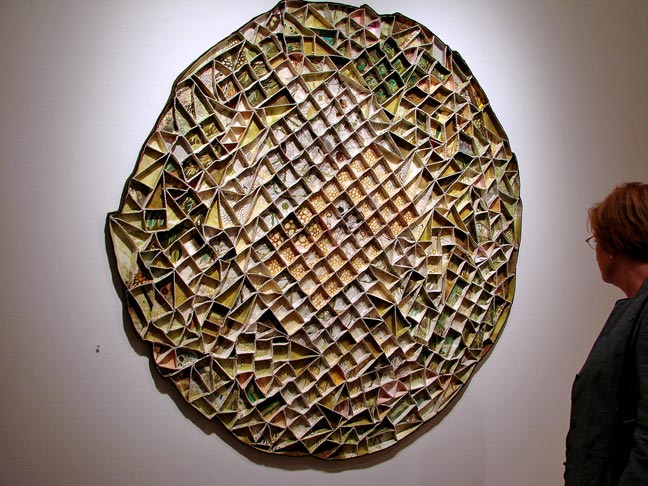 Art.


Art.


Art.


***
Scott Nichols Gallery: Rondal Partridge at Ninety - 75 Years in Photography.
Comment by AB: One would expect that anyone who takes pictures for 75 years will stockpile some pretty intriguing imagery, and in the case of Rondal Partridge, one would be right. Subject matters of Partridge's photographs include landscapes, still lifes, portraits, and austere straightforward closeups of ordinary everyday objects, the most entrancing examples consisting of multiple images arranged, mounted, and framed together as one.
Photography.


Photographs.


Images.


***
Steven Wolf Fine Arts: Derek Boshier - Magazine; Coleen Asper - The Trial.
Comment by AB: Another edifyingly uplifting edge-of-the-artosphere doubleheader from Steven Wolf, the 49 Geary denizen who most consistently bucks the bombastic boredom of "serious" creative endeavors-- those innumerable oeuvres that do little more than demand kowtow from humble supplicants. Instead, Wolf lightens it up with atypically informative perspectives on this issue or that. October's fare features the paintings of Derek Boshier, mock magazine covers delivering shrewd penetrating headlines directly to your aesthetic doorstep, and Coleen Asper's contempletive commentary on our legal system.
Art (Derek Boshier).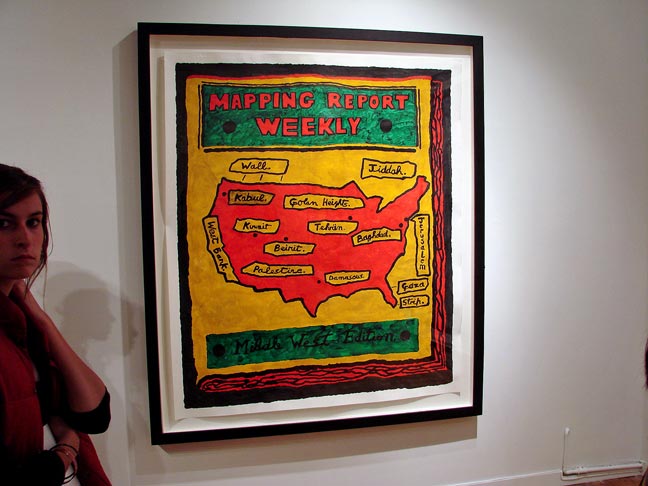 Art (Derek Boshier).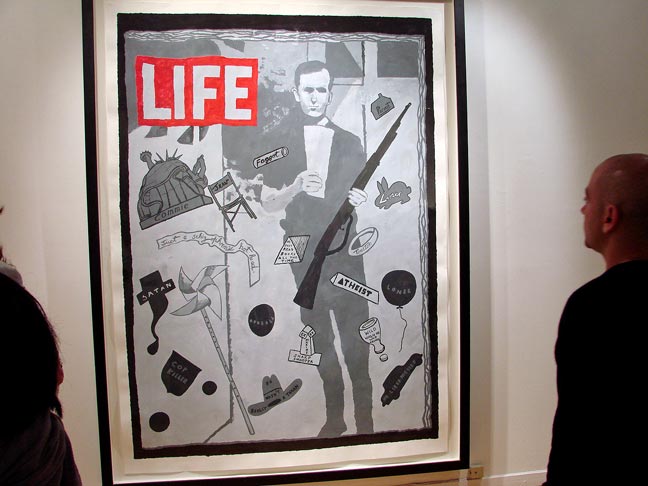 Art (Derek Boshier).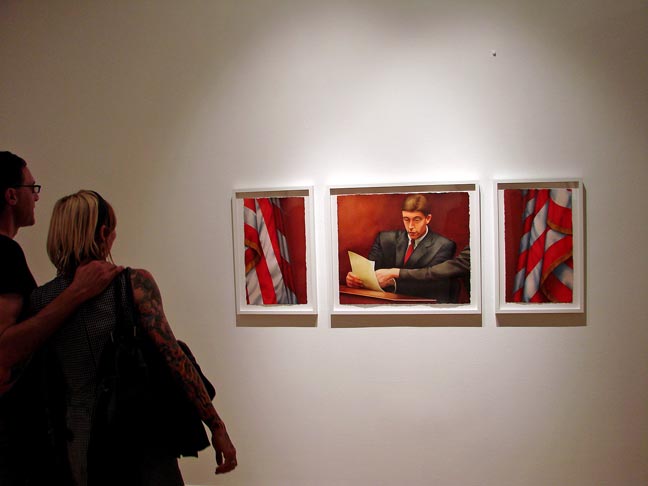 Art (Coleen Asper).


Art (Coleen Asper).


Art (Coleen Asper).


***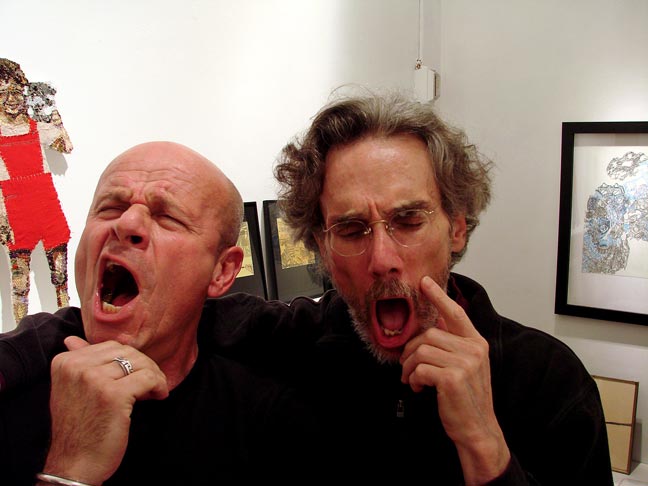 Quick yawn break with Jack Fischer. Now back to work...


***
Stephen Wirtz Gallery: Jim Goldberg - The New Europeans.
Comment by AB: Jim Goldberg effectively records "the journeys of populations of refugee, immigrant, and trafficked people, who travel from war-torn and economically devastated countries, to make new homes in Europe." They'd rather be home, but they're somewhere else instead, and not of their own volition. New lives or life sentences? Goldberg's photography makes you think about that.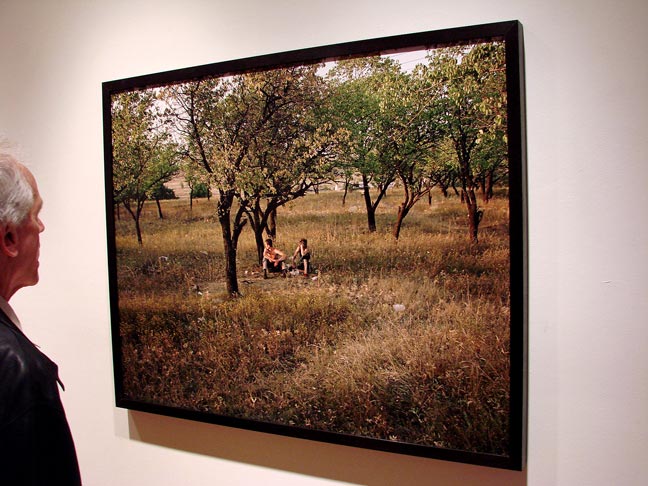 Photographs.


Photos.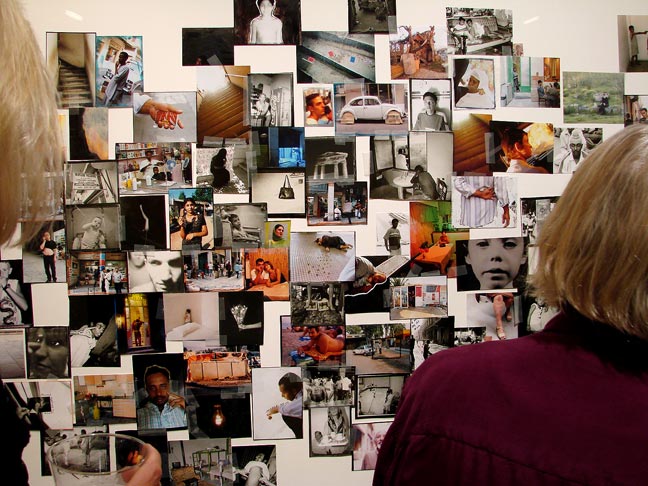 Images.


Photography.


Photographs.


Images.


***
871 Fine Arts: B. Wurtz - "Photo/Objects."
Comment by AB: A hefty percentage of artists are so unnecessarily protective of their "trade secrets" that the phenomenon is almost laughable. Wait. Actually it is laughable. Well, this show is the opposite of that. B. Wurtz presents a series of what look like architectural photographs and then, rather than you having to wonder what the deal is, displays the actual objects directly beneath their respective photos. Fundamental yet arresting-- and effectively presented. So easy anyone can do it, right? Or can they? Near Pick of First Thursday Runnerup (whatever that means).
Photography.


Photographs.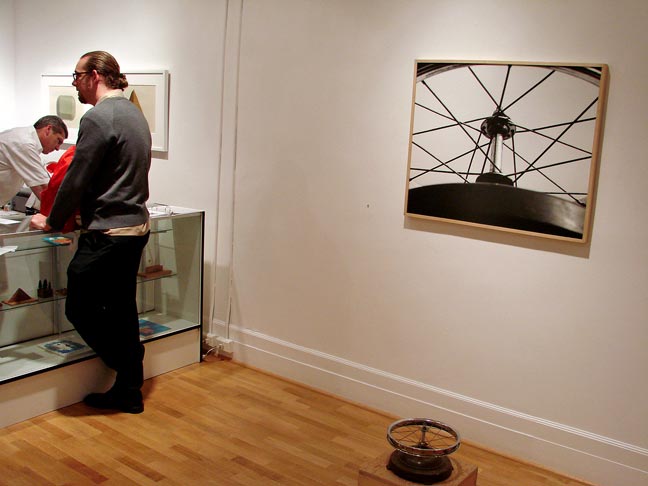 Photos.


Images.


***
ARTworkSF: Visual Voices - An Exhibit Juried by Bay Area Poets.
Artists: Kathryn Arnold, Miguel Arzabe, Nikolai Atanassov, Will Bullas, Pauline Crowther Scott, Mary Lou D'Auray, Phillip Gallegos, Sevilla Granger, Sarah Haba, Heather Hanan, Pat Koenigsberg, Raphael Landea, Lenka Manning Warder, Cheryl McDonald, William Noguera, Nicolas Smith, Richard Tauber, Melissa West, Rosalie Anneli Yerby.
Comment by AB: Interesting twist on the juried show has poets rather than visual artists and arts professionals calling the shots. Opening night festivites include readings by Jennifer Barone, Christopher Bernard, Steven Gray, Joyce Jenkins, Ingrid Keir, Jenny Jo Kristan, Joe Ledbetter, Lady Monster, Ginger Murray, and Phillip T. Nails.
Art.


Art.


Art.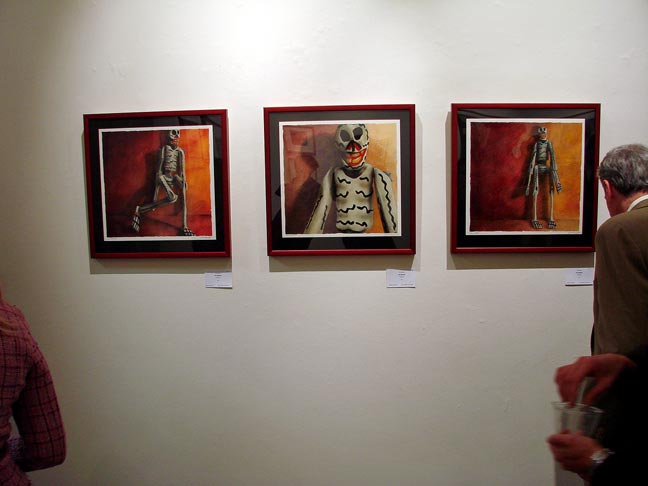 Art.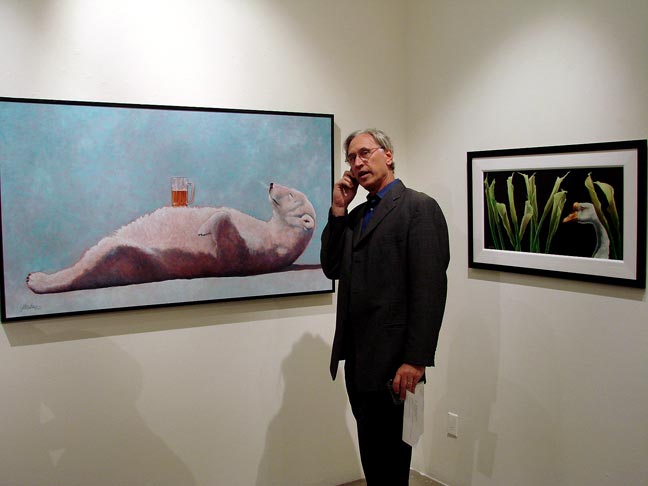 Art.


***
Dolby Chadwick Gallery: Marshall Crossman - Class Photo Series.
Review by Uba Owl: The gallery is full of people when we walk in. This is the first time I have seen Crossman's paintings. I want to get closer, but that's not possible. How to describe them? They are portraits. Have you ever looked through an old window glass pane? What you see is often very wavy. Images get distorted. Like Crossman's portraits. Very colorful, expressionistic, and fun.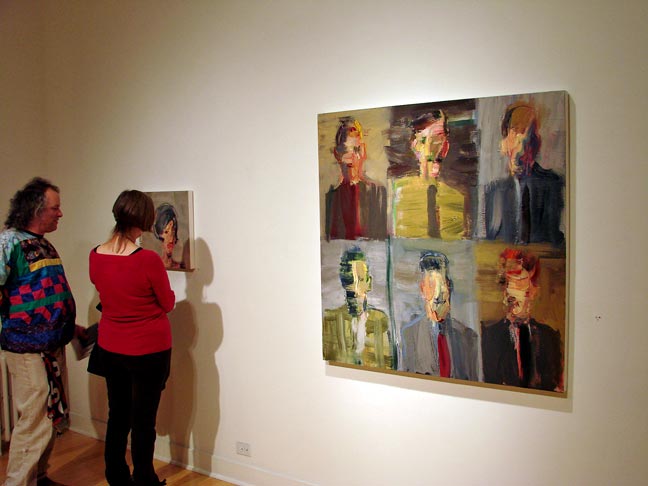 Art.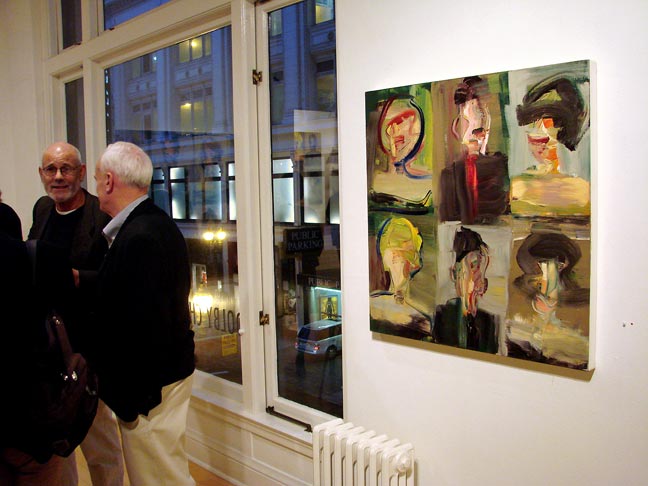 Art.


Art.


Art.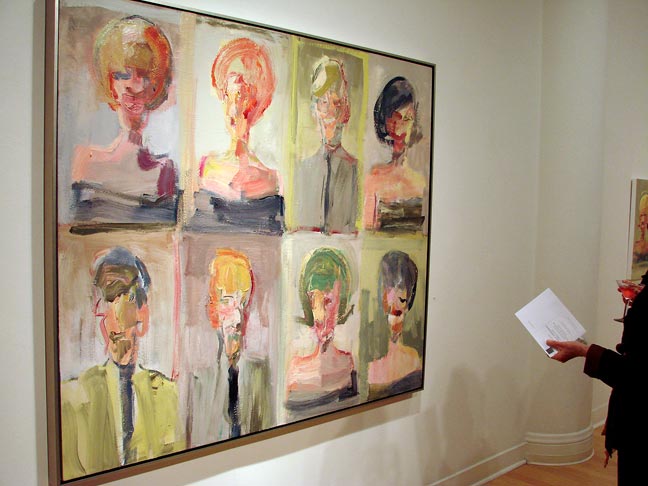 Art.


***
Hespe Gallery: Eric Zener - Renewal.
Review by Uba Owl: These paintings are so effective that I actually fall asleep looking at them... just kidding. The Spanish knew what they were doing when they invented siesta! Looking at one called "Reprise," on the other hand, makes me think of an office worker during happy hour, perhaps after a couple of drinks... Overall, the work is very realistic, peaceful, and quiet. Some scenes seem so personal and intimate, I feel almost like I'm spying, and want to walk away.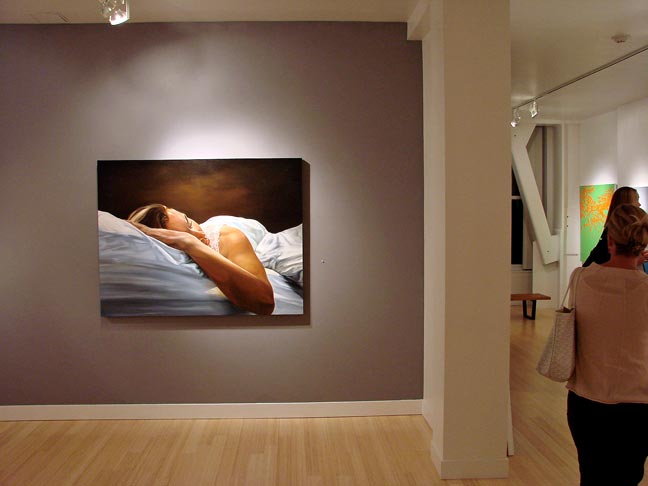 Art.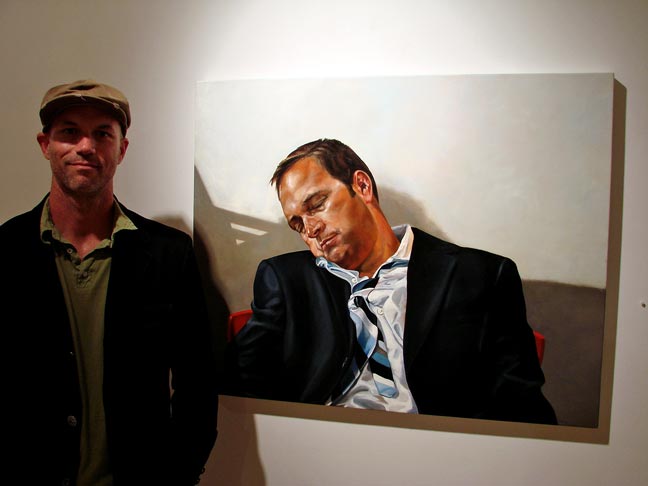 Eric Zener - "Reprise."


Art.


***
Newmark Gallery: Ilan Laks - Shade, New Works.
Review by Uba Owl: I'm very exited to return here after seeing last month's show. The current show is very different. "The pieces exist as alone as we are," says the artist in his statement. So very true. The works are quite large, maybe about 4 by 6 feet each. I feel like I am looking through randomly painted glass at microscopic nature-- shapes and lines are hard to decipher, yet oddly familiar. The surfaces are glossy. There seem to be layer upon layer of forms, color splotches, spills, and swirls. In some ways they remind me of science fiction movies and monsters. The artist must have had fun working on them.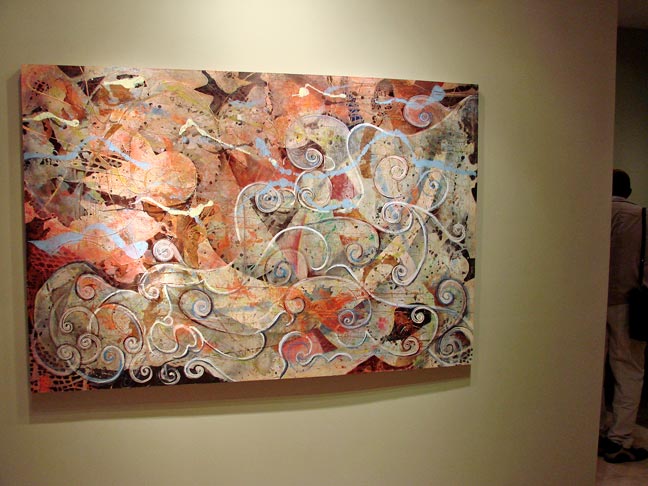 Art.


Art.


Art.


***
Adler&Co Gallery: Michael Scoggins - d3projects.
Review and images by Uba Owl: Let's see... art has roots as people do; Picasso was inspired by African art; many contemporary artists are inspired by Picasso's art. Michael Scoggins art seems to be inspired by his 7 year old son Michael. The idea is wonderful and witty. Every parent gets a kick out of seeing a page from their child's essay with teacher's corrections in red, here hung on the wall bloated to 4 x 4 feet in size. The presentation may be amusing, but do we want to start a discussion on what is or is not ART?
Art.


Art.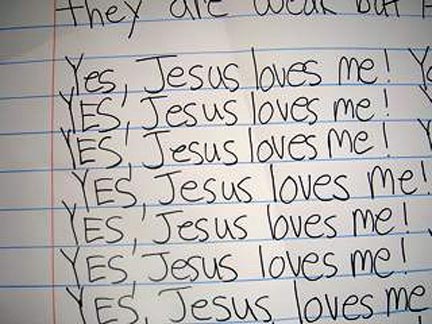 Art.


***
Academy of Art University: Emily Clawson, Kristin Grahn, David Platford, Gina Tecson.
Review and images by Jennifer Mullen: The Academy of Art University, 79 New Montgomery Gallery, unveils a four-student exhibit that orbits around San Francisco's urban landscape as well as another integral part of the Bay Area-- the ocean and its underworld.
Kristin Grahn, Gina Tecson, and David Platford's work shares a central concept-- the city and its many perspectives. Tescon takes the softest approach, her cityscapes featuring dark skies illuminated by lights from the houses of SF's many residents. She starts with an acrylic base which is then followed by layers of oil to create texture and depth in her work.
Grahn's work starts with aged found photographs and current snapshots; the artists then builds upon this initial imagery with printmaking and painting, creating the layers of a city that are harmonious yet also incongruent with one another. Different lines intersect as if in different planes in time; the work sometimes resembles a blueprint interwoven with pictures of the project in advanced states in the future. Grahn's work has a very industrial feel to it, with dark grays setting a somber tone, interspliced with colorful touches that bring her work to life.
Platford's work also appears to exist on different planes, yet his work conveys a city blended with fantastical elements. The contrasts in Platford's work are the most striking in the show; he paints colorful cityscapes conjoined with dada-esque visions. Platford's paintings provide a colorful alternative to the boundaries of ordinary life.
The final artist, Emily Clawson, reverts the show to the roots of nature and reminds the viewer how interdependent life is. Her work is inspired by chemical processes in the sea, specifically how oxygen is used to transport algae to the sunlight-rich surface of the ocean. Clawson works with encaustic painting and acrylic on panel.
The show works because the four artists complement each other without being redundant. MFA students Emily Clawson, Kristin Grahn, David Platford, and BFA student Gina Tecson's show runs through November 1.
Art (Emily Clawson).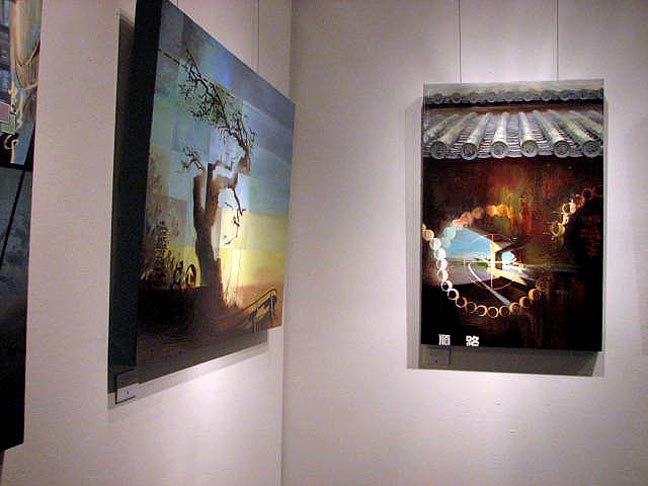 Art.


Kristin Grahn - art.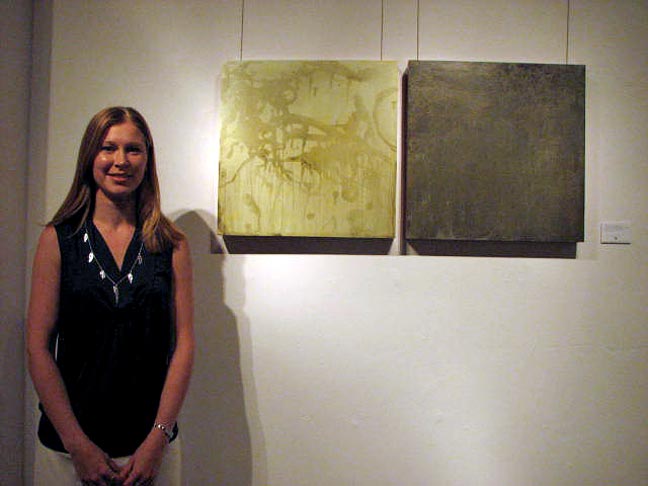 Emily Clawson - art.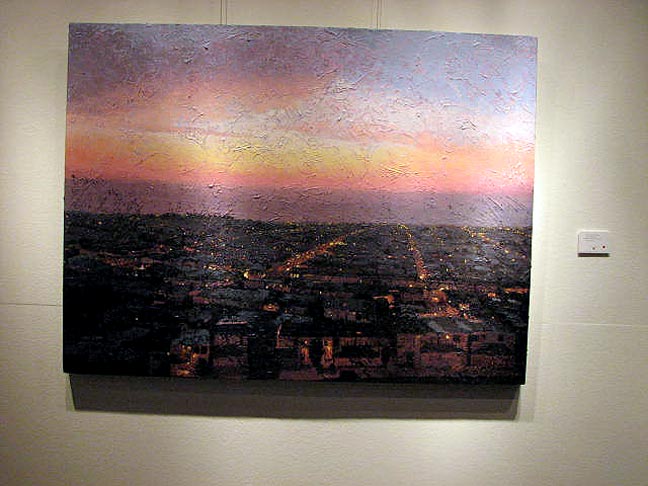 Art (Gina Tecson).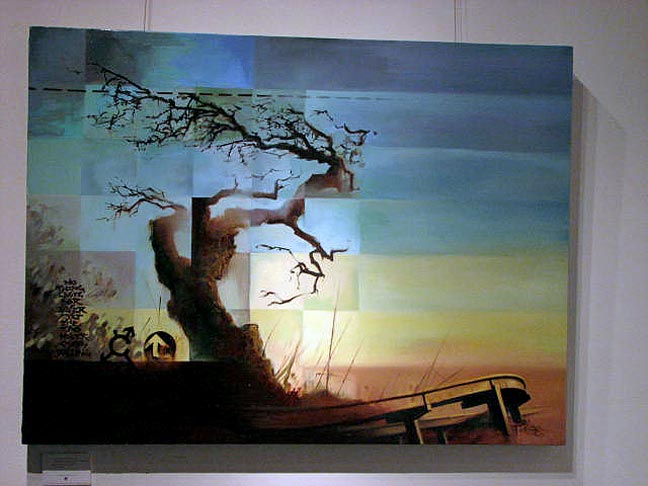 Art.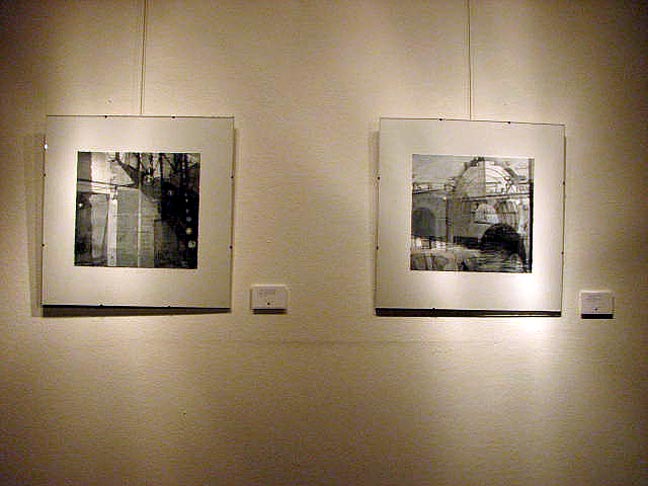 Art.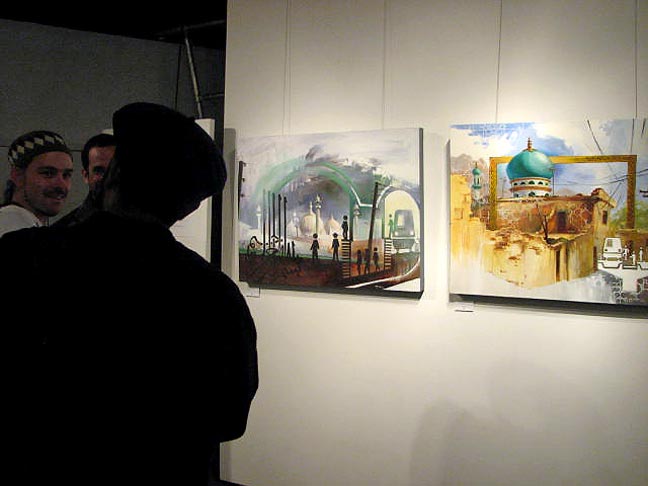 Art.


***
111 Minna Gallery: Ted Lincoln and Miya Ando Stanoff - Distilled Moments; Invisible Cities - Multi-media Installation presented by Ethsix, Instant City & Watchword Press.
Artists for Invisible Cities: Beryl Fine, Jana Flynn, Yael Martinez, Linda Nguyen, Hilary Pecis, Rachel Styer, Nadim Sabella, Michael Page, Adam Weir, Monica Canilao, Eve Ekman, Amber Caddy.
Comment by AB: Ted Lincoln ponies up an innovative approach to traditional Chinese Sumi-e landscape painting (which he's studied in China) by applying automotive enamel to aluminum panels and then substituting bar codes for chop marks. Miya Ando Stanoff manipulates surface textures of steel panels with acids, sanding, pigments, and heat to create soft subtle patterns resembling landscapes and seascapes, as she progressively polishes her process. Over in the entertainment suite, Ethsix Magazine in collaboration with Instant City and Watchword Press together serve up a savory slice of local talent-- artists, writers, and musicians-- all of whom exemplify that unique Bay Area flair.
Art (Miya Ando Stanoff, up - Ted Lincoln, down).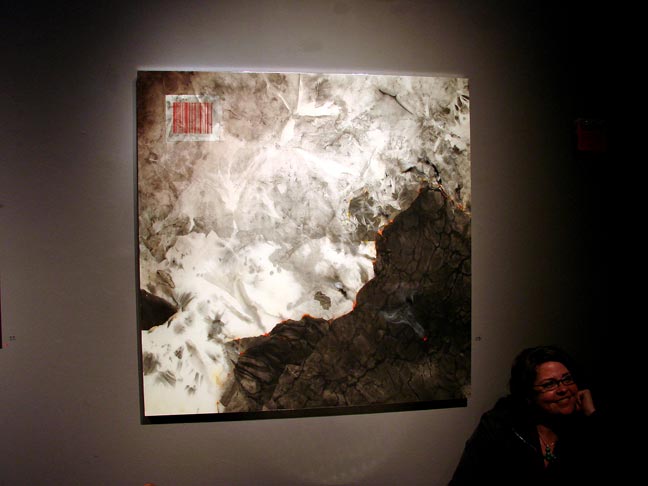 Art (Ted Lincoln).


Art (Miya Ando Stanoff).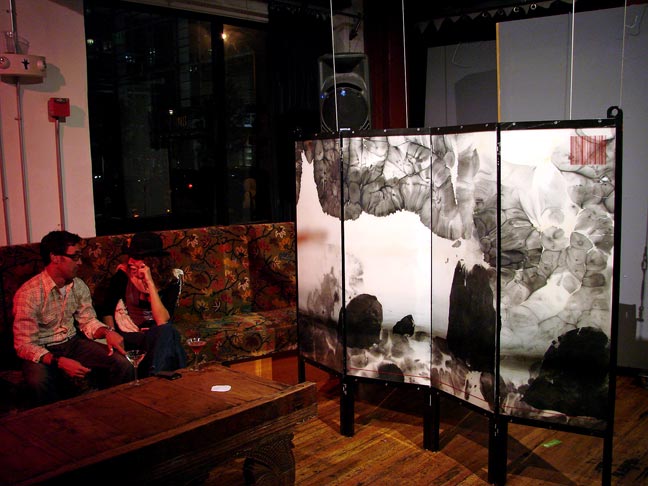 Art (Ted Lincoln).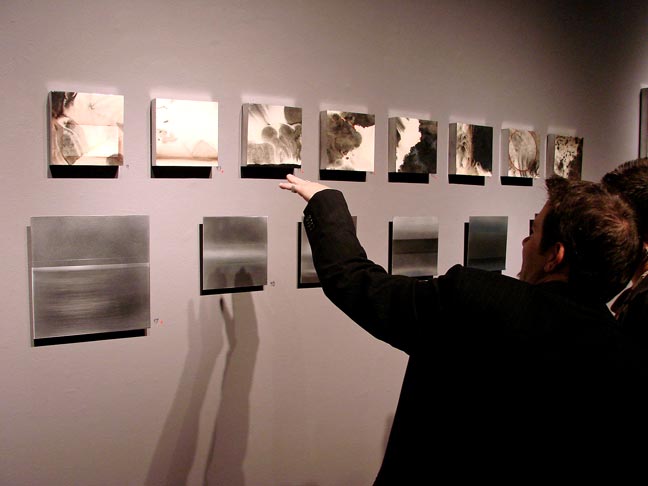 Art (Ted Lincoln, up - Miya Ando Stanoff, down).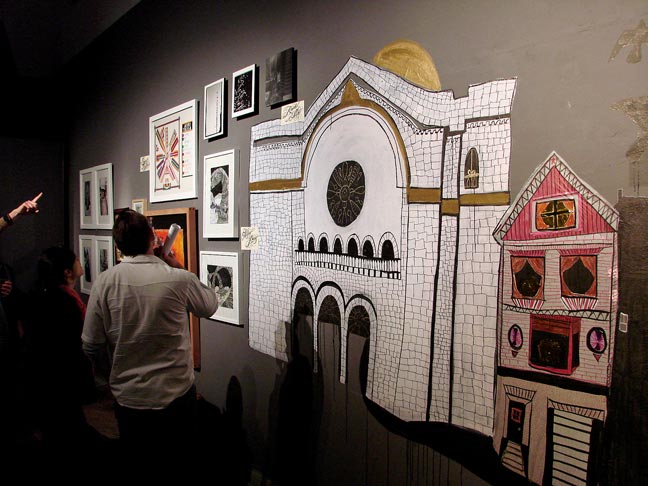 Art (Invisible Cities).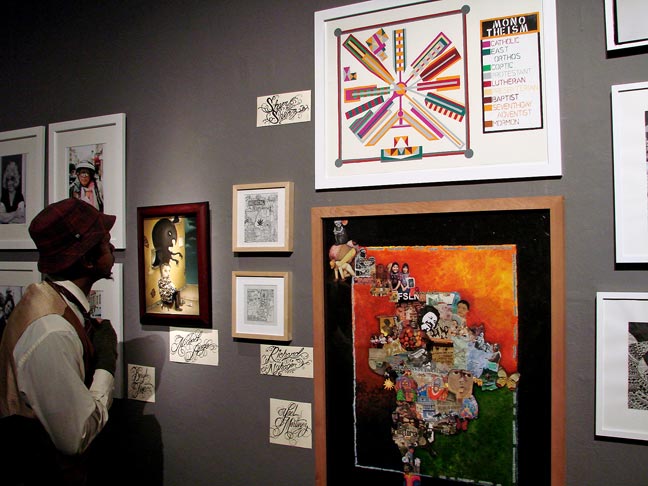 Art (Invisible Cities).


Art (Invisible Cities).


***
20 GOTO 10: Benjamin Belsky and Dylan Maddux - The Adventures of Red Beard and Black Stripe.
Comment by AB: Benjamin Belsky and Dylan Maddux jaunt off to Jamaica, access the culture, document the episode, and share their findings here. It's a sweet mix with Belsky itemizing the sights and Maddux seasoning in the people. I think they had a good time.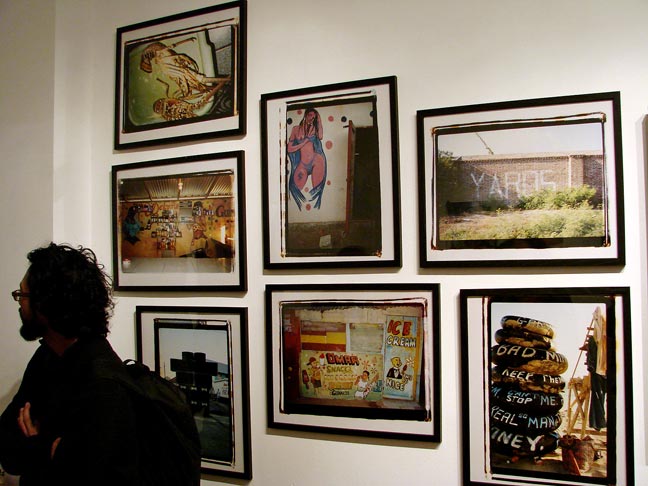 Photography.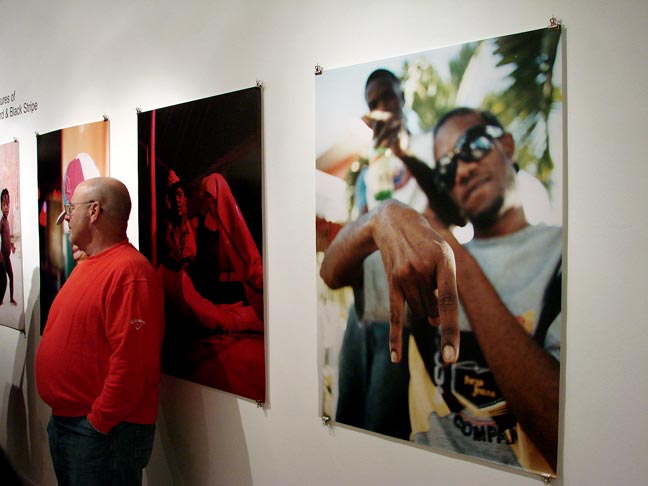 Photos.


Dylan Maddux - photography.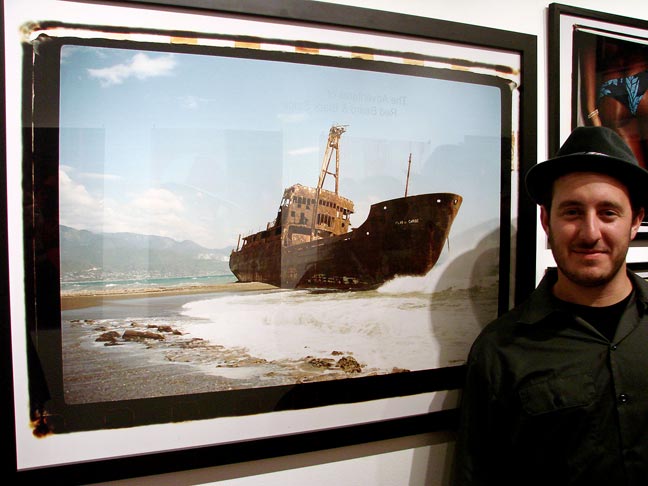 Benjamin Belsky - photography.


Photographs.


***
Jack Hanley Gallery: Will Rogan - A Memory of Shadows and Stone; Chris Johanson & Kal Spelletich - a collaboration.
Comment by AB: From various perspectives, Will Rogan effectively expounds on the bombing of Hiroshima at the end of World War II. Of interest is a video shot from directly behind a motor scooter scootering through the narrow streets of downtown Tokyo. The passenger on the back of the scooter holds a large mirror which continuously reflects where he's just been. The video is projected onto the base of a pyramid-shaped construction lying on its side on the floor, the combined effect of pyramind and projection, whether intentional or otherwise, lending somewhat of a three-dimensional look to the video.
And the award for the most entertaining show of the evening goes to the raucous riotous Kal Spelletich / Chris Johanson collaborative interractive kinetic carousal at the Jack Hanley annex. An amusement park for the anomalous.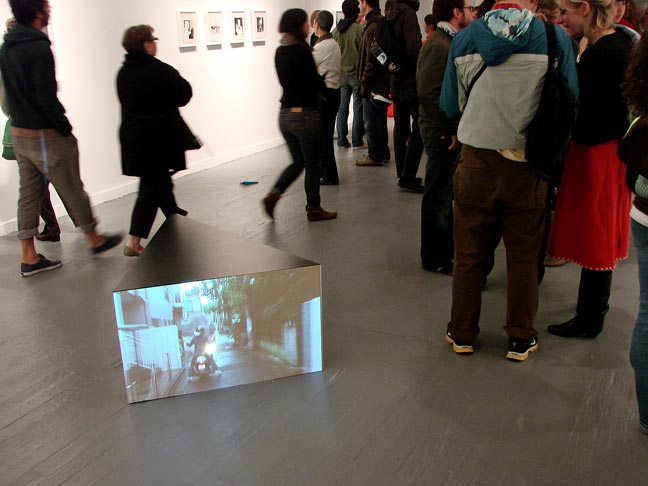 Faux 3-D video art, front (Will Rogan).


Faux 3-D video art, rear (Will Rogan).


Art (Will Rogan).


Art (Will Rogan).


Art (Will Rogan).


Art (Chris Johanson & Kal Spelletich).


Art (Chris Johanson & Kal Spelletich).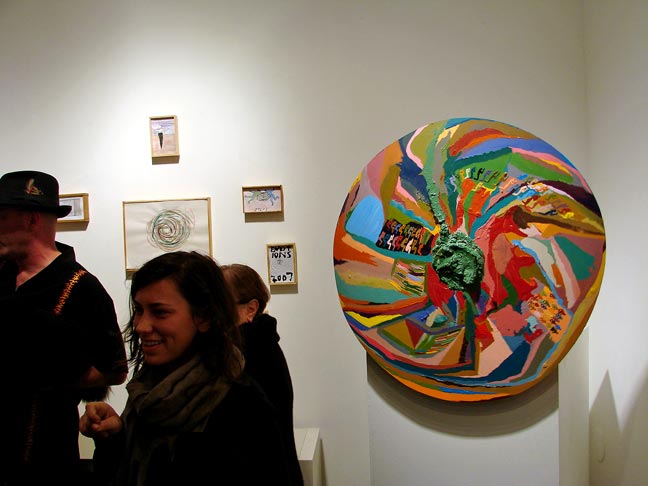 Art (Kal Spelletich & Chris Johanson).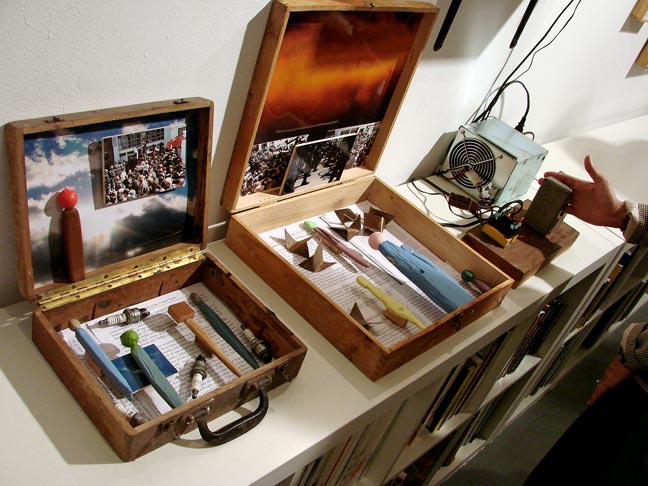 Art (Kal Spelletich & Chris Johanson).


Art (Kal Spelletich & Chris Johanson).


***
David Cunningham Projects: Animal Rites.
Artists: Anonymous, Michael Beirne, Kerri Lee Johnson, Patricia Looby, Austin McQuinn, Alice Maher, Connie Samaras, Darren Waterston.
Comment by AB: Cogent cull of artists from Ireland, Los Angeles, Oakland, and San Francisco come together on behalf of animals, proceed to question human understanding in their regard, and additionally celebrate World Animal Day and the Feast Day of St. Francis (patron Saint of animals). In the affordability department are gouache an ink paintings by Kerri Lee Johnson, particularly several of hunting rifles. Plus don't miss two rather riveting self-portraits by Alice Maher, one where she sports a necklace made from giant clams (I think), and another where she hides her face in a bowl-shaped construction fashioned entirely of snail shells. In the video room, a seal comes up for air through the ice.
Seal through the ice video art.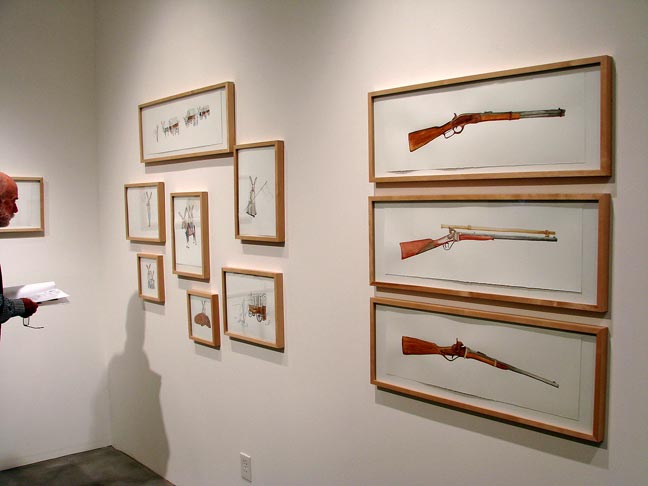 Rifle art (Kerri Lee Johnson - kinda like it).


Maritime fashion photography (Alice Maher - like it).


Art.


Art.


Art.


***
FIFTY24SF: Dora Drimalas - Creature Comforts; Retna - Dialect of the Scribes.
Comment by AB: Recent calligraphic works by Retna represent conversations with friends in the afterlife, and accounts of a clandestine art group dubbed the Mad Society Kings. Dora Drimalas paints clean upbeat creatures and critters with near geometric precision. According to the spec sheet, there's more to these innocents than meets the eye, so next time you see Dora, you might ask her about 'em.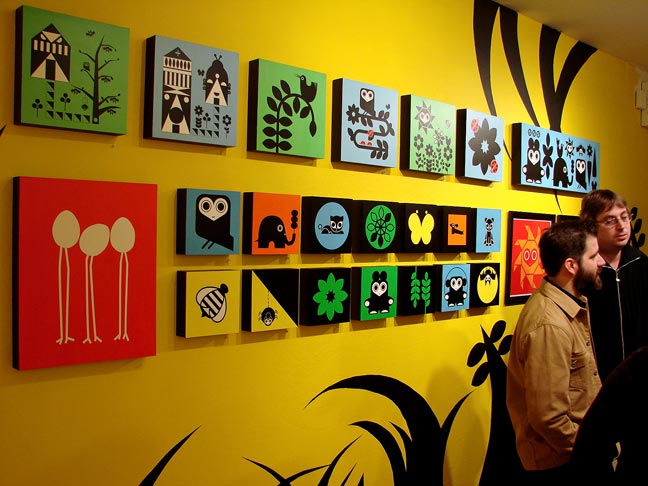 Art (Dora Drimalas).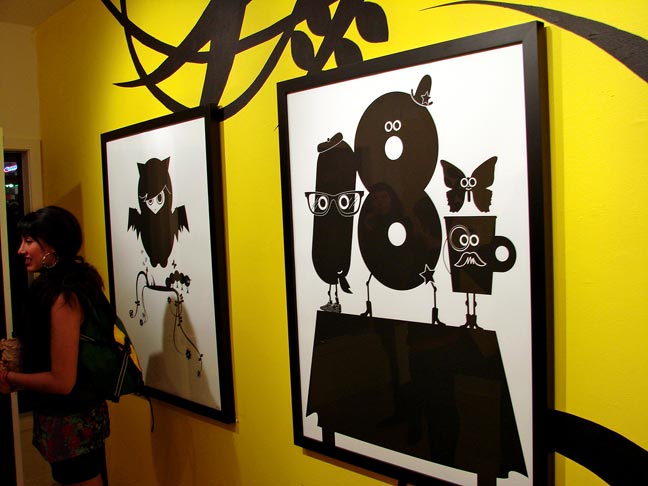 Art (Dora Drimalas).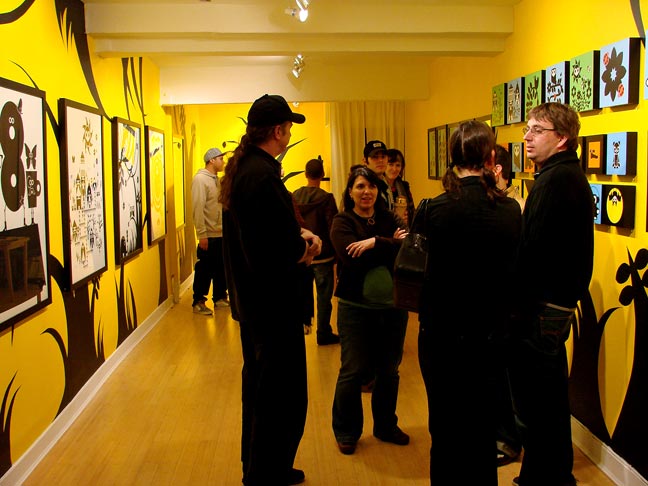 Art (Dora Drimalas).


Art (Retna).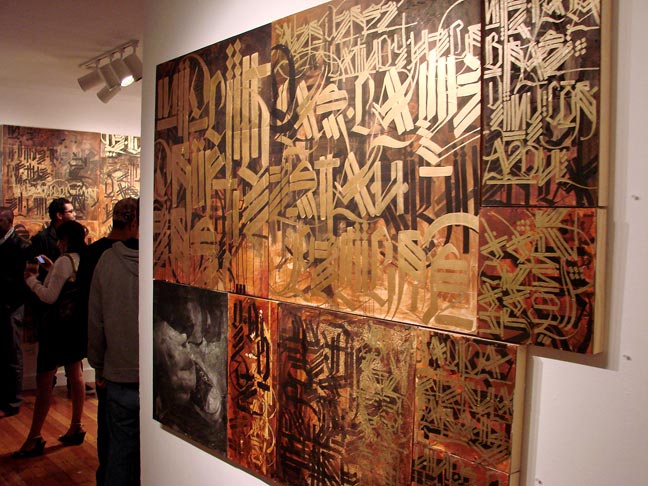 Art (Retna).


Retna - art.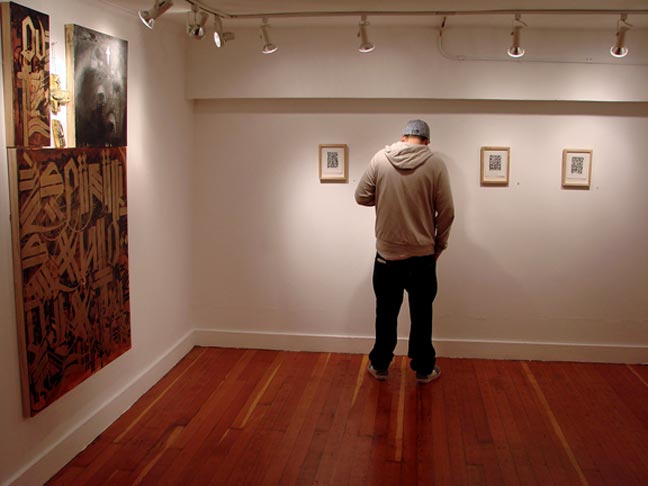 Art (Retna).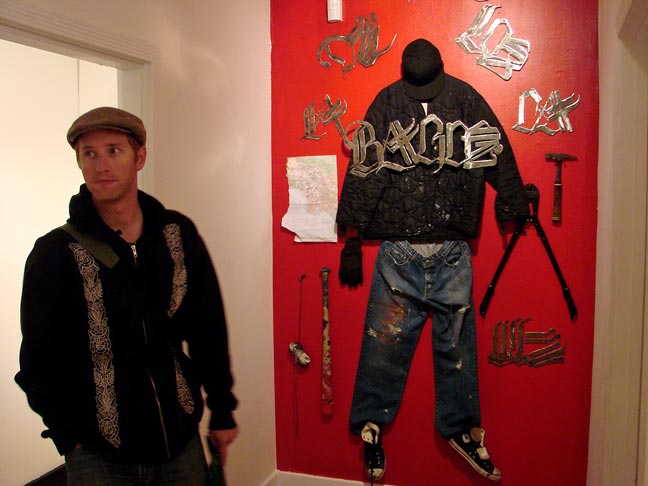 Art (Retna).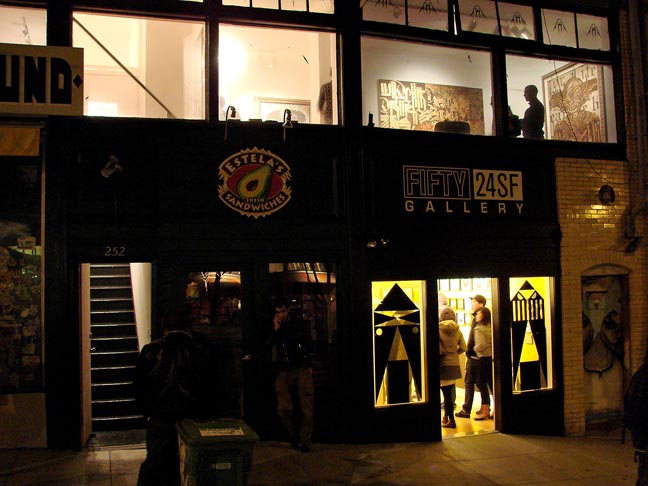 Location.


***
Addendum: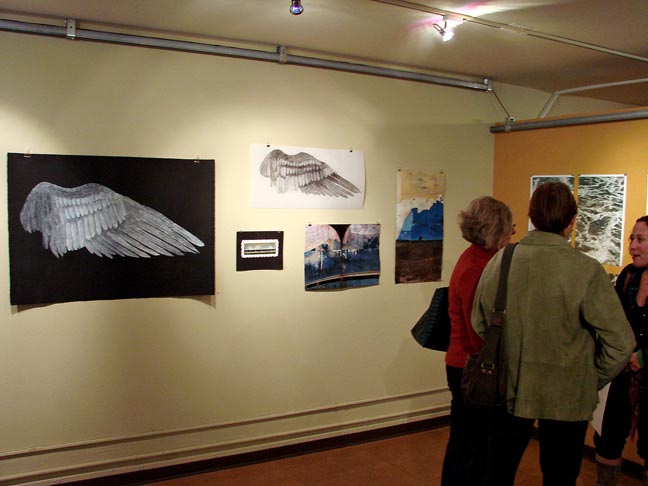 Group show at Hangart Annex.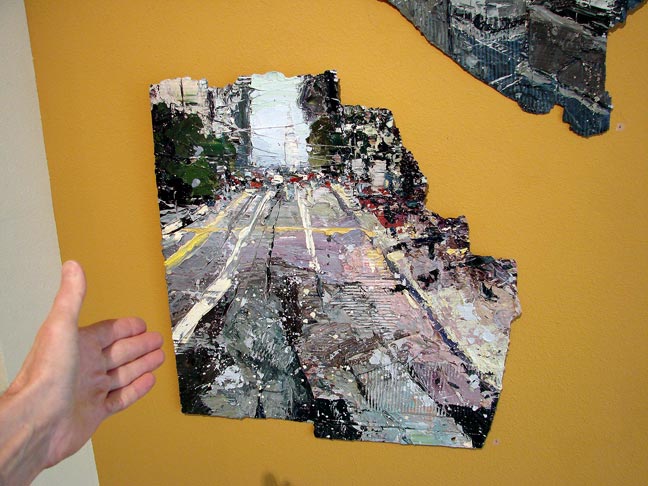 Engaging impasto on cardboard scrap at Hangart Annex (like it).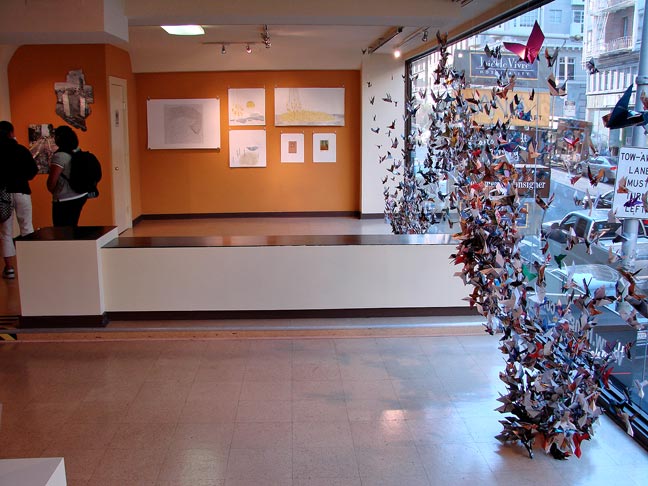 One more from Hangart Annex.


***
You've been putting it off and putting it off and putting it off, haven't you? Well, now's your big chance. Special bonus-- you get a complimentary link to your website in return. And thank you for your support.
***
First Thursday; September 6, 2007