SAN FRANCISCO ART GALLERIES OPENINGS

FIRST THURSDAY; 10.01.09

(with assistance from RWM, Kathryn Arnold, GLS and Pilar Vree)


Comment by AB: I was thinking about using this space for a rejoinder to the periodic potshots I get from the high-poof contingent of the MFA crowd and their arduous piffle peddling analysts spouting cabalistic poppycock, but then I thought... why bother? The longer they remain entrenched in their arcane exclusionary ways, unflinchingly refusing to reach out to ordinary everyday types who just plain love art, the fewer and fewer people will understand (let alone care about) what they're up to. Might I suggest New Langton Arts as a tragic case in point. And for those of you who continue to put forth that dumb "dumbing down" argument as justification for your imperious obstinancy, would you perchance be referring to the way Carl Sagan "dumbs down" physics and astronomy, or maybe the way Sister Wendy "dumbs down" the world's great masterworks? The last time I checked, art was for everyone. And I think it still is. While I'm on the topic, wanna see some? I sure do...
***
Caldwell Snyder Gallery: Gilles Marrey.
Comment by AB: Expansive high-contrast assessments of magnificent Ess Eff by Gilles Marrey. Not quite California colors, but that lends a certain romance to the interpretation.
Art by Gilles Marrey.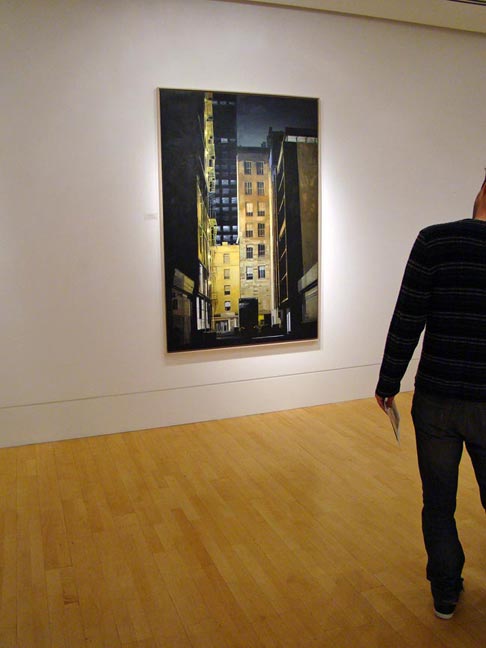 Painting by Gilles Marrey.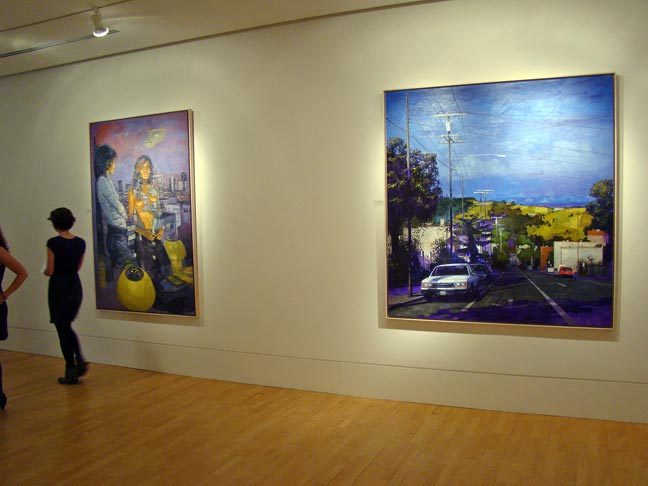 Gilles Marrey art.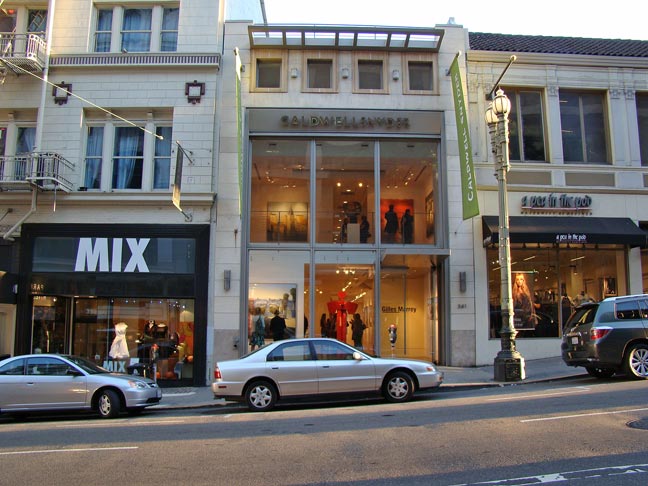 Caldwell Snyder Gallery outer.


***
John Berggruen Gallery: Michael Gregory at John Berggruen Gallery - Western Constructs; Six Artists (on the first floor).
Artists (Six Artists exhibition): Jonathan Callan, Tom Friedman, Anton Henning, Vik Muniz, Julião Sarmento, Kiki Smith.
Review by Kathryn Arnold: Are these really landscapes? Yes and no. Constructed yes, but these do so in a way that plays with the real and the idea of the real. Being from the Midwest, I recognize the wide expanse of sky as something I miss, and read them from some personal experience. Gregory has emphasized the sky with his low lying horizon lines in most, if not all, of these paintings. In a way, I begin to experience these works as an imagist poem, something like the Red Wheelbarrow by William Carlos Williams. The objects are so clearly cleanly painted. The titles are poetic in this similar way and with the sky being accented with precise and not so precise dots, I wonder to myself, is this a vision? There is definitely more to these paintings than meets the eye with loads of content contained in a conceptual realm.
Review by RWM: Big beautiful houses on the prairie by Michael Gregory. Maybe a happier place on the horizon. The quiet images remind one of Edward Hopper.
Comment by AB: Michael Gregory's spare, expansive and intriguingly accessible landscapes homage the grandeur of The Heartland in a contemplative yet mystical kind of way. Tough day at the office? Reaiize respite with a visit to Gregory-land. Like 'em. Plus you'll enjoy a snappy group show downstairs. Worth a visit on all counts.
Art by Michael Gregory.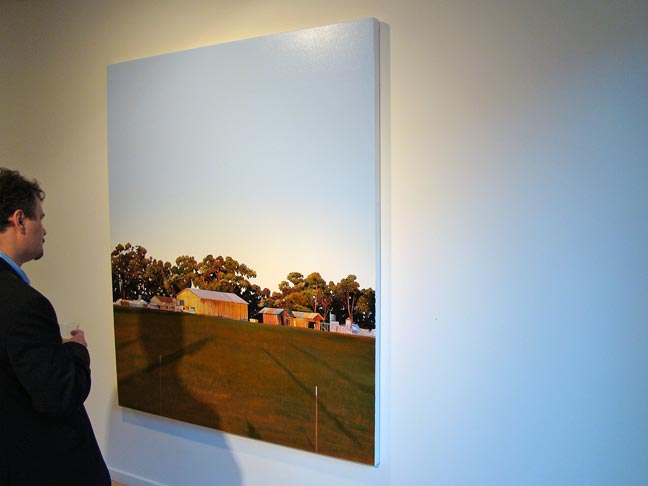 Painting by Michael Gregory.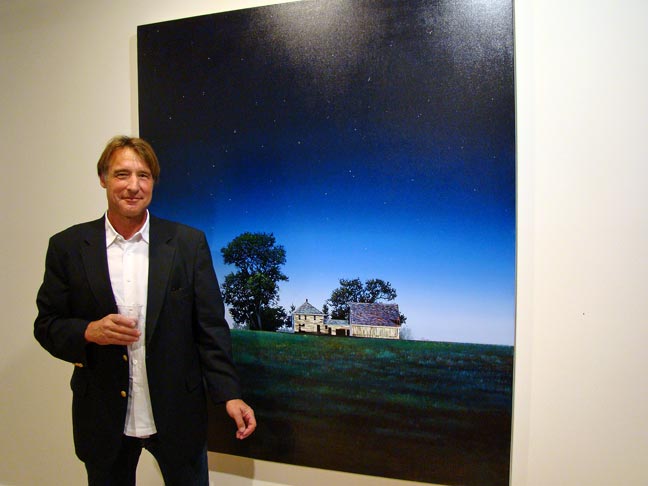 Michael Gregory adjacent to his art.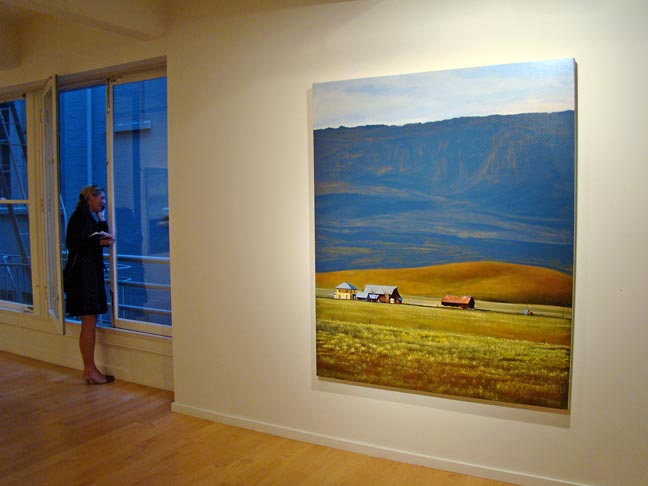 Art by Michael Gregory.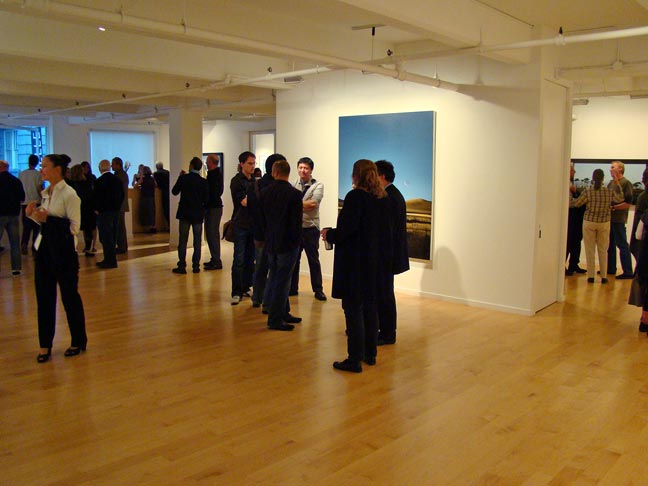 Floor plan.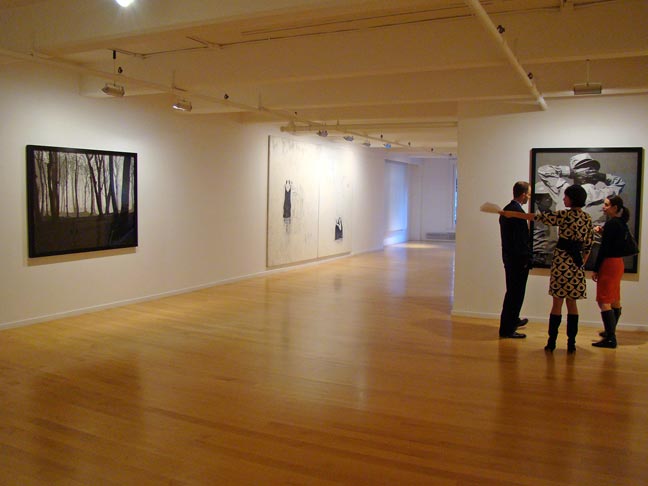 Group show downstairs.


Group show downstairs.


***
Dolby Chadwick Gallery: Gary Ruddell - New Paintings.
Comment by AB: Art about choice points by Gary Ruddell-- being on the verge, on the edge, comparing your reality to that of the reality next door, and in general, wending your way through the maze.
Art by Gary Ruddell.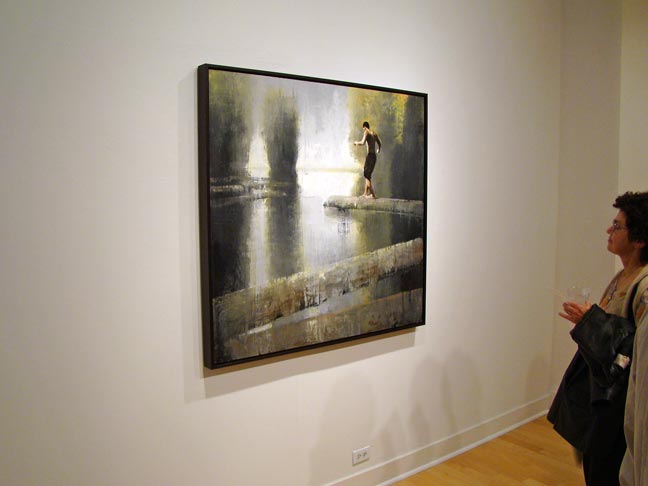 Gary Ruddell art.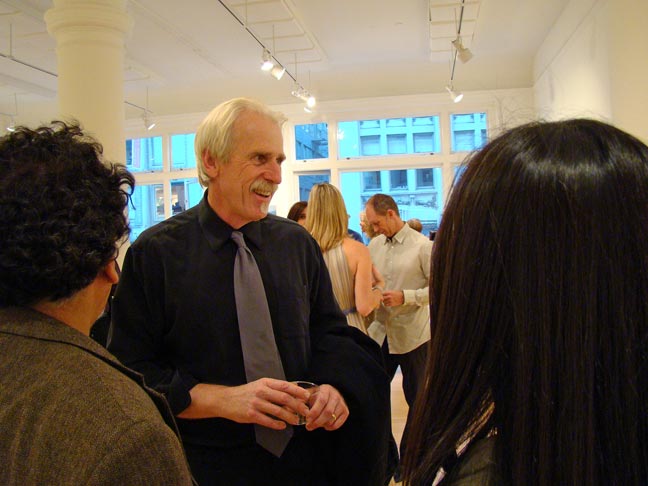 Gary Ruddell.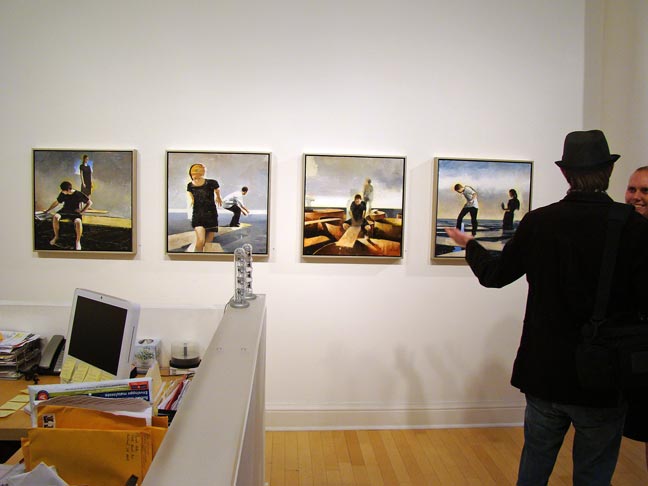 Paintings by Gary Ruddell.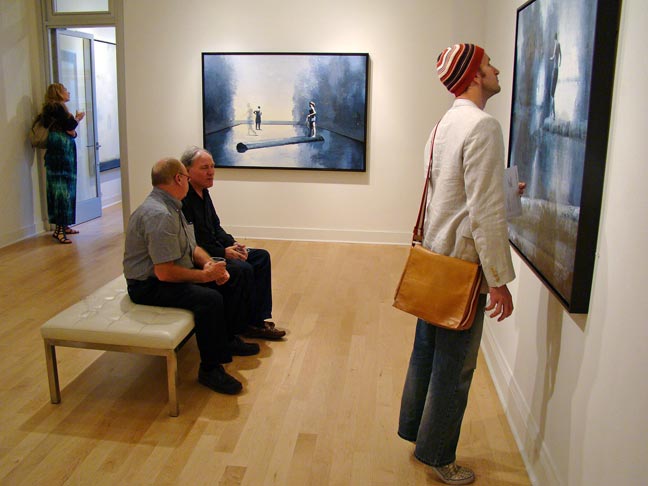 Art by Gary Ruddell.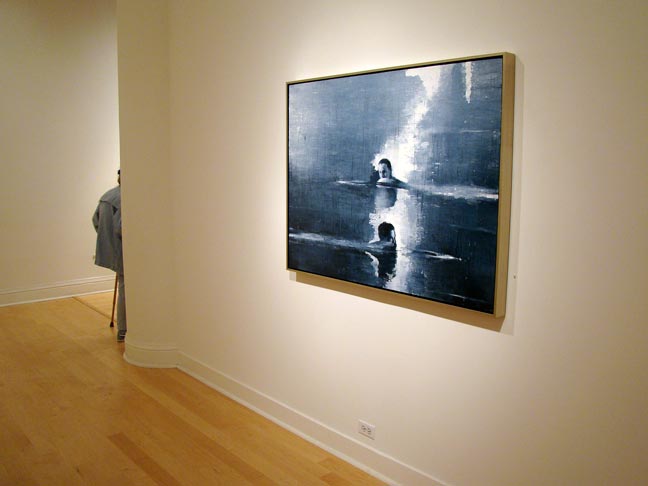 Gary Ruddell art.


***
Suite Five Salon: Margaret Timbrell - Paintings.
Review by RWM: Beautiful assemblages of colors with mixing and contrasts. All sorts of emotions evoked including passion, peace, foreboding, and enjoyment. Various and impressive color schemes presented.
Comment by AB: Sorry-- no images. None on the Suite Five Salon website; can't download any off the artist's website (it's specially designed to prevent that). Artists who are overprotective about their art are often granted a very special wish-- consummate anonymity. You want it to be all yours and only yours and you control everything? Fine. Keep it... and captain your ship to oblivion.
***
Hespe Gallery: Eric Zener - Splash!
Review by RWM: Marvelous depictions of water for a town blessed with ample ocean and bay, but hardly any public pools. Eric Zener captures the movement of water and the swimmer in the mix. Some images invite you to relax. Others invigorate. Nice depiction of our connection to water in a city, like many others, where the nearby waters could be cleaner.
Comment by AB: Challenging subject well met-- painting splashes, divers just entering the water, swimmers in action in and around swimming pools. Don't miss the striking still life of underwater bubbles. Nicely done Eric Zener. Go see.
Paintings by Eric Zener.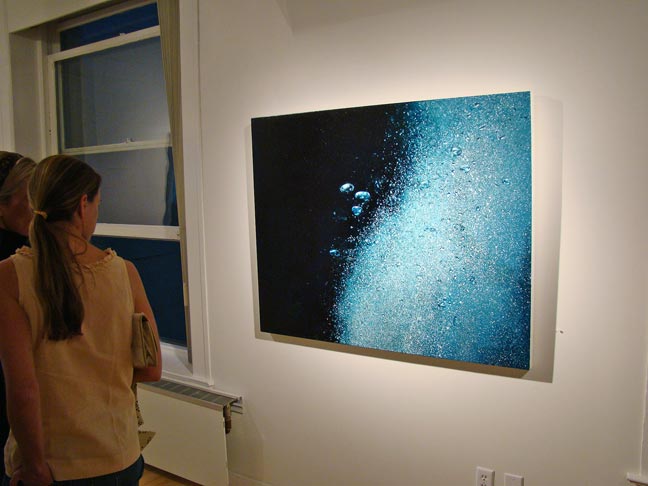 Underwater bubble still life by Eric Zener (like it).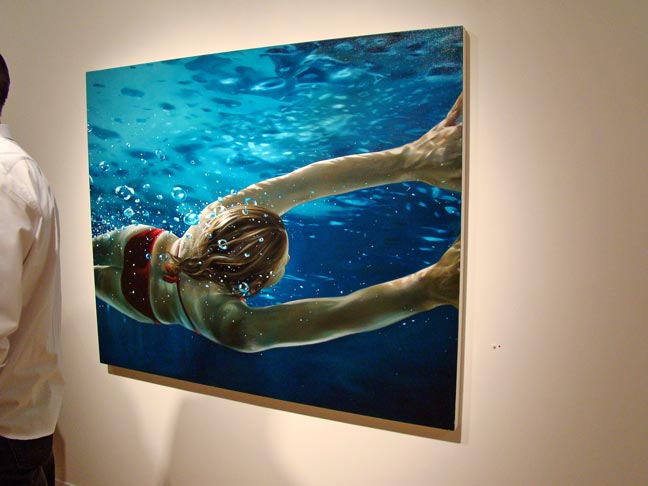 Art by Eric Zener.


Eric Zener art.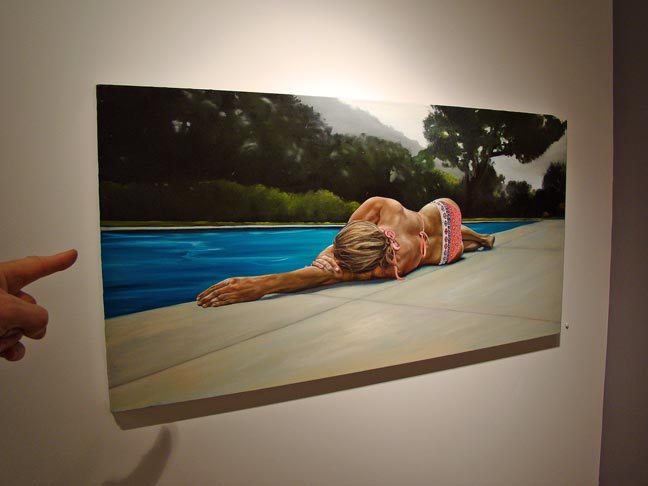 Art by Eric Zener.


***
Togonon Gallery: Servando Garcia - Struggle; Ariel Erestingcol - Cewebrities, The Virtual Red Carpet.
Review by GLS: The double solo shows opening at the Togonon Gallery are the second solo exhibition there for Ariel Erestingcol and the third for Servando Garcia.
Ariel Erestingcol's show, his second at Togonon, entitled "Cewebrities, The Virtual Red Carpet" is comprised of portraits of individuals made famous by their internet and electronic media presence and status. Most of the pieces are created by painstakingly assembling thousands of small, colored, pixel-like plastic beads into life-like renderings of these online personas. The centerpiece of Erestingcol's show is a colorful and highly effective assembly of eighteen individual portraits combined into a large composite work entitled "Cewebrities," including a variation of the now famous campaign image of President Obama.
Also on display are several captivating celebrities in air brush, including a rendition of the now highly recognizable face of Susan Boyle who this year rose from obscurity to stardom virtually overnight, courtesy of the entertainment television media. Erestingcol obtained his Bachelor's degree from the San Francisco Art Institute and his MFA from the California Institute of the Arts. He is a native of Los Angeles, where he currently lives and works.
"Struggle - The Art of Servando Garcia" primarily consists of paintings where alternative views of the same scene or image are created on separate canvases. The contrasts amongst these paintings are thought provoking and cause the viewer to analyze and compare the images, to question which image may be closer to reality or whether the several images represent equally valid perspectives of reality. On further reflection, the viewer may even be prompted to question what reality is. According to the gallery, Garcia is obsessed with notions of ontology and expression. In the philosophical context, ontology is the study of the nature of being, existence or reality in general.
He often uses drawings, photographs or television images as a source for his paintings. For example, several canvases are based on an image from a football game on television. The variations presented show a range of possibilities including a nearly "normal" image contrasted by images with varying degrees of distortion and malfunction. Other paintings in the show appear to be based on photographs of different locations as their source, with additional views showing how these locations may be alternatively perceived.
The show title "Struggle" suggests Garcia's vision and path forward are unclear and sometimes difficult, although that should be expected if the issues addressed are ontological, where there are always many more questions than answers. The artist obtained his BFA from the San Francisco Art Institute in 2000 and his MFA from the School of the Art Institute of Chicago in 2007. He lives and works in San Francisco, and has won several awards and grants including the Pollock-Krasner Foundation Grant in 2005.
Art by Ariel Erestingcol.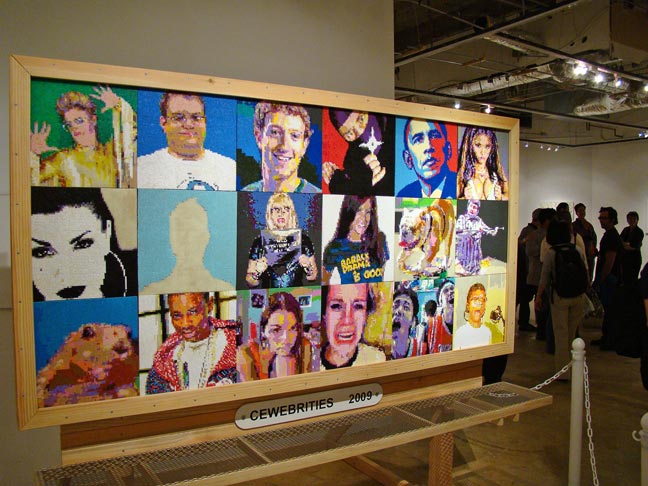 Art by Ariel Erestingcol.


Air brushed Susan Boyle by Ariel Erestingcol (image c/o GLS).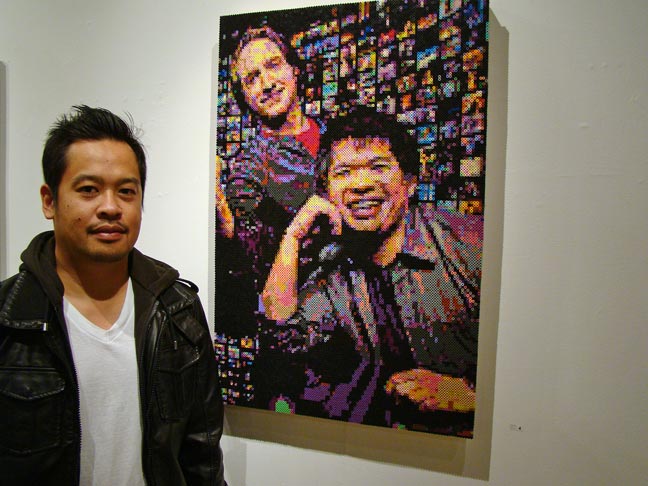 Ariel Erestingcol and his art.


Pinkie cam detail of art by Ariel Erestingcol (fused mini plastic beads).


Paintings by Servando Garcia (image c/o GLS).


Servando Garcia art.


Not sure (art by Servando Garcia).


Attendance figures (image c/o GLS).


***
Elins Eagles-Smith Gallery: Gustavo Ramos Rivera - Recent Work.
Review by Kathryn Arnold: The large brightly lit abstractions of Gustavo Ramos Rivera are on view at Elins Eagles-Smith Gallery. I am looking at paintings that emphasize pure feeling, pure color. In fact, the language of line, shape and color are intricately in play with each other. I get a sense of Hans Hofmann's color theory in action as the colored elements at times submerge and at times float above a field of pure color.  The painterly filed is thus activated. Rivera's interest in the application of paint is contagious and I find myself mesmerized.
Comment by AB: Big bold abstract paintings and sculptures by veteran practitioner Gustavo Ramos Rivera, born in Ciudad Acuna Mexico in 1940 and active here in San Francisco since 1976.
Paintings by Gustavo Ramos Rivera.


Gustavo Ramos Rivera alongside his art.


Art by Gustavo Ramos Rivera.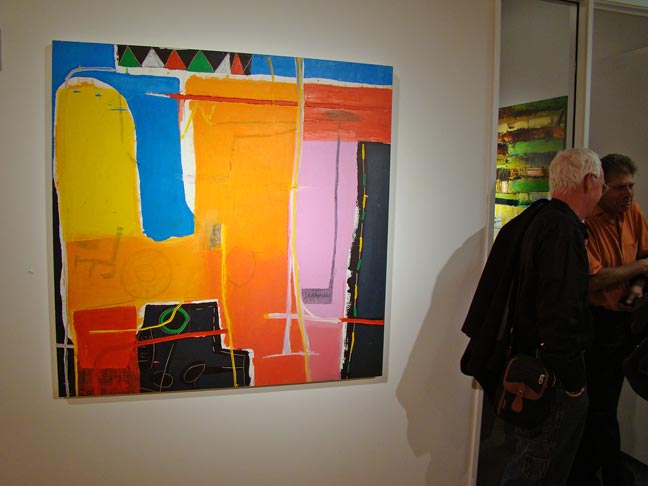 Gustavo Ramos Rivera art.


Paintings by Gustavo Ramos Rivera.


***
Toomey Tourell Fine Art: Jimi Gleason - Rough Around the Edges.
Review by Kathryn Arnold: Entering Toomey Tourell, I am surrounded by iridescent surfaces. The central, almost empty space in each painting appears to be unfolding or perhaps folding up along the external boundary of these works.  These flat fields of metallic pearlescent quality are done in acrylics. I am surprised to discover they are not oils on aluminum or other metal panels-- a technique often used to accomplish types of smooth atmospheric effects. Limited palettes are used, sometimes completely or seemingly monochromatic in nature. Jimi Gleason shows a great deal of technical delight in developing these works even as he creates this mystical atmosphere. The titles often imply landscape and/or mystical spaces as in "Long Shadow."
Comment by AB: Mysteriously captivating iridescent abstractions by Los Angeles artist Jimi Gleason play with light as well as with your mind as you marvel at their technical facility.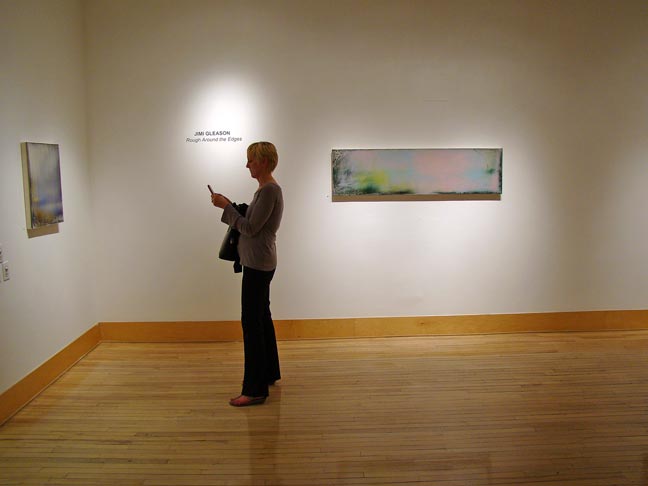 Paintings by Jimi Gleason.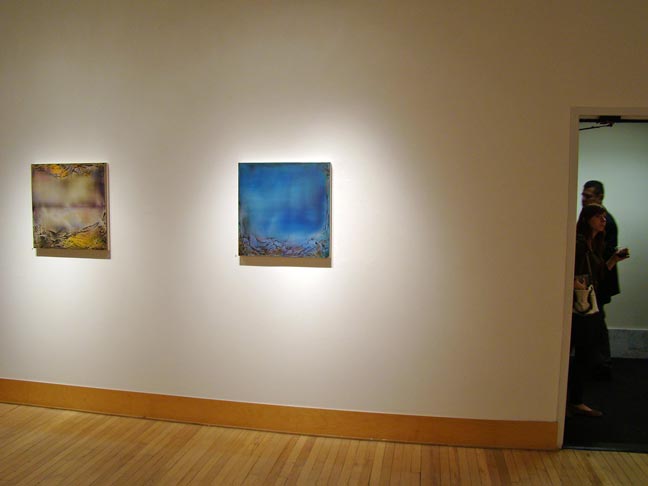 Art by Jimi Gleason.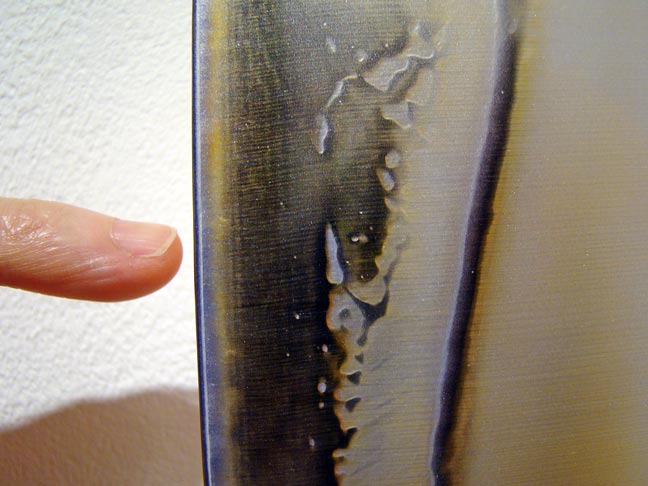 Pinkie cam detail of painting on left in above image (Jimi Gleason).


Jimi Gleason & his art.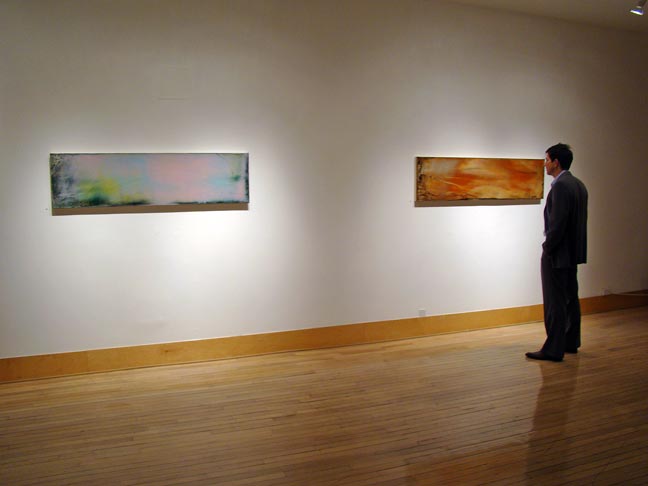 Art by Jimi Gleason.


***
Museum of Craft and Folk Art: Open Source Embroidery.
Artists: Access Space, Suzanne Brook Martin, Ele Carpenter, Iain Clark, Eclectic Tech Carnival, Emma Ferguson, Flare Productions, Paul Grimmer, Richard Hamilton, Suzanne Hardy, HUMlab Workers, James Hutchinson, Charlene Lam, Kristina Lindström & Åsa Stahl, Sampler Collective, Sophie McDonald & Davide Della Casa, Travis J. Meinolf, Kate Pemberton, Trevor Pitt, Michele Pred, Clare Ruddock, Hamilton, Southern & St Amand, Becky Stern, Haishu Zhang.
Comment by AB: According to the deposition, "the Open Source Embroidery exhibition presents artworks that use embroidery, thread, and code as a tool for participatory production and distribution." According to me, it's complete chaos and an unmitigated curatorial disaster. And in a museum yet. But there is one bright spot-- a computer monitor tuned in to the website domiknitrix.com.
Best of Show - domiknitrix.com.


Open Source Embroidery exhibition at Museum of Craft and Folk Art.


Open Source Embroidery exhibition at Museum of Craft and Folk Art.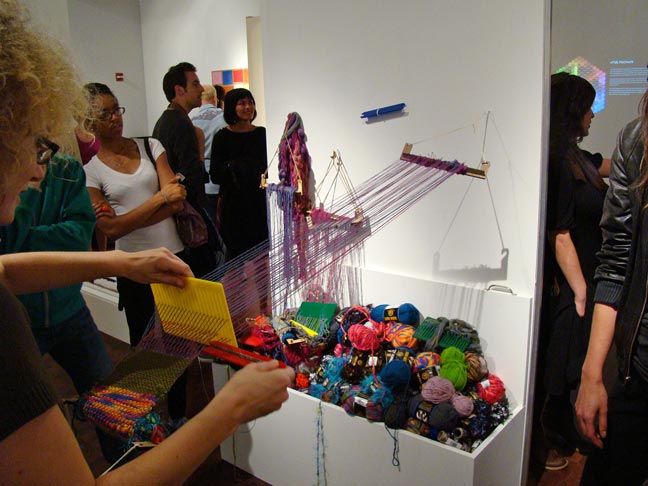 Open Source Embroidery exhibition at Museum of Craft and Folk Art.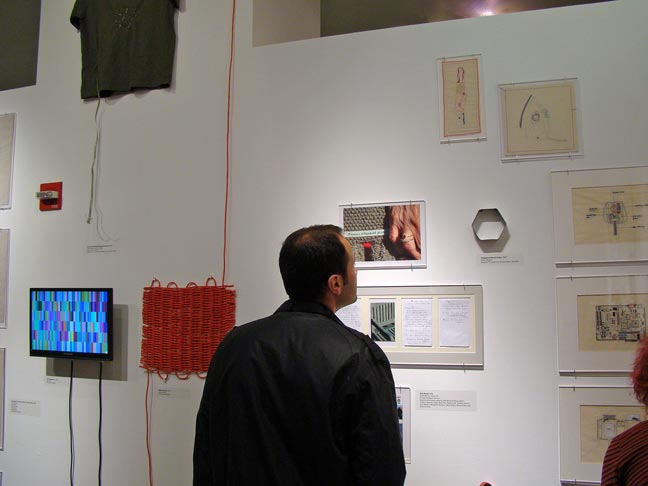 Open Source Embroidery exhibition at Museum of Craft and Folk Art.


Open Source Embroidery exhibition at Museum of Craft and Folk Art.


Open Source Embroidery exhibition at Museum of Craft and Folk Art.


***
Chandler Fine Art: Linda Hope.
Review by RWM & image c/o Chandler Fine Art: Soothing and uplifting compositions. Pleasant use of color, light and shapes. Though some of the images are somber, the use of light inspires a pleasant mood. A beautiful blend of colors and contrasts exhilarates.
Art by Linda Hope.


***
Hangart Gallery: No Room for Squares - A Group Exhibition.
Artists: Dave Warnke, Heather Patterson, Ed Calhoun, Bryan Ida, more.
Review by RWM, images c/o Hangart: Nice variety of work including the melancholy paintings of Katja Liebeneth. Not all days are joyous in the metropolis.  Think twice about breathing that big city air.
Art by Bryan Ida.


Art by Dave Warnke.


***
Ever Gold Gallery: Von DOOM. Curated by Alex Braubach
Artists: Andrei Bouzikov, Ben Venom, Clint Smith, French, Glenn Smith, Jeremy Simmons, Justin Bartlett, Paul Alexander Thornton, Son of Witz.
Comment by AB: A glorious uproarious tribute to heavy metal rock music and head-bangers everywhere.
Heavy metal art.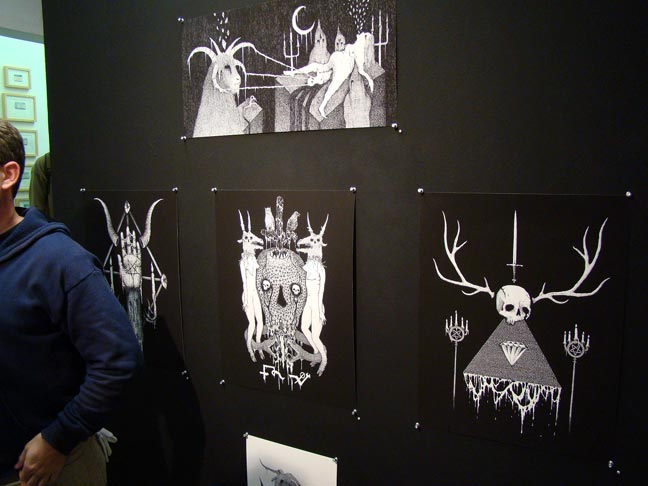 Heavy metal art.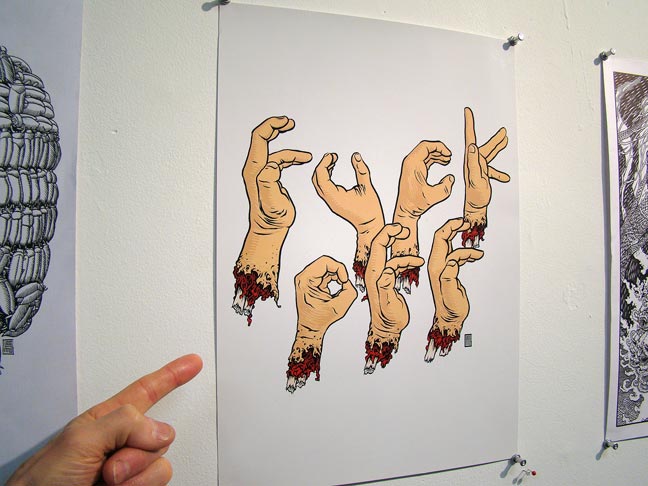 Heavy metal art. Sorry-- it's sold.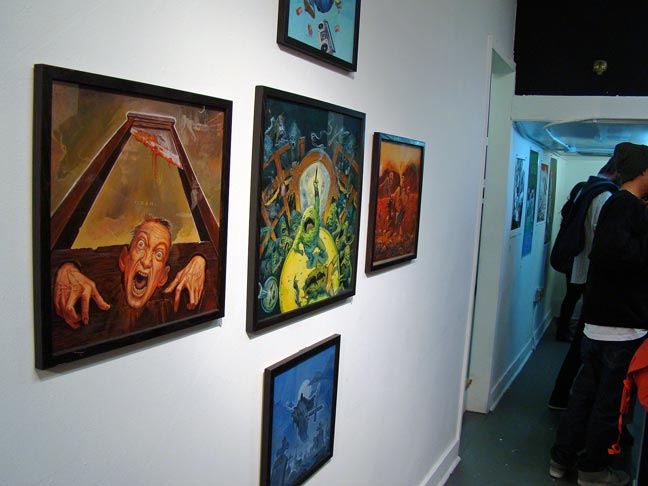 Heavy metal art.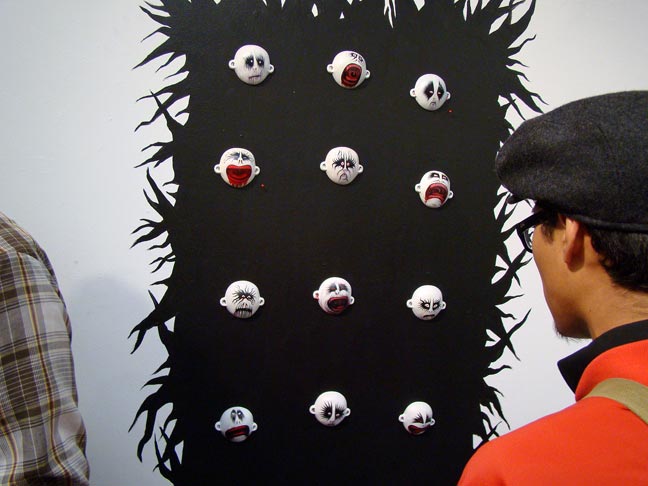 Heavy metal art.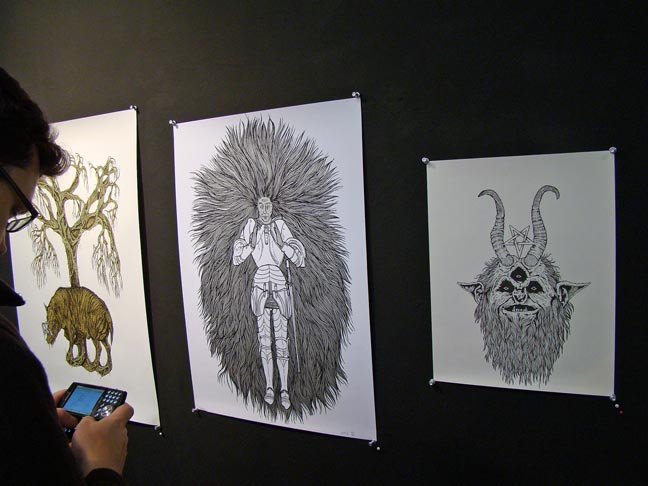 Heavy metal art.


Ever Gold Gallery - the new hot ticket in town.


***
Kokoro Studio: Maria Berrio - Between Humans and Animals.
Review by RWM: An involving exploration of our psyche and spirit. We may be animals, but we are different. We can grow and change. We can make things better for our human neighbors as well as our wild neighbors.  We can personally evolve.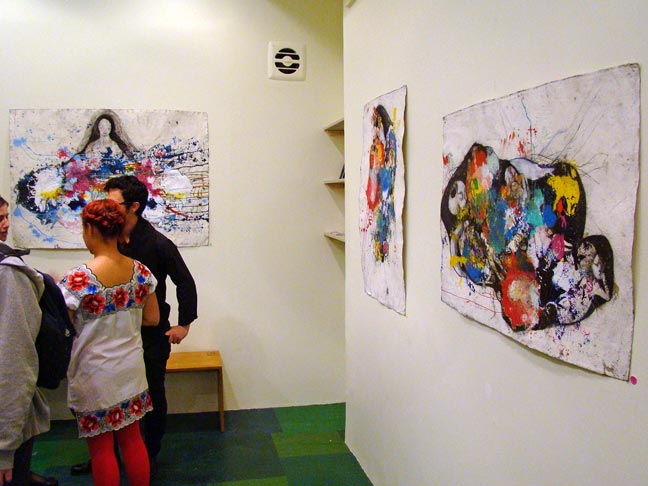 Art by Maria Berrio.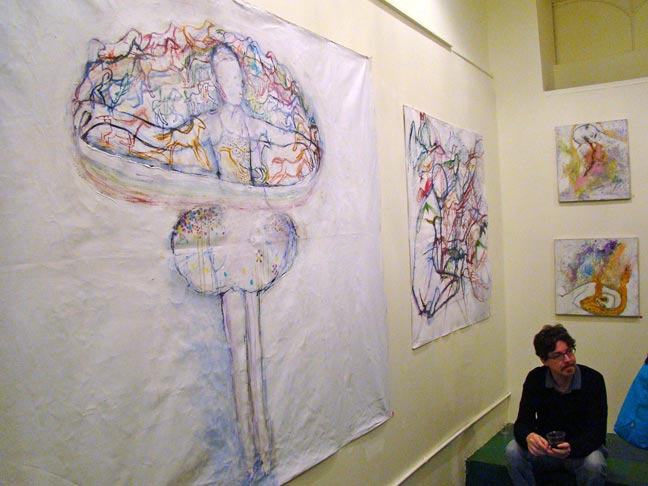 Maria Berrio art.


Art by Maria Berrio.


***
Fifty24SF: Move (#19). Curated by Rich Jacobs.
Artists: Jordin Isip, Eric White, Melinda Beck, Jason Polan, Kelly Nicholson, Billy Sprague, Carl Dunn, James Gallagher, Erika Borboa, Rob Leecock, Julie Goldstein, Brian Flynn, Rodger Bridges, Mofo, Rob Ben, Jocko Weyland, Garry S. Davis, Chris Shary, Bert Queiroz, Rich Jacobs.
Review and images by GLS: The MOVE #19 show is the latest in an ongoing series of MOVE exhibitions, including a large number of artists with a typically small number of works per artist, and curated by Rich Jacobs, curator of previous MOVE shows, and who is also exhibiting. To quote from Fifty24SF's announcement, this ongoing series of MOVE exhibitions curated by Jacobs "has created a cohesive movement of young artists dedicated to revitalizing street culture through skateboarding, illustration, graffiti, photography, and painting." Rich is obviously dedicated to this cause.
A wide variety of aesthetic mediums are on exhibit including paintings, drawings, photographs, and sculpture. It is difficult to group the works into any one particular category, although the show contains several elements of what are typically referred to as Lowbrow art, illustration based art, comic book style art, and skateboard and graffiti art. Several of the artists began their careers as graphic designers and continue as illustrators for name clients. However, because of the broad range in the number and types of artists and works on display, perhaps the show can best be categorized as simply indie art by a friendly group of artists with no particular unifying theme. A visible camaraderie and vitality clearly existists amongst this group, and there is some high quality work in the show, including that of successful artists from outside the San Francisco Bay Area, including New York. However, the criteria used to select and present these artists is unclear to the outside observer. The part of the theme statement that goes "he (Jacobs) said he was enjoying the donuts for the most part, and laughing hysterically," is interesting but equally obscure-- at least the meaning is largely lost on me.
On the other hand, some of my favorite pieces include the exhibited work of Melinda Beck, Matt Leines and James Gallagher... and I mustn't leave out the illustration art on the Bear Flag wine bottles which I think deserves at least an honorable mention.
Review by Pilar Vree: Rich Jacob's new show at Fifty24SF features more than 25 artists from across the country who work in a variety of media. Ranging from skate photography, figurative pencil drawings, collage and acrylic paintings on unfinished cardboard, this show focuses on small, simple pieces that are reminiscent of skate art and indie rock album covers. There are many reputable artists in this show who feature excellent work, but the standard of artwork is inconsistent.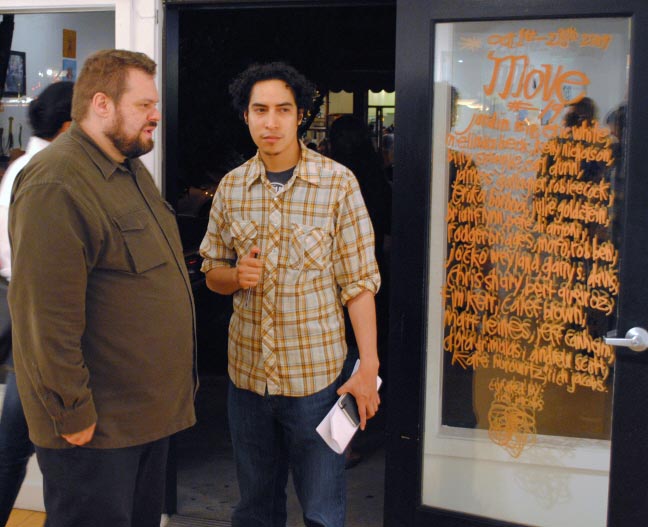 What it is. Curator/artist Rich Jacobs on left.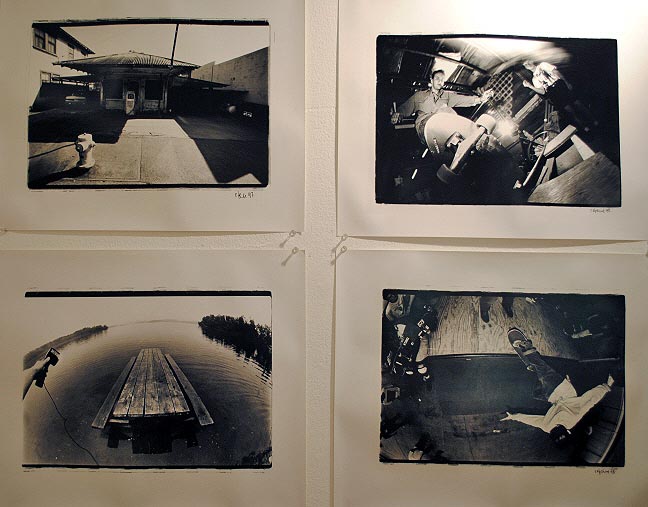 Art.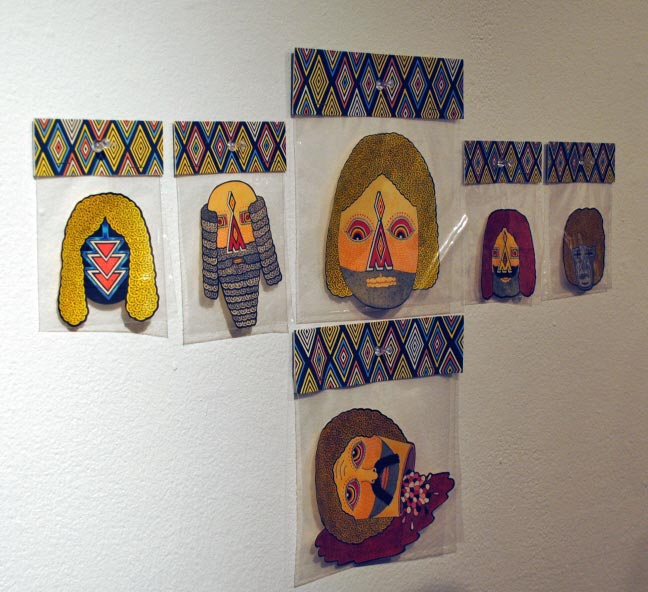 Art.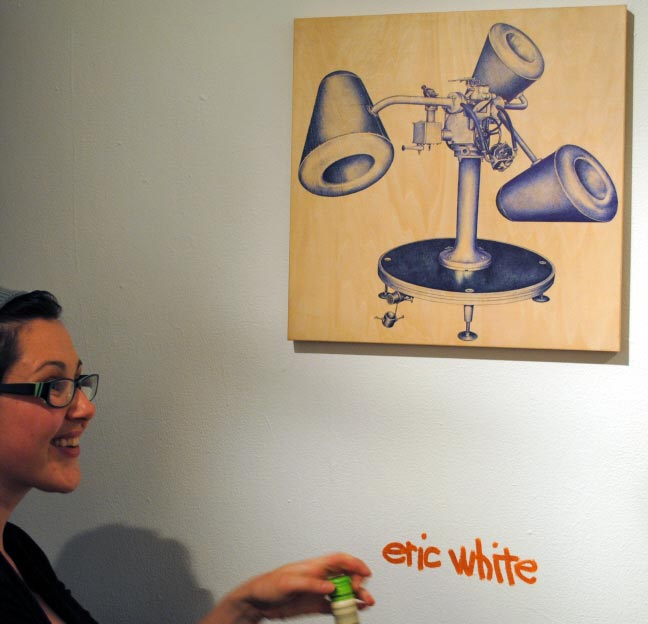 Pen drawing on wood (like it).


Art.


Art.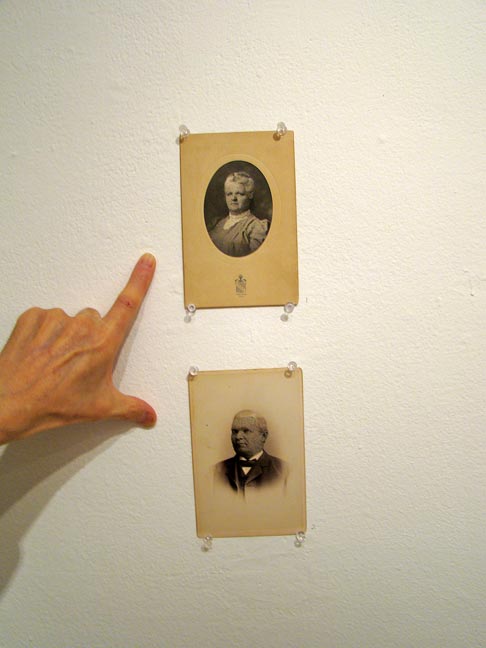 Art (image c/o AB).


Pinkie cam zoom on lower photo in above image (image c/o AB).


Populace.


***
111 Minna Gallery: Love It or Leave It.
Artists: Brent Harada, David Choong Lee, Derek Albeck, Eric Bailey, French, Hannah Stouffer, Hiro Kurata, Luke Ramsey, Marco Zamora, Mathew Palladino, Tommii Lim, Travis Millard.
Comment by AB: Art about America, the apparent verdict being that the streets ain't paved with gold no mo'. My fave? Kick-ass pencil drawings-- especially the plaid fabric ones in color (with embedded mirrors)-- by Derek Albeck. Yo!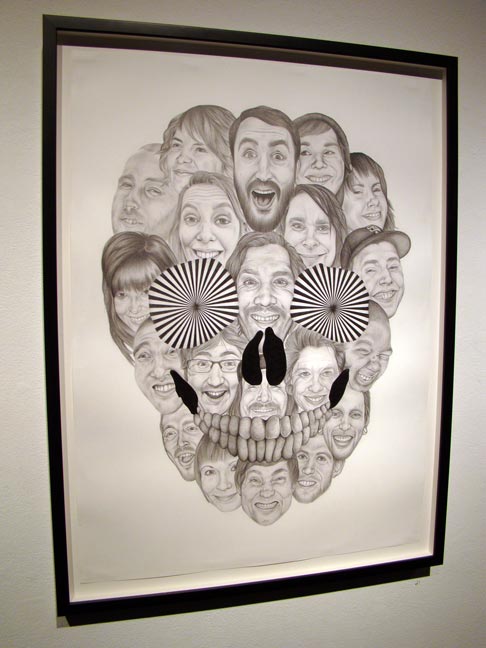 Pencil drawing art by Derek Albeck.


Derek Albeck & colored pencil fabric drawing w/mirror art (pick).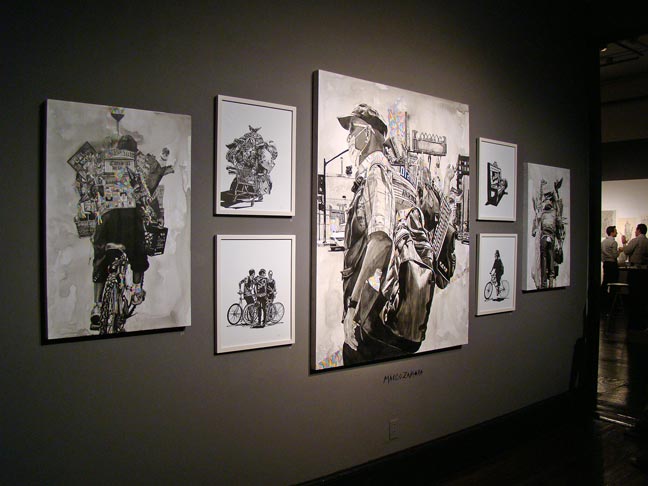 Art by Marco Zamora.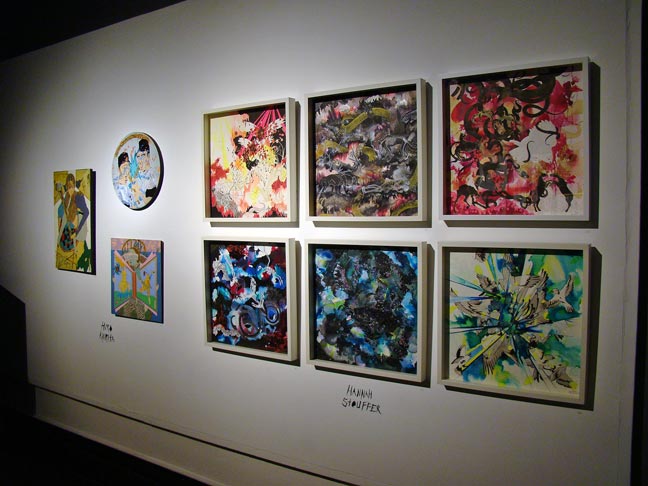 Art (Hannah Stouffer, right - Hiro Kurata, left).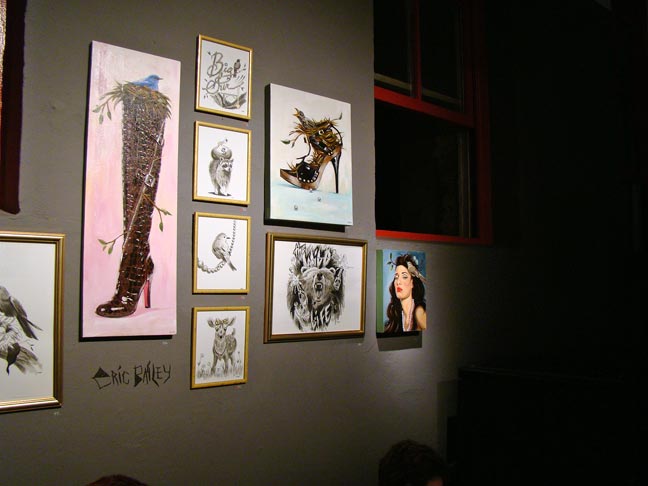 Art by Eric Bailey.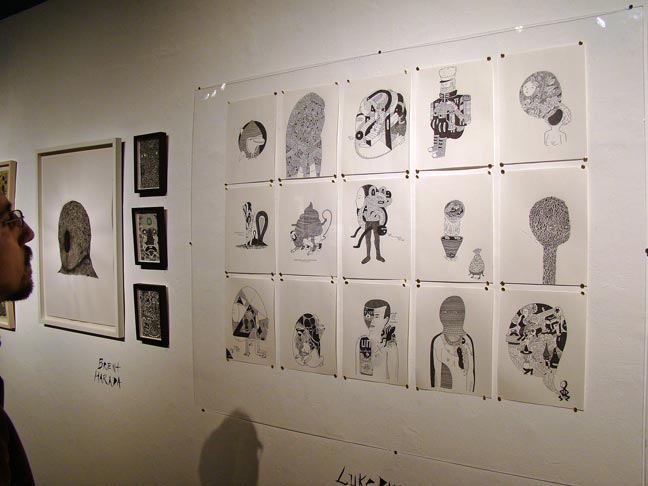 Art (Luke Ramsey, right - Brent Harada, left).


Art.


Art.


Art.


***
David Cunningham Projects: Interrupting a Beam of Light. Curated by Rachel Adams.
Artists: Facundo Araganaraz, David Bayus, Michelle Blade, Ryan Fenchel, Gigi Gatewood, Japeth Mennes, Aliza Morell, John Opera, Adela Svobodova.
Review by GLS: This group show, entitled "Interrupting a Beam of Light" and curated by Rachel Adams, encompasses an array of aesthetic mediums including painting, sculpture, photography and video art. Both abstract and representational art are on exhibit, with an emphasis on representational images that are interpreted, manipulated and transformed to create thoughtful and sometimes wondrous impressions. The show is described as focusing "on contemporary works that deal with the wonder of natural and man-made phenomena, the nuances of magic, and the importance of retaining lore and myth in our everyday lives."
Of particular note amongst the representational art are Michelle Blade's two pieces that combine foreground figures with depictions of awe inspiring natural phenomenon, two David Bayus paintings addressing childhood mythologies, and John Opera's theme piece showing an enigmatic fiery source of light glowing from the center of a waterfall.
David Bayus and his art.


Art by Michelle Blade (image c/o GLS).


Salt block sculpture by Ryan Fenchel .


Video art by Adela Svobodova.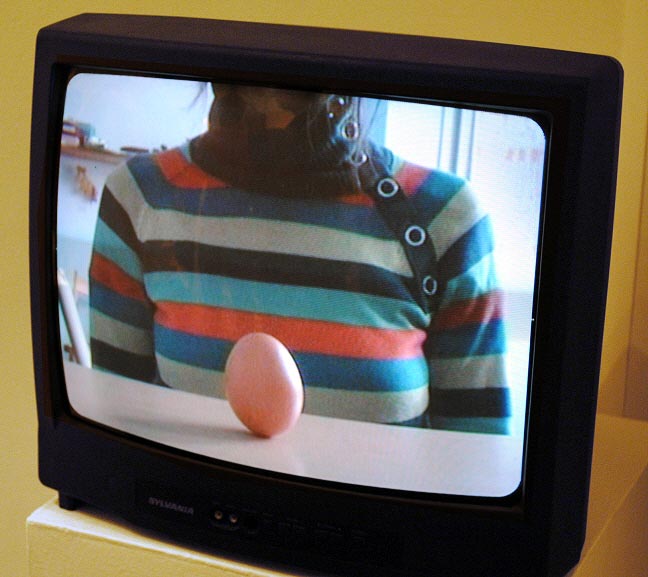 Video art closer by Adela Svobodova (image c/o GLS).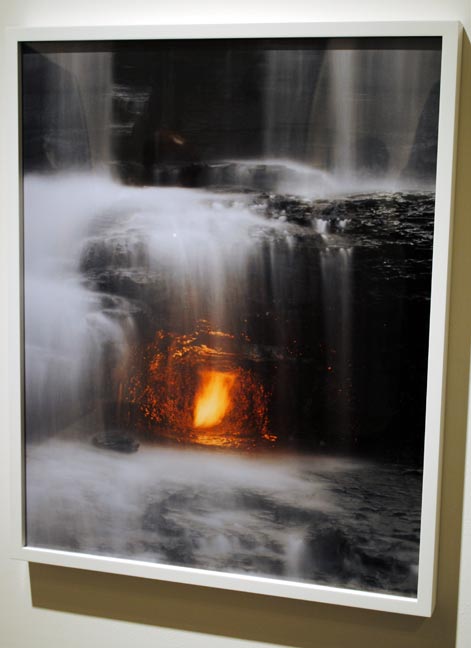 Digitally altered photographic art by John Opera (image c/o GLS).


Curator Rachel Adams & David Cunningham.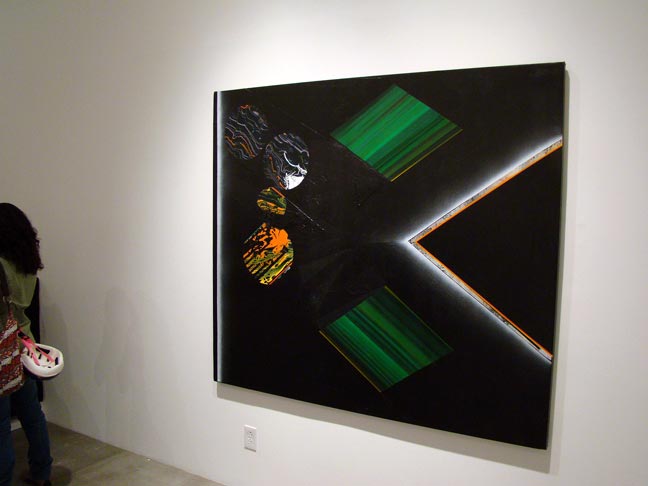 Painting by Facundo Arganaraz (kinda like it).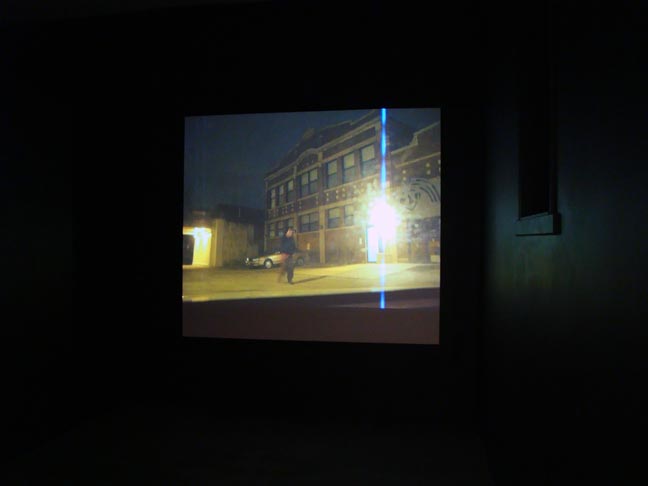 Video art in the project room.


Art by Michelle Blade (right).


***
Addendum:
Select group show at Bond Latin Gallery.


Art by Nina Zurier at Hilliard Architects.


Ward Schumaker and his art at Hilliard Architects.


Art by Ward Schumaker (left), Nina Zurier (right) at Hilliard Architects.


Comic artist Paul Jon introduces his strip "Fort Knox" at the Cartoon Art Museum.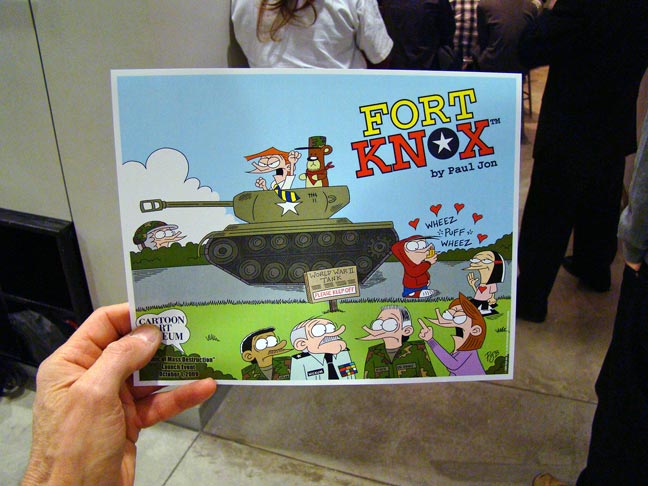 Fort Knox comic strip by Paul Jon at the Cartoon Art Museum.


Portraits up the ying yang at Public Barber Salon.


Portraits out the wazoo at Public Barber Salon.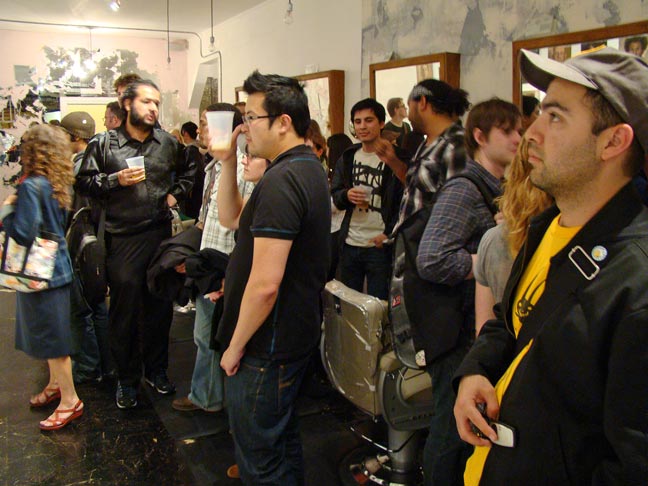 Portrait aficionados at Public Barber Salon.


***
It's never too late to show a little l o v e -- way more than 5000 San Francisco art openings and events covered right here on this website since May 9, 2003. Believe it.
***
First Thursday - September 3, 2009
First Thursday - August 6, 2009
***