SAN FRANCISCO ART GALLERIES OPENINGS
FIRST THURSDAY; 11.03.05
General comment: Weather conditions considered, appropriate attire appropriated, and loins commensurately girded, off I traipse to another marathon moment of aesthetic inundation spawned by the random whimsies of San Francisco's haut gout emissaries, its art dealers. Where oh where would we be without them? I know where I'd be-- at home by the fireplace with my little kitty Nuggles and a couple of King Cobra 40's. But no. I must heed the call, survey the current crop of creative contrivances, assess their impingement on the inexorable evolutionary lurch, and above all else, help eat the cheese. Somebody's gotta do it, and it might as well be me.
"Private Artberger reporting for beauty, SIR!!"
Now quit your dawdling, my lovelies. November's quest is upon us...
***
Hackett Freedman Gallery: Pairings II - Discovered Dialogues in Postwar Abstraction.
Artists: Richard Diebenkorn, Herbert Ferber, Helen Frankenthaler, Sam Francis, Giorgio Cavallon, Adolph Gottlieb, Patrick Heron, Howard Hodgkin, Hans Hofmann, Jack Jefferson, Franz Kline, Frank Lobell, Conrad Marca-Relli, Joan Mitchell, Manuel Neri, Louise Nevelson, Judith Rothschild, Jon Schueler, and Sean Scully.
Comment: Abstract paintings souped into twosomes-- they're both pastels, they're each from opposite coasts, they're each from different time periods, and so on. Interesting concept and ultimately viable, but this incarnation is overstretched, confusing, and arbitrary. Fortunately, the art makes up for it.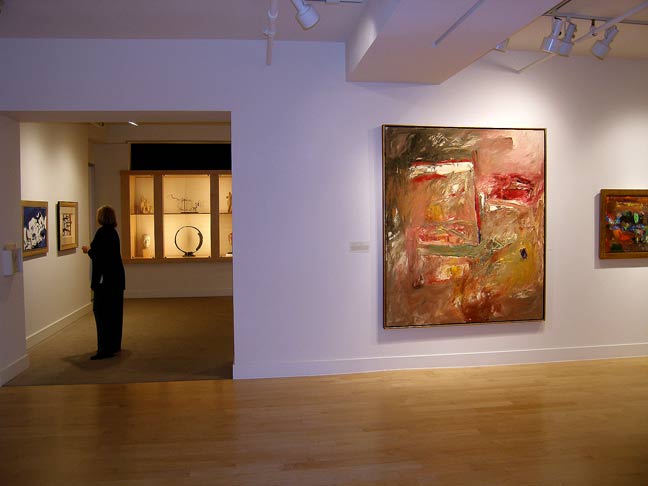 Art art.


Art art.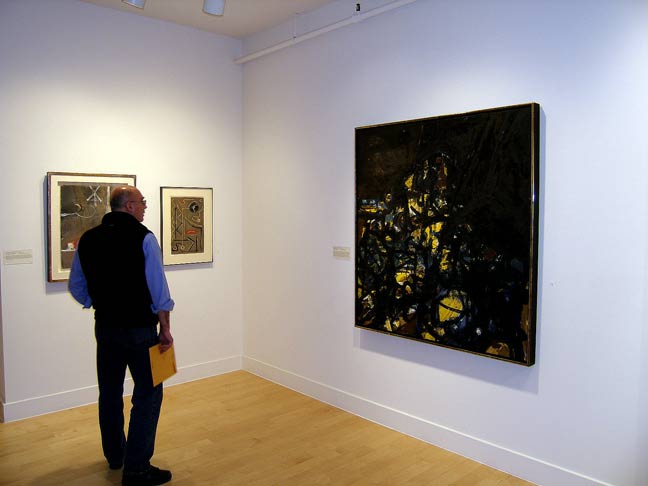 Art art.


Art art.


***
Jenkins Johnson Gallery: Sherrie Wolf - Majestic Still Lifes.
Comment: Sherrie Wolf co-opts majestic period landscapes like those of Hudson River School megastar Albert Bierstadt, deputizing them as backgrounds for her sumptuous colorific floral still lifes. It works. Prices top around $20K, with a respectable percentage of the show already sold.
Art.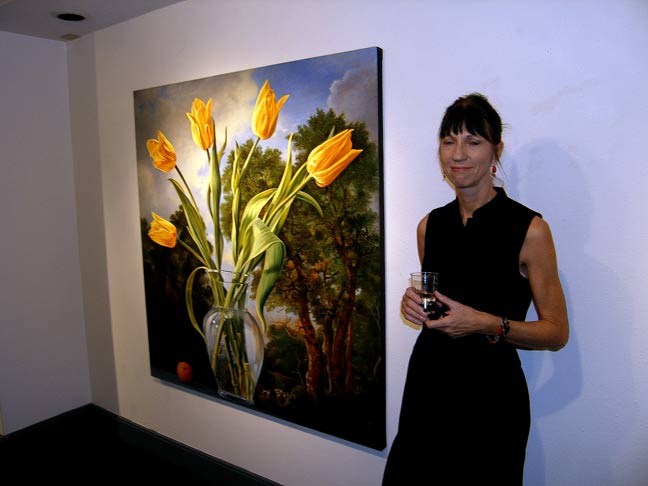 Sherrie Wolf - art.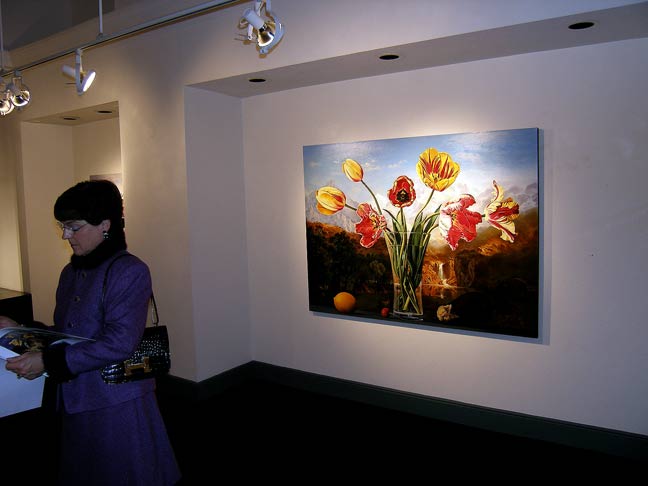 Art.


***
HANG Art: Katherine Valentine (Main Gallery); Triptych - Jose Arenas, Jeff Hantman, Jeanne Lydon (Annex).
Comment: I forgot the main gallery shows the featured artist(s) way back in the way back. Oh well. Next time. At least I got shots from the Annex, across the street and up the stairs.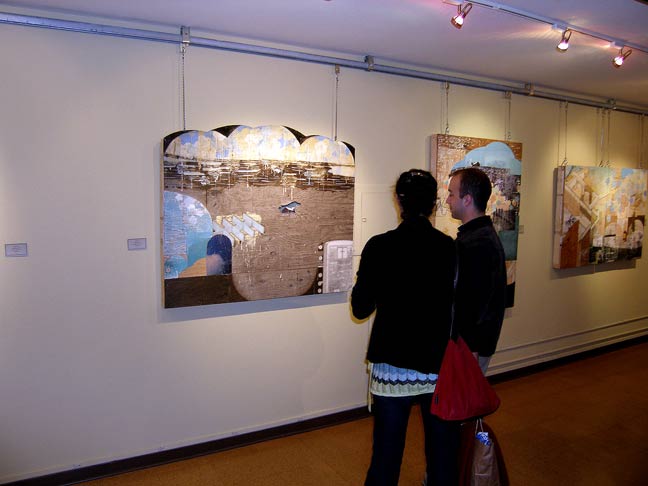 Art.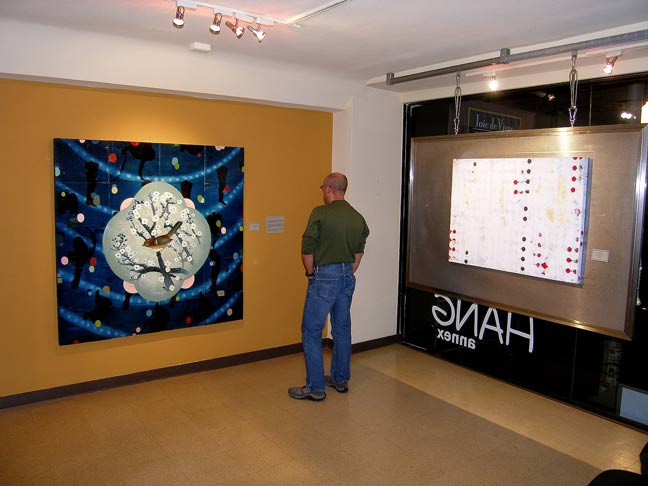 Art.


Main gallery - front.


***
Dolby Chadwick Gallery: Chris Cosnowski.
Comment: Crisp precision small-format toy paintings, the toys arranged curiously and anthropomorphically enough to momentarily slow viewers and get 'em wondering what it might be like to know these pint-sized playthings and/or dip into their realities. Quick brain vacation.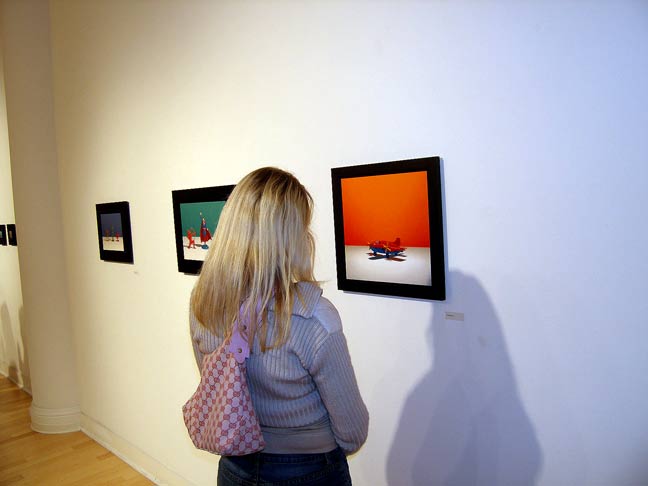 Art.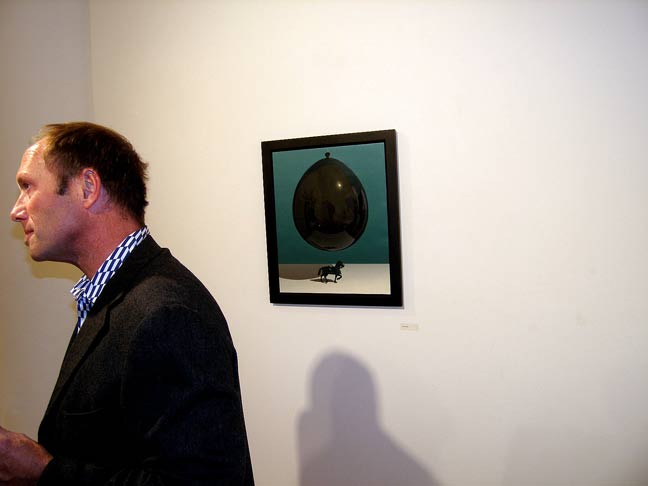 Art.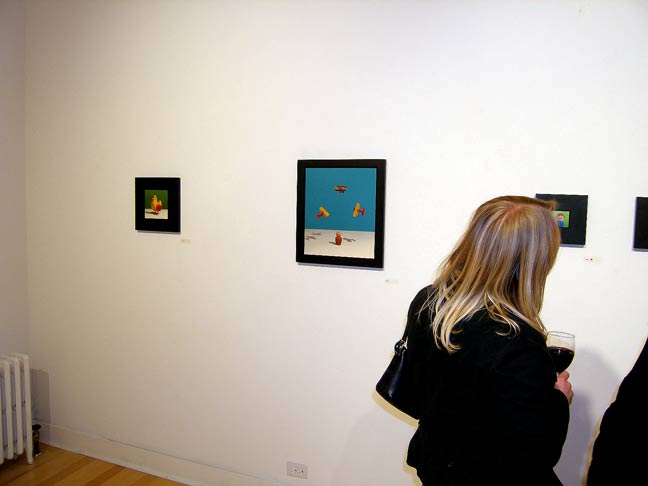 Art.


***
Heather Marx Gallery: Paul Paiement - Hybrids 4.0.
Comment: Paul Paiement's acts of artistic surgery meld and incorporate bits and pieces of technological devices like cell phones and communications satellites onto and/or into insect exoskeletons. Paiement's medium of choice is egg tempera, and that's pretty kool because egg tempera's relatively uncommon, difficult, and unforgiving to work with. Bravery gets you a merit badge.
Art.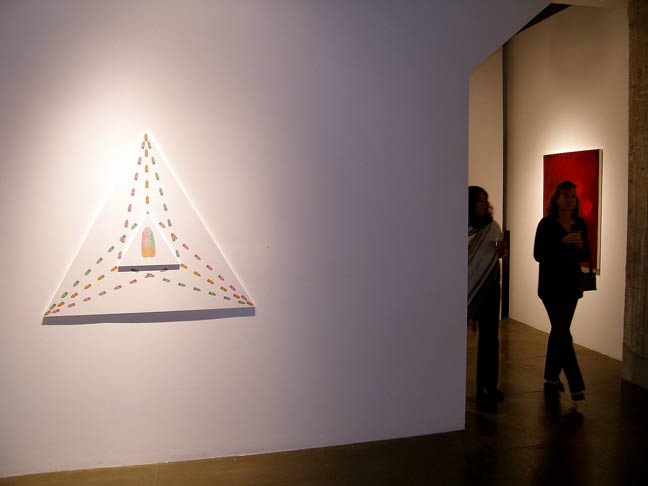 Art.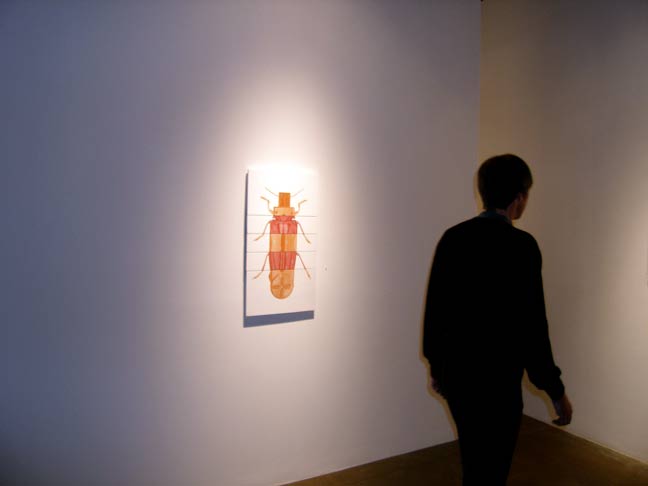 Art.


***
Graystone Gallery: Sara Carter.
Comment: Large plaid-like abstracts so finely painted and finished that I got stuck on the zoom-in trying to figure out whether they're really all paint or some kind of paint/print combination, but the scorecard says they're acrylics on canvas, so I'll go with the flow daddy-o. And now for a brief spate of verse...
The abstract avocation is a hard line to tow
Because down that road many artists go.
So if you wanna get a show,
You gotta sow a row
That only you can hoe.
Sara Carter does exactly that. Go see.
Art.


Art.


Art.


Art.


***
Fraenkel Gallery: Adam Fuss (front gallery) - Lee Friedlander, Apples and Olives (rear gallery).
Comment: Adam Fuss presents a series of unique daguerreotype photograms, hypnotic and technically superb, recording the effects of droplets of water after hitting the surface of a pool. Old idea; new take. Magnificent results. I'll probably never see rain on water quite the same again, and you know what that means, don't you? For tattooing my psyche, Adam Fuss gets Co-Pick of First Thursday.
Daguerreotypes (Adam Fuss).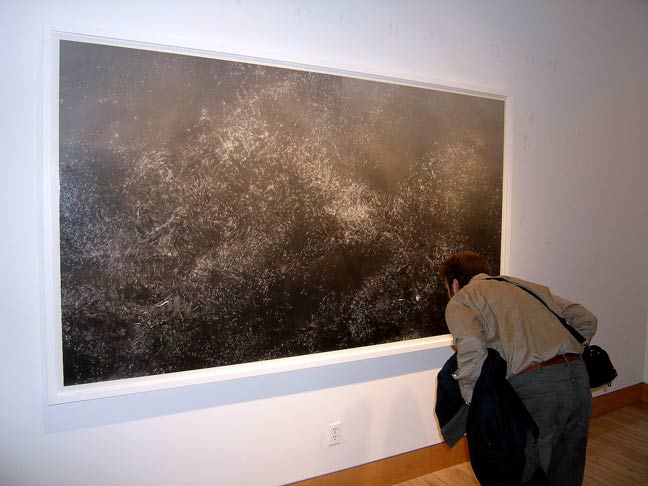 Photography (Lee Friedlander).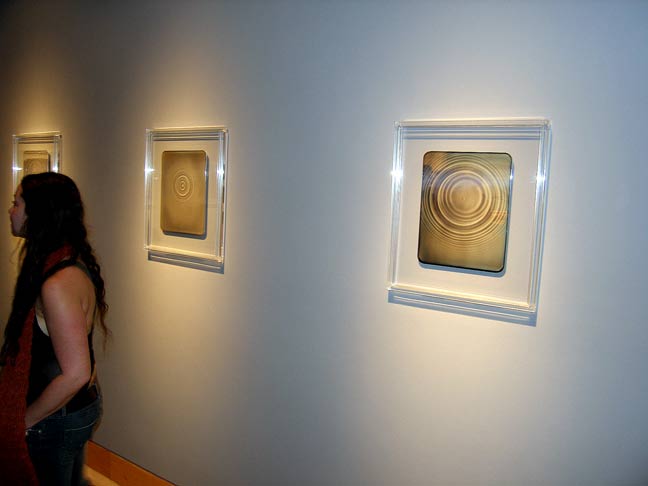 Photograms (Adam Fuss).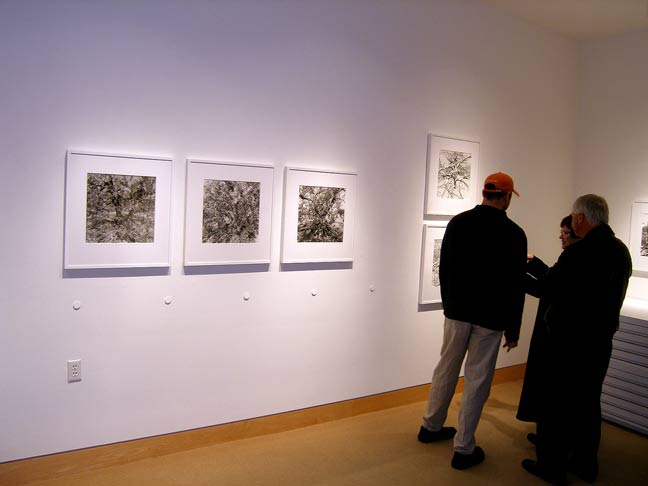 Photographs (Lee Friedlander).


***
Haines Gallery: Andy Goldsworthy - Stone Light Drawings.
Comment: Art formed from thin cut and cracked sandstone sections, mounted vertically, and nuanced with marvelous craftsmanship and subtlety to approximate paintings. Special added bonus-- a diminutive lone stone spiral in the back room emanates prehistoric fossil feel. And that's enough for me. Co-Pick of First Thursday.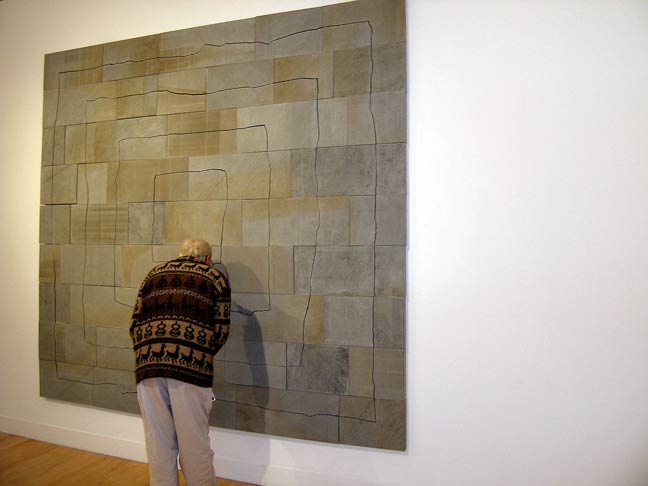 Art.


Art.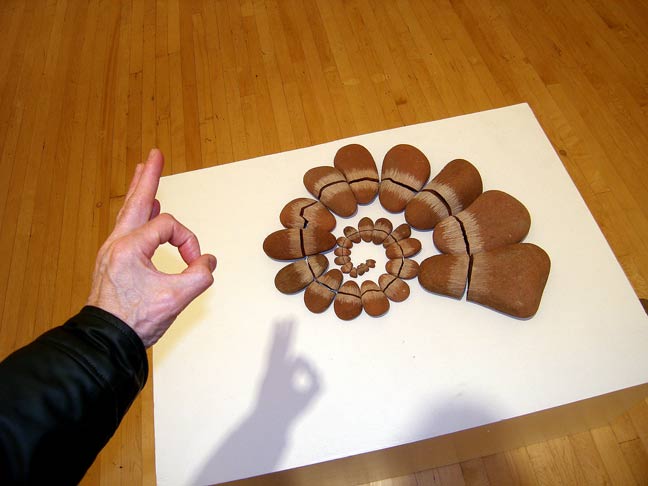 Art - pick.


Art.


Art.


***
Gregory Lind Gallery: Sofi Zezmer - Phase Shift.
Comment: Sofi Zezmer combs medical and technical supply houses of Eastern Europe for laboratory doodads, gizmos, devices, whatsits, contraptions, and flourishes. Paying critical attention to color, form, texture, and every other art-miming aspect imaginable, she assembles these appurtenances into pure sparky effervescent kaleidoscopic sculpture.
Wait. Shhhh. Did you hear that? Father Time is whispering about dust. He says white-glove fresh is finite, and that Zezmer's intricate tangles of exposed surfaces are perfect for his PDP (Perpetual De-beautification Project). Father Time can be such a stick-in-the-mud, can't he artsters? Maybe he'll let me sneak Sofi Zezmer a Temporary Honorable Mention for her upbeat transformative originality while it's still bright and twinkly.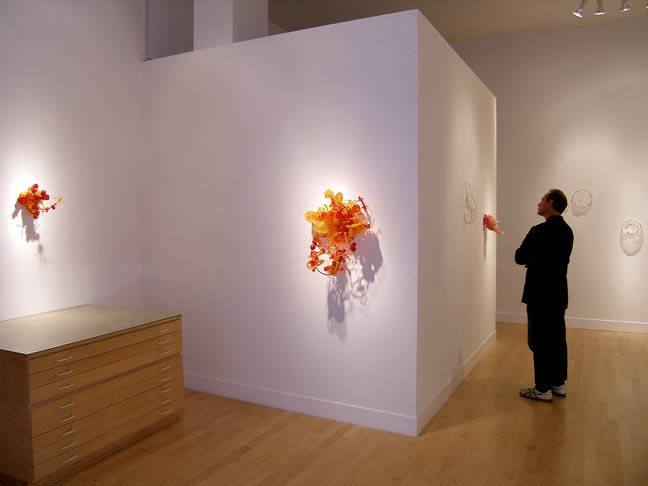 Art.


Art.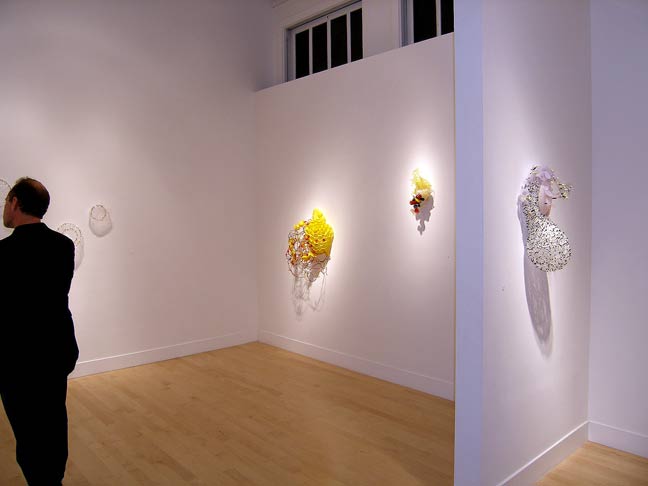 Art.


Art.


***
Urbis Artium Gallery: Joe Mangrum.
Comment: Joe Mangrum has a rare and remarkable talent-- he can arrange anything anywhere-- indoors, outdoors, animate, inanimate, large, small, rock, scissors, paper, plastic, plaster, powder, dirt, dust, doorknobs, pennies, bones, bottles, batteries, liquids, solids-- anything-- makes no difference. If all of us could do what Joe Mangrum does, the world would be an unimaginably fantastic and glorious place. Here, he even arranges arrangements, merging them into a serpentine floor-to-ceiling walk-through psychotropia. The walls are hung with oversized photographs of past Mangrum installations which you can either enjoy, buy, or both.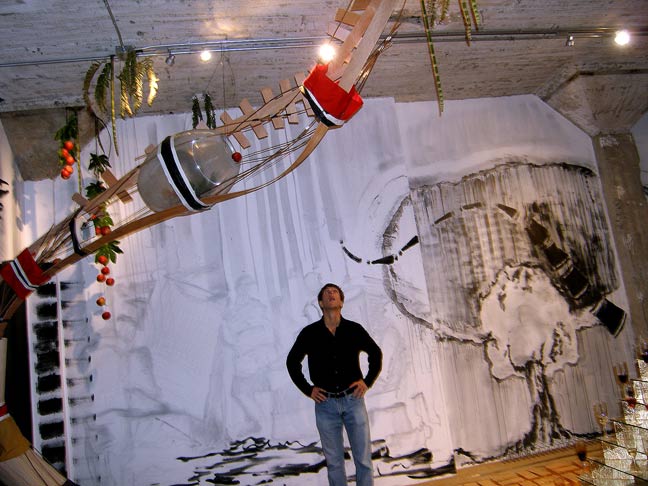 Art.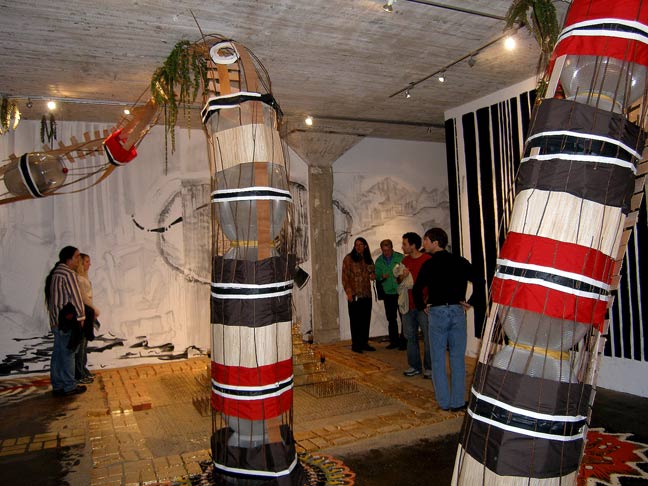 Art.


Joe Mangrum - art.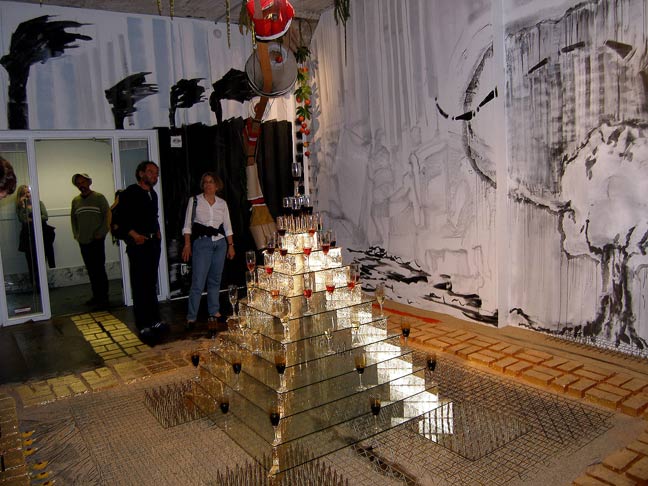 Art.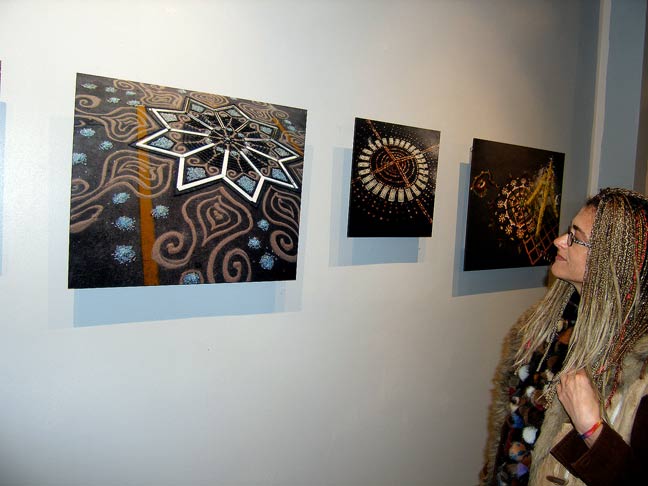 Past Mangrum art.


Past Mangrum art.


***
871 Fine Arts: Flicker / Be Still - Books and Prints by Emily McVarish.
Comment: Versatile modern graphic alphabetic acrobatics, Ladislav Sutnar-esque in nature.
Art.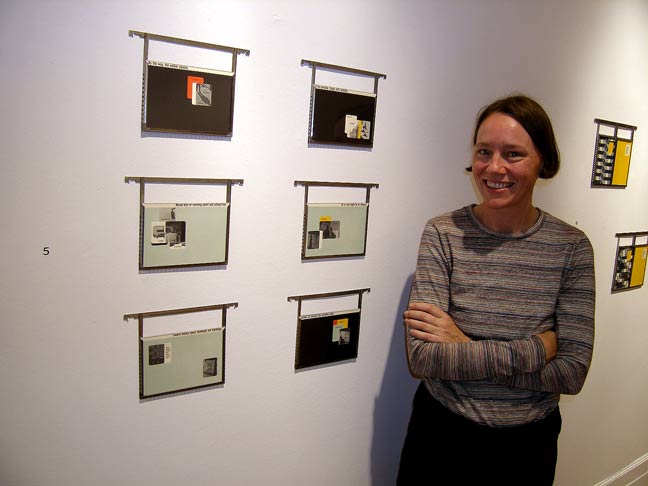 Emily McVarish - art.


Art.


***
Modernism Gallery: Gottfried Helnwein - New Paintings.
Comment: The show is called "New Paintings," the image on the invitation is identified as "mixed media (oil & acrylic) on canvas," but I eyeballed several at nose-length and they look like digital prints, embellished or highlighted or finessed with paint. So are they? In artland, the term "mixed-media" refers to a work of art's ingredients, but it also implies the art is created entirely by hand by the artist-- not digitally printed from computer files and then painted on. Time to shake out the hokum and tell the customers what their dollars bag. Don't worry-- you can share-- it's still exactly precisely the same art no matter how it's made. Isn't it? As always, I'll stand corrected on any of this; just drop me an email.
One thing you can't quibble over is the overwhelming impact of Helnwein's imagery-- ethereal hallucinogenic meditations you enter effortlessly into. Hang one of these whatever-you-wanna-call-it's in a room and it totally permanently dominantly dicates the mood. Not much art can do that, which is what makes Gottfried Helnwein great.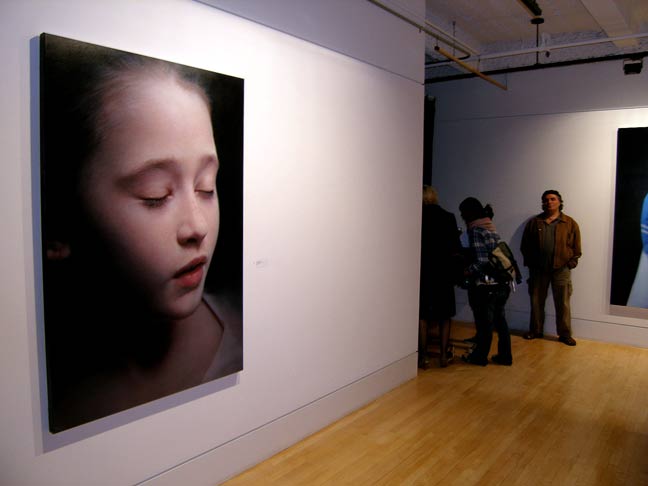 Art.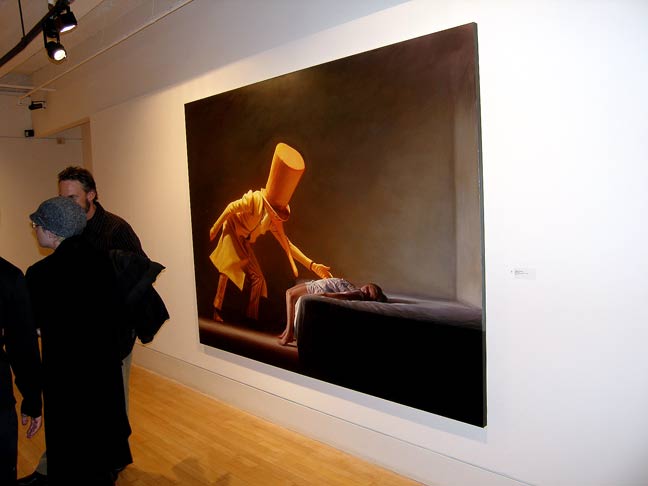 Art.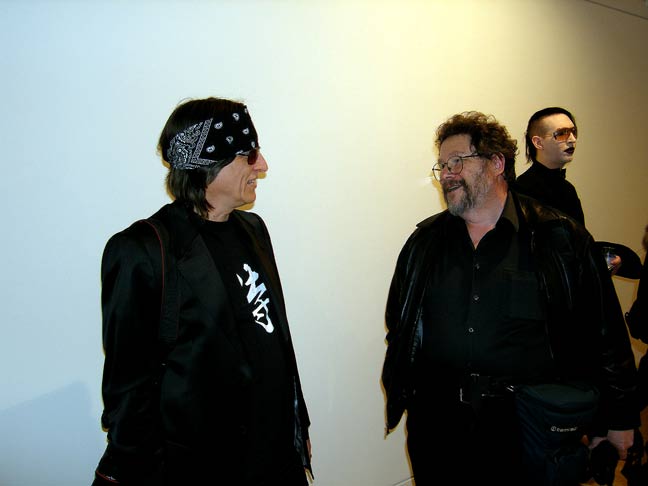 Gottfried Helnwein (left) - Marilyn Manson (background, right).


Art.


Art.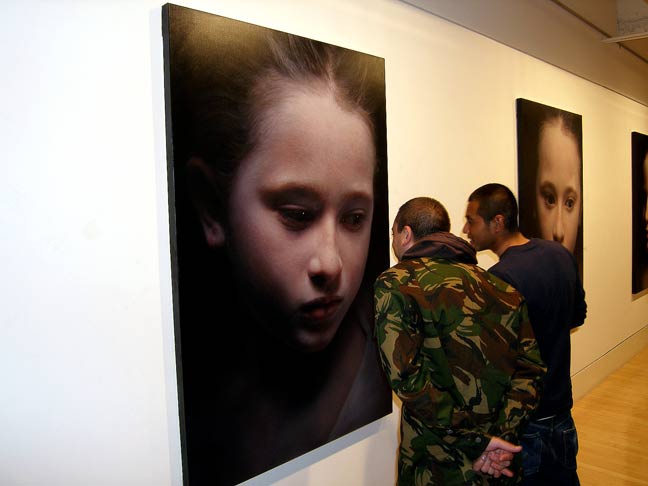 Art.


***
111 Minna Gallery: Double Feature - Dimensional Overload & The Munny Show from Kid Robot.
Artists: Dennis Larkins, KRK Ryden, Sam Flores, Kim Cogan, Bryan Dawson, Ted Lincoln, Dennis McNulty, Phil Killian, Adan Connelly, Stefan Fitzgerald, Casey O' Connell, Ricardo Richey, Mary, Gabriel Castellanos, Christofer Chin, Marci Washington, more.
Comment: A mungo motley smorgasbordian downtown art jam crams 111 Minna to the gills-- opus overflow. The good news is there's plenty to like. For me, that means KRK Ryden happy brick heads and Kim Cogan streetscape atmospherics. Plus dozens of action figures neatly rowed in long plexi display cases, custom made and courtesy of San Francisco landmark retailer, TAP Plastics. Never been? Find out what your missing.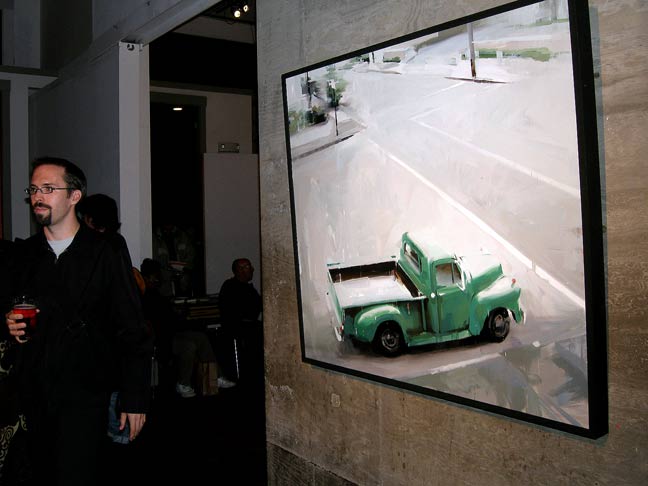 Art (Kim Cogan - like it).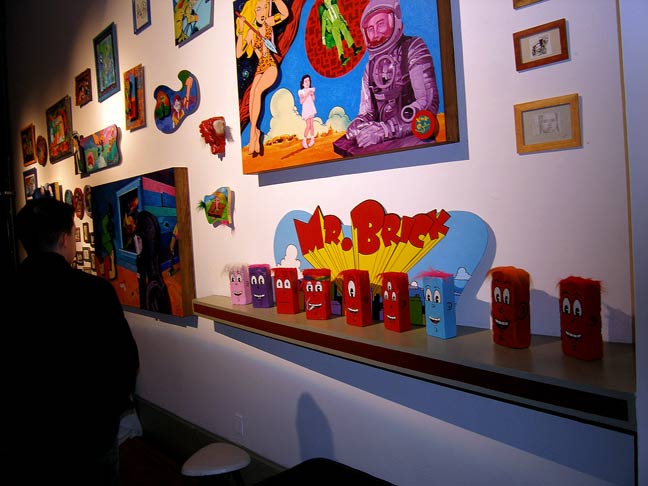 Art (KRK Ryden - like it).


Art.


Action figure extravaganza.


Art.


Art.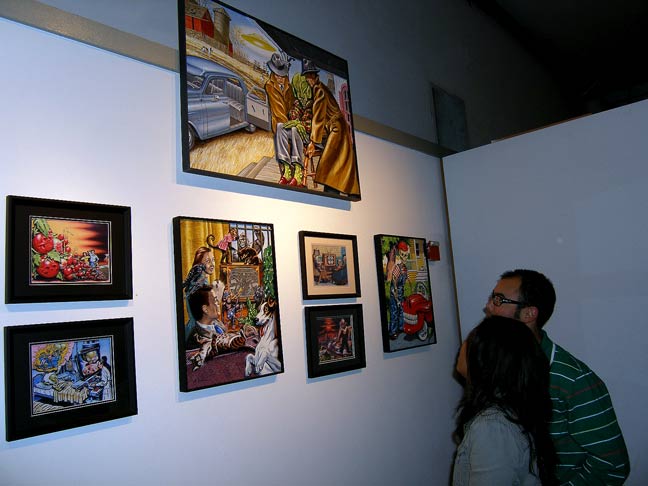 Art.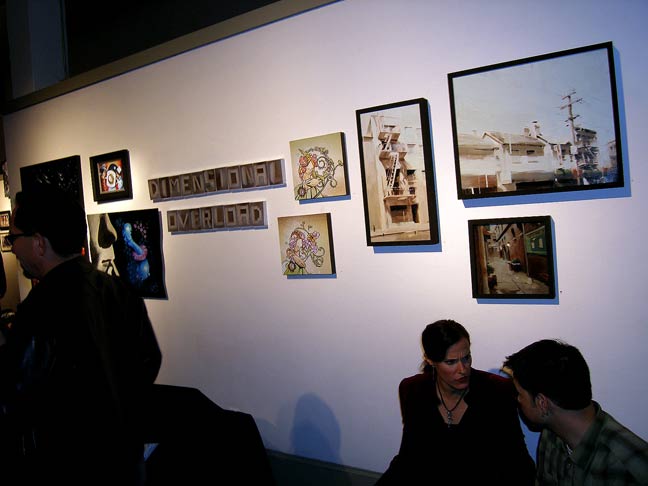 Art.


***
Pigman Gallery: Proverbial Me - The Art of Laura Kimpton.
Comment: This is a classic case of artistic overabundance. You see, kids, people confuse easy around art-- that's why your basic downtown gallery spreads it thin, limits options, even though they can show tons more stuff in their arid off-white expanses. Artists think that more choices mean more chances to make sales, but exactly the opposite happens. Viewers find too much to like, too much to buy, too much to digest, too much to think about, just plain too much. So paralysis sets in and when the brain goes numb, it can't message the hands to open the wallet.
Now I see tons of art, and I walked Laura Kimpton's show, and was lost. Way too much to sort through. However as a party, it was excellent-- extendily wending the length of the gallery, out the back door, down the gentle embankment, under the elevated freeway, and across the large empty lot-- with bar and edibles and tunes and seating areas and space heaters and everything.
Fortunately, Laura Kimpton hands me a brochure featuring a series of small format mixed media encaustics which are really quite accomplished. But I don't know that because I can't read the brochure until I get home. So I get home and read it, come back Saturday to her second opening party (also excellent), locate these little encaustic pretties (which I completely missed the first time around), and appreciate them firsthand.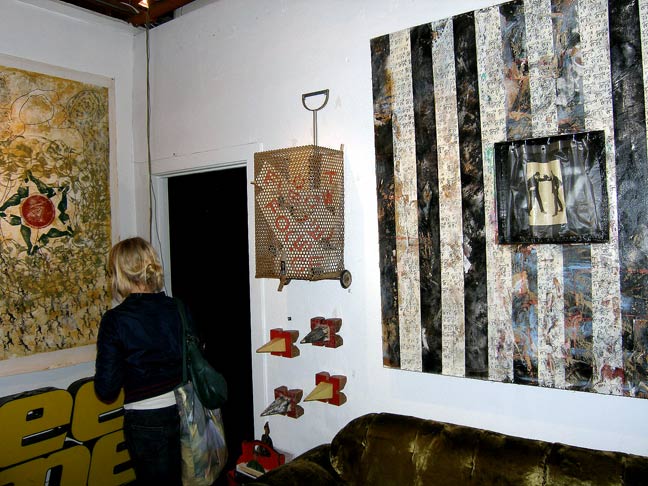 Art.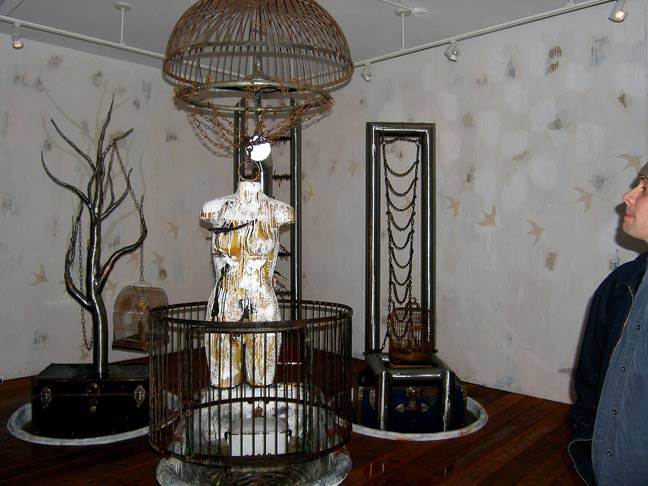 Indoor water fountain art (like it).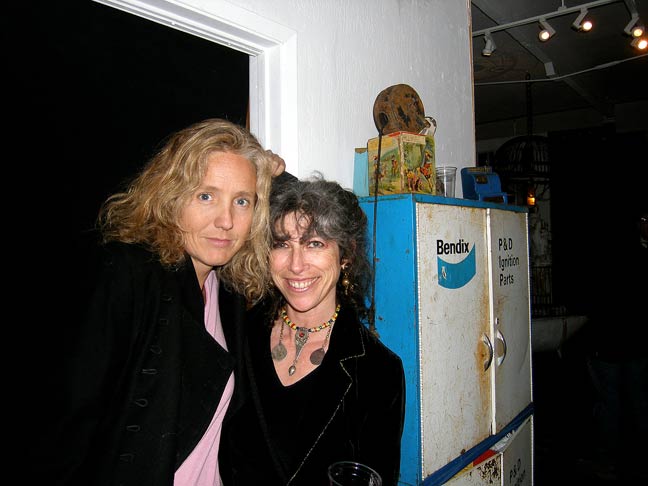 Laura Kimpton (left) - Jan Wurm (Berkeley artist).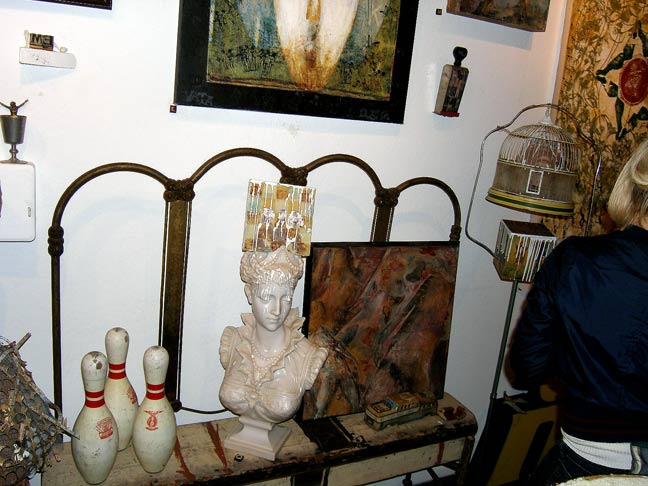 Art.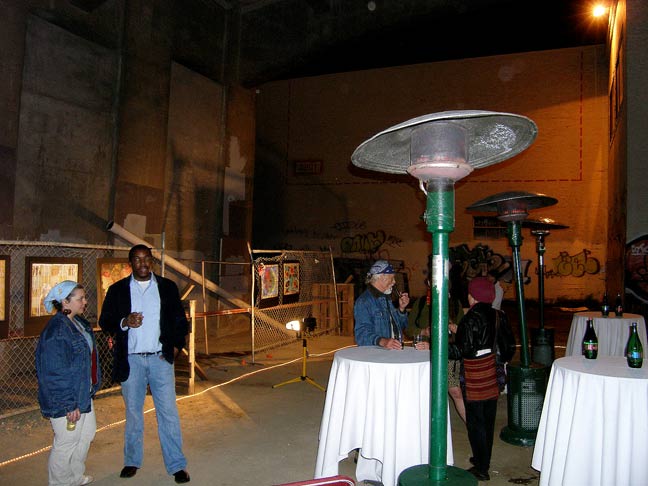 Out back under the freeway.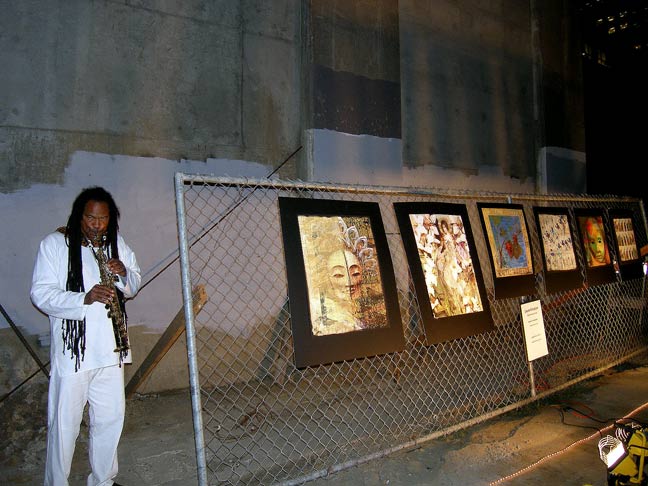 Tunes - art.


***
Linc Art: The Artist's Touch, The Sleight of Hand.
Artists: Sarah Cain, Veronica DeJesus, Ruth Laskey, Tucker Nichols, Analia Saban, Jamie Vasta, and Claude Zervas; curated by Robin Wright.
Comment: The show surveys "six artists who emphasize hands-on art making in their work." Now I may be mistaken, and correct me if I'm wrong, but don't most artists do that? Sure, plenty of artists prop their art with cognitive construct, but even they use their hands to make what they prop. (Cognitive construct is perfect, by the way, if you have limited living space-- it takes up hardly any room.) Anyway, the crib sheet goes on to say that "this show celebrates the artist's ability to transform everyday materials into something extroadinary." Now I may be mistaken, and correct me if I'm wrong, but don't most artists do that?
In other news, the art's entertaining, the show's entertaining, the attendees are entertaining (and intelligent, insightful, and creative), much of the art is sold, and we have a classic Linc attitude-free zone frolic. Price range, $3K-$7K.
Glitter city scene (Jamie Vasta - like it).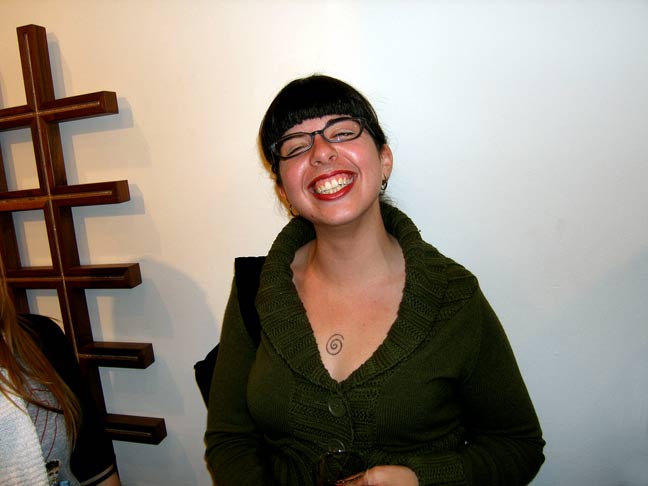 Jamie Vasta.


Dissembled reconfigured reconstructed old painting art
(leaning against wall and on floor in a ball).


Seattle artist Claude Zervas - light art.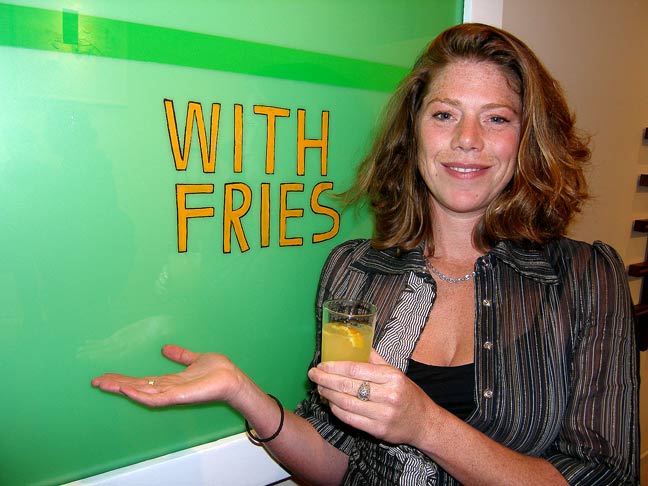 Link posse partner Hope Bryson proffers tater art.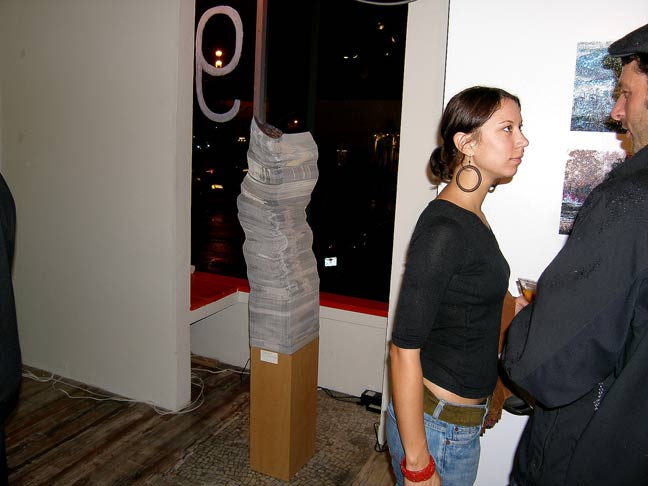 Paper piled on a pedestal art.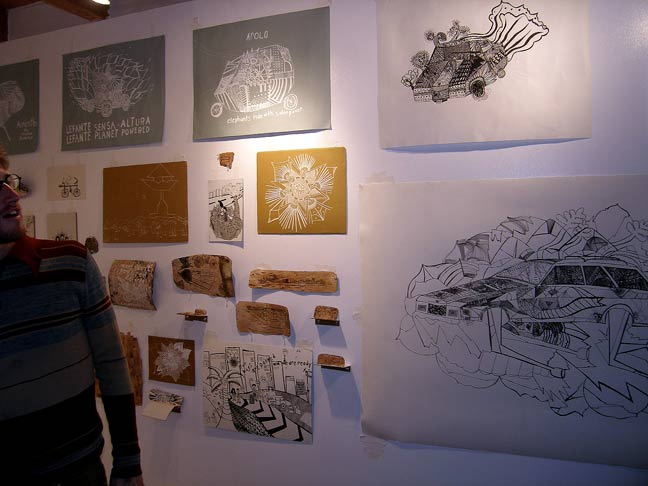 Art.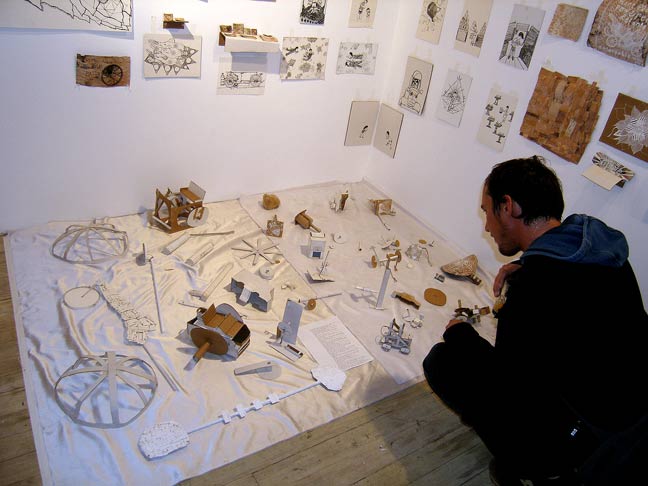 Art.


***
FIFTY 24 SF Gallery: Hinterland Who's Who.
Artists: Dixon, Elicser, Pat Thompson, Other, Thesis.
Comment: FIFTY24SF Director Ben Belsky tells me these five creatives are among Canada's top urban artists, and their art looks pretty good to me, so I'm gonna go along with the program. Now the elderly Canadians have their Group of Seven; let's call these dudes the Group of Five. The show's got nearly 80 pieces plus a number of small works on paper. One painting's $1000, two are $900, and everything else is way less. In fact, Belsky shows me one tight little mini for $60-- very tasty and cheap-o-rific. Light on lettuce? You'll find affordables here. Plus my appraisal chakra says "Buy."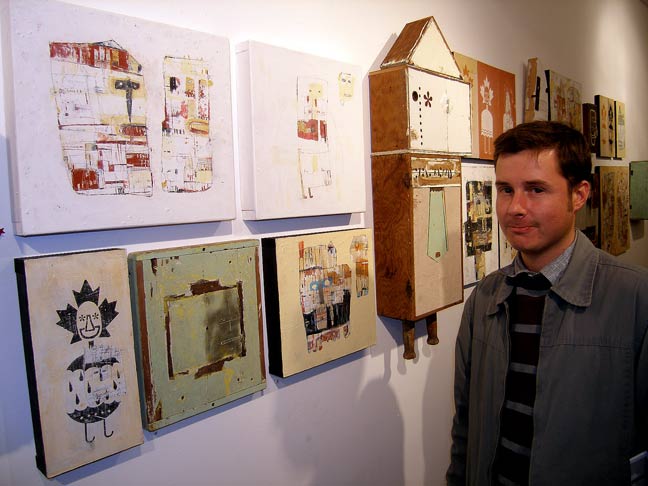 Thesis - art (like it).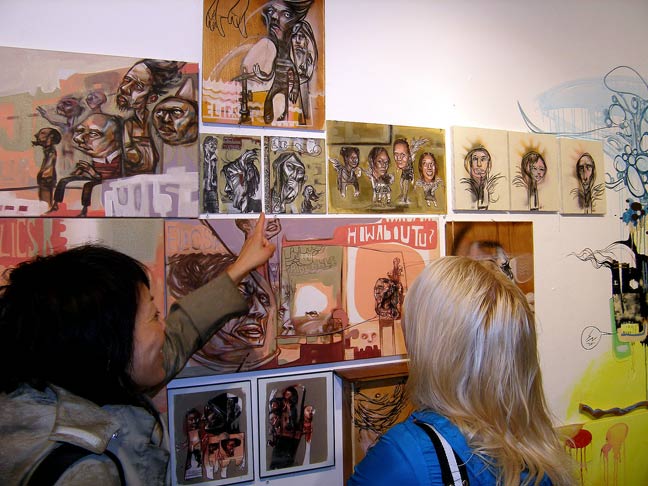 Art (Elicser).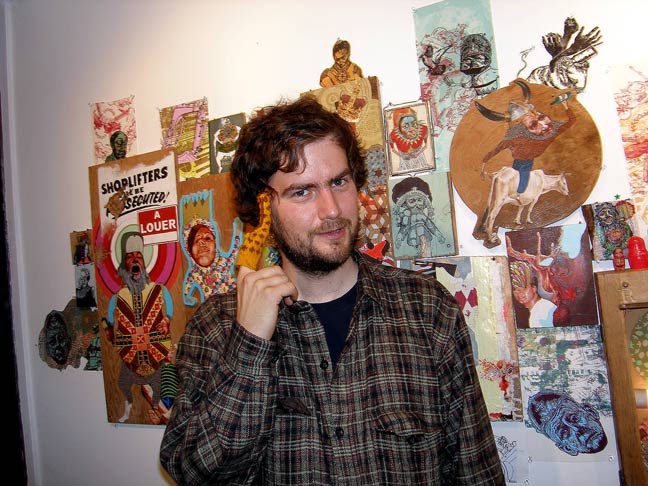 Other - finger puppet - art.


Dixon - art (right after I told him Canada is like
America without the assholes).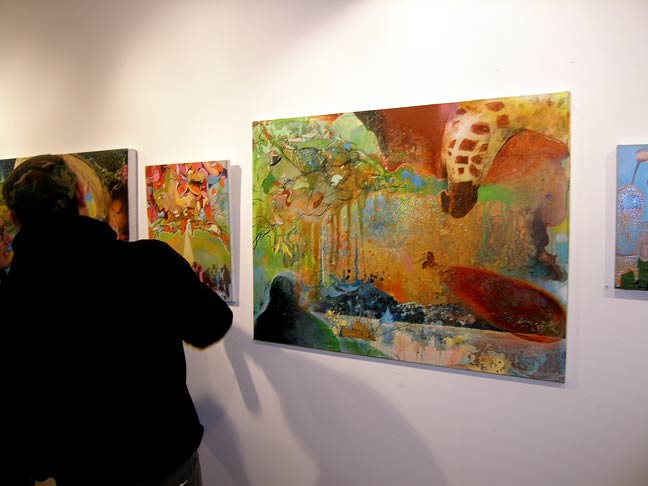 Art (not sure).


Nike galoshes art.


Curve gets videographed for our Neighbors to the North.


***
Addendum: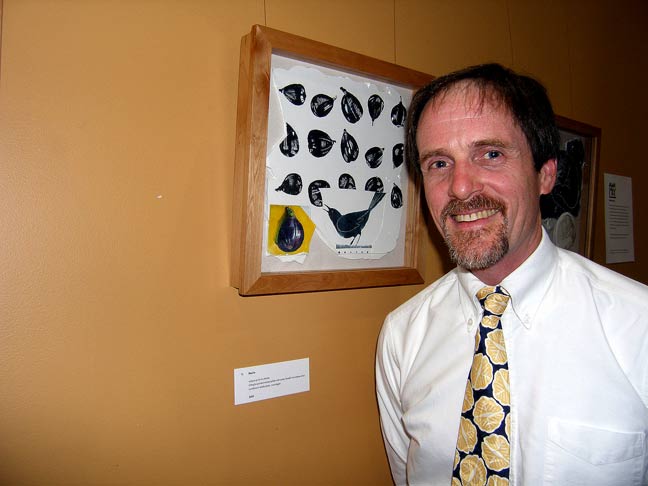 Alan May plaster prints at The Commonwealth Club.


One more Alan May at the Commonwealth Club.
Daisy space for art shows. It's an option, artists.


Crocker Galleria 2nd floor - Art People Gallery.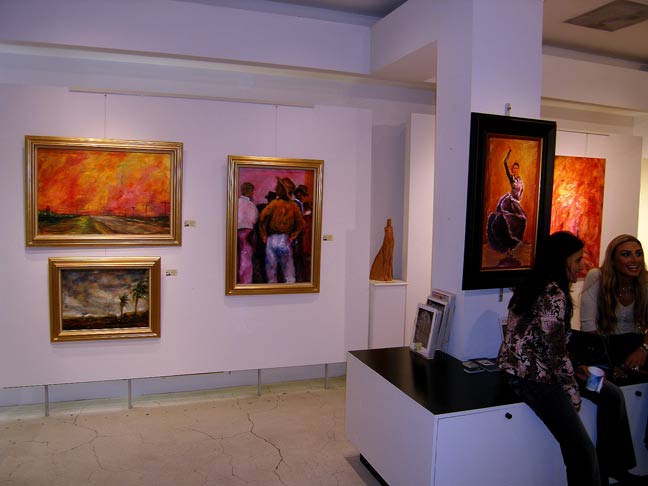 One more from Art People Gallery.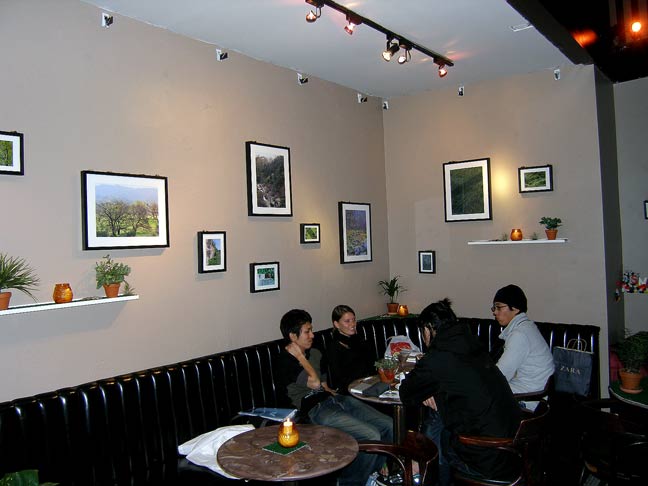 Peter Hyer at Cafe Royale, 800 Post @ Leavenworth.


Edgar Angelone at SF Black & White Gallery, 619 Post.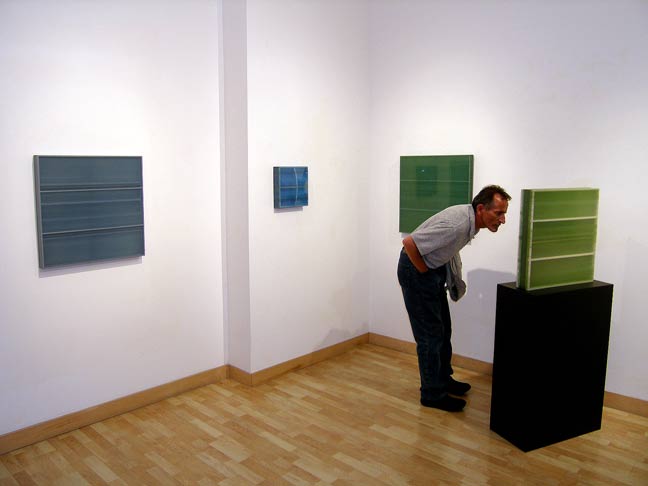 Theodora Varnay Jones "Undercurrents" at Don Soker Gallery.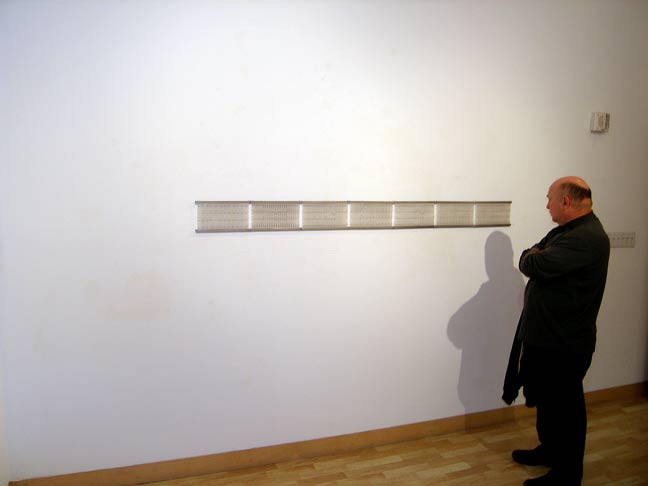 One more Theodora Jones at Don Soker Contemporary Art.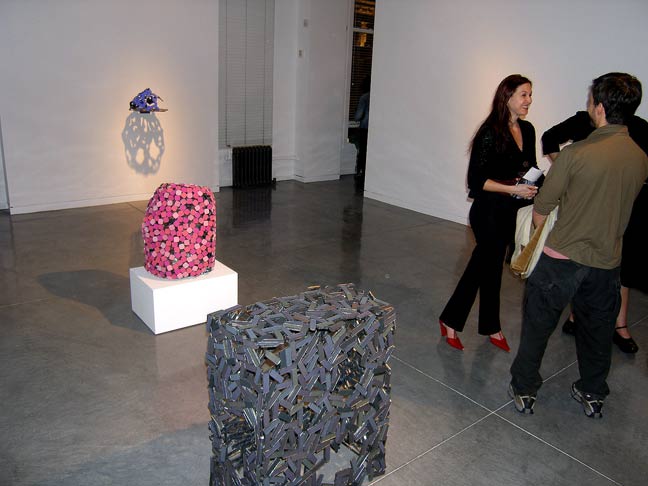 Rachel Lachowicz 'Pigment Sculptures' at Patricia Sweetow.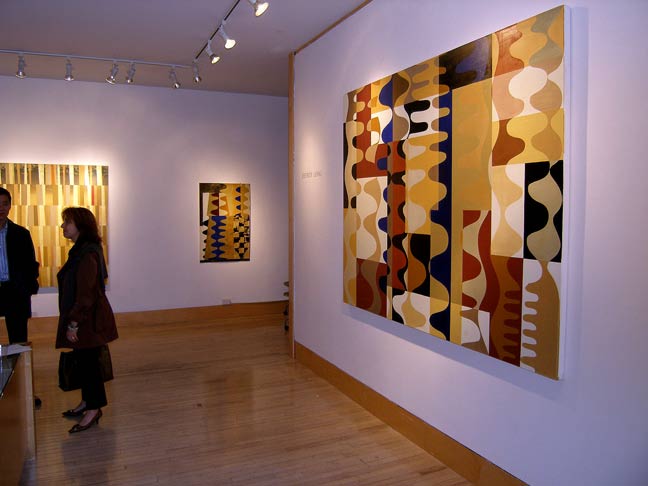 Jeffrey Long abstracts at Toomey Tourell Gallery (like 'em).


Ruth Bernhard at Scott Nichols Gallery.


Griffin Davis arts up 4 floors of the Monadnock Bldg.


***
Oh... so you read all the way to the bottom, did you? Might be a good time to show a little love. Most appreciated.
***
October First Thursday; October 6, 2005