SAN FRANCISCO ART GALLERIES
FIRST THURSDAY ART OPENINGS
REPORTED BY SANDIP RAY
11.02.06
Elins Eagles-Smith Gallery: John McCormick- Water Signs
Comment: I ask John McCormick if his landscapes are Californian because a few of them remind me of Grass Valley. McCormick answers that the landscapes are not of any particular place but rather compositions based on visual, olfactory, or auditory memory of various landscapes held together by some intuitive sense of his own. One dimension of the intuition is of course a preconceived shared cultural memory of landscapes, which because these are not records of any actual topological scenery, is between the observer and the painting. This makes the paintings a play between what McCormick brings into the paintings and what you bring to the paintings. Water Signs ­ the exhibit's title is also quite provocative as a subject of these paintings, from shallow marshes to gushing waterfalls, providing a starting reference point for a global exchange.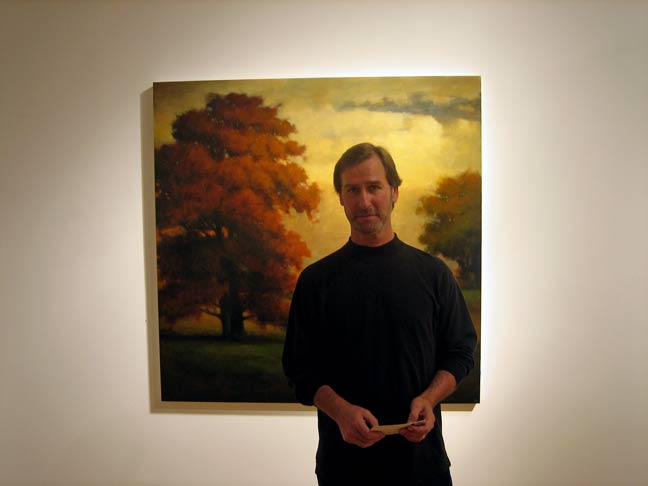 John McCormick.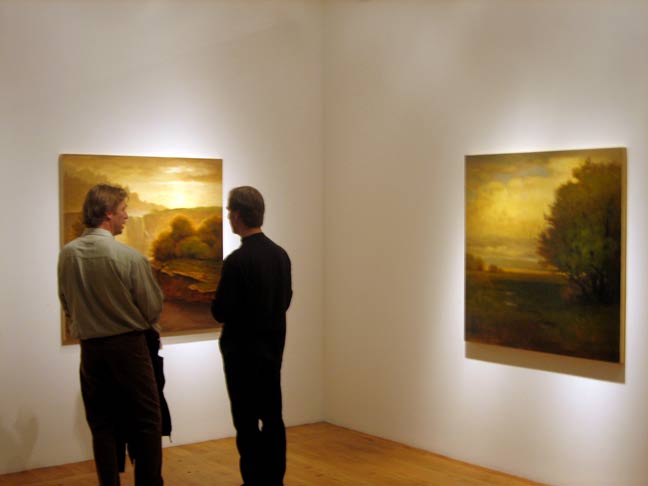 Water Signs.


***
Toomey Tourell Gallery: Ray Turner - Oil Paintings.
Comment: Turner's landscapes have a location; they are located somewhere in Idaho, or Montana, or the Midwest. The atmosphere of each paining is ominous with dark, low hanging clouds. The paintings are, in that way, as much about the landscape as about the skyscape, sometimes deep brooding, sometimes threatening.
Idaho Dusk.


***
Rena Bransten Gallery : On the Road Again - Beat Culture, Bush Era.
Artists: Devendra Banhart, Erik Frydenborg, Oliver Halsman Rosenberg, Colter Jacobsen, Ian McDonald, Jay Nelson, Geof Oppenheimer.
Comment: The expectation that On the Road Again creates, in the assemblage of such artists as diverse as Devendra Banhart famous for his folk circuit micro-ditties and Oppenheimer who is exploring sculpture through film and video, that of the Kerouac's and Ginsberg's and Snyder's of this century. If the pere could be described as loud, colorful, iterant, and confrontational, then this new beat may be described as mute, white, stuck, and passive. It should be pointed out, though, that for both generations the collective is represented by a group that's all male. What we get to see are spare colorless collages, sketches from hell, and film loops of a divorce from hell (Kramer vs. Kramer). No doubt, Nelson's drawings, Rosenberg's gouaches, and Frydenborg's collages all have something to say, but their relational inspiration to the Beats is sketchy.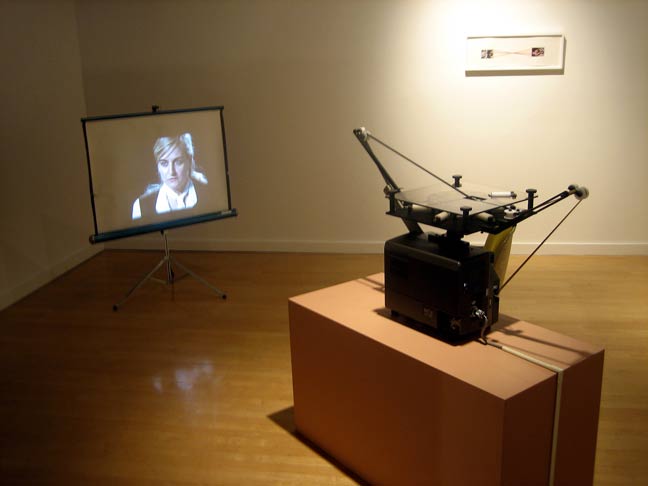 Kramer v. Kramer (Geof Oppenheimer).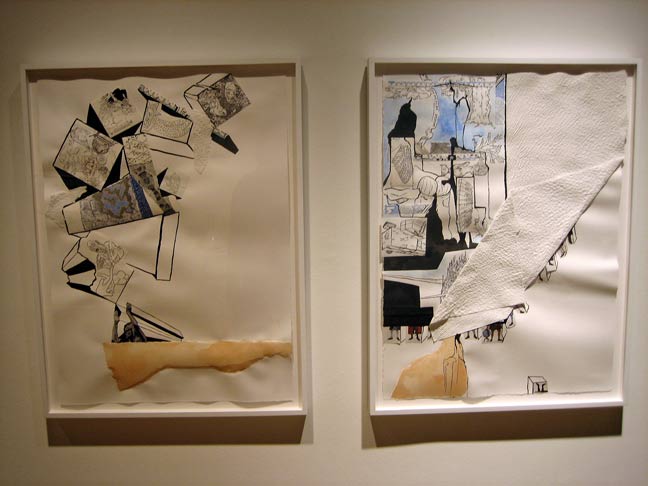 Collages (Erik Frydenborg).


Drawings (Jay Nelson).


***
George Krevsky Gallery : Lawrence Ferlinghetti - Word Play.
Comment: Ferlinghetti's art is colorful as well as confrontational, directly speaking out against war, oppression, and poverty of the pocket and the soul, accessibly and unambiguously. While there are playful tributes to the Surreal in art and film, such as Duchamp, he makes a very different use of that style in presenting what can only be described as the accepted surreality of the present, such as Iraq, or the painting, "This is not a man," which I found to be the most powerful of all the pieces. It is so brutal that the humor in the connection to Magritte's pipe is lost in the truth not only of the person in the electric chair, but our tolerance of it.
C'est la vie, et al.


Fuck War, et al.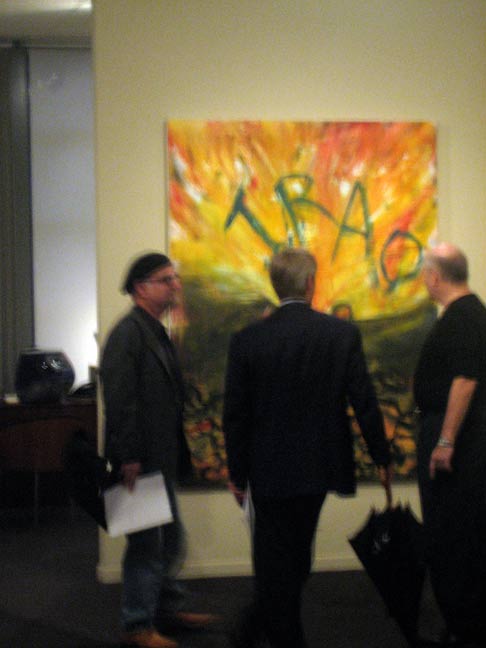 How much for the Iraq?


***
Haines Gallery: David Klamen - New Works; Gabrielle Teschner ­ Everything You Think Is True.
Comment: The exhibited new works of David Klamen shows the artist contemplating topology on three levels. On one level, Klamen uses an array of white dots on the foreground of landscapes to create a visual effect comparable to viewing a landscape through a screen-- so as the array changes subtly over the landscape so does the landscape. On another level, Klamen paints grandiose interior landscapes, places that look like museums, where the architecture that surrounds the floodlit subject is in the dark, and yet visibly projecting its outline; this is almost a conceptual magnification, as it were, around one of the dots in the landscape paintings. The third mode is the contemplation of topology in terms of its multitude of fragment components; and this is shown wonderfully in "Commonwealth Square."
Gabrielle Teschner's work presented in Everything You Think Is True takes a radically different view on the subject of topology, specifically from the vantage point of maps, which in relationship to the world generally means either keeping some people out and keeping some people in certain territories, essentially serving the purpose of divisions that go beyond any topological restrictions. There is an illustration by Debord where a city map is cut up and connected with arrows to circumvent spatial divisions. Teschner's circumvention strategy entirely removes parts of the map to create transcendent new territories that are carved out from under the topology of divisions found on the maps themselves, creating very new maps.
Neutral Territory (Gabrielle Teschner).


Dotted array over landscape, detail (David Klamen).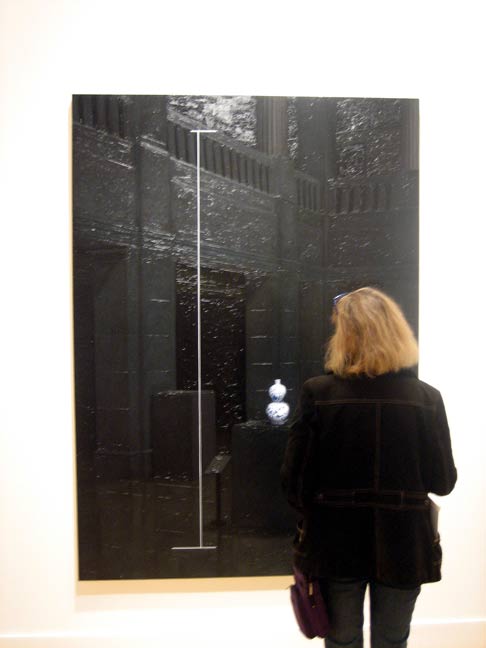 Untitled (David Klamen).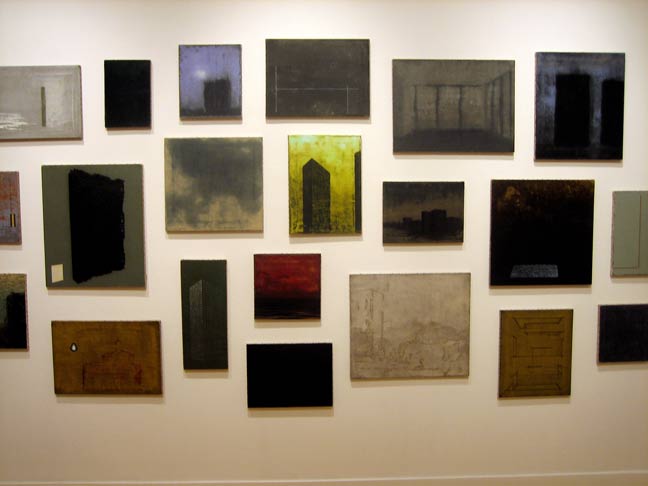 Commonwealth Square, (David Klamen).


***
Patricia Sweetow Gallery: Jane Harris - Recent Paintings.
Comment: Initially I thought they were frames on loan from the set of the Sopranos, know what I mean? Then I got hip to the brush work (wow) and the flashes of light bouncing off the paint, and some of the paintings still looked like frames, but others looked like something that I'm tempted to explain as a dynamic quality of light that emanates from the brushstroke rather than a static positional quality of light that is usually captured in painting with colors, which is kind of a cool thing, if you think about it, especially when the gradation of lightness and brightness is over one color, and what's more, one continuous brushstroke.
Nudge, nudge.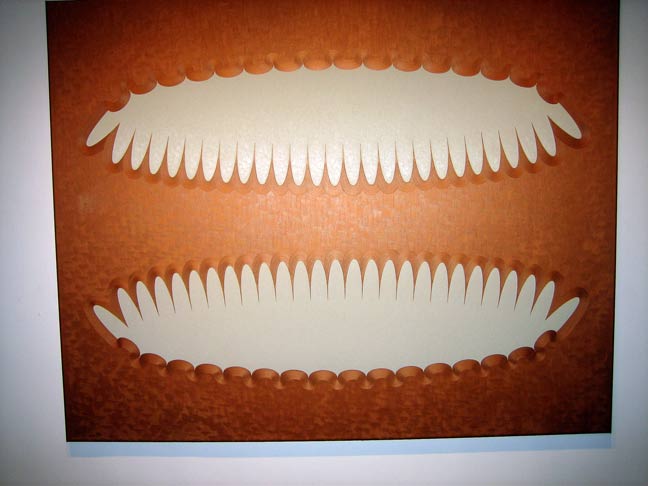 One continuous brushstroooooooooke.


***
Stephen Wirtz Gallery: Melanie Pullen - High Fashion Crime Scenes.
Comment: Very chromatic re-staging of real crime scenes in L.A. involving fashion victims, I mean, high fashion crime victims.
Hey, can you see it in the lobby for Halloween?


***
Togonon Gallery: Ben Needham - Invented Memories
Comment: Needam is adept at placing dissimilar images on the canvas and leaving the canvas blank for the observer to fill in and construct the association. Thus, perhaps also the path of invented memory.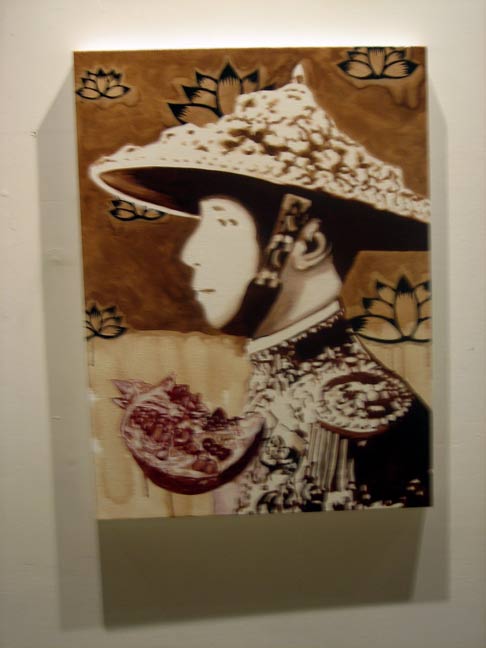 Relic.


***
The compassionate among you may wish to click here. And thank you for your support.
***
First Thursday; October 5, 2006