SAN FRANCISCO ART GALLERIES OPENINGS
FIRST THURSDAY; 12.07.06
General comment: It's all about South Florida this month, interim international art world conflux, this year playing host to a butt-whacking duodectuple decker of an art fair sandwich. Sure it's mega, but that doesn't mean artful Ess Eff lies down and goes to sleep now, does it? Not me anyway-- and that's a fact, Jack. I don't care where the cattle corral. I'm here; there's art. It's that simple and no more complicated. So what do you say we check out this month's visual pu pu platter? You in? Excellent. Gird those loins 'cuz off we go...
***
Dolby Chadwick Gallery: Dan Jackson - New Paintings.
Comment: Still life compositions by Dan Jackson that have a little more zip on 'em then those of comparably equipped contemporary realists. Among the kickier constestants is one of a bunch of old clock faces, another of neatly arranged fish on a platter except you can't see the platter, one where Jackson paints a portion of an amateur painting into his professionally painted composition, and two tricksters-- one of a clarinet loosely wrapped in black tape and another of grapes in a translucent Tupperware-style plastic container. Priced from $3200-$8000.
Art.


Art.


Art.


Art.


Art.


***
Mark Wolfe Contemporary Art (formerly Urbis Artium Gallery): Davide Coltro - [Systems] - New Works in Digital Media.
Comment: Likely the best show I've seen here to date, whatever the name of the gallery is. Italian artist Davide Coltro creates "electronic canvases," progressions of digitally maniuplated monochrome images of his lonely landscape photographs, playing like silent slide shows on well-disguised video monitors, each image displayed for twenty minutes or so before changing. Coltro has figured out as well as anybody how to make video images imitate static works of art, the only giveaway being the dangling electrical cord from the base of the frame. He also makes "still captures" of his images (without electronics or monitors), remarkably exquisite in the way the "frame," the "glass," and the image fuse into a single entity. You can't tell where the art starts and the frame ends or for that matter, what medium you're even looking at. Pick of First Thursday.
Art.


Art.


Art.


Art.


***
ARTworkSF Gallery: Peace, Love, Joy, Art, 2006.
Comment: Dozens of works by dozens of artists in this copious Holiday show and sale. But there's a dude at the door keeping people out, except by invitation apparently. So much for Peace, Love, and Joy. How 'bout this idea? Maybe if you're gonna pull a boner like this, have your little soiree on one of the other 30 nights of the month-- not First Thursday. That way, you won't have any uninvited riffraff to rile.
Art.


Art.


Art.


***
Fraenkel Gallery: Nothing and Everything.
Artists: Carl Andre, Vija Celmins, Jean Dubuffet, Walker Evans, Robert Gober, Peter Hujar, Donald Judd, Ellsworth Kelly, Piero Manzoni, Robert Rauschenberg, Hiroshi Sugimoto, Agnes Martin, Irving Penn, Gerhard Richter, Ralph Eugene Meatyard, Loewy & Puiseux, Adam Fuss, Photographer Unknown, Eugene Atget, Richard Misrach, Mel bochner, Richard Tuttle, Lee Friedlander, Steve Wolfe, Helen Levitt, Man Ray & Marcel Duchamp, Diane Arbus, Yves Klein, Edward Weston, Robert Adams, Sol LeWitt, Helen Mirra, Josef Maria eder & Edward Valenta, Ellsworth Kelly, Alex Hay, Harry Callahan, Robert Ryman, Nicholas Nixon.
Comment: The lineup pretty well says it. Major names, superb selection (like only Fraenkel Gallery can muster and like you wouldn't normally expect to see categorized under the same aegis). The essence trends minimal, and the crib sheet gets all methodological and stuff about how some art's got elements of "emptiness and fullness, void and profusion" simultaneously at the same time. Myself, I leave that kinda technical shit to the laureates. Oh... and there's a nimble little disclaimer on the price list too-- "price and availability are subject to change." Duh. Is that really necessary? I don't see much art where price and availability aren't subject to change. Do you? Anyway, pretense aside, it's a premium show. Go see.
Art.


Ersatz cast pewter drain set into the wall (Robert Gober - like it).


Art (Richard Tuttle, left - Lee Friedlander, right).


Art (Carl Andre).


Art.


Art.


Art.


Art.


Art.


***
Jack Fischer Gallery: A Flight.
Artists: Vahakn Arslanian, Deborah Barrett, Caleb Duarte, Matt Furie, David Higgins, John Hundt, Sindy Lutz, Gina Pearlin, Ian Pyper, ed Musante, Bernardo Roman Palau.
Comment: Bird art-- just when you thought the genre had finally flown the coop. That said, the selection's largely favorable from a quality control standpoint.
Tweet art.


Old Master type dude with a bird sticking out of his ear art.


Chirp art.


***
Haines Gallery: Director's Choice.
Artists: Max Cole, Kota Ezawa, Binh Danh, Max Gimblett, Patsy Krebs, David Nash, Dennis Oppenheim, Alan Rath, Rex Ray, David Simpson, Joel Sternfeld, Peter Voulkos, Darren Waterston.
Comment: Cheryl Haines cherry-picks herself a peck of gallery artists and "other artists." Among other plums, she snags a prodigious Peter Voulkos expressionist smokestack ceramic that's been kickin' around the retail sector for a while, a kick-ass collage by perennial favorite Rex Ray whose work FINALLY makes it to 49 Geary, and a slick upside down tree-base sculpture in the alcove by (help with name). In the parlor is a video of a dude stuffing his face with food from the gallery's Consumption Junction show, a tribute to America's love affair with gullet shovelling. My favorite homily from the rotund guests on "I weigh 500+ Pounds" Oprah (and other talkster) shows-- "I eat a normal diet."
Upside down tree-base art (like it).


Art (Peter Voulkos, center - Rex Ray, right).


Virile dude and his ride art.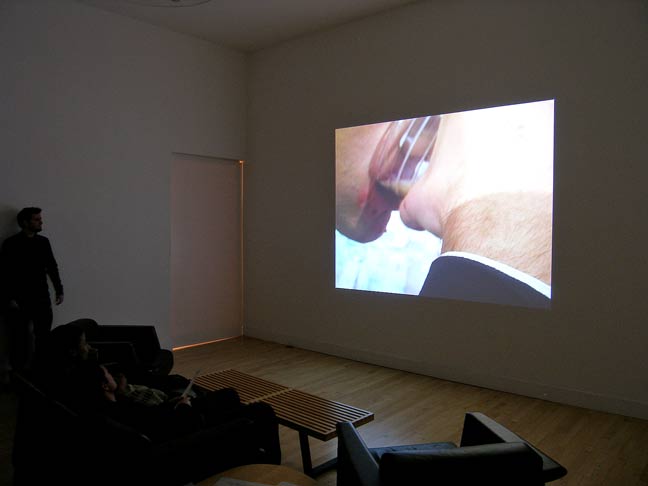 Guzzling art.


Wiping art.


"Oh baby, that was good" art.


***
Pigman Gallery: Beyond the Protection Of - Paintings by Rebecca Carino; Celeste Lane - Photographs.
Comment: Quirky Pigman's back after about a year hiatus. Rebecca Carino paintings in the back; photographs by Celeste Lane up front ($175-$350). Plus live tunes by a floor-based trumpet guitar duet.
Photography (Celeste Lane).


Photos (Celeste Lane).


Art (Rebecca Carino).


Art (Rebecca Carino).


Tunes.


Images (not sure of artist).


***
111 Minna Gallery: 111 @ 111.
Artists: Brad K. Alder, AZ Star 78, Lisa Alisa, Andres (Kurve), Eric Bailey, Jud Bergeron, Bernadette, Michelle Blade, Costanza Blondet, Byron Brown (VIRGIN 69), Hee Johng Chae, David Choe, David Choong Lee, David Coddaire, Wren Coe, Kim Cogan, Guy Colwell, Alika Cooper, Daniel Cordani, Paz de la Calzada, Bryan Dawson, Daniel Dent, Joel Dugan, Sacha Eckes, Nome Edonna, Erin Eisenhower, Ezra Li Eismont, Chris Fitzpatrick, Stefan Fitzpatrick, Sam Flores, Tara Lisa Foley, Ian Francis, Rene Fressola, Matt Furie, gaNyan, Jason Gariety, Gonzo, Steve Gordon, Ashley Harris, Martha Sue Harris, Andrew Hem, Dana Hemenway, Hero, Jay Howell, Maya Hayuk, Dan Herrera, Carolyn Heydu, Lani Imre, Jordin Isip, Trevor Ito, Rich Jacobs, Sylvia Ji, Asyah Johnson, Eric Joyner, Karafina, Damian King, Kukula, Elizabeth Kunath, Micah LeBrun, Joe Ledbetter, David Choong Lee, Hugh Leeman, Henry Lewis, Sharon Leong, Alexis Mackenzie, Ben Mansell, Mars-1, Rogelio Martinez, MATS!?, Gem Mateo, Mateo, Ryan McGavin, Dennis McNulty, Garin Moore, Michael Page, Kottie Paloma, Mike Park, Johan Pateen, Zane Peach, Chris Pew, David Potes, Ray Potes, Stephen Powers, Fred Rinne, Kevin Price, Isaac McKay-Randozzi, Rob Reger, Ricardo Richie, Romanowski, Lee Harvey Roswell, Kelly Reule, Sham Saenz, Gabe Scott, Zenaida Sengo, Ivory Serra, John Sheridan, Christine Shields, Skinner, Anthony Skirvin, Casey Jex Smith, Winston Smith, Smoke, Damon Soule, Zefrey Throwell, John Trippe, Kelly Tunstall, Aiyana Udesen, Nate Van Dyke, Maura Vazakas, Jon Weiss, Nick Wilkinson, Eric Zo, more.
Comment: 111 Minna anticipates the potential for chaos in this 111 artist extravaganza by requiring all submissions be 20 by 20 inches in size. A handful of artists, apparently not concerned about guidelines, unilaterally override the rules and submit what they feel is appropriate for the show. For their reward, their odd-art-out gets hung in a sucky viewing area that's christened the "Dimensionally Challenged Wall." Aside from the scofflaws, the show holds together suprisingly well. All kinds of art; all kinds of styles; all kinds of good; one size fits (almost) all. Price range $85-$3500; most under $500. Helpful artist hint #353a: When you're invited to be in a group show, find out the typical selling price range for the venue in advance, and then submit work in that price range (assuming you want your art to sell, that is).
Art.


Art.


Art.


Art.


Brad K. Alder debuts his poopin' fresh mens room mural.


Art.


Art.


Art.


Dimensionally challenged art. Oops... my camera slipped.


Art.


Art.


Enclave.


***
Hotel Des Arts: Women's Art Festival.
Artists: Allison Renshaw, Aondrea Maynard, Audrey Heller, Casey O'Connell, Christine Wolheim, Dharma Strasser, Diane Serafini, Hadley Northrop, Jennifer Delilah, Judy Gittelsohn, Kate Durkin, Kate Moore, Kelly Tunstall, Kytha Gernatt, Lesley Ruda, Marcia Teusink, MariNaomi, Miranda Lloyd, Rebecca Szeto, Teresa Moore, Tracy Taylor Grubbs, Whitney Giehl, Xan deVoss.
Comment: Four floors of hallways at Hotel Des Arts are festooned with all manner of hangables by local women artists. A portion of the proceeds goes to La Casa de las Madres, an organization dedicated to providing services to victims of domestic violence.
Art.


Art.


Art.


Art.


Art.


Art.


Art.


Art.


***
Evolving Art Gallery @ INJA: Holiday Show - Small Works for Holiday Shoppers.
Artists: Mina Markovic, David Mark, Douglas Malone, Chiyomi Taneike Longo, Jung Ran Bae, Sandra Sunnyo Lee, more.
Comment: New gallery, part of the INJA store across the street from the San Francisco Design Center. The space is choked with an overabundant overabundance of creatables, more than enough befuddle the bejeebers out of even inveterate artsters like me. Somebody find these nice people a curator!! The "something for everybody" approach to running a gallery is generally not a viable strategy.
Art.


Art art art.


Art art art art.


Art art art art art art art.


***
Fifty24SF Gallery: Blaine Fontana - 415 Sedimental Promises.
Comment: Combination art show and book launch for Long Beach artist Blaine Fontana. Generally solid work, several standouts, a tad trend a trifle derivative at times.
Art.


Art (like it).


Blaine Fontana signs books & chats up the fan base.


Art.


Art.


***
Live Worms Gallery: The 4th Annual PanOpticon of North Beach.
Artists: Agneta Falk, Alex Miloradovich, Andy Katz, Anne Marini, Bill Mercer, Catz Forsman, Craig Goode, Edward Millet, Elizabeth Ashcroft, Eugenio de Arnal, Fanny Renoir, George Long, Howie Whitehouse, Jack Freeman, Jack Hirschman, James Hakshin Cha, James Redo, Jeff Grove, Jessica Loos, Jessica Renee Gauguin, Jessica Snow, John Behanna, John Dowling, Katharine Snyder, Ken Roe, Lawrence Ferlinghetti, Mark Schwartz, Marsha bellavance, Michael Pedroni, Mamo, Rebecca Peters, Richard Hack, Richard Whalen, Riki Chen, Roger Strobel, Ronald Sauer, Rosemary Manno, Sherry O'Donnell, Susan Birkeland, Theodore Schroetter, Tina Tarnoff, Tony Vaughan, Torrey Nommesen, Vince Storti, Yuri Vekshinsky, Zack Ruta, more.
Comment: North Beach creatives and those who love them settle in for a night of congenial comaraderie and carousal, the gallery walls peppered with art, plenty of which is affordable, and plenty of which is selling.
Art.


Art.


I'm sorry Sir, but the green ceramic pig head centered on a red circular background and mounted on an old speaker housing painted black is sold.


James Hackshin Cha & photograph (left) + Fanny Renoir.


Ronald Sauer (left) + Fanny Renoir & collage art (right).


Art.


Ambience.


Ronald Sauer & Rebecca Peters, show organizers.


***
Addendum:


"Salon of Fine Photographs" at Robert Tat Gallery.


One more from Robert Tat Gallery.


Rolfe Horn images of Italy etc. at Scott Nichols Gallery.


Edith Park Truesdell retro at Art Exchange Gallery, 49 Geary, 4th fl.


***
Will cover art openings for food. Happy Holidays! And thank you for your support. Burp.
***
First Thursday; November 2, 2006