***
Hang Art: Ivy Jacobsen - Alchemy.
Review by Meredith Winner: The rich use of media in Ivy Jacobson's work makes each piece recognizable while simultaneously mysterious. Detailed images of flora and fauna hold the foreground while dreamlike backgrounds coax the eye into a world beyond. The works are very attractive and certainly attest to the artist's mastery of a wide range of materials.
Art by Ivy Jacobsen.


Ivy Jacobsen art closer (image c/o Meredith Winner).


Art by Ivy Jacobsen closer.


Ivy Jacobsen art (image c/o Meredith Winner).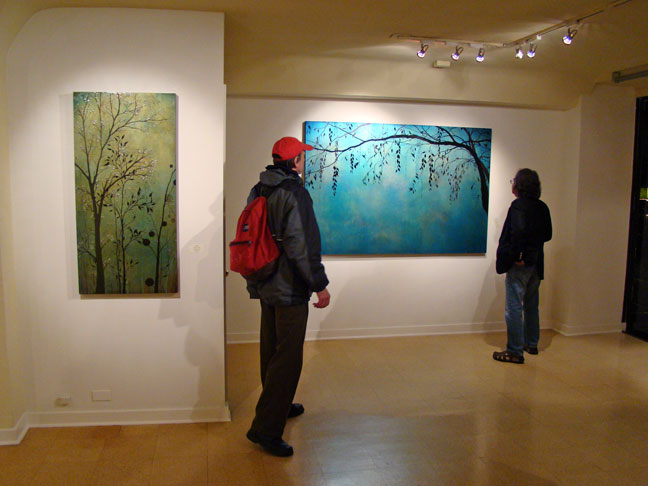 Art by Ivy Jacobsen.


***
The Performance Art Institute: Hot Surface - Performance by Gili Mocanu, Lucian Alexe, Elena Albu... Romanian Artists-in-Residence.
Review and images by Meredith Winner: The final performance of Romanian artists in residence, Lucian Alexe, Gili Mocanu and Elena Albu, is a collaborative effort made possible through audience participation.
Members of the audience are literally bound together with the artists in a large circle using nylon wrist cuffs. As Romanian militaristic music plays, the artists physically move the participants in various directions using no vocal instructions. The music commences in a sort of dance-- neighboring partners spin around and everyone gets a feel for the push and pull of the group. Then, things get creative-- and somewhat chaotic-- as the circle knots itself, unwinds again and different people start to take control.
In addition to the initial discomfort and confusion of being connected to a stranger, the cuffs too are uncomfortable as the three artists-- and eventually individual participants-- drag members of the circle where they want to go. Witnessing the dynamic of the group change during each situation is quite interesting. For instance, when a group is severely knotted, the rest of the circle slows down, allowing them to untangle to avoid injury; or when an individual decides to lead the group through a tight space, everyone is very cautious and patient.
While this performance could be misconstrued as a mere team-building exercise, it actually attests to group sensitivity and the helplessness felt by individuals within groups. The confusion, discomfort, and loss of control within the circle is representational of the personal struggle of these young Romanian artists emerging from a conflicted culture. This final performance resonates with the series' title, Badly Happy, as all of its participants have experienced pain, pleasure and panic.
Stephen Tourell introduces the Romanian artists in residence.


Lucian Alexe, Gili Mocanu, and Elena Albu.


Nylon Cuffs.


The formation of the circle.


***
Suite Five Salon: Matt Gonzalez and Ben Irvine.
Comment by AB: Bright buoyant collage works (and several in gray-scale) by Matt Gonzalez; captivating folded white paper "sculptures" by Ben Irvine.
Collage art by Matt Gonzalez.


Collage art by Matt Gonzalez.


Artists Matt Gonzalez & Tamara Ribas at Suite Five Salon.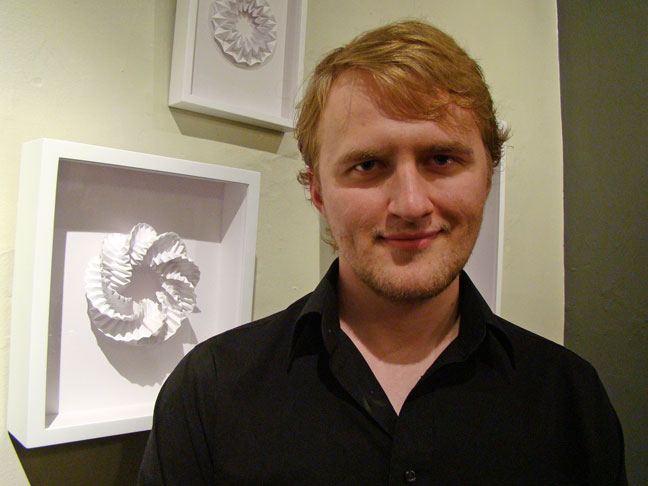 Ben Irvine and his folded paper art.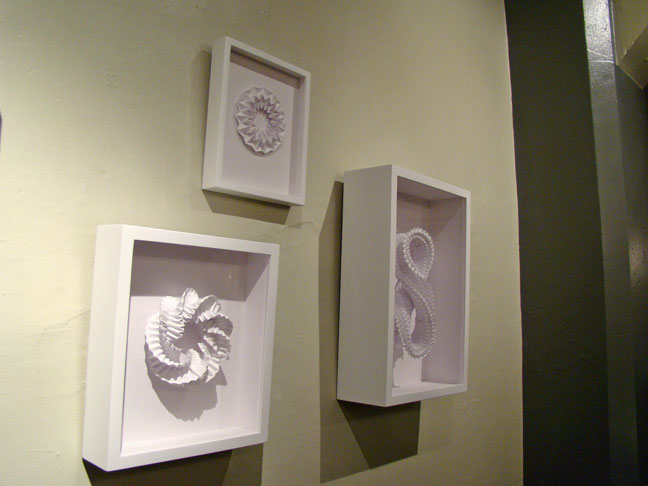 Folded paper art by Ben Irvine.


***
111 Minna Gallery: Jumbo Year End Group Show.
Artists: Kelly Tunstall, Jesse Pollock, Robert Bowen, Bill Dunlap, Jeremy Fish, Alex Pardee, Chris Brennan, Mike Giant, Nate Van Dyke, Audrey Erickson, Micah LeBraun, Bo Heimlich, Tim Schafer, Mike Davis, Matt Furie, Pacolli, Marco Zamora, Jay Howell, Ruthie Swanson, Dave Mabry, Brian Gilbert, Mildred, Mario Wagner, Junko Mizuno, Jacob McGraw, John Wentz, Deth P. Sun, Jake Watling, Martin Ontiveros, Justin Lovato, Andrew McClintock, Ross Pope, Erin McCarty, Brett Amory, Ryan De La Hoz, Jason Jagel, Kinsey, Corey A, Seth Armstrong, Stacey Rozich, Jason Adams, Michael Beinhorn, Ferris Plock, Mia Christopher, Mike Bertino, Aiyana Udesen, Alex Chiu, David Cook, Ryan Coffey, Sean Brimer, Yoni Matayaou, Mike Steffan, Kelly Nicolaisen, Jesse Gidcumb, Isabel Samaras, Hayden Menzies, Russ Pope, Kyle Field, Jeremy Tinder, Arlo Jamrog, John Casey, Ernest Doty, Frank Carter, Rob Reger, Ben Tour, Tracy Timmins, Brian, Dave Correia, Connor Williumsen, Brad K Alder, Andreas Trolf, Rob Williamson, Skinner ,Cody Cochrane,Heather Gabel, Gabe Castellanos, Michael Slack, Brooke Candy, Pakayla Biehn, Mark Mulrony, Annie Galvin, Adam Avilla, Johnny Bonnell, Adam 5100, Matt Crookshank, Taylor Wessling, Darryl Peirce, Charmaine Olivia, Emilly Scannell, Todd Noble Holloway, Jesse Balmer, Gina Contreras, Seth Neefus, Jennybird, David Torch, Josh Yule, Zack Schlemmer, Scott Greenwalt, Parskid, Greg Speck, Ben Johston, David Fallis, Sergio Navarro-Duran, Ian Mullen, George Webber, Mark Todd, Jason Yim, Jason Cruz, Winston Smith, Jessica Trippe, Rogelio Martinez, Dennis McNulty, Michael Steffen, Leslie Winchester, Sergio Navarro-Duran, Llewellyn Bryan Dawson, Dennis McNulty, Bram de Martelaere.
Comment by AB: Panoptic urban spectacular embraces everything and everybody everywhere.
Art.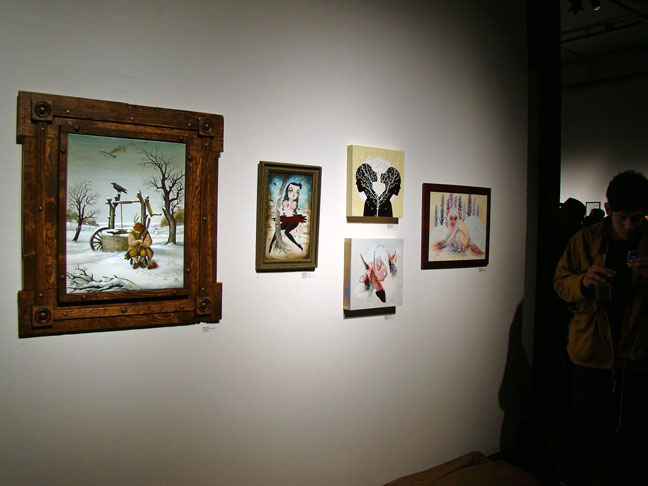 Art.


Art art.


Art art art.


Art art and uh... art.


That's right... art.


Last Gasp headmaster Ron Turner in da house.


MOMA Man Henry Lewis in da house.


***
Addendum:
Stick-up art by Yiying Lu at Hotel des Arts.


One more from stick-up art by Yiying Lu at Hotel des Arts.


Atrium ambience at the Palace Hotel - doesn't get much better.


***
Maybe try this for a refreshing change of pace?
***
First Thursday - November 4, 2010
First Thursday - October 7, 2010
***