LUGGAGE STORE - BUCHEON - PAWNBROKERS
SAN FRANCISCO ART GALLERY OPENINGS
12.17.04
The Luggage Store Gallery: Frenzy II - Auction / Sale.
Comment: Galleries that show cutting-edge art do whatever they have to do in order to stay alive, and like tonight, sometimes it's fun-- a fundraiser auction / sale to benefit The Luggage Store, the second such event in the gallery's seventeen year history. Plenty of well-known artists donated art-- as well they should-- with The Luggage Store serving as launch pad for oh so many upstarts over the years. And we all know that we must never forget from whence we come, right? So the shindig boiled down to a very healthy turnout replete with odd outfits and curious doos-- a nexus of nonconformism-- and good food, plenty to drink, festive atmosphere, active bidding, and best of all, art selling.
Note to artists who donate art to fundraising auctions: Donate something decent. It doesn't have to be major, but it does have to be something you're proud of. Don't donate crap, losers, lamers, mistakes, unsalables, or effluvium of any other kind. One piece of art was so bad, I couldn't believe the artist saved it, let alone donated it. I mean why on earth do you want to risk people looking at something with your name on it and saying stuff like, "Boy, does that suck?" Having said that, the large majority of art at the sale was entirely adequate, but you artists who take advantage and pony up poop-- and you know who you are-- show a little respect.
Artists: Rigo 23, Sixth Street Photography Workshop, The Mail Order Brides, Osgemeos, Nick Ackerman, Scatha Allison, Michael Arcega, Edgar Arceneaux, Tauba Auerbach, Amy Balkin, Devendra Banhart, Leo Bersamina, Nina Bovasso, Mark Bradford, Iona rozeal brown, Elaine Buckholtz, Sarah Cain, Thomas Campbell, Carolyn Castaņo, Omar Chacon, Enrique Chagoya, Jim Christensen, Adrian Colburn, Paul DeMarinis, Cheryl Dunn, Steven Elliott, Reanne Estrada, Simon Evans, Charles Fairbanks, Matt Flegle, Harrell Fletcher, Erik Foster, Amy Franceschini, Jim Goldberg, Sam Gordon, Tony Gray, Frank Haines, Midori Harima, Fred Hayes, Cliff Hengst, Scott Hewicker, Laura Heyman, Terry Hoff, Desiree Holman, David Huffman, Jo Jackson, Xylor Jane, Chris Johanson, Evan Jourden, Arnold J. Kemp, Darin Klein, Walter Kitundu, Stella Lai, Josh Lazcano, Reuben Lorch-Miller, Brendan Lott, Mads Lynnerup, Kara Maria, Alicia McCarthy, Barry McGee, Keegan McHargue, Rebecca Miller, Caitlin Mitchell-Dayton, Leah Modigliani, Nickolas C. Mohanna, Julio Morales, Moira Murdock, Abner Nolan, Shaun Odell, Manuel Ocampo, Chris Oliveria, Eamon Ore-Giron, Gina Osterloh, Kamau Amu Patton, Alexandria Pembleton with Megan McCready, Aaron Plant, Emily Prince, Ricardo Richey, Will Rogan, Claire Rojas, Jon Rubin, Raymond Saunders, Jovi Schnell, Dave Schubert, Gregory Smith, Jackie Sumell, Michael Swaine, Stephanie Syjuco, Rev. Tim Taylor, Ed Templeton, Deanna Templeton, Hank Sloane Thomas, Amy Trachtenberg, Carlos Villa, Jean- Paul Villegas, Mary Weatherford.
Art (Rigo 23).


Art.


Art.


Art.


Art (Clare Rojas- center center / Chris Johanson - bottom center).


Art.


Art.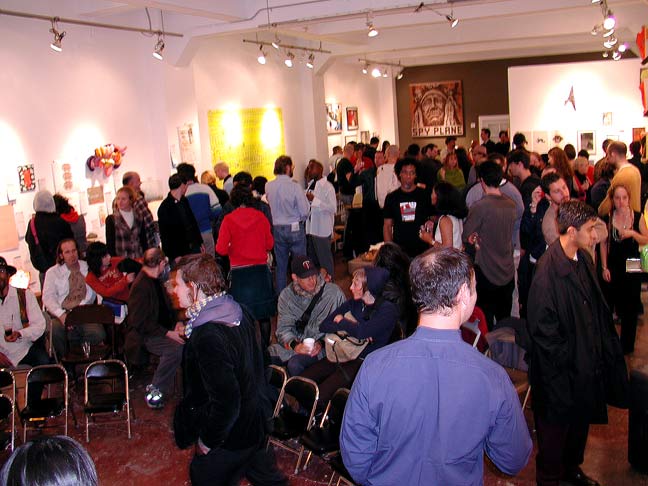 Support for art.


***
Bucheon Gallery: A Simple Chair Show.
The opening was crammed with chair people and those who love them, SRO, so not a lot of room to exploit the seating situation and temporarily chill those glutei, though some brave souls dared, risking midriff nose-ons. The chairs range from utilitarian to non-functional sculpture, serious to light-hearted. If you enjoy the design side of art, this show will satisfy.
Artists: Olle Lundeberg, Tom Hill, Michael Singer, Eleni Eliades, Marcia Steurmer, U.B. Morgan, John Randolph, Ben Buettner, David Goldenberg Jeanice Skvaril, Derek Chen,Riley Mcferrin, Frank Bletch, Ron Slayen, Brent Kanbayashi, Michael Farruggia, Sean Ahlquist, Lawrence Labianca, and finally Dick Macias.
Seating.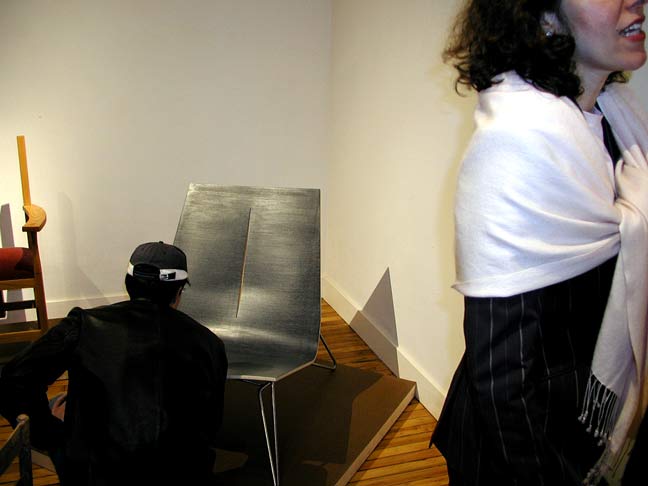 Seating.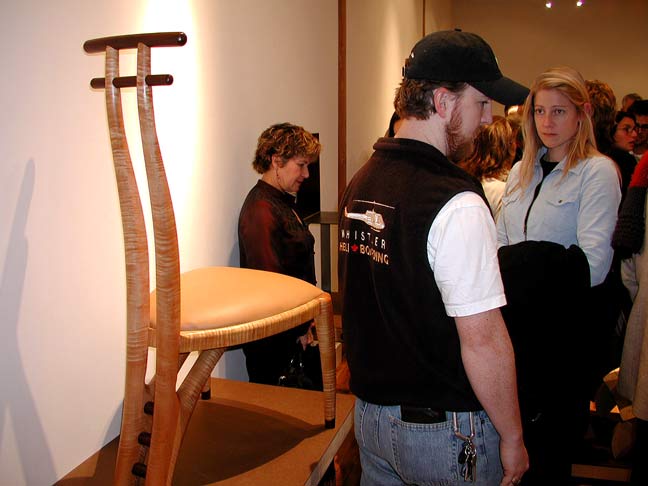 Seating.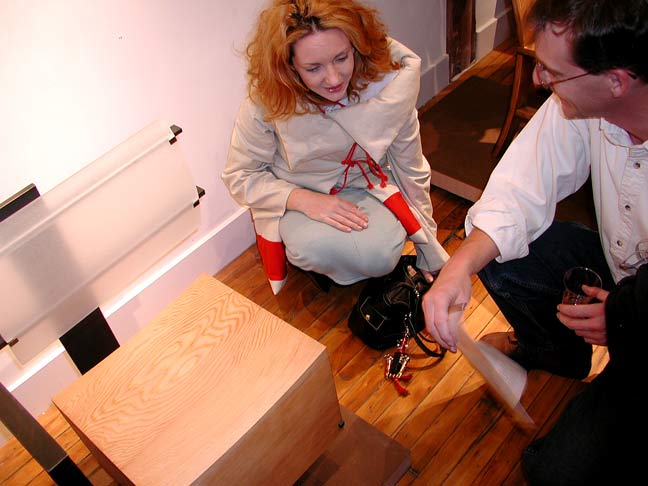 Artist Kelly Tunstall discusses seating.


Sitting on seating.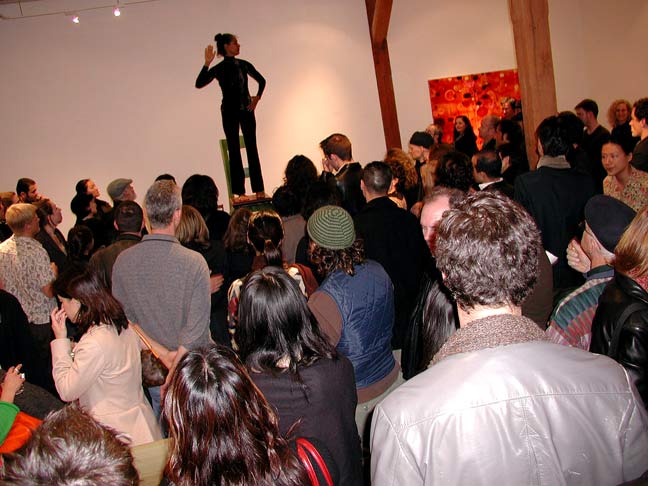 Performing on seating (Joanna Haigood).


Standing next to seating.


***
Pawnbrokers Gallery, 837 Larkin St., SF, 94109; 999.2051: Alarm Magazine Party.
Comment: Release party for issue #19 of Chicago-based music, fashion, culture, and art-positive Alarm Magazine. Highlights include an Andrew Shoultz wall assembly, Darrel Mortimer hawking his outsider puff pipes, and an amoebic pink clay mound with haphazard facial features. Dawn Frasch's skewed cerebral deviations mildly outpace her brushwork, but catch-up appears eminent, at which point, good things shall happen. Pawnbrokers shows promise as one more place to scout tomorrow's stars.
Artists: Dawn Frasch, Andrew Schoultz, Paul Hornschemeier, Darrel Mortimer, Alvin Gregorio, Benjamin Chickadel.
Art (Andrew Schoultz).


Pipeman Mortimer explains product.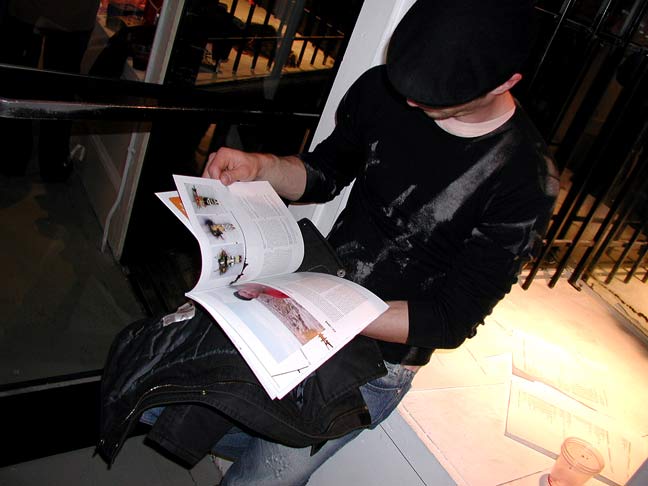 Alarm Magazine.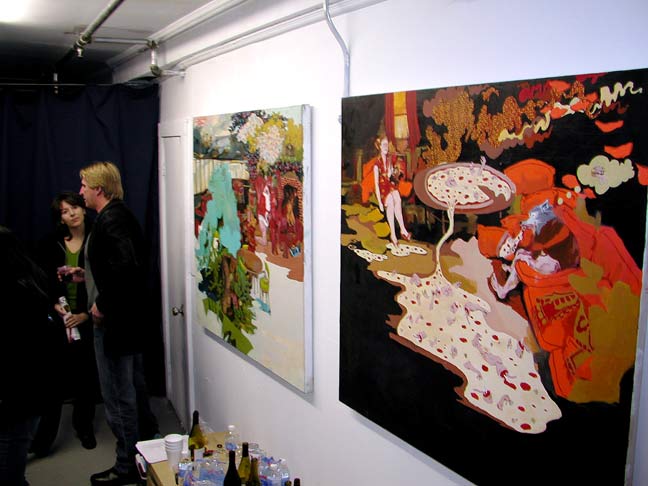 Art (Dawn Frasch).


Pink mound art.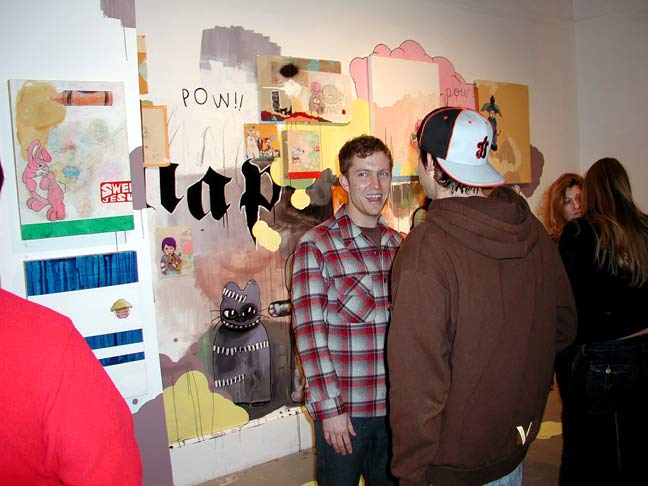 Art - owner.


Art.


More pipeman.


***
Seen on the street:


Vehicular articide.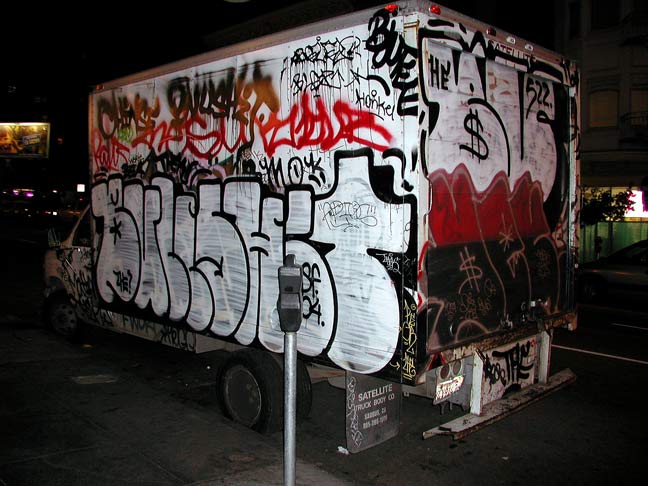 Preferable to plain white, don't you think?