SAN FRANCISCO GALLERY OPENINGS
FIRST SATURDAY; 04.09.05
Jack Hanley Gallery: Piotr Janas.
Comment: Enticing, perhaps even a tad hypnotic, medium-large paintings, mainly abstract, but with representational flourishes-- like one has a tick in it; another has the tip of a knife blade. They also tend to have red in them which likely activates the hypothalamic response quadrant of the brainstem, so you're kind of thinking and low-level emoting at the same time.
In the darkened adjacent gallery, a video plays, showing close-in details of Janas's meager Warsaw studio-- the paint on the walls, the door jamb, and so on. His studio's plywood bathroom door, peppered with stab marks, has been shipped all the way from Warsaw to Hanley, and sets propped and spotlit against a side wall. (How do you declare that one on the customs forms?) Anyway, the sum total takes you well beyond your basic nonrepresentational experience, renders the show a thumbs-up departure for Jack Hanley. Prices: $12K per.
Art.


Jack Hanley - art.


Piotr Janas (left).


Bathroom door - Hanley stool.


Jack Hanley explains product.


Art.


***
Adobe Books & the Backroom Gallery: Other Planes of There - Paintings by Johanna St. Clair, Jamie Vasta, and Jake Longstreth.
Comment: Johanna St. Clair makes her art in pairs, sort of. One half is foliagescapes-- black and white ink drawings or greeny blacky moody leafy paintings. The other is glossy smooth bubble-covered surfaces which, according to the generous interpretive assistance of curator Eleanor Harwood, represent microscopic cellular blow-ups of the foliage in the foliagescapes, and if you zoom in close, that's exactly how they look. Jake Longstreth paints snippets of mass-market commerce at its blandest, like the blank outer wall of a big-box chain store with an empty minivan parked in front of it. Jamie Vasta creates his twinkly color-rich imaginary landscapes the hard way-- not with paint, but by gluing loose glitter onto board. I wonder if he's ever sneezed in his work? That could be a downer.
Art (Johanna St. Clair).


Art (Jake Longstreth).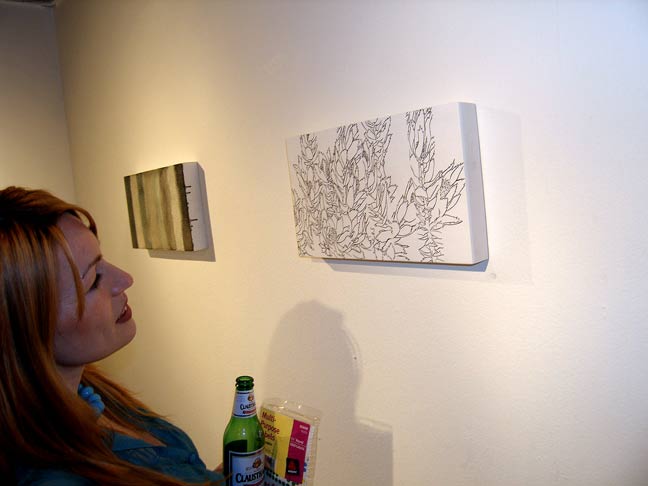 Eleanor Harwood elucidates art (Johanna St. Clair).


Art (Jamie Vasta).


***
Balazo Gallery: Pet Noir, An Anthology of Strange But True Bay Area Pet Crimes.
Artists: Attaboy, Bill Dunlap, Bitter Pie, Bradley Fulton, Chris Fabbri, Christina Loff, danyol, Dee Dee Russell, El Rey, Fred Einaudi, James Lovekin, Jen Feinberg, Joe Spear, Jonathan Grubb, M. August Bournique, Marin Thurber, Martha Sue Harris, Mary Younkin, Mici Benet, N8 Van Dyke, Nicola Ginzler, Peter Conrad, Randy Antin, Ric Carrasquillo, Rik Livingston, Sabrina Schaal, Scot Shand, Scott Werner, Shay Nowick and Taiko Fujimura
Comment: A wacky entertaining mixed bag animal art fundraiser with proceeds going to In Defense of Animals and the soon-to-be-published graphic novella, Pet Noir. I kinda liked this really big frog painting; I have no idea why. But you know what I liked most about the show? Arkloads of animals-- no poop.
Art.


Walking the zork on planet Flangdor.


Show organizer Mari Naomi (right).


Big green frog art.


Arf art.


Darwinian ancestor art.


Art.


***
Galeria de la Raza: Weedee Peepo - Icons, Portraits, y Gente.
Artists: Elena Anaya, Francisco X. Camplis, Barbara Carrasco, Lawrence Colación, Lou Dematteis, Francisco Domínguez, Juan Manuel Echavarría, Rupert García, Rick Godinez, Gabriela Hasbun, Pato Hebert, Ester Hernández, Alma López, Amanda López, Yolanda López, Linda Lucero, Ralph Maradiaga, Malaquías Montoya, Oscar Muñoz, Tatiana Parcero, Armando Rascón, and Rio Yañez, more.
Comment: "Weedee Peepo" is an accent-heavy play on the way recent immigrants to this country might say the first three words of The Constitution, "We the People." The art tends towards social relevance and political messaging, but also honors ordinary average citizens, regardless of nationality, regardless of culture. Weedee Peepo is one in a series of shows celebrating Galeria de la Raza's 35th anniversary.
Art.


Art.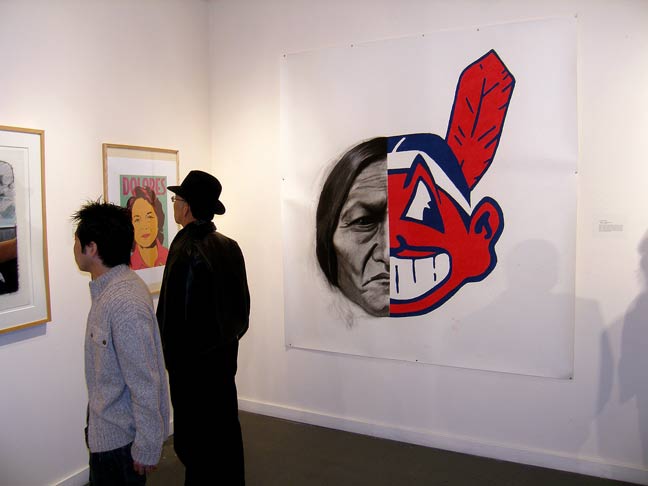 Art.


Art.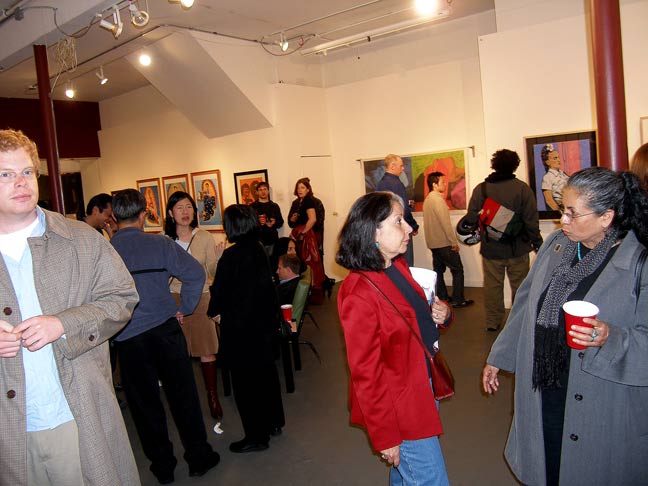 Circumstance.


***
The Shooting Gallery: Beyond the Pale, Opium and Absinthe - New Works by Niagara.
Comment: Niagara is the priestess of sleazy druggy sexed up art starring steely cold granite willed trigger happy women in attidudes of uncompromising disdain for limp male egos. Her latest series of mixed media works, based on San Francisco's turn-of-the-century opium and absinthe dens, tones her message down a bit, while still exhalting lifestyle choices unencumbered by twelve-step programs. Special added bonus-- these paint, collage, and gold leaf blends are nicely put together from technical as well as aesthetic standpoints. Best Niagara art I've seen.
Art.


Art.


Niagara (center).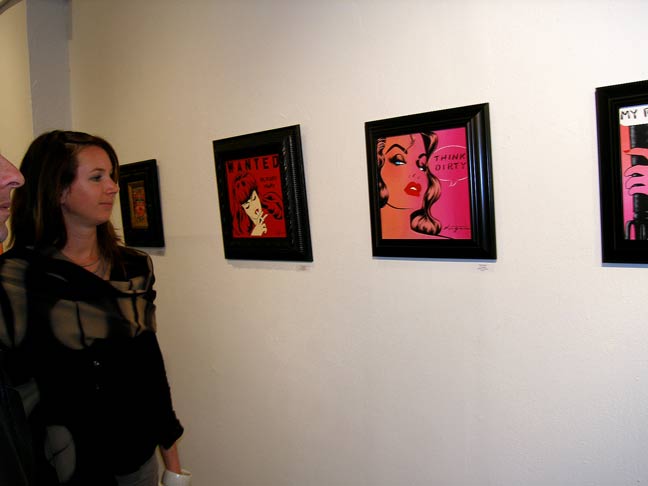 Art.


Art.


***
Varnish Fine Art: Yoohoo and Donuts.
Artists: Sean Andress, Lee Ballard, Robert Bowen, Dave Correia, Brad Isdrab, Alex Pardee, Jeroma Opena, Jahkeeli Garnett, Lucien Shapiro, and Jonathan Wayshak.
Comment: The show's dedicated to Martha Stewart, says artist Jonathan Wayshak in the liner notes, because she's "stunningly beautiful, yet ruthlessly cruel. Our art reflects her true nature." Wayshak knows Martha Stewart? Cool. Anyway, the art's pretty slick, that's for sure. I don't know about ruthlessly cruel, but it's definitely got an edge-- not the kind of stuff you wanna hang in the baby's room, unless you wanna warp the baby. Speaking of warped babies, warp kinda sounds like dork, which is what I kinda felt like in this hepcat and hepkitten-heavy crowd, which means one thing-- good opening. All the artists also participated in the Alternative Press Expo (APE SF) at The Concourse.
Art (Jonathan Wayshak).


Snout art (looks like our snout).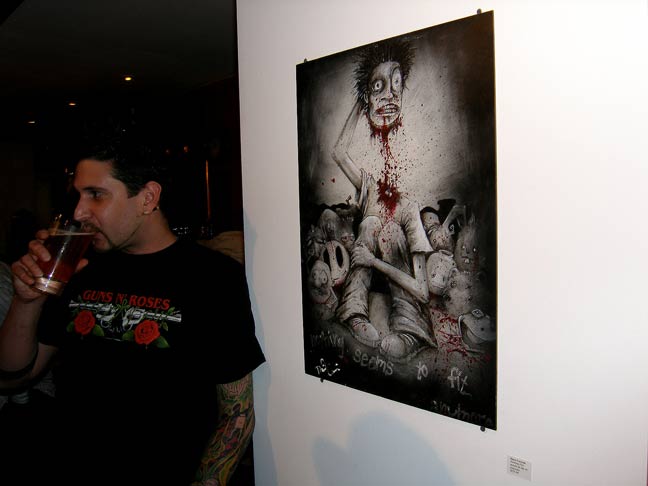 Art (Dave Correia).


Art (Robert Bowen).


Art (Jahkeeki Garnett).


Art.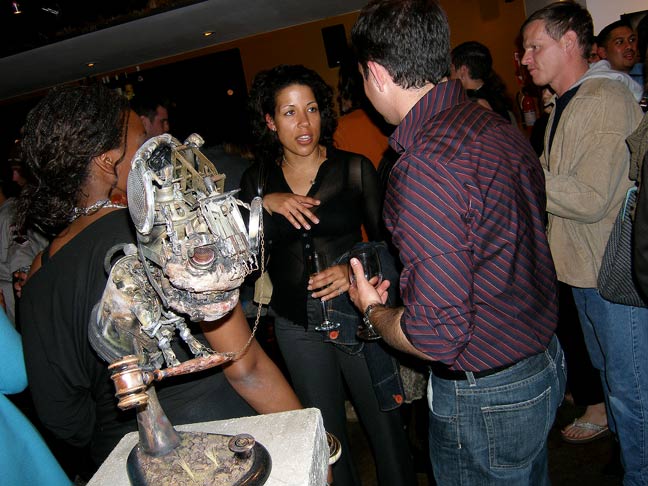 Art - playing field.


***
ArtsFest: 2nd Annual Spectra Ball.
Comment: A multidisciplinary arts event at party central-- the Old Mint on Fifth and Mission-- Burningesque Manishly atmospheric, with dancers, actors, red painted people walking around on stilts, music, fashion, technology arts, visual arts, culinary arts, spoken word, costumed celebrants, revelry, and so on and so forth. All walls were adorned with art; a dozen separate rooms each featured different performers. My favorite work of art was a hanging plant and altar installation which filled a small room, which I photographed before I saw the sign that said no photographs allowed, because I photographed it through the door that didn't have a sign on it saying no photographs allowed. I swear. So, I apologize for that, but it still gets Best of Show as far as I'm concerned.
Art.


Best of Show art.


Art.


Do-it-yourself mug shot.


Art.


Art.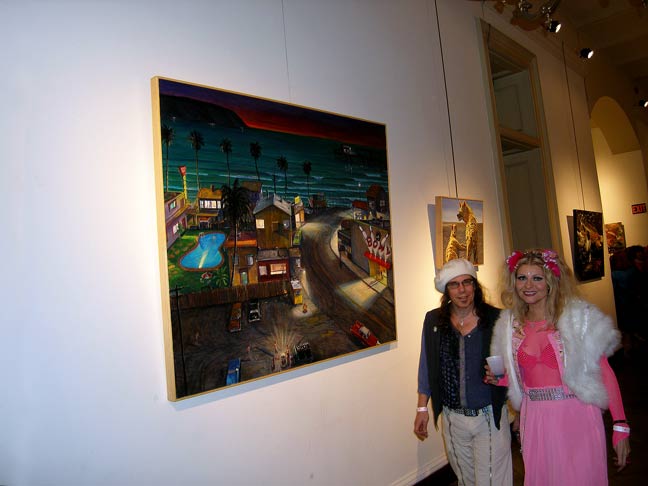 Art.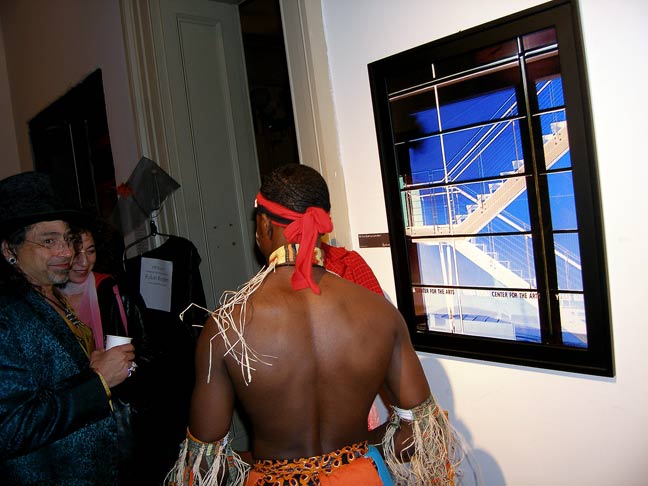 Art.