SAN FRANCISCO ART GALLERY OPENINGS
FIRST FRIDAY AND SATURDAY; 04.07-8.06
Ampersand International Arts: Open Network - Brooklyn.
Artists: Larry Bamburg, Mai Braun, Dana Frankfort, Kate Gilmore, Olen Hsu, Jessica Jackson Hutchins, Paul Lee.
Comment: According to the brochure, works by these artists "reveal overlapping conceptual and formal concerns across diverse media. These artists foreground the substantive qualities of their work, as noted by the use of modest, everyday materials, the emphasis on surface, a certain economy of gesture, and location of beauty in unassuming forms. Much of the work is decidedly sculptural in intent. In contrast to the large-scale installations of the latter-half of the 20th Century, however, these artists articulate ideas about spatial considerations through objects that are discrete and smaller in scale. A structural fragility is often evident, emphasizing the work's sensuous physicality and allowing for a sense of the absurd to come into play."
I think that means the art's all different, uncomplicated, made from ordinary materials, mainly three-dimensional, smallish, good looking, maybe a little odd, and on the delicate side (so be careful). My favorite piece by far is a midget roadkill deer diorama with lifelike hovering flies by Larry Bamburg (no relation). The show's worth seeing for that piece alone. Olen Hsu's curvy paper tape music playing trumpet speaker four-pak works for me too.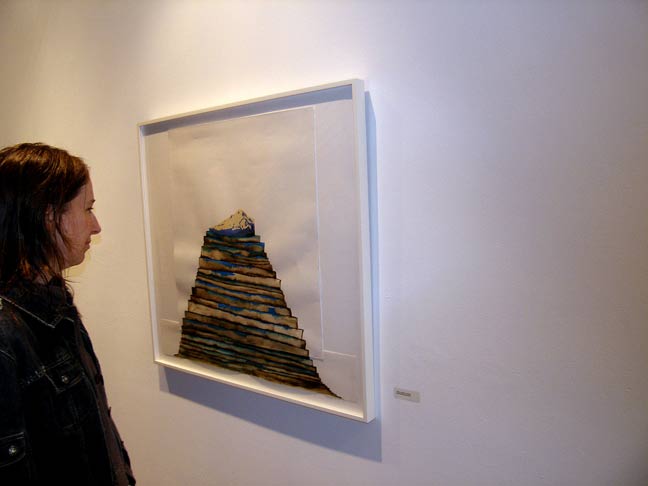 Art.


Speaker art (Olen Hsu).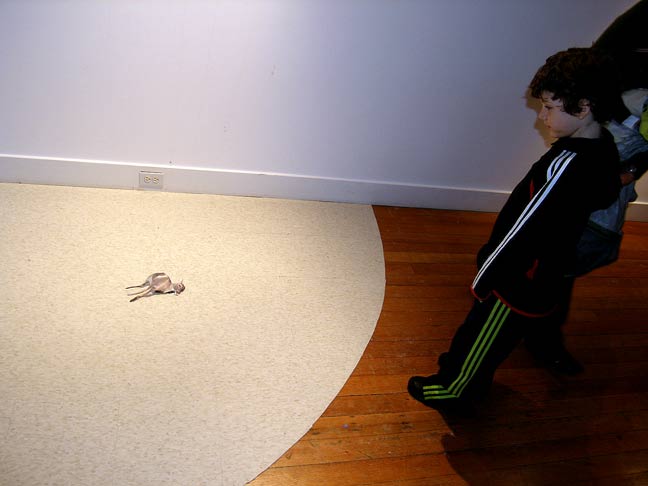 Conked carrion art (Larry Bamburg - like it).


Art.


Art.


Art.


***
Gallery 16: Instant Messaging - An Exhibition of the Debris of Communication.
Artists: Marisa Aragona, Lowell Darling, Lauren Davies, Inga Dorosz, Parry Grip, Clint Imboden, Anna Maltz & Eloise Warren, Candace Mammarella, Kate Moore, Jeff Palfini, Nigel Poor, Randall De Rijk.
Comment: A exhibition of low tech communications including Post-it notes, lost and found notices, maps and directions scrawled on napkins or scraps of paper, books with scribbled notes, phone numbers, lists, notebooks, and a host of other inconsequential ephemeral messages, reminders, and announcements. The problem is there's way too much of it to wallow through unless you commit to camp out-- hundreds upon hundreds of shreds, chards, and iotas displayed haphazard and random-- total overload and enough to make you wanna wheel in a dumpster. The press release alone is sixteen pages long (and at least as interesting as the "art"). A consummate Ludwig Mies Van Der Rohe (1886-1969) "Less is more" diametric.
In the "What's this doing here?" department, among the deluge of detritus you'll find an amusing series of ink transfers on processed cheese slices by Parry Gripp, and an exquisitely whimsical example of American folk art, namely a cut and painted plywood stork used to record births at Hunter's Point Naval Shipyard for decades, the names and birthdates of numerous newborns neatly and variously calligraphied onto either side of the bird.
Unrelated stork art (Best in Show).


Effluvium art.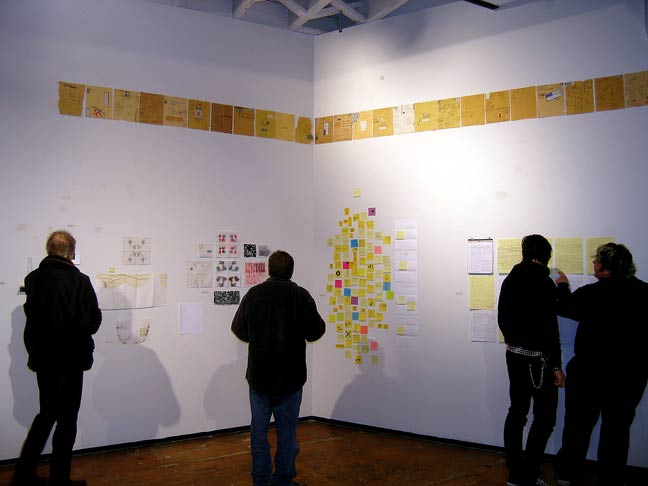 More effluvium art.


And more.


And more.


And more.


***
The LAB: The Man Box and Beyond - An Exhibit About Masculinity and Male Identity.
Artists: Daniel Anderson, Victor Barbieri, Bill Berry, Jaime Cortez, Richard Godinez, Clinton Hensley, Jonn Herschend, John Jenkins, Scott Kildall, Shaun Leonardo, Scott Newell, Emet Sosna, Marq Sutherland, Ehren Tool, Scott Tsuchitani.
Comment: Diverse perspectives on the meanings of "man," "male," and "masculine" in today's society. The presentation examines gender identity, where it originates, how it evolves, to what extent men assume roles, how OK men are with who they are, and if/whether/when/how maleness (or femaleness) is modifiable. But wait. There's more. Then blend in social and political issues like male domination, war, race, ethnicity, economic status, age, and sexual orientation. Result-- things to think about. Another commendable episode from The LAB.
Cup-a-Man art (like it).


Man art.


Man art (like it).


Man art.


Man art.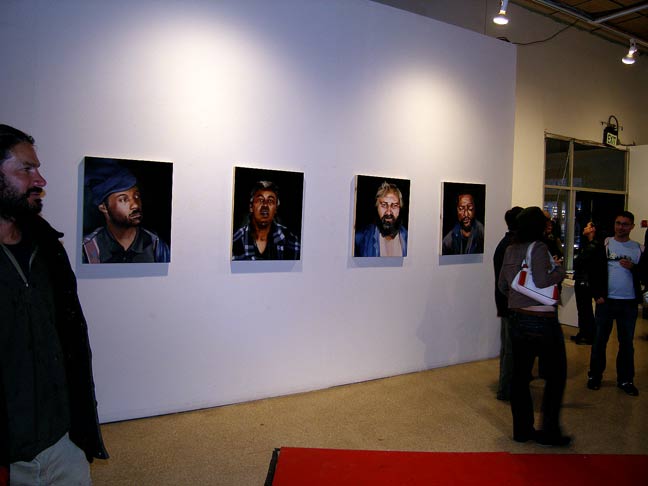 Man art.


***
Space 743: APE$#!T - Eleven Cartoonists at Space 743.
Artists: Andrice Arp, Scott Campbell, Vanessa Davis, Justin Hall, Paul Madonna, Mats!?, Lark Pien, Jesse Reklaw, Jeff Roysdon, Joe Sayers, Hsiao-chen Tsai.
Comment: Group show of cartoon art held in conjunction with the Alternative Press Expo (APE) taking place this weekend at The Concourse Exhibition Center.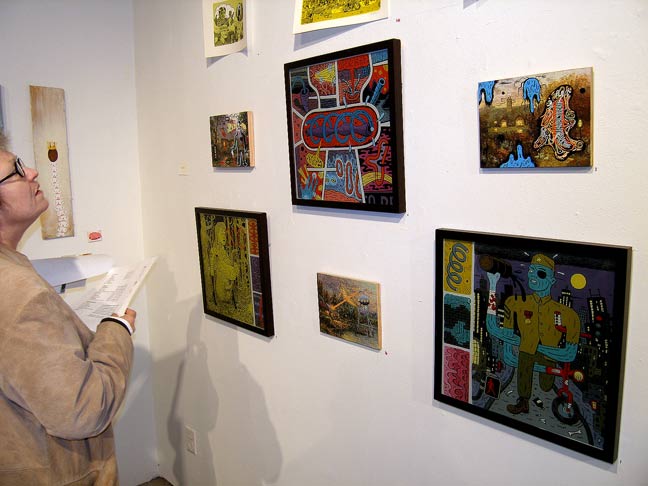 Art.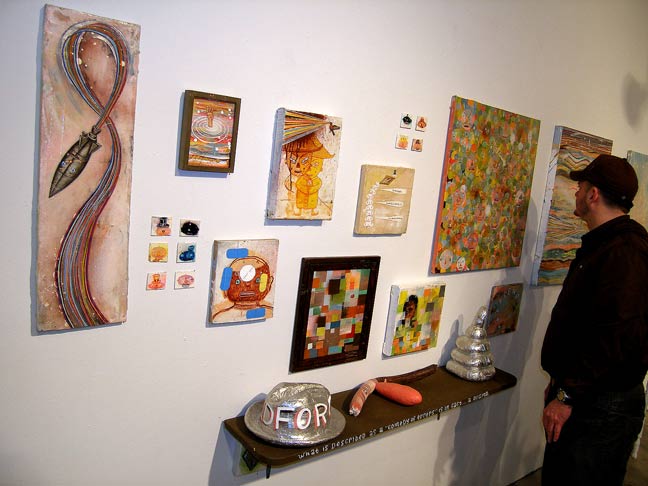 Art.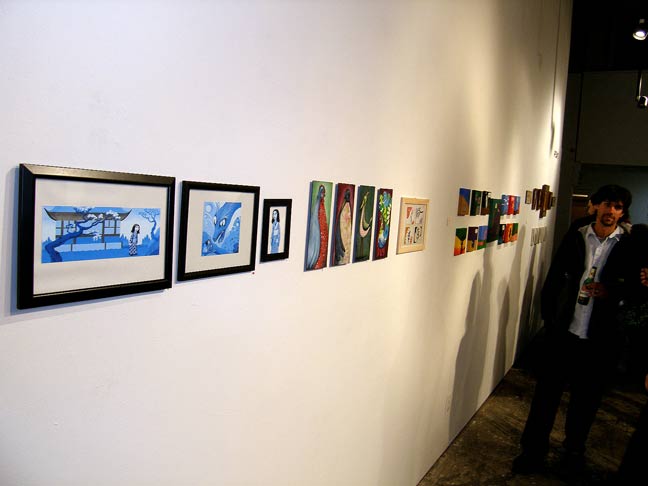 Art.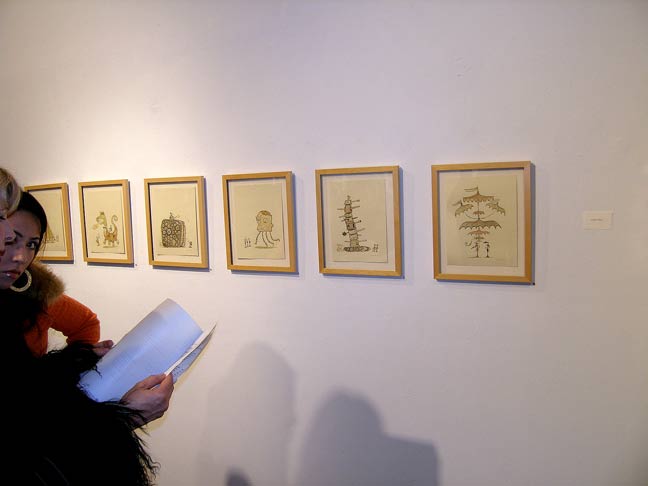 Art.


Art.


***
Bucheon Gallery: Jake Klotz and Steve MacDonald - An Accident of Free Will.
Comment: Sort of a solo collaborative combination plate featuring a broad range of concepts, a bit untamed in direction, so you kinda gotta sift and forage to get your bearings. Steve MacDonald's red gold embroidered stitched painted collage works are coming right along, especially a dense highrise cityscape (maybe it's time to figure out how to finish off and frame 'em). Along with the art, you get accompaniment by Brooklyn-based experimental music ensemble La Lus featuring Jake Klotz on guitar.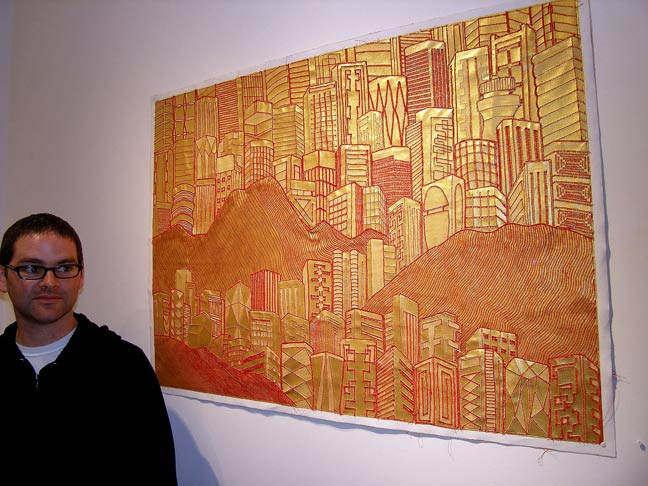 Steve MacDonald - art (like it).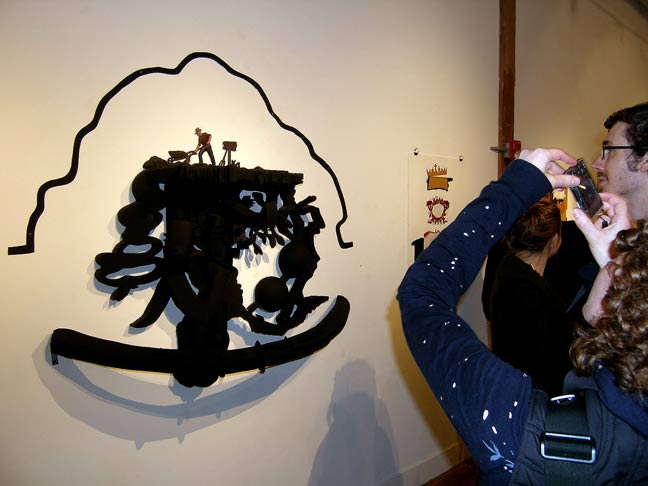 Art (Jake Klotz).


Art (Jake Klotz, I think).


Art (Steve MacDonald).


Jake Klotz.


Tunes.


***
Jack Hanley Gallery: Adam McEwen - My Mistake.
Comment: Adam McEwen takes common everyday images, icons or items like a Social Security card, the famous World War II flag raising photo op atop Iwo Jima, a phone card, a slice of burned toast, an obituary, or chewing gum and converts 'em into art via smart subtle surreptitious change-ups. For example, McEwen modifies the classic "Sorry, We're Closed" sign that you see after business hours in storefront windows everywhere to read "Sorry, We're Sorry" or "Sorry, We're Dead." It's that simple and no more complicated. Special added bonus-- he's in the 2006 Whitney Biennial.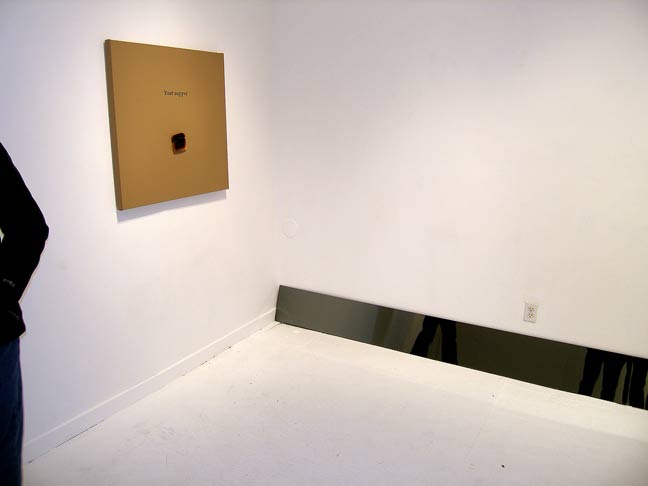 Toast art with angled floor mylar.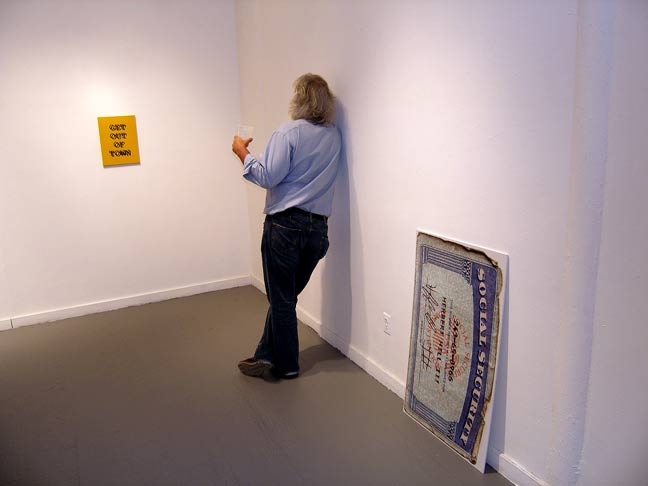 Jack Hanley art sandwich.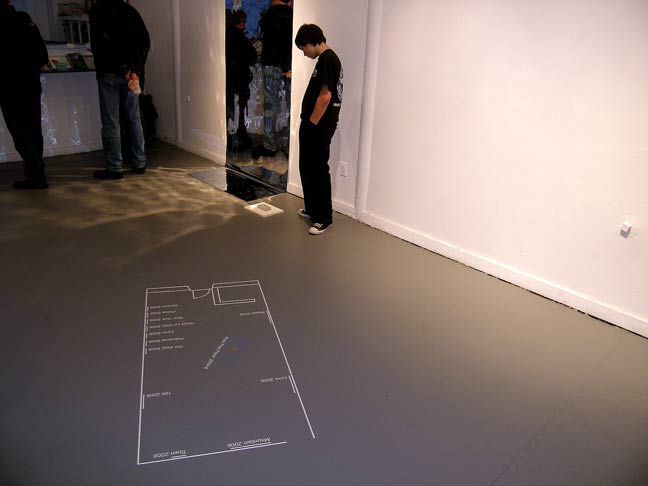 Art.


Adam McEwen (left) & associate.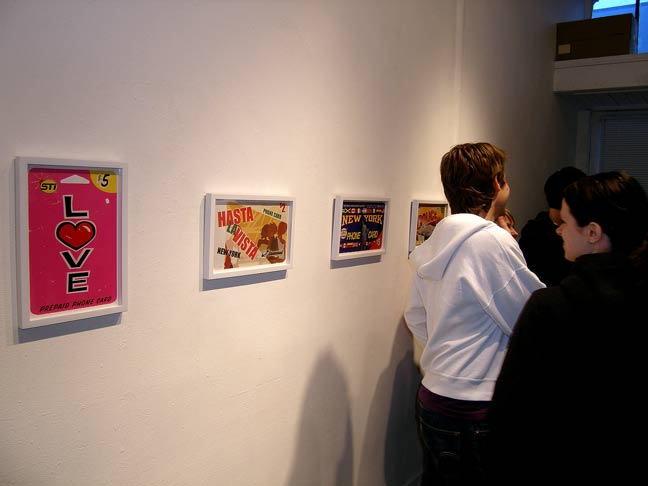 Art.


Art.


Art.


Art.


***
Chillin Productions: 8th Anniversary/fare Well Show at Mezzanine.
Comment: This is the final episode of producer Irene Hernandez-Feiks's consistently successful one-night art/fashion/photography/film/music bazaars. The festive events feature well over 100 participating artists and designers, and have lines of buyers waiting to get in. But Hernandez-Feiks isn't quitting the biz; on the contrary. She plans to take her shows permanent and open a gallery.
Art.


Art.


Fashion.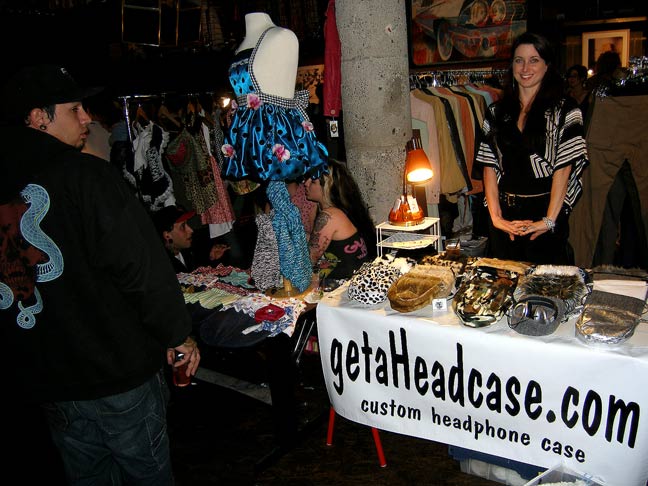 Fashion.


Captain Spiral transforms discarded book bindings into new spiral notebooks.


Art.


Art.


Panorama.


***
ArtSFest Presents: The 3d Annual Spectra Ball.
Comment: An extra ultra eclectic, amusing, strange, creative, wacky, camp, burneresque, spontaneous, costumed, sensual, sexy, congenial, open-heart, entertaining annual art and performance extravaganza-- one of the best in San Francisco (or anywhere). You've got four simultaneous entertainment options to choose from (totalling over 50 acts), art everywhere (painting, sculpture, installation, live art, performance art, digital art, video, song, dance, pageantry, and so on and so forth). The very well-attended spectacle fills the entire Regency Center complex including both theaters, numerous anterooms, lounges, halls, stairwells, and more. And the attendees add to the ebullience and participate; they don't just stand there and stare. This is the best. Don't miss next year's.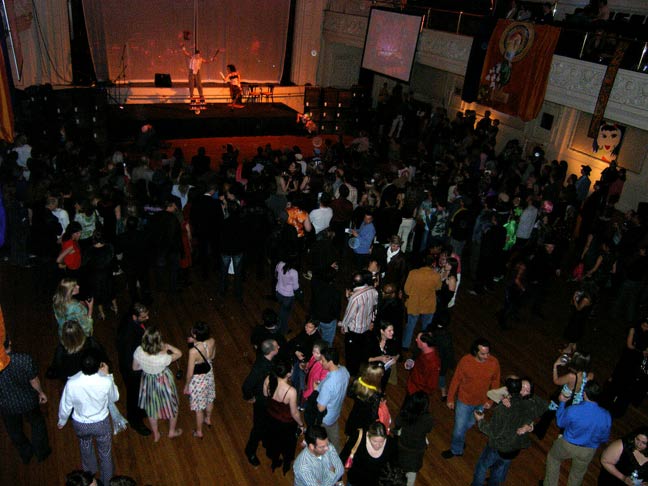 Main stage.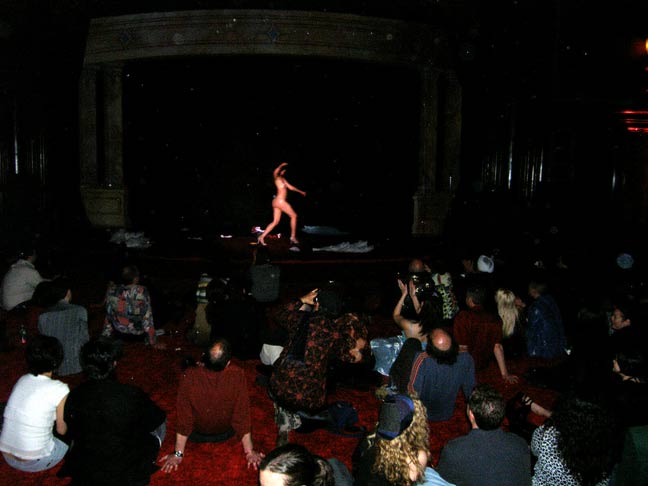 Upstairs stage (burlesque parody).


Writhing-around-in-paint art.


Fully-contained-in-plastic art.


Staring-at-the-ceiling art.


Urban artist Vulcan and associates.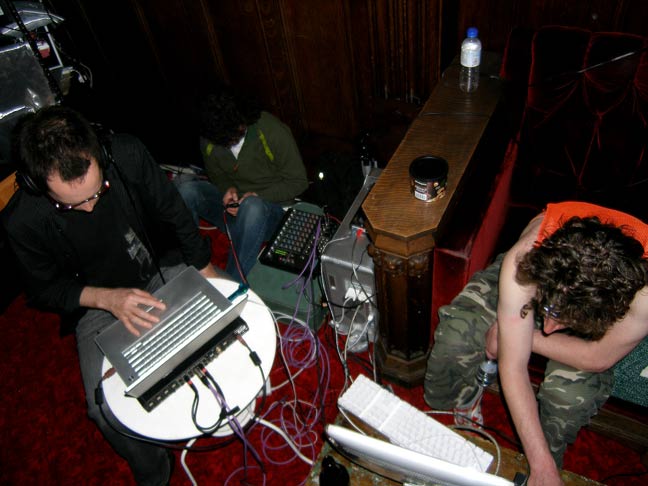 Digital art.


Not sure.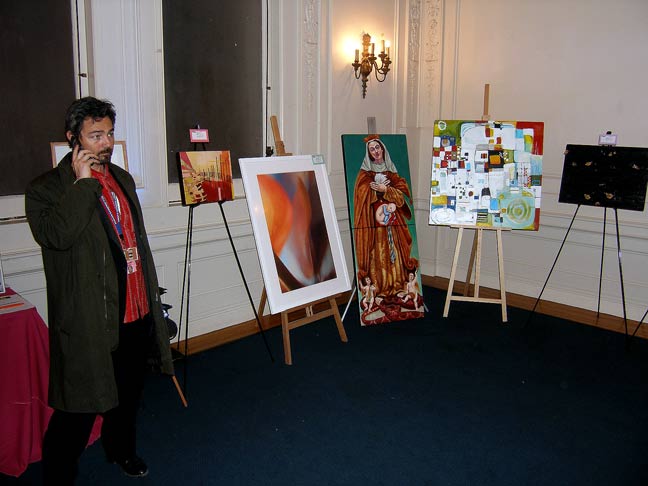 Art.


Wandering the main stage floor.


***
Addendum:


"Animal Insurrection" by Michelle Waters at Thoreau Center.


More animal takeover art by Michelle Waters, Thoreau Center.


Dancing Across America at Herbst Exhibition Hall, The Presidio.


Presidio Dance Theatre founder Judy Bretschneider - dance art.
Dancing Across America exhibition runs through May 6.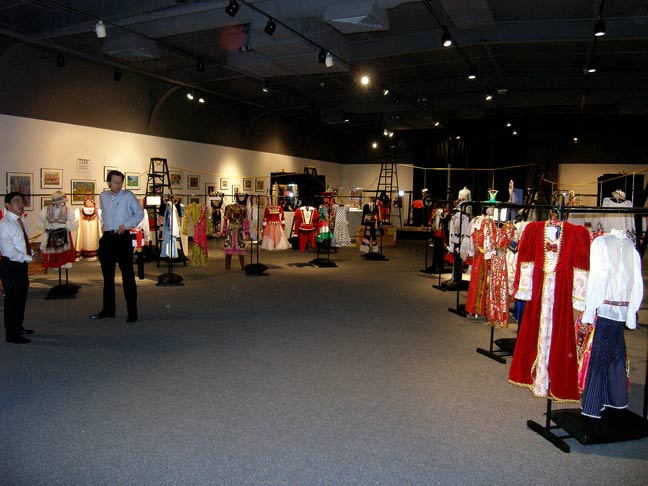 Costumery at Dancing Across America, Herbst Hall, The Presidio.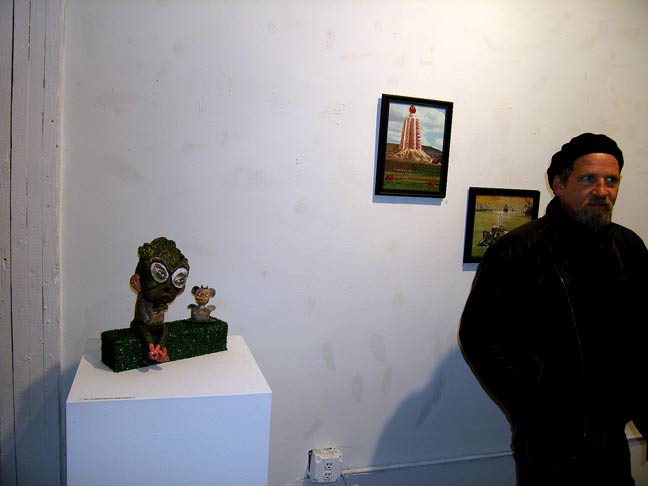 Brooke Fletcher sculpture / Francesca Berini collage at Femina Potens.


Another Brooke Fletcher & Francesca Berini at Femina Potens.


Art from artists' collections at Triple Base.


Another from Triple Base (vintage sixties image - like it).


Final Triple Base.


Group show at Root Division.


One more Root Division.


Ian M. Scalzo at Gallery Lounge.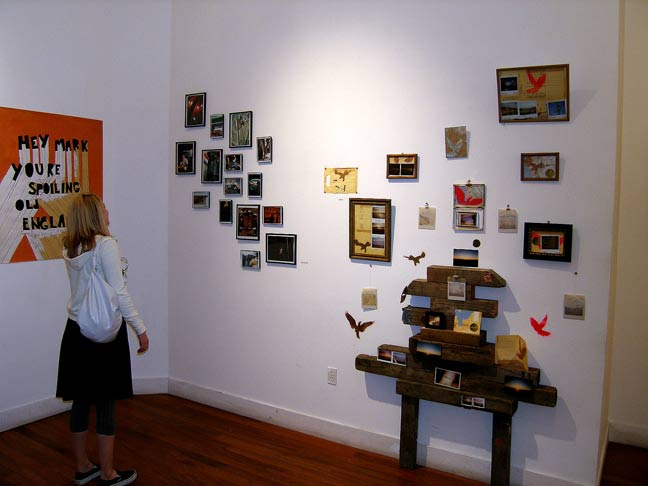 Revenge of the Totem Pole Warriors at ONSIX Gallery.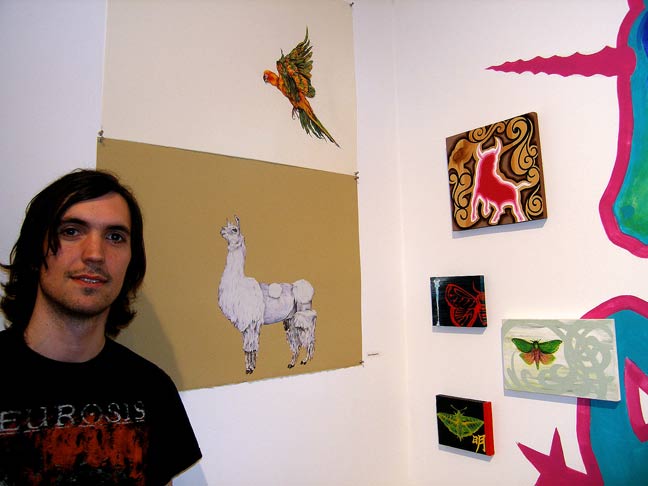 Chris Fitzpatrick & llama parrot art at ONSIX (he also curates).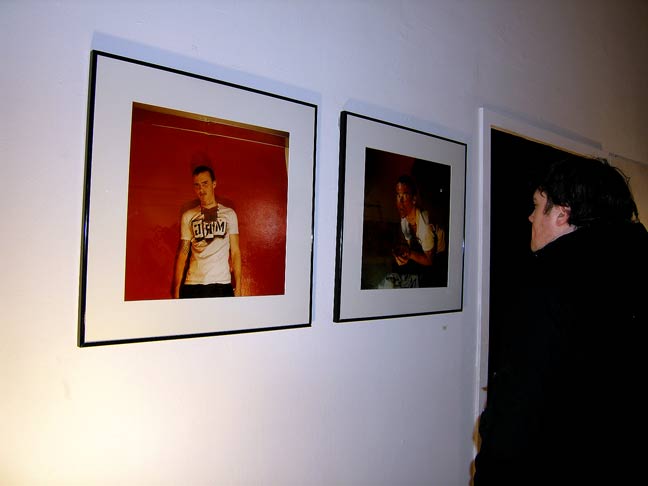 Last one from ONSIX Gallery group show.


Group show at Space Gallery.


Another from Space Gallery


Final one from Space Gallery.


***