SAN FRANCISCO GALLERY OPENINGS
FIRST SATURDAY; 05.07.05
Hallway Bathroom Gallery, 391A South Van Ness Ave., San Francisco 94103: Yearning Lines Growing.
Artists: John Wood, Chris Duncan, Jovi Schnell, Allyson Mellberg.
Comment: The gallery is actually the flat of former Mimi Barr artist and curator Brion Nuda Rosch (and his significant other and their three significant cats who are spending the event ensconced in the bedroom). The art hangs in the narrow hallway and in the bathroom, hence the name of the gallery. Nuda Rosch's art collection is also on display in the living room and kitchen-- and he's put together some pretty nice stuff. I'd say if you're looking to buy promising local talent that he's an insider you want to keep on your short list of contacts.
Brion Nuda Rosch (left) - art (Jovi Schnell, $1600 each).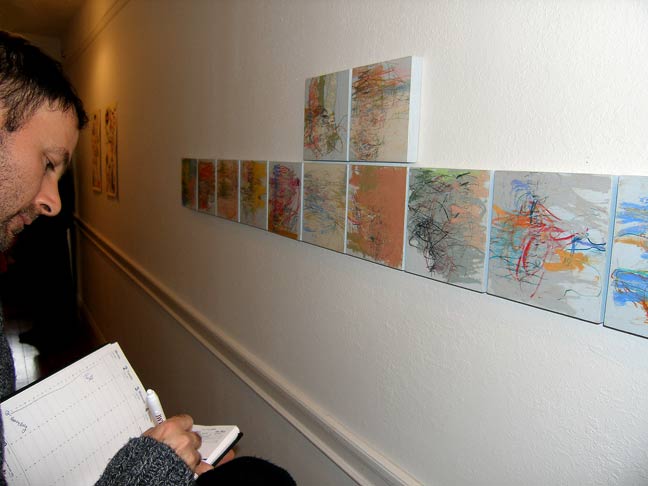 Art (John Wood, $400 each).


Bathroom installation (Chris Duncan).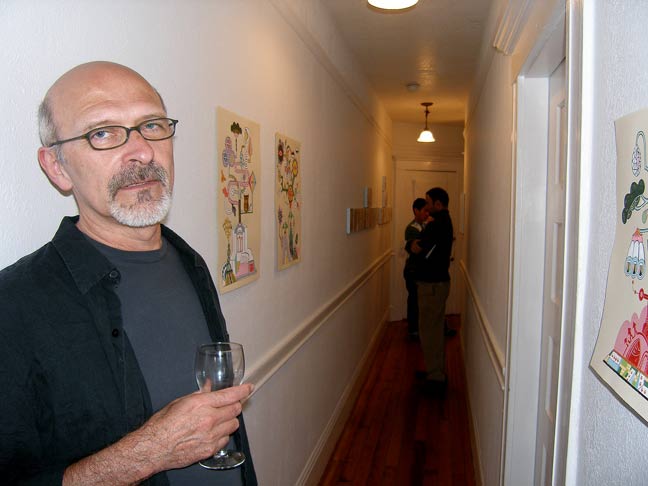 John Wood.


Art - living room.


Living room - art.


Veranda.


***
Axelle Fine Arts Galerie de L'Europe: Goxwa.
Comment: Goxwa palette paints serene decorative landscapes, still lifes, and figures in wax and oils. Soft, seductive, and appealing. But here's the deal-- I'm extremely wary, not to mention uncomfortable, when a gallery stops me at the door at their opening (or anytime) and starts asking personal questions. Do you have an invitation? Are you on the guest list? How did you hear about the show? Would you like to sign up for our mailing list? And so on.
If I go to Safeway to buy milk (or even just to look at the milk) I don't want someone stopping me at the door and asking me why I'm there. Art galleries (and all retail establishments for that matter) have absolutely no business prying into anyone's private affairs. When galleries get nosey, you better watch out 'cause you're getting "qualified" (felt up to see whether you're worth taking the time to sell to).
Art.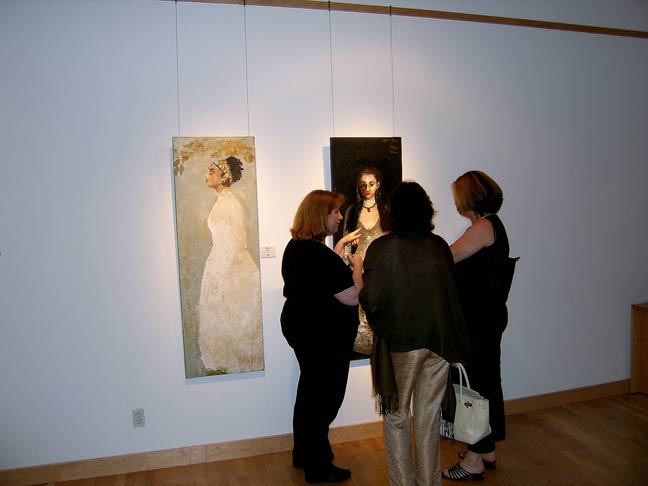 Art.


Art.


***
The Shooting Gallery: The Day in the Life of a Painting.
Artists: Shawn Barber, Brian Barneclo, Wesley Burt, Kim Cogan, Coro, Curve, Eric Joyner, David Choong Lee, Sharon Leong, Anne Faith Nicholls, Lee harvey Roswell, KRK Ryden, Andrea Tucker, Adam 5100.
Comment: The one day event opens at 11 AM sharp when the artists set up their easels and start painting. The object is to complete a work of art, hang it, show it, ahd hopefully sell it, all in a 12 hour period. The show comes down at 11 PM. Another Shooting Gallery original, and an excellent opportunity to meet real live living breathing art-making artists in person, watch them work, look over their shoulders, smell wet paint, and mildly miff them by asking wacky questions.
Shawn Barber - art.


Adam 5100 - art.


Curve - art.


Anne Faith Nicholls - art.


Brian Barneclo - art.


Andrea Tucker - art.


Trevor Rogers - art.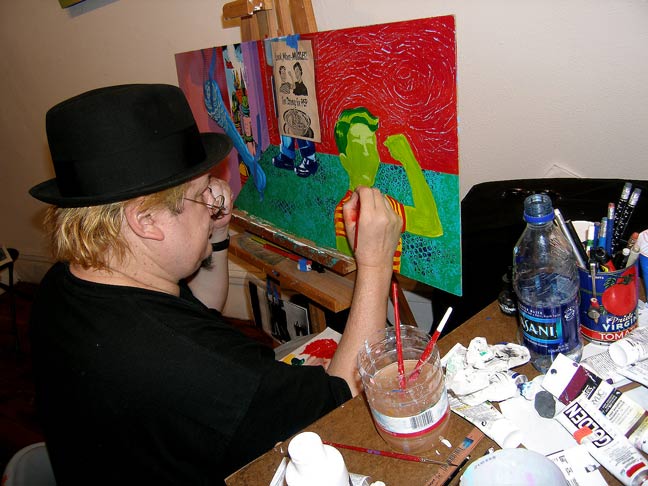 KRK Ryden - art.


Art.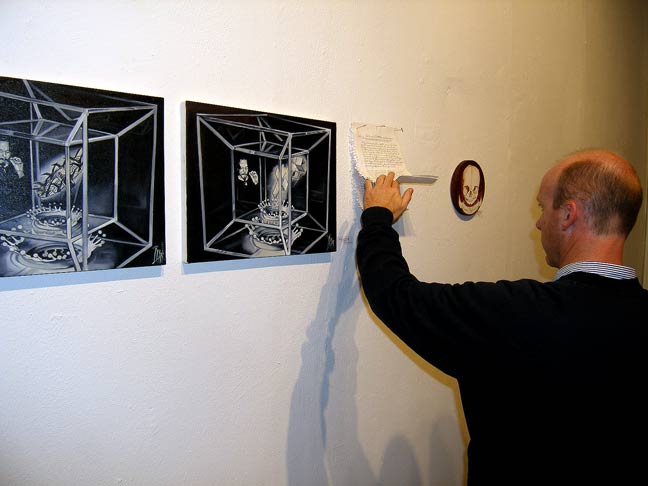 Art.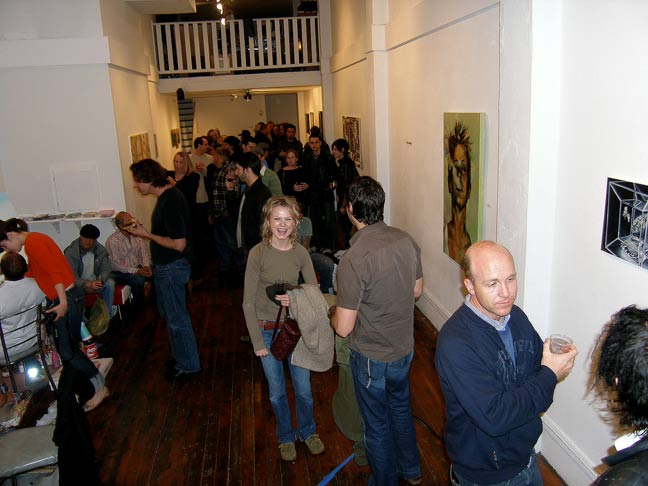 Circumstance.


David Choong Lee out front.


***
Varnish Fine Art: The Art of Harold's End - Paintings by Cherry Hood.
Artists: Eight oversized portrait watercolors by award winning Australian artist Cherry Hood, $15K each, used to illustrate Harold's End by J.T. LeRoy, published by Ron Turner's Last Gasp press. Signed numbered handmade sets of prints of the eight watercolors are also available in a portfolio, limited to 60 copies, for $4500 (if my memory serves me correctly).
Art.


Art.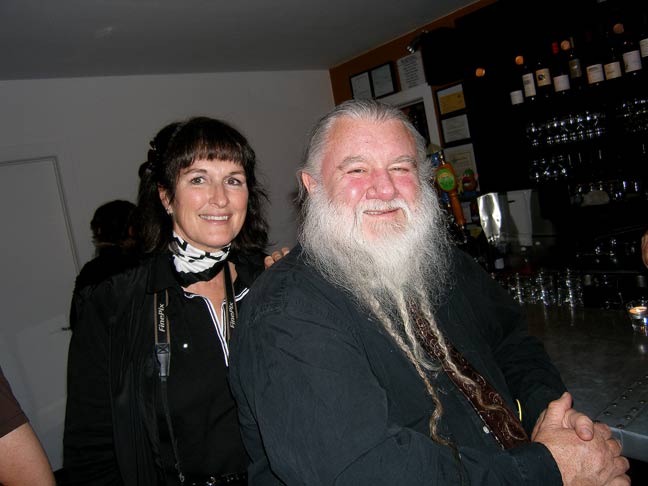 Cherry Hood - Ron Turner.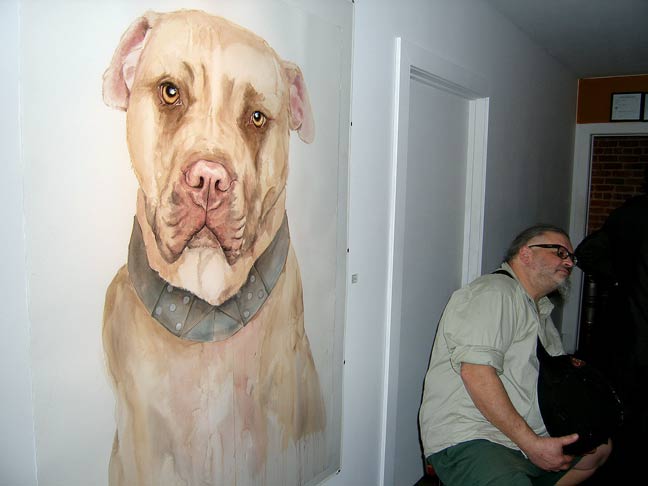 Arf art.


Art.


J.T. LeRoy table.


Setting.