SAN FRANCISCO GALLERY OPENINGS
FIRST SATURDAY; 06.04.05
Comment: Three extremely fun openings tonight.
***
Receiver Gallery: Canceled Flight - 101 Tried and True Pigeon Killin' Methods.
Comment: Author A.V. Jones queried nearly 90 of today's best urban artists as to how they might smite those pesky pigeons, and then asked them to transform their obliterative methodologies into art. The results are compiled in the book, Canceled Flight, with a show of art used to illustrate that book opening tonight at Receiver Gallery and running through June 30. The overall quality of the art is quite good, much of it humorous. Whether or not you want recipes for death, funny or otherwise, hanging in your collection is between you and your conscience, or for the parents, between you and your kids. Interesting factoid-- "cancelled" and "canceled" are both accepted spellings. If you care about the environment, use the version with only one "l." Prices range $100-$2000, almost all under $500.
Smite art.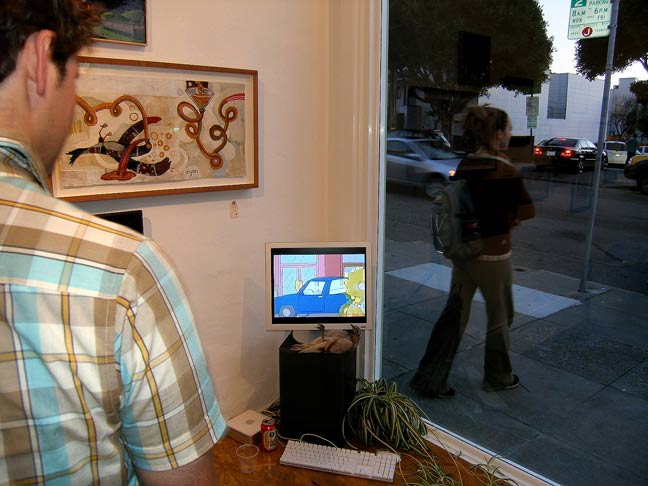 Smite art.


Smite art.


Smite art.


Smite art.


***
Low Gallery: Inside Out - New Works by Paul Urich.
Comment: What a tweet! Bird art, and faint delicate detailed bird art at that. Urich's watercolored drawings are more than competent, and comptentency is especially recommended with bird art these days because, as we all know, there's copious flocks and gaggles of that fluttering about. Fortunately for all of us, he makes other art too including skull art, human head art, and shape art. It's not the kind of stuff that takes you by force; it subtly persuades.
Low Gallery is crammed for the opening plus considerable street spillage. Owner John Trippe attributes the human confluence to the oodles of free beer, likely a reasonable diagnosis as a number of individuals appear to be enjoying varying degrees of alcohol-enhanced exhilaration, several of whom share their europhia by emitting periodic random verbal outbursts. I come for the art, however, and Low Gallery hasn't disappointed me yet. Seen prowlin' was stone cold sober 49 Geary guy, Gregory Lind. Price range, $120-$700, average $300-$400.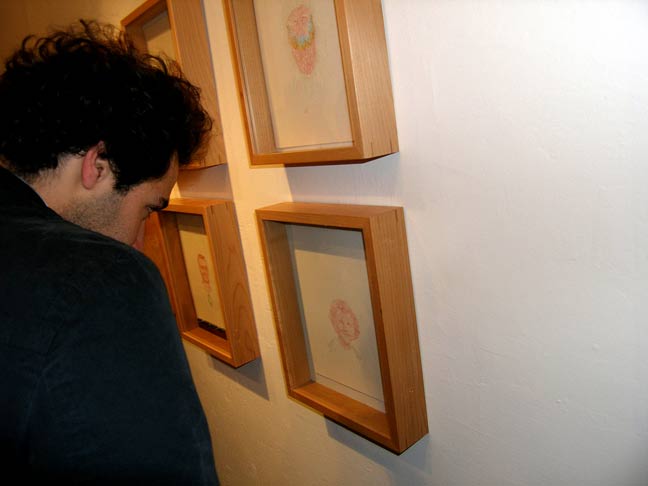 Art.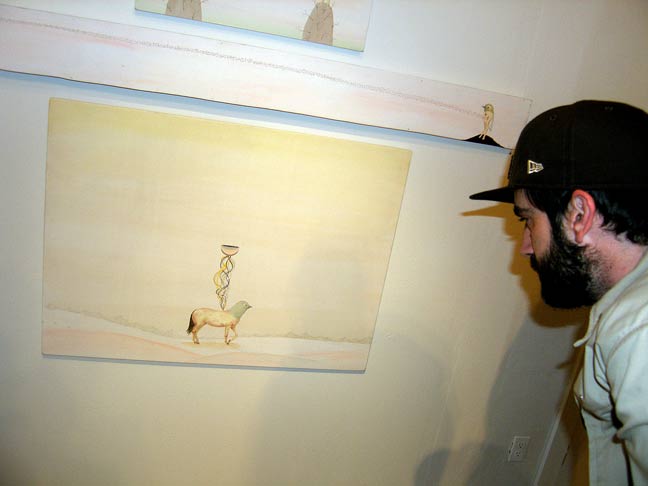 Art.


Art.


Paul Urich - art.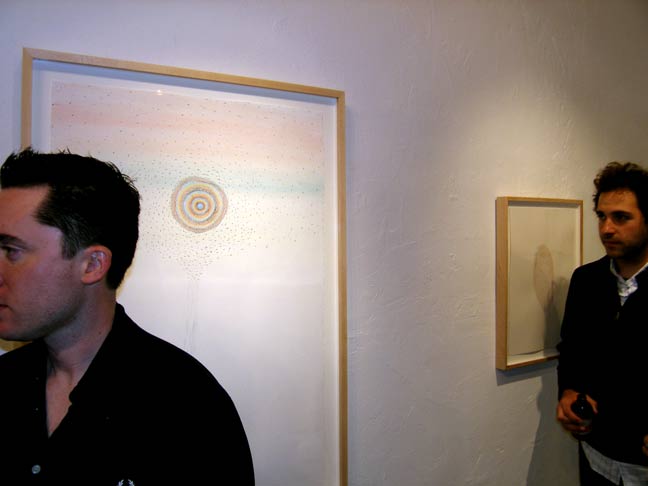 Art.


Art.


Art.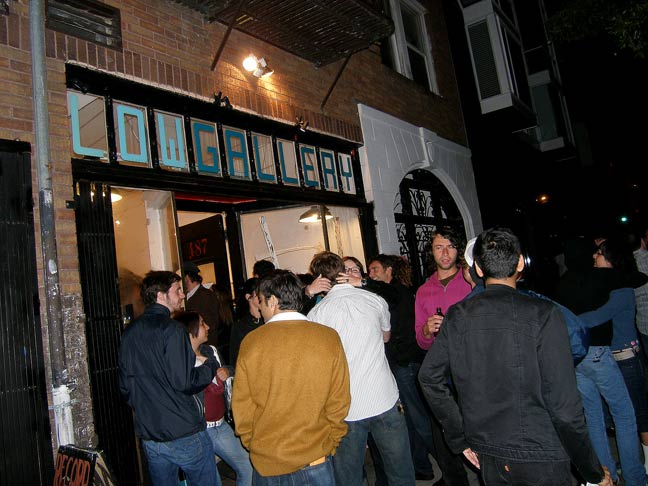 Spillage.


***
Million Fishes: Shelter Exhibition.
Artists: Mike Shankman, Yes Duffy, Suha Araj, Biba Bell, Heather Bernard, Kevin Clarke, Tess Donohoe, Lesley Ehrenfield, Orion Harbour, Sarah Hirneisen, Anne Regan, Airyka Rockefeller, Jim Saliba, Phoebe Tooke, Tyson, Melissa Wyman, Mike Brown, Heather Palmer, Ryan Mulroney, Clint Imboden.
Comment: Group show constructed around the concept of shelter. Happenings and artworks include individuals suspended cocoon-like from the ceiling in nets of fine-mesh fabric, a dance-like performance in a gallery window with two women on the other side of the window heaving canned stewed tomatoes at the window at the performer (and enjoying themselves in the process), a nice backlit photo assemblage by Clint Imboden, strange Kevin Clarke photos where Clarke appears to encase himself in various colored plastic Lego-like bodies then interjected into ordinary landscapes and interior scenes, a black plastic painted drop-cloth formed into a tunnel and sustained in shape by a fan pumping in air from outside, several nice Anne Regan domicilic drawings, and a see-through suitcase by Melissa Wyman.
Art.


Art (Kevin Clarke) I like it.


Art (Kevin Clarke) I like it.


Art (Kevin Clarke) I like it.


Art (Melissa Wyman).


Plastic tunnel art.


Art (Clint Imboden) I like it.
Do-it-yourself art.


Domicilic art (Anne Regan) Nice.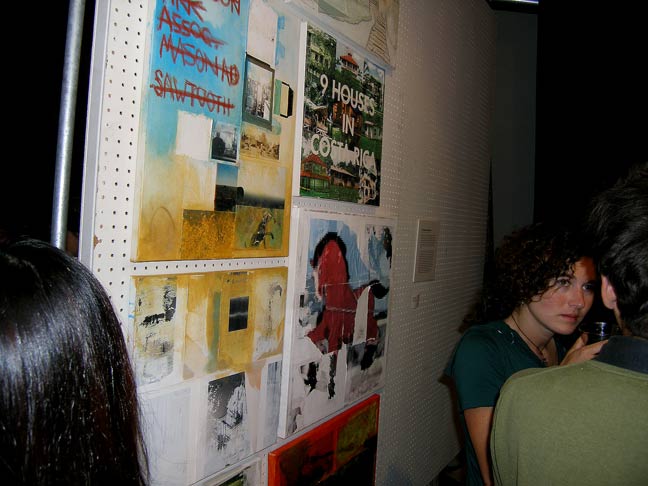 Art.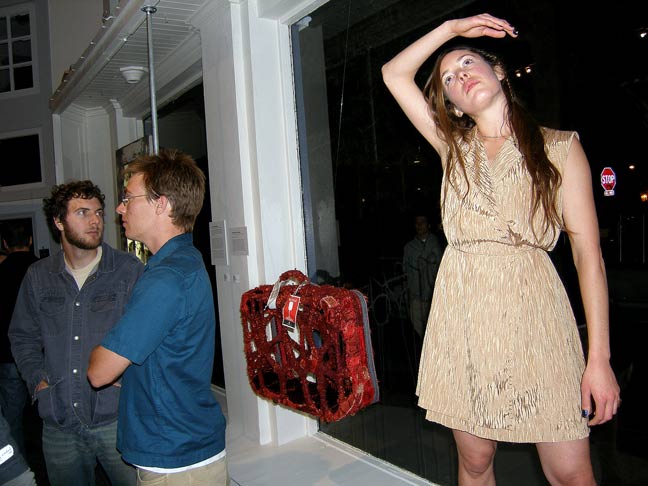 Movement art.


Throwing stewed tomatoes at movement artist.
(These are the moments memories are made of.)


Relative density.