SAN FRANCISCO ART GALLERIES - OPENINGS
FIRST SATURDAY; 09.10.05
Split Culture Modern Design Studio: Five by Seven.
Artists: Ras Terms, J. Superstar, Robots Will Kill, Czee, Mr.Wzard, Shawn Whisenant, Swer, Madone, David Choe, Dzyer, Miss Venus, more.
Comment: This is a pleasant surprise. Unassuming space on the corner of Hyde and Post, open for about six months, the owner tells me. Good art, small format for the most part, urban flavor. Split Culture also has T-shirts, jewelry, accessories, furniture, books, and more. Plus they're nice people, and you can't do better than that. Eminently affordable in the art department, by the way, most priced $50-$150. I recommend a stop-by.
Help with artist names please. Thanks.
Here it is. Let's have a look.


Ras Terms - art.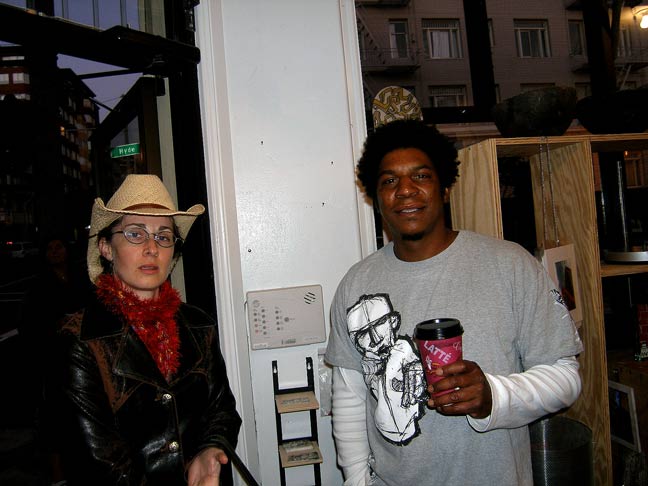 Owner - right.


Artist - art.


Artist - art.


Haberdashery department.


***
Christopher-Clark Fine Art: Modern Masters.
Artists: Matisse, Picasso, Chagall, Miro, ya de ya de ya.
Comment: OK, kiddies. Now pay attention. It's time for another fast fun art business interlude from your pal Al.
Among other things, Christopher-Clark Gallery sells individual lithographs cut out of The Lithographs of Chagall, Volume I (the first volume of the catalogue raisonne), nicely framed, for $2500 a pop. A catalogue raisonne, for you neophytes, is a book or set of books that itemizes every work of art an artist ever made, either in total or in a particular medium or mediums (some catalogues raisonne, such as Chagall's, contain original lithographs). The Lithographs of Chagall, Volume I, published in 1960, contains ELEVEN original lithographs. Multiple copies of The Lithographs of Chagall, Volume I are currently available for sale from book dealers around the world, average price, $2500 each-- including ALL ELEVEN LITHOGRAPHS.
So let's do the math. Buy the book with all eleven lithographs intact from a book dealer for $2500 or buy the eleven lithographs separately, cut out of the book and framed, at Christopher-Clark Gallery for $27,500.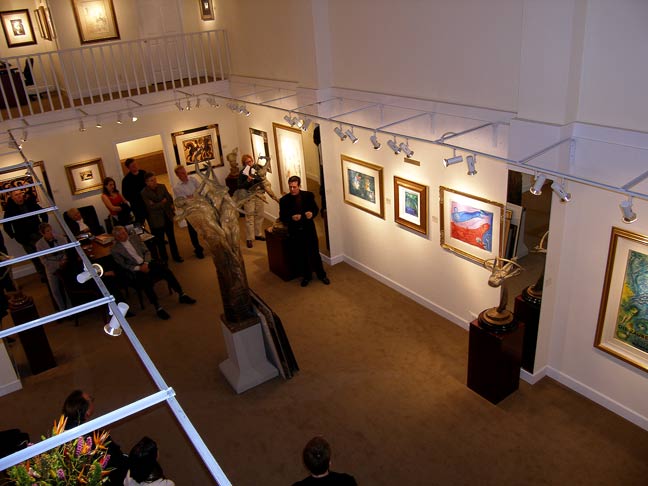 Lecture.


Art.


Inner.


Outer.


***
Martin Lawrence Gallery: Modern Masters.
Artists: Picasso, Chagall, Miro, Warhol, ya de ya de ya.
Comment: High profile; high overhead; high mark-up. Black hole for discretionary capital. Commercial galleries are clean well-oiled selling machines. If you don't know much about art and you shop commercial galleries, you're gonna be singin' Bye-Bye Moolah. A general art world rule is that the easier a gallery is to find, the harder it is on your pocketbook.
Art.


Art.


Art.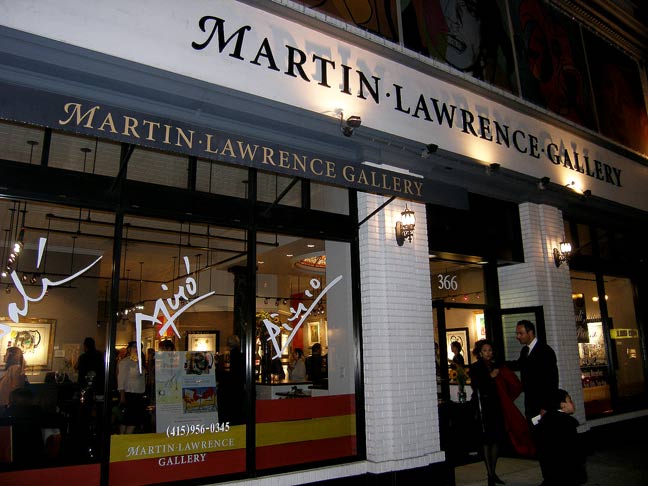 Outer.


***
Super 7: Toys Take No Prisoners.
Artists: John Casey, Dave Higgins, John Rogers.
Comment: Sculptured "toys," but really sculptured sculptures, several with moving parts, all professional, ghoulishly macabre for the most part. If you like your art spooky, there's good spooky here. Chuckie's calling...
Sculpture.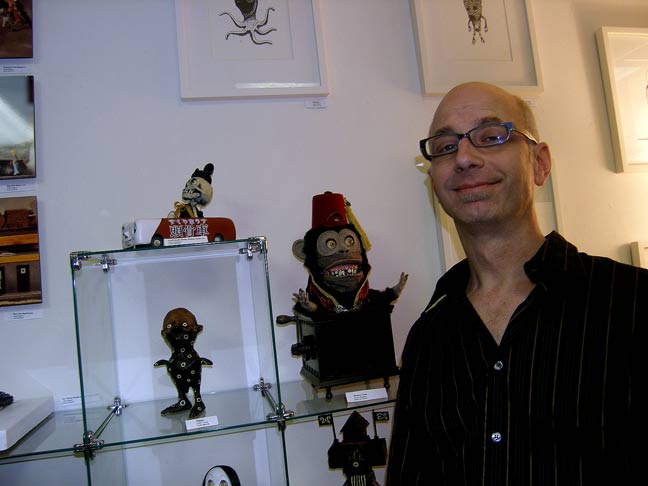 Dave Higgins - sculpture.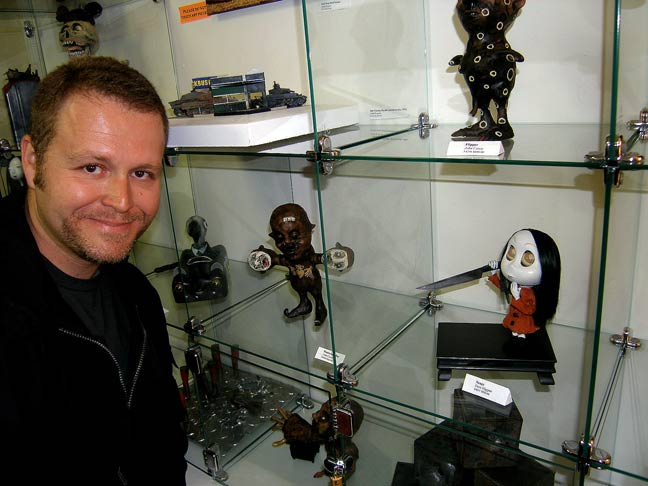 John Casey - sculpture.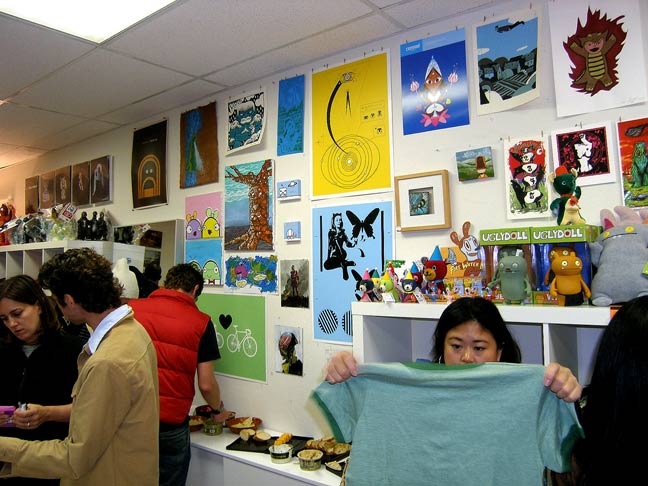 Setting.