SAN FRANCISCO ART GALLERIES - OPENINGS
FIRST SATURDAY; 12.03.05
Hosfelt Gallery: Dorothy Napangardi; Michael Light - Hover.
Comment: Australian artist Dorothy Napangardi translates, contemporizes, and abstracts indigenous Aboriginal dot painting so far out of its ethnic roots that if I would have scoped the show without going into the side room and seeing the one painting done in traditional colors-- noting to myself, "That looks Aboriginal"-- I would never have made the connection. The weird part is that the word Aboriginal is not in the press release and not on the website except for being buried in an essay (you have to click a link for) on Napangardi's art by Christine Nicholls, Flinders University, Adelaide. I don't get it-- Napangardi is clearly an important Aboriginal artist. Maybe I'm just supposed to know? Whatever the deal is, the art's worth seeing. Price range, $20K-$30K.
Michael Light goes up in the air to photograph two desolate wildernesses, one Godmade, one manmade-- the Nevada desert, and hazy nondescript Los Angeles sprawl palls. Most $3.5K.
Art (Dorothy Napangardi).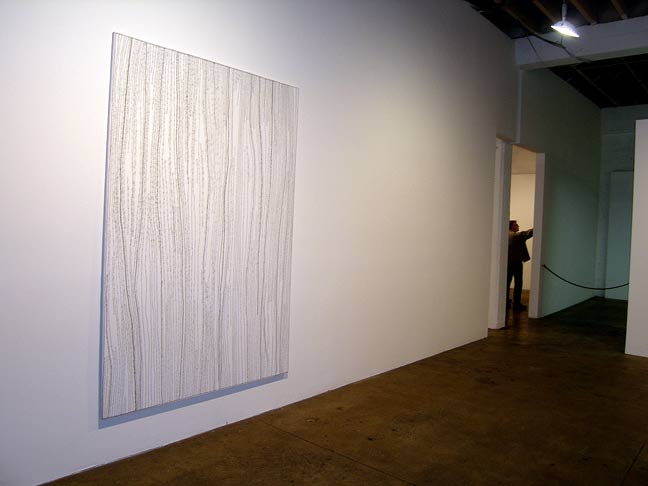 Art (Dorothy Napangardi).


Art (Dorothy Napangardi).


Art (Michael Light).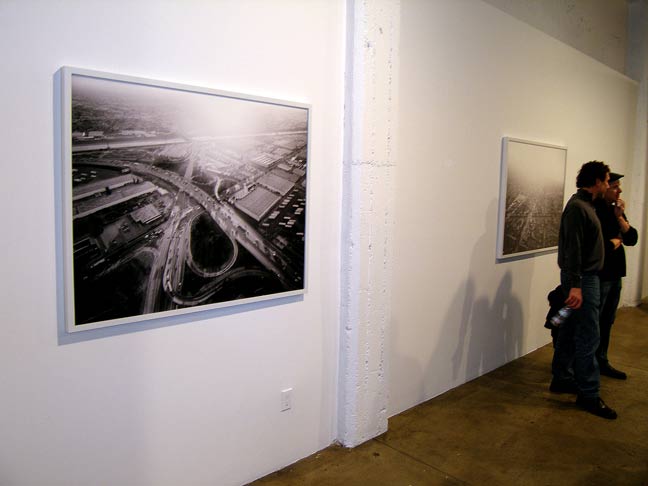 Art (Michael Light).


Art (Michael Light).


Art (Michael Light).


***
Caldwell Snyder Gallery: Regina Saura.
Comment: Tasteful pleasant easygoing perky broad-appeal semi-abstraction. Hey-- if you wanna buy art, you don't know a lot about it, and you're not ready to get all mangled up at 49 Geary, this is a good way to start.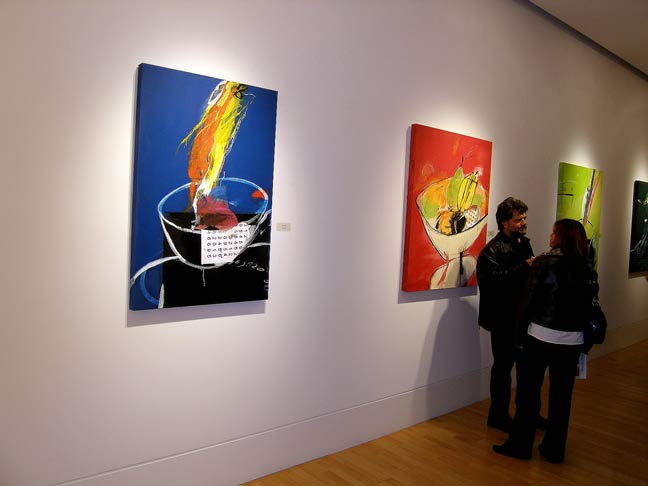 Art.


Art.


Art.


Art.


***
Axelle Fine Arts Galerie de L'Europe: Michel Delacroix - Les Beau Metiers.
Comment: Michel Delacroix is one of the most popular and commercially viable artists in the world. He's famous for his warm fuzzy naive days-of-yore perspectives on Paris where everything is wonderful all the time. The truth about art, my lovelies, is that a huge number of people cherish kind benevolent unblemished utopian realities where they can escape, take shelter, luxuriate, and attain ever-so-brief respites from the interminably traumatizing trudge. Oh-- almost forgot-- the reason lands like Delacroix's are so popular is that they're really easy to get to and you don't have to know a thing about art to get there. Prices range $1600-$55K. Don't look too close-- the faces are two dots for eyes, a horizontal line for a mouth, and no nose.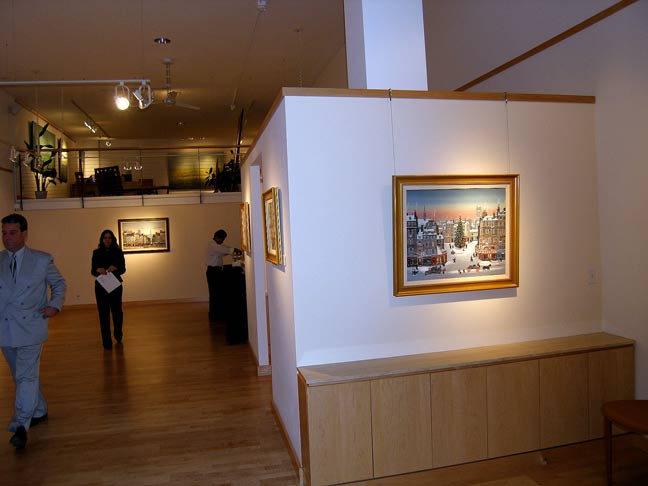 Art.


Art.


Art.


Art.


The writing's on the wall...


***
Hallway Bathroom Gallery: Well All Right.
Artists: Paul Urich, Jessica Cadkin, Don Roller, Nancy Chan
Comment: The gallery is located at the residence of Brion Nuda Rosch, former curator of Mimi Barr Space. The art's up and down the narrow hall of the building-long apartment and also in the bathroom (hence the name, Hallway Bathroom Gallery), and it's always pretty good. Rosch is firmly ensconced in the local scene and he's got access. My favorites this time around-- the wistful oblong anatomical wood panel clip art of Don Roller. Nancy Chan's tenuous blank-faced ink portraits against white backgrounds are nice too.
Brion Nuda Rosch (center); art (Don Roller).


Art (Nancy Chan).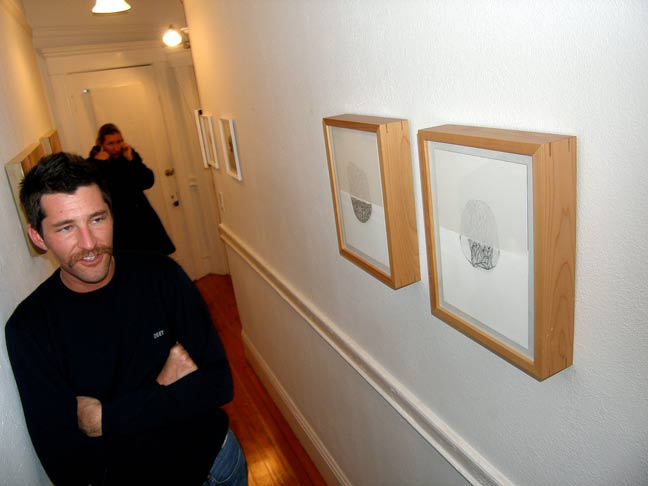 Art (Paul Urich).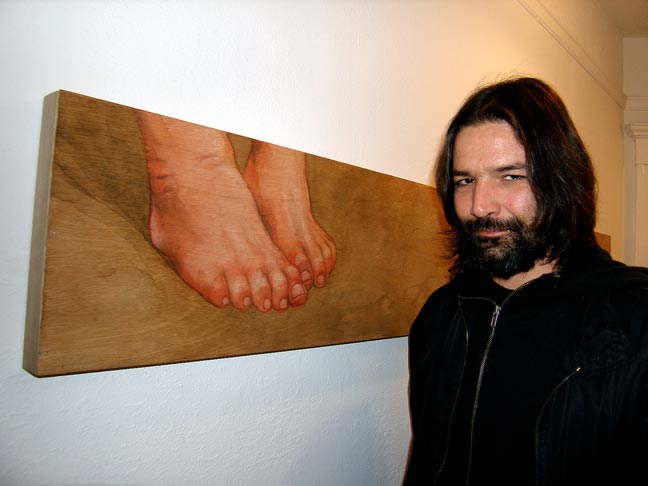 Don Roller - art.


Art (Brion Nuda Rosch).


***
Lo--Fi Customs: Dirty Donny's Lo-Fi X-Mass Bash!
Comment: Here we go again. Lo-Fi pulls yet another impeccably versatile talent out of San Francisco's creative hat. It's embarrassing that artists with resumes like Dirty Donny's contribute bigtime to San Francisco's reputation as a major league free wheeling art haven, but are virtually unknown outside immediate inner circles. I mean, I get around and this is the first time I've ever heard of the dude. So for your edification, "Dirty" Donny Gillies makes paintings, drawings, posters, carnival "knock down" dolls, fine lighting, spin-wheel contraptions, pinstriped toilet seats, guitar picks, T-shirts, and more more more. And he makes it all extremely well. His art's kind of a churlish amusified blend of Don Martin, Rat Fink, Nutty Mads, and Frankenstein-- with a shrunken head on top.
Art.


Art.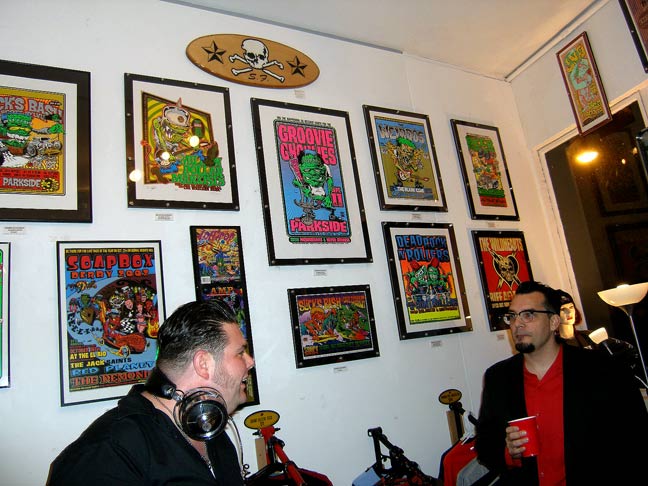 Art.


Art.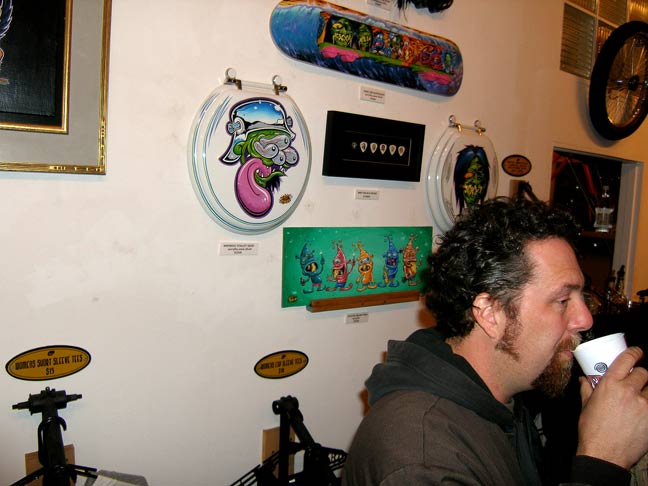 Art.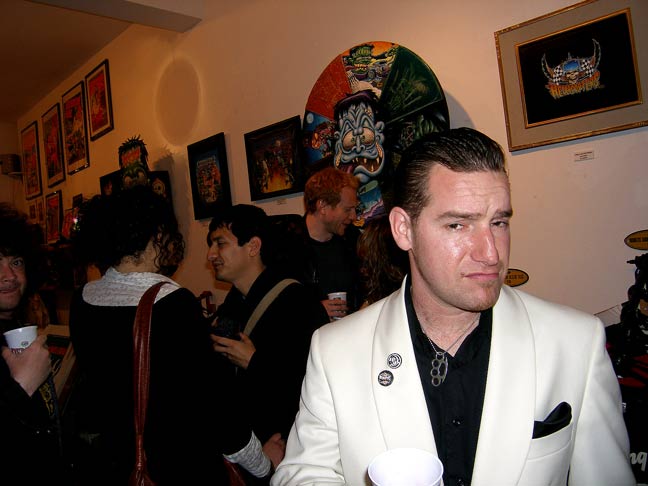 Dirty Donny I.


Dirty Donny II.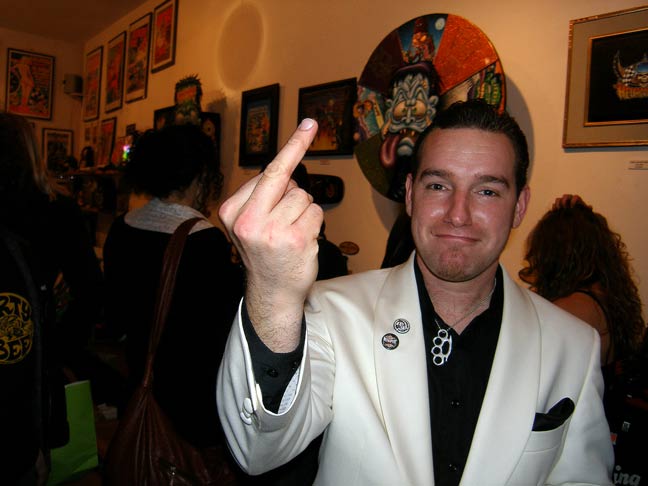 Dirty Donny III (We bring you all the news all the time).


Situation.


***
Red Ink Studios: Pockets of Vast Space.
Artists: Jamie Bruzenak, Sarah Edwards, Laura Fischer, Erica Gangsei, John Harkins, Rainen Knecht, Ai-Chen Lin, Alyssa Lund, Ashley Ording, Cihan Sesen, Nan Taylor, Melissa Weinberg, Rebecca Young
Comment: New work by thirteen artists from the San Francisco Art Institute "exploring the body." My favorites are a handful of anatomical colored pencil medical cross section drawings of male and female genitalia, artified up with little pinned-on identification labels that normally name parts, but here address other issues-- clean and tighten your presentation and you've got something.
Yarn painting (left - like it).


Anatomical adventure art (pick).


Art.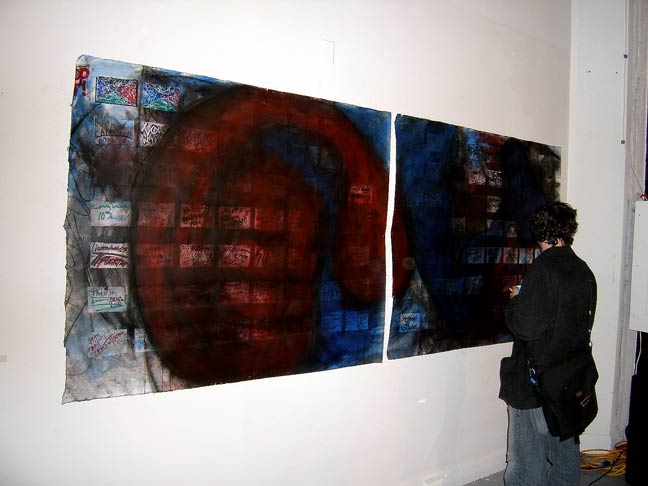 Art.


***
The Shooting Gallery and White Walls: Instant Gratification.
Artists: Anthony Ausgang, Van Arno, Axis, Eric Bailey, David Ball, Shawn Barber, Brian Barneclo, Bigfoot, Ryan Malley, Andrew Brandou, Wesley Burt, David Choong Lee, Kim Cogan, Brett Cook-Dizney, Coro, Mike Davis, Dave Dexter, Natalia Fabia, Korin Faught, Keli Reule David Flores, Sam Flores, Sylvia Ji, Audrey Kawasaki, Kevin Lewellyn, Christopher Gonzalez, Andrew Jones, Mars One, Jacob Arden McClure, Tim McCormick, Joshua Petker, Lee Harvey Roswell, Patrick Segui, Miles Thompson, Andrea Wicklund, Jesse Wiedel, Dave Wong, Adam 5100, more.
Comment: It all starts at 11am. A whole bunch of artists set up their equipment, make art, finish it throughout the course of the day, and then it's for sale until 11pm-- nothing over $900 (not too shabby considering the lineup). With the addition of White Walls, this live-painting extravaganza is about twice the size of the last one. Instant Gratification is one of the most fun, most entertaining, most edifying, most congenial, most bestest ways to interrupt dozens of your favorite artists while they work, most partyin', most how-art-happens events this city has to offer. Have I made myself perfectly clear? Excellent. Let's proceed.
Henry Lewis - art.


Lee Harvey Roswell - art.


Andrew Jones - Andrew Jones.


Van Arno - art.


Andrea Wicklund - art.


Miles Thompson - art (I'm getting my picture tooked).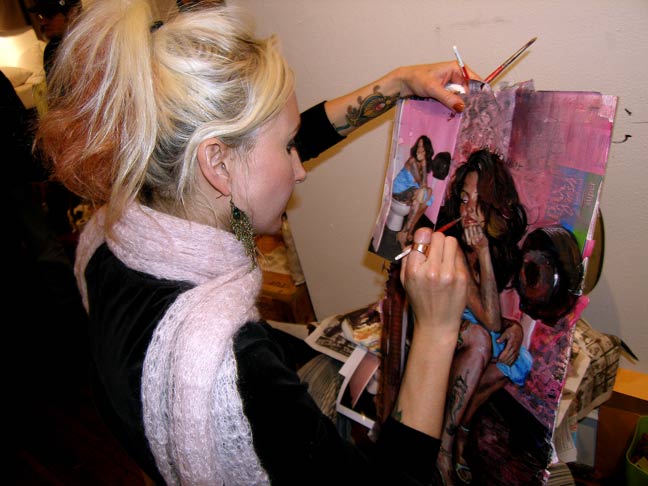 Natalia Fabia - art.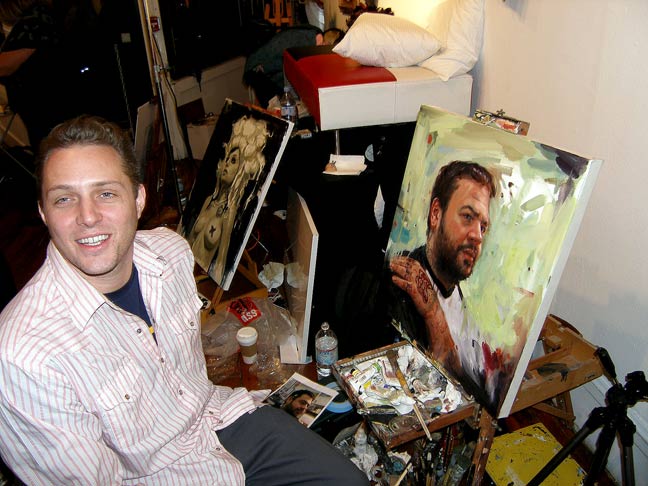 Shawn Barber - art.


Brian Barneclo - art.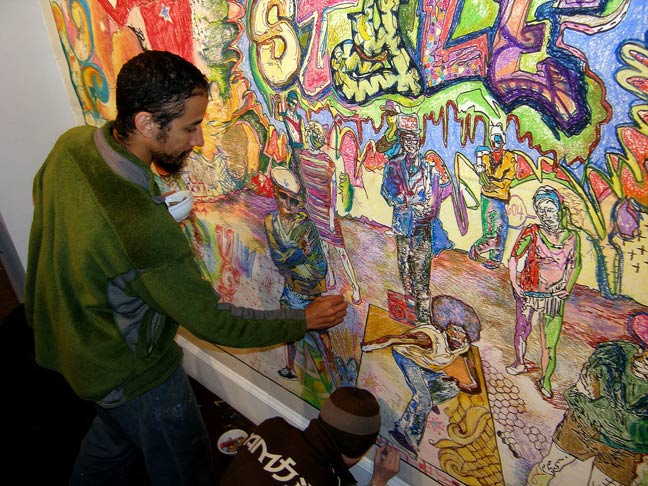 Brett Cook-Dizney - art.


Tim McCormick - art.


Bigfoot - art.


Korin Faught - art.


Audrey Kawasaki - art.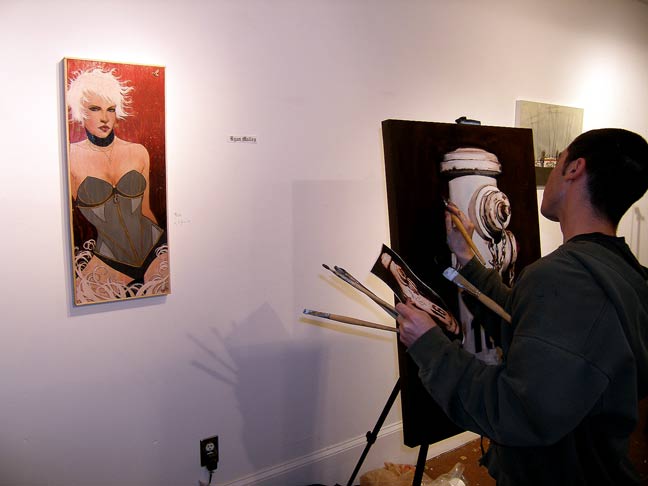 Ryan Malley - art.


Mike Davis - art.


Art (David Choong Lee).


Art (Axis).


Art (Patrick Segui).


***
Addendum: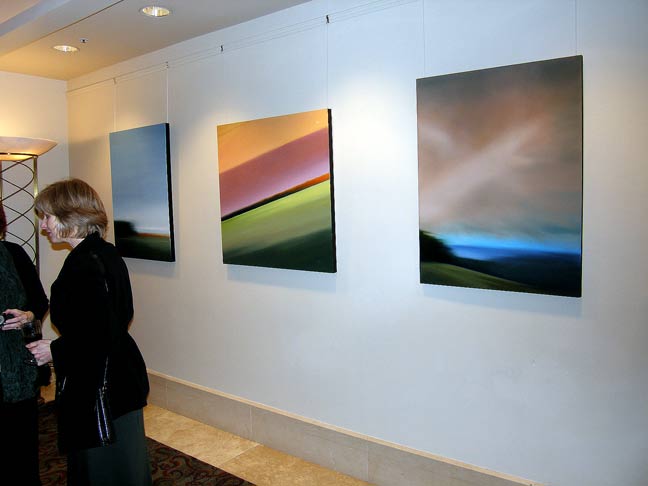 Don Scott Macdonald at A.C.T. Gallery at the Geary.


One more Don Scott Macdonald, American Conservatory Theater Gallery.


Robyn Engel at Page One Project.


One more Robyn Engel at Page One Project.


Page One Project outer.


Art auction fundraiser for G.L.E.A.N. at CELLspace.


One more G.L.E.A.N. - Global Education and Action Network.