FTC ART COLLECTION:
NEW PAINTINGS BY BIGFOOT 1
OPENING 08.14.04
Comment: Trend center FTC serves up another handsome helping of urban culture with a show of recent work by Bigfoot 1. You mathematicians who follow San Francisco Art Openings know that the hipness index of a given venue is directly proportional to the degree to which I feel like a complete dork while ensconced within said venue. But thanks to that month I spent at the Zen Center, way back in the seventies when I had nothing better to do than toy with enlightenment, I am able, through advanced meditative techniques, to transcend the abyss of dorkness for brief moments, in this case, just long enough to burnish my handle on Bigfoot 1's green and/or hairy pop imagery. Special added bonus-- complimentary tutoring in how to look good on the skate from the hip hop high-stylers who inhabit this sector of the art world. Special additional added bonus-- Bigfoot 1's art is eminently affordable, the largest painting, a 5 by 4 foot acrylic on wood, priced at only 900 bucks, Mr. di Rosa.
Artist/Artists: Bigfoot 1.
Art.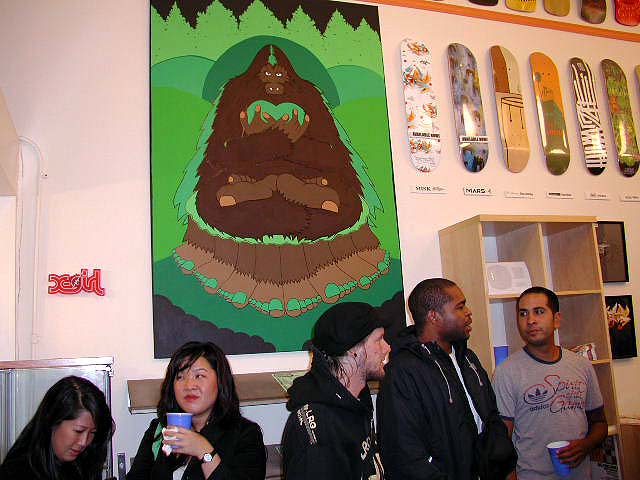 Art.


Art.


Artist (right).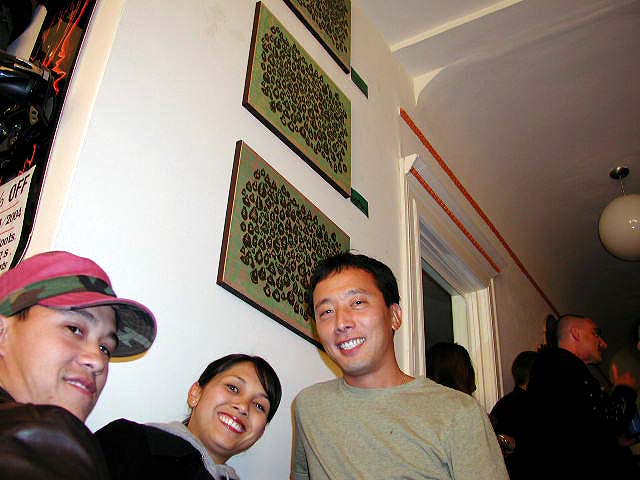 Art - owner (right).


Art.


Art.


Up.


Down.

FTC Art Collection, Skateboarding
1632 Haight Street
San Francisco, CA 94117
415..626.0665