SUPERVISOR MATT GONZALEZ; SAN FRANCISCO CITY HALL
YVONNE BEATTY; TALES FROM THE DEW DROP INN
OPENING 08.06.04
Comment: I arrived a little late ('round about tequila time), missed Yvonne Beatty talking about her art, so I have to piece this one together the best I can. All the art appears to have been painted recently; I'm not sure about Beatty's artistic career to this point, but she can obviously paint. Her son is an author with two published books (just thought I'd throw that modest irrelevancy in to fill space). The artist's abstracts are more unique than her representational works; one in the back corner of the main office is quite good-- and I liked it too (quality and personal taste being mutually exclusive). She employs a bit of an unusual technique with the abstracts, a layer/mix combination with a high-gloss finish. My personal recommendation, if I were to don my prognosticatorial propeller beanie, is that Yvonne Beatty wend her way down the glossy abstract path. I see future there. Then again, I see future everywhere.
Artist/Artists: Yvonne Beatty.
Art.


The one I like.


Art.


Artist.


Principal - associate (not necessarily in that order).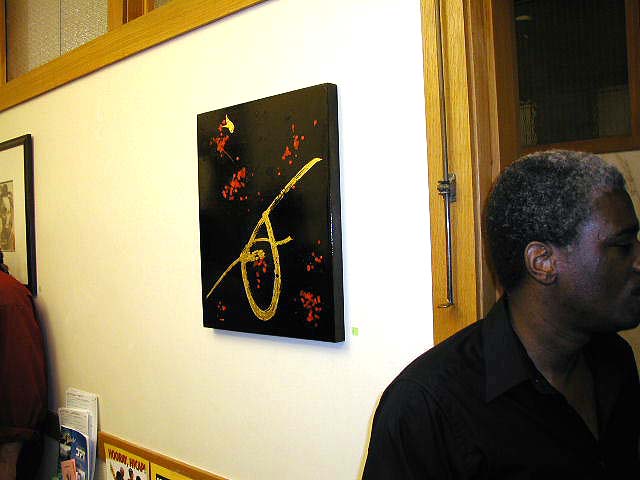 Art.


Art.


Art.

Supervisor Matt Gonzalez
San Francisco City Hall, Room 282
San Francisco, CA 94102
415.554.7630