MISSION CRUISE:
BUILD GALLERY, ADOBE BOOKS, BALAZO BADLANDS
TRIPLE BASE GALLERY, OAKLANDISH
07.30.04
Comment: Tonight's a Mission run-around. Nothing huge going on, but certainly enough to satisfy those of us who crave visual culture on an ongoing basis. Our adventure begins with "Impression," a group show, mostly photography, at Adobe Books. It's not one of their better efforts, but I suppose if pressed to pick something that held my attention for longer than a burp, I'd go with Matthew Kennedy's series of three nondescript side-of-the-road images, each taken at different locations, though almost identically composed to show equal portions of street, curb, and underbrush. And the Siamese life preserver in the backroom was OK too. Adobe Books, 3166 16th Street, San Francisco, CA 94103. 415.864.3936
Artist/Artists: Betsy Boyle, Matthew Kennedy, Ahndraya Parlato, Adam Thorman, Allison Watkins, Marisa Jahn, Steve Shada.
Backroom.


Backroom.


Joined at the vest.


Proprietor at the helm.

***
Comment: Off to Build, that edge-of-the-galaxy art haus, for a piping hot platter of peculiarity. The show, titled "Fortitude," is a "sculpture/habitat," consisting mainly of a parachute hung from the ceiling and draped to form an Arabian-style tent with cushions, rugs, and low tables on the floor, seating for about twenty, and while I was there, no vacancy. Various additional pieces of fabric and a handful of bras complete the domicile. (I believe it was Bernard Berenson who once said, "Without bras, there is no art." Or maybe it was Tolstoy.) Inside the enclosure, a couple of video screens offer amusement while participants can sit and chat in this setting reminiscent of the forts we all built at home when we were kids. Build Gallery, 483 Guerrero St., San Francisco, CA 94110. 415.863.3041
Artist/Artists: Audrey Haller, Gina Osterloh, Evans Hankey.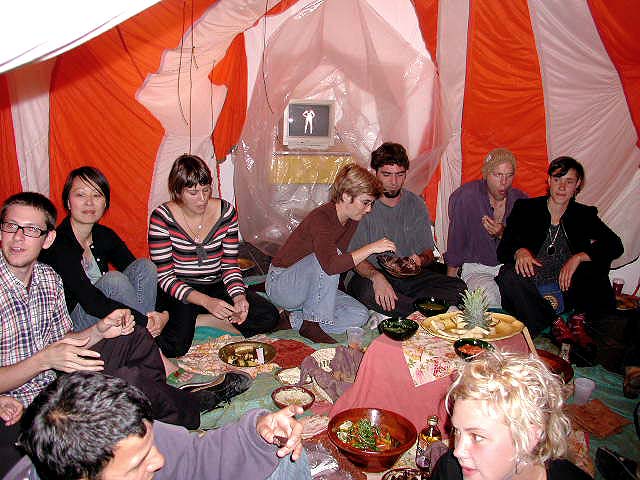 In.


Out.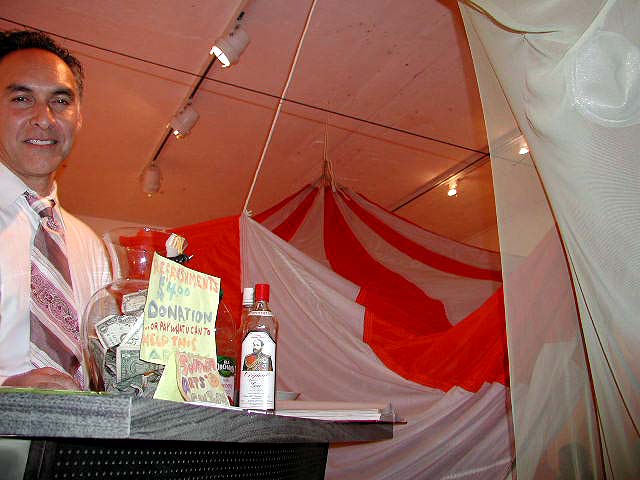 CEO.

***
Comment: You're up, Triple Base Gallery, with "Collectors Edition," a group show of art centered around items salvaged from the now-demolished Winfield wallpaper factory. Small-format works by a number of San Francisco's more talented up-and-comers hang from the ceiling in plastic sleeves that may have once been used to display Winfield wallpaper samples. So you get to hold the art as well as look at it, not something you can usually do until after you buy. Other items saved from Winfield include large silkscreens, hung along one wall, and a quirky engaging series of photographs of stuffed animals on exhibit in the front window (which the photographers from the Adobe show might want to take a look at).
Triple Base is evolving nicely, this being their best show yet. It's a suggested stop for local trendwatchers, a lesson in what artists have to do to get their art out in front of the public, and a testing ground for experimental frontline artist survival techniques. Not everyone's gonna make it, but those who do will learn that it ain't just about the money, honey.
Artist/Artists: Hisham Akira Bharoocha, Paul Allan, Brian Barneclo, Chris Benfield, David Benzler, Adrien Blanc, Ryan Boyle, Olivia Brown, Sheila Buchanan, Charlie Callahan, Ryan Callis, Alda Cartwright, Russ Connelley, Veronica DeJesus, Chris Duncan, Sasha Duerr, Tara Foley, Jim Gaylord, Sarah Grierson, Robert Guiterrez, Henry and Mariacel Guzman, Diego Hadis, Rich Jacobs, Colter Jacobson, Jason Jagel, Xylor Jane, Brad Kalder, Patricia Kelly, Sahar Khoury, Chris Miraglia, Nickolas C. Mohanna, Mike Murnane, Miranda Patau, Zane Peach, Ben Petterson, Bernardo Poggi-Leigh, Joss Pollard, Kyle Ranson, Huey Reed, Lettie-Jane Rennekamp, Albert Reyes, Antonio Roman-Alcala, Brion Nuda Rosch, Oliver H. Rosenberg, Andrew Schoultz, Mary Scott, Ken Shimizu, Sara Smith, Clint Taniguchi, Micke Tong, Lulu Troncoso, Liz Walsh, Michael Wells, and Mary Elizabeth Yarborough.
Art.


Art.


Art.


Art.


Art.


Art.

***
Comment: Final stop (in SF) is Balazo Gallery / Misson Badlands for a dusting of art and queer hip hop in association with Femina Potens and Ladyfest. Now where else in America can you go to see this? Huh? Huh? Balazo/ Mission Badlands Gallery, 2811 Mission St., San Francisco, CA 94110. 415.550.1108
Artist/Artists: Catherine Ryan, Kathy Brady, MariNaomi, Mz. Shelley.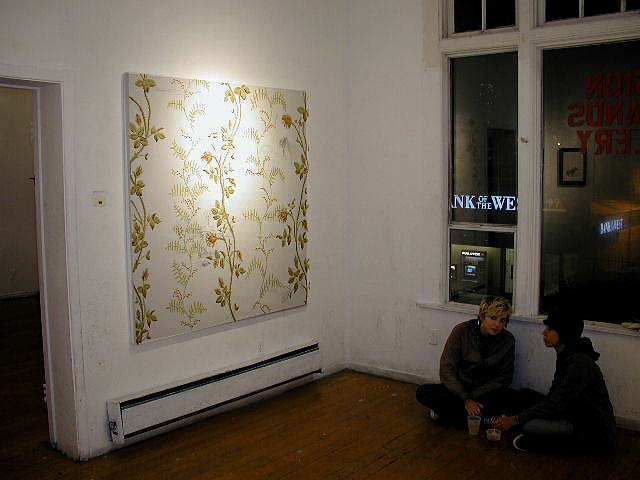 Art.


Hip hop.


Art.


Art.


Up we go.

***
Comment: Gimme more. I'm off to the East Bay for what's left of the Black Crown graffiti magazine release party at Oaklandish, a tagger's take on local life, in the heart of the heavily-patrolled Saturday night at Jack London Square, Oakland. Hey-- if someone wants to create a work of art on your tired vacant barren unused unsightly wall for free in the middle of the night, accept it as a gift, because that's what it is. Oaklandish, 411 2nd Street (between Broadway & Franklin), Oakland, CA 94607. 510.451.2677
Artist/Artists: SFAUSTINA, Erik Groff.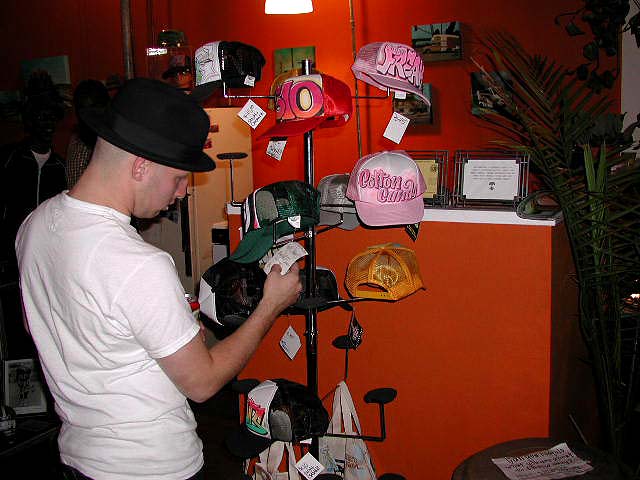 Wearables.


Readables.


Audibles.


Artibles.


Veranda.