LOBOT GALLERY
KITCHEN SINK 2 YEAR ANNIVERSARY CLOSING PARTY
OPENING 12.18.04
Comment: Kitchen Sink Magazine arts up the LoBot walls for its two year anniversary party, featuring live and recorded music, and a canine fashion show. Kitchen Sink "the magazine for people who think too much," covers art, music, literature, social and political issues, and whatever else manages to gurgle its way to the top.
Of note in the art department are scrap wood wall pieces with clever titles by Kevin Slagle for around $100 each, several crisp tight small paintings by Chris Duncan, and the show pick goes to a large busy black-on-color-field painting by Rina Ayuyang. So I looked for Rina's price and instead found those dreaded words "ask artist." But Rina, what if I'm a really rich shy mega-collector who's too neurotic to ask? I also liked a couple of photographs of strange rural people. Come tho think of it, photographers often depict rural people as strange, and as long as they keep doing that, the red states and the blue states won't be seeing much purple.
Update: Rina Ayuyang emailed the painting's title, "Findings," the price, $800, and that she's a motivated seller. Thank you, Rina.
Artists: Sean Macfarland, Chris Duncan, Alena Rudolph, Justin Artifice, Tucker Nichols, Kamau Patton, Liz Harris, Laurenn McCubbin, Jessamyn Lovell, Matt Volla, Kevin Slagle, Rina Ayuyang, Trillium Press, Nicole Neditch, Nathaniel Russell, Jesse Reklaw, Mark Haven Britt & Emma Spertus.
Pick (Rina Ayuyang).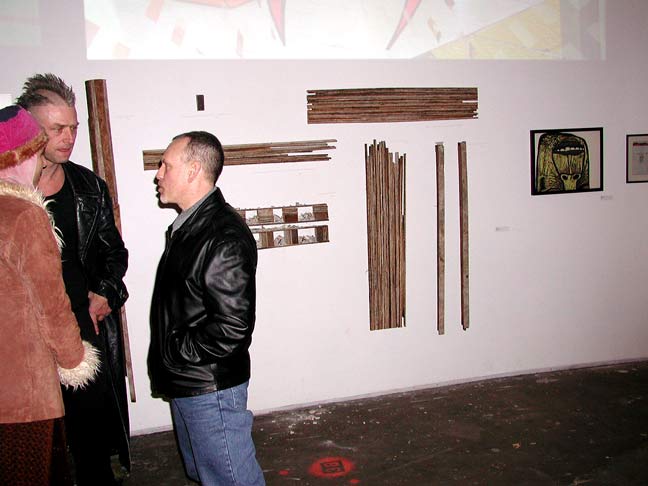 Recycled wood art (Kevin Slagle).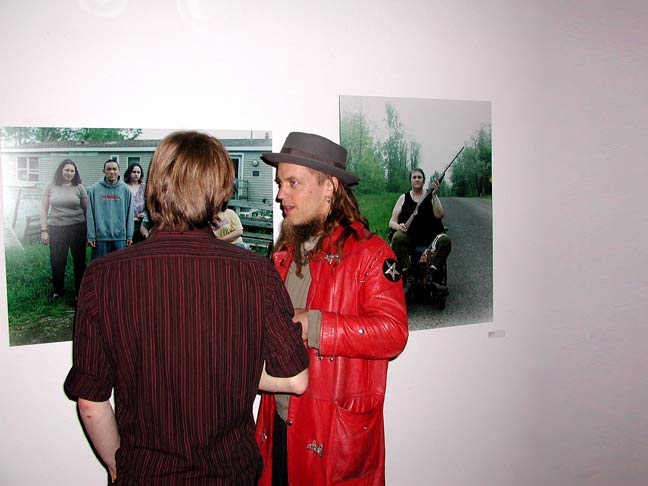 Strange rural people art.


Dog fashion - Kitchen Sink mag memorabilia.


Senior Editor Jeff Johnson.


Art.


Tests of strength and skill.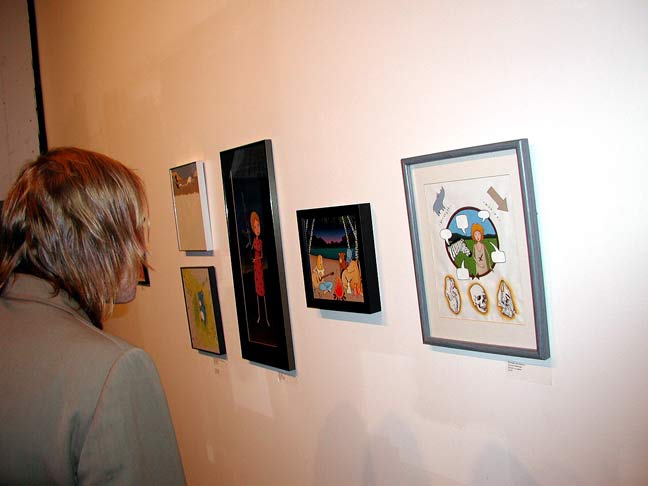 Art.


Art.


Lobot Gallery
1800 Campbell St. (at 18th St.)
Oakland, CA 94607
510.798.6566 / 510.282.2622