SAN FRANCISCO GALLERY OPENINGS
PHOTO SAN FRANCISCO 2005: OPENING NIGHT
GEORGE KREVSKY - HEATHER MARX
PLACE PIGALLE
JULY 21, 2005
photo san francisco: The Sixth International Photographic Art Exposition.
Comment: Surprise! photo san francisco, installment six, is one of the freshest upbeat non-boring diverse freewheeling art/photography events I've been to in a while. It's got 80 exhibitors from Korea to Cape Town, Czechoslovakia to Belgium, and all kinds of other places and they're showing all kinds of unexpected stuff-- photography and otherwise-- that we don't often see here in provincial (but extremely liberal) SF. I was amused, entertained and educated all at once-- and I'm usually only amused (if I'm lucky, that is).
Exhibitors consist mainly of vintage and contemporary photography dealers, but also include individual photographers, several photographer groups, CCA, SFAI, The California Historical Society, Chinese Artist Network, the Mexican Museum, the San Jose Museum, and more, plus special added bonus-- several galleries not normally associated with photography like Linc, Lisa Dent, and Catherine Clark. Translation: This is not just another photography show. Congratulations to show organizers Stephen Cohen Gallery for taking a chance. If the concept flies, things could get interesting.
Believe me, artsters, if yer lookin' fer a quadra-shot of the good stuff, check this baby out. Fort Mason; Festival Pavilion. Exhibition hours: Friday, July 22nd and Saturday, July 23rd, 11 am to 7 pm; Sunday, July 24th, 11 am to 6 pm. Admission: $15 for one day; $25 for an unlimited pass; $5 student. And always remember-- if you want shows like this to survive, you have to buy something, or if you don't have any money, you have to call up someone you know who has money and tell them to buy something.
Tracy Snelling photos at Brown Bag Contemporary.


Photography.


Edward Curtis portfolio + book ($80K) at Flury & Contemporary.


Clint Imboden tries to remember something at ArtIs Collective.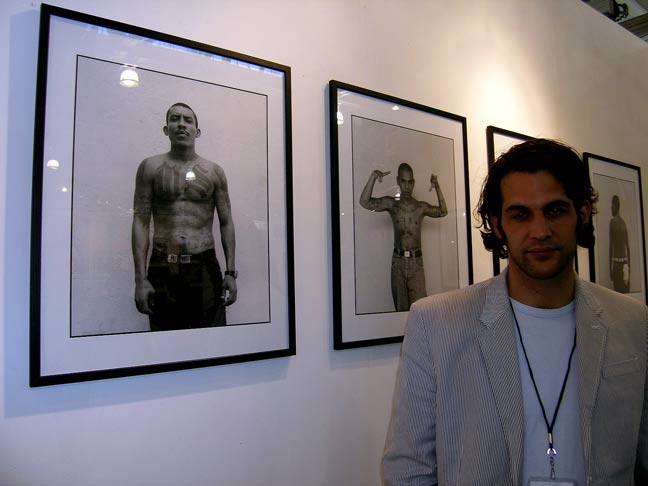 Swiss photographer Tom Bauer; El Salvadorian inmates.


Kim Beem Soo doll parts at Baik Song Gallery, Seoul.


Nancy Reagan (Halsman photo, $2K) and Carl Mautz.


Lisa Kokin vintage photo collage at Catherine Clark Gallery.


Paul Hertzmann flaunts handiwork (as well he should).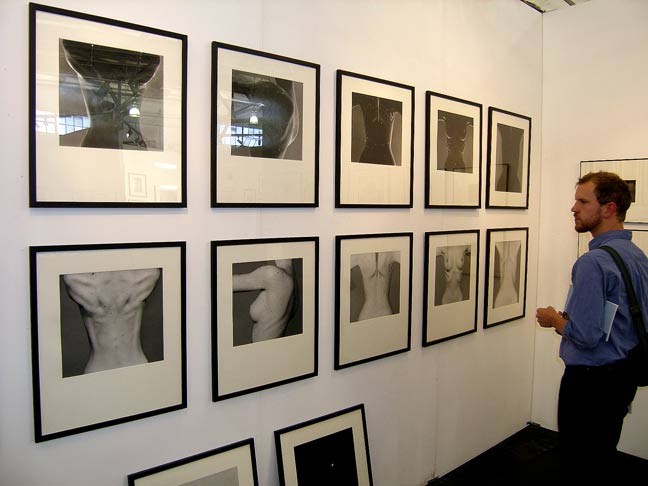 Pierre Radisic torso photos at Thinking Prints, Brussels, Belgium.


Most funnest booth - Linc Art / Charles Linder (right).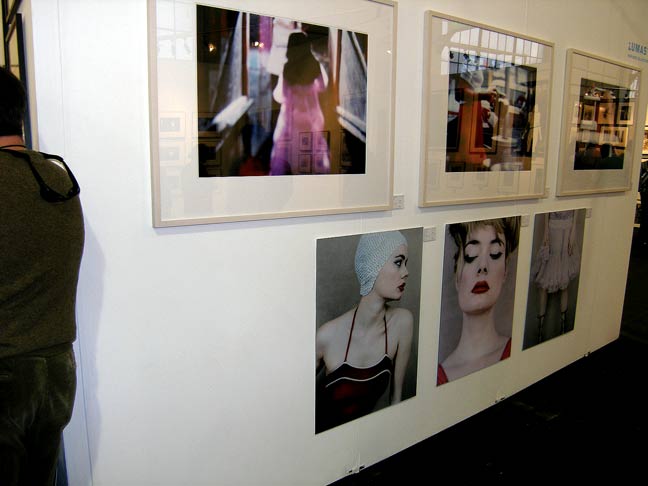 Photography.


Not sure, but I like it.


GaleriaArteCubano.com - Cuban Art Gallery.


San Jose Institute of Contemporary Art.


Photographers Gallery, Cape Town, South Africa.


Installation art (Tracy Snelling).


Bernard Toale Gallery, Boston.


Photography.


***
Heather Marx Gallery: Beautiful Debris.
Artists: Cristina Lei Rodriguez, David Hevel, Tara Giannini.
Comment: Wacky entertaining hard-to-dust mixed media sculptural mini-extravaganza that appears to incorporate at least one of every material entity known to man including paint, wigs, foam, consumer products, artificial plant and animal forms, paints, taxidermy, ribbon, beads, twigs, plastic "milk" leaking from multiple breasts (deer breasts, that is), and more more more.
The art looks pristinely crisp at the moment, but my antiquarian weltanschauung inevitably whiplashes me forward to what something's gonna look like years and decades from now because I spent years and decades looking at stuff that's years and decades old, considering factors like historical significance, marketability, physical condition, dollar value, and desirability to collectors. So I know a little bit about those pesky ravages of time as well as what things look like once they get ravaged, how ravages impact collectibility, how ravages impact dollar value, conservation and repair of ravages, and how much ravages cost to unravage. With art like this, tomorrow's fine art conservators (which some of you more meticulous detail-oriented artists might consider becoming) will have their work cut out for them.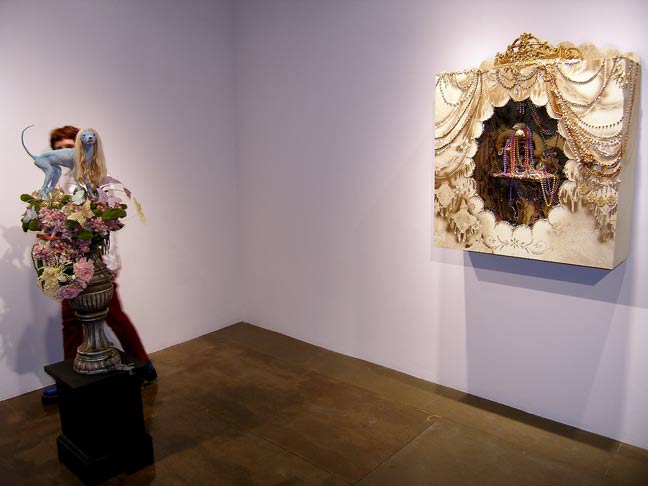 Art (David Hevel - left; Tara Giannini - right).


Art (Cristina Lei Rodriguez).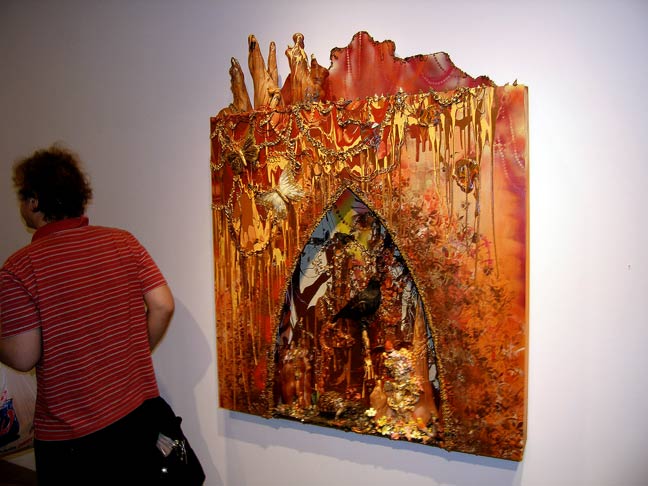 Art (Tara Giannini).


Art (David Hevel).


Art (from another show).


***
George Krevsky Gallery: Raphael Soyer - Back in the Day.
Comment: George Krevsky's introductory on the artist opens with the sentence, "In 1966, Raphael Soyer and I lived seven blocks from each other in New York City, but we never met." I'm a slow reader, so the build-up here is good-- George Krevsky meets Raphael Soyer. But then he doesn't meet him. Oh well. For those of you into wistfulness, Soyer's like The King, so you can't miss this show-- his art's loaded with people staring aimlessly off into space. Considering Soyer's not inconsiderable significance in American art history, Krevsky's managed to assemble more than a respectable selection of work, particularly the lithographs, although the paintings work too. See for yourself.
Art.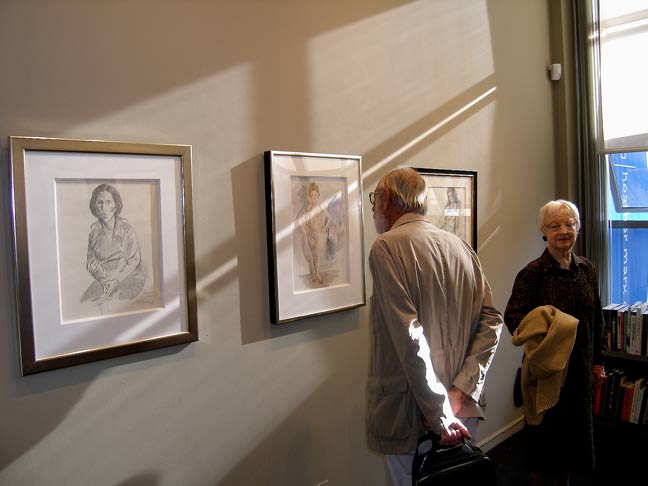 Art.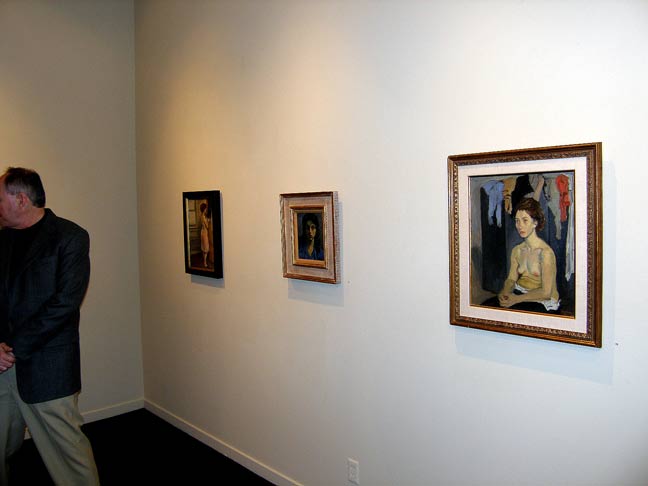 Art.


Art.


Art.


Lawrence Ferlinghetti (baseball cap).


Art.


***
Addendum:
Androgynous Amateur; Paintings by Miros Ozark
at Place Pigalle.


Nice "R" on the former Hayes Valley Market door.