LOS ANGELES GALLERY OPENINGS
POMONA ART COLONY ART WALK
11.13.04
General comment: Pomona's art walk is, first and foremost, fun, and second and next foremost, you only have to park your car once. All kinds of people, art for every taste, restaurants, coffee shops, dj on the street, other neighborhood stores staying open and joining in-- everyone seems to contribute to the festivities. The art ranges from traditional painting and sculpture to video and multimedia installations to the "Teddy Bear and Potpourri School" of arts & crafts; with solo shows, group shows, art association shows, a young writer hawking his first book, open studios, live music, live art-making, basements, attics, Cal Poly, and so on, and so forth.
You know how the art bog sometimes gets so sticky thick with hubric humidity-- the characters, the protocol, the politics-- that it's enough to drive you double bozo? You're so consumed with how to act, who to meet, what to say, and when to say it that barely a shred of will remains to look at and appreciate the art that brought you there in the first place? Well, I'm pleased to report that you'll find no attitude, affect, or puffery here. Pomona's art walk is pure delight, people coming together to enjoy themselves and to enjoy each other and, above all, to enjoy art....
dA Center for the Arts: Return to Aztlan '04, La Familia.
Comment: Group Chicano art retrospective, about 75 artists, every kind of art, live music, abundant food and drink, plenty of plus-side energy. My pick of the night.
Art.


Gilbert Lujan aka Magu (left).


Tunes.


Art.


Art.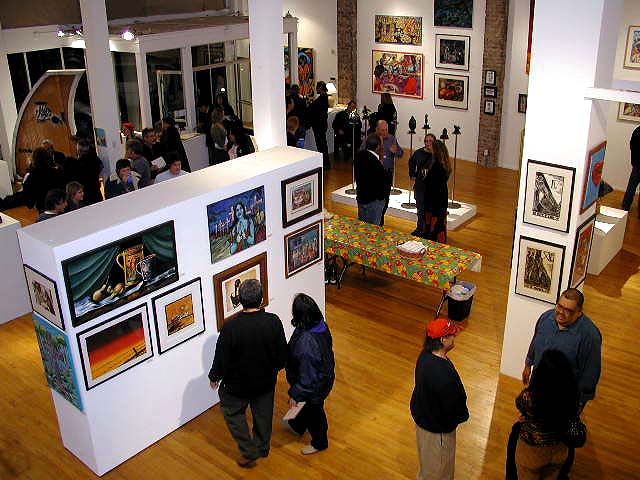 Above.


***
e gallery, 252 S. Main St., Pomona, 91766; 909.967.5056: I Hear the Crow in the Morning - Danae Nicole Brown.
Comment: Bewildering art at it's brain bamboozling best, a series of figure paintings, each with an embedded birds nest. So I suppose the reason Danae Brown hears the crow in the morning is that the crow lives next to her pancreas.
Ornithological art.


Chirp art.


Tweet art and tunes.


***
SCA Project Gallery: Chie Yamayoshi - Companion Species Manifesto.
Comment: Dog-centric videos and installations, for example, one video plays through a fish bowl, another is shot from beneath a clear glass dish out of which a dog drinks water (my personal favorite), and more. For a refreshing intermission, check out the occasional foiled hindquarters protruding randomly from the walls.
Arfless art.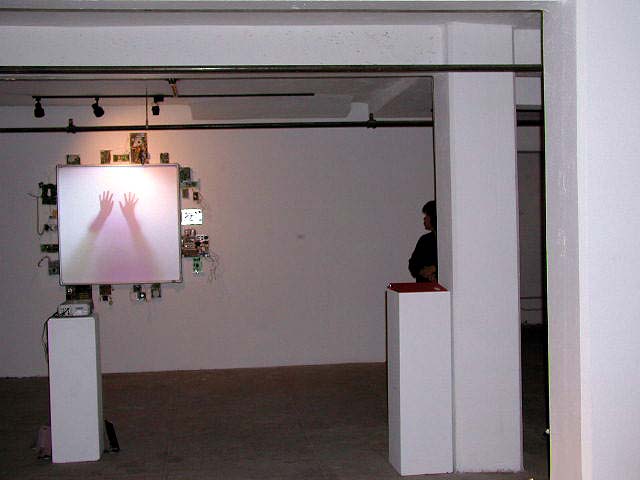 Art.


Barkless art.


***
Cal Poly Pomona Downtown Center: Running Through History - Lucinda Luvaas.
Comment: Self-portrait paintings and videos of the artist ensconced in a variety of historical settings. The more complex, monotoned, impasto paintings are uncommon and engaging, with aspects bordering on the naive or outsider, though obviously created by a trained artist.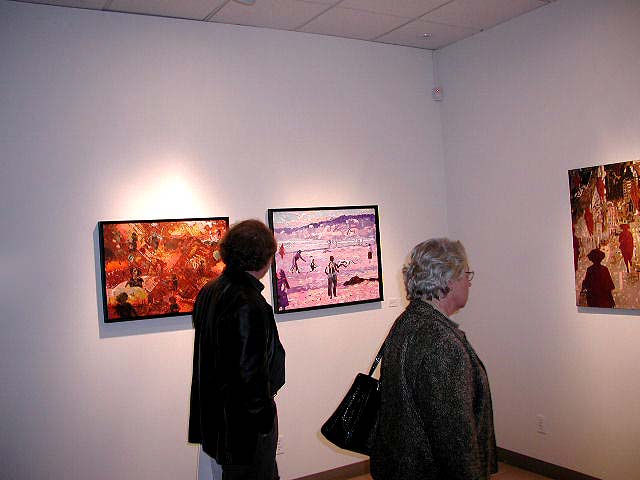 Art.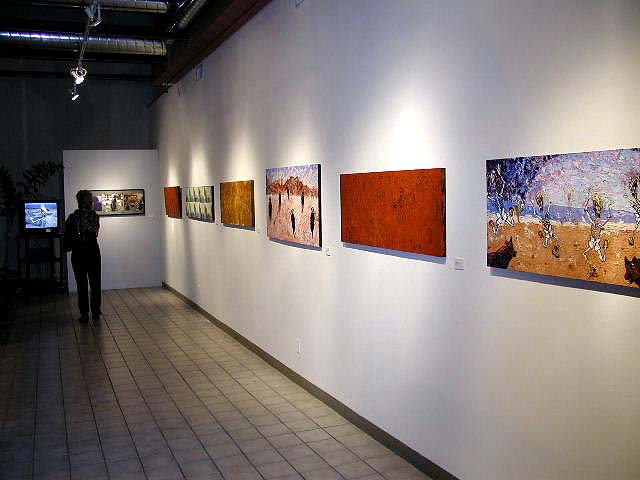 Art.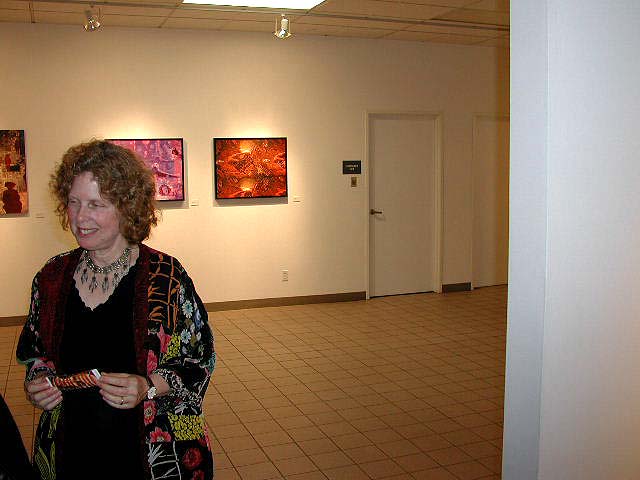 Artist.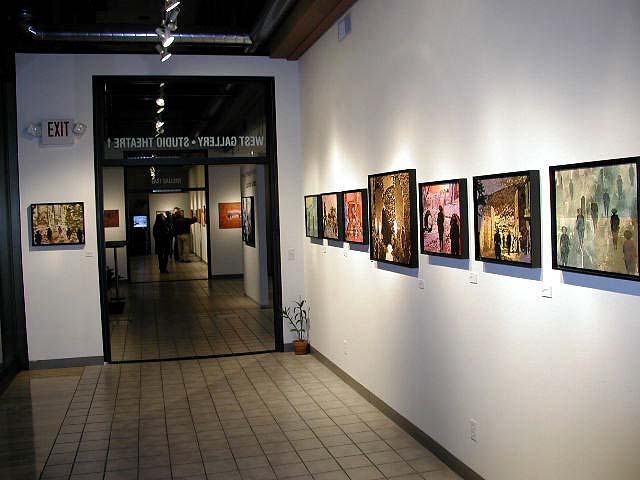 Art.


Outside.


***
Addendum: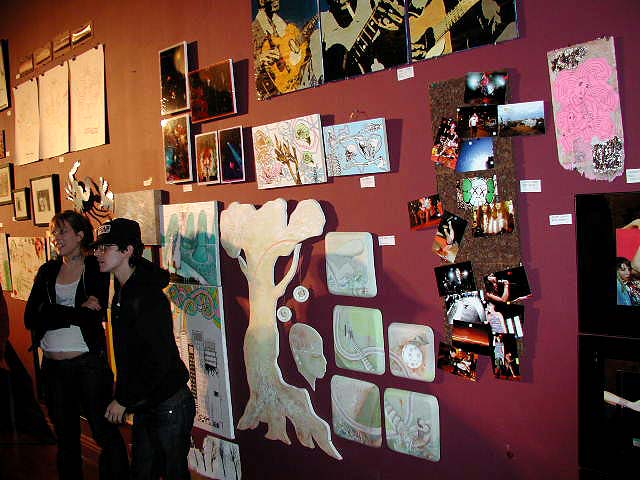 What appeared to be a vacant store arted up for the occasion.


Another artful wall (Famous Gallery was part of it).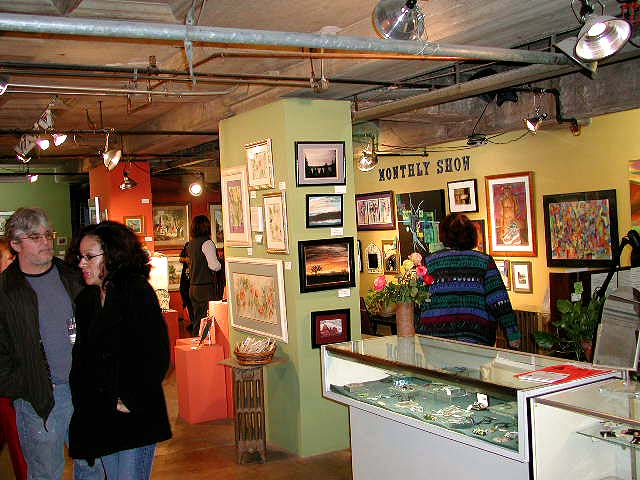 Pomona Valley Art Association monthly show.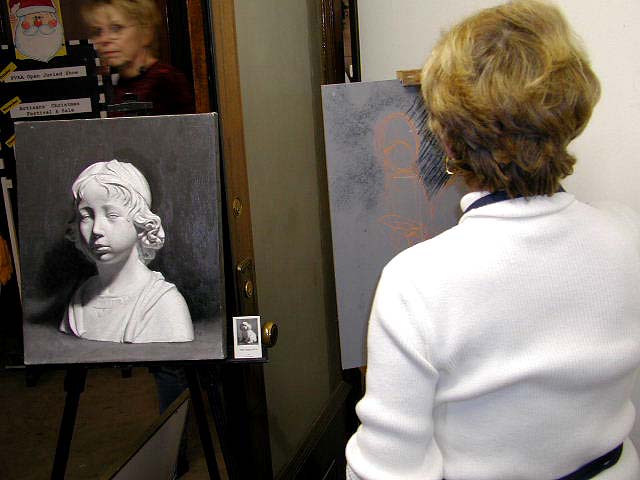 Artist arting at the Pomona Valley Art Association show.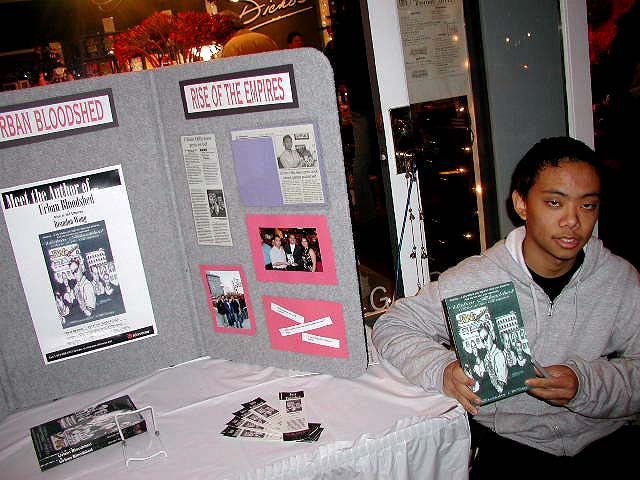 Brandon Wong debuting his self-published Urban Bloodshed.


Opera Garage day studios.


Frontage.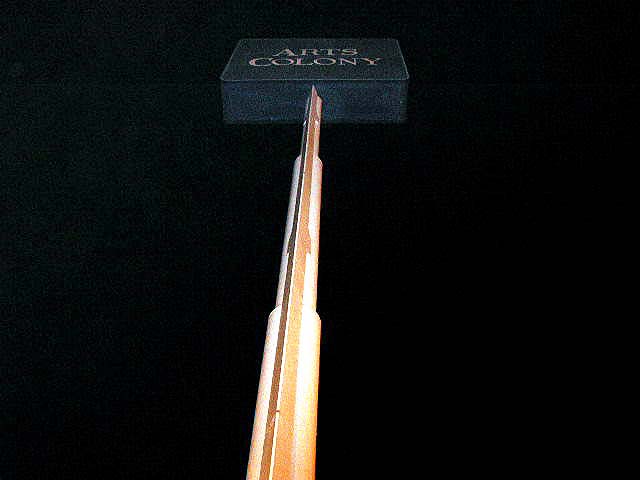 What it is.