SACRAMENTO ART GALLERIES OPENINGS
SECOND SATURDAY ART WALK - 06.10.06
Sacramento Art Walk: Second Saturday of the Month
General comment: In Sacramento, the second Saturday of every month means time again for Second Saturday Art Walk where galleries all over town stay open late (usually until 9 or 10 pm). That, in and of itself, is not overly interesting, but the evolution of the event is. You see, it started out as an art thing with only galleries open late, and only "art people" attending. However, as more and more people ambled on down to each successive episode, and more and more businesses and restaurants in the immediate gallery vicinities saw what was happening, more of them decided to stay open late too. These days, all kinds of businesses participate alongside the galleries, from restaurants to real estate agencies to clothing stores, and the so-called "art walk" is now one giant party with certain blocks so crowded, you practically have to crowbar your way through the masses if you expect to see anything at all.
So there you have it-- one more example of the power of art, here responsible for bringing all kinds of people together in a festival-like atmosphere one night a month. And plenty of people who know little or nothing about art or who aren't comfortable in art galleries (but who like to have fun), run around just like the cognoscenti, lose themselves in the hubub, see and learn about all kinds of art pain-free and easy, and in the end, more galleries and more artists sell more art to more people. Isn't that marvelous? Plus let's not forget that on these nights, art is also responsible for pumping many many many thousands of dollars into the local Sacramento economy. Gets you thinkin' about possibilities, doesn't it?
***
The Art Foundry Gallery, 1021 R. Street, Sacramento, CA 95814; 916.444.2787: Dick Ratcliff - Works in Bronze; The Subject is Color - Paintings, Sculpture, Mixed Media byTwelve Artists.
Comment: Combination gallery and foundry features a live bronze pouring in the foundry at 7:30. Rows of chairs are set up for the audience to sit and watch.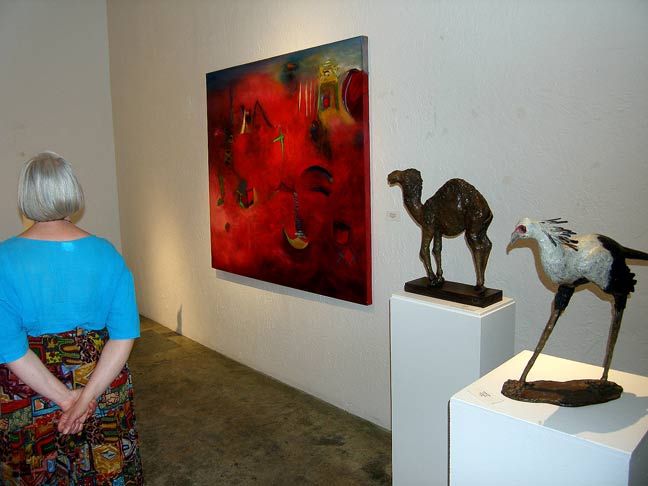 Art.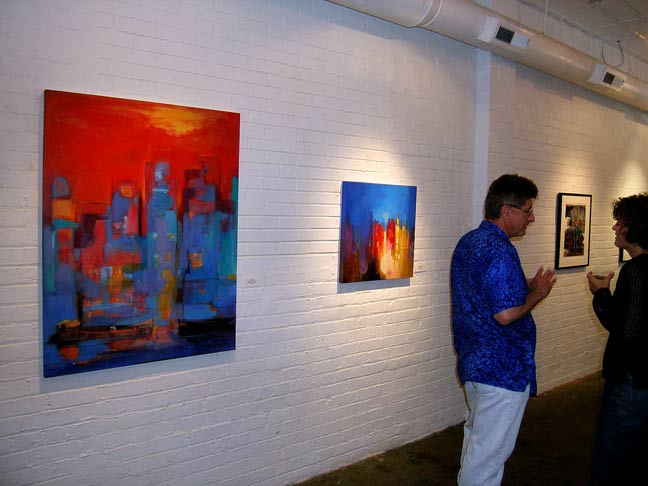 Art.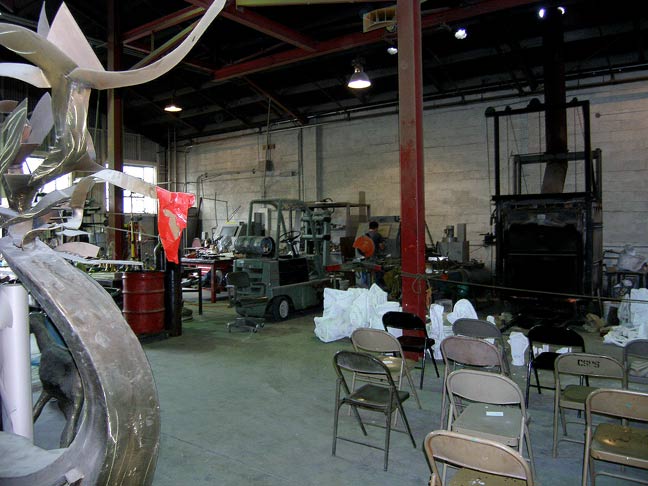 Foundry partial.


***
Exploding Head Gallery, 924 12th Street, Sacramento, CA 95814; 916.442.8424: Jacquline Hurlbert - Ceramics; Linda Welch - Sculpture; David Limrite - Drawings.
Comment: Three-person show up front, mostly sculptural, with what appears to be a group or consignment section toward the rear of the gallery, mostly ceramics.
Art.


Art.


Art.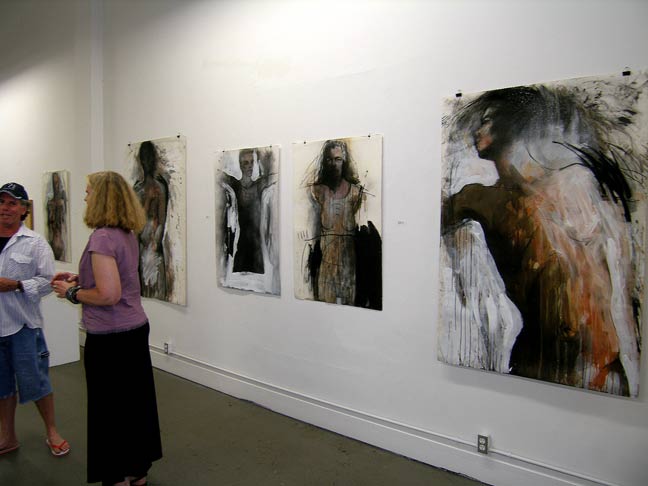 Art.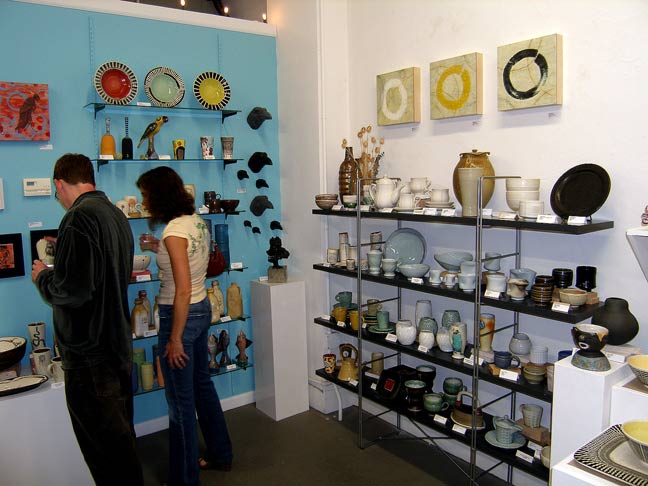 In the back.


Playing field.


***
Artists' Collaborative Gallery: Group show.
Comment: One of Sacramento's oldest artist owned and operated galleries.
Art.


Art.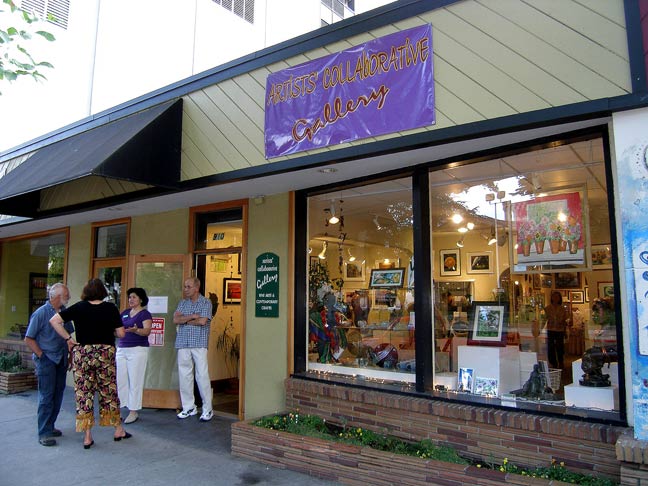 Gallery frontal.


***
Phoenix Framing & Gallery: Inner Surrealism by Ralph Adamson; Gallery Artists.
Comment: Adamson's ethereal portrait and figure paintings are eminently reasonably priced, mostly mid-hundreds $$, even for the large ones.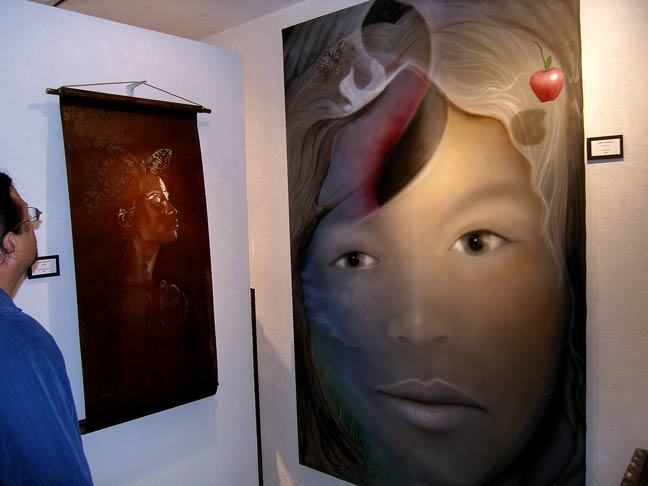 Art.


Ralph Adamson - art.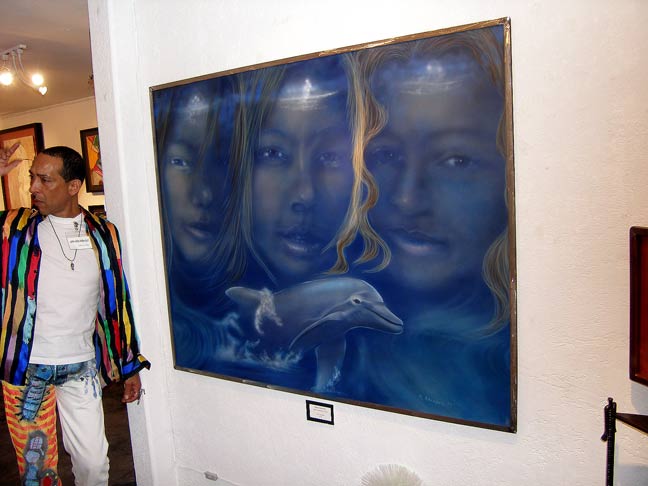 Art.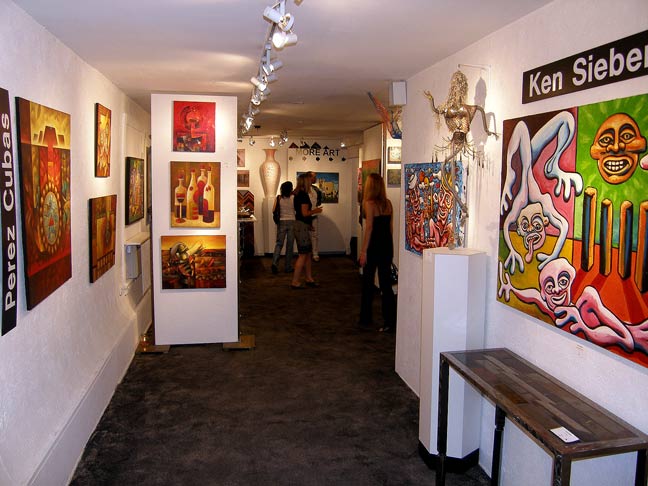 Gallery artist group show in the back.


***
Center for Contemporary Art, Sacramento: James Albertson - Life Stories, More is More Within a Narrative Structure.
Comment: Thirty-five year survey of James Albertson's wiggy wacked out genre paintings, from curious to crass.
Art.


Art.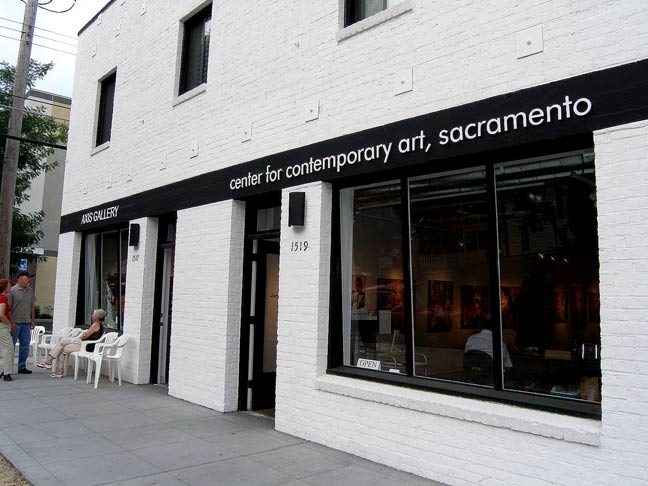 Esplanade (Axis Gallery is right next door).


***
Fools Foundation: 20+ Indie Designers and Utilitarian Artists.
Comment: Arts, crafts, fashion, more.
Indie arts.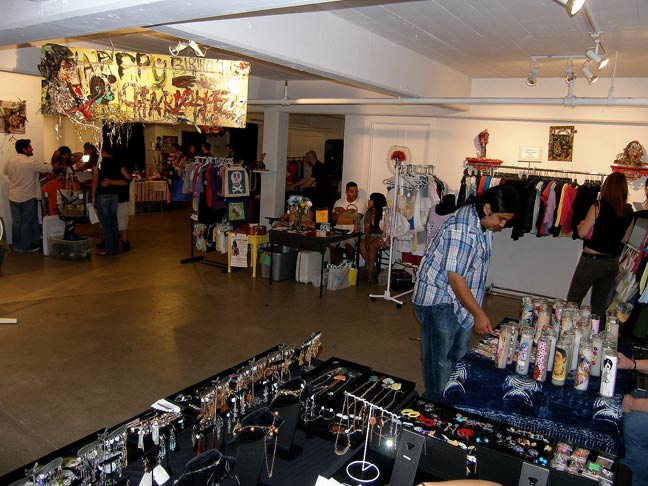 Indie arts.


Down we go.


***
W Gallery Studios: Group Show.
Artists: Rick & Janet Nicholson, Lisa Watts, Geanina Watts, Lora Watts, Thien Dao.
Comment: Tasteful group show featuring large glass works by Rick and Janet Nicholson.
Art.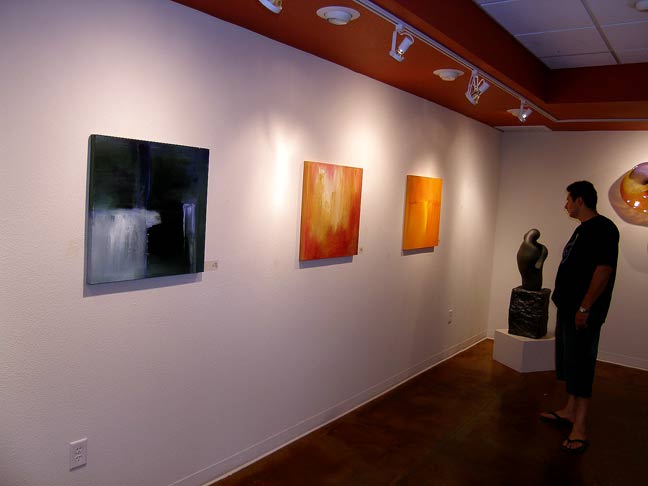 Art.


Art.


Outer.


***
b. sakata garo Fine Art: Scott Parady.
Comment: Impressive ceramic show, works in all sizes, functional and non. The more abstract pieces remind me a bit of Peter Voulkos. Something for everyone-- prices range from low hundreds to over $10K. Continuous waves of people move through the gallery.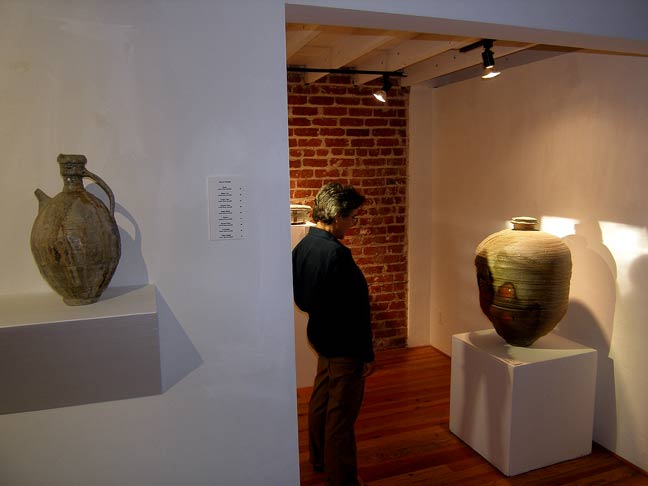 Ceramic art.


Ceramic art.


Ceramic art.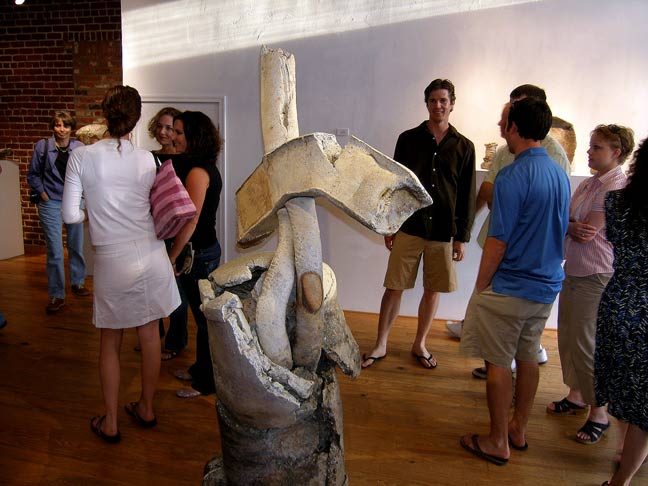 Ceramic art.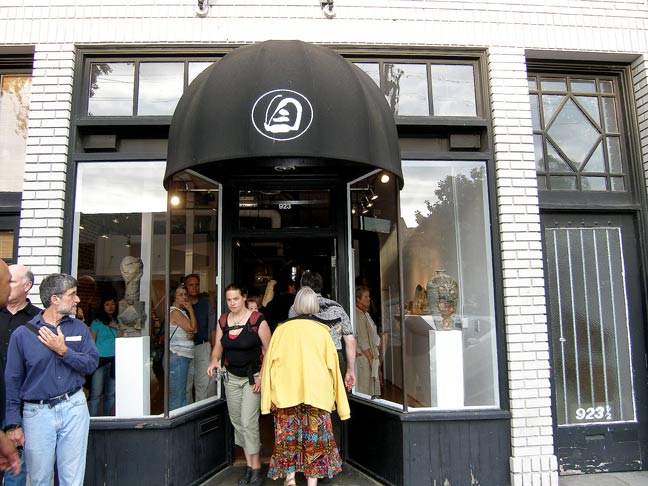 Veranda.


***
20th Street Art Gallery: 60 Foot Abstract by Beryl Miller; Abstracted Landscapes Group Show.
Artists: Robert Chapla, Marlene Kidd, Dan Mundy, Frost Newton, Helen Plenert, Mike Helman, Vicki Asp, Bob Schumache.
Comment: Beryl Miller's sixty foot painting runs an entire wall of the gallery. If you want to buy, you choose from a number of square or rectangular cutouts, place your cutout over whatever section of the painting you want to buy, the gallery marks and later cuts that section out, and you buy it for 80 cents per square inch. Sounds odd, but it's a brilliant hands-on fun affordable non-threatening way to discover and learn about abstract painting. And people are buying-- lots of them. Beryl Miller tells me this is her fourth such endeavor. The gallery is packed to overflow.
Beryl Miller - art (check out all the sold sections).


Marking a freshly sold sector.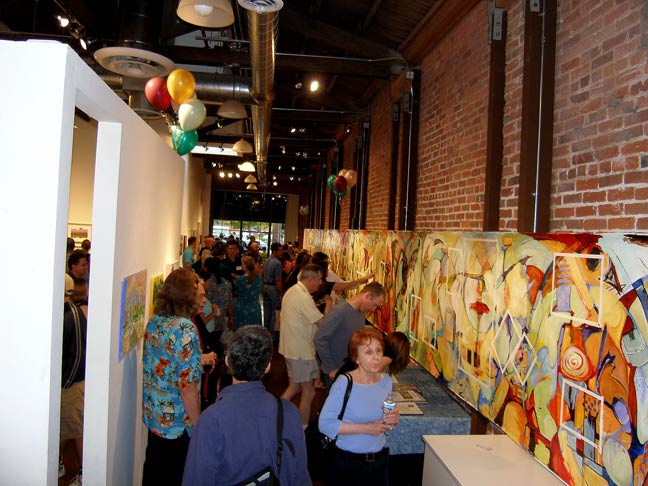 Miller-mania overview.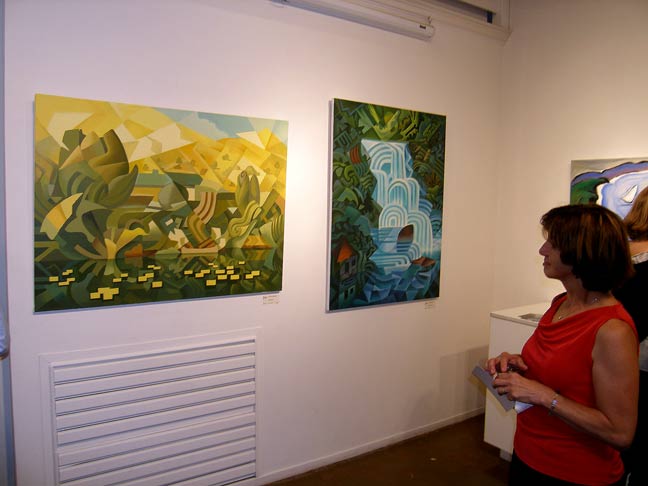 Group show.


Group show.


Group show.


***
DEEP Art, Yoga, Design: San Francisco in Sacramento 2.
Artists: Ade Lun Sec, Sarah Applebaum, Hana Bauguess, Sacha Eckes, Rbyn Engel, Rene Fressola, Will Hamerski, Elisa Harms, Trevor Ito, Michelle Knox, Hava Liberman, Barry Monigle, Christine Nichols, Julia Petho, Nick Port, Zenaida Sengo, Nancy Arms Simon, Chris Spurrell, Samanta Tello, Micke Tong, Angela Walters.
Comment: Rangy group show of San Francisco art & artists. They're everywhere!
Art.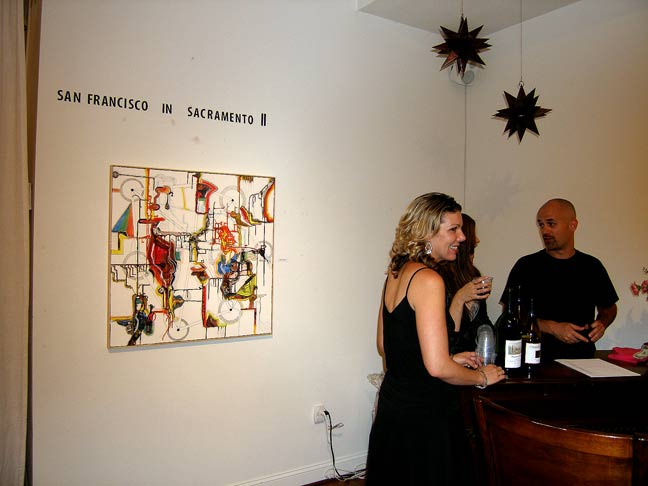 Art (Rene Fressola).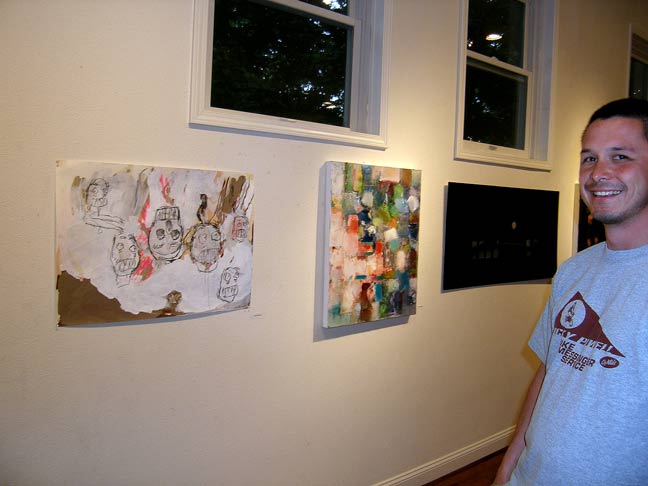 Art (Sacha Eckes, left).


Curious bumper sticker art (Julia Petho).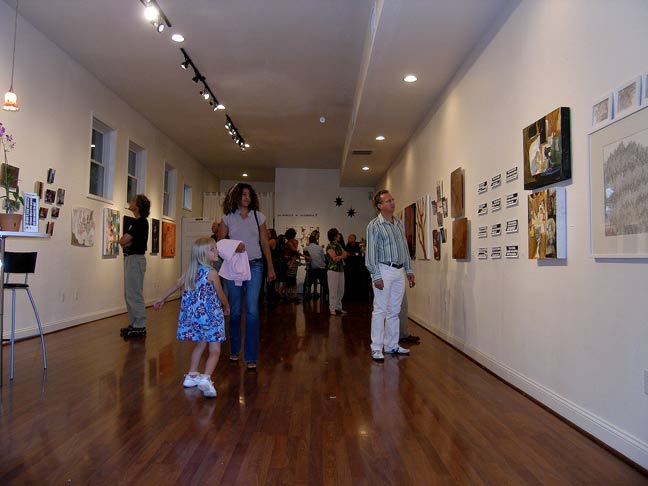 Arena.


***
Barton Gallery & Studios: Vasiliy Vdovichenko.
Comment: This three-in-one complex includes Barton Gallery (showing Vasiliy Vdovichenko), artist studios and group show in a building out back, and Michelangelo's Italian Restaurant sandwiched in between.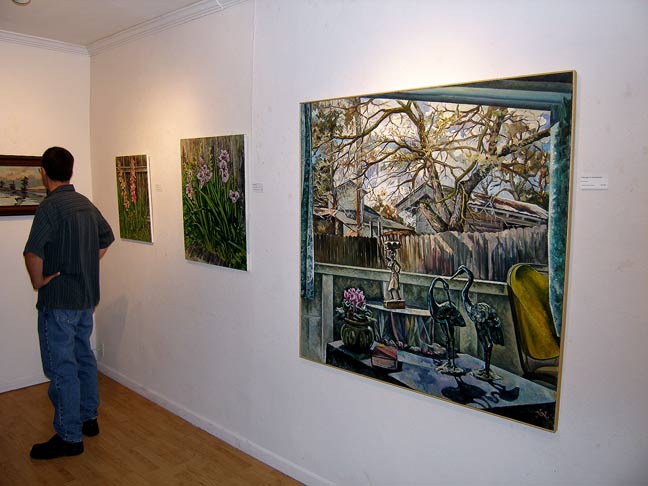 Art (Vasiliy Vdovichenko).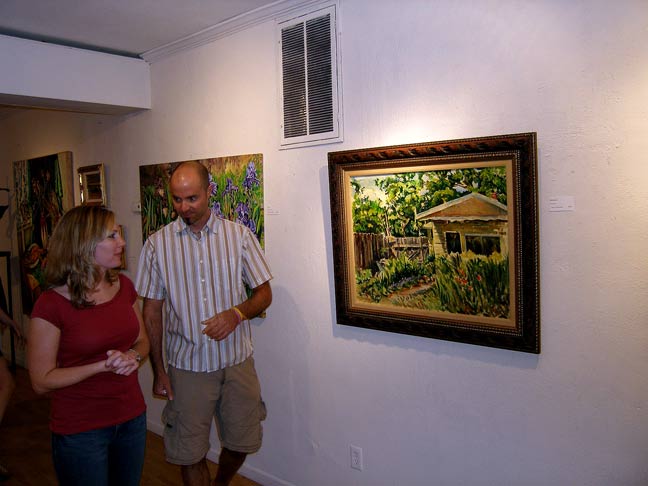 Art (Vasiliy Vdovichenko).


Outdoor dining behind Michelangelo's Restaurant.


Ivy covered artist studios out back.


Art studio show.


Art studio show (not sure about that painting).


Barton Gallery promenade.


***
Richard L. Press, Fine & Scholarly Books on the Arts, 1727 1/2 I Street, Sacramento, CA 95814; 916.447.3413.
Comment: I always save the best for last, in this case being my esteemed antiquarian bookseller colleague, Richard Press, one of Sacramento's best kept secrets, and one of the country's top dealers in rare, out-of-print, and hard-to-find art and design books.
Richard L. Press and readables.


***
Addendum: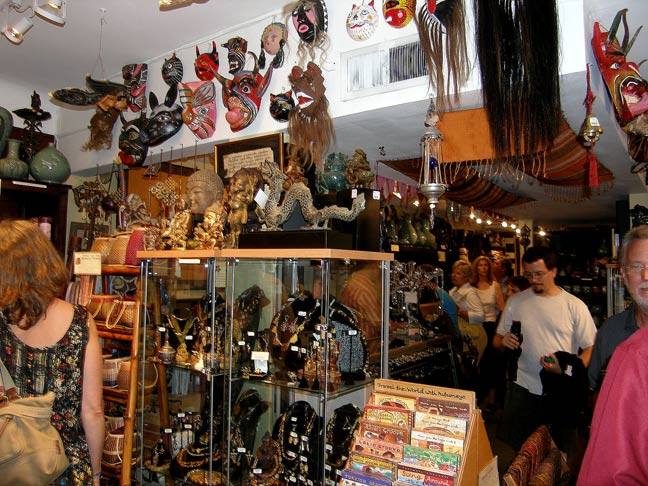 Packed house at Zanzibar Trading Company.


Zanzibar Trading Company exterial.


Everybody shows art, not just the galleries.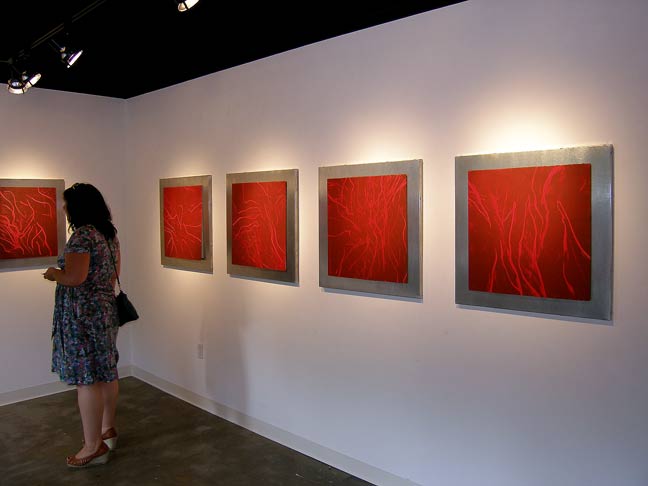 Sandra Beard abstracts at Axis Gallery.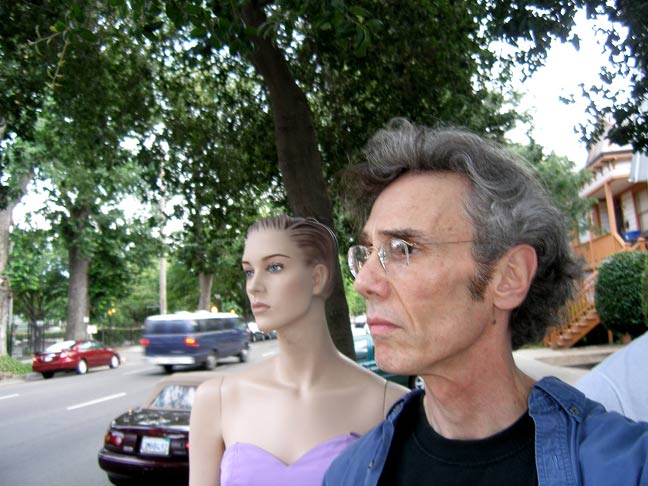 Not sure.