SAN FRANCISCO ART INSTITUTE: CLARE E. ROJAS; RICHARD BERGER
OPENING 06.17.04
Comment: Of all the artists whose art embodies the current vogue of impenetrable enigmaticisim (art I don't get), Clare Rojas is one of the best. Her themes include Central European folk art, line-drawn figures on monocolor backgrounds, geometric shapes, elements of landscape, all combined in confusing yet visually appealing ways. She's so good that I don't care if I understand her art; I fall back on appreciating how well done it is, and that suits me just fine. I dove in close on her paintings to see if they hold up as well from a few inches as they do at a distance, and found the brush strokes near perfect, especially when she paints animal fur. It's the care she takes with her work that impresses me the most. No slop here; only a bright future.
Richard Berger makes kinetic sculptures, mainly out of plexiglass, some illuminated by light from independent sources, others with light incorporated into the compositions. Some have undulating mechanical armatures or rotating sections, some are wall-mounted, others hang from the ceiling and move freely. Berger's art has easy appeal with its competence, figural aspects, and moving parts-- Erector Set accessibility-- but then you read the show's press release, and you're lost LOST lost in art jargon and gibberish of the highest order. This act of taking art that ordinary people can appreciate and enjoy, and transforming it into ritual elitism is one reason why the San Francisco Art Institute nearly irrelevanced itself into oblivion not too long ago. I've never met a person who doesn't like art, so go easy, resist the intellectual force-feed, and let people like art at their own speed. Those who want to know more will ask-- trust me.
Artist/Artists: Richard Berger, Clare E. Rojas.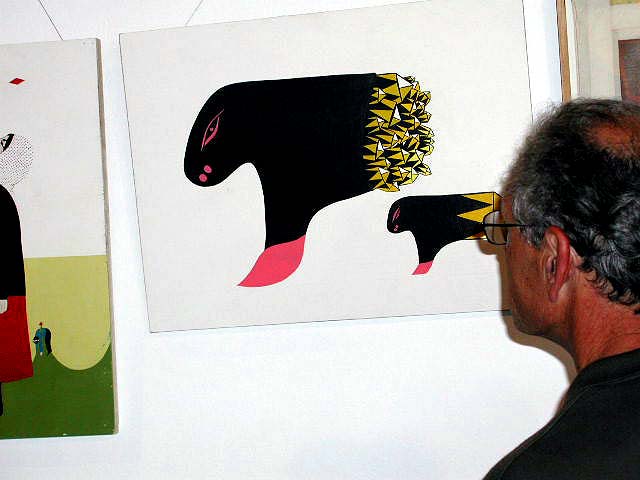 Rojas.


Rojas.


Rojas.


Rojas.


Rojas.


Berger.


Berger.


Berger.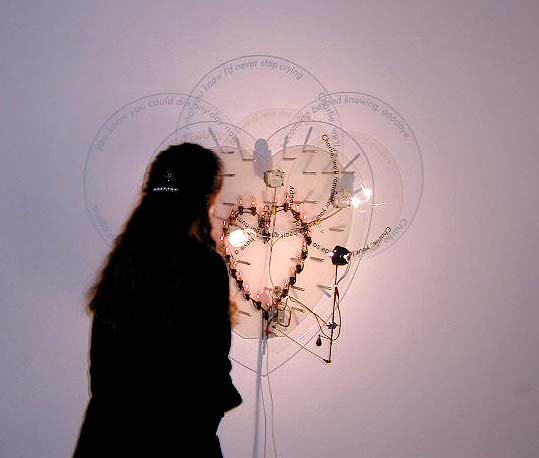 Berger.

The San Francisco Art Institute
800 Chestnut Street.
San Francisco, CA 94133
415.771.7020