THE SHOOTING GALLERY
SHEPARD FAIREY; SUPPLY AND DEMAND
OPENING 08.07.04
Comment: Most of us know Shepard Fairey through his propaganda art, especially his memorable caricature of Andre the Giant paired with the word OBEY. Superb in its simplicity, ease of recognition, and ultimately, its proliferation, it mimics and even surpasses ad campaigns mounted by some of the most powerful names in corporate America. The OBEY graphic has no implicit meaning, its intent being to make us aware of the intents of others-- that relentless barrage of paid advertising, commercial and political, far more insidious, that permeates our lives and manipulates our brains. Fairey's art reacts to the fallout from that barrage-- overconsumption, overspending, and the dismissal and even hatred of those who question unbridled capitalism or the complications arising from excessive use of military force. Intransigent patriots insist that this is The American Way. Fairey's art suggests otherwise, that patriotism and The American Way should perhaps extend beyond hocking our humanity, oblivious to the plights of others, for brand-name running shoes, fake breasts, trans-fat fries, the biggest engine, the tightest turning radius, the most cargo room, or whatever the feel-good fix-of-the-moment happens to be. OK-- you caught me. I inserted a dash of personal agenda, but why not? It was Fairey's art that made me do it, and good art can do that to you.
In addition to OBEY, you'll see pop icon portraits, mostly musical artists, and anti-war images-- all serigraphs on metal, paper, and wood. The killer standouts are complex large serigraphs, about 4 by 3 feet each, fine art finessed around classic propaganda motifs, that demonstrate the impressive range of Fairey's abilities. For the record, note my ongoing amazement that conventional art publications continue to ignore artists like Fairey. However, like the inevitable Kudzu-creep, it's only a matter of time.
Artist/Artists: Shepard Fairey.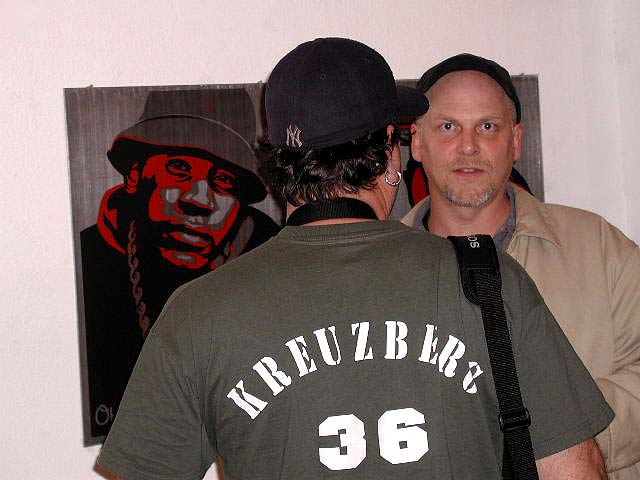 Art.


Art.


Art.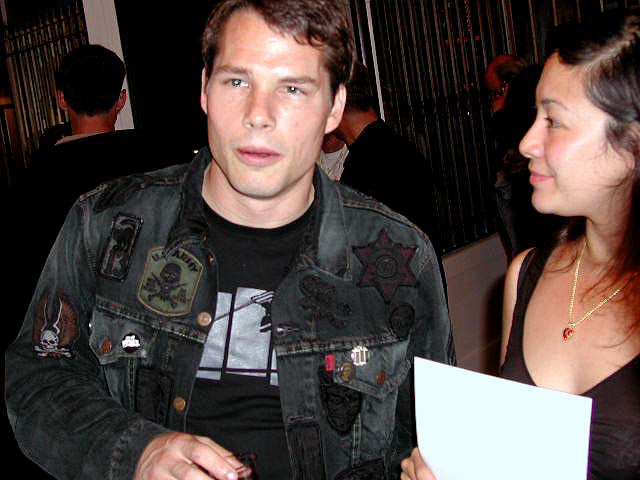 Artist Shepard Fairey.


Art.


LA artman, Robert Berman.


Art.


Art.


Art.


Art.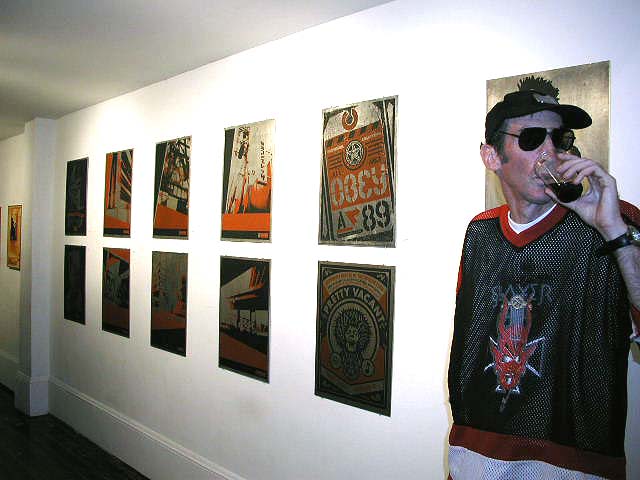 Art.


Art.


Shepard Fairey - art.


***
The Shooting Gallery
839 Larkin St.
San Francisco, CA 94109
415.931.8035