SAN JOSE MUSEUM OF ART
YOSHIMOTO NARA, ART OF ZINES 04, WALTER ROBINSON
OPENING 07.24.04
Comment: What a delight... a preview party at the San Jose Museum of Art, free to members, only $20 to non-members, and regular admission to the museum is ALWAYS free. The place wasn't overly crowded with plenty to eat and drink, no detectable attitude, music spun by Cat Five, and in addition to the shows, a core collection focuses on contemporary West Coast and California art and artists. Downtown San Jose on a Saturday night has an energized pulse about it too with a number of restaurants and clubs in easy walking distance.
Yoshimoto Nara, like quite a few contemporary artists, roots his work in anime, but unlike those artists, he's one of the best proponents of the genre creating art that arguably, at times, transcends the idiom. His colors are subtle, he goes beyond the typical facial expressions so common in anime-based art, and shows competence in a variety of mediums, producing wall sculptures, oversized floor sculptures, drawings, paintings, and large platter-shaped forms to which canvas has been applied in sheets, then primed, then painted. I didn't grow up with anime, nor did I grow up with Shirley Temple. I did grow up with The Beatles and the Hippies. I already know that "You had to be there" for The Beatles, Shirley Temple, and the Hippies. Will you have had to be there for anime art as well?
Art of Zines 04 consists of several hundred small magazines-- abbreviated and christened "zines" to signifiy their current and arty nature, and that they're almost exclusively independent endeavors published by small groups or individuals. They've been gathered from around the country, placed into clear plastic bags, and tacked to the walls of the West room of the South Gallery. People are encouraged to take them down and read them.
Polychromed styrofoam cookie sculptures by Walter Robinson dot the East wall of the museum's second-floor Skybridge Landing and his Sparkle Pups stand grouped near the elevator. Robinson got the cookie idea while stuck in traffic behind a cookie delivery truck. I didn't ask about the pups.
Artist/Artists: Yoshimoto Nara, Walter Robinson, Zines from across America.
Nara.


Nara.


Nara.


Nara.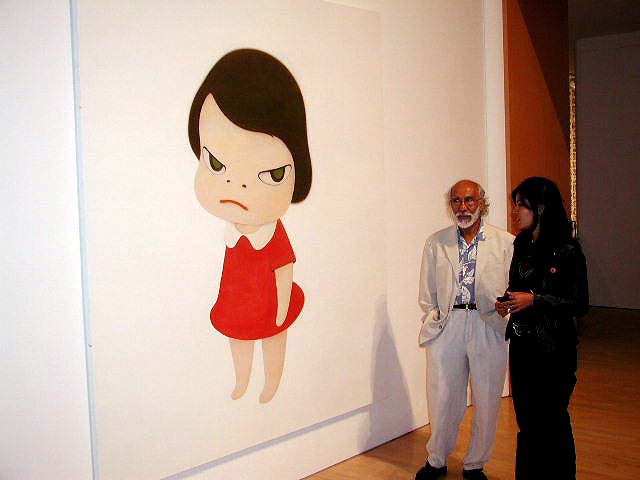 Nara.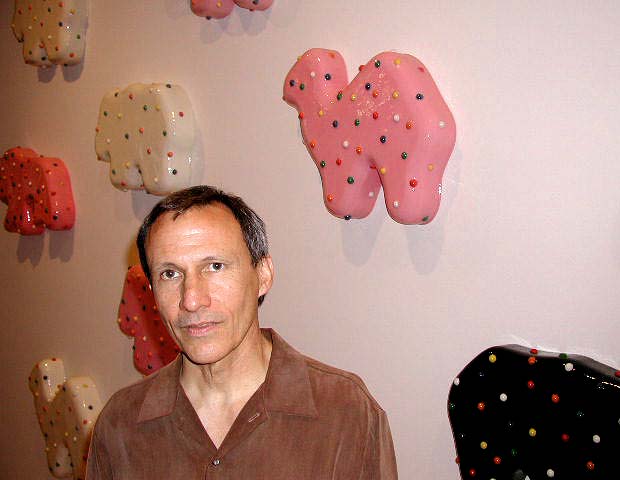 Robinson and his cookies.


Sparkle Pups (right).


Zines.


Zines.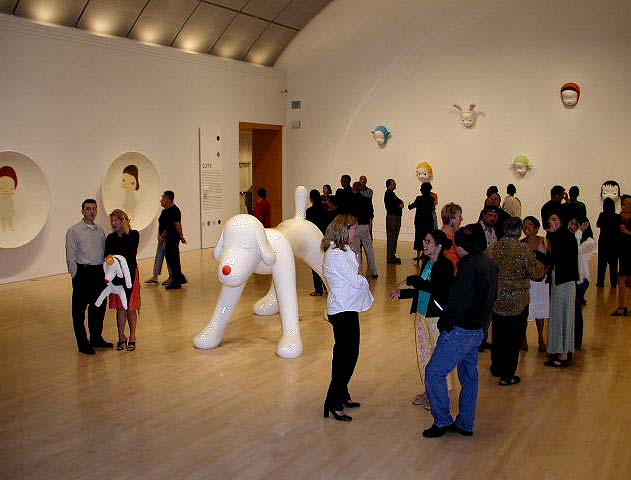 In.


Out.

San Jose Museum of Art
110 South Market St.
San Jose, CA 95113
408.271.6840