OAKLAND GALLERY OPENINGS
THIRD THURSDAY; 08.19.04
General comment: A half dozen or so galleries stay open every third Thursday in downtown Oakland, hence the name Third Thursday Art Night (I wanted to use the word "hence" in a sentence). Here's a sampling...
Oakland Art Gallery: Hidden Order, Pattern and Content in Contemporary Abstraction.
Artists: Jamie Brunson, Richard Elliot, Carrie Lederer, Bonnie Neumann, John Writer.
Pretty good stuff here; mature polished work by mid-career artists-- precisely the kind of art that appeals to mature polished mid-career individuals. You see, after you've been around for a while, at least forty years or so, assuming you're basically normal and/or appropriately medicated, you want your art to be good, but not overly burdensome-- light on the messages, lessons, agendas, exhortations, that sort of thing. Life is rough enough already without having to come home at night and get roughed up by your art after a hard day of getting roughed doing whatever you have to do to put arugula on the table. You want to look at your art, enjoy it, appreciate the skills that were required to create it, and then go to bed. According to artist Jamie Brunson, also the show's curator, "Us pattern painters have to stick together." And so they have. LA art critic Peter Frank was in attendance (the guy gets around).
Art.


Art.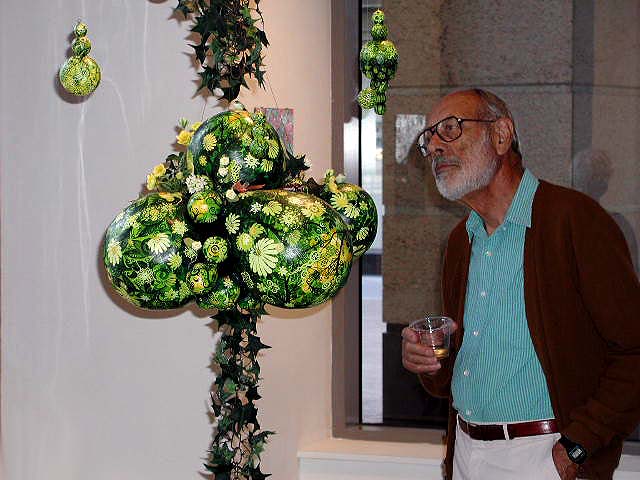 Art.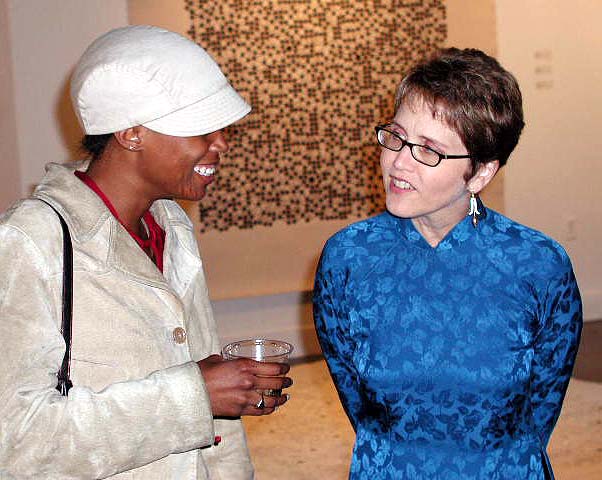 Artist/curator (right).


Art.


Art.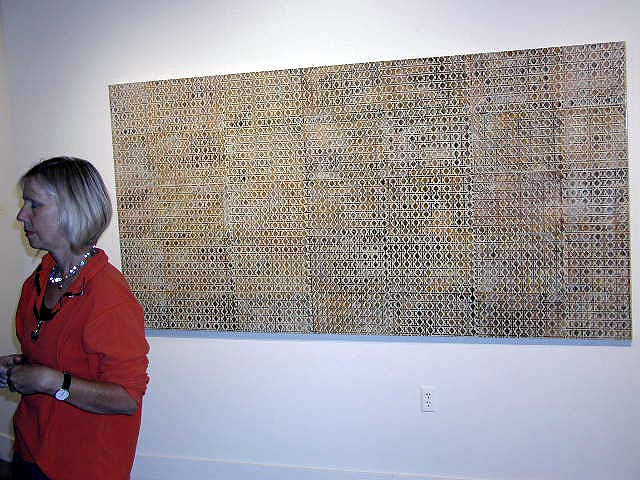 Art.


Art.


Partial.


***
Gallery 555: New Kingdom
Artists: Robert Ortbal.
Comment: Ortbal sculpts natural forms or forms that seem natural. Most are made with wax as a major ingredient, imparting soft, pliable, almost lifelike appearances. The work is unusual, competent, not easily categorized, and you're not quite sure what it's made out of until you read the labels. Now for the questions. Since the art is primarily wax, it can't be shown in places like Death Valley, Phoenix, Los Angeles, or any warm climate without having to take extreme care to preserve it's original appearance. Wax doesn't hold up well over time anyway, tending to absorb dirt and dust, and get filmy at the surface. So is this art supposed to last or be temporary or what? Is it the artist's responsibility to tell us? Or is life expectancy irrelevant? On a broader note, should artists consider longevity aspects of their mediums or of their art when they make it, or is that something for others to worry about later? These issues are not adequately addressed in the liner notes. Maybe like ice sculpture, it is what it is for as long as it lasts, and that, as they say, is that.
Art.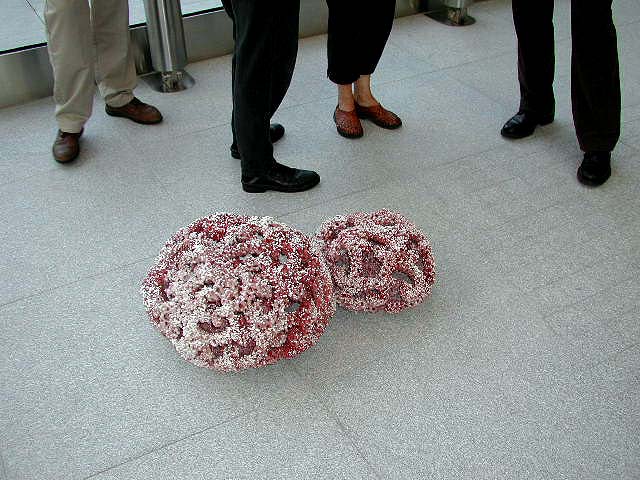 Art.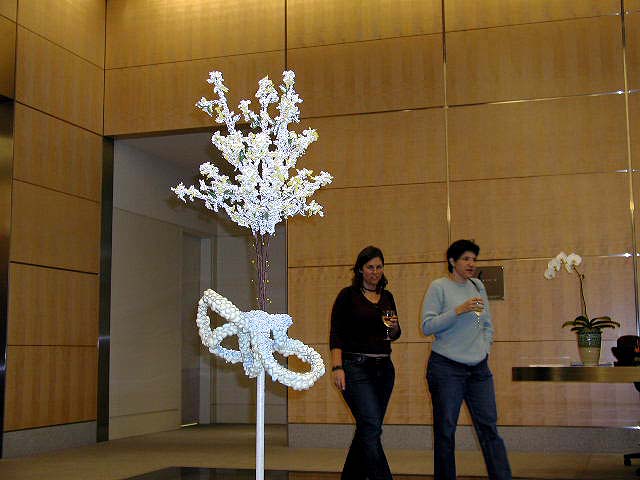 Art.


Artist (right center).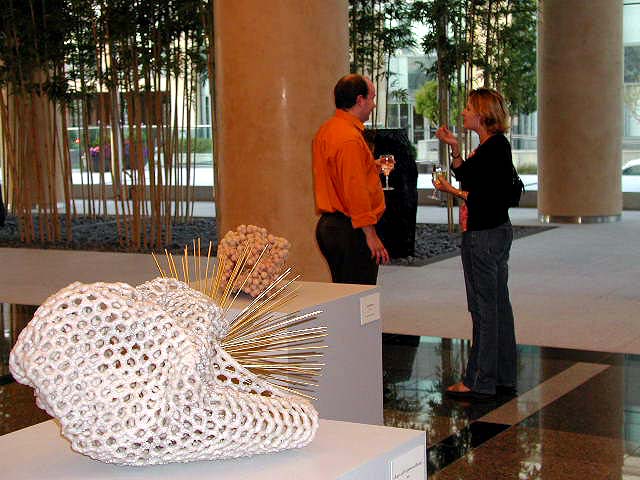 Art.


Art.


Art.


Art.